It isn't just the living room that we consider when designing a new home or remodelling an existing one; the bedroom is also an important consideration. The bedroom is one of our most private havens, and as a result, we devote a great deal of time and effort to making it exactly what we want. In many cases, it's our only refuge from the prying eyes of those around us, so it's easy to understand why people feel that way. Making a luxurious, lavish, and modern bedroom that meets all of your requirements while also providing a tranquil and restful environment involves many small details. This grand luxury can be elevated even further with bed-backside designs.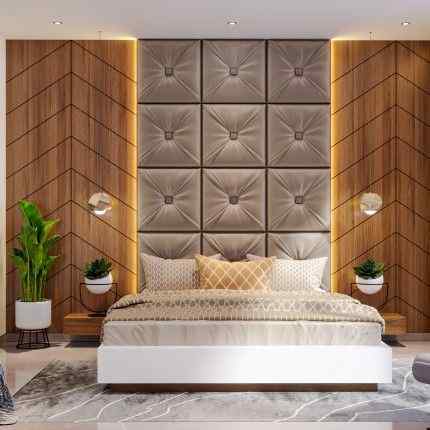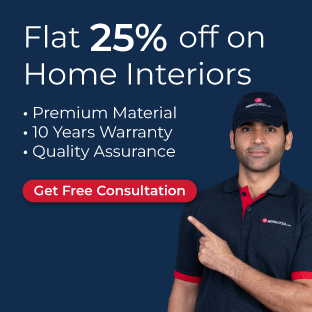 Are you interested in sprucing up the look of your bedroom? Add an accent wall, and you'll have a finished product. Wallpaper, varnish, concrete finishing touches, and liquid metal styles are just a few decorative options available for your walls. We've compiled a list of the best contemporary bedroom bed back design latest ideas to help you breathe new life into your house.
Read: 9 of the Best and Most Trendy Modular Kitchen Design Ideas of 2023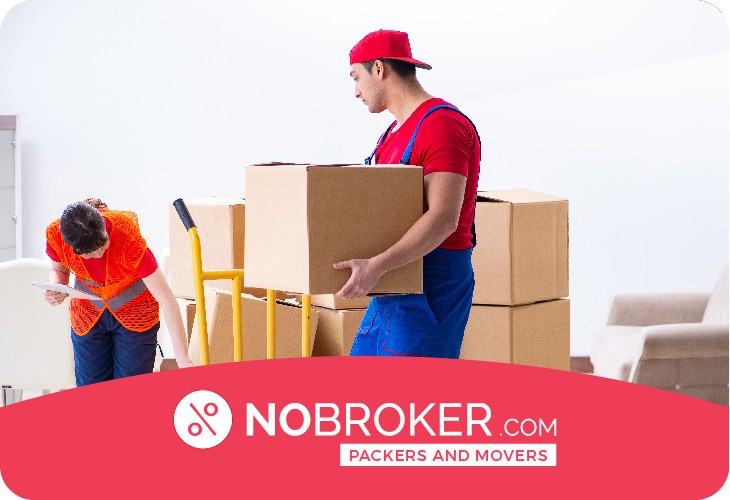 Book Best Packers & Movers with Best Price, Free Cancellation, Dedicated Move Manager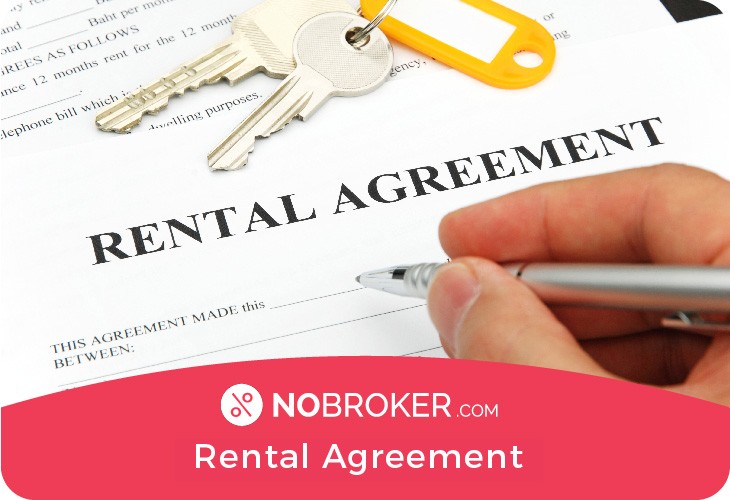 Get Rental Agreement With Doorstep Delivery, Super Quick & Easy
This is third
This is third
This is fourth
This is fourth
This is fifth
This is fifth
This is six
This is six
This is seven
This is seven
This is eight
This is eight
1. Add a Pop of Colour
It's a good idea to use the back of your bed as an accent wall in your room. When it comes to creating a relaxing atmosphere in a bedroom, a baby blue patterned wall straight behind the bed is an excellent way to do so. This colour can be calming or refreshing, depending on the shade. When choosing a colour for your bedroom, think about the atmosphere you want to create and choose your material accordingly.
2. Opt for a Straight Instagram Style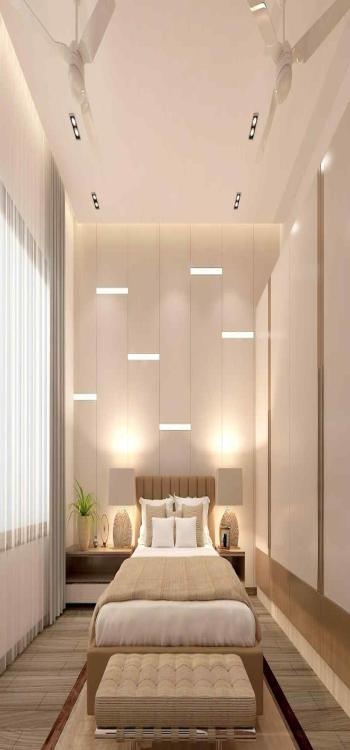 Are you in the market for a picture-perfect room design? Modern wall panels can be used to decorate the backs of your beds. As an accent piece, the contemporary design will brighten the room without making it appear smaller. Custom bed panels can be made from cutting-edge materials like molten metal and ornated concrete slabs.
3. Bring Drama to the Overall Appearance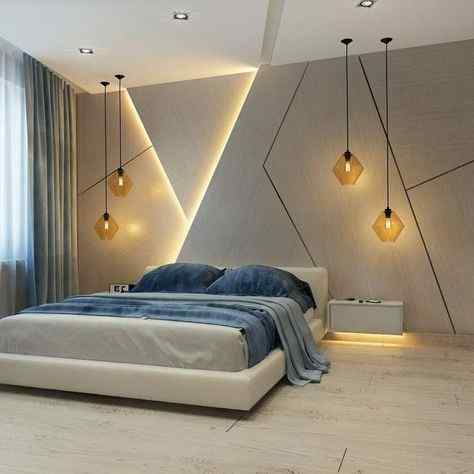 Everyone likes a little bit of drama in their lives. You can add a dash of enthusiasm to your bedroom with 3D panels on the back of your bed in bright colours. To complete the look, add colour-coordinated headboards to the bed.
The back of your bed is a complicated place to integrate a pattern design with solid colours. Because a room painted in stark colours can make you feel like you're in a cave.
Solution: strategically place your lights to draw attention to the bold back wall of the bed while also defining the space. To counteract the dark colours, add some bright pieces of furniture.
Read: 25+ Gazebo Design Ideas That Will Take Your Outdoor Decor To The Next Level
4. Create a Royalty Feeling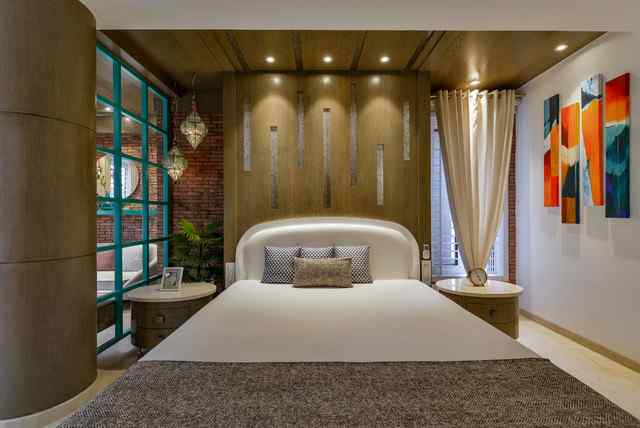 Brass or bronze-coloured metal wall panels can indicate your bedroom's back wall design. If you don't put in much effort, and authentic brass finish can transform your space into regal and opulent. It's also well-known that metallic colours can inspire creativity and excitement in the design of your home. This look can be accomplished with the help of metallic paints, metallic wallpapers, and liquid metal finishes, all of which are available.
5. Set up a Bohemian Vibe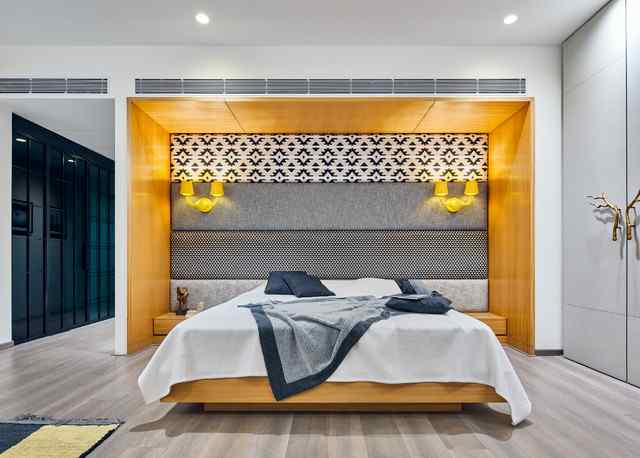 You can make a room look like it was inspired by the boho lifestyle by placing a bed against a backdrop made of colourful textured panels. To finish off the look, incorporate some patterned home furnishings, distinctive cushions, and unconventional lighting into the space. Create an outdoor feel in your home with items arranged to reflect natural light and bring the outdoors in. Alternatively, you can use artificial lighting to create a similar effect. Consider these additional boho bedroom decorating ideas.
6. Choose a Simple Pattern for Your Design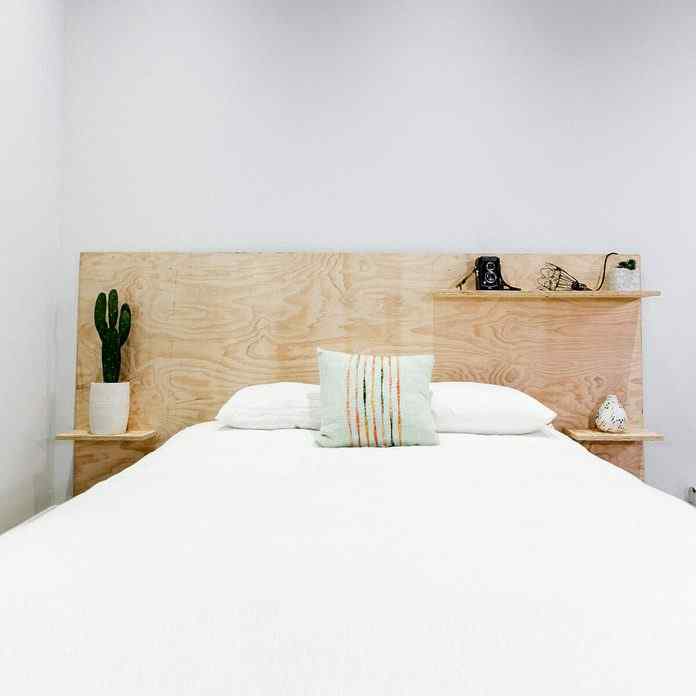 Choose materials with minimal design patterns if you prefer clean lines and believe that simplicity is the ultimate form of elegance. Backs for minimalist beds can be made from various materials, including fluted panels, veneers, and decorated plywood. You can create an atmosphere of serenity by combining it with eye-catching lighting fixtures and live indoor plants.
Read: Top 10 Modern and Stylish Living Room Corner Decor Ideas
7. Aesthetics That Set the Tone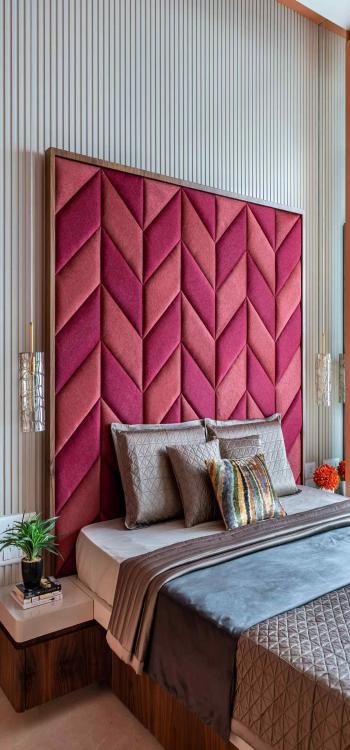 "What's in colour?" is a question we frequently ask ourselves. We'll go with our favourite. On the other hand, colour in interior design can have a lasting impact. When choosing a colour for the back of your bed, think about how you want the room to feel.
Lilac, lime green, and yellow are aesthetically attractive in addition to orange and red. White and beige are excellent choices for monochromatic designs, while gloomy grey and cyan are ideal for bold accent walls.
8. Achieve a Look That is More Rustic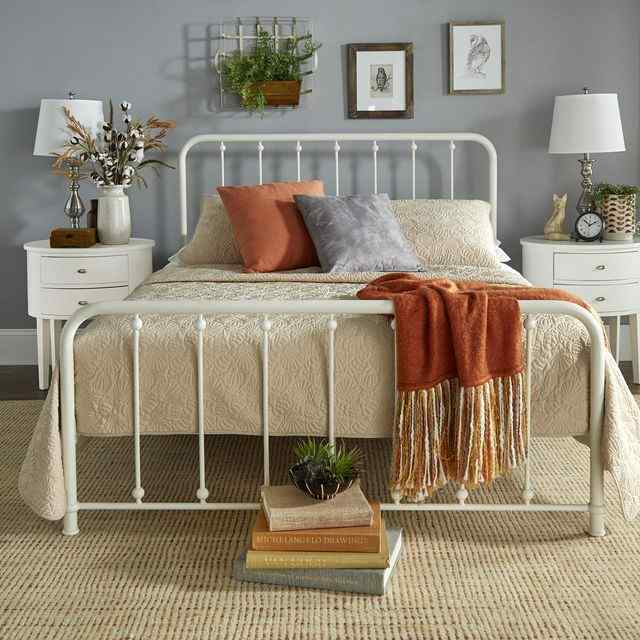 Adding a vintage-style wall to your bedroom will help add some variety to the usual greys and whites. A rustic-looking bed back is ideal for those who enjoy spending time outside. For the simple reason that it lends a homey, natural vibe to the space. Add some essential lighting, some wooden furniture, and some side tables made of concrete to complete the look.
Read: 15 Wall-Mounted Dining Table Design Ideas
9. Create an Art-Inspired Back Wall for Your Bedroom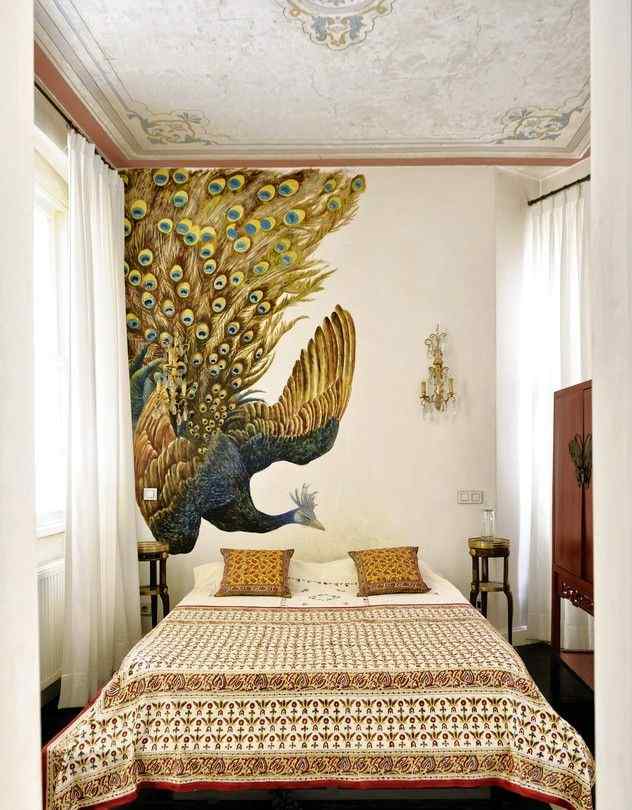 Hanging a piece of art on the wall is unnecessary. For a truly unique look, have it designed on the back wall of your bed? You can also use this as an opportunity to make your thoughts and feelings known to the rest of the group. The design you choose should be an expression of who you are. The room's focal point is the artistic bed back wall design, which is layered with quirky accent lights and neutral furnishings.
10. Make Use of a Bold Piece of Artwork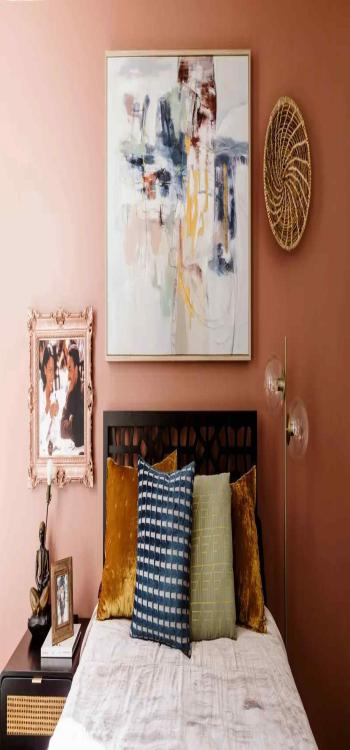 A well-crafted piece of art can transform a drab bedroom into something beautiful. Additionally, it's a cost-effective way to improve the design of your space without squandering your hard-earned money. Adding a one-of-a-kind work of art to the wall behind your bed can dramatically affect the mood of your entire room.
11. Black Defines Bold
A playful tribute to a large bedroom? Your first option should be a handcrafted concrete texture wall. A modern bed back is created by combining the organic movement of artificial textures with the dramatic impact of black. It gives the room some extra oomph, but it alsosets the standard for the rest of the design. Bold black walls work best when paired with monochromatic or high-contrast furnishings.
12. It's Time to spruce things up!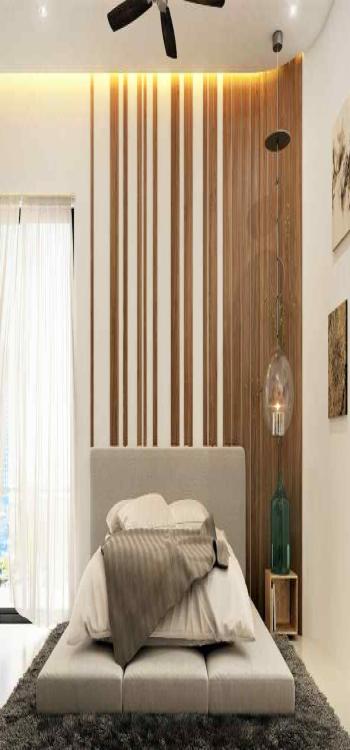 A new look can be achieved by putting a different material on the back wall of your bed. Layering adds visual interest, but it also creates a focal point for the room. Layers can be made with asymmetrical rugs, laminates, contoured panels, or veneers.
13. Hang a Work of Art on the Wall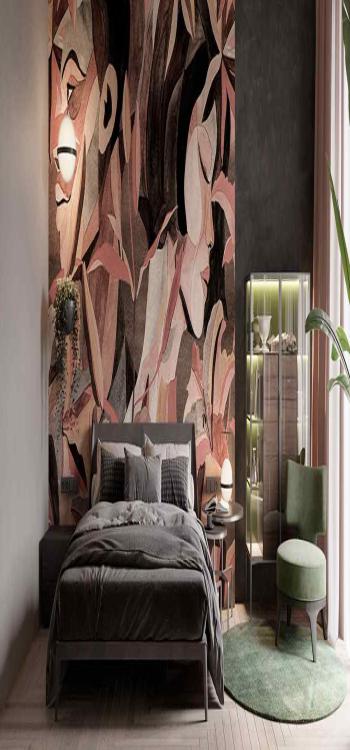 If you're on a budget or want to add a subtle touch to the back wall of your bed, consider a piece of creative wall art. A small or large amount of wall art can transform a drab bedroom into a lively one instantly. Craftsmanship and practicality in equal measure!
14. Take a Break and Play with the Lights!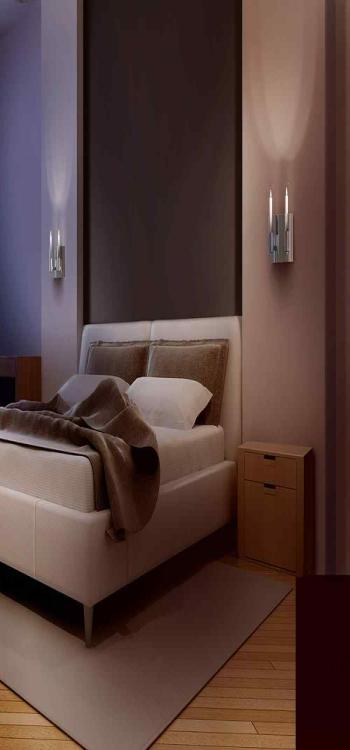 To brighten up the back wall of a bed without changing the bed itself, you can experiment with lighting in the same way you would change the bedding. Decorate your bedroom wall with wall sconces and a statement light in the corner. Installing table lights so that the wall behind them is illuminated is the quickest and easiest way to make a noticeable improvement to the appearance of your space. Modern lighting options make it easy to create an elegant high back bed design with just a few clicks.
15. Allow Your Creativity to Shine Through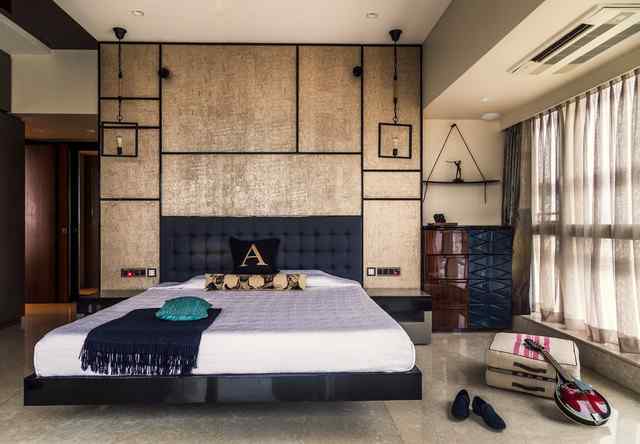 The wall behind your bed could use some colour and pattern. We strongly suggest that you go with up and waiting double bed back panels designs for your home. They are simple to set up, but they have the potential to transform the look of your bedroom completely.
It's also a low-cost option to modernise your walls with ready-to-install panels because they don't require any renovation and only take a short time to apply.
16. Built-in shelving in a beautiful wall design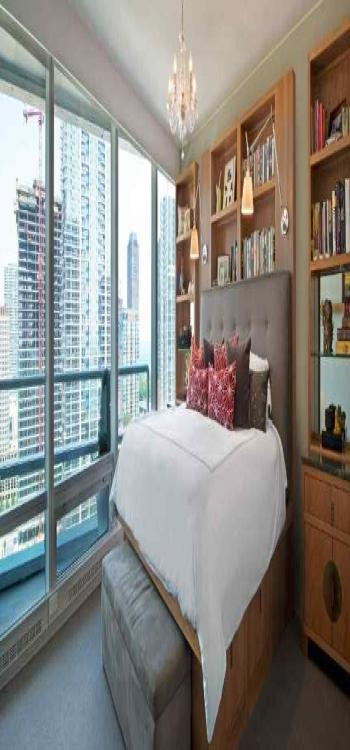 You can also keep books and other decorative items in the space behind your bed. Small rooms benefit greatly from this design, as it not only saves on floor space and provides plenty of storage space for art, books, and other souvenirs.
17. Fiber Panelling in the bedroom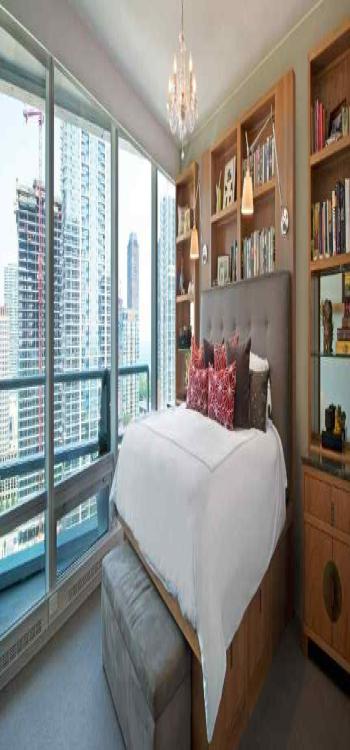 It might be a good idea for those interested in designing a bedroom in a contemporary style to use fibre panels as headboards. If you prefer a different shape or size, these screens can be cut to suit your needs.
18. The Bedroom could use some Unpolished Wood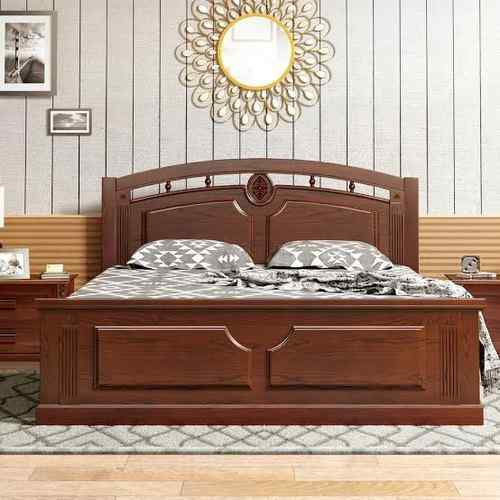 Who doesn't want a luxuriously decorated bedroom? To achieve a similar look in your bedroom, you should use unpolished wood. Keeping with the bedroom's overall theme, it brings a bit of whimsy.
19. Decorate the Bedroom with a variety of Woods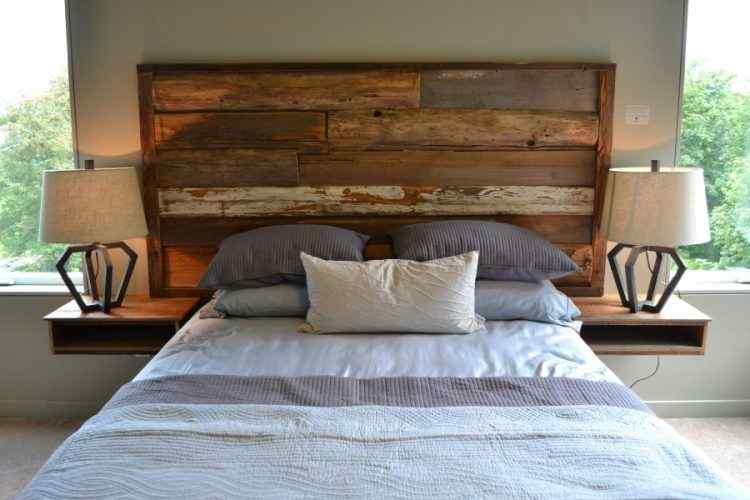 If you decide to make your custom headboard out of wood, experiment with different species to create something unique. You get to pick the shapes, sizes, styles and materials!
20. Consider a Wall of Tiles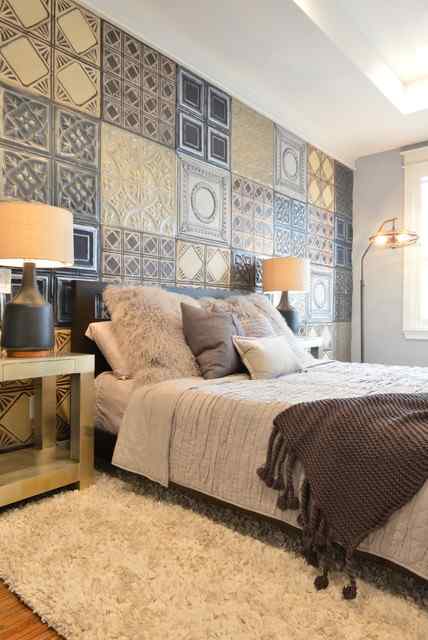 Why limit tiled walls to the kitchen or bathroom when you can create a stunning textured focal wall behind the bed using a variety of reclaimed tiles? To avoid an overly cluttered appearance, stick to larger tiles.
21. Put Leather on It
To create a separate area for the bed and nightstands, cover a portion of the wall with upholstery. Here the upholstered section is distinguished from the wall surface by a slim frame trim.
Snuggling up with Style: The Art of Bed Back Design
You might be snoozing like a baby but your bed back design is on display for all to admire. It's time to give your bedroom the design upgrade it deserves.
Bed Back Side Design
We know you're tired of staring at a plain white wall, so it's time to add some pizazz to your bed back side. A beautiful tapestry or a wall hanging can do wonders for your bed back side design. If you're feeling extra adventurous, why not try a statement wall paper or a mural? Don't be afraid to experiment with patterns and colours, after all, it's your bed back side!
Bed Back Cushion Design
Who says you can't mix comfort and style? Add some plush cushions to your bed back design and watch it transform. Mix and match different sizes, shapes, and colours to create a look that's uniquely you.
Double Bed Back Design
Double the size, double the fun! If you've got a big bed, why not go big on your bed back design? A stunning headboard or a gallery wall can take your double bed back design to the next level.
Bed Back Design Wooden
Wooden beds are the epitome of classic design and never go out of style. Whether you prefer a traditional look or a more modern one, wooden bed back design is the way to go. Add some warmth to your room with a wooden bed back design.
Bedroom Back Wall Design
Your bedroom is your sanctuary and the back wall is like a blank canvas. Make a statement with an accent wall or create a serene atmosphere with a gallery wall. You can even add some fairy lights or a string of twinkly lights to add some extra charm to your bedroom back wall design.
Bed Panel Design
Don't let your bed panel design be an afterthought. Add some texture with a panelled headboard or get creative with a customised wall hanging behind your bed. The options are endless with bed panel design.
Bed Back Wall Design Latest
Stay on top of the latest bed back wall design trends with a statement wall hanging or a stunning mural. If you're feeling indecisive, why not opt for removable wallpaper? You can switch it up whenever you please!
Bed Design Back Side
Your bed design back side is the perfect opportunity to add some personality to your room. Whether you prefer bold prints or subtle patterns, your bed design back side is the perfect place to make a statement.
Bed Back Design Cushion
Cushions aren't just for comfort, they're also a wonderful way to add some style to your bed back design. Mix and match varied sizes, shapes, and colours to create a look that's uniquely you.
Bed Back Wall Design Wooden
If you're a fan of natural materials, wooden bed back wall design is the perfect choice for you. Not only is it warm and inviting, but it also adds a touch of sophistication to your room.
The possibilities with bed back design are endless. Don't settle for a boring bed back, get creative and make it your own. And if you need a little extra help, NoBroker's interior design services are here for you.
Bed Back Design Cushion – Spruce up Your Slumber Scene!
Looking for a way to add a pop of colour to your bedroom? Look no further than a bed back design cushion! A bed back cushion design not only adds a touch of personality to your space, but it also provides a comfortable place to lean against while reading or watching TV in bed.
The latest bed back design cushion trends include bold patterns and bright colours, but you can also opt for a more neutral look if that's more your style. No matter what look you're going for, be sure to choose a cushion that's both stylish and comfortable. A good bed back design cushion should also be easy to clean, so you don't have to worry about spills ruining your decor.
When it comes to choosing the perfect bed back design cushion, here are a few things to keep in mind:
Size: Make sure the cushion fits your bed comfortably. You don't want it to be too small or too big.
Material: opt for a material that's both soft and durable. Cotton and velvet are popular choices.
Fill: Look for a cushion that's filled with a high-quality foam or feather fill for added comfort.
Style: Choose a bed back cushion design that fits your personal style and the overall look of your bedroom.
So go ahead and add a bed back design cushion to your bed today, and get ready to enjoy a more stylish and comfortable sleeping space! And don't forget, if you need any help with your interior design, NoBroker's got you covered.
Bed Back Wall Design Wooden – A Natural Touch of Elegance
Bring a touch of nature into your bedroom with a bed back wall design wooden. A bed back wall design made of wood not only adds warmth to your space, but it also creates a sense of calm and serenity.
If you're looking for a way to add a natural touch to your bedroom, consider incorporating a bed back wall design wooden into your decor. Whether you choose a solid wood panel or a wooden slat design, the result will be a space that feels both rustic and elegant.
Here are a few things to keep in mind when choosing a bed back wall design wooden:
Type of Wood: Choose a type of wood that's both durable and fits your personal style. Some popular options include oak, maple, and cherry.
Finish: Look for a finish that's both easy to clean and protects the wood from scratches and damage.
Style: Consider the overall style of your bedroom and choose a bed back wall design wooden that fits with your decor.
Size: Make sure the bed back wall design wooden fits your bed comfortably and creates the look you're going for.
So why wait? Give your bedroom a natural touch of elegance with a bed back wall design wooden today. And remember, if you need any help with your interior design, NoBroker is here for you.
Keep Your Bedroom Ahead of the Trends
Stay ahead of the curve with a bed back wall design latest! With modern design trends emerging all the time, it can be difficult to know what's in and what's out. That's why incorporating a bed back wall design latest into your bedroom decor is a smart move. Recent reports and real estate trends suggest that bedroom design is becoming increasingly important for homeowners. With more people working from home and spending more time in their bedrooms, having a space that is both functional and stylish has never been more crucial:
Reports show that homeowners are investing more money into their bedrooms, with the average spend on furniture and decor increasing by 10% in the past year. [Source: Home Furnishings Association]
Statement walls, such as a bed back wall design, are becoming increasingly popular in bedroom design as a way to add visual interest and create a focal point in the room. [Source: National Homebuilder's Association]
Bold patterns and geometric shapes are among the most popular trends in bedroom decor, as well as the use of textures such as velvet and metallic accents. [Source: Elle Decor]
Incorporating a bed back wall design latest into your decor is a great way to keep your space looking fresh and modern. [Source: Architectural Digest]
A bed back wall design latest not only adds visual interest to your space, but it also keeps your bedroom looking fresh and modern. Whether you choose a bold pattern or a more subtle design, incorporating a bed back wall design latest into your decor is sure to make a statement.
It is critical to know the appropriate furniture and décor elements for a purposeful surrounding that appears chosen rather than assembled. Keeping the room clear of clutter will ensure a luxurious and stunning bedroom back design until you decide to redo it again. Is there anything else that you'd like to know about? The best interior designers in the country can be found through NoBroker. We also have a blog that you can check out.

FAQs
Q-1 How large should a photograph be above a bed?
A-1 There should be no more than two-thirds to one-third of the width of the piece of furniture when hanging a piece of wall art over it.
Q-2 Would it be best if I put my bed up against a wall?
A-2 The distance between a bed and a wall should be 24 in. To avoid scuffing or running into the wall, use this measurement to give yourself extra breathing room and make room for a headboard.
Q-3 Can the bed be positioned to face the bathroom door? 
A-3 For those who believe in Feng Shui principles, it is terrible for your health and wealth to have your bed facing the toilet. For obvious reasons: foul odour, moist, and germ-filled conditions.
Q-4 How do you decorate a large wall in your bedroom?
A-4 The longwall will look and feel complete with a large-scale photograph, painting, or another piece of art centred between the bookshelves. Accents should be added in several layers. Adding colourful components and accents to the bookcases and large-scale art will liven up your long wall.

Q-5 What happens if we choose to sleep facing east? 
A-5 You should avoid sleeping on the west side of your bed because it's terrible for your health, according to Vastu Shastra. This includes sleeping on your east side. It is also recommended that your head be positioned in the east direction, promoting mental and physical well-being and spirituality.