Are you tired of walking into a bedroom that lacks style and personality? Maybe you've been longing for a place of tranquillity and comfort but can't quite figure out how to transform it. Bedroom Decor Ideas is your gateway to creating a dreamy space you'll love. Discover the secrets of designing a bedroom that resonates with your taste, evokes relaxation, and ignites your creativity. In this blog, we unveil a treasure trove of ideas and insights, from selecting the perfect colour palette to finding unique furniture that matches your vision. We promise to provide you with practical tips and inspirational concepts that can turn your bedroom into a haven of serenity. Say goodbye to dull, uninspired bedrooms and embrace the potential of your personal oasis.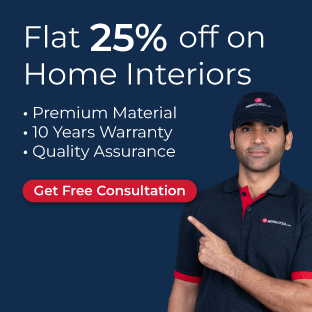 Bedroom Furniture Must-Haves: Essential Decoration Items and Ideas
Furniture is a crucial element of bedroom furniture decor. Here are some essential pieces of furniture that you must include in your bedroom:
Read: The Best Wall Sticker Design Art for Your Home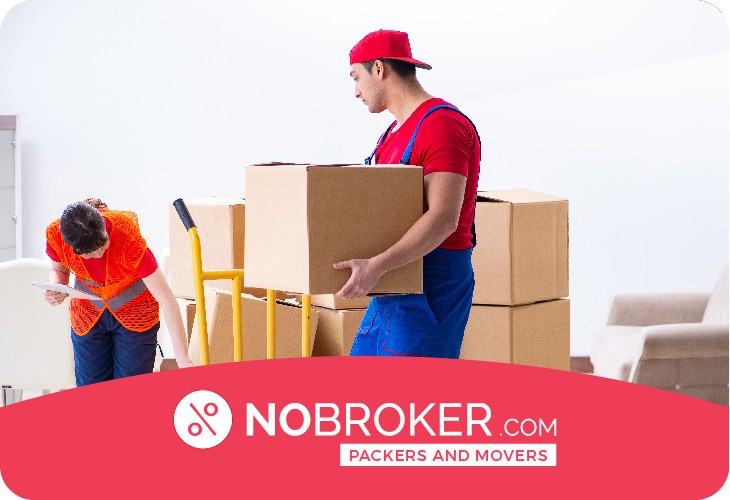 Book Best Packers & Movers with Best Price, Free Cancellation, Dedicated Move Manager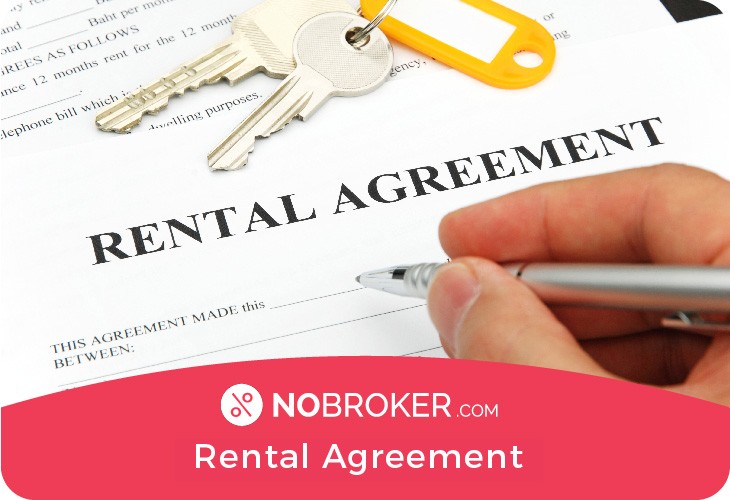 Get Rental Agreement With Doorstep Delivery, Super Quick & Easy
This is third
This is third
This is fourth
This is fourth
This is fifth
This is fifth
This is six
This is six
This is seven
This is seven
This is eight
This is eight
Bed: The bed is the centrepiece of your bedroom, and it's essential to choose one that suits your style and comfort level.
Nightstands: Nightstands are not only functional but also add to the overall aesthetic of your bedroom. You can use them to store your essentials and showcase decorative items.
Dresser: A dresser is an excellent addition to any bedroom, providing extra storage space for clothes, linens, and accessories.
Chair or Bench: Adding a comfortable chair or bench to your bedroom can provide a cosy spot to read or relax.
Cosy Bedroom Design: Tips for a Relaxing Retreat
Creating a cosy and inviting bedroom can make all the difference when it comes to relaxation and comfort. Here are some design and decorating tips to help you achieve a cosy bedroom:
Soft Textures: Use soft textures like blankets, throw pillows, and rugs to add warmth and comfort to your bedroom.
Ambient Lighting: Choose soft, warm lighting to create a relaxing atmosphere in your bedroom.
Colour Palette: Stick to a calming colour palette with muted or pastel shades to create a peaceful environment.
Accent Wall: Consider adding an accent wall with a bold wallpaper or paint colour to create visual interest in your bedroom.
Decorating Your Bedroom: Key Considerations & Tips
When it comes to decorating your bedroom, there are some important factors to consider to ensure a cohesive and stylish look. Here are some things to keep in mind:
Personal Style: Your bedroom decor should reflect your style and taste. Choose pieces that you love and that make you feel comfortable.
Proportion and Scale: Ensure that your furniture is proportionate to the size of your bedroom. Too much or too little furniture can throw off the balance of the room.
Functionality: Consider the functionality of your bedroom furniture and decor. You want your space to be comfortable and practical.
Storage Solutions: Incorporate storage solutions into your bedroom decor to keep your space organised and clutter-free. This could include dressers, shelves, or under-bed storage containers.
Stunning Bedroom Wall Decor Ideas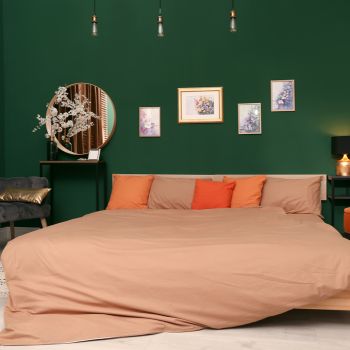 Whenever you plan a new bedroom design and take notes about bedroom decor ideas, you should start with wall decor. There are plenty of options that will help you decorate the bedroom walls just the way you want. Here is the ultimate guide to decorating your bedroom walls.
Read: Kitchen Peninsula Design Ideas: Maximizing Your Kitchen Space
Read: 12 Smart Home Ideas to Help You Reinvent Your Space
1. Choosing the Right Wall Colour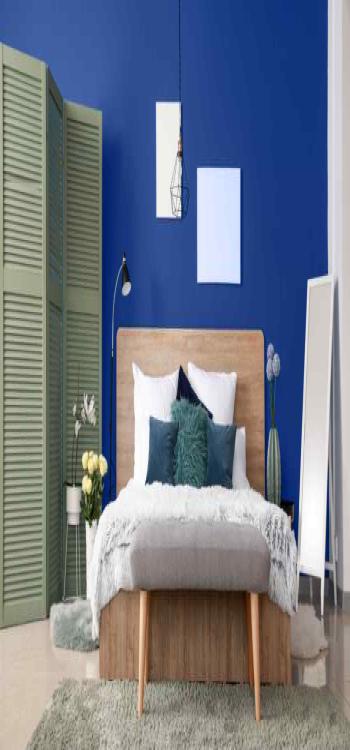 Walls dominate any room, and the colour that you choose for your bedroom walls is more important than you may think. One of the simpler bedrooms decorating ideas, choosing the right colour will define the overall vibe and energy of the bedroom, and thus many people start deciding the wall colours while planning the home decor for the bedroom. For example, if you want a warmer tone for the bedroom, then choosing warm hues of red, pink, blue, and khaki green is the way to go. On the other hand, some people seek a bright and punchy vibe in the bedroom to prepare them for the day. For such homeowners, yellow, orange, white, and blue are the best colours!
Read: Top 15 Bathroom Glass Partition Ideas for the Indian Homes
2. Accessorise the Wall
Once you have finalised bedroom wall colours, the next thing you should do is decide how to accessories and stylize the wall decor. Wall decor items for bedrooms can differ depending on who in the family is using the bedrooms! For the master bedroom, you can go for accessories that suit the personality of the homeowner. At the same time, you can take inspiration from the kids' favourite items of the kids to decorate their bedrooms.
3. Amazing Art
Stunning Bedroom Art & Painting Installations
Art in the form of paintings is the best way to utilise the large walls in the bedroom. Art does not have to be something expensive! You can hang any art that you love, which compliments the colour of the wall and improves the look of the room. For children's bedroom side wall decor ideas, you can frame their drawings and paintings and hang the art in their bedroom. Many art installations are specifically designed for walls. In addition, you can surf the internet to get custom-made wall clocks and installations that can easily be hung on the bedroom walls.
Read: Create The Perfect Lounging Destination at Home with These Terrace Decoration Ideas
Read: How to Move or Shift Homes When You Have Pets
4. Stunning Wallpaper
Applying wallpaper is one of the easiest and cheapest yet quite modern bedroom interior ideas! Homeowners have endless options to choose from, and wallpapers can be applied without the need of any experts, thereby saving time and money! Some of the best wall decor designs for bedroom ideas come from inspiration found from the surroundings and nature. Wallpaper is a good option for the bedroom as you can easily set the vibe of the entire room.
5. Encourage Personalisation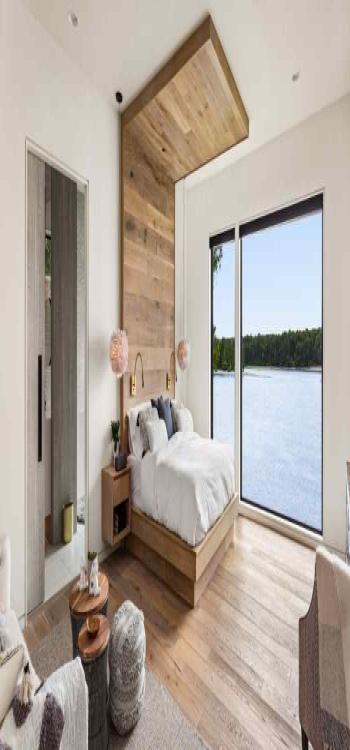 Interior design is evolving away from mass-produced looks and toward more personalised, one-of-a-kind creations. In 2023, design ideas for master bedrooms emphasize customization and experimentation. The design's elements remain in a state of equilibrium and harmony with one another, allowing you to experiment with things tailored to your own particular style and design taste without hesitation.
6. Embrace Minimalism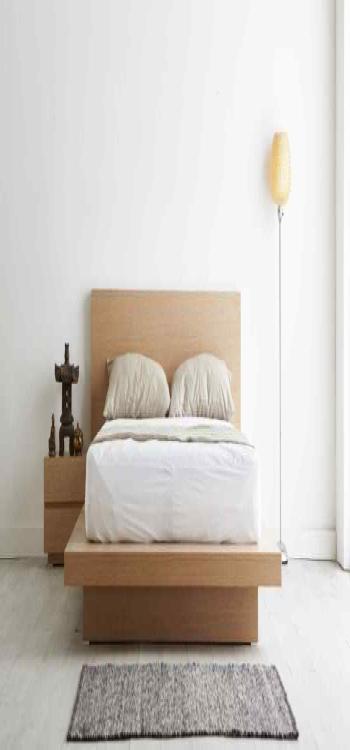 The influence of minimalism on interior design is undeniable. As a consequence, the rooms are clean and free of clutter. Master bedroom themes for 2023 continue the trend with shelving solutions that help to keep the area clean.Closets and furnishings with innovative designs will help you to store your items in a more organised manner.
Amazing Bed Decor & Bedside Home Decor Ideas
The bed is a vital part of the bedroom but is often the most ignored aspect of bedroom decor. Gone are the days when you had no options while choosing beds, mattresses and bedside decor. Today, homeowners have many unique options that help them customize everything in the room. A bedroom is a place where people come to relax and sleep peacefully. Therefore, one of the most exciting bedroom decor ideas is deciding a particular theme or vibe for the bed and the bedside furniture.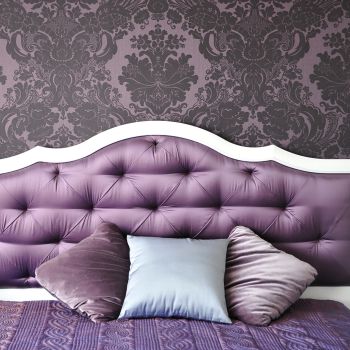 You can choose a bed that brings out the personality of the person who is using the room, by customizing and selecting different bed styles. For example, if you have a huge house, you can go for a heart-shaped bed, one of the best valentine's day bedroom decorating ideas that can also be useful to celebrate special occasions such as wedding anniversaries and birthdays.
1. Impressive Headboards
You will find plenty of different options for headboard designs and materials. Many people prefer to have floral designs on the headboard as it provides a colourful and vibrant look to the bedroom. If you like to spend some time reading in the bedroom, having soft cushions is one of the best bedroom decorating ideas at home as it provides extra comfort to the back.
2. Bedside Decor Options
Deciding the bedside decor is an essential part of the bedroom decor ideas. You can have many decor ideas apart from the usual bedside table where you keep your belongings. For example, if the bedroom's overall look and the colour scheme are dark, you can go for stunning lamps to complement the classy black and white bedroom decor.
3. Experiment with Pillows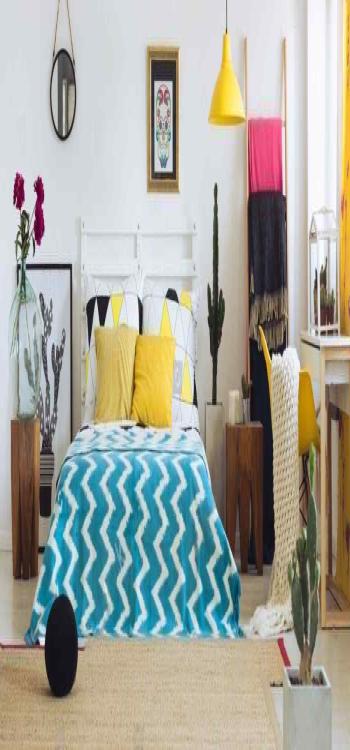 Perfect matching has fallen out of favour due to the rise of wabi-sabi. Yet such imperfection is celebrated in bedroom decoration ideas for 2023. You may also practise combining different designs, patterns, and materials by making tiny modifications to your home's decor. When it comes to making a difference, scatter pillows are a good place to start. Stripes, motifs, and textures will be combined in a way that emphasises harmony over symmetry. In addition, a redesign may breathe new life into a space.
4. Indoor Plants & Flower Pots
The interest in indoor plants, gardening and home decor, in general, has been one of the hottest trends in the last few years and especially during the pandemic. Placing a stunning flower pot with some fragrant indoor plants such as Roses, Lillis is one of the most popular bedroom table decorating ideas.
5. Best Bedroom Decor Ideas for Children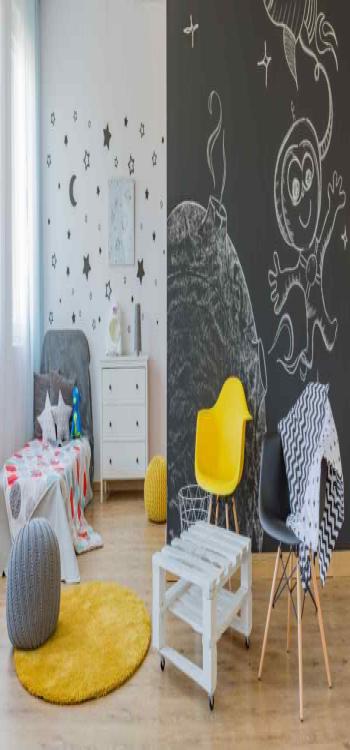 When it comes to children's bedroom decor ideas, the more you do, the lesser it may seem! Every child is a goldmine of curiosity. Thus, the decor in their room also has to be designed to encourage their behaviour and unleash creativity. If you have a small house, you can use the kids' bedroom as a part-time playroom by tweaking the room's decor! Not only does this make a great home decor idea for their bedroom, but it also makes the room look livelier!
6. Movable Wall Decals
Movable wall decals have gained tremendous popularity lately. Think of them as temporary wallpaper/stickers that the kids can easily play with. Wall decals are perfect for bedroom wall decor ideas for the space above the bed as they are accessible, and kids can play with the designs of the decals for hours without worrying about fatigue! The best part of such accessories is that you can buy different designs for bedroom decoration for boys and girls according to their likes and interests.
7. Luxury Closet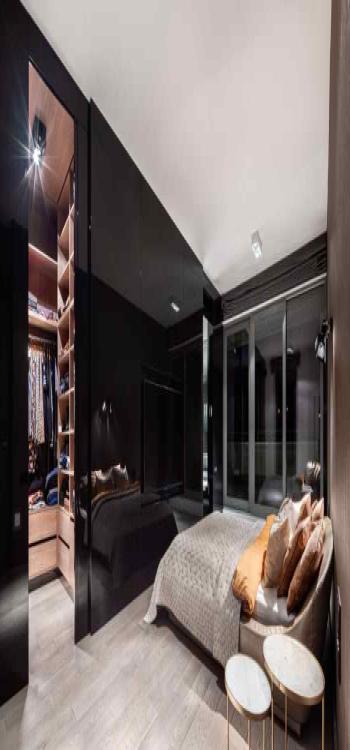 Your wardrobe is more than just a storage space; it's a sanctuary for your clothes and a reflection of your style. Luxury closet ideas elevate this practical space to a new level of sophistication and organization, providing you with inspiration for optimizing your bedroom's storage while adding an element of opulence and aesthetics. Whether it's through premium materials, innovative designs, or clever storage solutions, these ideas offer an inviting and luxurious approach to keeping your clothing and accessories.
8. Amazing Lighting
Lighting plays a pivotal role in setting the mood and ambience of your bedroom. Beyond its functional aspect, it contributes to the overall aesthetics and comfort of the space. Exploring bedroom lighting ideas can help you achieve the perfect illumination for relaxation, reading, or creating a cozy atmosphere. From chandeliers to bedside lamps, these ideas guide you through a diverse world of lighting options, allowing you to customize your bedroom's radiance and style to suit your preferences.
9. Eye-catching Children's Bedroom Ceiling Decorations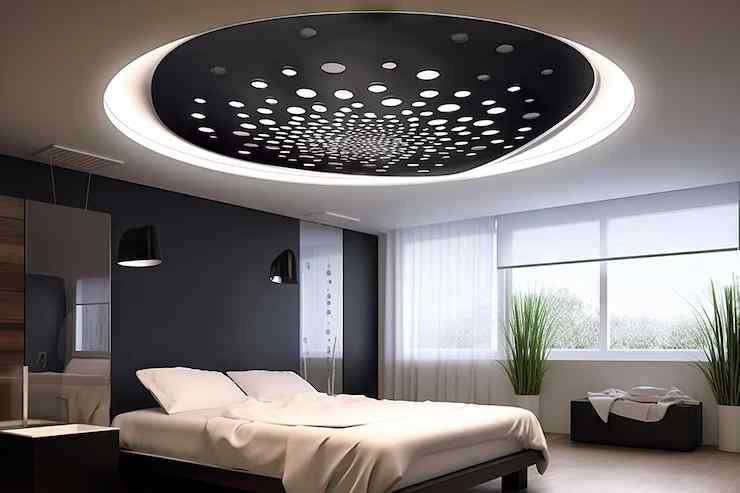 Your ceiling is a canvas for design possibilities. Elevate your bedroom's ambience with unique and eye-catching ceiling ideas. From subtle, elegant treatments to bold, dramatic statements, explore a variety of styles and inspirations to transform your space into a realm of endless dreams.
10. Chalkboards and Whiteboards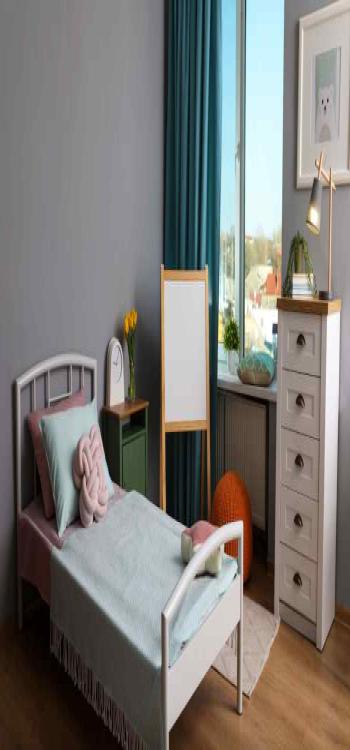 Enhance your bedroom's uniqueness by incorporating chalkboards or whiteboards. These versatile surfaces serve as expressive canvases for budding artists and note-takers alike. Adding them to your room not only personalizes your space but also encourages your creative side to flourish.
11. Try Colour Drenching
Colour soaking is painting all surfaces to immerse a room in colour. It looks clever and elegant to paint walls, baseboards, doors, cabinets, radiators, and window frames the same colour. Bedroom paint offers numerous creative options. For effect, utilise one hue or shades of one colour. This works great with gentle fuzzed greens and blues as well as neutral paint. But if you really want to make a strong statement, choose a red, orange, or yellow – any latest bed design for the bedroom will help make the space pop, giving it life and character. This innovative paint technique works well in bedrooms. Painting ceilings & furniture in any hue other than stark white creates a more encompassing effect.
12. Try panelling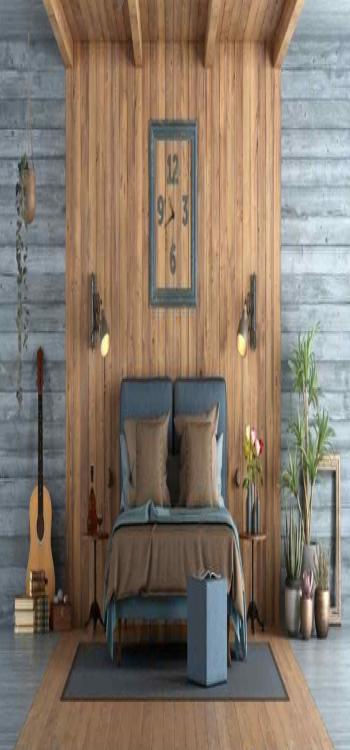 This year, bedroom panelling will provide depth and texture. Panelling looks wonderful behind the headboard instead of a typical headboard, creating a classy focal point in bright or neutral colours. Wall panelling is a concept that's here to stay since it's easy to make and adds character and flair to your bedroom. Recently, panelling has become fashionable with some unique bed designs as the image above shows. Wallpaper framed in panels makes a dramatic bedroom accent.
How to Begin Your Bedroom Decoration Process?
When it comes to decorating your bedroom, starting on the right foot is crucial. The right approach can make a significant difference in creating a cosy and inviting space. Here are some steps to help you begin your bedroom decoration process:
1. Assess Your Space: Take a good look at your bedroom and evaluate its size, layout, and existing furniture. Consider the available space for new bedroom decoration items and the functionality you desire.
2. Set a Budget: Before diving into the world of bedroom decor ideas, it's important to set a budget. Determine how much you're willing to spend on new furniture, accessories, and other decor elements.
3. Determine Your Style: Think about the overall style you want to achieve in your bedroom. Do you prefer a minimalist look or a more eclectic vibe? Consider your personal preferences and find inspiration from magazines, online platforms, or even by visiting showrooms.
4. Select a Color Scheme: The colour or scheme you choose plays a significant role in setting the mood of your bedroom. Opt for trending colour combinations for your bedroom decoration that align with your style. For instance, serene pastels like blush pink and mint green are popular choices for a calm ambience.
5. Choose the Right Furniture: Your bed is the centrepiece of your bedroom, so invest in a comfortable and stylish option. Consider the size of your room and opt for furniture that maximizes storage space, such as a bed with built-in drawers or a wardrobe with ample shelves.
6. Focus on Lighting: Lighting can greatly enhance the ambience of your bedroom. Opt for soft, warm lighting options like bedside table lamps or pendant lights to create a cosy atmosphere. Consider installing dimmer switches to adjust the brightness according to your mood.
7. Add Personal Touches: To make your bedroom feel like your own sanctuary, incorporate personal touches. Hang artwork or photographs that inspire you, display meaningful trinkets, or incorporate sentimental items into your bedroom decor.
Trending Colour Combinations for Your Bedroom Decoration
Choosing the right colour combinations can transform your bedroom into a stylish and harmonious space. Here are some trending colour combinations for your bedroom decoration:
1. Serene Neutrals: Neutral shades like beige, ivory, and grey are timeless choices for bedroom decor. Pair them with warm wood tones or metallic accents to create a soothing and elegant atmosphere.
2. Earthy Tones: Embrace nature-inspired hues such as olive green, terracotta, or deep browns. These colours bring a sense of warmth and comfort to your bedroom.
3. Moody Blues: Shades of blue, such as navy or indigo, are increasingly popular for bedrooms. They evoke a sense of tranquillity and can be paired with contrasting colours like crisp whites or vibrant yellows for a striking look.
4. Pastel Palettes: Soft pastel shades like lavender, mint green, and baby pink are ideal for creating a calming and dreamy atmosphere in your bedroom. Pair them with light-coloured furniture and accessories for a fresh and airy feel.
5. Monochromatic Elegance: Opting for a monochromatic colour scheme can add a touch of sophistication to your bedroom. Choose varying shades of the same colour, such as different tones of grey, to create depth and visual interest.
Choosing the right bedroom decor can be a tiring but fun activity if you have the right ideas and proper guidance. You can do many things and add plenty of personal touches to the different decor items in the bedroom. The blog captures some of the best bedroom decor ideas that are trendy and in demand today. Suppose you are seeking an expert to guide you in finalizing and executing a complete renovation of the bedrooms in your house. In that case, you can talk to the interior design experts at NoBroker, who will guide you right from the conceptualization stage to the execution of the decor and furnishings. If you are interested to know more, click on the link below and our team will get in touch with you!
FAQs
Q1. How to plan and design bedroom decor?
Ans. Deciding the bedroom decor is a huge task and requires extensive planning and execution. The ideal way to start the bedroom decor is by deciding the colour of the walls. Once the paint is selected, you can move to determine the bed, bedside tables, wall art, etc.
Q2. Which colours are the best for bedrooms?
Ans. The colour of the bedroom wall is more important than you may think. The colours can define the room's vibe and contribute to the calming and relaxing nature of the room. Some of the best colours to use for bedrooms are red, blue, pink, blue, green and white! 
Q3. Can you decorate the bedroom with simple things?
Ans. Decorating the bedroom does not have to be expensive with fancy furniture and accessories. You can easily decorate the bedroom using simple things such as houseplants, curtains and wall art! 
Q4. How to decorate bedroom walls?
Ans. There are many ways to decorate the bedroom walls for the master bedroom and the kids' bedroom. For the master bedroom, you can choose some paintings and art pieces that you can easily hang on the wall. As for kids' bedroom walls, you can install a chalkboard or whiteboard that the kids can use to draw and paint easily. 
Q5. How to make the bedroom cosy and relaxing?
Ans.Having cosy and relaxing energy and vibe in the bedroom contributes a lot to peaceful sleep. You can ensure a comfortable feeling by applying warm and calming colours such as green and blue to the room's walls. Similarly, you can also have a nice relaxing recliner chair in the corner close to the window in the bedroom to have a relaxing time. This will also serve as a brilliant window decoration idea for your bedroom.
Q6. What are some tips on how to decorate a bedroom with simple things?
Ans. Decorating your bedroom with simple things is easy and budget-friendly. Consider adding houseplants, curtains, and wall art to enhance the ambience. Utilize throw blankets and decorative cushions for an extra cosy touch. Additionally, rearranging furniture and decluttering your space can also have a significant impact on the room's decor.

Interior Design Services in Top Cities in India