When it comes to relaxing outdoors, the beach, the hills, or a distant country comes to mind. But there is something special that can come from transforming the lofty outdoor spaces within your home with simple terrace decoration ideas. This place can be your haven and quiet respite from all the noisy hustle-bustle of the city. This can be a place where you enjoy your morning coffee while viewing a sky dominated by skyscrapers, or a verdant garden where you can host evening hangout parties with cosy seating areas, outdoor dining spaces, and pots of plants with blooming beauty.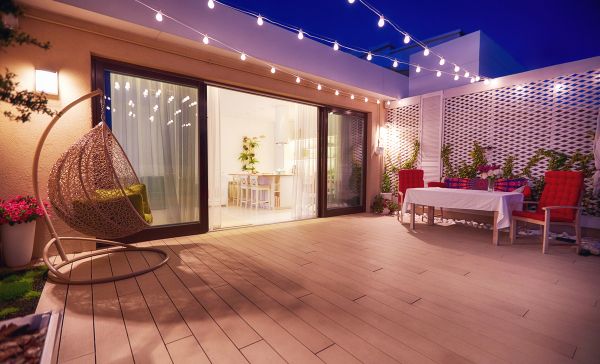 So, if you want a space that can be an ideal area to entertain and relax while being equal parts welcoming and stylish for everything from festivals, to movie screenings, to birthday parties and more, we may have some awesome, inspired terrace decoration ideas.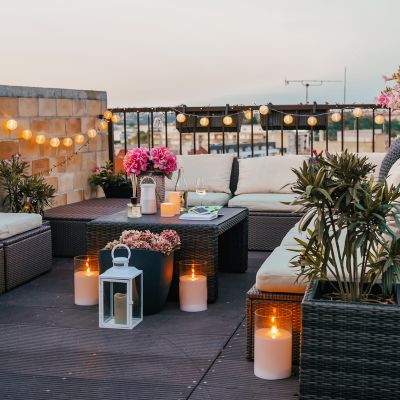 Small Terrace Decoration – Give It a Rustic Look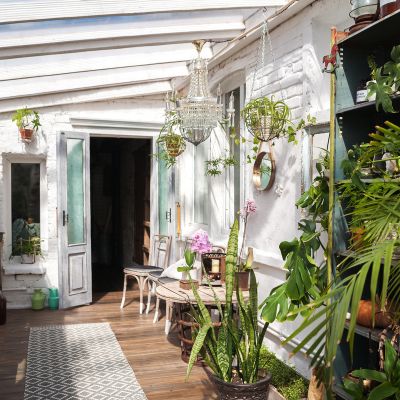 If you like to miss going into nature and living in a cabin within the woods, you recreate that reality by augmenting your terrace into a rustic garden. Using wooden furniture for sofas or couches, hammocks, or swings complement the greenery best. You can even transform a wooden log into a working table for the area. This works both for hangouts parties with small groups if you have a small terrace area, as well as spacious ones, especially when lit with rice lights at night, all adorned with terrace party decorations.
Read: The Doctrine of Adverse Possession Explained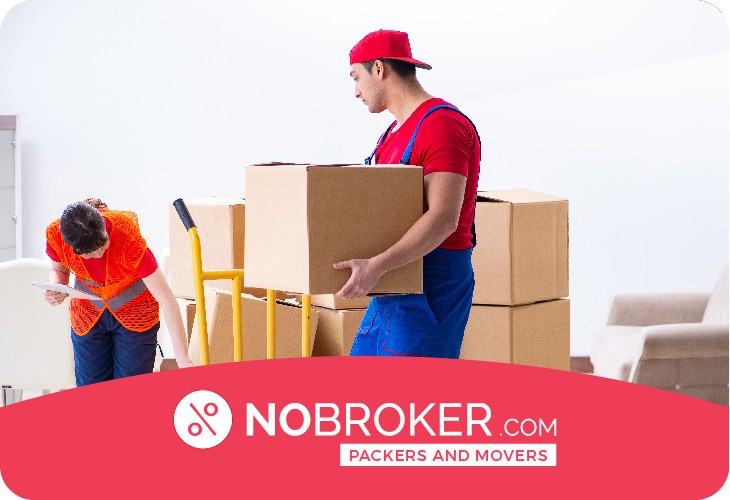 Book Best Packers & Movers with Best Price, Free Cancellation, Dedicated Move Manager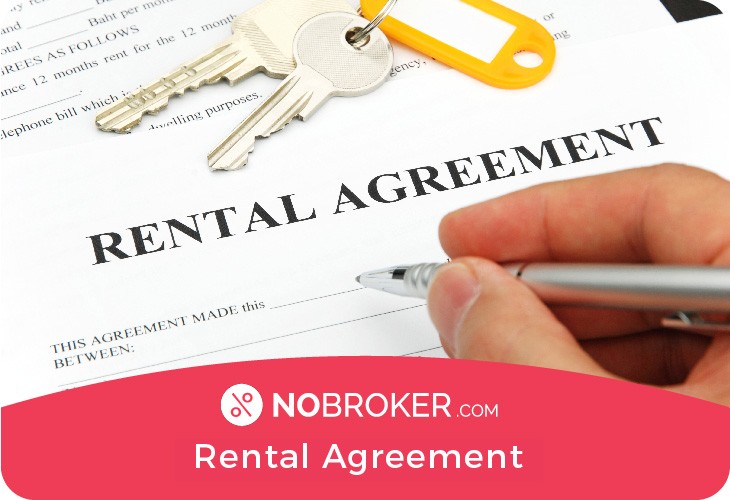 Get Rental Agreement With Doorstep Delivery, Super Quick & Easy
This is third
This is third
This is fourth
This is fourth
This is fifth
This is fifth
This is six
This is six
This is seven
This is seven
This is eight
This is eight
Terrace Wall Decoration – Make It an Intimate Recreation Sanctuary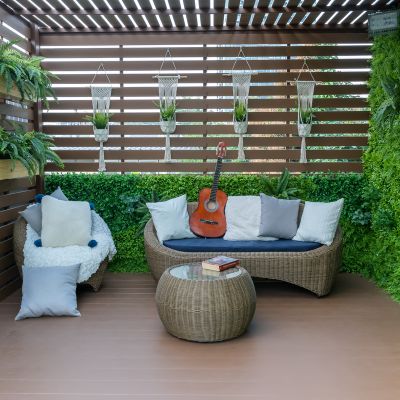 You can take your journey to the wilderness even more intimate and safer turning the terrace into a lush sanctuary for your hobbies. Be it working on your guitar skills or reading a thrilling novel through a lazy afternoon, you will find completely wall adorned walls to be very comforting and welcoming. If want terrace wall decoration ideas that are not restrictive to wall planters, you can also use simple shelves with potted plants, or use trellis to support climbing plants like money plant which can spread across the wall. Again, wood or bamboo themed patio furniture works with the luscious greenery and can be a great option if you are looking for simple terrace decoration ideas.
Simple Terrace Decoration – Extend Your Indoor Décor & Style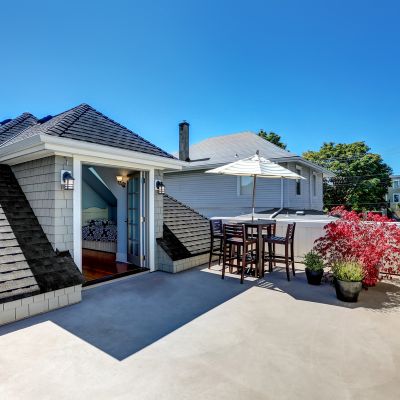 One of the most innovative ways to open your terrace space from the inside is to ensure that you maintain the aesthetic continuity between them. You can use the terrace to maximize spaces by using similar material and design for the décor used inside the house, adorning your terrace area with both high functionalities as well as visual appeal. This trick works really well in making the space bigger than it is, especially if you are looking for some small terrace party decoration ideas, or even terrace decoration ideas for birthdays.
Read: 5 Eco-Friendly House Designs Ideas for Indian Homes
Romantic Terrace Decoration – Turn It into a Romantic La La Land!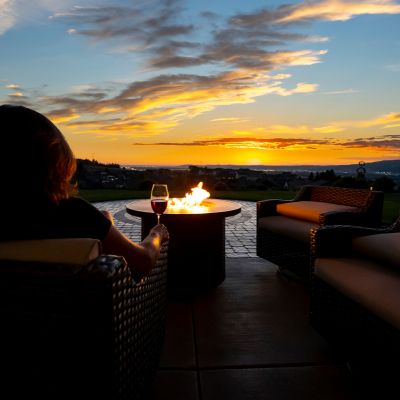 If you are looking to light the passion with some romantic terrace decoration or looking to successfully impress your better half with anniversary decoration on the terrace, it's always best to use furniture that is more comfortable. Instead of using the lighting methods used for parties, you can even take the romance a notch further by adding a firepit as the primary source of lighting, to get the mood just right.
Terrace Decoration with Light – Go Minimalistic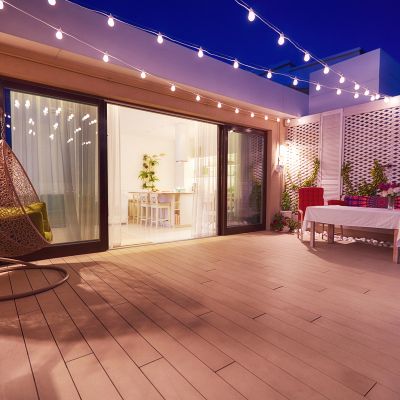 If you are puzzled about cluttering our space with too many terraces decoration items, simply opt for a clean, chic, and minimalistic look. Go for neat, strict lines with the flooring with wooden, stone, or glass surfaces. Add a few potted plants in the corners. Ensure optimum lighting for a warm and relaxed motif. Throw in a relaxing hanging chair that you can flexibly move around with ease, and voila! You have a stylish yet minimal terrace design. You can even have built-in lights on say, wooden floor panels for the deck, that can give your terrace a sophisticated look.
Read: Wind Chimes Vastu: A Cost-Effective Remedy for Eliminating Vastu Dosha and Bad Feng Shui and Embracing Fortunes
Terrace Decoration with Plants – Turn It into a Vintage Courtyard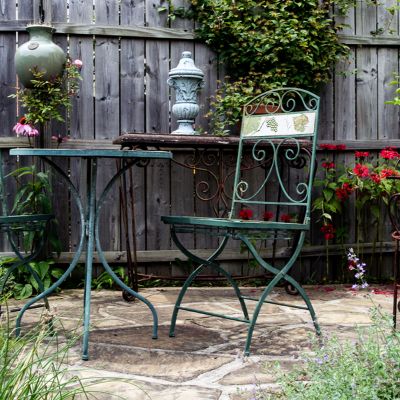 There is a special comfort in nostalgia and the simplicity of the past. Capture the timeless vintage design for your terrace with a basic wood dining table and chairs, a few potted plants, and antique items. These can include anything from faux trophy heads with earthly hues, kite patterned tiles for the flooring, to using vintage lamps and pots to honour the ways of the past.
Terrace Party Decoration – Create an Eclectic Party Lounge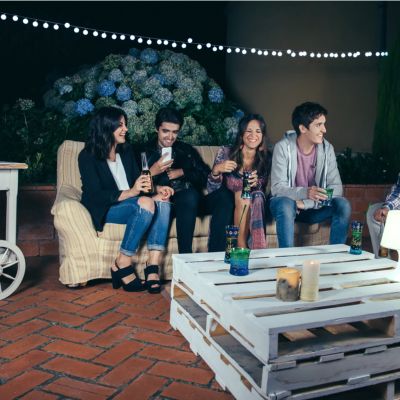 Every year there are a few special occasions where we want to spend the day with our close friends on the rooftop, share a few drinks and laughs with music. A small deck garden with simple, comfortable lounging furniture can serve as the perfect catalyst to bring people together. If you are looking for party themed concepts such as terrace decoration for the new year, Diwali terrace decoration, or even looking for simple Christmas decoration ideas for terrace, think no further than a few foliage options and a lounging
Blending The Perfect Terrace Decor
Little details can achieve stunning results for your terrace decoration ideas. Be it adding a gravel pathway with a patch of the rooftop garden, embracing a recycled table with mismatched dinnerware, scattering a few uniquely shaped large stones across the deck, or just laying a hammock in the smack dab centre of the terrace – your imagination is the limit. You can also try the professionals at NoBroker for great results. Our Home Design Services team has professionals that are all 5-star rated and come with the best experience in the industry. Click the link below to book NoBroker's Home Interior Design services, while enjoying some amazing deals and DISCOUNTS!
Read: Make Your Home Enchanting – Choose the Perfect Bathroom Wall Tiles Design
FAQ's
Q1. How do I protect the terrace from the rain?
Ans. You can use some easy home terrace decoration ideas which also serve the functional purpose of protecting from the rain such as building a pergola, adding a seating area with shade, place a portable gazebo and more.
Q2. What are some easy terrace decoration ideas with plants?
Ans. You can opt for everything from wooden planters, wall planters, potted trees, to wall climbers supported by a trellis.
Q3. Is terrace gardening safe?
Ans. Creating a terrace garden has several benefits including fresh, clean air, building heat absorption, as well insulating the building against cold.
Q4. Which material should I choose for safe terrace flooring?
Ans. You have several options from porcelain flooring, wooden effect tiles, to stone effect porcelain tiles, lighted glass floors, cement floors and more.
Q5. Are balconies and terraces the same?
Ans. While balconiesand terraces can have similar décor and are both open areas at a height within the house, they are not the same. A balcony is attached to the side of the building, while terraces are larger and created on the rooftops of the building.