Store Room Design Ideas, an often overlooked aspect of home organization, hold the key to maintaining a clutter-free and inviting living space. Whether you reside in a spacious villa or a cosy apartment, a well-organized storeroom can make a world of difference. In this article, we'll explore innovative storage solutions tailored for homes of all sizes, ensuring that you can make the most of your available space. So, if you've been struggling to strike a balance between functionality and style in your home, you're in the right place. Let's dive into these clever storage ideas designed to keep your home neat and elegant.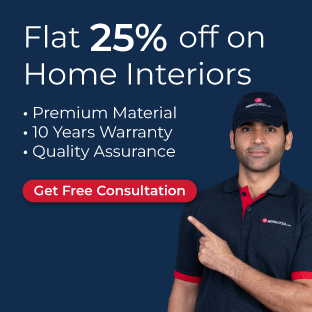 Factors to Consider for Store Room Design
When embarking on a store room design for home, several crucial factors come into play to ensure you create a functional and organized storage space tailored to your needs. Consider the following key factors:
Read: Open Kitchen vs. Closed Kitchen: Facts That Can Change Your Home Designing Ideas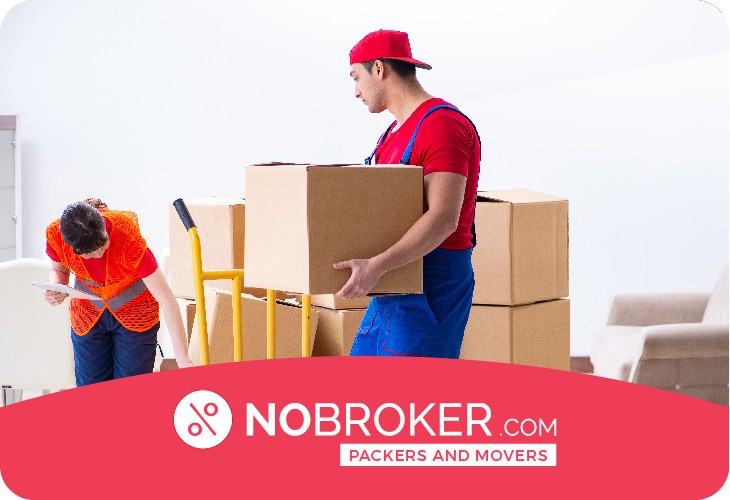 Book Best Packers & Movers with Best Price, Free Cancellation, Dedicated Move Manager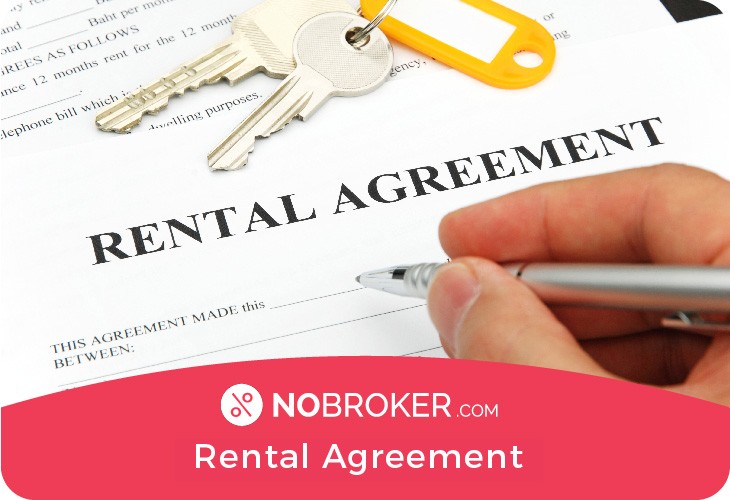 Get Rental Agreement With Doorstep Delivery, Super Quick & Easy
This is third
This is third
This is fourth
This is fourth
This is fifth
This is fifth
This is six
This is six
This is seven
This is seven
This is eight
This is eight
1. Storage Needs: Begin by assessing what items you intend to store in the room. Different items may require distinct storage solutions. For example, holiday decorations, seasonal clothing, or rarely-used kitchen appliances all have unique storage requirements.
2. Available Space: The physical dimensions of your storage room play a vital role in determining the type of storage solutions you can implement. Smaller spaces may benefit from vertical storage options, while larger areas can accommodate various shelving and cabinetry.
3. Customization: Decide whether you prefer built-in storage or freestanding units. Customized built-ins offer tailored solutions but require time and investment. Freestanding units, on the other hand, are readily available and more budget-friendly.
4. Room Function: Consider if your storage room will have multiple functions. Some storage areas double as laundry rooms or utility spaces. If so, plan your storage layout to accommodate these needs efficiently.
5. Safety: If you have young children or pets, safety should be a priority. Ensure that your storage solutions are sturdy and secure, especially if you opt for freestanding units.
6. Accessibility: Store frequently used items at a reachable height, while items you rarely access can be stored in less accessible areas. This keeps your storage room organized and user-friendly.
7. Aesthetic Harmony: Select storage solutions that blend well with your home's interior decor. The colours, textures, and materials used should complement the overall style of your house.
By carefully considering these factors, you can tailor your store room ideas to suit your unique needs, ensuring a clutter-free and functional space.
Cabinetry and Shelving Choices
Cabinets and shelving are great storeroom ideas for the house. They can be built-in or free-standing units. You can choose either one based on your requirements. Let us take a look at the pros and cons of both.
Read: Elevate Your Home's Exterior with Outside Stairs Design 
1. Built-in Storage
The primary advantage of having a built-in unit is that you can customise it exactly how you need it. You can plan and fit all the items you require on the available space based on your usage and requirements. Moreover, these built-in units are durable and tick all the right boxes for aesthetics and attractiveness.
While creating a custom built-in storage unit may require an investment of time and resources, the result is a storage solution tailored precisely to your preferences. For those who enjoy DIY projects, this can be a rewarding endeavour that adds a personalized touch to your living space.
2. Free-standing Units
Free-standing storage units are a great storage room idea. These cabinets are readily available at online shopping platforms and lifestyle and home décor stores. Free-standing units are easy to assemble and are often cheaper. Moreover, a lot of them come in portable or modern collapsible designs which are extremely convenient.
But the disadvantage here is that like every other store-bought furniture, free-standing storage units are not customisable and hence you might not be able to utilise all the available space. Moreover, they are not as sturdy as customised units unless mounted on the wall. This can be a safety concern if you have small kids at home.
Read: Enhance Your Roof Railing Design- Find the Best Designs Now
3. Utility Rooms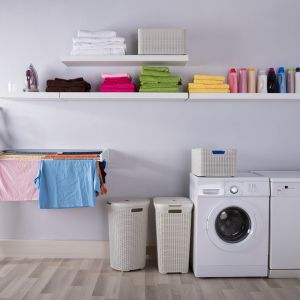 You can create customised shelves and cabinets surrounding your laundry room or washing area. This proves to be quite useful to store cleaning and laundry supplies, or even clean sheets and linens.
If you are looking for a cheaper option, you can opt for a countertop that is framed just above your washer and dryer. This extra surface is great for folding and sorting out your clothes. You can later add free-standing portable units and create a cohesive storage area.
Converting a House Basement into a Store Room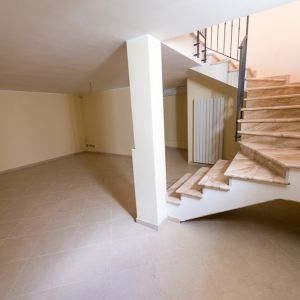 This subterranean space is a great idea for a small Store Room design at home. The basement is an ideal storage space for rarely used items such as festival decorations, camping gear, or leftover paints and plaster materials. You can also store harmful chemicals like pesticides, etc to keep them away from children.
You can install free-standing shelves on the two corners. They will allow you both horizontal and vertical storage options. Use heavy-duty plastic bins that are waterproof and help keep contents dry and safe from dust and moulds.
Read: French Window Design: Timeless Elegance for Your Home
Storage Underneath a Staircase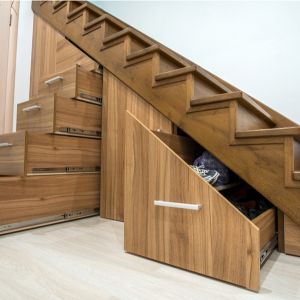 You can create a mini storage space of sorts in unused spaces such as under the staircase. This is a smart and efficient design idea for a storage room. Since it is a small and uneven-shaped space, you can add aStore Room door to this design to cleverly hide it.
If you love to read and would like to show off your book collection, this can also be a perfect space to stash your books along with some eye-catching décor and knick-knacks.
Transform Your Attic into a Storage Space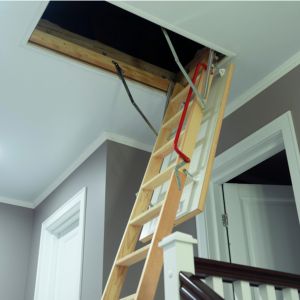 You can transform your attic into a chic storage space, albeit with proper insulation and ventilation which minimises excessive heat and humidity. Install vents near the eaves and on the roof, which will allow hot air to pass via convection. You can also install insulation between the floor joists to slow down heat transfer from the attic to another storey of the house.
Design-wise, an attic room gives you more options to play around with different storage ideas. You can create a knee-wall along the room to create some storage space for boxes and suitcases. Another practical Store Room door design is to hang it on sliding tracks forefficient use of floor space.
Tall, custom shelving can hold all your antiques and book collections. You can also instal floating shelves stacking them one upon the other.
Garage Storage Room Design Ideas for Homes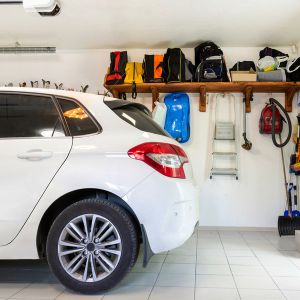 It is always advisable to use as much wall space as possible without using up the floor. So, try to wall mount bicycles on the garage walls. We have a cool tip for you to use up an unfinished garage wall. Take two 2-inch-wide wooden slats and nail them on either side of the unfinished wall to store fishing poles, baseball bats, and even shovels, rakes, and brooms.
Storeroom Interior Design Ideas for Small Spaces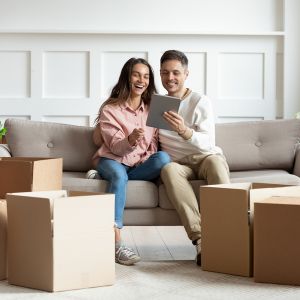 Don't be disheartened if you have a small space. Smaller spaces are less wasteful and very cost-effective. All you have to do is to make sure you use up space smartly. Try to find extra spaces, for example, under a sloping ceiling and find ways to utilise these spaces to the full.
Tweak Structural Elements for an Illusion of More Space
Firstly, you always have to consider the store room furniture requirements and what type of storage you need. Once you figure that out, try to find the best ways of utilising extra spaces to the max.
Another key element is the lighting. A good amount of airflow and light in a small space gives a spacious feeling. You can install sconces or floor lamps that illuminate the room from different angles. The reflected light is great for highlighting Indian Store Room design in small spaces. Keep your furniture compact and utilitarian.
Finally, if you have the budget, you can create small built-ins in the form of bookcases or cabinets in your closet and if you are feeling more adventurous, you can go for the sliding door design to maximise storage space in the room.
Tips and Tricks on How to Store Different Items
Label everything. Be it sleeves, boxes, pipes or even the fuse box, it is a great way to form an organised Store Room design.
Use clear containers so that you can see what's inside without having to open each box every time you have to grab something from the store.
Reuse your egg cartons to store jewellery or delicate Christmas decorations.
Pegboard shelving is a great Store Room design for your home. You can store your arts and crafts supplies or power tools!
Maximise the use of hooks. Ironing boards, brooms, dustpans can all be wall-mounted, helping you use up the available space effectively.
Invest in file cabinets and avoid paper clutters.
Store that expensive tableware in a high spot that you don't need to access daily.
DIY shelving!! Create a Store Room for shelf design.. It completely uses up the available space and you will be able to accommodate everything you want to store easily.
Add sturdy and distinct clothing racks to store sweaters, jackets, blankets during Summer.
Experts suggest that customised shelves in your garage, attic, or basement is the perfect spot to store precious festival decorations that you perhaps use once a year.
It is a myth that small spaces mean no storage room, and large spaces require a huge budget to set up a Store Room. However, once you have determined your requirements, building your own storage space with a thoughtful Store Room design, is no rocket science!
For more tips and tricks on how to constantly upgrade and utilise your space. Just get in touch with professionals at NoBroker and we can help you bring your interior design dreams to life. Click the link below to get interior designers who are the best in their field, at the best price in the industry.
FAQ's
Q1. How do I choose an ideal storage space for myself?
Ans. This will depend on several factors such as what you wish to store, what other purpose the room will be used for, how much free space is available to you, and the overall décor of your home.

Q2. What are the two main types of storeroom designs for a home?
Ans. The two main types of storeroom designs for the home are built-in custom-designed storage units and store-bought portable freestanding units. Both come with their own sets of pros and cons.
Q3. What are the top storeroom ideas for small spaces?
Ans. Small store room design ideas for the home should focus on finding strategic spaces, creating cabinets within closets, and installing several light sources and reflective lights as well.

Q4. How do I store expensive tableware?
Ans. You can store expensive tableware at a higher spot that you don't access daily. 
Q5. What are some of the general storeroom design ideas for the house?
Ans. Some of the general storeroom design ideas for the house are utilising your washing area, garage, basement, kitchens, attics and creating hidden storage spaces underneath staircases.
Q6. What is the significance of a kitchen with store room?
Ans. A kitchen with a store room is invaluable for maintaining an organized and clutter-free cooking space. It provides a dedicated area to store pantry items, kitchen equipment, and even seasonal cookware, keeping your kitchen tidy and efficient.

Q7. How can I optimize a store room in house?
Ans. To make the most of your house's store room, consider installing custom shelves, cabinets, or cupboards that suit your specific storage needs. Organize items by frequency of use and maintain a systematic arrangement.

Q8. What are some innovative store room cupboard designs?
Ans. Innovative store room cupboard designs include pull-out shelves, adjustable dividers, and space-saving storage solutions. These designs ensure efficient utilization of cupboard space in your store room.

Q9. Can you suggest kitchen store room design ideas?
Ans. Kitchen store room ideas encompass clever storage solutions such as pull-out drawers, hanging racks for pots and pans, and built-in cabinets with labelled containers for different ingredients. These storage room ideas streamline your kitchen's functionality.

Q10. How can I create a utility area design in India?
Ans. Designing a utility area in India involves planning for laundry and storage. You can install shelving for laundry supplies, a countertop for folding, and efficient storage solutions to keep this space organized and functional for various household needs.