A lot of the modern-day techniques and architectural styles have started showing over the real estate world and PVC wall panel design is one such trend that is here to stay. PVC is a strong polymer that is made after the polymerisation of vinyl chloride. The versatile nature and wide range of applications have resulted in the use of PVC for constructing not just raincoats and credit cards but walls and ceilings of your homes as well. PVC wall panelling is a great way to add a personalised touch to a solid structure and it's slowly replacing the conventional methods of building in terms of demand and popularity. Wondering what the fuss is all about around PVC wall panel designs? Let's take a look at some trendy wall PVC panel designs and find out why this modern method of cladding is so popular over conventional methods.
Advantages of Using PVC Wall Panel Designs in Your Home
PVC is widely used as a form of plastic that can be used instead of conventional materials like PoP or wood for building. The smooth surface of PVC wall panels allow for easy decoration and the lightweight nature makes it easy to transport. PVC wall panel designs can be pretty durable if sharp objects are not kept in their vicinity. PVC panel designs for walls are
Read: 2021's Most Attractive Exterior Wall Texture Design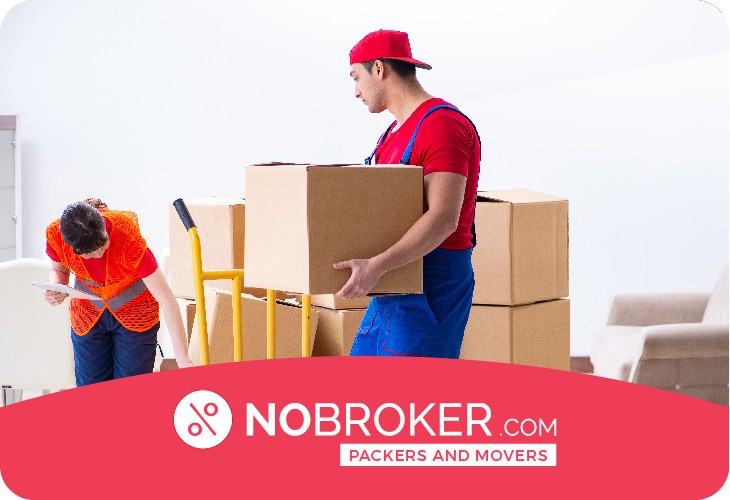 Book Best Packers & Movers with Best Price, Free Cancellation, Dedicated Move Manager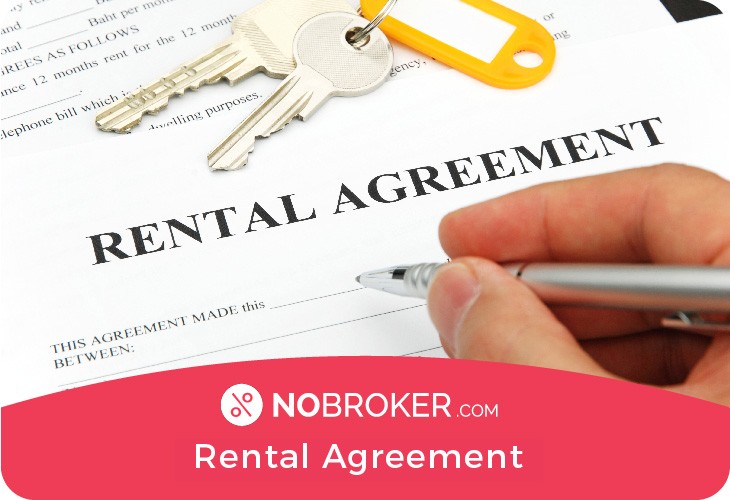 Get Rental Agreement With Doorstep Delivery, Super Quick & Easy
This is third
This is third
This is fourth
This is fourth
This is fifth
This is fifth
This is six
This is six
This is seven
This is seven
This is eight
This is eight
Easy To Install
Available in a lot of variety
Lightweight
Pocket Friendly
Fire Resistant
Low maintenance
Moisture Resistant
Great Insulators
Based on the above factors, PVC wall panels have found wide application across the real estate world. There are different forms of PVC wall panels being widely used all over the world. Based on usage and the process of formation, PVC wall panels can be classified as:
PVC sheets
3D PVC wall panels
PVC Foam Boards
Edge mouldings
Let's take a look at some trendy designs made from these PVC wall panels and how you can incorporate them into your home. You can take inspiration from the designs here and make your own or get the exact same design for your wall
Modern PVC Wall Panel Design for Your Bedroom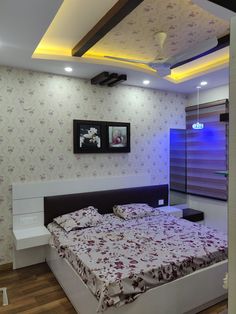 Apart from being lightweight and durable, the biggest advantage of using PVC wall panel design for your bedroom is the convenience of enhancing the look of the space. The main purpose of using PVC wall panels is to decorate a space and it can be done very easily with 3D PVC wall panel designs. These panels are very low maintenance so don't require a lot of dusting and repainting. Take a look at the design above, how a PVC wall panel sheet design is used to clad the walls. The smooth surface of the PVC allows for a variety of designs that you can have. You can even put dim LED lights to add mood lighting effects to the entire space.
Make Your Drawing Room Beautiful with PVC Wall Panels Designs for the Living Room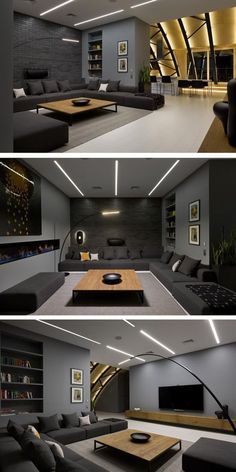 The living room is a space that holds most guests and visitors and adding PVC wall panels to the drawing rooms walls can make your hall impressive for all your friends. PVC wall panel designs for drawing rooms can make any normal living room trendy and chic and uplift the environment in the room. Another great way to add to the aesthetics of the room is to use PVC walls with LED lights installed. PVC wall panels are great insulators and hence help in keeping the room's temperature cooler too. You can play with the designs here as PVC wall panels offer great flexibility when it comes to design options. Most Indian homes also have their TV sets in their living room. A PVC wall panel design for LCD can be used to design the TV cabinet and give a trendy, attractive look to your viewing experience.
PVC Wall Panels Designs for the Kitchen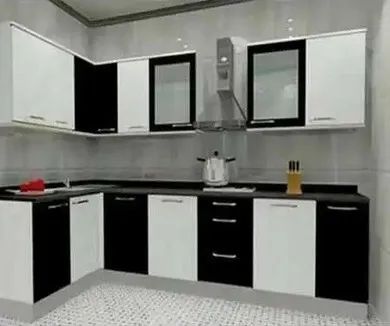 Although wood and tiles have been traditionally used to make a kitchen, PVC panels can be the perfect solution for you if you are looking for an easy to clean, low maintenance kitchen. PVC wall panels are water-resistant and don't let dampness and moisture affect the surface. A modular PVC wall panels designs for the kitchen is the most popular and in-demand layout and the durability and thermal resistant qualities of PVC wall panels only make them more desirable. Installing PVC wall panels in the kitchen is very easy and you can have the cabinets, shelves and racks cladded with PVC sheets as well.
Raise Morale in the Workspace with PVC Wall Panel Design for Your Office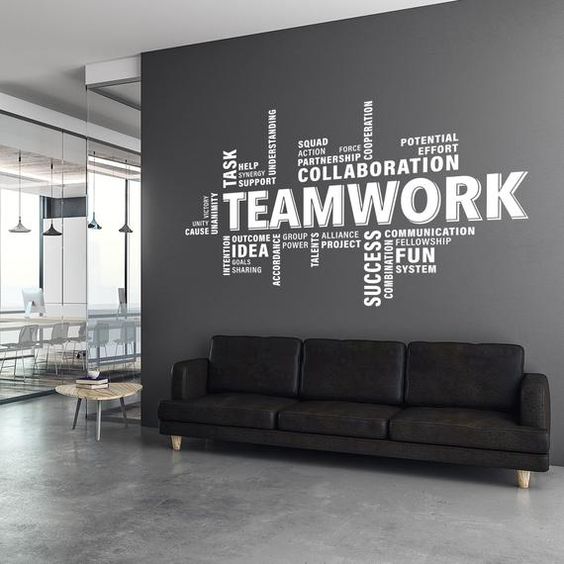 Due to the cost-effectiveness and aesthetics, PVC wall panels have found widespread use in designing modern workspaces for start-ups and corporates. The PVC wall panels are being used in designing sound-proof conference rooms, team rooms, and cabins for the management. PVC wall panels can be used effectively in offices with lesser space to define the boundaries properly without wasting too much ground. PVC wall panels can also be used to put morale-boosting quotes to uplift the workspace's productivity and aesthetics.
Get More Customers with These Attractive PVC Wall Panel Design Ideas for Your Shop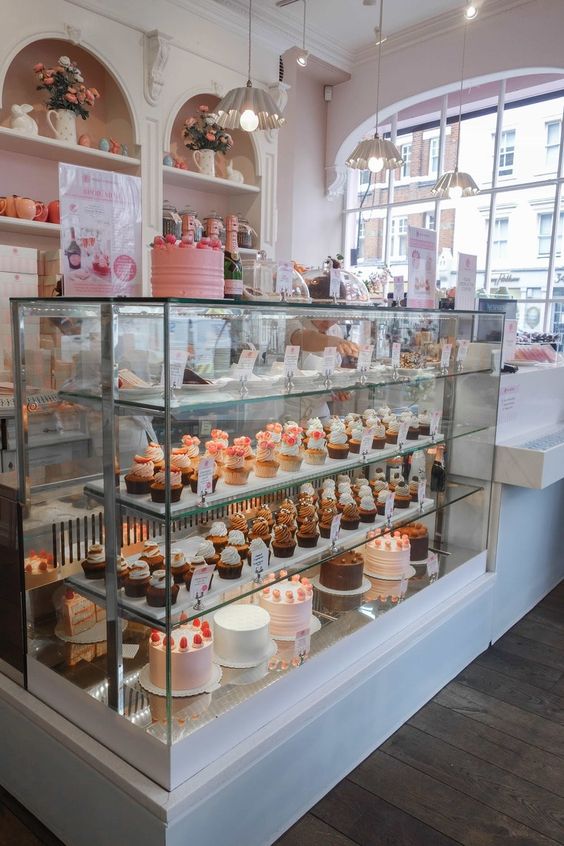 PVC wall panels have also found widespread use in decorating small shops to entice customers. The smooth surface of the PVC wall panels can be used to showcase current offers or the shops' logo. PVC wall panels are a great choice for bakeries, sweet shops and other such shops as the surface of PVC allows for creativity while being durable. PVC Wall Panel design for a shop can be simple as well depending on the demand.
Have A Pleasant Time with These Trendy PVC Wall Panel Designs for the Lobby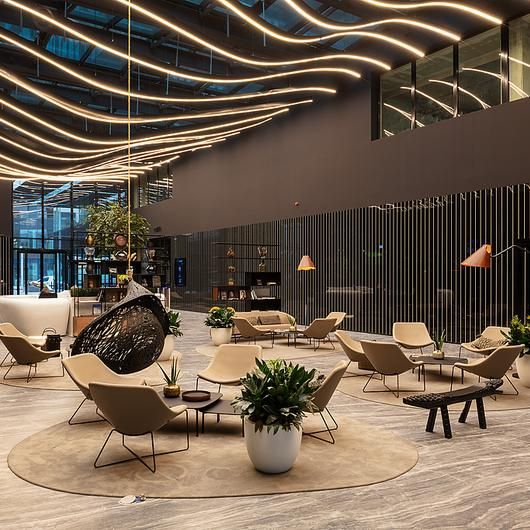 Designing a lobby area with PVC wall panels can be very cost-effective and aesthetically pleasing. PVC wall panels and ceiling can be used with LED lights to give a trendy touch to the lobby space and make it pleasant for everyone. Most modern-day cafes and puns use PVC ceiling designs and wall panels as they are cost-effective, easy to install and beautiful when executed properly.
Enhance Your Living Experience With 3D PVC Wall Panel Design Ideas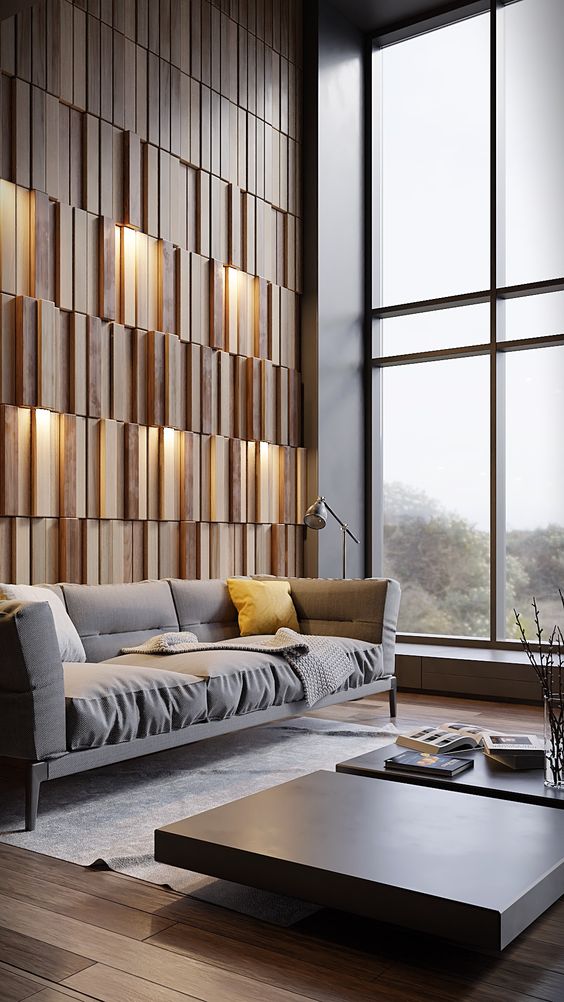 With 3D PVC wall panels, you can put a giant landscape in any room in your budget. 3D wall panels have emerged as a popular choice among millennials for designing their halls and bedrooms. These panels are very easy to instal and take the aesthetics of the rooms to a different level altogether. You can have one installed in your living room and give a plush, rich feel to the entire space.
Using Wainscot: Wooden Design PVC Wall Panels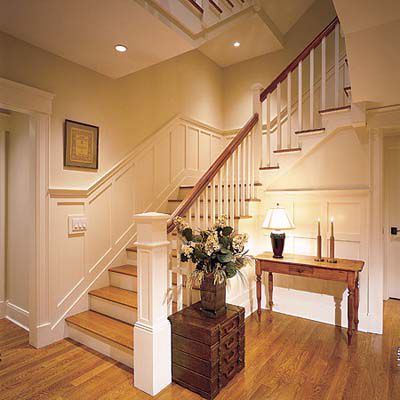 Wainscot or wooden design PVC wall panels is another trendy designing principle that uses the designing benefits of PVC wall panels along with wood to add sturdiness. Wooden Design PVC wall Panels have found widespread use in bathrooms and kitchens and they add the much-needed water-resistant layer to the surface in these spaces.
Latest PVC Wall Panel Designs That are in Trend
PVC wall panels have found so much application in building and construction. There have been a lot of trends around these and some of them are really exciting and can enhance the beauty of any space. From having mirrored walls to designing the TV cabinet, PVC wall panel designs can be used. Some of the trendiest design ideas that have emerged from PVC wall panels are:
PVC wall Panel LED design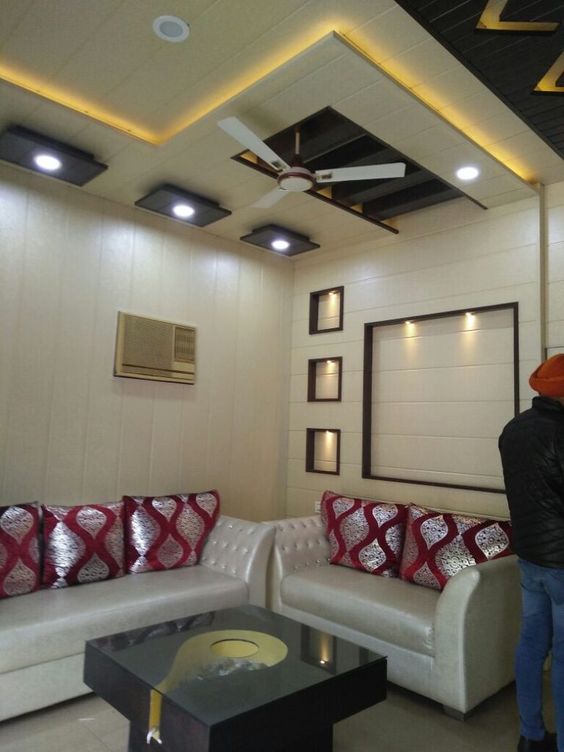 Using LED lights in combination with PVC wall panels can add to the beauty of any room.
PVC Wall Panel LCD design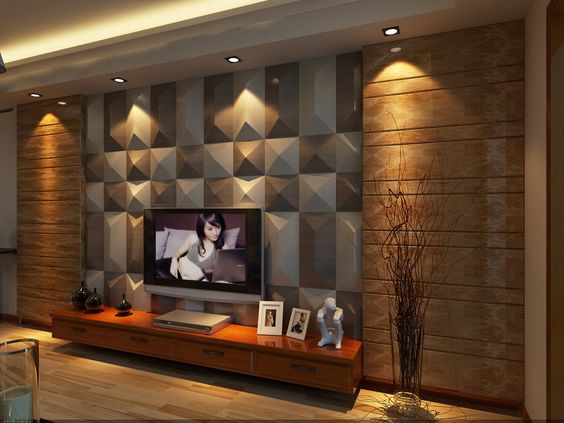 Using PVC wall panels to decorate the TV cabinet with LED lights have emerged as a popular new trend among modern homes.
PVC Wall Panel Ceiling Design Ideas for a Modern Home
PVC can also be used to decorate the ceilings of a home as well. The ease of installation and water-resistant nature makes it a leading choice for the building material of a modern-day home. The PVC ceiling allows for the room's temperature to be maintained easily as well. When used in combination with LED lights to design the ceilings, PVC panels beautify the place conveniently.
Overview: As we saw, PVC can be used for cladding the walls and ceiling of a home. These PVC wall panel design ideas can be referred to when you are selecting a PVC panel design for the walls of your home. PVC wall panel design is very easy to instal at home; however, we recommend calling an expert. If you are looking to get PVC wall panels installed in your home, contact the interior designing experts at NoBroker. We guarantee the best-in-class professionals at the lowest quote. Just comment on the blog below and we will reach out to you.
FAQ's
Q1. Is PVC wall panels better than PoP panels?
Ans: If you are planning to add a false ceiling or wall panel to your home, PVC is the perfect choice of material. PVC panels are durable, water-resistant and very cost-efficient so, you can select them for any space in your home without a doubt.
Q2. What are the disadvantages of PVC wall panels?
Ans: Despite so many use cases, PVC wall panels also have their fair share of disadvantages. Here are some major ones:
Chemical Residue: Chlorine residue over time
Fragility in front of sharp objects
Nailing/Screwing is very complicated
No internal customisation after the installation
Q3. Are PVC wall panels good for the bathroom?
Ans: PVC wall panels are water-resistant and with regular maintenance, the build-up of moulds and moisture can be avoided. Hence, PVC wall panels are perfect for decorating a bathroom.
Q4. Can 3D PVC wall panels be used to decorate a bedroom?
Ans: 3D PVC wall panels are the perfect choice to decorate any space and enhance its beauty without spending much. 3D wall panels and ceilings can be used to decorate your bedroom, living room, bathroom or even your office space.

Q5. Is PVC Wall Panelling costly?
Ans: PVC wall panels are pocket friendly and it doesn't cost much to design an entire space with PVC panels. PVC panels are durable and require very low maintenance.