The Importance of bathrooms in a household setting cannot be overstated. Yet, as far as décor and furnishings are concerned, these damp rooms are also the most underappreciated areas in the home. While many people choose to close their PVC doors for bathroom instead of normal wooden doors, these doors ultimately get mossy and worn out due to the passage of time. So, you'll need PVC bathroom door designs that are different from the others and that are resistant to water and humidity.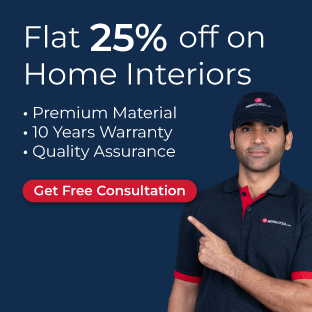 A decorative PVC bathroom door design not only enhances the interior decor of your house but also protects the information that you share with others. There are many different types of bathroom doors available on the market, and you can choose the one that best suits your needs depending on the structure of your house and the location of your bathroom.
Read: Top 15 Mandir Designs For Home With Styling Tips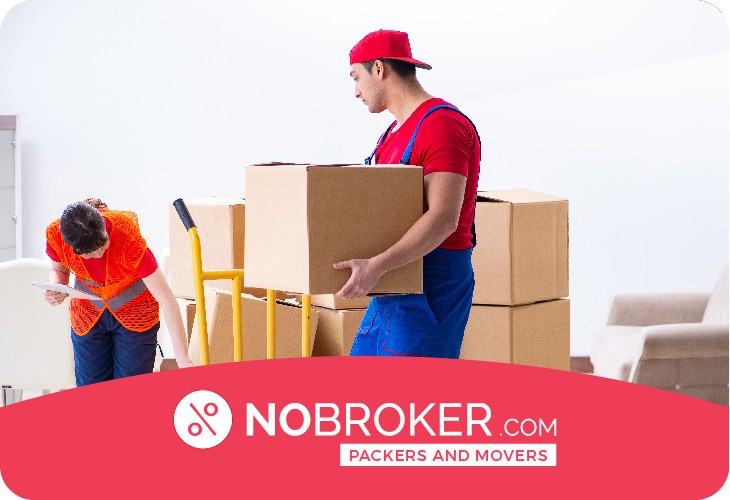 Book Best Packers & Movers with Best Price, Free Cancellation, Dedicated Move Manager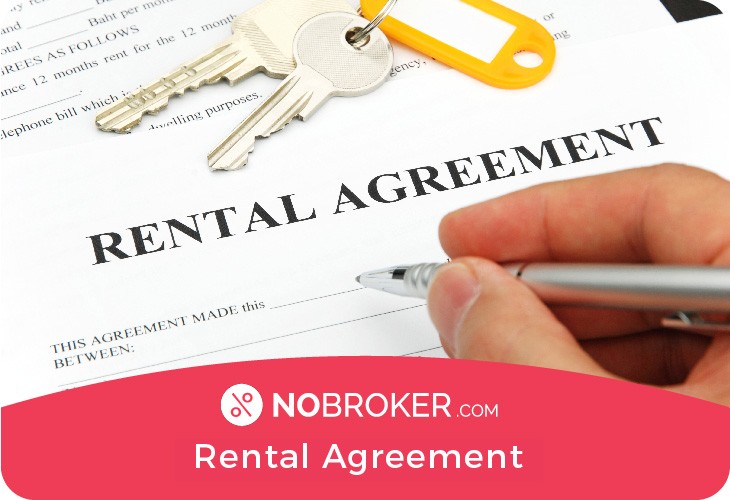 Get Rental Agreement With Doorstep Delivery, Super Quick & Easy
This is third
This is third
This is fourth
This is fourth
This is fifth
This is fifth
This is six
This is six
This is seven
This is seven
This is eight
This is eight
What Are the Different Types of Bathroom Doors?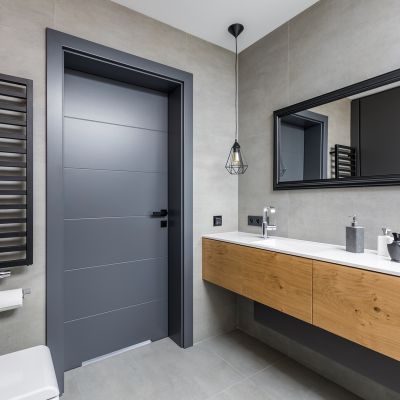 Sliding Model Doors
A sliding model door saves a lot of space while also adding a touch of beauty to your area. You have the option of customizing these doors to match the rest of the theme.
Pocket Doors
The use of pocket doors is highly suggested if your bathroom is only accessible via a small entrance. This is a form of Slide door that disappears into the wall, allowing for more area for movement.
Panel Doors
These doors are composed of wood panels and are ideal for use in bathrooms. These doors can tolerate moist circumstances and survive for a long time and are one of the most popular PVC bathroom door designs.
Frosted Glass Doors
If you have a lovely bathroom that requires an aesthetically pleasing entry, a frosted glass door will work wonders for you! It offers the impression of more room and gives the impression of more air.
Flush Doors
Flush Doors are the most common bathroom door because they are flush with the wall. Flush doors are the finest money can buy since they are made with a unique coating that protects them from harm caused by severe heat or cold.
Most Appropriate Door Types for Bathrooms
There is no such thing as an "ideal" door that will work in every home when it comes to bathroom doors. Instead, a plethora of alternatives are available. Each of these door kinds has its own set of advantages, which you may learn more about by visiting this page. Your requirements and the specifications of the door you are buying must be in sync. Whichever type you choose whether it is one of the modern PVC bathroom door designs or a glass door there is one that will satisfy your demands, whether you want to maximize the use of your available space or have a merely decorative door. Inspect these doors to verify that they are in good working order for the sake of a bathroom's operation.
Read: Unleashing the Beauty of Dining Room Lighting
The 10 Most Creative Bathroom Door Designs
Here are some images of basic and contemporary bathroom door designs and thorough explanations of each design concept.
1. Small Bathroom Door Design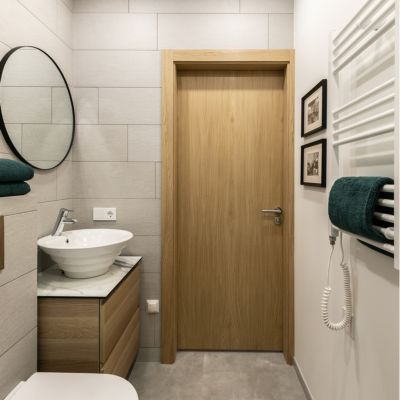 Do you have a tiny bathroom and are looking for a door to fit the space and keep it hidden? Consider using a bathroom door design PVC for small rooms, which can be folded in half to provide space for one person at a time to maximize space. You may also choose to keep it completely open to facilitate access to the area. Using a combination of wood and glass for your little bathroom door is one of the unique options.
2. Designer Bathroom Doors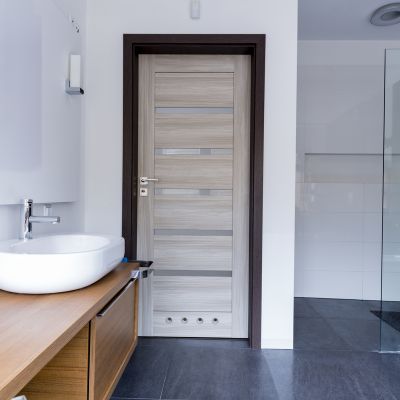 When have you spent a significant amount of money on high-end bathroom fixtures? Why settle for standard PVC bathroom door designs in India? A trendy bathroom door is just what you've been looking for to step up your style game. This PVC panel door has stained glass with a lovely floral pattern and is made of PVC. Using the door to provide subtle indications about the beauty of the bathroom is a great idea!
Read: Everything You Need to Know About Living Room Ceiling Lights – Types, Designs & Uses!
3. Design of the Master Bathroom Door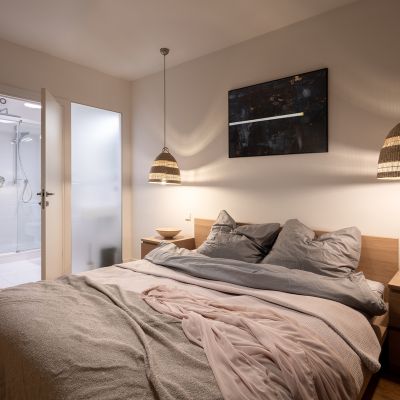 You can indicate to your guests who are in control when you use this gorgeous door to welcome them. In most situations, the master bathroom is the most extensive of all the bathing rooms in the house. As a consequence, you demand decorative PVC bathroom door designs that are both functional and satisfy your specifications. This is where double PVC bathroom doors are an ideal solution for larger bathrooms or those with a separate shower and bath area. These doors offer a modern and sleek look while also providing added privacy and noise reduction. They are also moisture resistant and easy to clean, making them a practical and low-maintenance option. Examine the beauty and functionality of this white fretwork Sliding door, which has a gorgeous design and functionality. Most people find it attractive because of its smooth movement and visually beautiful design.
4. PVC Bathroom Door Designs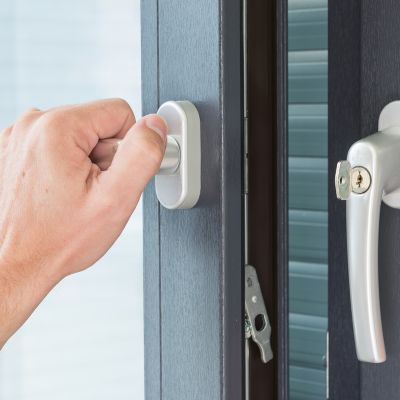 If wood doors are not an option for you, consider PVC doors, which are cost-effective and long-lasting. Using a stained finish, this door replicates the appearance of a traditional wooden door. The door is equipped with a series of frosted glass panes that help to protect the view while also adding a stunning aesthetic to the interiors.
Read: Do You Want a Relaxing, Dreamy Space? Facelift Your Bedroom with These Stunning Single Bed Designs
5. Aluminium Bathroom Door Designs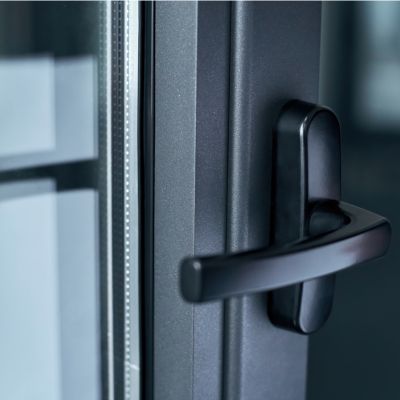 Aluminium doors are lightweight and corrosion-resistant, making them an excellent replacement option if you do not want a bathroom plastic door design. They are particularly well suited for exterior bathrooms, where fragile materials like wood or glass would not last long. This door comprises several distinct aluminium panels that work together to provide a practical design. The bottom set of slats allows for better ventilation into the space while also exhausting stale air from the room.
6. Plastic Door for Bathroom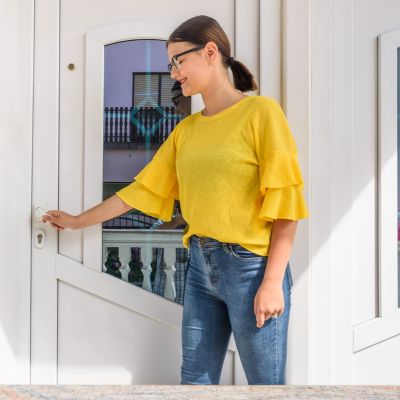 Presented here is a straightforward bathroom door made of plastic. The door is very sturdy and waterproof, making it ideal for use in toilets and bathroom door PVC design as well. This is a single panelled door with a raised style that has a single panel. The design and color combinations may be changed to make them more or less complement the rest of the interior decor. Furthermore, they are also fairly priced.
7. Shower Door That Slides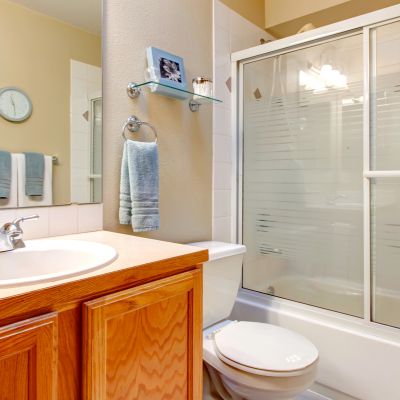 This barn-style bathroomdoor will add a touch of old-world character to your home. The panelled wooden door is mounted on a top rail and slid down to make this unusual sliding door. Along with operating effectively as a door, the design allows you to make the most of your available space. If you have a bigger room, you may want to consider a two-way sliding door.
8. Bathroom Glass Door Design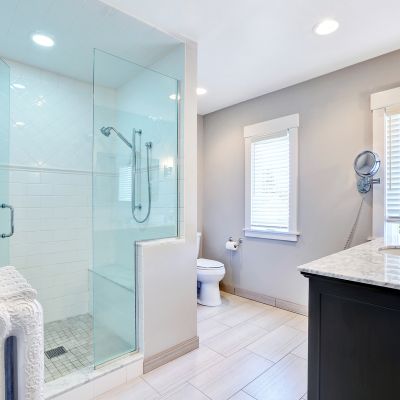 In this magnificent Shower cubicle, you may pamper your inner senses. The glass sliding bathroom door may be used as a room divider between your bedroom and shower area, or it can be utilized as a shower enclosure. For water resistance, this door is constructed with a metal frame and complete glass panes. With the use of a shower curtain, PVC door with frame for bathroom is a great way to keep your bathroom private.
9. Wooden Bathroom Doors
The attractiveness of a Wooden bathroom door does not need any more explanation! By virtue of its smooth texture, this beautiful door gives your rooms a sense of exoticism. The panelled door is crafted from high-quality wood to complement your expensive fixtures and fittings. In accordance with the interior design, this hinged door may be maintained either inside or outward.
10. UPVC Bathroom Door Designs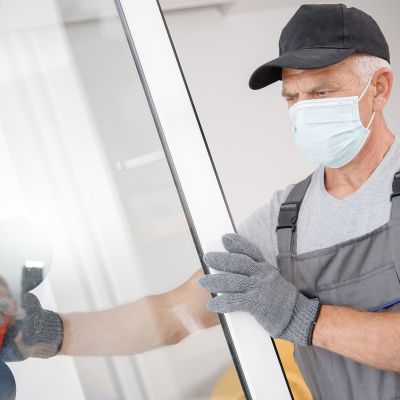 Simple and elegant, these uPVC bathroom door designs are a great addition to any home. It's easy to see how beautifully the traditional white door merges with the white backdrop of your walls. Aside from that, it is a slender type of door that doesn't take up a lot of room. The UPVC doors for bathroom have concealed hinges that give it a seamless look since they are hidden from view. You might try using a knob to open and close the door.
Factors to Consider When Purchasing a Bathroom Door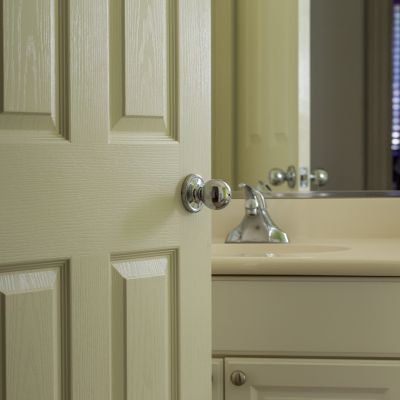 It is recommended that you examine the following purchase tips before making a selection on a certain bathroom door:
Choose the material that is best suited for your door. If you decide to utilize wood, be certain it is water-resistant and does not swell when exposed to moisture. It is advised that metal or aluminium be used for commercial restrooms or bathrooms with many uses while a plastic door design for bathroom is suitable for minimal usage too.
The direction of the swing of the toilet PVC door design is really important. Is it better to look inside or outward? Which do you prefer, and why? Providing an answer to this issue leads to a straightforward solution to the puzzle of where to place a restroom door. To ensure that the door opens and closes effortlessly without interfering with the fixtures and closets in the bathroom, it must be able to open and close smoothly.
However, the style and PVC bathroom door designs are significant factors to consider. For the doors that will be included in the interior design, you may choose from various designs and styles.
What are PVC Fibre Bathroom Doors?
PVC, or polyvinyl chloride, is a great material option for your bathroom doors. These contemporary doors manufactured by humans enable you to work less and invest more. PVC doors mimic painted wooden doors without the upkeep that comes with the absorbent, all-natural wood fibres.
Because of its strength and toughness, this raw material is frequently a wonderful option for exterior doors, so employing it indoors, away from the damaging outdoor elements, means your maintenance needs drastically decrease. PVC can be made to look more like frosted glass shower doors, which makes cleaning easier and adds to the contemporary look.
Advantages of PVC bathroom door material
Bathroom doors made of PVC are robust and durable.
PVC toilet doors need little to no upkeep.
Comparatively speaking, PVC bathroom doors are termite and bug-proof to wooden bathroom doors.
PVC bathroom doors come in a variety of colours and patterns.
You may achieve any style, including wooden or glass bathroom doors, with a PVC fibre door.
PVC bathroom doors are resistant to corrosion.
Disadvantages of PVC bathroom doors
PVC doors cannot be utilised in harsh or demanding environments due to their comparatively weak structural strength when compared to doors constructed of other materials. Therefore, avoid opening and closing the door too forcefully because doing so could break or fracture the door.
Installation of this type of door must be done with care if you purchase a PVC door for a low price from an unknown company to prevent damage to the door since they might use very thin PVC material.
PVC doors need to be cleaned frequently to prevent dirt from adhering to the surface and altering the door's original colour.
Not all door handles may be utilised with PVC doors. Due to the PVC material's weak sticking force, handles with a lot of weight are prone to detach.
How to clean PVC bathroom doors?: A step-by-step guide
Let's face it, bathroom doors can get pretty grimy pretty fast. And if you have PVC bathroom doors, you know that cleaning them can be a bit of a hassle. But don't worry, my friend! With a few simple steps and some elbow grease, you'll have your PVC bathroom doors looking as good as new in no time.
First things first, gather your supplies. You'll need a bucket of warm water, a mild detergent, a sponge or cloth, and a clean, dry towel. Once you've got everything ready, it's time to get down to business.
Step 1: Start by removing any loose dirt or debris from the surface of the door. Use a dry cloth or a soft-bristled brush to gently sweep away any cobwebs or dust.
Step 2: Next, mix a small amount of mild detergent with warm water in your bucket. Dip your sponge or cloth into the solution and wring it out until it's only slightly damp.
Step 3: Starting at the top of the door, gently wipe down the surface, working your way down. Be sure to pay extra attention to any areas that are especially dirty or stained.
Step 4: Once you've cleaned the entire surface of the door, rinse it off with clean water. Use a clean, damp cloth to wipe away any soapy residue.
Step 5: Finally, dry the door with a clean, dry towel. Make sure to wipe away any water droplets to prevent water stains.
And that's it! With just a few simple steps, your PVC bathroom doors will be sparkling clean. But what about maintenance?
How do you keep up the maintenance for PVC bathroom doors?
If you are wondering about how to clean PVC bathroom doors, well, the good news is that PVC bathroom doors are pretty low maintenance. Here are a few tips to keep them looking great:
Wipe down the doors regularly with a clean, damp cloth to remove any dirt or grime before it has a chance to build up.
Avoid using harsh chemicals or abrasive cleaning products on the doors. Stick to mild detergents and warm water for cleaning.
Don't forget to clean the door tracks and hinges, as these areas can easily collect dirt and grime.
Keep an eye out for any signs of wear and tear, such as cracks or scratches, and address them as soon as possible to prevent further damage.
By following these simple steps, you'll be able to keep your PVC bathroom doors looking like new for years to come. No more scrubbing and scouring, just sparkling clean PVC bathroom doors that will make your bathroom look as good as new!
Unlocking the door to your dream bathroom with NoBroker
When it comes to bathroom doors, there are many options available in the market. From PVC bathroom doors to glass or wooden doors, the choices can be overwhelming. But before you start shopping for a new bathroom door, it's important to consider your personal preferences and the overall PVC bathroom doors design latest in the market. PVC bathroom doors are a great option for those looking for a low-maintenance and durable option. They are easy to clean, resistant to moisture and humidity, and come in a variety of designs and styles. On the other hand, glass or wooden doors offer a more elegant and sophisticated look, and can be customized to match the aesthetic of your bathroom.
No matter which option you choose, it's important to keep in mind that the right bathroom door can add a lot of value to your home. It can also enhance the overall aesthetic and functionality of your bathroom. And if you need help in choosing the right bathroom door design, you can always consult with a carpenter or an interior designer. They can provide expert advice on the best options for your bathroom based on your personal style and budget. If you're looking for professional help, NoBroker.com has a team of interior designers and carpenters who can help you make the perfect choice for your bathroom. They have the expertise and experience to guide you through the process of choosing the right bathroom door design. They will take into consideration your preferences and the overall design of your bathroom, to ensure that the door you choose will complement your bathroom perfectly.
In conclusion, choosing the right bathroom door design can be a daunting task. But by considering your personal preferences and consulting with an expert, you can make the perfect choice for your bathroom. And if you need any help, NoBroker.com has a team of experts who are always ready to assist you.
Choosing the right bathroom door design can become a headache if you get overwhelmed by the multiple options available in the market. Whether to go for PVC bathroom door designs or a door made of glass or wood is a personal choice. If you wish to consult a carpenter or an interior designer for expert advice, you will surely find assistance on NoBroker. Just leave a comment below this article and our executive will be in touch with you soon.
Read More Door Related Blogs
FAQ's
Q1. What is the ideal size of a bathroom door?
Ans. In most Indian homes the height of the bathroom door is 6 feet while the width is approximately 35 inches.
Q2. Is PVC bathroom door design ideal for a small bathroom?
Ans. PVC bathroom doors are ideal for small bathrooms with a width of 26 to 28 inches. 
Q3. Which material PVC and Fibre is better for bathroom doors?
Ans. While both PVC and Fibre are durable materials, PVC is a much better option as it provides better waterproof protection.
Q4. What is the PVC bathroom doors price in India?
Ans. The cost for regular-sized solid PVC bathroom doors ranges from Rs. 60 per sq. foot to Rs. 180 per sq. foot depending on the quality. PVC bathroom doors come in a variety of designs and styles, from simple and minimalistic to more elaborate and ornate. vary depending on the design, size, and features of the door. PVC bathroom doors are generally more affordable than wooden or glass doors and are considered a cost-effective option.
Q5. How much does a bathroom door cost in India?
Ans. The average cost of a bathroom door in India can range from Rs. 850 to Rs. 2000 depending on the type of the material and the size. 
Doors Designs of Other Materials