Whether you are passionate about a lengthy, relaxing shower before having a cup of coffee and reading or watching the news in the morning, or you're one of those people who usually has just a few minutes for a fast head-to-toe rinsing, everyone deserves a good shower. Because the time you spend in the shower does not reflect its quality. What matters most is the excellence of your bathroom set-up, which includes your bathroom shower designs.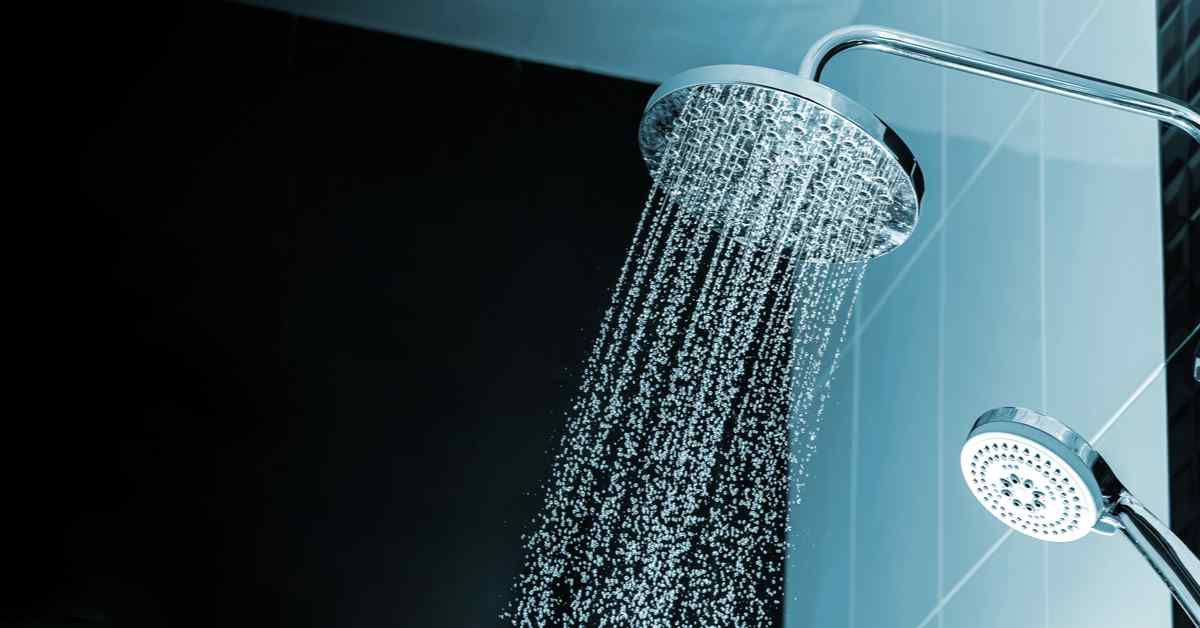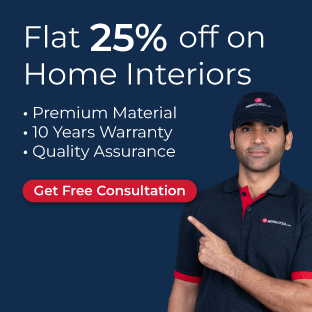 A luxurious bathroom starts with a shower. It should be a place where you can unwind at the beginning and end of the day. An excellent walk-in shower should suffice when a tub is not an option or drawing a bath is just too much to handle. Just because they're practical doesn't mean they can't also be soothing, elegant and serene. You'll be all set with the correct fixtures and showerheads if you pick the suitable options. Read ahead for some of the latest bathroom shower designs of 2023, which all include a walk-in shower, from manually patterned tile to naturally gorgeous marble.
Read: Neoclassical Interior Design: Create a Haven in Your Home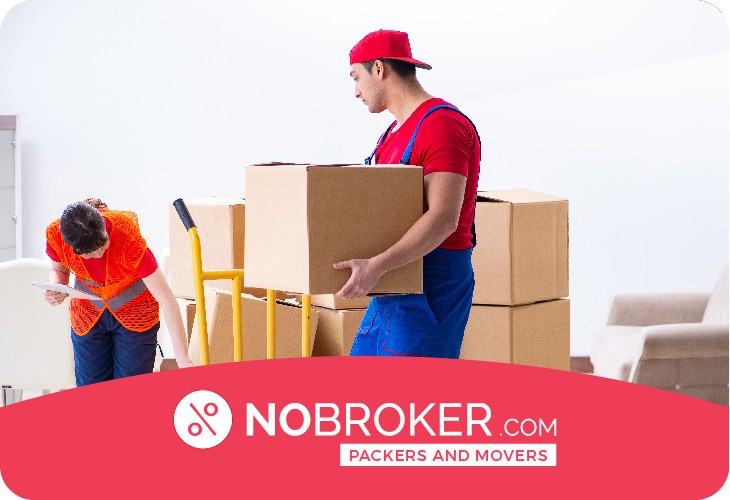 Book Best Packers & Movers with Best Price, Free Cancellation, Dedicated Move Manager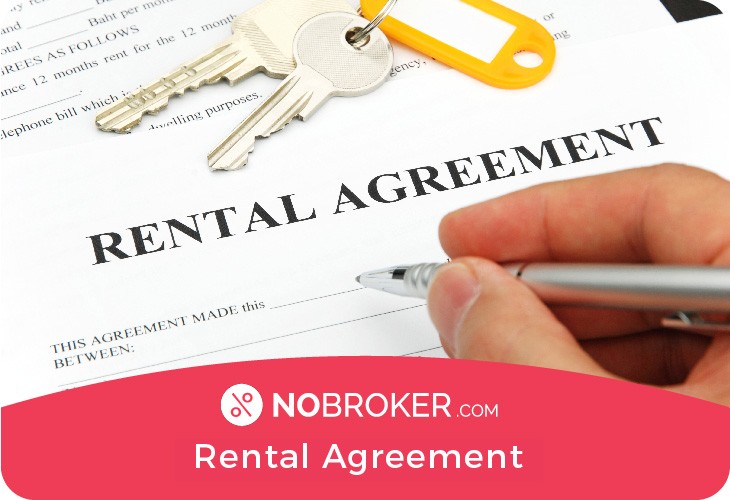 Get Rental Agreement With Doorstep Delivery, Super Quick & Easy
This is third
This is third
This is fourth
This is fourth
This is fifth
This is fifth
This is six
This is six
This is seven
This is seven
This is eight
This is eight
What is the Ideal Size For A Walk Shower?
Walk-in showers or Shower-Rooms, as opposed to bathtub showers, consist of a separate area of your bathroom where you can indulge in a shower bath. So what's the right size for a walk-in Shower?
If you are somebody who prefers steam showers, a smaller shower room enclosure would conserve more heat, and therefore feel warmer.
Think Long-term Use
Although you may be tempted to build a small shower room, we recommend you build one that is 3×4 feet in size. There are multiple reasons to opt for a larger shower room as opposed to a smaller one.
Remember, a shower room is a lifelong investment. The Ideal sized bathroom shower should accommodate you or your family irrespective of accessibility-related problems that you might acquire with age.
A foldable shower bench is a budget-friendly add-on that you must have if you are planning on a smaller walk-in shower. With a hinged foldable shower bench, you can sit and enjoy your hot showers. Given that it is hinged, you can fold it out of the way, against the wall so that it doesn't get in the way.
4 Different Types Of Bathroom Showers You Need to Know About
1. Waterfall Shower
A Waterfall showerhead as the name suggests consists of a shower head which delivers a stream of water instead of smaller jets. It simulates the experience of standing under a waterfall or hot spring. Given that it expends more water than a typical showerhead, (which also serves as a means of water conservation) a waterfall showerhead is not recommended if your home is located in an area with water shortage problems.
Read: Fascinated By Early 90's Style Chic Powder Rooms? Here's How to Get One Yourself
2. Rainfall Shower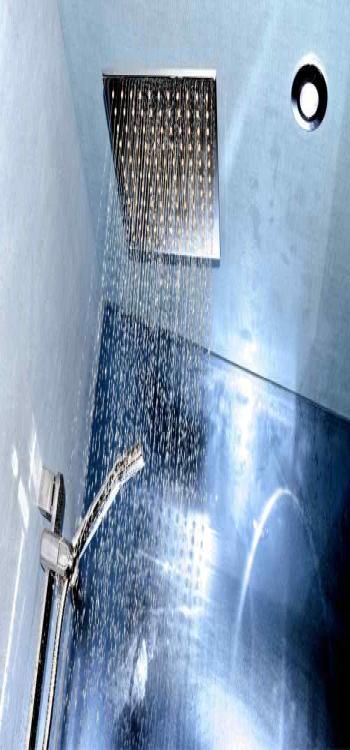 A Rainfall shower is usually mounted on the ceiling. The relatively large shower head delivers water streams which simulate the experience of standing in the rain. This is another shower type which you must avoid if you have qualms about water usage.
3. Steam Shower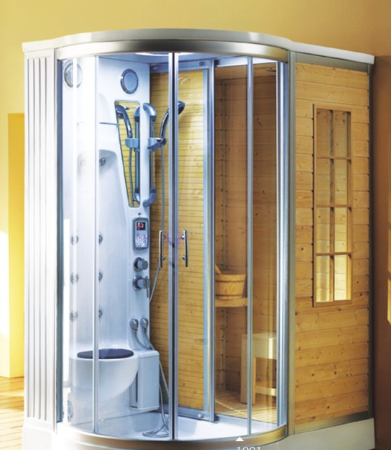 A steam shower will have steam generators and a moisture seal enclosing the shower area. Steam showers need professional installation to ensure that the steam doesn't leak.
4. Body Shower
What if you can have small sprinklers mounted at different heights so that your entire body gets massaged by gentle streams of water? This is exactly what a body shower delivers. Somebody showers even come equipped with steam. This type of Bathroom shower delivers a precise amount of water through multiple spray heads, it can help you save water.
30 Stunning Shower Design Ideas
1. Having Two Showerheads Is a Good Idea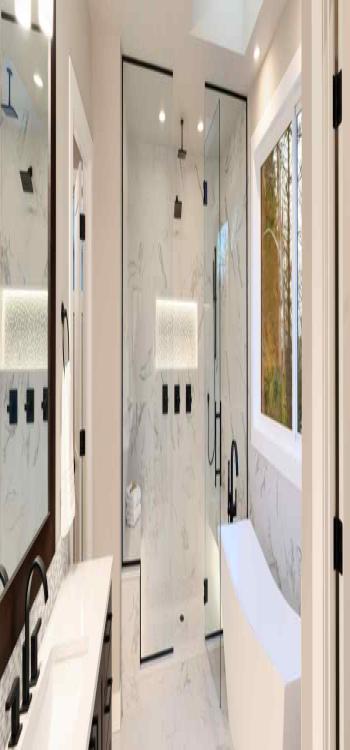 Have you ever wished to experience the sensation of warm water simultaneously streaming down your front and back? It's achievable because of the dual-facing shower designs. No more shivering on chilly winter mornings. And if that wasn't enough to get us excited, the modern bathroom shower designs in trending colour schemes of brown and black around the shower door are also absolutely gorgeous.
Read: 2023's Most Attractive Exterior Wall Texture Design
2. Consider Using Two-Toned Tiles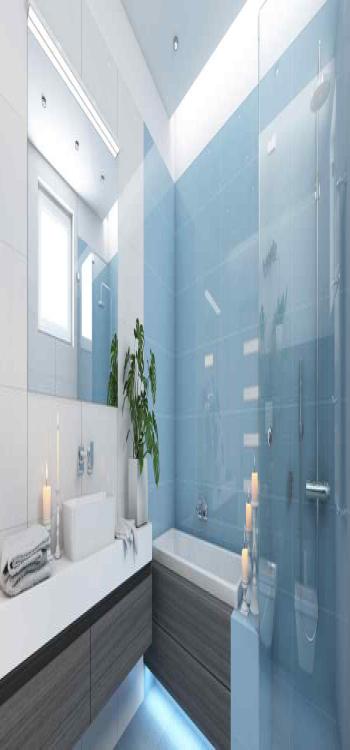 This shower is a deviation from the usual, with a baby blue big rectangle tile on the floor and half of the wall lined with white plain glossy tile on the other half of the wall. This bathroom ceiling shower design has another light shade of blue with starry lights. Typically, showers have a single tile put from floor to top, like woodwork, but for your bathroom. The third type of tile was included in this bathroom without making it seem like a lot of effort was put into the design.
3. Take A Plunge into the Mystery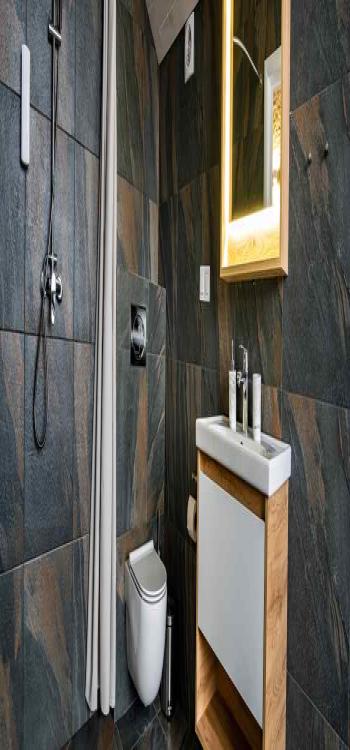 Showers are often created in light colours, but these tiles with accents of black, teal, earthy brown and emerald provide a sense of luxury. Even though you won't see this gloomy arrangement in most houses, it seems like it belongs in a luxurious spa. If this doesn't convince you to reconsider the white subway tile aesthetic, we are unsure what will.
4. Invest in Glass to the Fullest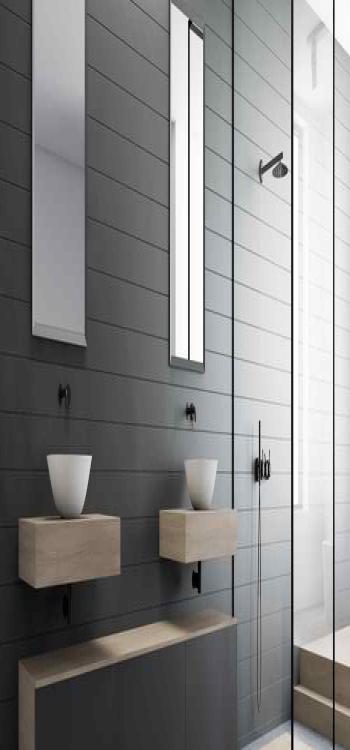 A glass enclosure for a stand-up shower, strategically placed in the corner of your bathroom, is both contemporary and elegant. Even though it separates the remainder of the bathroom, these modern shower designs don't make you feel claustrophobic or impede your decor. Of course, a window cleaner is a must for keeping water marks and soap scum at bay.
Read: Everything You Need to Know About 3 BHK Interior Design Cost in India
5. Append A Ladder to the Mix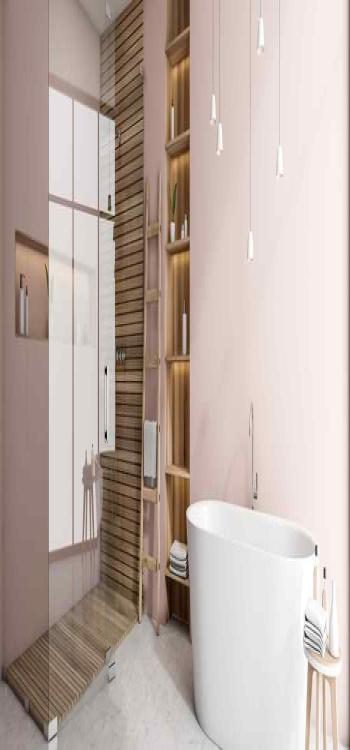 Towel racks are often hung across the front of doors, but we adore how this design has a ladder to keep your towels while also adding a sculptural aspect to the room. It also removes the need for a wall-mounted towel rack or hooks.
6. Shades of Red!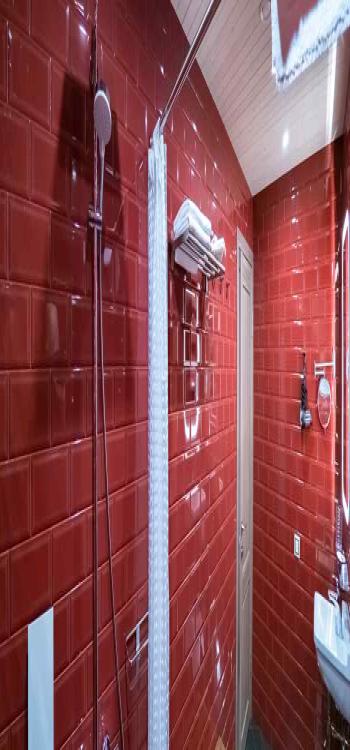 While the original white subway tile is always our favourite, this ruby red variation is a welcome change of pace. The tiles are arranged almost to resemble a brick wall, while the black and white herringbone design flooring provides a nice contrast. Add in a wooden cabinet or bench with some additional towels for an at-home resort vibe to play up the warm tones.
7. Make The Most of Your Storage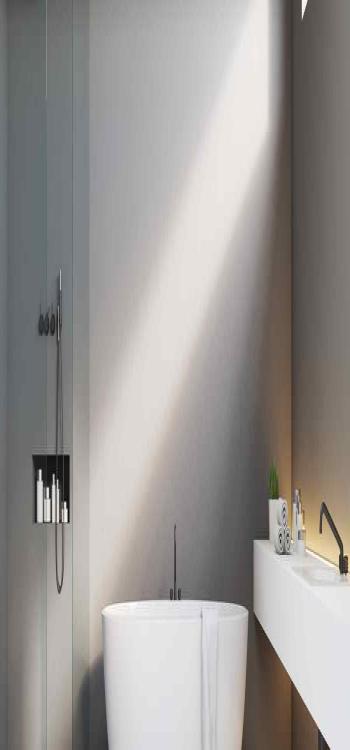 Shower shelves and organisers may detract from the high-end appearance of your shower and make it seem cluttered. In addition to showcasing your most fabulous body care items, bathroom shower set designs along with an alcove with built-in shelves create the illusion that they are on display in a retail shop. Is it just us, or do they somehow feel and smell better when they're on display in a beautiful setting?
8. Create A Space-Conscious Design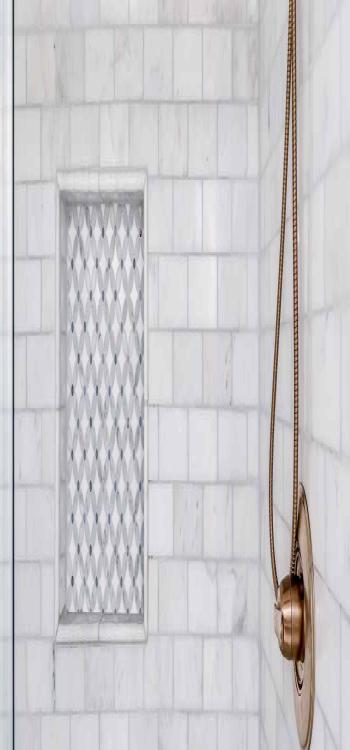 Despite what your Instagram feed may suggest,a luxurious shower does not need an excessive amount of space. Bathroom shower designs for small spaces might include patterned tiles, black metallic finish shower fixtures, the built-in mirror and alcove design that can take your mind off the space constraint and make you focus on the design itself. It's also Instagram-worthy.
9. Bring in Some Greens
Have you ever thought about what it would be like to shower in the jungle resort every day? On the other hand, a few potted plants can teleport you to a verdant treehouse. Of course, this isn't precisely true, but your plant kids will flourish, and you will get plenty of enjoyment out of them. So, the next time you want to sing love nothings to your plants, you may do it on the stool provided.
10. Don't Forget the Seats!
One of the very thoughtful shower design ideas is to install a seating area. There are several benefits to having a bench in your shower, but finding the room or contractor to install one isn't always straightforward. For shaving your legs or resting while your conditioner is setting, this tub's surface spreads outward and serves as a shower seat on the right side.
11. Try Your Hand with Terrazzo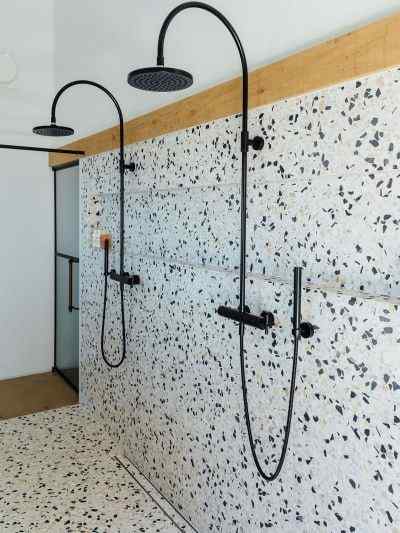 If you're a fan of the terrazzo look as much as we are, you may want to give it a try in your bathroom and shower. The black and white mosaic tiles remind you of the 90s while also lending a cheery vibe to your shower area. The curved black showerheads add to this already distinctive design.
12. Create An Experience That Is Worthy of a Spa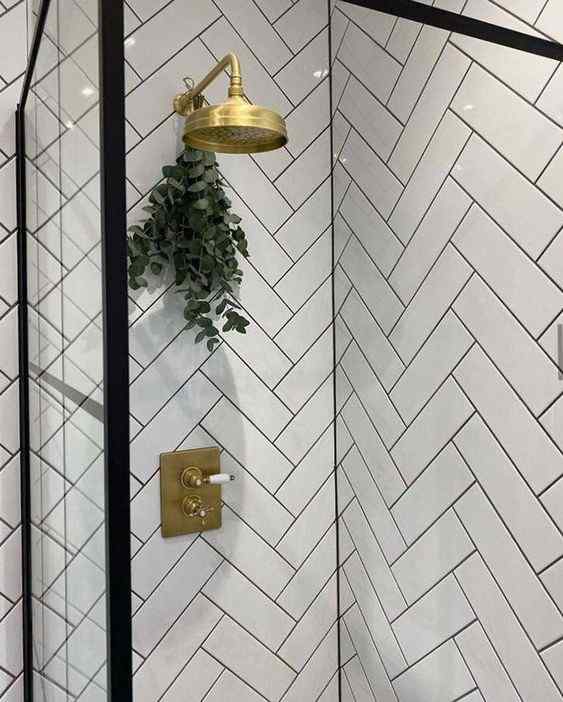 We're sure you've seen shower heads decorated with eucalyptus branches. However, the inclusion of flora is more than simply an aesthetic choice; it also has a functional purpose. Eucalyptus oil is released as your shower warms up to make your morning shower seem like a spa experience.
13. Make Eyes Twinkle with a Skylight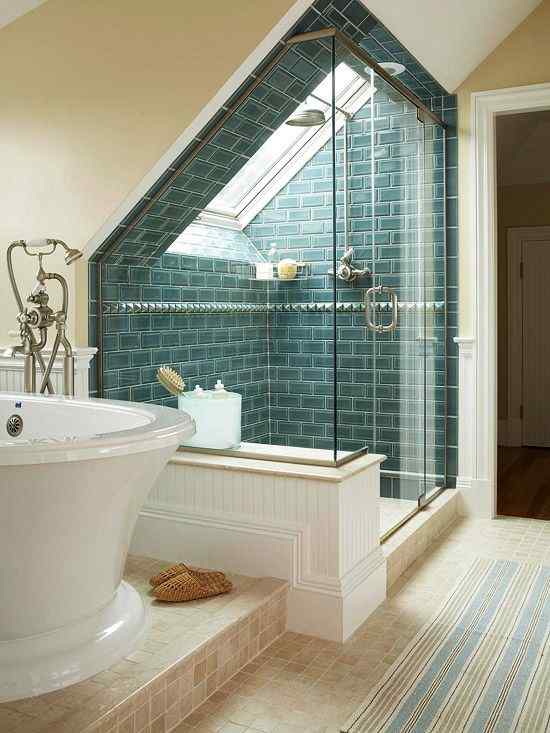 Adding a skylight over your shower is a great way to ensure that your mornings start on the right foot every time. While your hair soaks up the conditioner, you may get your daily dose of vitamin D. That beautiful tile work will always be lit just correctly with this system.
14. Invest in a Quality Curtain Rod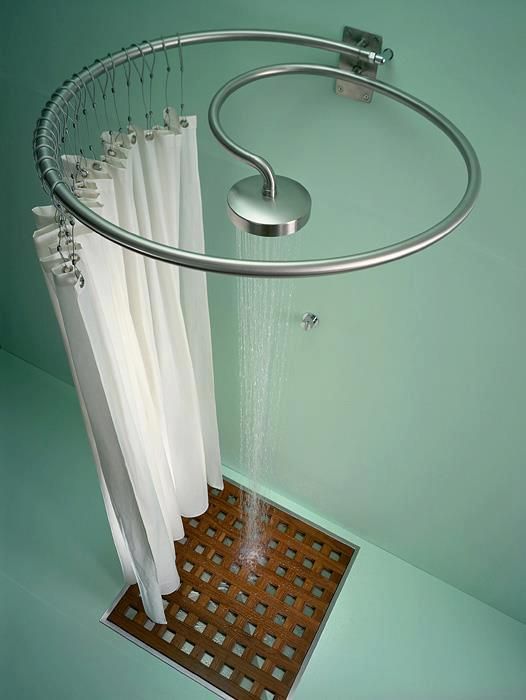 There is no need to spend a fortune to make your shower seem like a new one—sometimes, all you need is a new curtain. Transform your bathroom in an instant by replacing that dingy transparent curtain you've had since college with a more attractive one.
15. Make a Mix-N-Match Design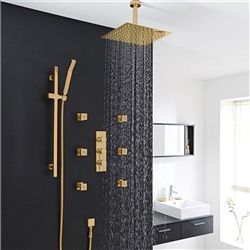 Not enough emphasis is placed on hardware—the incorrect faucet can make or break your whole layout. The gold hardware shower fixtures and the jet-black shower walls complement nicely, giving the room a finished, costly appearance. All the gold in the room makes the white subway tile stand out.
16. Install a Rain Showerhead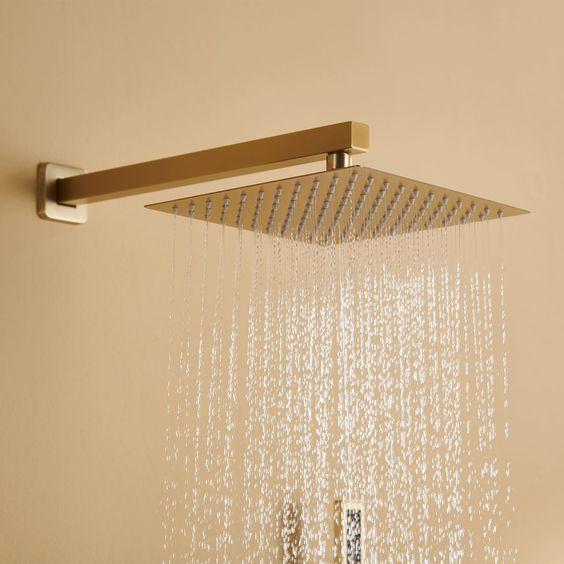 Although a standard shower head would suffice, the latest shower designs trending are customised rainfall platforms such as this one. It will elevate your morning rinse to a whole new level of indulgence. This gold finish platform feels just as wonderful whether it's on or off.
17. It's All About the Micro-Details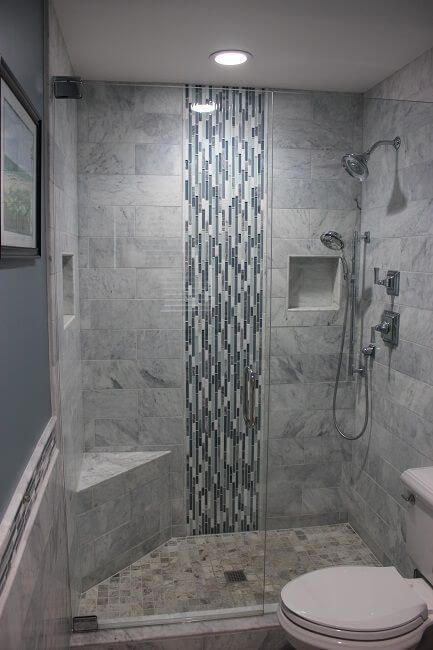 As long as it's the minute things that count, these micro tiles are all we have to work with.' The chevron pattern created by these small tiles is both subtle and striking. Rome wasn't constructed in a day either, so we can only picture the tedious installation.
18. Go For a Simple Black-And-White Colour Scheme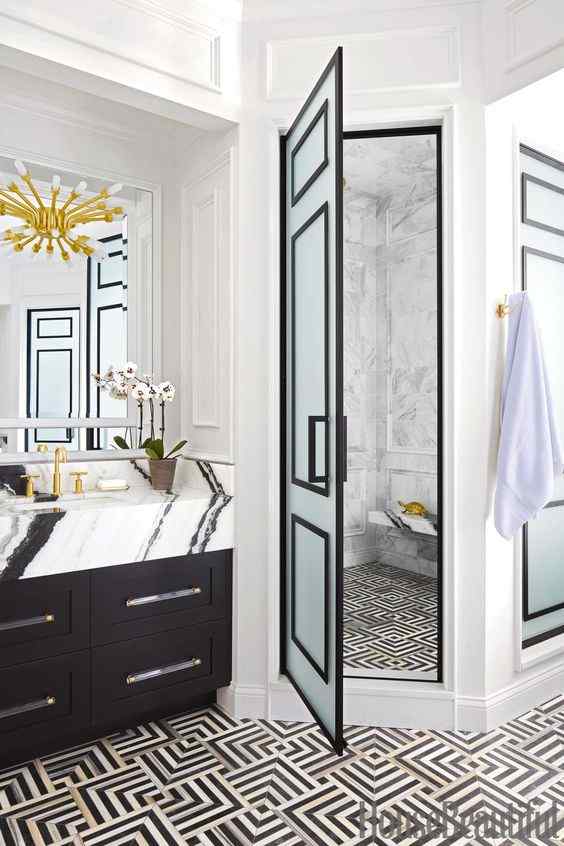 If you have a lot of possibilities, it may be challenging to choose just one piece of hardware. Classic black hardware and white tiling is always a winning combination. It's usually a good idea to use a lot of contrast in a design.
19. Something to Think of Outside the Box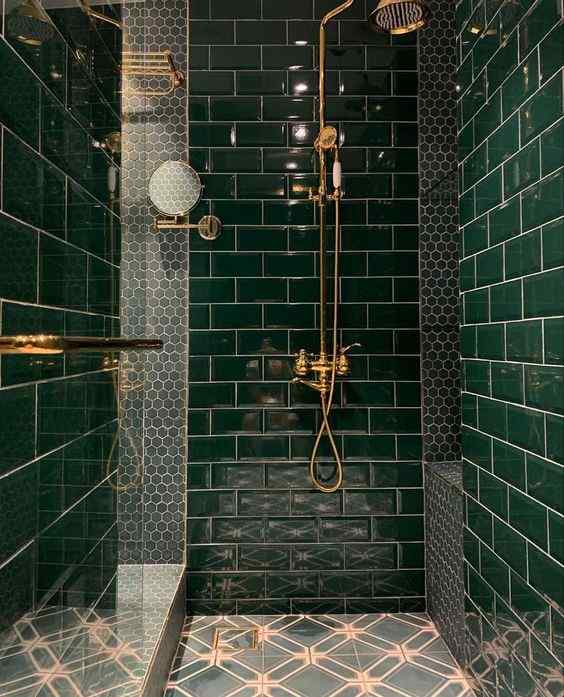 Jade is the new marble in town and rightly so! It looks good both in your home or with an Instagram filter! While we can only speculate that you'll see this stone used on countertops, backsplashes, and floors, we believe this jade shower will be re-created again and over. But, of course, the shower is the show's star in this bathroom design, thanks to the all-gold colour scheme.
20. Accent With Charming Elements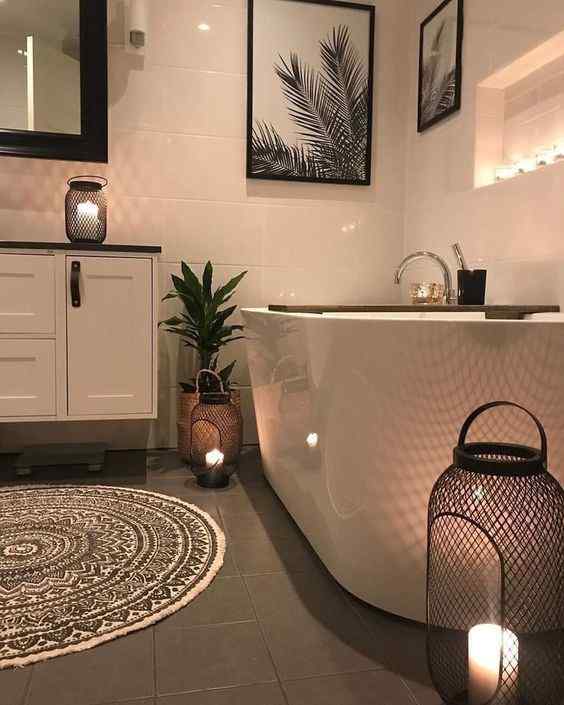 No rule says you can't put some personal touches in the bathroom because it's more practical. To soften a tiled area, add learning art, candles, and plenty of plants.
21. Incorporate Double Duty Miniature Walls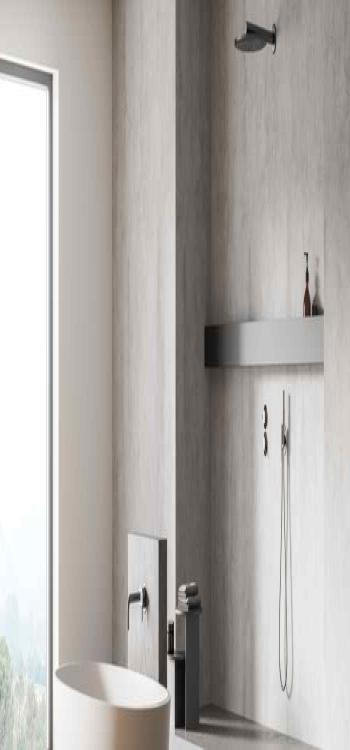 We're in awe of this bathroom's clever usage of this single miniature wall. On one side, you'll find a bathtub faucet, while on the other, a walk-in shower is ready to welcome you. Genius!
22. It's All a Win-Win Situation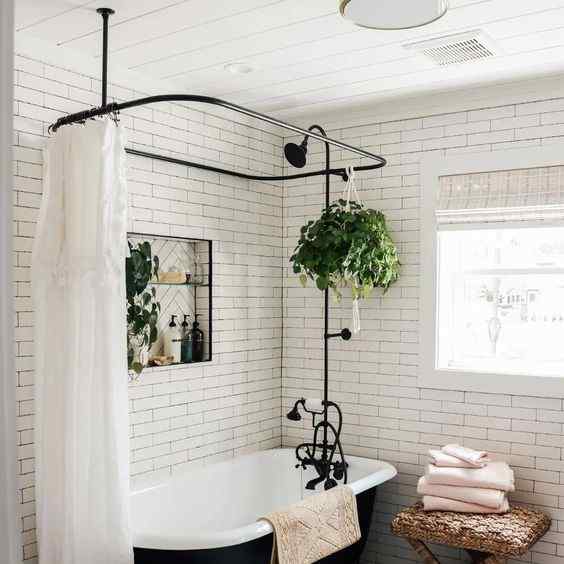 This all-in-one stall combines a shower head with a freestanding tub is perfect for bathrooms with limited space. To further demonstrate, shower caddies are a thing of the past (or at least should be), and the alcove shelving appears centre stage.
23. Utilities and Functionalities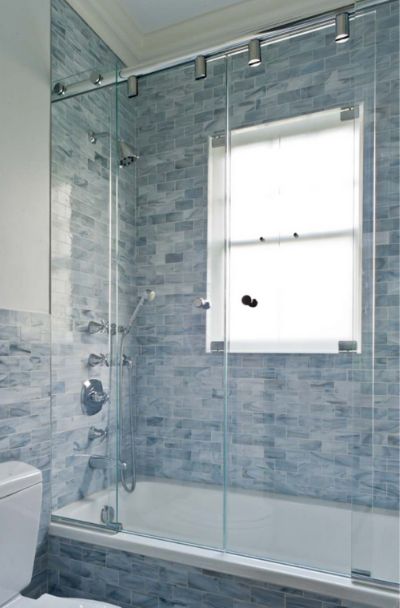 The steamy fog of a hot shower might be enjoyed by some, while others prefer to remain out of it. It's possible to open and shut the shower door's convertible window above the steam vent to create the ambience of an in-home sauna.
24. Play With Patterns
It's advisable to remain with a lovely tile pattern once you've found it. A beautiful achromatic star design covers the wall and the floor in this bathroom, which we think is just stunning. However, it's essential to keep the rest of the bathroom's decor simple so that you can fully appreciate the gorgeous tile pattern in the centre.
25. Consider A Retro Look
Clawfoot tubs, if you're fortunate enough to have one in your bathroom, should never be replaced with anything more contemporary. This bathroom has an old-school Hollywood glamour that can only be handed down from generation to generation. Art-deco accents, such as the sconce on both sides of the golden foot tub, help enhance the theme.
26. Don't Worry About Shower Doors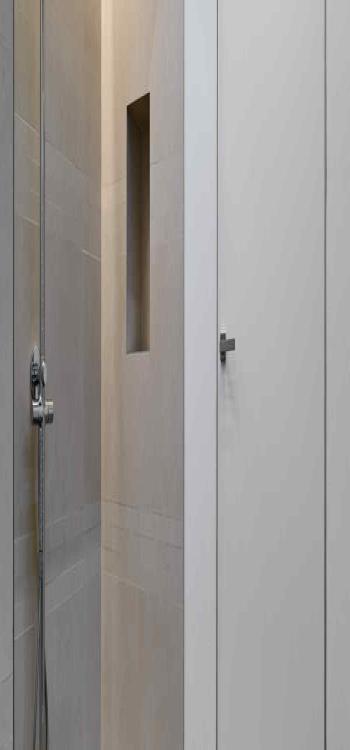 Why limit your morning shower to shower doors, shower curtains, and shower stalls? This open shower with a wooden floor, even though it's in a bathroom, has a natural sense to it. To prevent flooding, place a hidden drain just under the showerhead.
27. Take Your Hardware to the Limits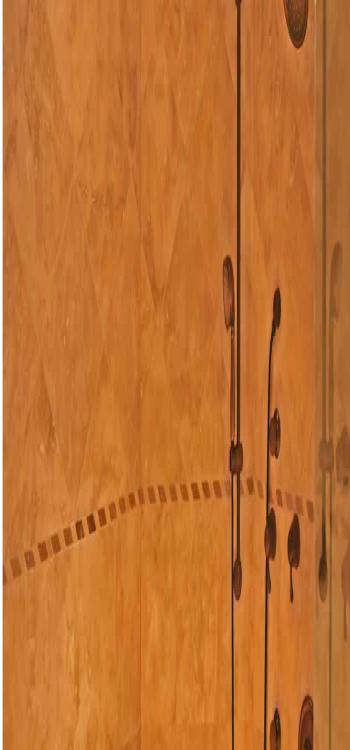 Two showerheads are preferable to one, but a handheld attachment is the best. The simple addition not only enhances the experience of cleaning but also enhances the aesthetics of the room. It's a triple whammy.
28. Embrace The Tile
This shower reveals that although tile is generally used for practical purposes, it can produce a stunning mural when laid in a unique design. Incorporating an ombre effect from light to dark and then back to light gives the room a distinct and appealing aspect. With a simple tile on the opposing wall, the room's dark side takes centre stage.
29. Aim For Longevity!
This bathroom design shows that even the most archaic sliding shower doors can seem sleek and contemporary. The stainless-steel hardware on the top and bottom of these doors ensures that they will remain fashionable for many years to come in this particular setting. To avoid it seeming shabby, make sure it's sparkling clean.
30. Enhance Visual Appearances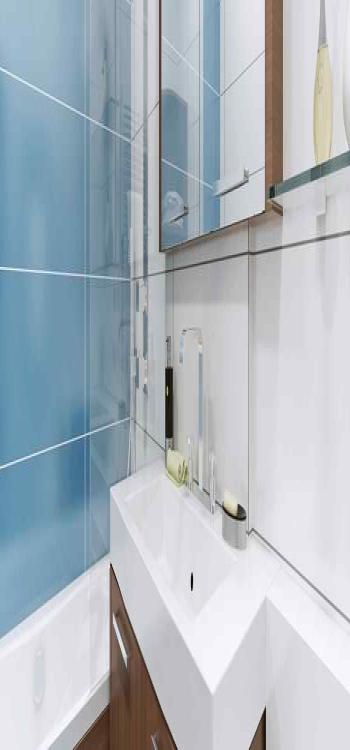 Use the contrast between the tiles and the grout's colours to create your appearance uniquely. This matte greyish blue tile against the white grout creates an eye-catching contrast in a retro-cool fashion. With the assistance of chrome, it's a mix of '80s and contemporary, and oh-so Instagram-worthy.
Now that you have a fair idea about the various bathroom shower designs, we hope you got inspired and will be implementing some of these ideas next time you are renovating your interiors. Visit our blog page to know some more interior design tips. Moving to a new home or want to upgrade your bathroom? Contact NoBroker interior designers who will personally visit your house and discuss the best possible design options according to your budgets and preferences. So, when are you placing the call?

FAQ's
Q1:
Are rain showerheads a good idea?
Ans:  Although a standard shower head would suffice, the latest shower designs trending are customised rainfall platforms such as this one. It will elevate your morning rinse to a whole new level of indulgence. Double points if the shower fixtures are gold-finished.
Q2:
How to create a spa experience in my bathroom?
Ans:  Include some eucalyptus in your shower head. The inclusion of flora is more than simply an aesthetic choice; it also has a functional purpose. For example, eucalyptus oil is released as your shower warms up to make your morning shower seem like a spa experience.
Q3:
Is jade a good option for bathroom shower designs?
Ans: Jade is the new marble. The jade marble tiling adds a statement to the shower area. Finish this up with a chrome finish or gold finish shower fixtures.
Q4: Is glass a good choice for
bathroom showers?
Ans:  A glass enclosure for a stand-up shower, strategically placed in the corner of your bathroom, is both contemporary and elegant. Even though it separates the remainder of the bathroom, these modern shower designs don't make you feel claustrophobic or impede your design. Window cleaners are a must for keeping water marks and soap scum at bay.
Q5:
Can I add some potted plants to the bathroom shower area?
Ans:  Sure. Potted plants help bring a bright and cheery vibe to any shower design.