Sliding door designs have gained a lot of popularity in recent years; 2023 is following suit. The traditional doors acquire a lot more space and do not save much space. Effective use of space and stylish design perspectives are followed by sliding door design for the home. Not only do they accentuate your interior, but also, act as perfect room separators. If you're looking to reinvent your space within a budget, then sliding doors could be your go-to. Read the article below, to find out the benefits and best models for sliding door designs.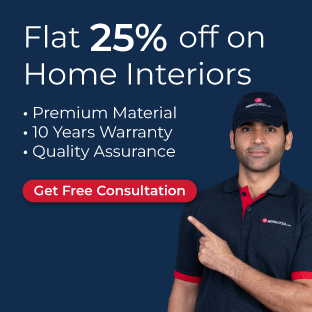 What is a Sliding Door?
Sliding doors, which were common in ancient Japan, are now a feature of modern architecture all around the world. Sliding glass doors are a favourite among many interior designers, and for good reason: they appeal to both the most daring homeowners and designers. They provide interior areas with a tonne of attractiveness while also serving a practical purpose. The aesthetic advantages of putting this structure in, whether for residential houses or business complexes, are numerous. Let's examine a few of the most important aspects and advantages of installing sliding doors.
Read: Redecorate Your Home In 2023 – Choose the Correct Living Room Wall Tiles Design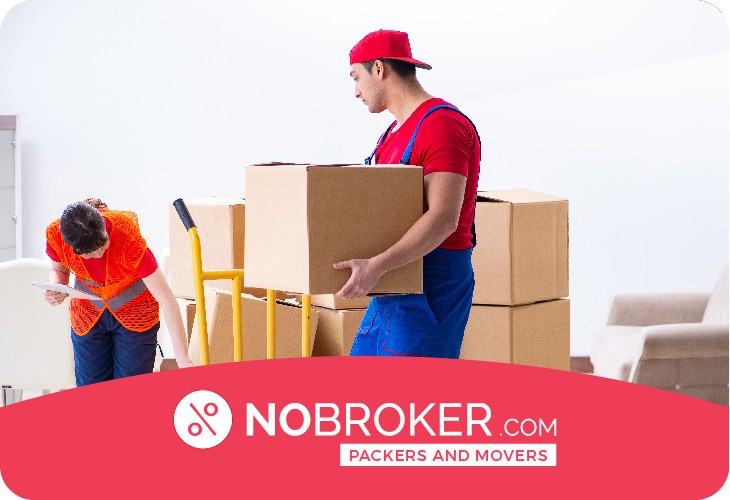 Book Best Packers & Movers with Best Price, Free Cancellation, Dedicated Move Manager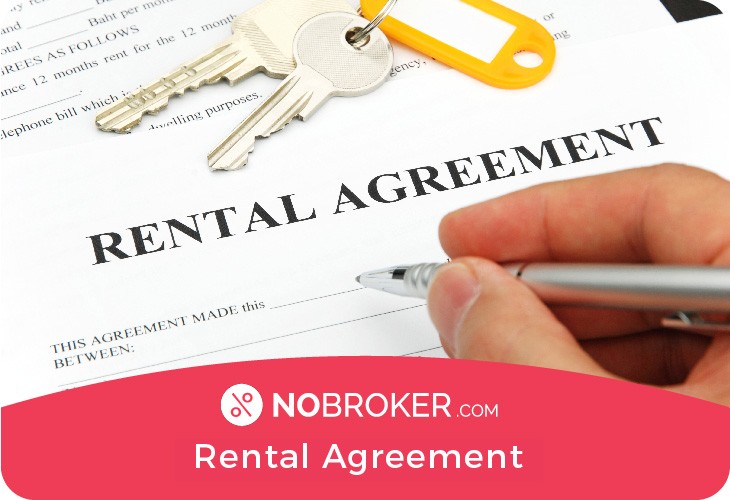 Get Rental Agreement With Doorstep Delivery, Super Quick & Easy
This is third
This is third
This is fourth
This is fourth
This is fifth
This is fifth
This is six
This is six
This is seven
This is seven
This is eight
This is eight
Because sliding doors move along a track rather than opening into another space, they make good use of available space. Sliding doors enhance the feeling of space in megalopolises where people dwell in high rises with the little floor area.
When sliding doors are placed, a lot of natural light will enter through them and illuminate your house or place of business. Your home will appear cosier and more welcome if there is less artificial lighting used during the day.
Prior to the invention of toughened glass, it was believed that sliding doors might not be the safest structure to install inside a house. These sliding doors get a lot of strength and stability from the use of double-pane toughened glass.
Small kids won't be hurt if they accidentally run into sliding glass doors. Furthermore, compared to conventional glass panes, the double pane glass panels would shatter into tiny, blunt pebble-like bits that cannot inflict serious injuries. The installation of sliding doors is simple and very secure.
Main Entrance Sliding Door Design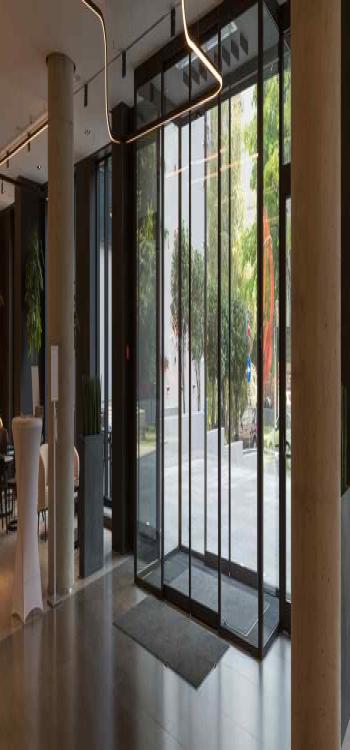 Sliding door designs for the main door gate should be simple but also bold. You could opt for glass sliding door designs with wooden accents to make your entrance stand out. This will not only help you save space but also, is a safer alternative than the traditionally hinged doors. To ensure better safety, you can have the entrance equipped with a smart lock. Plus, the market now offers iron door designs if you are looking for something more concrete.
Read: 12 Ways to Make Your White Bedroom Design Look Even More Appealing
Sliding Door Design for Living Room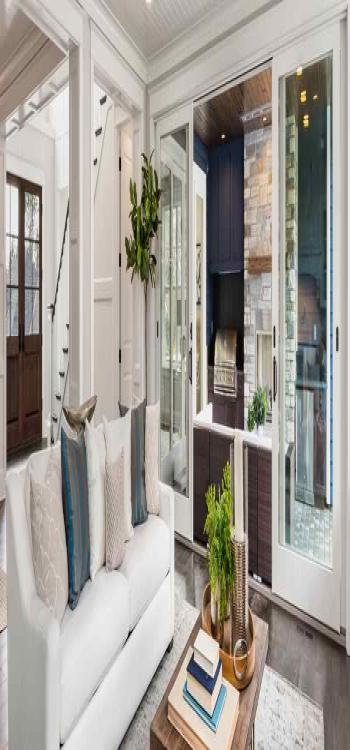 The above photo is a perfect example of how sliding doors work as great separators. In addition to this, they also work as interior decorating objects. If you have a spacious living room and want to have divided sets of spaces, several sliding door designs are available in the market. Plus, they can also work as great partitions for open kitchens.
Kitchen Sliding Door Design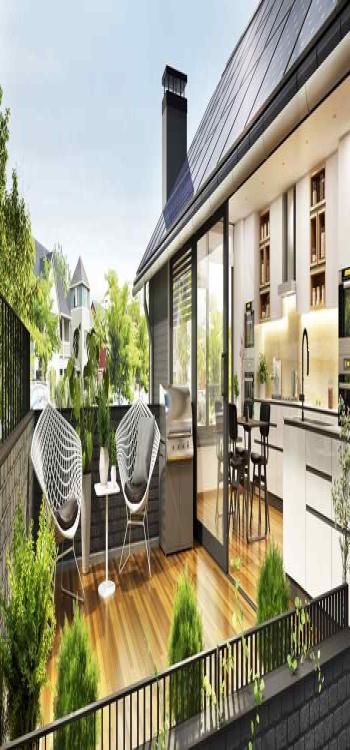 Open Kitchens are now the go-to for a modern home, minimalist one or even if you want to save space. 2023 expects to see a lot of invention in the interior designing area of the same section. There are multiple sliding door design ideas. That is for the kitchen and kitchen entrance, but the best one would opt for a glass one. These door designs work well in a patio-kitchen setting as well, this makes the space more interactive.
Bedroom Sliding Door Design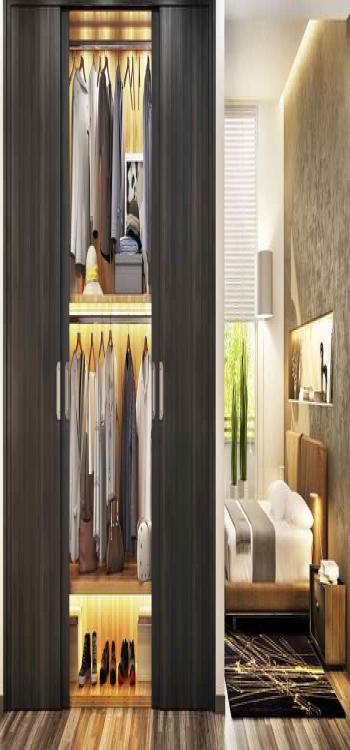 The bedroom is the most private space in the home and demands the best interiors. A good option would be the sliding glass door design for your bedroom. It is minimalistic but adds a lot of character to a room. Another good option would be the above wooden sliding wardrobe. Best at saving space, plus adds to the mysterious appeal of a room.
Read: Trend or Fad: The Best Designer Rounded Sofa Sets in 2023
Balcony Sliding Door Design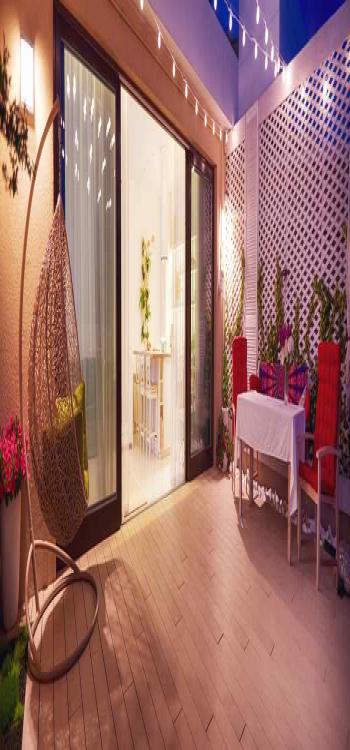 A balcony glass sliding door design is a must to have at home. It gives you the perfect view of the outside, in the convenience of your privacy. Such sliding door designs are also applicable on patios. A good tip for having a balcony sliding door is to get some mesh for your doors, so you can enjoy the fresh air without insects and mosquitoes.
Sliding Glass Door Design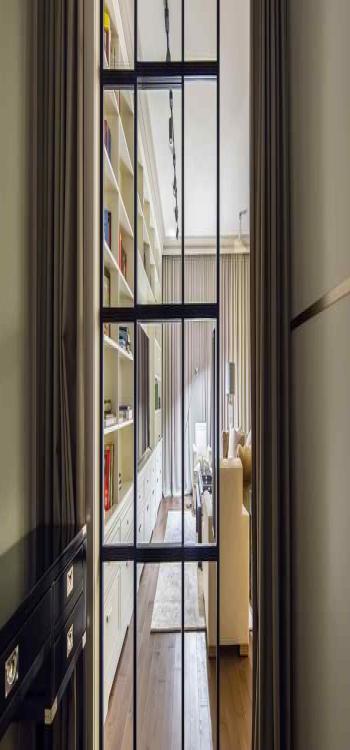 You may wonder that glass sliding door designs for the living room may not be such a good idea if you have kids or pets at home. But that is not the case. The fibreglass used in this sliding door design is safe and offers clear views of the outside. The balcony glass sliding door design, if set properly, can be one of the most beautiful corners of your home. It also works well as a room separator.
Wooden Sliding Door Design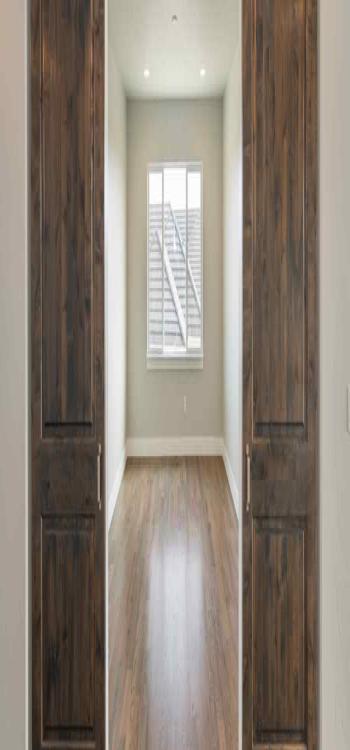 Any wooden accessory brightens up a space. If you want to invest in a sliding door and want one that is minimal and modern – opt for a wooden one. First off, there are multiple options and textures to choose from in the sliding door designs. A wooden door design with glass sliding goes perfectly in any room. It would look great on the patio or balcony, bedroom or even the living room. They are easily cleanable and are not high maintenance.
Read: List of Top 15 Bedroom Furniture Designs
Modern Sliding Door Design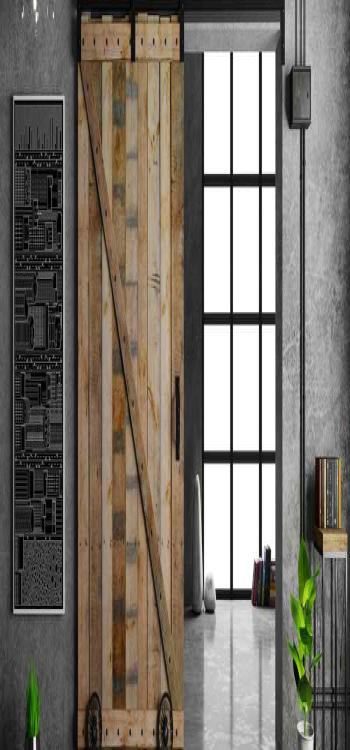 2023 will be the flag bearer of modern designs that operate with minimalism. Interior designs now offer its clients multiple options to choose from and serve all kinds of aesthetics. The above photo of the wooden door proves itself to be a modern sliding door design for the living room. You can either leave the texture of the door as it is or can go forward and paint it yourself.
Aluminium/Steel Sliding Door Design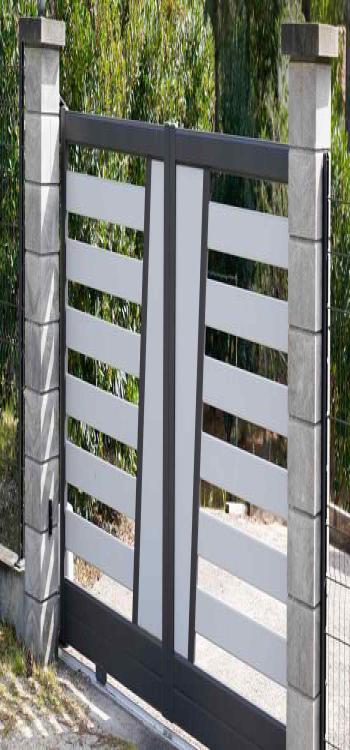 If you're looking for a strong sliding main door design for your home, opt for one that is made of aluminium/iron or steel. These sliding door designs also are perfect for garage doors as they offer extra protection and high-tech security (optional). Plus, the sliding doors can also be automated to help you save time and for convenient accessibility. The sliding door designs are available on the market, oryou can personally customize one to serve your needs.
Sliding Doors: Importance
Sliding door designs provide several advantages for homes. Sliding doors not only save a lot of space but also provide the following benefits:
Ventilation: Sliding doors, especially those constructed of glass, allow enough air and sunlight to enter the home.
Energy Use: Having sliding doors can help you save money on power since they can keep your home cool in the summer and warm in the winter.
Sliding doors are the ideal way to safeguard your home without turning out the lights thanks to technology-powered secure locks.
Accessibility: Sliding doors are easier to use than regular doors since they slide open with just a small push.
Style: Sliding doors will give your homes a modern makeover.
Key Points to Consider Before Installing Sliding Doors
Here are some things to think about before making an investment in a sliding door:
Installation Location: Based on the installation location, pick the appropriate sliding door. For instance, using a glass sliding door as an entrance door can reduce security. Installing a safe lock with alarm systems is necessary if you are set on having them.
Cost: In the end, it all comes down to price! Choose a sliding door that satisfies both your needs and your budget. Additionally, energy-efficient doors might save your monthly expenses. Therefore, you might want to take that in mind as well!
Durability: Before purchasing a sliding door, take into account factors like usage and weather. A thick glass sliding door is a better choice than a conventional french door because the former is more resilient. For simple maintenance, you must also have weather protection coating for your doors.
Benefits of Sliding Door Designs
There are various benefits of having a sliding door in your home. They are listed down below –
Indoor/Outdoor Flow
By establishing a smooth flow between your home's outdoor and indoor spaces, sliding doors make it simple to bring the outdoors in. Because of the huge glass panes, sliding doors provide year-round views of your garden scenery as well as panoramic views beyond.
Security
When purchasing sliding doors, security is a crucial factor to consider. Sliding doors with included gaskets, aluminium seals, and fixed leaves where these elements meet should be sought out by residential property owners. A hook-over locking mechanism, in addition to the seal, prevents the sliding leaf from being lifted out of its frame. Secure sliding doors have designed stiles for added stability, allowing you to connect your interior sanctuary with the great outdoors.
Space Efficient
Sliding doors do not have hinges; instead of swinging open, they glide along a track. Because they open up by sliding one door over another panel, no extra space is required for the door arc.
Natural Light
Sliding door designs include extra-large glass panes that run the length of each door panel from top to bottom. This design makes the most of any available natural light, allowing you to enjoy floodlit interiors all day long.
Style
Sliding doors give any home a beautiful look. They have a sleek and basic appearance that complements most architectural types. From being a highly useful and practical design that maximises natural light, to outdoor vistas; it also provides straightforward utility.
Sliding door designs are now easily customisable, and you can accordingly choose your aesthetic. It adds an authentic feel to the home and is a good option if you're looking to renovate. They are not expensive and are affordable, plus they last for years. Are you looking to redesign your home? Our team at NoBroker will assist you, drop a comment below, and we will shortly reach out to you.
Read More Door Related Blogs
FAQ's
Q.1 How are sliding doors supposed to be cleaned?
Ans. The cleaning process depends on the material of the sliding door design. A wet or dry cloth is sufficient.
Q.2 Are glass sliding door designs safe for a house with kids?
Ans. Yes, they are safe for a house with kids. The fibreglass is safe, strong and durable.
Q.3 Are sliding doors expensive?
Ans. Sliding door designs are not expensive. It is available in your set budget and can be customised according to your needs.
Q.4 Are wooden sliding door designs customisable?
Ans. Wooden sliding doors can be customised according to your needs. In consultation with the interior designer – you could decide on the type and texture of the tree and any additional details.
Q.5 What are the benefits of having a sliding door?
Ans. There are various benefits of having a sliding door – space-efficient, stylish, durable, security and ventilation are the top ones.