The living room is the perpetual space where you sit for a cup of tea in the mornings and celebrate the most auspicious occasions. To say that living rooms are ideal venues for regular family gatherings won't be an exaggeration. The moment you enter the living space, homely vibes kick in, and you realise the importance of a safe distance. While you might decorate it according to the latest trends in the industry, choosing the perfect paint shade is still a big decision. It will last for years before you go for renovation, and the wrong shade can be off-putting. However, the paint colour should be inviting and relaxing at the same time. What better way to do that than by choosing the pastel shades? While you might be temporarily inclined towards a bright or dark shade, light paint colours will give your room a neutral aesthetic that sits well in all conditions. If you are also looking for light paint colours for the living room, here are a few options to get you started.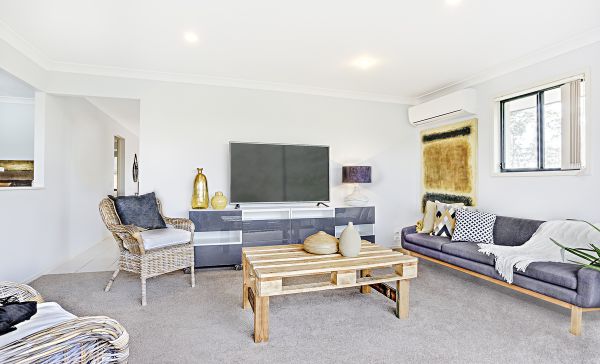 Light Blue Paint Colours for the Living Room to Radiate a Fresh Outlook
Everybody loves the sky and crystal-clear water. There's something utterly refreshing about staring up at the clouds and immersing yourself in the beauty of nature. But what if you could bring a portion of it to your living room? After all, blue is an excellent colour! A coat of light blue is sure to liven up your space and bring a piece of the natural landscape into the house. It is easy on the eyes, makes the room look spacious and goes well with most furniture settings. From cottage homes to antique villas, light blue is sure to lighten up the living rooms everywhere.
Read: Trending Bedroom Floor Tiles Design You Need to Check Out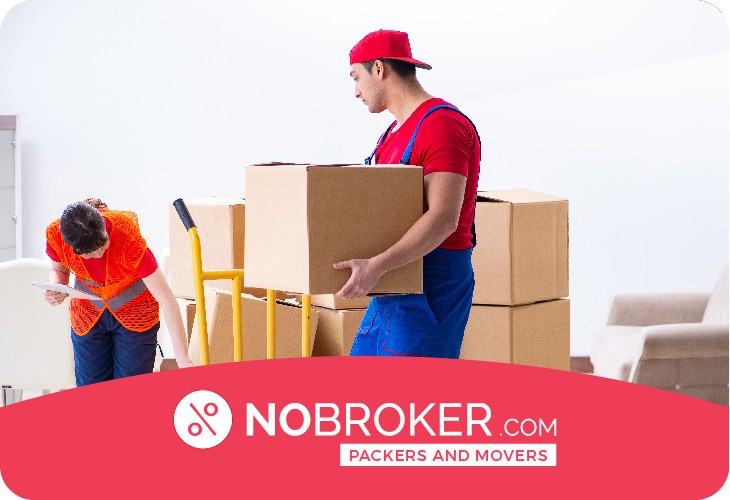 Book Best Packers & Movers with Best Price, Free Cancellation, Dedicated Move Manager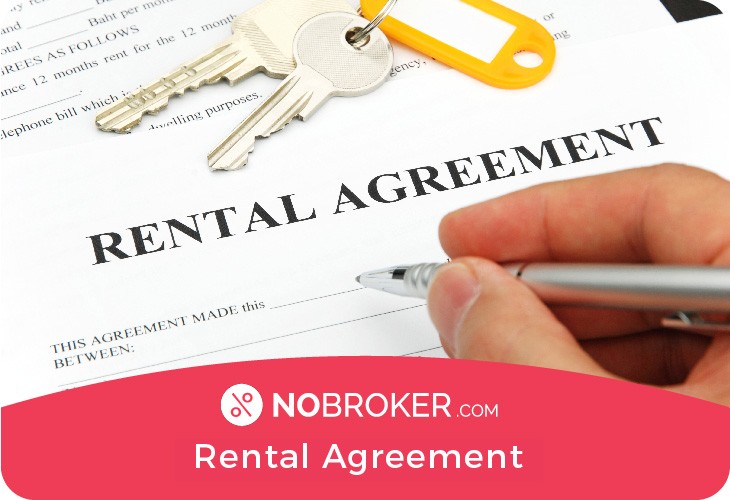 Get Rental Agreement With Doorstep Delivery, Super Quick & Easy
This is third
This is third
This is fourth
This is fourth
This is fifth
This is fifth
This is six
This is six
This is seven
This is seven
This is eight
This is eight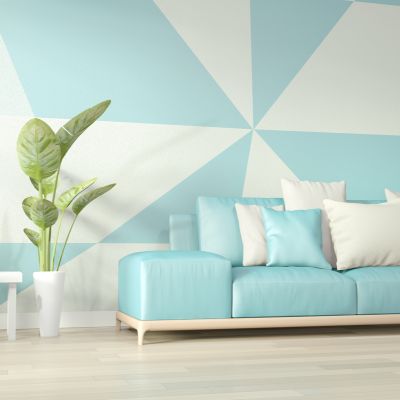 Who said you couldn't add a bit of quirky to your personal space? Here's an example of the blue and white geometric patterns making the room look modern yet artistic at the same time. With sofas matching the wall's colour scheme, it is almost like walking into Candyland version blue. The indoor plants add a dash of vibrance to the light paint colours for the living room, the room shines with trend and minimalism at once.
Light Grey Paint Colours for the Living Room to Give a Minimalistic Look
What do you think of when hearing the word grey? Probably the old, dusty classrooms or dull industrial locations? But leaving behind the stereotypes, grey can undoubtedly add a bit of elegance and modernism to your living room. It will help make the space look neutral, airy and calming. For furniture, you can choose bright red or orange sofas or tables. You can also add white accessories to keep the colour contrast of the room on the same page. In addition, it accentuates natural light and gives your living room a relaxed winter vibe. From high-end apartments to small cabins, it will suit all areas equally well and transport you into the world of comfort and concentration.
Read: Discover The Ideal Study Table Designs for Your Convenience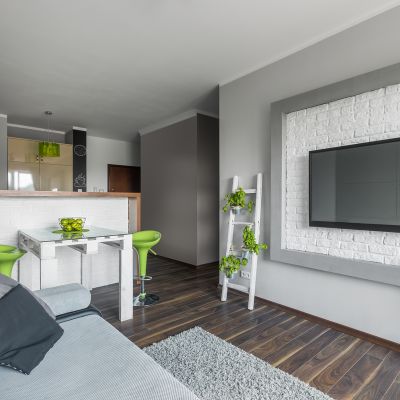 Thinking that decking the room in greys and whites won't be a good combo? See for yourself. Belonging to the same colour palette, shades of grey and white are mesmerizingly arranged to make the room look peaceful and elite at the same time. Grey is one of the best light paint colours for the living room when accompanied by light green kitchen stools and plants that stand out and make the room look more characteristically natural. The grey sofa and rug on wooden floorboards complement each other well and make the living area look serene.
Light Orange Paint Colours for the Living Room to Get the Vibrance
Orange, in general, sounds very bright and quirky. But again, a lighter, toned-down shade will act as a subtle energiser for your living room. If autumn is your favourite season and you don't mind a few earthy vibes in the living area, light orange will sit just right with you. Never one to go out of fashion, orange will glide through the room smoothly, make the walls pop and catch your attention immediately. On the other hand, if you like a bit of tacky shade and a refreshing vacation vibe, choose a shade darker than usual. It will make your room look bold, add a bit of spice and keep the space lively. It goes well with dark wooden furniture or white accessories; light orange paint will give your room an upbeat feeling.
Read: Get Your Home Interiors Started, Even Before the Lockdown Ends!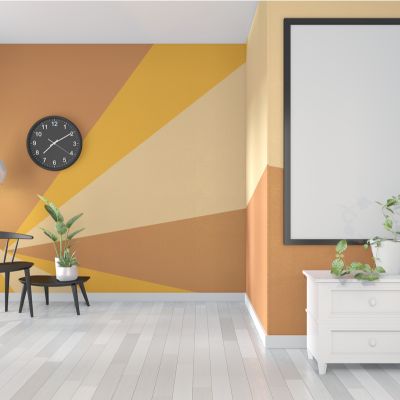 In various shades of orange or tangerine, this room has an artistic viewpoint that brings plenty of character and style. Seemingly evergreen, this colour scheme brings division to the room and attracts our attention to the new white flooring. In addition, the white chest of drawers and a full-size painting make for exciting accessories in the room.
Light Yellow Paint Colour for The Living Room to Add a Cheerful Vibe
Think of summer outdoors, lemon sodas, Marigolds and floral sundresses; one thing that ultimately pops up in our head is the colour yellow. It accentuates the beauty of minute things around us, adding a dash of happiness and peace to the area. So, for a living room, what better option than choosing the all-time favourite shade? If you live near a beach or palm trees, even better. It does not overwhelm the room, make the area look spacious and add a bohemian vibe. From minimalistic to classic luxurious, you can paint your living room light yellow in all sorts of houses. Apart from making the room look sunnier than usual, it sets the perfect mood for a candlelight dinner.
Read: Paper Wall Hanging Ideas: Easy Wall Hanging Craft Ideas with Paper Easy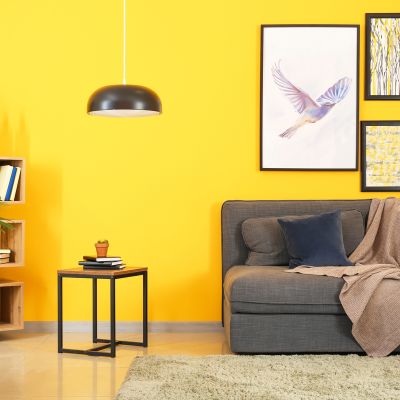 The bright yellow backdrop makes the entire room look more vibrant and energetic. Paired with a black sofa, numerous paintings and wooden bookshelves, this room makes for the perfect after-work hang out spot! With an overhead light, sit on the couch, pick a book and enter the majestic world of reading.
Light Green Paint Colours for the Living Room to Exude Warmth and Prosperity
We don't nearly stay connected to our roots and nature enough. Every passing day we spend inside our homes is a missed chance to connect with our land, trees and external environment. But what if you could welcome a tiny part of it to your home? Apart from keeping indoor plants, you can paint your living room walls in light shades of green. Not only is it humbling but also soothing for your soul. It givesyou that perfect naturistic aura and brings in plenty of vintage vibes as well. If you are looking for vibrant shades, go for a bold, unsaturated version of green.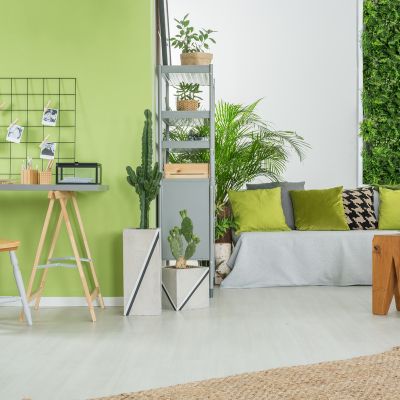 Make your home look like an ideal mini garden with light shades of green. With a patch of grass up the wall and indoor plants strategically placed alongside the wall division, this room exudes nature and calm at the same time. With lime green shades of cushion on the sofa, the space brings in a perfect homely vibe.
Light Brown Paint Colours for the Living Room to Add Friendliness
The first thought on hearing brown as a prospective colour for your living room might not be positive, and that's fine. Initially dubbed as dull, dirty shade, the colour of coffee, chocolate, soil, and wood presents a classic option for your modern-day living room walls. It adds an earthy vibe to the entire space and ties all the corners of the room seamlessly. In addition, this colour will effortlessly make your room look minimalistic and detailed. Match it with wooden furniture to keep the colour scheme on the same page and bring forward the elements in the room.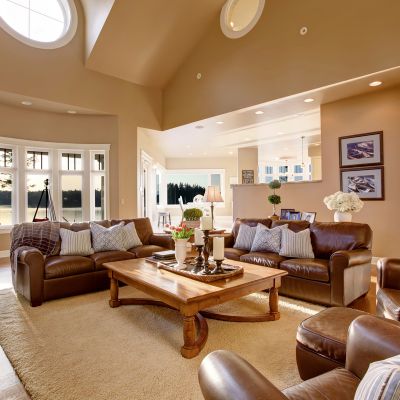 With rich elegance and a modern viewpoint, this room looks ideal for business meetings and family get-togethers. The brown sofas complement the walls and make the room look more spacious. With high ceilings and adequate natural light, this room is one of the most sought-after living spaces you will ever see.
The Royal Light Purple Paint Colours for the Living Room
A symbol of riches and power, purple is one of the most popular shades in the palette. However, this one is quite adaptable and can be tailored to a variety of preferences and styles. Purple is the perfect colour for individuals who are bold and full of life, as it exudes vigour. This shade can transform your living room into a magical land.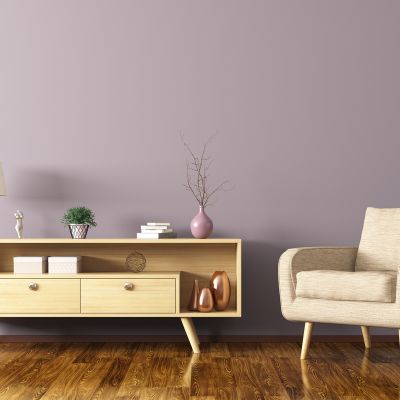 And if you believed this colour was just popular in the 1980s, think again! If used correctly, purple might be the colour you need to set your residence apart from your neighbours. Purple is a subdued hue that works well with other colours such as yellow and white to complement your home's decor.
How To Use Light Neutral Colours for the Living Room?
To decorate living rooms in neutral colours, you have to put a strong touch of colour to create balance. Otherwise, when decorating, you will get a reasonably flat result. But you don't have to redo your living room's design entirely; dose the tones and incorporate them into a neutral palette. It will be stunningly gorgeous.
White, ivory, sand, beige, mustard, chocolate, pastel yellow, black, and brown, among others, are the most incredible friends for decorating a house with neutral hues. The subtlety of a shade determines the surroundings; tonal contrasts that provide interest are required in a monochromatic decorating style.
It is critical to choose tones that emphasise the features of your living room while also imbuing your surroundings with a fresh and modern aesthetic. The idea of ​​decorating the room in neutral colours is that these tones are the ones that predominate on the walls, and painting your living room walls in neutrals will always provide a versatile and accessible decorative solution, so here we offer you some practical tips for decorating with neutral colours:
Use A Two-Tone Scheme
A perfect combination is necessary to ensure harmony in your decoration; using two tones and changing the optical appearance can also create peaceful environments.
If you combine them with white or beige, pastel colours are refreshing and highlight the living room furniture, especially the wooden ones. However, you must consider the function and design of the space and the natural light that each room receives before using this two-tone scheme.
Neutral colours are soft, subtle and can be easily combined without disturbing the harmony in the environment. The excellent idea is to combine the ceiling and the walls with this, creating an optical illusion. Furthermore, you can apply colours that do not produce saturation.
For instance, with a light green neutral shade on the walls, this room is decked with all pastel shades—the sofa hints of a little blue mixed in grey and fit in nicely with the ensemble. The beige floors and sidewall is another addition to the room, keeping the aesthetic homely and comfortable.
The Style of Decoration Sets the Tone
To select the colour, you want your home to wear, the first thing you should consider is the decoration style that your project will have, whether it is minimalist, rustic, vintage, classic or modern.
Once the decorative scheme is determined, you choose the neutral colour palette that you will use for each room and its possible combinations. The style is directly related to the furniture and accessories. To achieve optimal results, you must bear in mind that your technique will be inspiring.
Although neutral colours are a perfect canvas for any style, combining them with decorative elements is essential. So everything that we choose, the objects, furniture, and the colours, speak of our style and personality.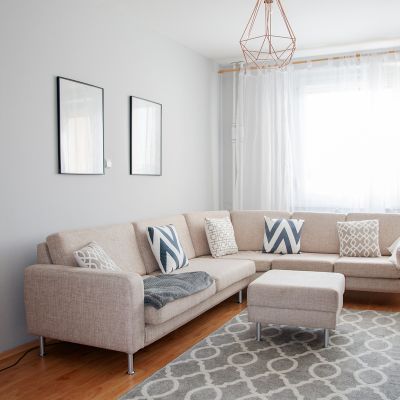 Here, the grey neutral complements the beige furniture and sets a warm undertone for the entire space. Grey and white rugs on wooden floorboards seem to follow the same colour palette and add a dash of luxury to the room. With adequate sunlight passing through white curtains, there's plenty of natural light in the room, making it look more spacious.
Make The Walls More Textured
Simplicity, free of ornamental excesses, aids in the creation of pleasant, clean, and bright spaces bathed in neutral hues.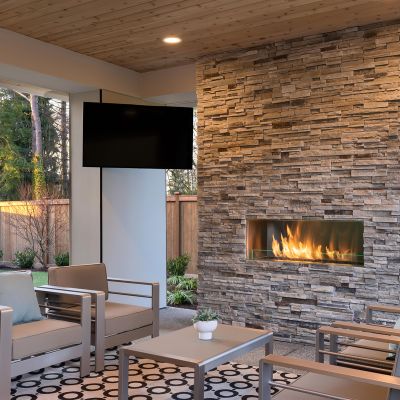 Natural stones are a unique way to add texture to your walls. They're not only functional, but they're also an excellent match for your living room. For example, you may choose a light grey tone and combine it with a stone wall to create the impression of a warm, pleasant, and well-designed atmosphere. The stones offer a wide range of aesthetic and architectural qualities that provide a personal touch to your home; they are both a modern and classic element.
Here's a luxurious outdoor relaxing living room with expansive wooden ceilings, large windows for lots of natural light, a large grey stone fireplace, TV, rug and beige sofa.
A Calm and Serene Environment in Your Room
Given the importance of tones in our moods, while decorating a room as a resting place, it must be painted in a neutral hue that conveys that serenity. White is one of the colours that accomplishes this goal, and when paired with wood-based objects, it creates a warm environment.
Psychologists believe that you may choose whatever neutral hue you like, but you should constantly consider its influence on your mood. On the other hand, you must understand how to pair tone with the accessories in the room.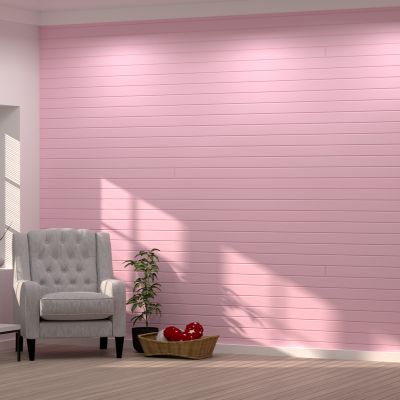 Pink seems too girly or Candyland-like? Not here. With a neutral shade of lighter tone, this room looks like the ideal 1960s residence with elegance and comfort. The grey sofa completes the decor and makes the living space look warmer. Unfortunately, few paintings on the wall and a rustic rug can be added to keep the artistic level in check.
Complementary Decorative Components
To design your space, choose upholstery and essential curtains in neutral hues that go with a range of accessories. Rugs and tablecloths are some items that go well with these colours. Curtains are unquestionably an important decorative feature for enhancing the aesthetics of your living room and other areas, and the manner you hang them will determine how they seem.
The materials you choose are determined by the design you'll wear; some offer body and volume, while others have lateral falls, and others have applications. The rugs complement your living room set; if your furniture is dark, bright colours should be used to complete it. This item comes in a wide range of materials and colours.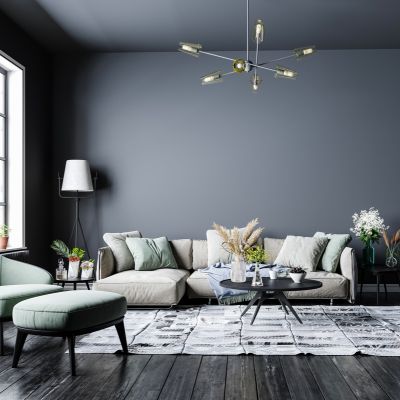 Cushions and pouffes for the couch can be another fruitful addition; they modify the design of your space and are a prominent adornment in your living room. Cushions are now a vogue in the most opulent interiors, with new forms and enticing designs creating one-of-a-kind settings.
Trending Light Colour Combination for Living Room
White, grey, and black are timeless hues that exude calm, elegance, harmony, and symmetry in space. Incorporate these colours in your room to create a style that best reflects your personality.
Here are some colour-combination design possibilities for your living room, using the three base neutrals:
Rooms With a Lot of Contrast
When used on walls, the combo of black and white will add modernism to your space, and by limiting yourself to only two colours, it will be easier to select which to use or how to mix them if you are determined to use both.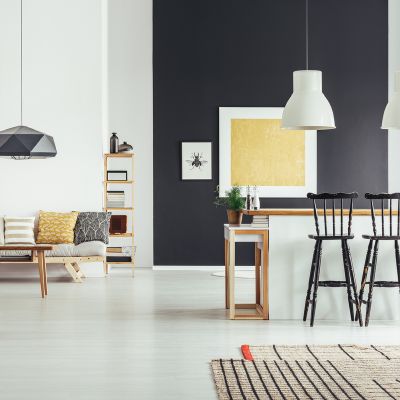 If your living room is small, avoid getting carried away with using black on the walls to prevent producing a bunker kind of illusion, unless you want to go with an exquisite or playful black and white wallpaper.
Rooms With a Contemporary Touch
If you want to spruce up the living room walls with tons of white, then use black for the couches, artwork, and accessories you wish to adorn the space with.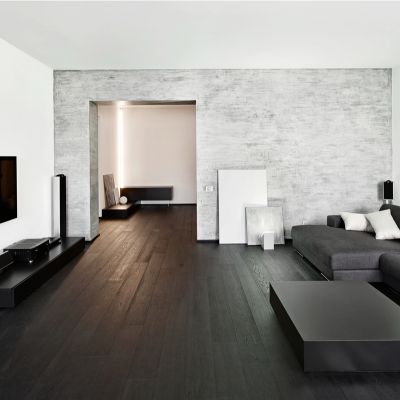 Once you have many decorative items to display or furnish, this sort of contrast creates a striking visual impression.
Rooms With Natural Light in Abundance
An excellent alternative for creating a contrast of spaciousness in your area is to use numerous white tints such as ivory, beige, and grey as the primary hue, notably on the walls, so more light is drawn into the social space.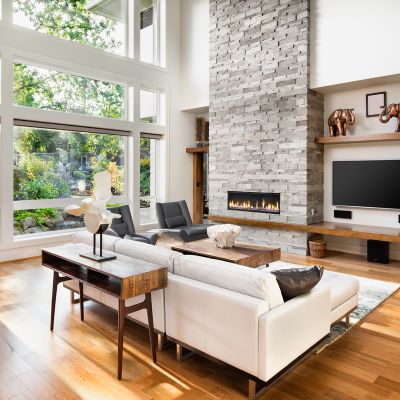 Rooms With a Beige and Grey Colour Scheme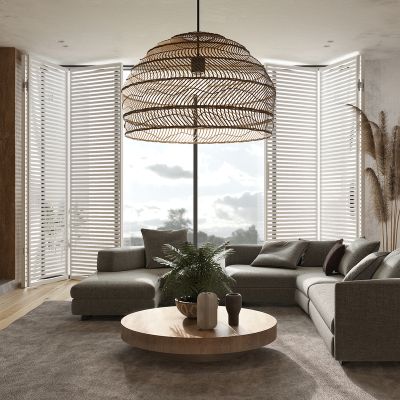 The usage of beige and grey is another extremely contemporary combo. Because they are two neutral tones when they are combined, they create a modern scheme in the design, creating balance, equilibrium, and elegance in the room's decorating.
Rooms with Cool Hues
Cold hues, ranging from purple to blue to green, will help you create a refreshing environment of calm and peace, depending on the tones you pick.
Can you picture the serenity that the sea blue shades radiate? Why don't you bring it into your living room? This colour palette infects the atmosphere with a sense of calm and relaxation.
If you want to feel happy and peaceful, outfit your space in the simplicity that the sky radiates, producing a bright and airy environment. If you prefer a more rustic look, a lavender blue can add spontaneity and vitality to your space. However, if a decent rest is what you desire when you enter your living room, the bluish light of aquamarine green is excellent.
Your room will exude tranquilly, seclusion, and relaxation thanks to the softest colours of blue, green, and purple. Create a relaxing space with excellent colour schemes to revitalise it.
Rooms With a Warm Colour Combination
The warm tones are a category of the light paint colours for the living room, that will be ideal for exposing such harmony because the space signifies a place where many happy times are shared.
To evoke a sense of warmth and intimacy, choose light colours for the living room. A palette that emphasises delicate green tones such as apple, yellow, and light reddish. Choose colours of green if you want a more cheerful, refreshing, and tranquil ambience. On the other hand, use yellow tones to generate vibrancy and luminosity, and if you're energetic or creative, what better way to show it than by using orange techniques in your living room?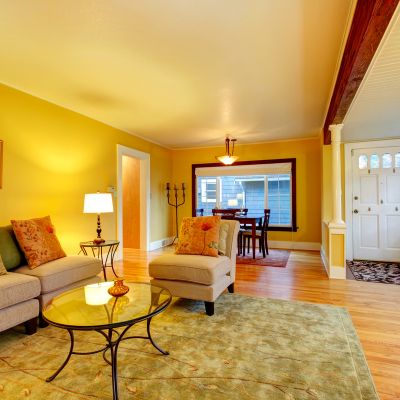 Whichever alternative you pick, dark or light paint colours for the living room, keep in mind that before you start painting the walls of your living room, think as to what you currently have at home and how you'll match your furnishings to the beautiful light living room paint colours you chose. Then, to make sure you are making the right choice, connect with our home interior experts at NoBroker and get suitable wall patterns for your home.
FAQ's
Q1 What do you imply by neutral tones?
Ans. Neutral colours are those with lower intensities and richness by definition. They also accumulate equal amounts of red, yellow, and blue, the three most prevalent primary colours.
Q2 Which colours make a space appear larger and brighter?
Ans. Use soft tones like off-white, blues, and greens for the best impact, and understand that more luminous rooms feel more spacious and more welcoming. And here's a bonus tip: Use a lighter hue for your wall decor and mouldings than you do for your walls.
Q3 What is the most incredible colour combination for the walls in 2021?
Ans. Sage and turmeric, brown and scarlet, pastel green and light blue, olive and terracotta, petrol blue and blush pink are the five colour combinations you'll find everywhere in 2021.
Q4 Is it necessary to paint all of the rooms the same colour?
Ans. One colour across your home is excellent for flowing colour from room to room, and this is the best reason to choose one colour throughout your home. In addition, it might be less expensive to have a single hue painted or sprayed throughout a property, which is why professionals frequently recommend it.
Q-5 What is the decorating rule of 60 30 10?
Ans. 60-30-10 rule is a time-honoured decorating principle that aids in creating a colour scheme for a room. It claims that the primary colour should make up 60% of the space, the secondary colour or texture should make up 30% of the room, and the accent colour or texture should make up 10% of the room.