They say that you need to sleep to recharge yourself and revamp for the next day, and they are so right! Now that you are planning on redecorating your bedroom, why not align it with Vastu to lay the foundation to steer your life in the right direction. There are several Vastu colours for bedrooms that are ideal; read on to find out which colour could be the perfect match for your vibe and as the focus colour to paint on your bedroom walls with.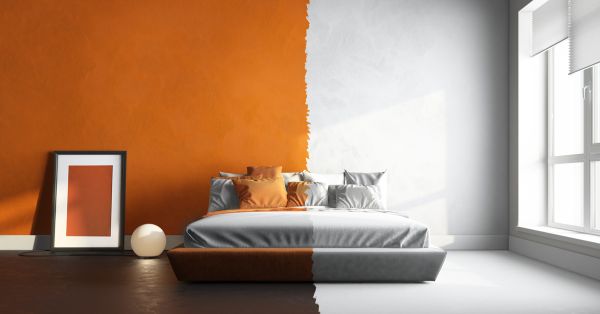 For your house to be able to become a home, the critical element is radiating the right kind of energy. According to traditional beliefs, every home does come with its energy type; now, it is up to the homeowner to harness the positive energy through Vastu and keep negative energy at bay. We have included several bedroom colours as per Vastu in this article, and we hope you can find the right choice for your home. The best shades for your homes as per Vastu are the following colours; blue, indigo, green, yellow, purple, pink, red, orange, brown, grey and last but not least white.
Read: Having a Master Bedroom in the East According to Vastu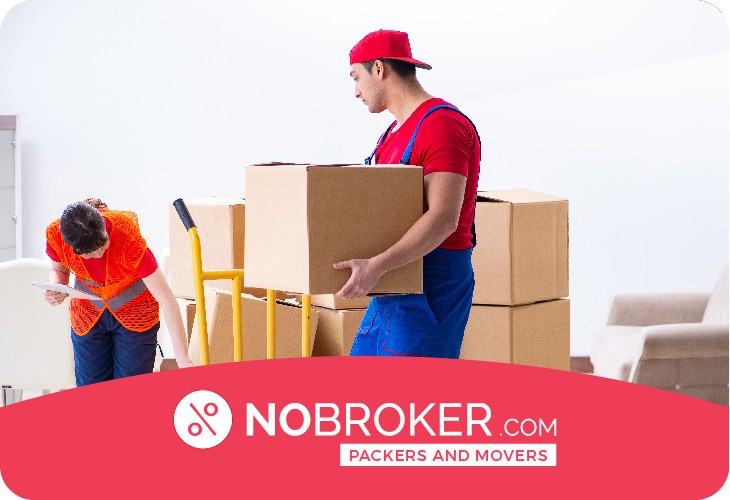 Book Best Packers & Movers with Best Price, Free Cancellation, Dedicated Move Manager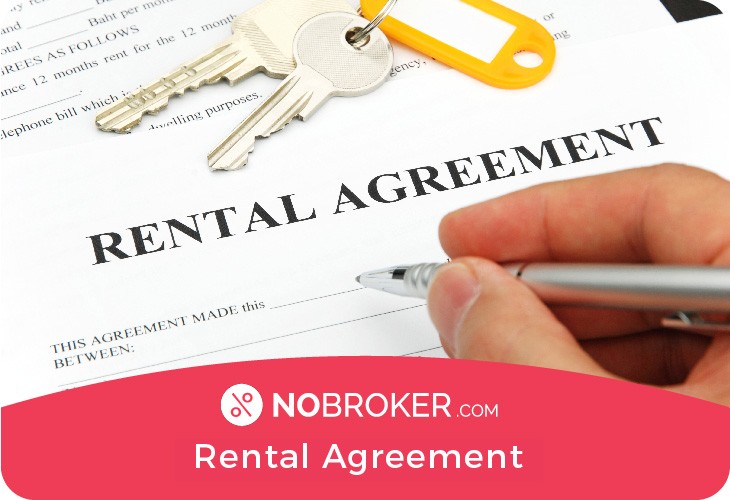 Get Rental Agreement With Doorstep Delivery, Super Quick & Easy
This is third
This is third
This is fourth
This is fourth
This is fifth
This is fifth
This is six
This is six
This is seven
This is seven
This is eight
This is eight
These bedroom colours, according to Vastu, can be included in your home by painting your walls these shades or by bringing in these hues through furniture, decoration, curtains or trinkets. These are what each of the colours represents!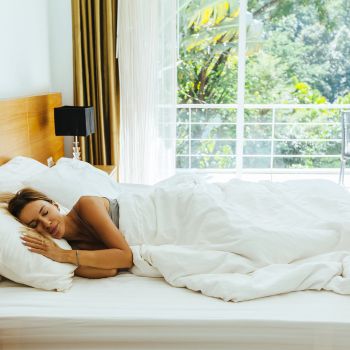 Top 10 Vastu Colours for Bedrooms
Red Passion, power, emotions, warmth
Blue Beauty, contentment, devotion, truth
Green Growth, healing, fertility, prosperity
White Purity, openness, innocence, luxury
Yellow Optimism, openness, study, intelligence
Orange Determination, goals, good health, comfort
Brown Stability, satisfaction, comfort
Purple Richness, luxury, graciousness, pride
Pink Youthfulness, luxury
Grey Steadfastness, healing, grounded
Experts have pointed out that each section of one's home requires colours for their walls as per its energy requirement, the size of the space, and the room's position. Vastu Ke anusar bedroom ka colour is a commonly used phrase, do remember, the colour requirement of your home's walls should be determined as per the usage of the space.
When selecting Vastu colours for your bedroom, make sure to do so based on where your bedroom is located; here is a chart that may help you.
| | |
| --- | --- |
| North-east | Light blue |
| East | White, light blue |
| South-east | Orange, pink |
| North | Green, pista green |
| North-west | Light grey, white, cream |
| West | Blue, white |
| South-west | Peach, mud colour or light brown |
| South | Yellow, red |
Blue an Ideal Vastu Colour for the Bedrooms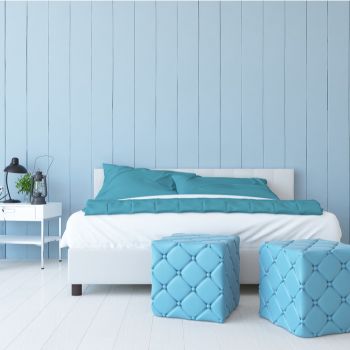 Blue is a calming colour known to represent intelligence and responsibility, so painting your wall blue may be a good idea to try and imbibe these traits into your life.
Read: Vastu for your Master Bedrooms in a West Facing House
When researching Vastu shastra for bedroom colours, blue is indeed a very prominent colour. It is also an amazing base colour to base your bedroom wall colour pallet off. If you have blue or pastel hues of blue painted on the walls of your bedroom, it ensures that your space will have a calm and tranquil environment. Such an environment is ideal as it helps in establishing a peaceful vibe in the area. Blue is the ultimate colour, as it harbours peaceful vibes and it is also said to be soothing to look at, which is perfect after a tiring day.
Indigo is One of the Ideal Bedroom Colours as Per Vastu!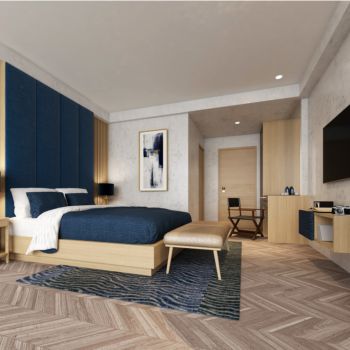 Power and dignity are the two traits associated with this colour; it is also said that indigo conveys integrity and deep sincerity.
Indigo as colour gives an uber-rich vibe to space if it is used in a bedroom. It is the best colour for bedrooms, according to Vastu. It is said that this colour is ideal for your bedroom as well as your children's bedroom. Some people use it as a base canvas and make their walls chalkboards for their children, and this colour acts as the perfect background colour. We'd highly suggest that you paint your kid's bedroom walls in indigo; it is ideal and the perfect colour to induce enlightenment for your kids and provide a soothing environment for learning and studying. It also helps to improve their spiritual and cognitive capabilities. At the same time, it helps in fostering a deeper connection with oneself, which should be inculcated in kids right from an early age.
Read: Vastu For Toilets and Bathrooms, Is It Important?
Green – The Colour of Positivity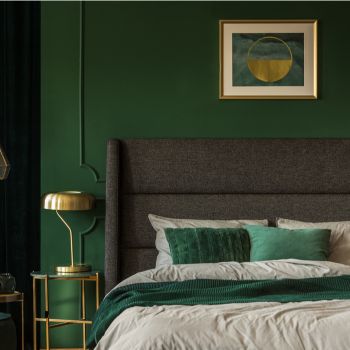 When choosing a colour for your wall, you would like to think of what that colour is known to symbolise. The colour green is associated with being the colour of a perfectionistic, analytical thinker with relaxed and calm vibe. So, if that is something you would like to channel, then green is the colour for you.
According to Vastu, green is the colour that tops the list of ideal bedroom colours for couples. In comparison to several Vastu colours, shades of green display alleviation, which helps harbour ease, relief, and healing. So, if committing to painting the walls green seems like a mammoth task to you, you can do so by bringing in green vibes and shades into your space by placing some green-coloured items like plants in the bedroom. Also, green as a Vastu colour is said to improve fertility which is just another reason why it can be a great colour for you and your partner's bedroom walls.
Read: Vastu Tips for Your Living Room
Yellow, A Cheerful Vastu Colour for Bedrooms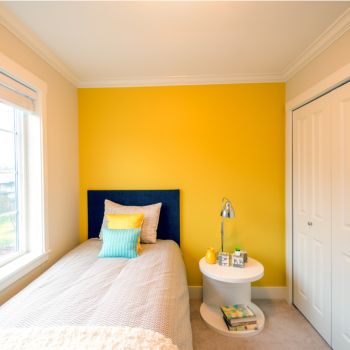 Exuding energy, positivity and light, the colour yellow is known to facilitate creativity. You may choose this sunshine-like colour if the goal is to make your bedroom your very own ray of light!
The colour of sunshine, the colour used to symbolise joy and happiness, is indeed a colour synonymous with positivity. So yellow as a colour is an ideal option as an accent colour for your bedroom wall, or you could paint all your walls completely yellow too if that is your preference. When choosing colours for the master bedroom as per Vastu, remember that according to Vastu, including yellow in your bedroom is indeed a great idea as this colour symbolises contentment, intellect and cheerfulness. If you have a small bedroom, yellow is an excellent option as it makes the place look bigger as it reflects light.
Purple as a Vastu Colour for Your Bedroom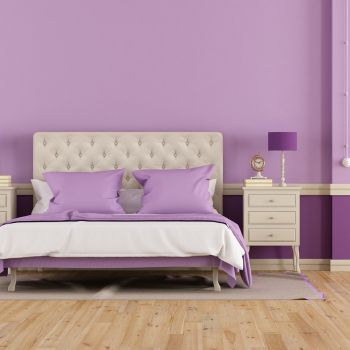 Combining the calm, stable vibes of blue and the fiery, fierce energy associated with red, the colour purple is an excellent option for your bedroom wall if you wantthe best of both colours.
Colours for bedroom walls as per Vastu, are best selected by keeping in mind the person who is going to be sleeping in that room. Purple as a colour looks very rich, and a great colour to give you the feeling of living like royalty. Shades of purple exhibit dignity, equilibrium and compassion which are great characteristics to have in a person, and if sleeping in a bedroom with these colours can inculcate these values; then it is worth giving it a shot. Shades of purple form the perfect choice for people who find themselves acting out of impatience, as it helps calm a person down over time. You could string fairy lights behind your bedpost to create a meditative environment in your bedroom.
Pink is an Iconic Bedroom Colour, Even as Per Vastu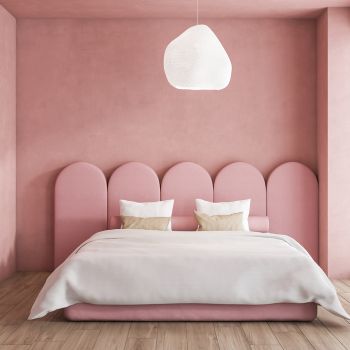 In colour psychology, the colour pink is associated with hope. Thus, this calming colour is also said to be ideal for helping ease anxiety in an individual.
When selecting a colour combination for a bedroom, according to Vastu, going through all your options is recommended. However, if your favourite colour is pink, look no further because it is a Vastu compliant colour. Though, when talking about love, delight, making memories and thoughts of togetherness, pink is a vivid colour that does come to mind. It is also a very soothing colour to look at. Painting your bedroom walls with different shades of pink is a creative way of incorporating this colour into your bedroom. When adding the ideal Vastu colours for the master bedroom to your space, you could also add flowers in the co-relating colours to spruce up the room. Another option if you want to introduce shades of pink into your room is to start by placing vases or replacing doors and cabinet knobs etc., with rose-gold ones. These are not only super trendy but add to the home decor element in the bedroom as well.
Magnificent Bedroom Colour as Per Vastu, Orange!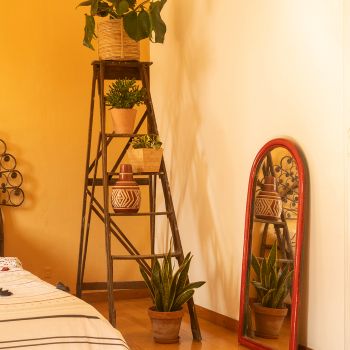 Fun, vibrant, and excitement are the top words that are used to describe the colour orange! If you intend on bringing these vibes into your bedroom, painting your walls orange will be a good idea.
Orange is a colour that is best suited for your master bedroom. Orange ranks relatively high on the scale of ideal colours for your master bedroom. These Vastu colours for the bedroom can be brought in not only by painting the walls but also by adding tinted windows. With the 70's trends making a huge comeback, tinted orange windows are a great way to include this colour. Incorporate groovy prints or stencils with orange stain glass, which can reflect pretty hues on your wall when sunlight hits it. People who aspire to be and do more are said to be attracted to orange and this colour is ideal to paint bedroom walls, especially the southern wall of the bedroom. This is because orange depicts a sense of higher self-esteem, a great deal of health and a strong foundation in values. You also need to remember this: orange as a wall colour should be avoided at all costs by those who have anger issues.
Brown for Your Bedroom Colour According to Vastu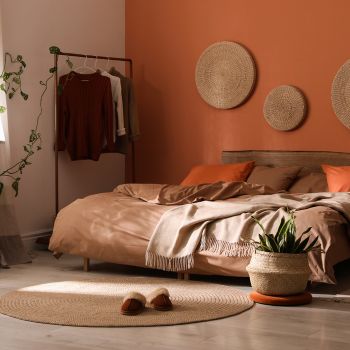 The colour brown is often seen as a solid colour, likened to the earth; this colour is often associated with resilience, dependability, security, and safety. If you intend for your bedroom to reflect these traits, brown is the perfect colour for you.
Bedroom colour combination as per Vastu, in 2021 corresponds with the trending colours of the year, so that's a great plus point! The tones of brown and beige have taken over 2021. They are the best options if you intend to repaint or redecorate your bedroom or your living space. Brown is a great option to incorporate into your walls, especially into your bedroom, as it gives off restful energy and elegant vibes. An easy way to add shades of brown into your room, apart from painting your walls, is by ensuring that the furniture within your bedroom has hints of exposed wood and timber. This only goes to add to the warmth and the cosy vibe. Another idea would be to complement the shades of earthy browns with off-white furnishing.
Grey a Classy Bedroom Colour, Even Vastu Agrees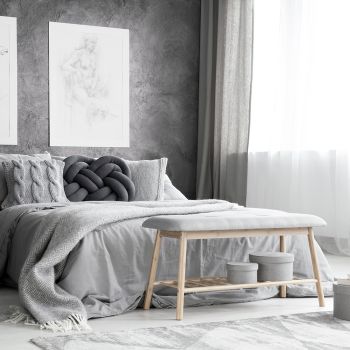 The colour grey is known to give off dependable and practical vibes, which are essential traits for any person to adopt. Thus, using grey, which is a suggested Vastu colour for the master bedroom is an excellent plan of action.
Shades of White, For Your Bedroom Wall Colour According to Vastu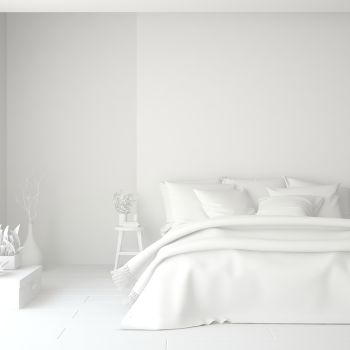 If you enjoy a sense of freedom and love being your own person, someone who cannot tolerate negativity, then white is indeed your colour.
You should go for a mix of shades of white, should you decide to paint your bedroom walls as per Vastu, as it gives dimension to your room. White as a colour is said to denote purity and compatibility, a perfect colour for your bedroom. When deciding the best colour for the bedroom as per Vastu, white is indeed a great option.
Red, One of the Best Colours for the Bedroom as per Vastu!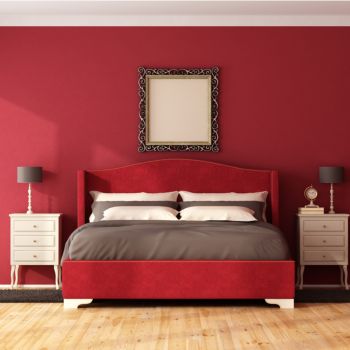 Bring positivity and energy into your bedroom with the colour red!
If red as a colour is too intimidating, you could also mix and match it with shades of pink to soften the tone. This colour is known as the best colour for a couple's bedroom, according to Vastu, ideal for the bold, so if that is the route you would like to take when decorating your bedroom, then this shade is a great one for you. Also, there are many homes furnishing options available in the colour red, thus shopping to decorate your space with monochrome or with hues of red won't be a challenge.
When you are deciding on a colour that is compatible with a Vastu compliant colour, remember that if having a full-blown wall in a single solid shade is not your vibe, you can always dip your toes into this space by including small elements in your room with these colours, and then over time add more of the colours into your living space. Vastu colours for bedrooms can complete your home.
If that seems like too much for you, fret not, leave it to the experts. Get NoBroker painting services at the BEST prices in the city! Our expert painters can suggest the right colours for a husband-wife master bedroom, Vastu colours for the bedroom and so on. Click now to learn more.
FAQ's
Q1. What is the best colour for the bedroom as per Vastu?
Ans. When choosing the best shades for your bedroom, hues of blue, green, yellow, beige, tan and primary colours are the best colours. However, at the same time for your living room, Vastu does suggest putting a combination of red colour into the mix.
Q2. Which Bedroom colour as per Vastu shastra is trending for 2021?
Ans. Trending colours for bedroom walls in 2021 are shades of green, more so sage, peppermint and pistachio green, shades of pink like bubble gum, baby pink and salmon, as well as shades of brown like tan, beige and coffee.
Q3. Which is the best colour for a couple's bedroom according to Vastu?
Ans. The best colour for a couple's bedroom as per Vastu is shades of green. Other prominent shades are also shades like strawberry red, raspberry pink, deep blue as well as caramel/ earthy browns.
Q4. What are the bedroom colour combinations as per Vastu for energy?
Ans. Some of the best shades to help boost one's energy levels are,
Red.
Purple.
Green.
Pink.
White.
Q5. What is the happiest colour for bedroom walls?
Ans. Yellow is the most widely recognised colour as the happiest colour in the world. What's more, there is also a ton of scientific research that has gone into backing up this esteemed honour on this colour.