Home renovation is a task of utmost importance that requires your practical and creative decision-making skills. While you might go for aesthetically pleasing and elegant options for your living room or dining area, a bathroom needs more efficiency and suitability. Primarily, our brain imagines a large, all-white bathroom floor with a big tub on the side. But getting back to reality, that dream seems a bit out of reach with the lack of space and durability. Therefore, it is important to focus on a bathroom renovation. It utilises all the space available in the best possible way and does not leave you bankrupt in the process. One key aspect of the bathroom renovation is floor tiles. Floor tiles set the entire mood of the space. Available in multiple types, colours and patterns, you can now choose the best bathroom floor tiles design based on your personal choice and budget.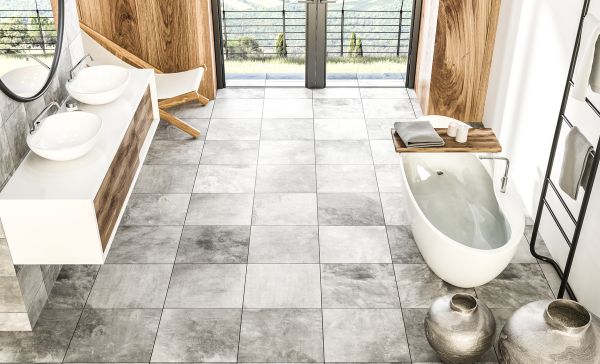 Bathroom Floor Tiles Design Sorted by Different Colours
Imagine walking into your bathroom for a shower, and you notice that the tiles are neon pink. Your first reaction would probably entail a little confusion and a whole lot of overwhelming feelings about the imminent claustrophobia. That's because the bright shade bounces off from one wall to another and makes the bathroom space seem smaller. Considering the lack of natural light, you may one day regret the bold choice and wish for a much more subtle shade. Therefore, it is essential to focus on the suitable colour scheme for bathroom floor tile ideas.
Read: Get Your Home Interiors Started, Even Before the Lockdown Ends!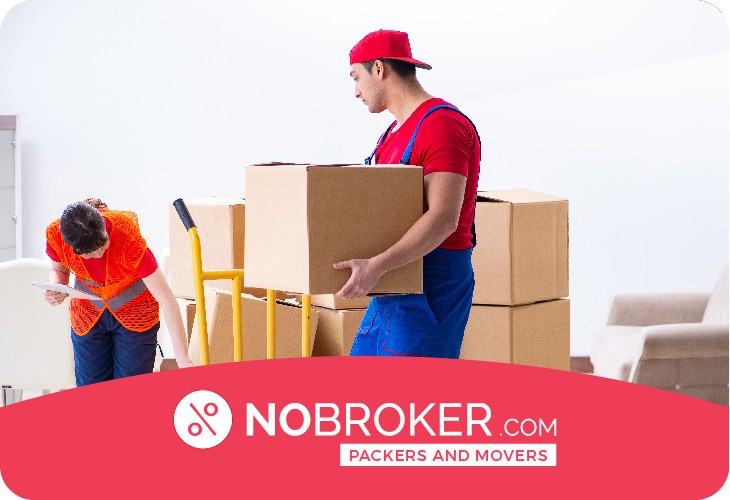 Book Best Packers & Movers with Best Price, Free Cancellation, Dedicated Move Manager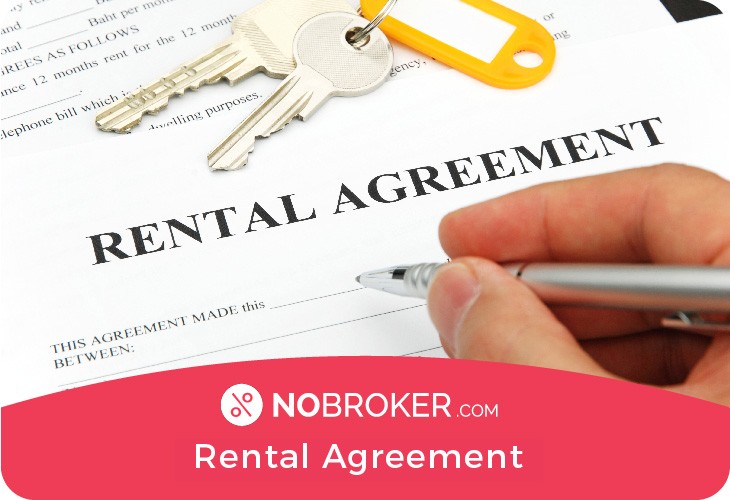 Get Rental Agreement With Doorstep Delivery, Super Quick & Easy
This is third
This is third
This is fourth
This is fourth
This is fifth
This is fifth
This is six
This is six
This is seven
This is seven
This is eight
This is eight
Remember, unlike walls, you cannot repaint tile colours whenever wanted. Therefore, you must take into account all essential factors before deciding on the floor tiles. One way is to choose your favourite colour and be done with it. But it is way more complicated than that. You need to factor in the overall decor of the space as well. Usually, floors are chosen to be light shades to increase the transfer of light in the area. However, different colours have their psychological effects and can affect the overall aura of your bathroom. Colour is basically how our brain interprets the wavelength of light reflected from objects.
Grey Bathroom Floor Tiles Ideas for an Industrial-Chic Look
Grey colour is often deemed as dull. But is it a bad option for your floor tiling? In the modern world of minimalism and contemporary designs, grey floor tiles can give you a trendy yet subtle look. This neutral shade goes well with both light and dark shades of colours and symbolises sophistication and serenity. With cool undertones, the grey floor will help make the wall colours pop nicely. If you are still not convinced, check out Greige tiles – a mixture of neutral tones like grey and beige. The slate grey shade will also help give your floor a more natural stone-like appearance.
Read: 5 Eco-Friendly House Designs Ideas for Indian Homes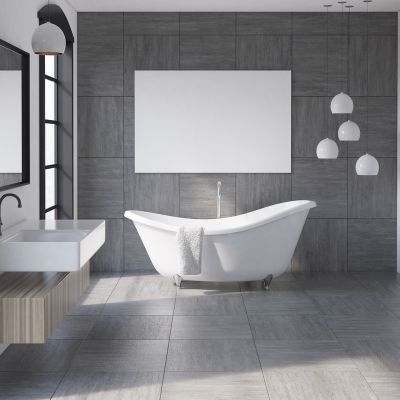 Here, you see a bathroom decked in shades of grey and white. Grey floor tiles complement the colour scheme nicely and make the bathroom look luxurious. With plenty of natural light, this bathroom gives all the classic resting vibes.
Read: Wind Chimes Vastu: A Cost-Effective Remedy for Eliminating Vastu Dosha and Bad Feng Shui and Embracing Fortunes
White Bathroom Floor Tile Ideas for a Simplistic Look
White is the classic, elegant option that never entirely goes out of fashion. But even though white can make your bathroom look more spacious and welcoming, it can also appear cold and barren if not done properly. Mix it with other colours and the right accessories to get the perfect combination. White tiles will increase the sense of order in the bathroom and give it more crispiness. White tile bathrooms have been in trend since the Victorian Era. A pop of colour on the bathroom walls will help combat the sterile look of the space. Not only bathrooms, but you can also use white tiles for your kitchen backsplash and laundry rooms.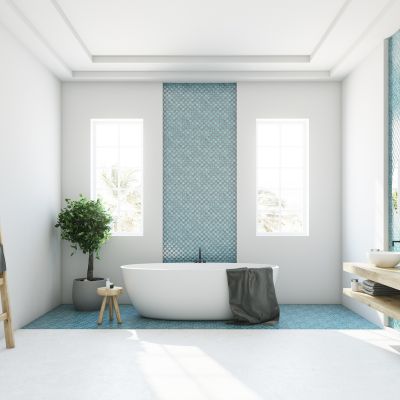 Here, you see a bathroom designed in shades of white and blue. A pop of blue in the section of walls and bathtub flooring area gives the entire bathroom an eclectic look. The white floor tiles make the space look more organised, decluttered, and spacious with adequate natural lighting.
Blue Bathroom Floor Tiles Ideas for a Tranquil Look
Reminding you of the sky and ocean, blue is a colour that helps us connect with nature. Blue helps settle our minds and brings a cool undertone to the entire space by exuding freshness and calmness. While midnight blue symbolises luxury, light blue is the depiction of tranquillity and softness. You can combine blue bathroom floor tiles with a pop of yellow in between to signify the sunflowers in the sky. You can also go for the classic aqua blue option to make a vibrant statement. Blue colour helps maintain our concentration and keeps the mind relaxed.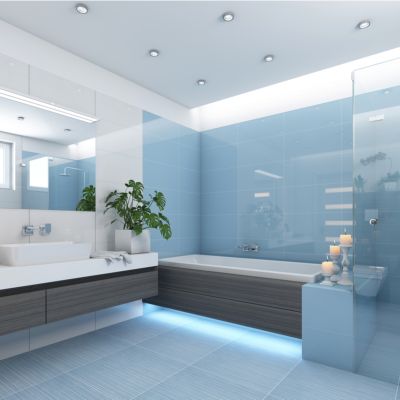 Another beautiful combo of blue and white that is easy on the eyes. Efficient and gorgeous, this colour scheme makes the bathroom look more spacious and adds a dash of vibrance to the area. Light blue floor tiles match well with the walls and help maintain a calming balance in the bathroom.
Brown Bathroom Floor Tile Design Ideas
Brown might seem like an odd option at first, but it represents the best of nature, i.e. wood when you think about it. Brown evokes many positive feelings like stability, groundedness and security. For visual preference, you can imagine an intimate wooden cabin in the middle of a natural landscape. Mixing it with the beige, you can land on some sure shot colour combos that will give your space more warmth. For example, Brown floor tiles will increase the light, airy vibe in your bathroom. Blue and green, both these colours pop well with a brown backdrop.
Read: Facing Family Issues? Have You Checked the Vastu Purusha Mandala of Your House?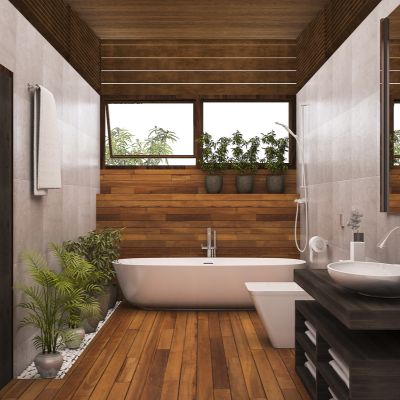 Here's a contemporary bathroom decked with brown tiles that looks just like hardwood. With the addition of a few potted plants and a couple of windows, the entire space gives a very rustic yet rich vibe. Walls with off-white tiles look serene and render modernity to the bathroom.
Black And White Bathroom Floor Tiles Design Ideas
Nothing beats the classic combination of black and white. This colour scheme represents a sleek, modern outlook with the trendiest patterns. While black is associated with elegance and a sense of power, white brings in calming vibes. Black and white help balance each other and add a dash of vintage pattern to the bathroom as well. Oureyes tend to travel from light to dark shades, making the bathroom look more spacious by carefully utilising this colour scheme.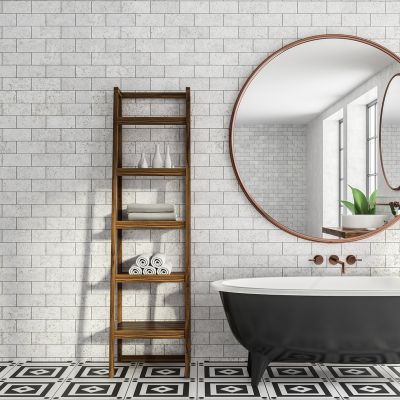 This beautiful, minimalist bathroom is styled with classic black and white tile patterns. A black bathtub with a round mirror adds a quirky vibe to the space and makes the bathroom look more energetic. With white subway tiles on the wall, the colour scheme makes the bathroom floor tiles fit in nicely.
Yellow Bathroom Floor Tile Design Ideas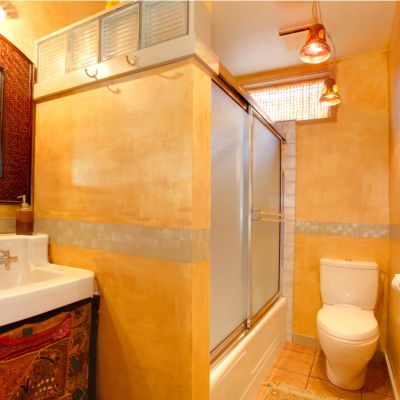 The perpetual representation of summer, optimism and happiness- yellow is a bright shade that instantly uplifts the mood of any place. Yellow bathroom tiles are sure to look a bit out of place at first but will give the perfect spacious look. Yellow imitates natural light and highlights all the corners of the room equally. If you are looking for something more sophisticated, go for the classic deep yellow. On the other hand, shades of muted yellow are perfect for a subtle and peaceful aura. If you have wooden elements in the bathroom, you can try a golden or honey yellow tile to create a welcoming atmosphere.
Bathroom Floor Tiles Design Sorted by Different Patterns
Your task of bathroom floor tile selection does not end just with choosing the colour. Moving on, you will find several patterns and designs in the market. You can personalise your bathroom space by selecting the way that sits well with the rest of the decor.
Pattern Floor Tiles Design for Bathroom
Patterned floor tiles are easily accessible. and the patterns are repetitive on each tile, creating an overall artistic look in the space. Such tiles look good with vintage accessories and classic furniture. Pattern floor tiles are versatile and give you a traditional look. You can use such tiles in the bathroom when the pattern scheme matches other rooms to create a uniform look in the house.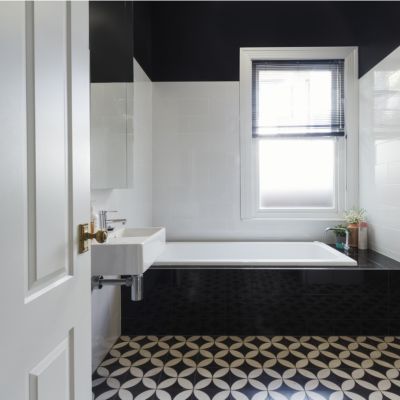 Here, you see a round pattern repeating all over the floor. With the colour scheme of black and white, the bathroom floor tiles go well with the space's white walls and black ceiling. The pattern on the floor is eye-catching and ultimately attracts attention, which makes up for the minimalist design of the bathroom.
Penny Tile Bathroom Floor Designs
From the family of hexagonal tiles, penny tiles are back in trend. Initially popular in the 1900s, penny tiles are now an essential part of the contemporary designing world. Starting from 3/4″, the size of diameter has slowly moved to 1″. Penny tiles are affordable and readily available in the Indian markets. Penny tiles also add a particular texture that reduces the slippery factor in the bathroom. You can choose a suitable grout colour and get the penny tiles installed on your bathroom floor for a modernistic outlook.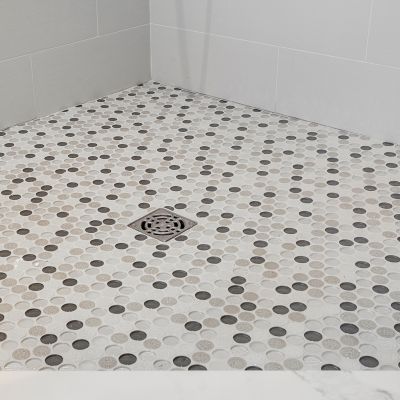 Below you see round penny tiles on the shower floor. Along with giving the bathroom an exciting look, these tiles also add a texture to the surface. As a result, you will notice ease in cleaning and installation.
Mosaic Bathroom Floor Tile Ideas
When it comes to tile patterns, nothing beats the classic mosaic. Mosaic tiles fit well with all sorts of decor, accessories and add a dash of much-needed character to the space. When in doubt, go with the glass mosaic tiles. They add elements of colour, shine, and shape elements to the bathroom floor, thus making the entire space look more refined.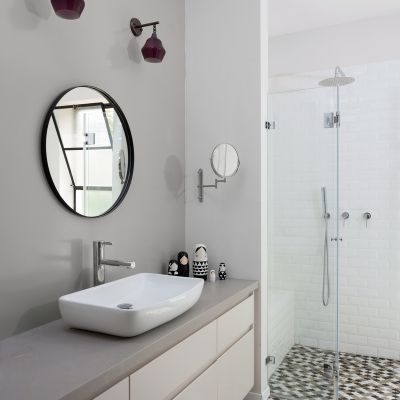 Here, you see mosaic tiles in the colours of black, white and beige on the bathroom floor. Floor tiles capture your attention well with the neutral shade of the bathroom walls and make the space look more inviting. With a round mirror and overhead lamps, this bathroom looks modern and minimalist.
Checkerboard Bathroom Floor Tiles
Checkerboard tiles are usually seen in verandahs or lobbies. But the appeal and quirkiness of these tiles are sure to suit your bathroom floor well. The alternating patterns of different colours of the block tiles add to the dynamics of the bathroom floor. Traditionally available in black and white, you can also find checkerboard tiles in different combinations of light and dark shades. So, based on the decor of your bathroom, select a suitable colour scheme. After all, it does not hurt to give your bathroom floor mini-DJ vibes, right?
Here's a beautiful, vintage style bathroom with a beige colour scheme. Beige and white checkerboard tiles match well with the walls. A large corner bath and skylight increase the elegance of this space.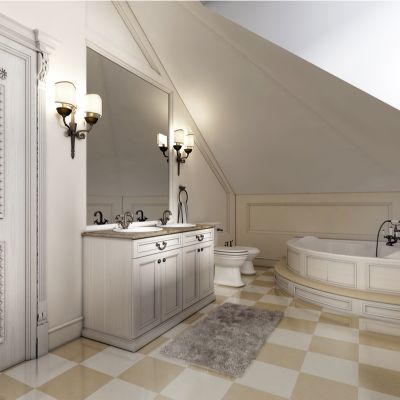 Rustic Bathroom Floor Tile Ideas
While we are all fans of modernistic or minimalist architectures, there's one option that cannot be ignored. With the beauty of nature and raw elements, a rustic look can elevate the allure of any space in the house. Bathrooms have a lot of fixtures and accessories. If done right, your bathroom can become one of the rustic spots in your home with all the classic vibes. Unlike other patterns, here, you do not get to install reflective, sleek tiles. Instead, you choose something more worn out or traditionally patterned.
Here's an ideal rustic bathroom with hexagonal tiles. Decked in the shades of brown and beige, this space exudes a unique old-age charm. All the vintage accessories complement the colour scheme and make the bathroom look chic.
Bathroom Floor Tile Design Ideas Based on Material
Remember, the basic pros of choosing tiles as your flooring option include durability and the ease of cleaning. These benefits exist because the building materials of tiles are pretty versatile and mixed accordingly. There are multiple tiling materials available in Indian markets.
Porcelain Bathroom Floor Tile Design Ideas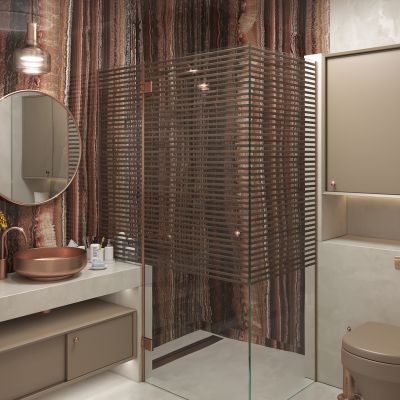 One of the most common and readily available tiling materials, porcelain offers multiple benefits. With low porosity and dense structure, porcelain tiles are well suitable for the bathroom floor. More water-resistant than other tiling materials, porcelain provides plenty of durability and flexibility. However, these tiles are heavy and can be a bit difficult to install.
Wood Tiles Floor Bathroom Design Ideas
Who doesn't love the look of a solid hardwood floor? But sadly, hardwood floors can be costly and hard to install and maintain. Therefore, we have the next best option for you. Tiles that look just like a wooden floorboard but offer you all the benefits. Wooden tiles will help you get a rustic floor vibe quickly. In addition, such tiles are water-resistant, easy to clean and less likely to get stained or scratched.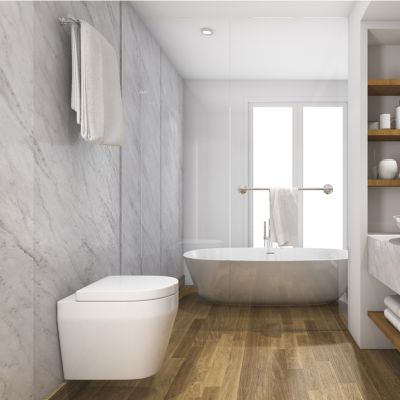 Bathroom Ceramic Floor Tile Design Ideas
If you are looking for affordable and durable options, nothing beats the ceramic material. Readily available in multiple patterns and colours, ceramic tiles are easy to maintain and highly durable. In addition, ceramic tiles are porous, thus having a higher water absorption rate.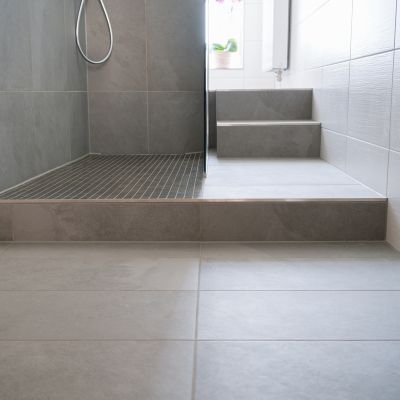 A bathroom renovation requires a lot of funding, effort and decision-making skills. But talking about the flooring, there is no better option than tiles. The reason is quite evident: tiles are durable, easy to clean, maintain, and very affordable compared to other options. But with a myriad of tiling options available in the market, which one will suit your bathroom best? The above-mentioned bathroom floor tiles design will help you make an intelligent decision. If you are looking for a reliable decor team for your dream home, contact the professionals at NoBroker. They will provide you with the best options for minimal prices.
FAQ's
Q1. Which tiles are cheaper – ceramic or porcelain?
Ans. Ceramic tiles are less expensive than porcelain ones.
Q2. What sizes of tiles are commonly available in the market?
Ans. For large tiles, you will find 600 x 1200 mm and 600×600 mm dimensions. For smaller tiles, you will find dimensions of 300×600 mm and 300×300 mm.
Q3. How long does a bathroom renovation usually take?
Ans. A bathroom renovation usually takes around 30 to 45 days.
Q4. What is the starting price for ceramic tiles?
Ans. The starting price for ceramic tiles is somewhere around Rs. 20 per square feet.
Q5. How long do bathroom tiles last?
Ans. Based on the frequency of use and maintenance, bathroom tiles can last between 6 to 18 years.