False POP ceilings may be utilised in any home area, including the living room, bedroom, dining room, and any other room, to cover the plain ceilings or hide central air-conditioning equipment. False ceilings may be customised in various colours, forms, and sizes, allowing you to give your living room the appearance of grandeur and luxury. Designs can range from contemporary to intricately traditional. To assist you, we have compiled a guide on installing plaster of Paris (POP) ceilings in your living rooms and a library of pop design for the drawing room. Additionally, look at the most recent POP concepts and photos for the hall.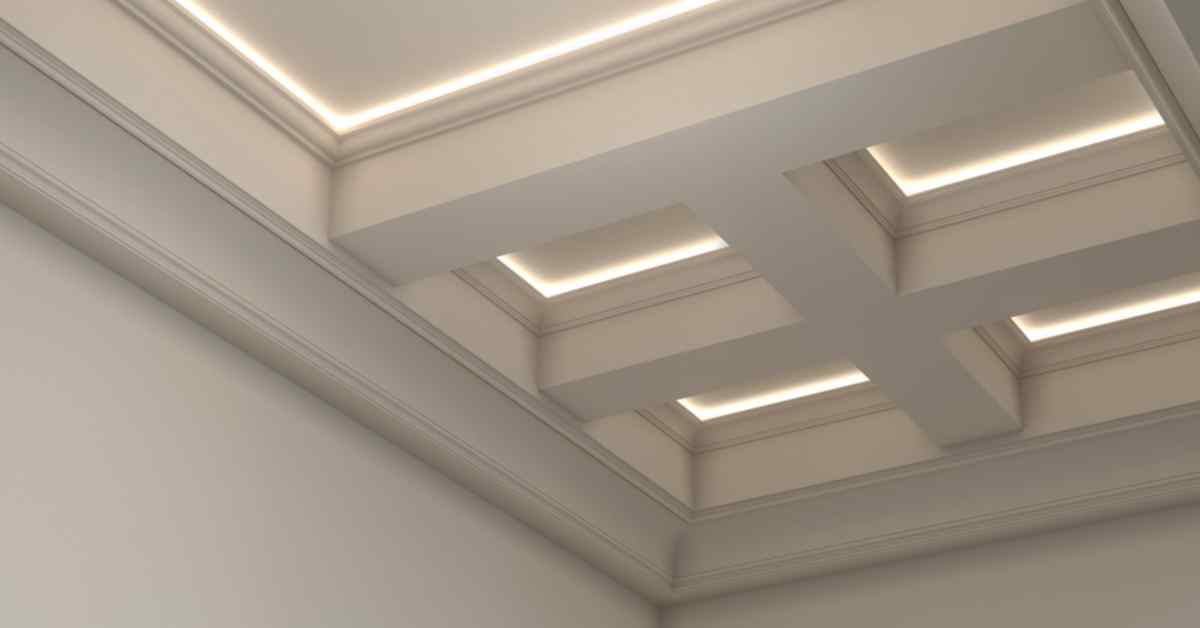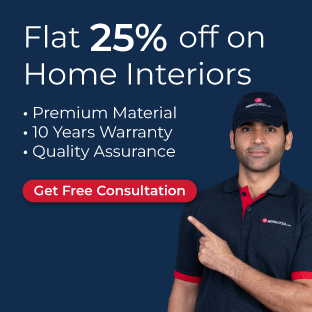 What is a POP Ceiling?
A POP ceiling is a false ceiling that's all the rage in modern interior design. It's formed by applying plaster of Paris to a metal or wooden frame, providing a broad spectrum of design possibilities and finishes to the ceiling. With the flexibility to tailor it to any room size, shape or style, POP ceilings can add depth and visual interest to your living space. And that's not all – these ceilings can even conceal any unsightly structural elements like pipes and wires. In short, POP ceilings are super versatile, durable, and stylish, making them a must-have for any contemporary home.
Read: Transform Your Bathroom with Stunning Blue Bathroom Tiles Designs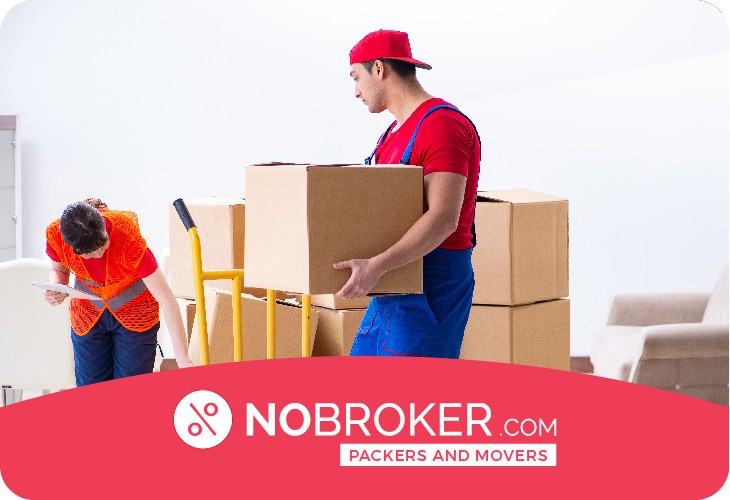 Book Best Packers & Movers with Best Price, Free Cancellation, Dedicated Move Manager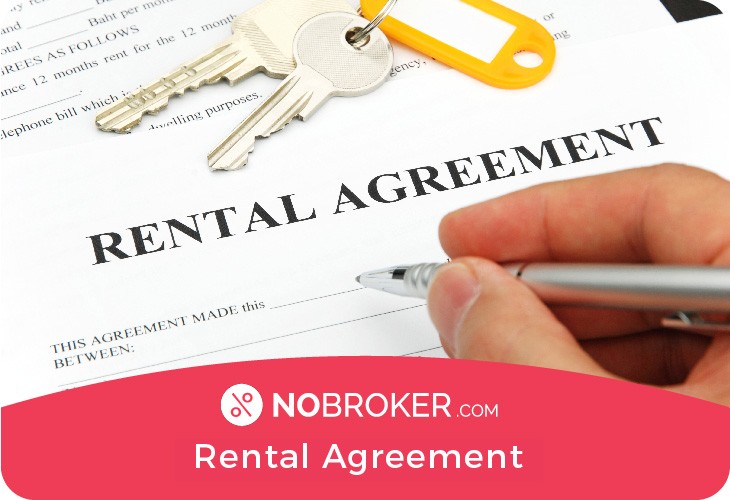 Get Rental Agreement With Doorstep Delivery, Super Quick & Easy
This is third
This is third
This is fourth
This is fourth
This is fifth
This is fifth
This is six
This is six
This is seven
This is seven
This is eight
This is eight
Advantages and Disadvantages of POP Ceilings
POP (Plaster of Paris) ceilings are a popular choice for homeowners due to their durability, versatility, and aesthetic appeal. However, they also come with a few drawbacks that should be considered before installation. Therefore, it's crucial to weigh the pros and cons carefully and consult with a professional before embarking on a POP design in the drawing room.
Advantages of POP Ceilings:
Aesthetic Appeal: POP ceilings are visually stunning, and can add a touch of elegance and sophistication to any room. They offer a wide range of design possibilities, from intricate patterns to sleek, minimalistic designs.
Customizable: POP ceilings can be tailored to fit any room size, shape or style, making them a versatile choice for any interior design project. They can be painted or finished to complement the overall colour scheme of the room.
Durability: POP ceilings are known for their durability and resistance to wear and tear. They can withstand humidity and dampness, making them a practical choice for bathrooms and kitchens.
Disadvantages of POP Ceilings:
Cost: POP ceilings can be quite expensive, especially if you opt for intricate designs and finishes. The cost of materials and installation can add up quickly.
Maintenance: POP ceilings require regular maintenance to keep them looking their best. They can be difficult to clean, and any damage to the plaster can be expensive to repair.
Installation: Installing a POP ceiling requires specialised skills and equipment, making it a challenging DIY project. It is best to hire a professional contractor to ensure a high-quality installation.
POP Design for Hall: Why Use POP Design for the Fake Ceiling?
False ceilings made of plaster of Paris are very resilient and may survive many years without showing any signs of wear and tear. The POP is sold in powder form, and all that's required to make the paste is the addition of water to the powder. For the ceiling pattern to be created, the POP is applied to a mesh so it may float in place. Additionally, the price of POP is less than that of gypsum boards.
Read: Beautiful New Modern Pop Plus-Minus Designs of 2023
To achieve the desired level of refinement, however, you will need to contract the services of an experienced POP ceiling installer. Installation of pop ceiling design for drawing room takes additional time due to the material's need to be completely dry before it can be placed. You can select more straightforward POP designs for living rooms, which are simpler to install, or you can go with one that is more contemporary and detailed if you want to add some flair to the area.
Check the height from the floor to the ceiling slab level to see whether or not it is sufficient to support a fake ceiling before you even think of installing a pop design for the drawing room plus-minus. Because it will affect the creation of the false ceiling, the lighting arrangement must be completed and decided upon in advance.
Read: Elevate Your Home Entrance with These Unique Veneer Door Designs
How To Select A POP Design for Your Hall: What Should You Look For?
You don't have to settle for a plain ceiling design when picking out one for the living room; instead of going with a straightforward option, you could go for an inventive design with a mix of different shaped lights. If, on the other hand, you have a combined living room and dining area, you should choose a layout that is aesthetically pleasing and has enough lighting.
To properly illuminate the artificial ceiling in the living room, you will need to make the necessary preparations. You could use LED lights, which are more energy-efficient and would look great with the ceiling design. Plus-minus pop design for the drawing room is a great surface for installing LED recessed lighting. Alternatively, you may try something new and choose to include large chandeliers or hanging lights in the design of the ceiling in the drawing room. This will help your area seem more sophisticated and lovely.
Choose between cove or flush-mount lighting for your POP false ceiling, depending on the pop false ceiling design for the drawing room you have chosen.
While white is the most typical colour for drawing room ceiling design, you may choose other bright colours to make your space look larger. You might play with beige and golden tones for a regal effect. For a contemporary effect, you may add texture to your drawing room ceiling design, such as a wooden finish or rustic or metallic ones.
You do not need to keep to rectangular and square designs for your ceiling. When it comes to creating a drop ceiling for a drawing room or any other living area, several inventive ideas are available that may offer a dramatic impression.
Curves, arcs, and circles are all the rage right now, and you can give your drawing room area a fresh new appearance by including these down-ceiling design ideas. Breaking the symmetry in your house and giving it a more contemporary feel might be accomplished. You may also employ these forms in contrast to other components used in décor.
Multi-Tiered POP Design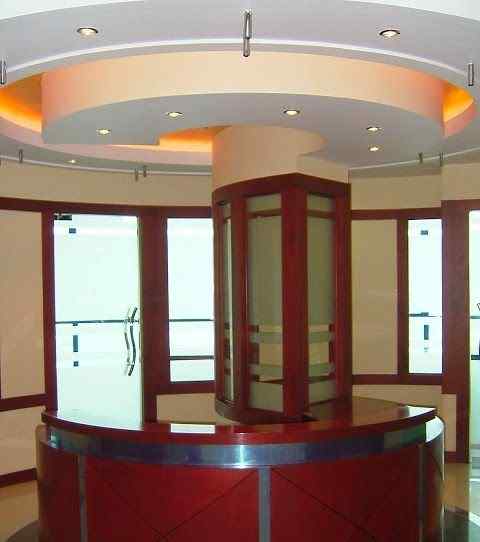 Utilising a structure resembling a stair is one of the fake ceiling POP concepts that has become more popular. This form of pop plus minus design for the drawing room allows for various lighting configurations, both in terms of its shapes and colours. This multi-tiered structure works well in large living spaces because it creates the illusion of more space. It has the potential to become a focal point in your living room design.
Read: Window Treatments: Enhancing Your Home's Style and Functionality
Symmetric Masterpiece
Nothing helps your living space appear more ordered and cleaner than some symmetry in your home decor. The symmetric POP design may provide an air of sophistication to your living area. Using simple vertical and horizontal stripes in your wall pop design for the drawing room may be strategically used to provide some symmetrical balance to the ceiling of your living room. Strip lights may be utilised below each symmetric POP panel for a lively living quarter.
Floral Pattern POP Design for Drawing Room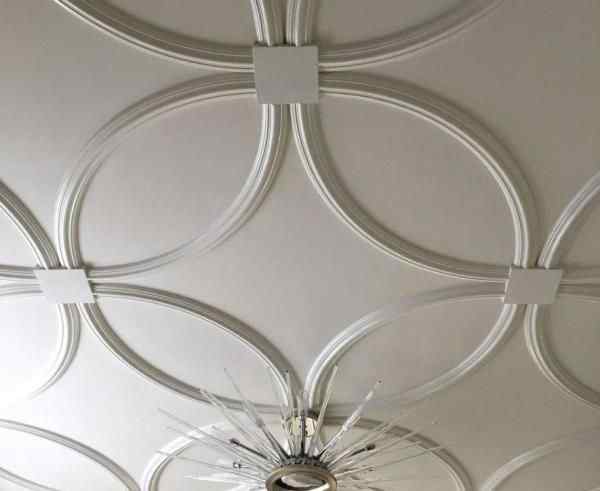 If you are seeking delicate decorating ideas for your living room, a false ceiling decorated with flower castings made of Plaster of Paris can be just what you need. A Pop down ceiling design for the drawing room in the form of flower petals may give a beautiful accent to your ceiling. Your family room may be made to shine with the help of halogen spotlights that are embedded in each petal.
A Modicum of Minimalism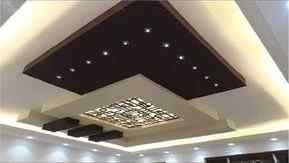 Few people grasp the power that may be harnessed via simple décor. Choose a classic white simple pop design for a drawing room if you are the kind of person who likes to keep their space uncomplicated and straightforward. To beautifully embellish your living room, you need some gorgeous crown mouldings and slightly projecting corners. To liven things up a bit, try for an offbeat hue of white like eggshell white or ivory.
Gentle Illumination
Plaster of Paris ceilings is best matched with warm lighting. Opt for lighting fixtures boasting yellow lights. You also have the option of going with mood lighting, which offers varying degrees of brightness and colour selections. Intriguing light-holders and lamps may provide an interesting component to a plain pop design for a drawing room without a false ceiling.
Crisscrossed Pop Design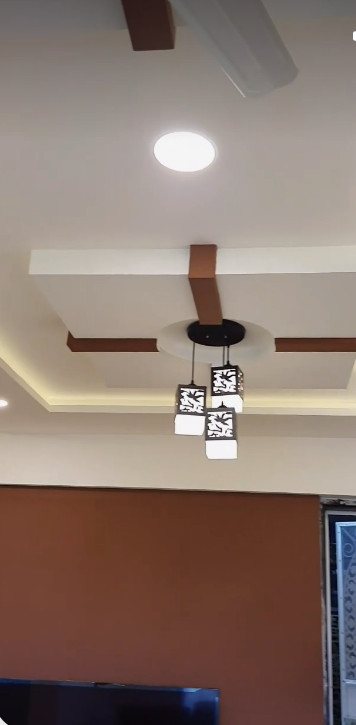 One of the examples of Indian pop designs for drawing rooms makes extensive use of both vertical and horizontal lines. It is ideal for homes that have been decorated in an industrial style. To give your ceiling a distinctive and unique appearance, try designing it to seem like a complex mesh of overlapping POP lines.
A Grand POP Design for Drawing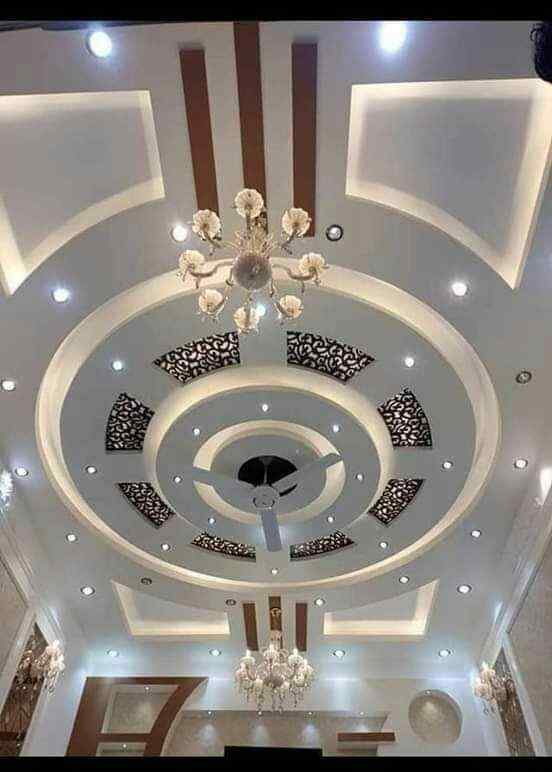 If you are interested in cutting-edge contemporary designs for the ceiling of your living room, there is nothing that may be more cutting-edge than a black and latest plus minus pop design for the drawing room. To make your ceiling seem more interesting, place panels of brilliant LED lights in between the POP blocks that are already there. This may provide an air of refined elegance to the interior design of your house.
Unique Lattice from POP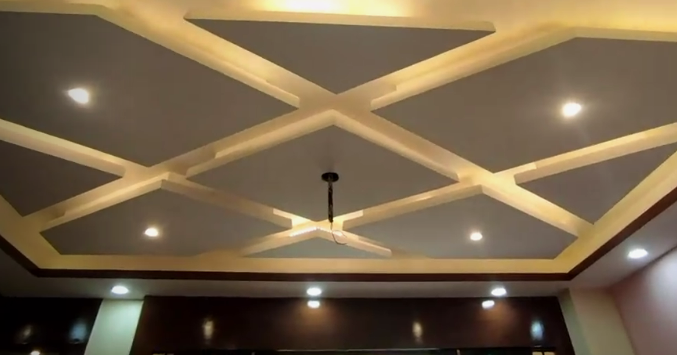 The sky's the limit for you if you search for the latest pop design for ceiling drawing rooms that will leave your visitors in wonder and make your home decor the new talk of the town. Plaster of Paris may be used to create a one-of-a-kind honeycomb lattice shape that can be used to emphasise the ceiling. Your cutting-edge roof might benefit from the illumination provided by curved LED lights. The lighting fixtures in this style of false ceiling provide much-needed illumination. The design of the ceiling helps in hiding the extra wiring and plugs, thereby providing a seamless experience to the guests and occupants.
Lighting POP Design with a Subtle and Elegant Look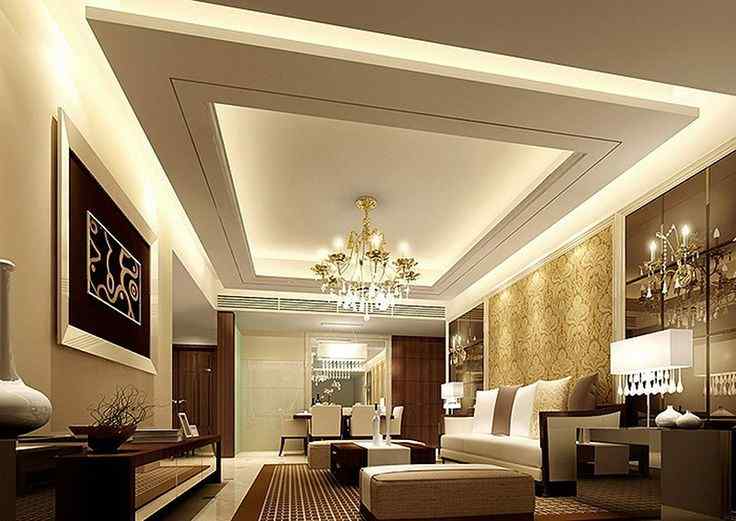 Regarding POP design for drawing rooms, there is no greater option for subtle aesthetic lighting than using it. Choose a structure and style that is both simple and sophisticated for your latest pop design for the drawing room. The appearance of your ceiling may be transformed into something enchanted by using subtle patterns such as ripples and waves. Classic halogen lighting is a great way to complement the decor. A POP ceiling in the living room may be made to seem more refined with the help of some subtle aesthetic lighting.
Luxurious POP Design for Drawing Room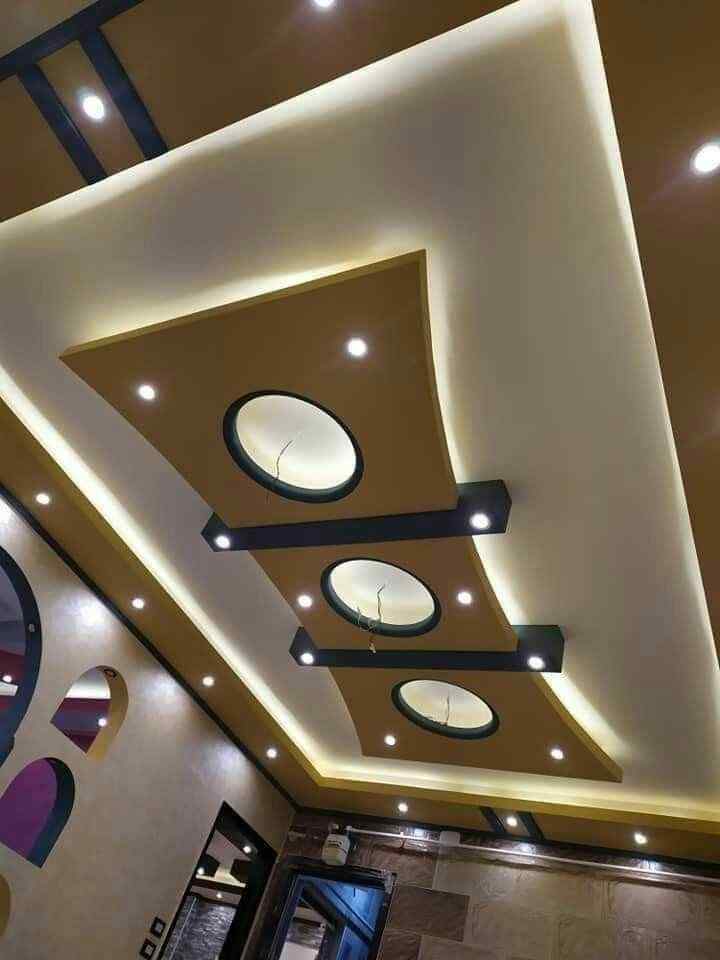 Every house buyer wants their living room to seem like a dream. Therefore, if you wish your drawing room to seem worth a million dollars, you could opt for an inventive coffered or segmented modern pop design for the drawing room. When it comes to the colour of your ceiling, stick to the ever-popular white or beige. To round off the appearance, add cosy leather furniture that complements the brilliant strip lighting you already have.
Pop Design with a Floral Look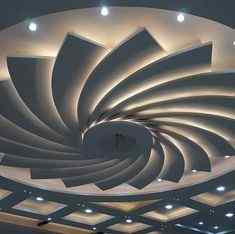 The Plaster of Paris was viewed as an element of luxury in the ancient days owing to its prominence in mansions and palaces. A floral Pop design is one of the most popular and in-demand styles amongst Indian homeowners. Hence, you may take inspiration from antique ceiling décor ideas and produce a magnificent wall pop design for the drawing room. A magnificent appearance may be achieved in your living room by installing a splendid chandelier in addition to exquisite flower carvings and POP ceiling plates.
Ceiling with a Conical Peak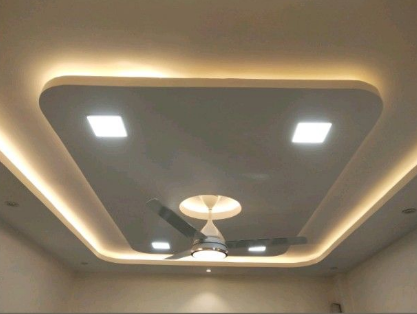 It is common knowledge that higher ceilings in a home result in improved air circulation and ventilation. Conical high roofs made out of plaster of Paris might thus be ideal for you if you want to make your living space seem more spacious and lovely. Further, this is often considered as the best pop design for the drawing rooms as it offers extra space for large ceiling fans and improves the lighting in the drawing room via the spotlights on 4 corners.
A Regal Pop Design for Drawing Room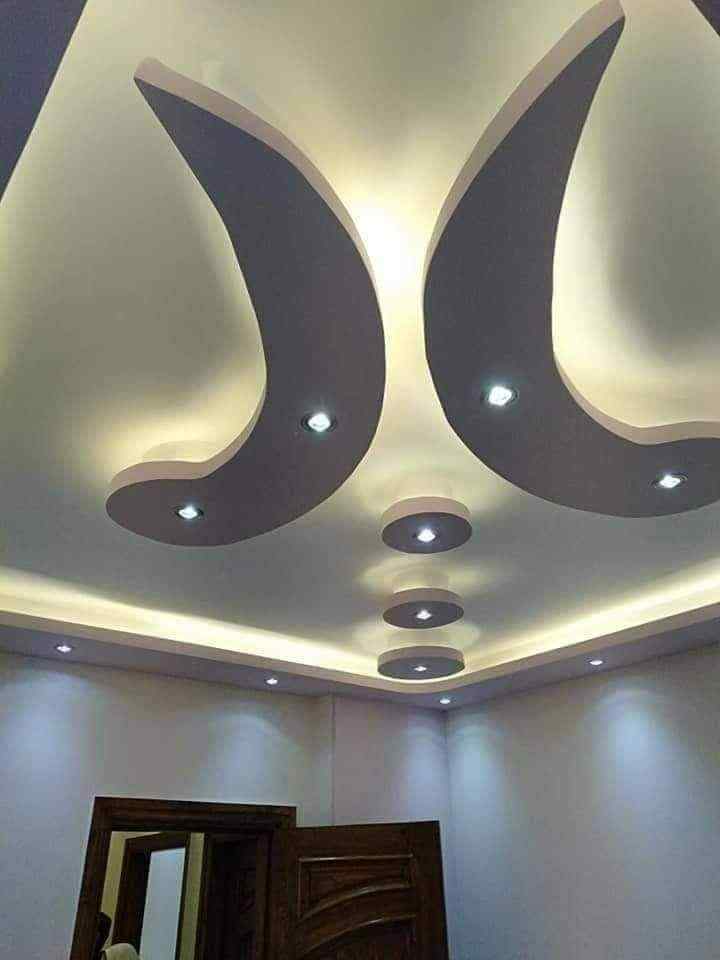 Who wouldn't desire a hint of luxury and sophistication in their interior design? A beautiful but contemporary technique to acing the latest plus minus pop design for a drawing room is to select a circular pattern for your artificial ceiling. To illuminate the whole space equally, make use of white, pink, blue, or yellow halogen lights.
Factors That You Need to Keep in Mind While Selecting a POP Ceiling Design For Drawing Room
Hey there! If you're planning to select a POP ceiling design for your drawing room, there are a few factors you should keep in mind to make sure you get the best possible outcome. Here are some things to consider:
Room Size: The first thing you need to consider is the size of your drawing room. You should choose a POP ceiling design that fits the dimensions of your room. If you have a small room, avoid going for a design that is too busy or too intricate, as it can make the room feel cramped.
Style: The style of your room should also influence your choice of POP ceiling design. If you have a modern drawing room, you can opt for a minimalistic and sleek POP design. On the other hand, if you have a traditional drawing room, you can choose a more ornate design.
Lighting: Lighting plays an important role in highlighting the beauty of your POP ceiling design. Make sure that you plan your lighting accordingly to ensure that your design stands out. If you have a chandelier or pendant lights, make sure they complement the design.
Colour scheme: The colour of your POP ceiling design should complement the overall colour scheme of your room. You can choose a contrasting colour to create a dramatic effect, or go for a design that blends in seamlessly with the walls.
Maintenance: Finally, consider the maintenance requirements of your POP ceiling design. Choose a design that is easy to clean and maintain, so that it stays looking good for years to come.
The options shown here are some of the most attractive ceiling designs for the drawing room. Before deciding on a certain style, we suggest you have a conversation with the designer about your needs, requirements, and the amount of money you are willing to spend. Based on this, you have the opportunity to experiment with several different models and even have them tailored to suit your preferences. These drawing hall pop designs may need more time and financial investment on your part, but they are well worth every second of your time and every cent of your investment. Choosing the best Pop design for a drawing room might be difficult for many homeowners. Fortunately, the home interior décor experts at NoBroker are here to help you at every step and enable homeowners to make the best decision. If interested, please comment below this article; our executive will be in touch with you soon.

Frequently Asked Questions About Pop Designs for Drawing Room
Q. What does POP mean in interior décor terminology?
Answer: Plaster of Paris, or POP as it is popularly known, is the main material widely used in India to build and install false ceilings in homes and offices.
Q. What materials are used to build and install false ceilings?
Answer – Some of the most commonly used materials for false ceilings are – Wood, Glass, MDF, Plaster of Paris and Fibreglass.
Q. Which is the most popular Pop design for the drawing rooms?
Answer: The most popular Pop design for drawing rooms in Indian homes is a floral pattern with a chandelier.
Q. What is a medium-sized pop design cost for a drawing-room?
Answer: The average cost of a medium-sized (7 feet by 9 feet) Pop design is around Rs. 40,000.
Q. Are pop false ceiling installations in the drawing room safe?
Answer: Yes, false pop ceilings are completely safe and not harmful if installed properly.