In the pursuit of a romantic getaway amidst the chaos of everyday life, your bedroom can be the perfect escape. Unlock the dreamy ambience you desire by incorporating the enchanting allure of romantic bedroom colours.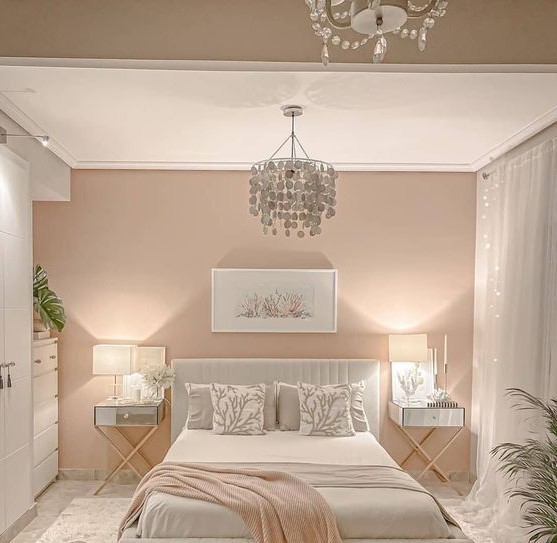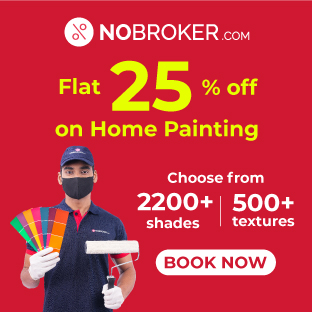 Each person's idea of a romantic environment may vary, but the desire to create a luxurious bedroom akin to a resort is a common thread. Transforming your bedroom into a romantic haven doesn't require significant expenses or effort; all it takes is the right choice of romantic bedroom paint colours. The level of creativity you invest in crafting a unique space is entirely up to you.
Whether you prefer a subtle touch or an all-out romantic atmosphere, these romantic couple room paint ideas can help you embark on your journey swiftly. It's essential to understand that each hue evokes distinct emotions, so knowing which colours resonate with both your personal style and your partner's personality is crucial.
Crafting a Cozy Romance: Unique Bedroom Colours for Couples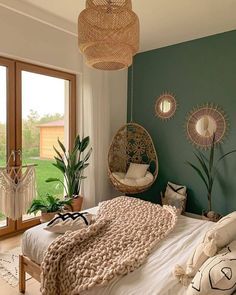 Leave the traditional hues of a couple's room behind and explore the infinite palette of colours available to us for our bedroom design as a pair, all the while keeping romance in mind. We've put down some great bedroom colour ideas for couples that you can mix and match to suit your needs. As a result, you'll be able to create the cosy and romantic setting you want.
Read: JK Wall Putty 1 Kg Price in India 2023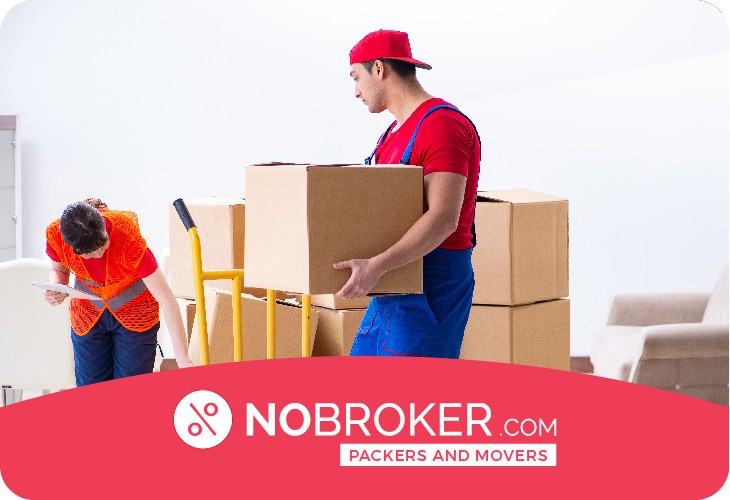 Book Best Packers & Movers with Best Price, Free Cancellation, Dedicated Move Manager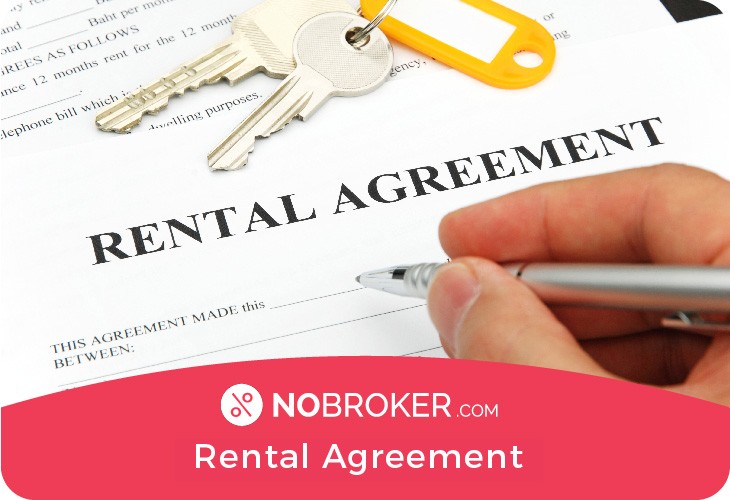 Get Rental Agreement With Doorstep Delivery, Super Quick & Easy
This is third
This is third
This is fourth
This is fourth
This is fifth
This is fifth
This is six
This is six
This is seven
This is seven
This is eight
This is eight
1. Colour Ideas for a Romantic Bedroom
Start your quest for bedroom inspiration online, by exploring top interior design websites and blogs. Look beyond bedroom designs and gather ideas from other rooms, such as living or dining areas. DIY platforms like Insta Reels offer great suggestions for modest bedroom decorations.
If you spot a product you love on a decorating show, search for credits or sponsors to find out where to get it. You can also find inspiration from luxurious hotel suites by browsing online. Top hotels and cosy bed & breakfast inns can provide ideas for a sensual and relaxing bedroom style.
2. Choosing Paint Colour
Choosing the right paint colours is essential for designing a romantic bedroom. Opting for a monochromatic palette can create a calming atmosphere while using dark shades of the same colour adds intrigue without overwhelming the space.
Romantic paint colours don't have to be soft and pleasant; they can be rich jewel tones like burgundy and purple, or dramatic hues such as charcoal grey and dark brown. Instead of painting the entire room in a dark shade, consider using an accent wall to create a stunning focal point that complements the chandelier or pendants above your nightstand.
Read: Pebble White Asian Paints
If you prefer pastels, combining pastel shades with neutrals can create a delicate and romantic look. The latest pastel paint hues are so subtle that they appear almost neutral, making them perfect for a romantic getaway or a rustic/romantic design.
3. Transform Your Bedroom's Ambiance with Perfect Bedding Choices
You'll find that your bedding is the most vibrant in your room! Choosing the appropriate bedding may completely transform a plain bedroom colour plan. Add colour to your bedroom with a duvet and toss pillows. Bedding may radically affect the appearance and ambience of your bedroom.
4.Crafting Romantic Bedroom Vibes: Lighting Ideas for Lovebirds
Soft lighting sets the romantic mood in a bedroom. While chandeliers exude elegance, semi-flush mount ceiling lights or bedside lamps can be equally charming. Consider adding dimmers to your light fixtures for adjustable luminance.
Take into account the different functions of your bedroom and ensure you have adequate lighting for each area. Utilise swing arm lights if your nightstands lack space for table lamps. These flexible lamps are perfect for bedtime reading. Another trendy option is to hang small pendants or chandeliers above your nightstand, freeing up space and adding a stylish touch.
5. Bringing Everything Together
Enhance your romantic bedroom with accent décor and accessories. Soft velvet or linen curtains can conceal dull blinds and unappealing views, creating a romantic atmosphere. For a soothing colour scheme, match your curtains to the walls, allowing the texture of the draperies and bedding to provide visual intrigue without adding additional colours.
Read: Dr Fixit 5 Litre Price in India 2023
When selecting artwork for your bedroom, choose pieces that are personally meaningful and visually appealing while incorporating accents from your chosen colour palette.
Complete your bedroom makeover with colourful candles, cosy blankets, and charming decorations. Don't forget to extend the romantic ambience to your bathroom as well. Use luxurious colours and finishes to create a high-end hotel suite feel, and add fluffy towels and robes in hues that complement your overall palette, adding a touch of romance and opulence.
21 Dreamy Romantic Bedroom Wall Colours for Couples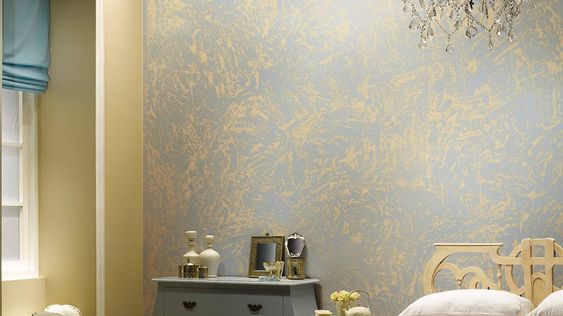 Are you looking for wall colours that will turn your room into a room where romance exudes? Here are some of the dreamiest wall shades for the season for the best bedroom colours for couples
1. Mix Palm and Chartreuse Greens Together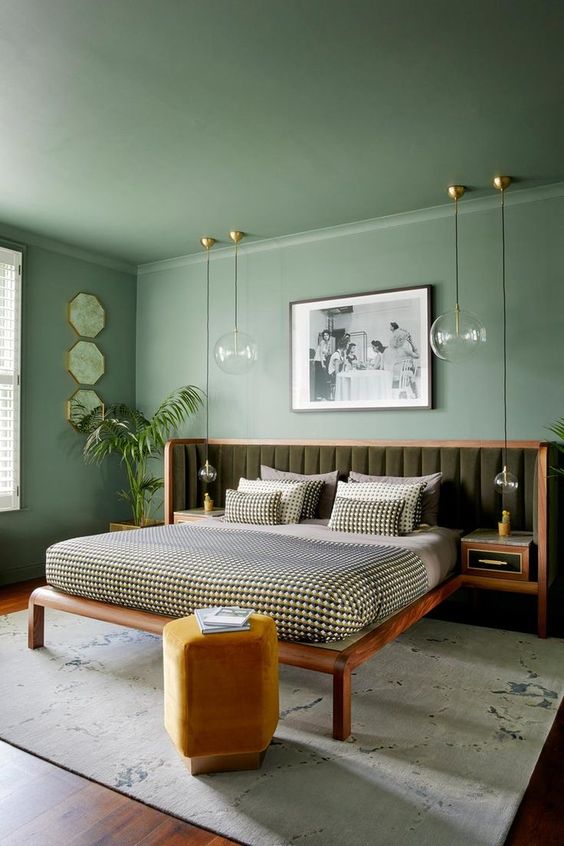 You may blend dark and light greens, as well as tones of mustard and blue, to create a vibrant and lively alive atmosphere in your home. As hues of green are considered to be passionate romantic bedroom colours as they evoke a vibrant and lively atmosphere while providing a sense of serenity and natural beauty.
Read: Top 20 Lemon Yellow Colour Combinations
You may get away with a more subdued romantic bedroom colour by opting for a rosy pink or a darker shade of grey bed linen. These luscious greens call for a delicate pink or maybe a fiery fuchsia accent. There are many ways to incorporate green into your bedroom, and these suggestions will help you get started.
2. Add Dark Plums to the Mix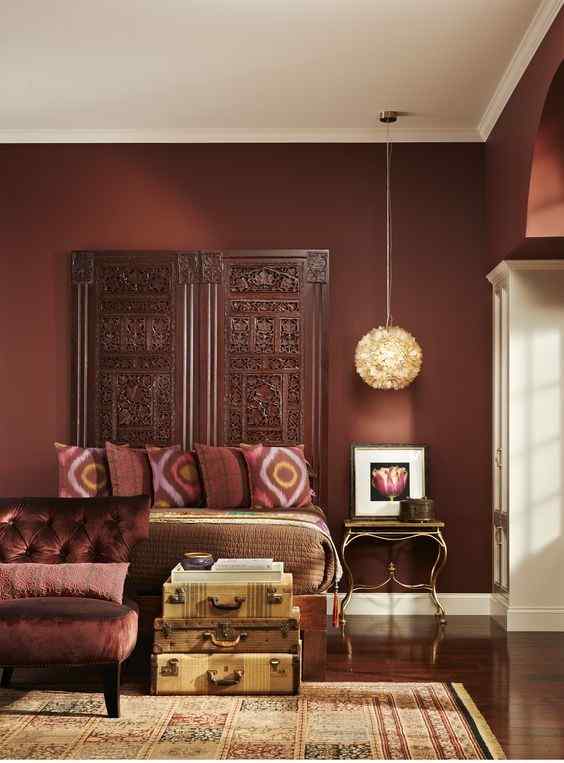 When talking about a new couple bedroom colour, mahogany tops the list. Mahogany shades with plum undertones, or with brown hues provide a calming atmosphere in a room where you wish to unwind. Dusky purples will provide a calming effect to your area, whilst darker shades might be overbearing.
To add a dash of opulence, try pairing it with a dash of brass or a dash of velvet. Infuse some fresh greens and yellows through the headboard and bedding to create a nice contrast with the surrounding hues.
3. Add a Dash of Mustard Yellow to Mossy Forest Green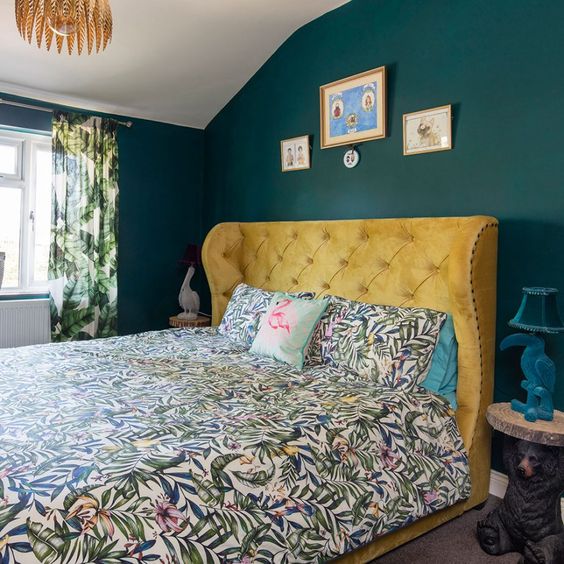 Now we know that yellows and greens aren't really deemed as romantic bedroom wall colours but don't discard the idea flat out! The reality is that matte finish mossy green may be used all year round to createa calming atmosphere, whether it's in the winter or the summer. As the day progresses, deep green may go from fresh to dramatic and enveloping in a matter of hours, even if it's used on every wall of the bedroom.
If you want to keep the deep greens from getting too depressing, add a few dashes of mustard or sunflower yellow hues.
4. Make Use of Blue and Spicy Orange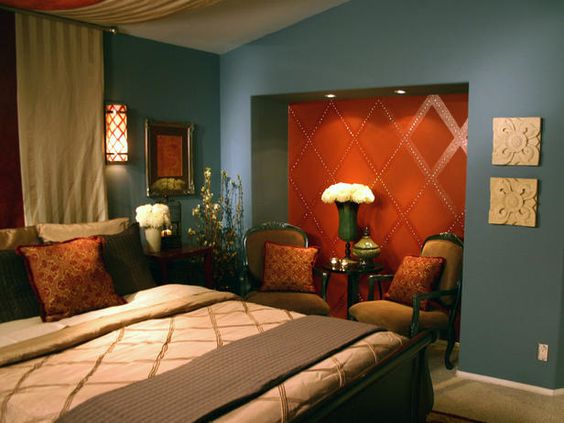 Blue is one of the top romantic master bedroom paint colours. Vibrant blue shades may be used with white and basic patterns to create an understated but sophisticated look. Rich sapphire to subtle chambray is all represented in this collection's hues.
Darker blues, especially stonewashed ones, are an excellent starting point for a more sophisticated Hamptons-inspired palette, which may then be built upon with a variety of multiple-tone stripes. Whites and mild orange are the perfect counterpoints to these deep blues, so add in a big quantity of both each to create a romantic bedroom colour combination
5. Mix Grey and Mint Green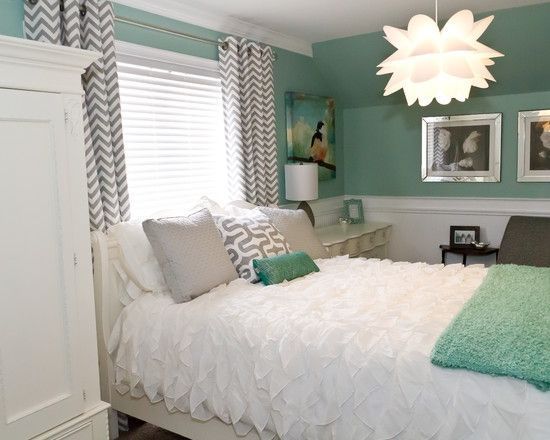 When it comes to decorating white walls, soft mint isn't a far-fetched option (we promise). In the early hours of the day, green lends a cheery and upbeat atmosphere to the bedroom that white does not.
Use velvety greys to add weight and depth to a light colour palette. This colour scheme works well in a contemporary environment.
6. Midnight Blue Meets Blush Pink: A Bedroom Color Duo for Serenity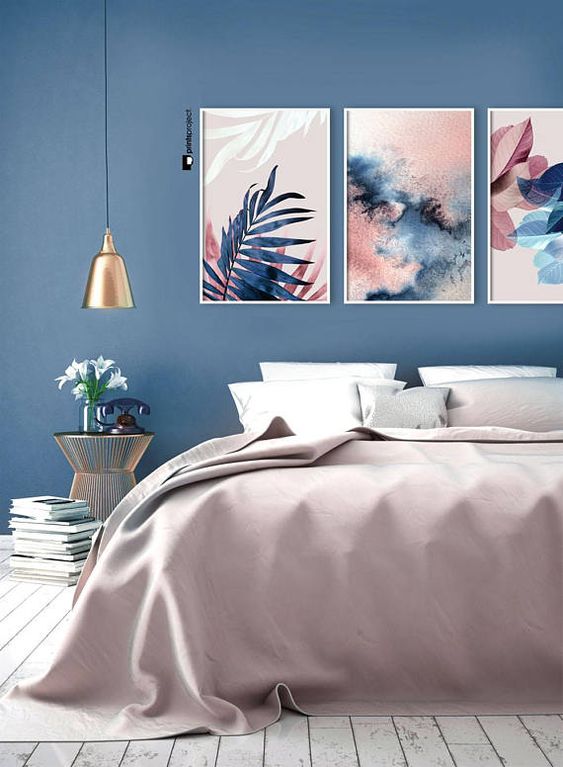 When used in the bedroom, this shadowy hue produces a serene ambience and is visually pleasing in the early morning. Using it on every wall means you should balance it out by keeping the flooring and ceiling white and using a lot of neutrals.
Use a lot of bare pink on your bed linens, pillows, and blankets to go with your dark blue decor.
7. Mellow Coral and Jade Are Good Choices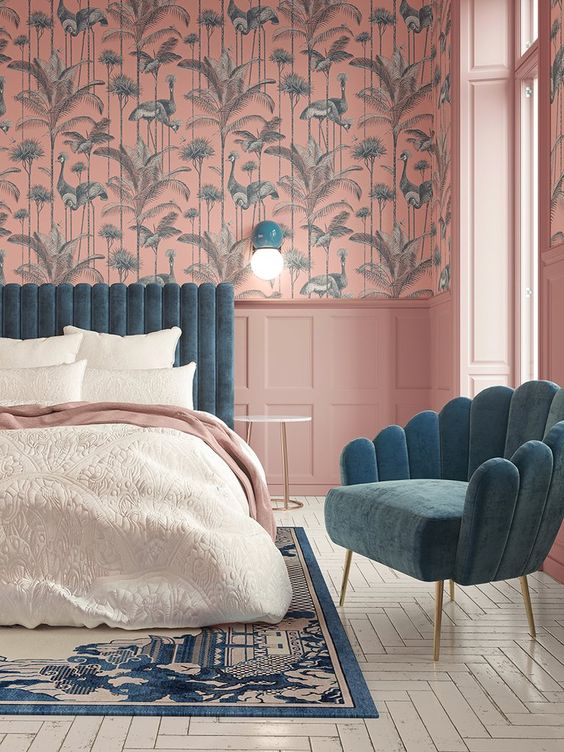 Start by looking at a designer cloth, wallpaper or paint for colour combinations that inspire you. Using delicate shades of coral and bluish-green in the form of a painterly blossom, this wallpaper is a great way to bring individuality to a tiny bedroom.
Don't forget to maintain the colour scheme intact by layering pillows and blankets that aren't quite the same, but are still a riot of pattern and texture.
To prevent an overbearing effect, use a lot of wooden textures in garden-inspired decor.
8. Work with a Soft Pastel Colour Scheme
Patterned wallpaper designs is a simple way to add interest and texture to a pastel room. Nearly neutral enough to accommodate an emerald bedhead with a deeper green colour, this delicate rose tint seems to be quite neutral.
Put together a cohesive colour scheme by using matching pillows and blankets. To make things on the exhibit stand out, you should paint the upper portion of the wall white.
9. Revitalize Your Romantic Bedroom with Blue-Green Bliss
If your bedroom has a more neutral colour scheme, try adding a pop of vivid blue-green for some contrast. You can rapidly revitalise and spruce up your bedroom by painting the walls a mint green or turquoise colour. Even though it's bright and cheery, the colour isn't overbearing; it even can warm up a space and create a cosy atmosphere.
A sense of serenity is evoked by the addition of beautiful hardwood furnishings. Instead of going all-in on a bold colour, choose a safe and adaptable alternative like this pristine white bed linen, which is easy to maintain and comes in a variety of colours. As an accent colour, dusky pink is a beautiful choice.
10. A Soothing Green Colour Can Lighten the Mood
We need to fully eliminate the visual noise in our bedrooms, especially in busy times. Romantic master bedroom Colours like tranquil green, may melt the boundaries away and reunite us with romanticism.
This hue may help you get better rest at night.
11. Use refined charcoal grey as your primary colour choice
Keep to a familiar colour scheme. The grey-on-grey look isn't going anywhere. To produce a scheme that seems well-coordinated and well-thought-out, overlay the many tones in this colour scheme to reveal their numerous facets.
A rich, contrasted effect may be achieved by using grey starting from its lightest form and moving on to its darkest forms. Bright pink and white bedding will provide a welcome pop of colour to any bedroom.
12. Use A Mellow Yellow to Create a Cheerful Palette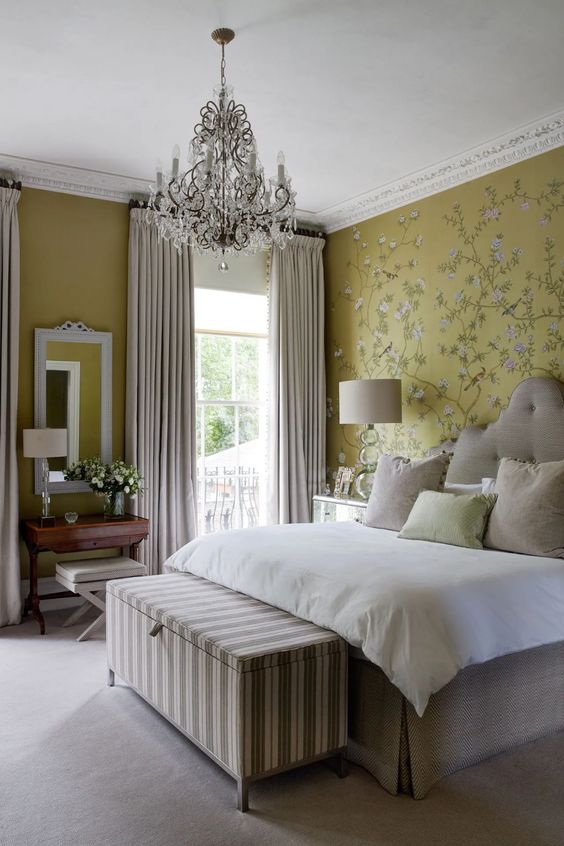 Romantic master bedroom colours are not only limited to pinks and corals. Bring the senses to life. Consider painting your bedroom yellow to create a cheerful environment. Primrose, an uplifting and mood-boosting flower, can make any bedroom seem more pleasant and cheery. Ideally, it should conjure up images of warm weather. The combination of warm romantic bedroom colours like bright yellow with soft grey is a terrific one that works nicely.
If you have room for a desk, yellow is an excellent colour, since it encourages clear and positive thinking. White accents and geometric patterns in the shape of chevrons and geometrics give the room a modern edge. Traditional shelving is broken up by the use of hexagonal boxes, which are decorated with paper on the interior.
13. Incorporate Seductive Teal Tones into the Mix
To create a luxurious sense in your home, paint the walls a rich shade of turquoise. Painting cabinets, closets, or a fireplace surrounding the same colour can help them blend into the room while painting the headboard a colour that contrasts with the rest of the room will help it stand out. A layered appearance is achieved by using a combination of clean, matte and patterned bed linen.
14. Elevate Your Couple's Bedroom with White and Versatile Accents
For a couple-bedroom colour combination, nothing beats the timeless, serene colour of white. However, simplicity does not need monotony. Decorated with greens and lush designs, a calm bedroom may be achieved by painting the walls white and using wood flooring.
Because of the foundation's neutral colour, you may use a variety of textiles and bed linens throughout the year. Adjusting the accent colour may be done at any time.
15. Consider A Royal Combination of Plum and Gold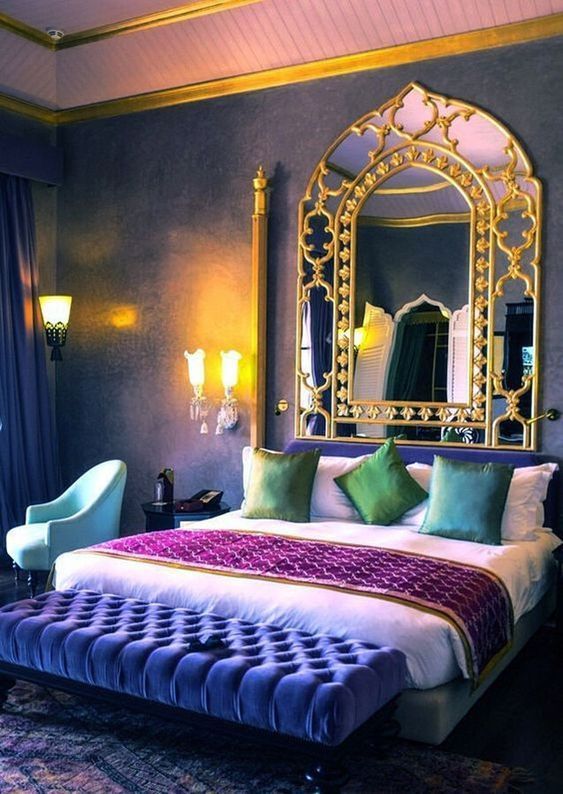 Decorate the room with golden furnishings and linens, as well as golden wallpaper. For a luxurious metallic design, an Antique dressing table and framed mirror with a complementing finish look near perfect.
The use of plum in the bed and furniture creates a striking visual contrast. For a rhythmic couple, this is just what they need to give flair and individuality to their design.
16. Make A Statement with a Navy-Blue Colour Scheme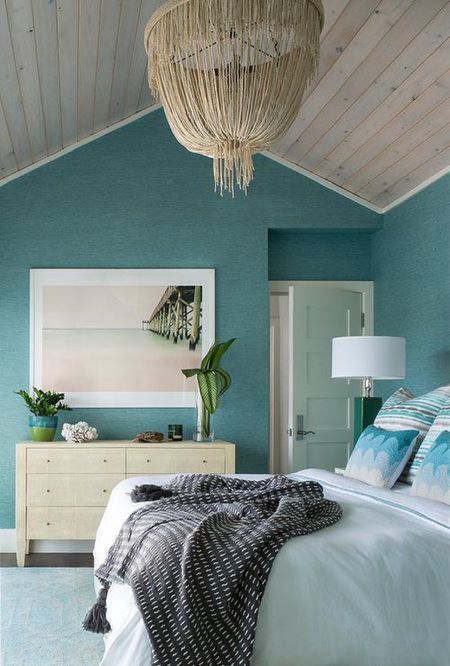 Create a classic vibe for your bedroom by using a serene, quiet, and composed colour combination of blue and white. For country-themed bedrooms, who says that bold, lively colours can't be used? Anyone who is a sucker for the colour blue will fall head over heels in love with this evocative bedroom. If you think of midnight blue and ocean blue as neutrals, they work well with just about everything. Get creative with your accessories and don't be afraid to try new things.
As far as colour schemes go, you can't go wrong with blues and whites for your bedroom decor. If you're going for a coastal look, consider using striped wallpaper, white sheets, and a blue striped rug in your living room.
Puffy white cushions over navy blue sofas complete the seaside theme. For a more classic aesthetic, go for fully-white bedding and furniture, such as embellished sheets, silk cushions, and lacy panelling.
17. Make A Statement with a Splash of Orange
For an earthy rustic vibe, choose burnt orange shades. Cushions with the same colour design go nicely with this set of Wooden furniture and suede accessories provide a nostalgic touch to this bedroom. To avoid becoming too dreary, the floor was coated white. You may get a very organic look by using woods such as chestnut and birch in combination with beige and white organic cotton bed linens.
18. Experiment with a Wide Range of Colours and Textures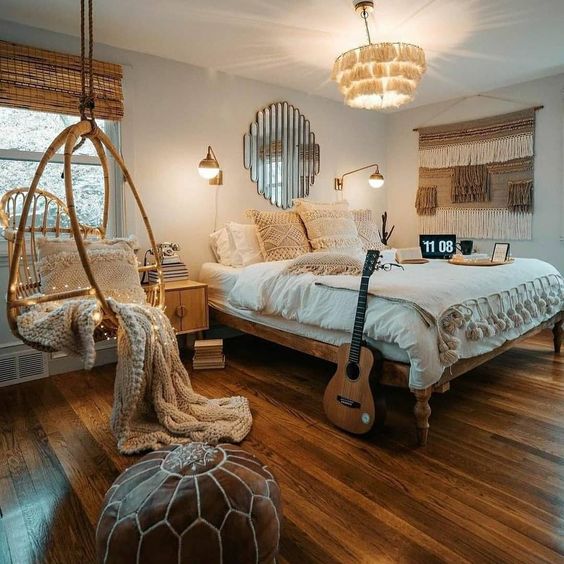 Add a splash of colour to your bedroom by painting the walls a bright hue. When it comes to decorating your bedroom, it's not simply about sprinkling some colour on it. If you're feeling inspired, take a cue from this space and create an exciting colour scheme that's anything from drab by combining yellow and pink unusually and innovatively. Put it in front of a white wall to let the bold colour scheme pop.
19. Purple Is a Good Colour to Use for Wall Painting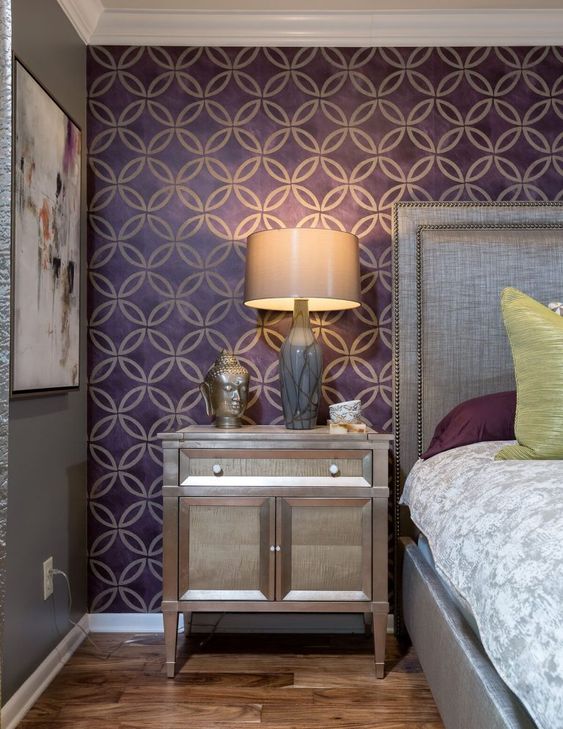 You're looking for purple bedroom ideas, right? Cosy up to a darker Pantone hue and grey colour palette. If you're looking to create a calming atmosphere in your home, these colours are ideal and fit well as a newly married couple's room colour.
Take inspiration from the flower print's subtle hues of lilac, and soft beige, to decorate your walls and floors.
20. Use Browns that are Warm in Tone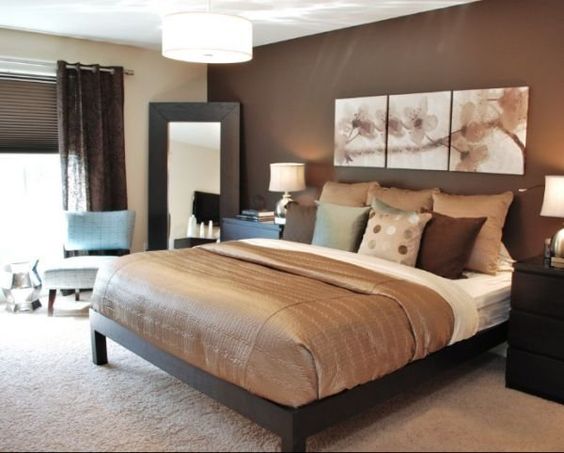 Wood isn't only for country-style spaces. Polished wood and birch blended with natural linens, and soft grey walls create a sophisticated and romantic bedroom. Make the focal point of the room a massive walnut veneer headboard. Mid-toned woods like oak and birch work well together in the bedroom as furniture and accents.
21.Make Your Colour and Scale Combinations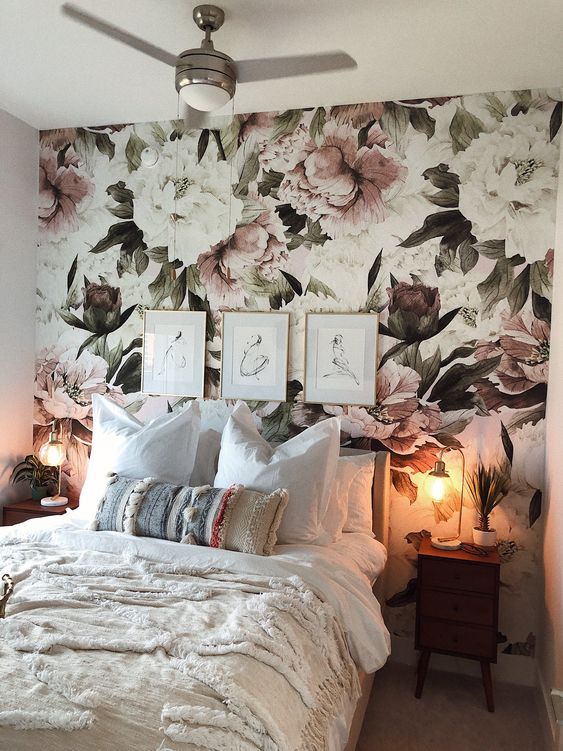 Even though the eye-catching floral mural is the major attraction in this stylish bedroom, it's the eye-catching accents that transform it from flouncy to fantastic in the blink of an eye! Adding a black metal bedstead creates the ideal counterpoint to the flowers in the room.
5 Vastu Tips For A Couple Bedroom
Here are some tried and tested tips from the best Vastu experts in India:
The actual position of the bed inside the master bedroom must be either to the South or South-West, ideally, but never in the middle, since this could result in relationship failures that are recurrent and create a bad impression.
The Vastu system states that having a master bedroom in the South-West corner of the home balances the male power centre and fosters good feelings and chemistry between the two lovers. Additionally, because it serves as a focus point for male energy, it fosters the stability, greater judgement, and leadership traits that are valued in a partner.
The bedroom shouldn't have erratic cuts or sharp angles and should have a normal shape.
Avoid using metal beds because they tend to disrupt sleep and cause conflict between partners. One single or queen-sized bed with a single mattress is required. It is strongly advised against joining two beds or mattresses together since this could lead to conflict between the pair. Additionally, the bed shouldn't be situated in front of or between two doorways.
The bedroom's walls should be painted a soft, calming colour, and the atmosphere should be inviting. Pink or peach colours are preferred in bedrooms facing the southwest. Pink or red bedroom decor, including red lights, red quilts, red drapes, etc., can also be employed for a little time.
Our bedrooms are our havens, and because of how much time we spend there, they must exude comfort and serenity. Decorate your bedroom in a colour scheme that resonates with your soul and makes you feel happy to be there. Looking for some more romantic bedroom colour ideas complete with appropriate textures and wallpapers? We recommend visiting our interior decor blog section for more information. If you are stuck while designing your perfect home, give us a call! NoBroker design experts will help you resolve your design issues and guide you through what's best for you. So, when can we expect a call?
Frequently Asked Questions
Q-1 What is the most romantic colour for a bedroom?
Ans1– As per psychology, the most romantic colour is pink, which is also known for its soothing effects.
Q-2 What colour do you use in your bedroom to help you sleep?
Ans2– When it comes to getting a good night's sleep, those who have blue walls in their bedrooms are the most rested. It's possible to feel comfortable, peaceful, and tranquil in a space filled with blue.
Q-3 What colours are associated with the feeling of happiness and well-being?
Ans3– The colour pink has a powerful effect on your mood and surroundings. Another colour associated with the fire element is uplifting yellow. The earth element, on the other hand, is represented by lighter tones. When it comes to attracting good luck to your home, the colour yellow is considered to be the most auspicious of all the colours in the Feng Shui system.
Q-4 What are some tips for creating a romantic bedroom?
Ans4– Drape translucent fabric over the top of a canopy bed for a quick romantic setup. Make use of cushions, rugs, and lampshades in brighter colours to balance out a dreamy colour scheme.
Q-5 Can browns be considered a romantic bedroom colour?
Ans5- Yes soft and warm browns paired with wooden finish furnishings work very well to create a humble space to spend time with your loved ones.
Painting Service in Top Cities in India