Your backyard serves as a seamless extension of your indoor living area. It offers a vibrant, relaxed, and inviting atmosphere, where your creativity and do-it-yourself skills can truly shine. Whether you're envisioning the warm glow of garden string lights to set the scene, dreaming of a tranquil backyard garden oasis, or contemplating creative ideas that might even include a couple of water fountains, we're here to assure you that enhancing your small backyard is easier and more stylish than you might think.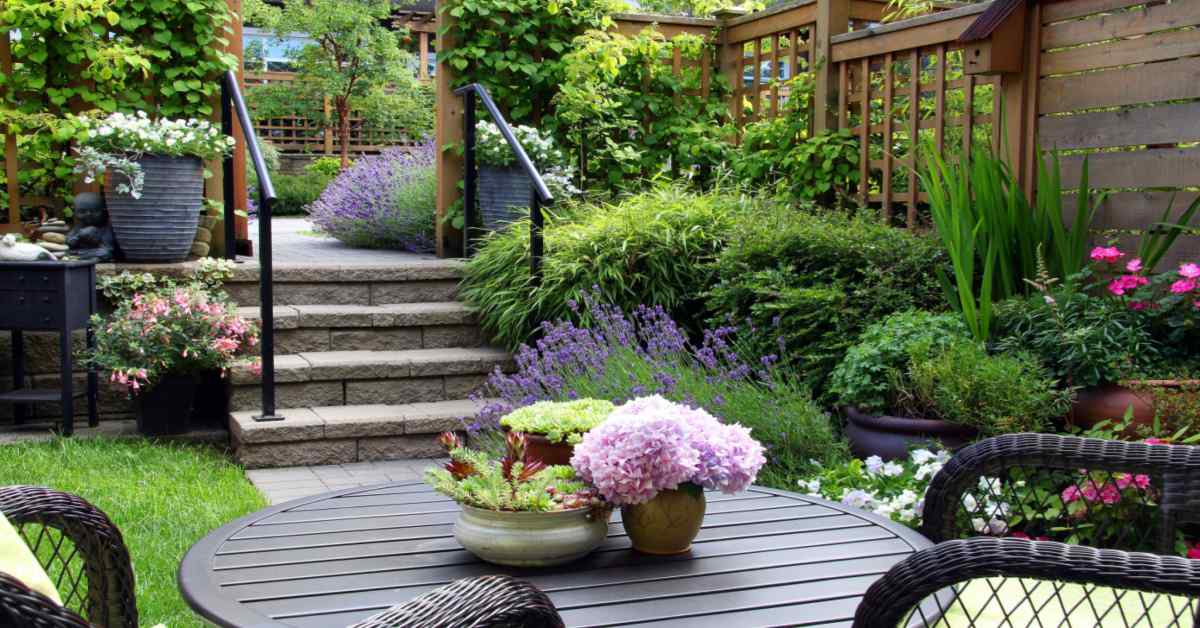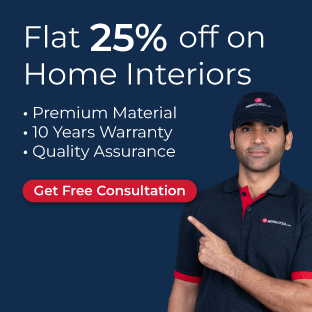 Benefits of Having a Backyard Garden:
The backyard is the sole location in the house where the senses are calmed, and the body and soul are soothed. You can also build a pavilion in your backyard and sit in it to admire the beauty of your garden. You can use some of the following ideas and thoughts to decorate your garden with inexpensive backyard ideas.
Read: 5 New Decor Trends in India This Year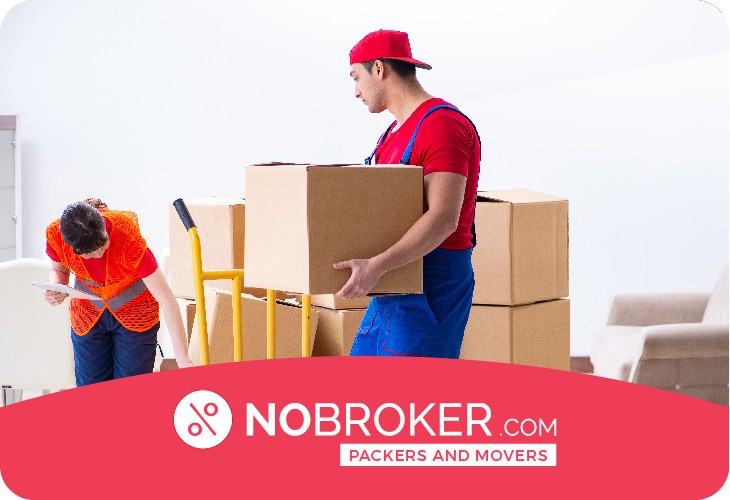 Book Best Packers & Movers with Best Price, Free Cancellation, Dedicated Move Manager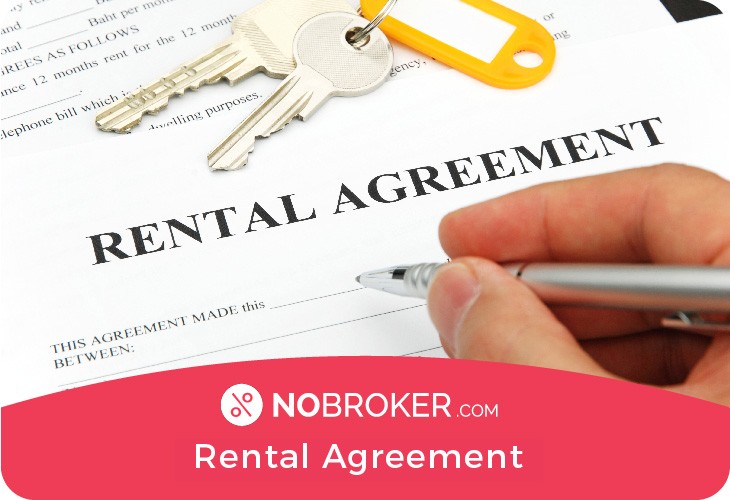 Get Rental Agreement With Doorstep Delivery, Super Quick & Easy
This is third
This is third
This is fourth
This is fourth
This is fifth
This is fifth
This is six
This is six
This is seven
This is seven
This is eight
This is eight
The Environmental Benefits of Cultivating Your Own Food
You can control what gets into the soil and water by cultivating your food. Growing your food, you've probably avoided using pesticides, insecticides, or fertilisers. Increasing your knowledge of going organic in your backyard may lead to consuming more balanced, local, and low-carbon foods. That's also environmentally beneficial.
Supporting Bees and Pollinators Through Backyard Gardens
Producing your fruits and veggies has a beneficial environmental impact and is a terrific way to rescue bees. Bees are essential for the global food supply since they pollinate most crops. However, bees have been declining worldwide in recent decades for various reasons, including air quality, chemicals, and fertilisers. Backyard gardens are a fantastic method to lure bees and other pollinators by planting veggies and flowers. So, if you're looking for fabulous backyard decor ideas to make your garden look attractive and valuable, this is one of the ways to go.
Gardens as Carbon Dioxide Absorbers and Air Pollution Reducers
Gardening isn't the only way gardens help the environment. Plants take carbon dioxide from the air, which contributes to climate change, and transform it into existence, planet-protecting oxygen; therefore, introducing plants to the globe is always a good thing. Gardening reduces air pollution by reducing the levels of food that must be transported great distances by lorry or aeroplane.
Strengthening Family Bonds Through Backyard Gardening
Gardening is an excellent family activity that may strengthen bonds. Everyone benefits from planning, sowing, and maintaining a family garden. So, if you have a beautiful backyard or are looking for some small backyard garden ideas to spend some quiet and soothing time with yourself or your family, this could be a perfect pastime.
Gardening with your family has several advantages, including developing healthy eating and exercise habits, family connection, and stress alleviation. If you live in an urban region and don't have a backyard, consider indoor backyard landscaping ideas or helping in a community garden.
Read: Find the Perfect Wallpaper for the Ceiling to Suit Your Style
Eichler Remodel Backyard Garden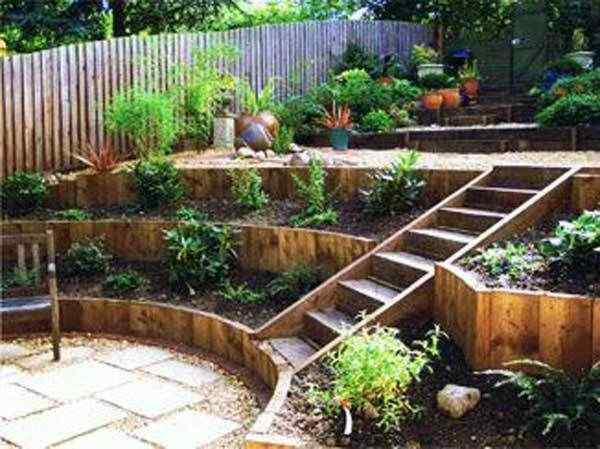 In the 1950s and 1960s, many California homes were built by Joseph Eichler, known for mid-century modern design. The Garden Route Co. transformed a two-story Eichler property in San Francisco's Diamond Heights neighbourhood, creating open outdoor living spaces that connect levels with patios and staircases. The design blends textures, forms, and colours for a contemporary backyard vibe.
Water-Efficient Multi-Use Yard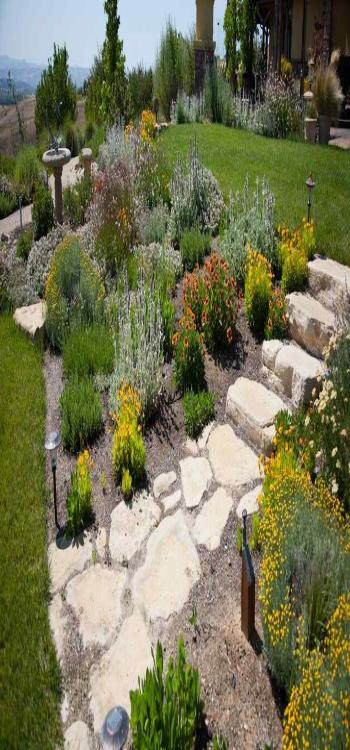 Re-designing restored lawn or backyard with raised layered planters where veggies and herbs could be the best option for every Indian homeowner. As you can see in the image above, the backyard has a bench, and a fire pit as well. Homeowners can also place containers on disintegrated granite gravel, and concrete steps to have a better leisure time.
Backyard Vegetable Garden
Using your vacant backyard to construct the ideal vegetable garden can be one of the backyard garden bed ideas. A vegetable garden's geometry is a fun design feature that also serves a utilitarian purpose. In elevated boxes, you may produce a variety of vegetables, including large, gorgeous fresh tomatoes in a range of hues.
Read: Our Cherry-picked Top 10 Window Grill Designs for Your Home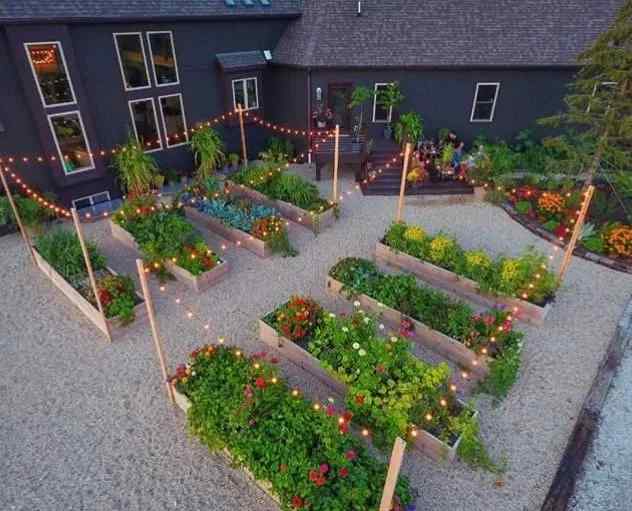 Using your vacant backyard to construct the ideal vegetable garden can be one of the backyard garden bed ideas. A vegetable garden's geometry is a fun design feature that also serves a practical purpose. In elevated boxes, you may produce a variety of vegetables, including large, gorgeous fresh tomatoes in a range of hues.
Coastal Style Backyard Garden Ideas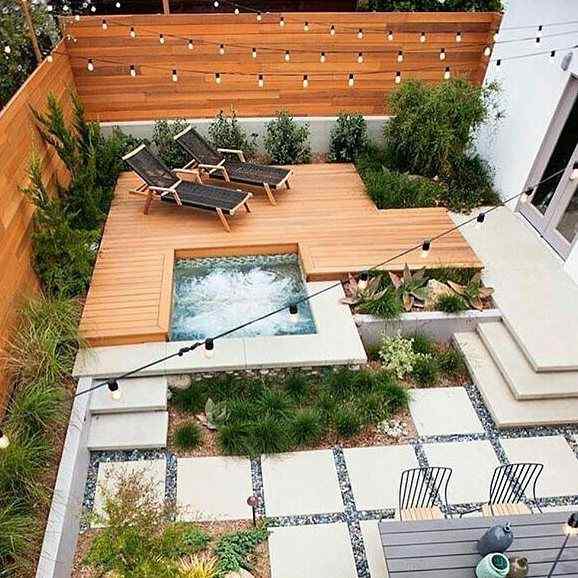 A swimming pool, spa, outdoor kitchen, patio, and softscape plants provide greenery to the yard of a lovely contemporary property in the coastal city of Blairgowrie in Victoria, Melbourne, Australia. The backyard landscaping idea is precise, square edges complement the modern home design. If you own a large villa with a significantly huge garden area, these backyard garden ideas give a sense of richness that the space deserves.
Cottage Garden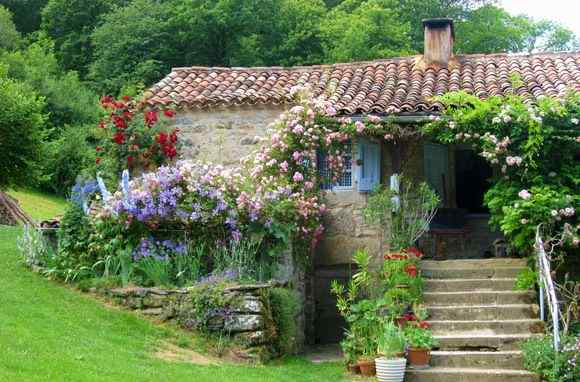 In Bucks County, Pennsylvania, landscapers transformed farm buildings into a new space. They created terraced gardens and connecting pathways on the hilly land behind the farmhouse. Colorful plants like purple smoke bush, spiraea 'Mellow Yellow,' Russian sage, and smooth viburnum were chosen to complement the stone pathways. Terraced gardens work wonders on challenging hillsides.
Shades of Green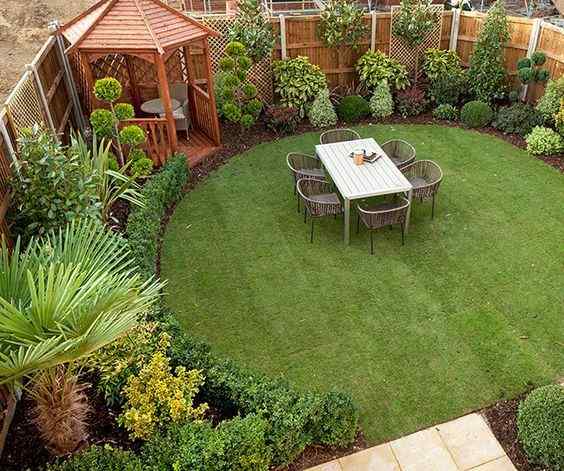 A monotone planting arrangement creates a serene environment. Fall fern, Mondo grass, and impatiens provide little patches of colour in this landscape developed in South Carolina, which grows underneath a canopy of Atlas cedar trees. The tiles are made of locally produced reclaimed granite curbing and are interspersed with low-growing mazes ground cover.
Read: Compound What's Yours with a Compound Wall!
California Modernist
O Plus L combined the interior and outside of this California contemporary building in the Ravioli Estates in Pacific Palisades using a colour scheme inspired by the colours of trees in the centre of the garden. They employed the very same surfacing and flooring materials both inside and outside the house, and the pavement mirrored the house's horizontal structural lines
Pool Area Paradise
This restoration in Naples, Florida, transformed a drab courtyard into an outdoor environment that embodies the city's style. The patio was designed by Malibu West Interiors and is covered in non-skid patterned porcelain tile. The concrete pool coping could be custom-cast to match the pool's design. A teak wall piece with glass tile accents is bright and vivid.
Fulham Style Backyard Garden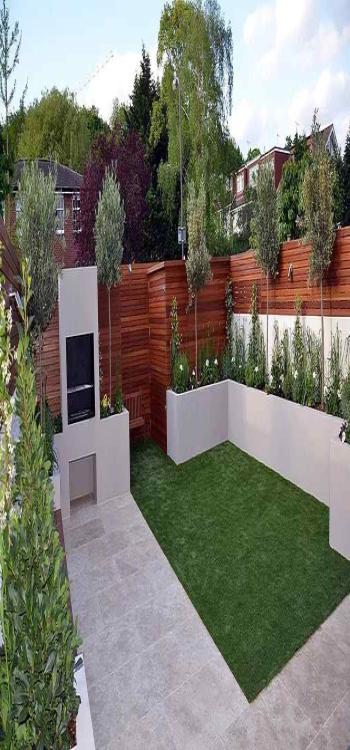 As exhibited in this layout by Tom Howard Garden Design and Landscaping, an artificial lawn gives the illusion of a wealthy English backyard alone without upkeep. Near a short planting bed with Spanish olive trees aswell as a corner-constructed seating area, square pavers are set in the artificial lawn
Long Backyard Garden Ideas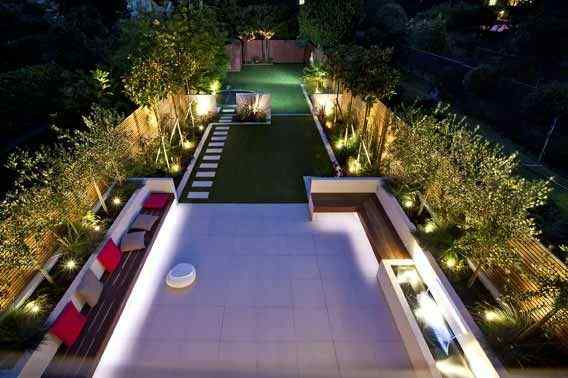 This is one of the most well-known landscaping projects that transformed this narrow London Garden into a collection of sophisticated patios with Ipe hardwood (Brazilian walnut) chairs and Western red cedar fencing. The garden comes alive at night, featuring constructed seating and coloured-lighting plants on each level. The best part of such backyard garden ideas is the smart use of lighting that goes along the entire walkway.
Hill Yard with a View
If you love hosting parties then such a remodelled backyard garden of this Potrero Hill property near San Francisco is a perfect way to host private events while hosting huge events. This outdoor living room has a seat-high deck with views and a steel wood-burning fire pit. In rocky soil, succulents and bamboo plants thrive and this type of design is perfect for a house in southern Indian states such as Kerala and Tamil Nadu.
Two-Level Yard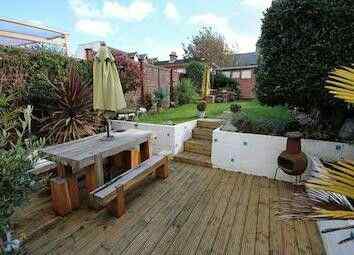 Green Tree Garden Design in the United Kingdom renovated a neglected garden that had previously been covered with weeds, shrubs, and trees. The stone patio is connected to the grass and garden level by circular stairs delineated by brick retaining structures. Colourful flowers, small evergreen shrubs, and vines are placed in the tiered beds. Exterior "rooms" that are restricted make a scene more functional and visually appealing.
Floating Bench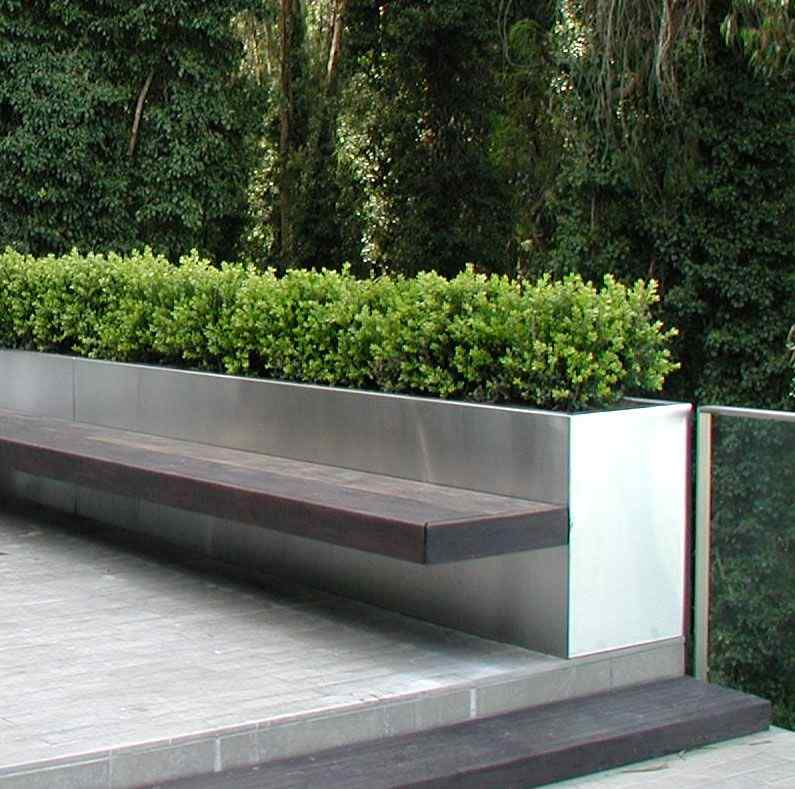 A modest urban backyard in London makes the most of its area by creating vertical gardens on the buildings. The outdoor area, designed by Living Colour Gardens, includes a zigzag seat made of Ipe hardwood (Brazilian walnut) with concealed lighting for nighttime outdoor events. Travertine pavers on the terrace and elevated planting beds echo the design of the bench. Lilies, Japanese maples, and big alliums are some of the plant options that can be used to decorate the bench.
A Walled Backyard Vegetable Garden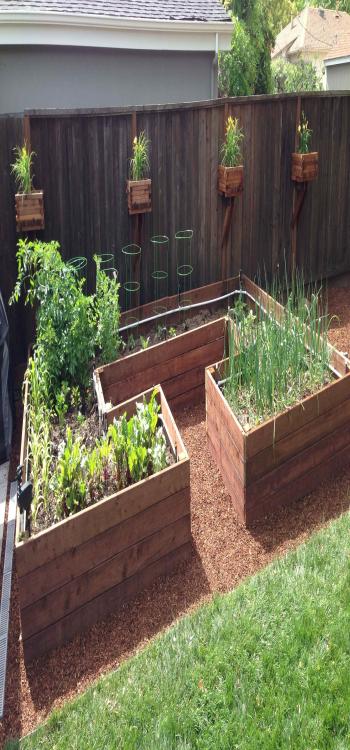 Use your vacant backyard to construct the ideal vegetable garden, as this grower has done. A vegetable garden's symmetry is a fun design feature that serves a valuable purpose. In elevated boxes, you may produce a variety of vegetables, including large, gorgeous cherry tomatoes in a range of hues.
A Lively Decorated Wall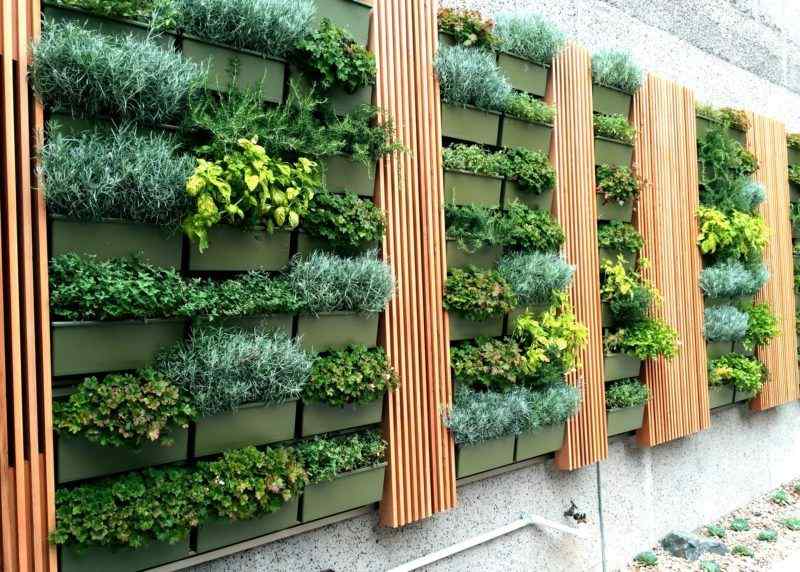 A live retaining wall or linear garden is an excellent method to add foliage to your outdoor area while dampening sounds and providing privacy. Building retaining walls is more difficult because they must be robust enough to keep the landscaping soil in which the plants will grow. Live retaining walls could be utilised for herbs, vegetables, and beautiful plants.
Backyard with waterfall and patio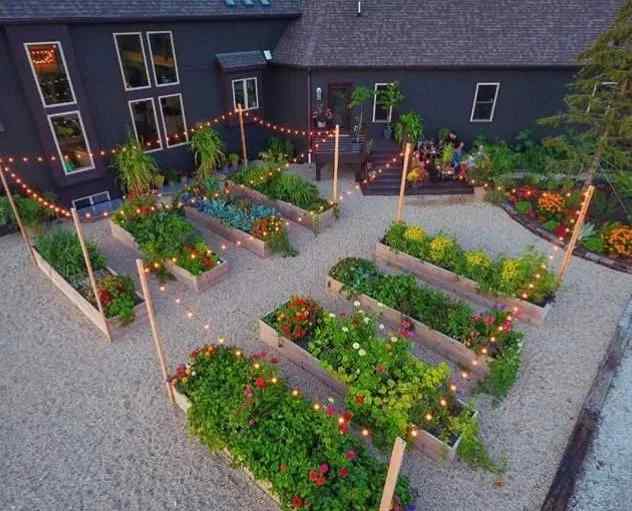 Any backyard sanctuary would benefit from the development of a waterfall. It produces a soothing sound that is enjoyable to listen to while relaxing just on the patio, especially if the weather is hot. You may also use the waterfalls to impress visitors by reserving this space for food preparation, allowing you to enjoy your garden retreat with friends and relatives while preparing great dishes. If you're looking for oasis-themed backyards this would be one of the best backyard garden oasis ideas.
Cosy Corner with Fire Pit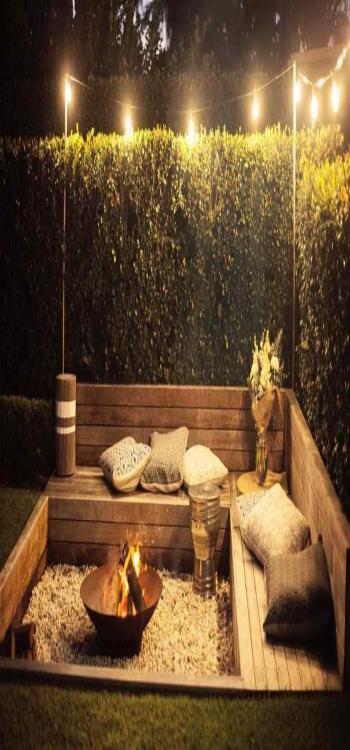 Fire pits can be used in various backyard settings, including patios, swimming, a lush woodland environment, and a large clearing. This corner fire pit becomes the ideal place to cosy up as the evening unfolds and the stars appear. These backyard garden ideas are perfect for a home in the hills of Himachal Pradesh and Uttarakhand.
Ground-Level Deck
When you hear the phrase "deck," you might think of a grilling area, a warm outdoor lounge, a new air meditation spot, and a slew of other possibilities. Less gardening maintenance, greater area to socialise, aesthetic quality, and may be higher property value are all benefits of having a deck. This would be one of the best backyard patio ideas.
Best Plants to Have in the Backyard Garden
It's not nice to see your time and effort go to waste when your plants die after working so hard on your best backyard designs, whether you're a novice gardener, a seasoned one, or just someone who wants their backyard to look beautiful. Here are a few plants you can plant in your backyard to enhance its beauty and be budget-friendly.
Petunias: Petunias come in a seemingly endless variety of colours from spring through frost, including bright lemon yellow, lime green, pink, purple, and much more.
Hostas: As long as you don't have deer or slugs in your backyard, hostas can be one of the easiest perennials to grow.
Weigela: Weigela is a low-maintenance shrub that attracts hummingbirds and butterflies with its abundant bell-shaped flowers.
Mint: For the newbie gardener, mint is a tough herbaceous plant. If you don't bother if it spreads, plant it in a container to keep it from wandering.
Tomatoes: Tomatoes benefit from having their leaves kept dry. A simple enclosure can be built to shade the plants with clear plastic tarps, with the edges left open.
Siberian Iris: Siberian iris is a gardener's favourite for many purposes. It is among the easiest of any irises to raise. You won't miss it, though, because it's lovely, with spiky, sword-like foliage all season and attractive, frilly, nearly delicate-looking blossoms in the spring and summer months. It's a low-maintenance plant which can be overlooked.
Knock-Out Roses: If you've ever wondered if you could take the upkeep that most roses demand, knock-out blooms are indeed the roses for you! Whether you deadhead or not, this tolerant blooming shrub flowers and reblooms every 5 to 6 weeks. Simply prune your rose shrub in the springtime and enjoy the vibrant colours throughout the summer.
The above-mentioned can be some of the best ways to decorate your backyard landscaping ideas accordingly.
How Can NoBroker Help?
Considering the numerous benefits of having a backyard garden, it's prudent to explore unique backyard garden ideas, retaining wall options for sloped backyards, and cost-effective small patio concepts. Even with budget constraints, you can find economical grass solutions to beautify your home's exterior. Implementing these ideas will transform your backyard into an inviting living space.
For expert guidance, consult with NoBroker's seasoned home interior designers. They understand your needs and offer valuable insights into backyard design and landscaping. If interested, please leave a comment below, and our executive will reach out promptly.

Frequently Asked Questions About Backyard Garden Ideas
Q. What is a backyard?
Answer: A backyard is an open space that is adjacent to the back side of the house. In most homes, the backyard has a lawn area or an unkempt bush and weeds. 
Q. What should be the ideal size of the backyard garden?
Answer: There is no standard size of the backyard garden as the size depends on how big the land or the house is. In many Indian homes, the backyard garden is close to 800-1000 square feet. 
Q. Which seating options are best suited for backyard gardens?
Answer: Lounge chairs, bar stools, and floating benches are some of the best seating options for backyard gardens.
Q. How to decorate a backyard garden on a cheap budget?
Answer: On a cheap budget, adding potted plants and gravel and making a DIY fireplace are some of the best backyard garden ideas. 
Q. Can I install a swimming pool in the backyard garden?
Answer: Yes, you can have a swimming pool in the backyard, provided the garden size is more than 2000 square feet.