Ah, the holiday season! As frost nips at our noses and carols echo in the air, our homes become the heart of celebrations. Here's your ultimate guide to transforming your abode into a winter wonderland, capturing the magic and nostalgia of Christmas.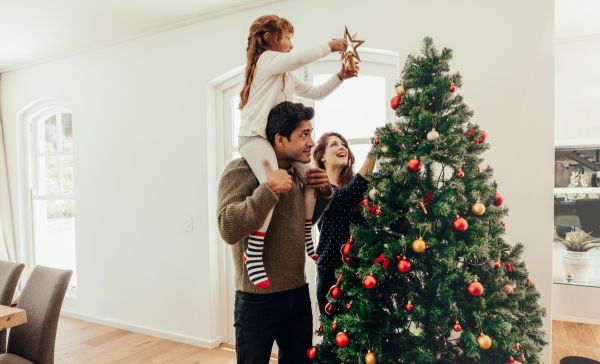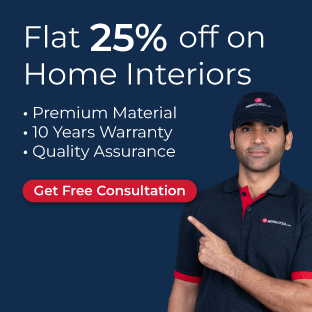 From the jingle of festive bells to the shimmering dells of fairy lights, we'll guide you step by step, ensuring every corner of your home exudes warmth and holiday cheer. Whether you prefer traditional ornaments or modern flair, this guide is filled with inspiration and practical tips to make your Christmas truly unforgettable. Dive in, and let the holiday magic begin!
Traditional Christmas Colours and Their Symbolic Meanings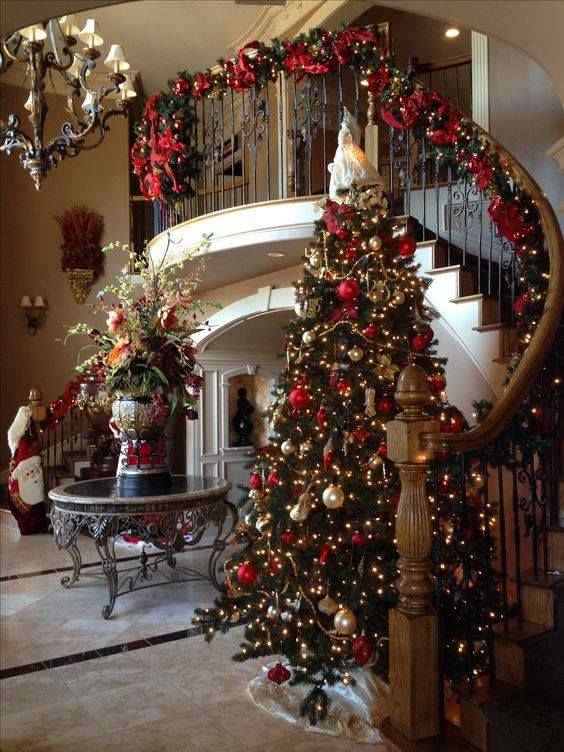 Christmas colours are traditionally associated with specific symbols and meanings rooted in Christian traditions and winter festivities. Here are the primary Christmas colours and their significance:
Read: Start Your Own Zen Garden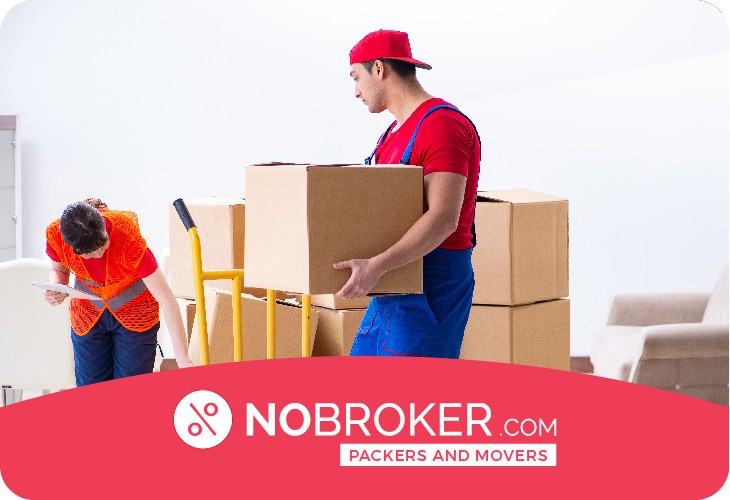 Book Best Packers & Movers with Best Price, Free Cancellation, Dedicated Move Manager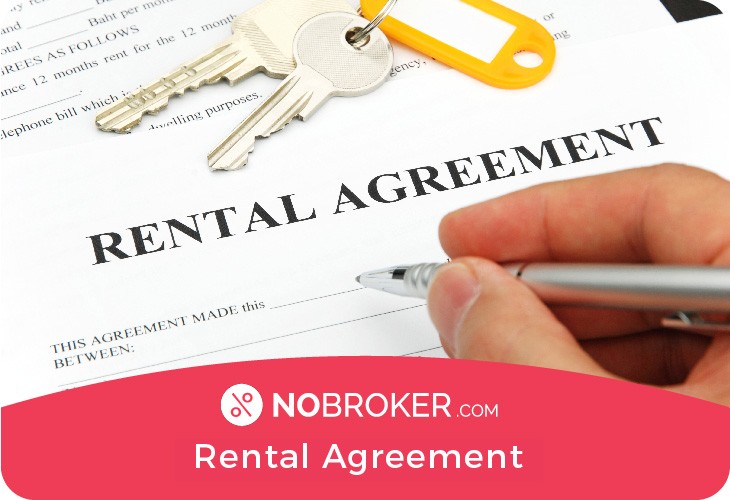 Get Rental Agreement With Doorstep Delivery, Super Quick & Easy
This is third
This is third
This is fourth
This is fourth
This is fifth
This is fifth
This is six
This is six
This is seven
This is seven
This is eight
This is eight
1. Red
Significance: Represents the blood of Jesus, which was shed during his crucifixion. In broader terms, red also stands for love, warmth, and comfort, which are emotions often associated with Christmas.
Examples: Holly berries, Santa Claus's suit, and poinsettias.
2. Green:
Significance: Symbolizes life, renewal, and hope. Green is reminiscent of the evergreen trees that stay green throughout the winter, symbolizing eternal life.
Examples: Christmas trees, holly leaves, and mistletoe.
3. White:
Significance: Represents purity, peace, and light. White can also be associated with snow, a common occurrence during the winter season in many parts of the world.
Examples: Snow, angels, and white Christmas lights.
4. Gold
Significance: Symbolizes royalty, divinity, and enlightenment. It reminds Christians of the gift of gold brought to baby Jesus by one of the Wise Men.
Examples: Christmas stars, ornaments, and tinsel.
5. Blue
Significance: Represents the Virgin Mary, calmness, and cold winter nights. In Christian art, Mary is often depicted wearing blue, symbolizing her purity and loyalty.
Examples: Depictions of the Virgin Mary, some Christmas lights, and ornaments.
6. Silver
Significance: Like gold, silver is associated with brightness, wealth, and opulence.
Examples: Tinsel, ornaments, and silver bells.
Deck the Halls: 15 Ideas to Create a Magical Christmas Wonderland in Your Home
As the holiday season approaches, it's time to transform your living room into a magical haven of festive cheer and joy. Let's explore a variety of enchanting Christmas home decor ideas, from classic and rustic themes to contemporary and whimsical designs. Get ready to deck the halls, elevate your fireplace mantel, and create a warm and inviting atmosphere that will make your living room the heart of holiday celebrations.
Read: Home Automation: A Step in the Present Never Looked This Futuristic!
Traditional Christmas Tree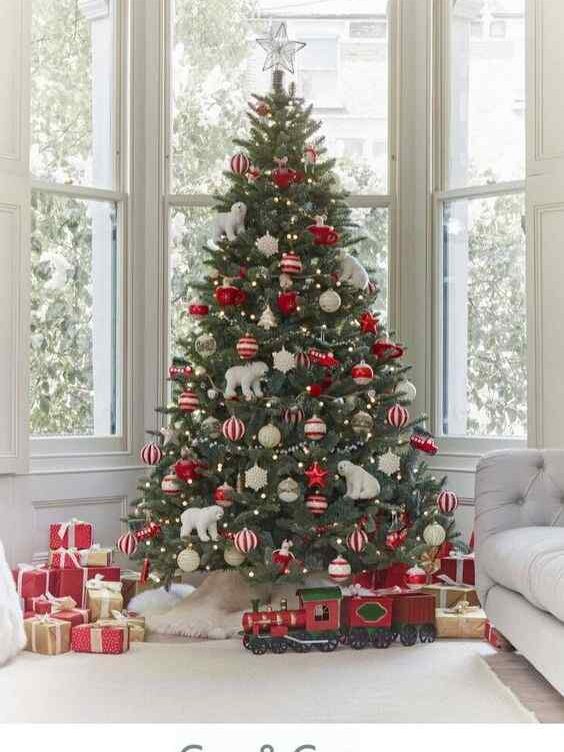 Transform your living room into a holiday haven by selecting a prominent spot for a full-bodied Christmas tree. Decorate it with a cherished collection of ornaments, an enchanting display of twinkling lights, and festive ribbons, and crown it with a majestic star or angel, creating the quintessential symbol of Christmas joy.
Rustic Charm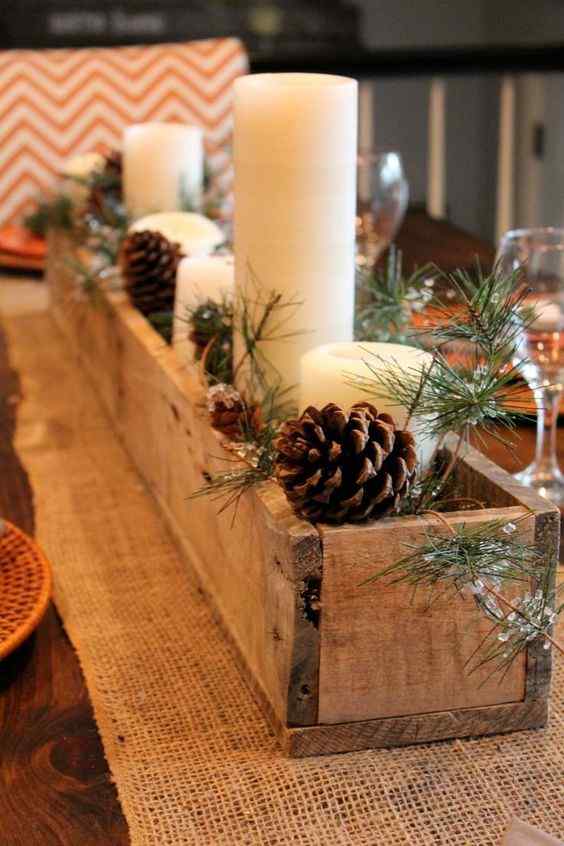 Infuse your living room with the cosy allure of a rustic Christmas. Incorporate wooden decorations, natural pine cones, and textured burlap ribbons into your existing décor. Embrace a warm colour palette featuring earthy browns, creams, and deep forest greens, setting the stage for a heartwarming holiday ambience.
Fireplace Mantel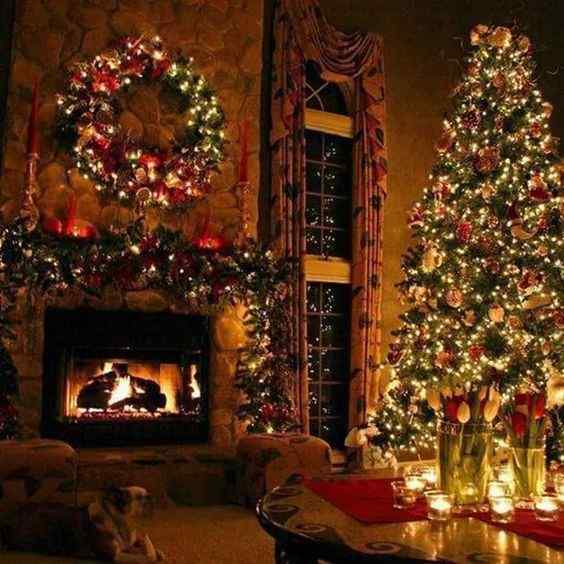 Elevate your fireplace mantel into a captivating focal point of holiday cheer. Artfully drape it with fragrant garlands, hang stockings that eagerly await surprises, and add a touch of elegance with flickering pillar candles or a festive sign that radiates the spirit of the season, filling your living room with enchantment.
Fairy Lights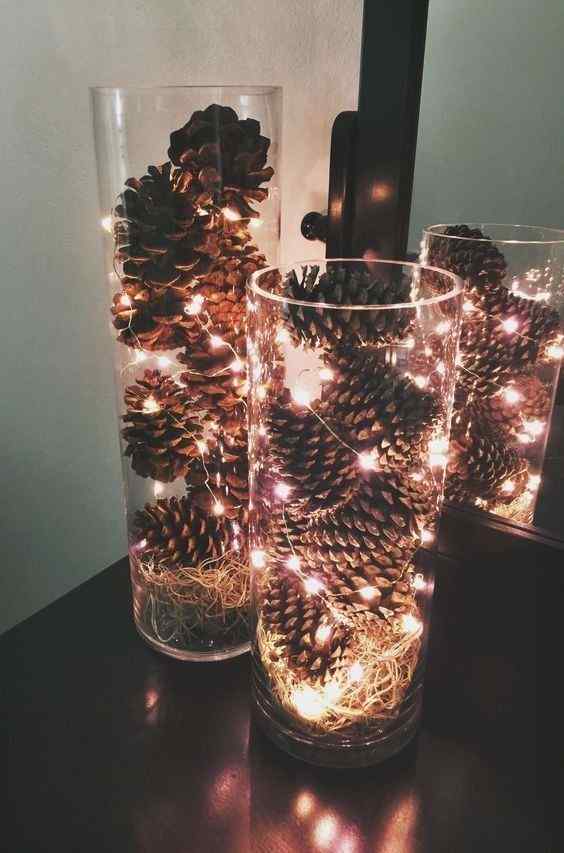 Weave a tapestry of enchantment in your living room with the soft, mesmerizing glow of fairy lights. Arrange them thoughtfully around window frames, over bookshelves, or gently draped around the hearth. The result is a cosy, intimate atmosphere that captures the magic of the holiday season.
Festive Pillows and Throws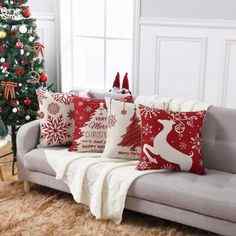 Embrace the spirit of Christmas by giving your living room seating a merry makeover. Replace your everyday pillows and throws with Christmas-themed counterparts, featuring rich shades of red, green, gold, and silver. These cosy accents invite family and friends to snuggle in comfort and style.
Read: 20 Beautiful Ceiling Paint Designs and Ideas for Every Room in the Home.
Natural Touches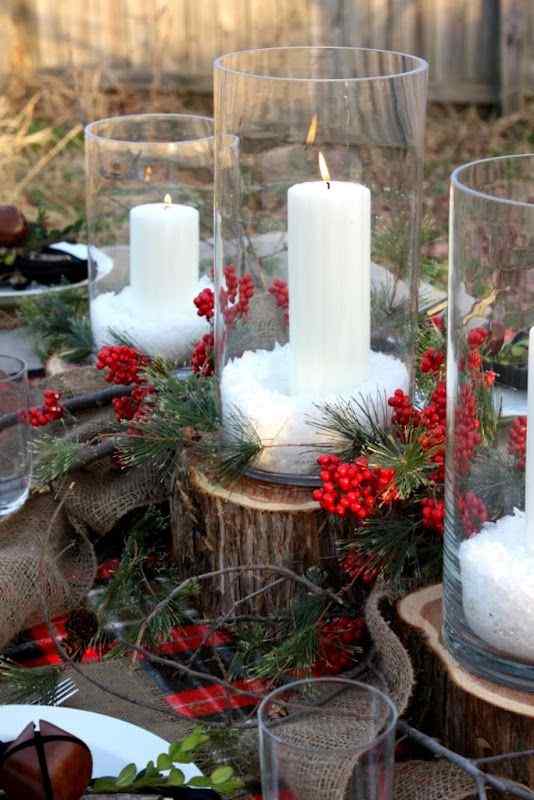 Infuse your living room with the natural beauty of the season. Incorporate elements like fragrant pine branches, vibrant holly berries, and delicate mistletoe. Place them in vases or create charming table arrangements, allowing Mother Nature to contribute her magic to your holiday décor.
Christmas Village Display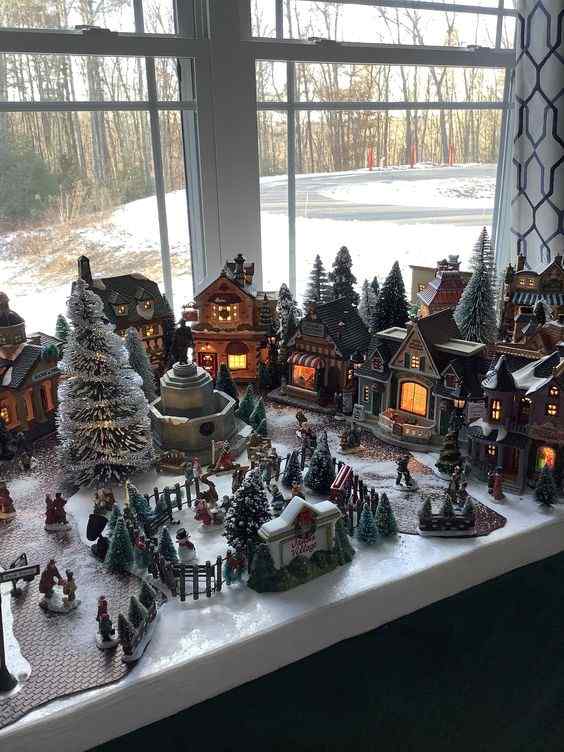 Craft a miniature winter wonderland within your living room. Arrange a captivating Christmas village on a side table or shelf, complete with charming miniature houses, enchanting trees, and a pristine blanket of snow. This delightful display will transport you to a magical holiday realm.
Nordic Style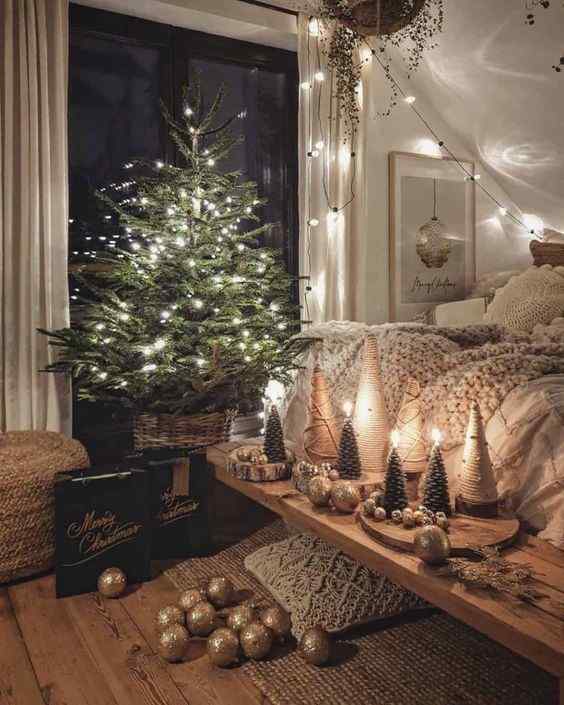 Embrace the serenity of Nordic design, transforming your living room into a tranquil haven. Employ soft greys, pristine whites, and muted blues as your colour palette. Enhance the ambience with sumptuously soft textiles, minimalist wooden ornaments, and clean, understated lines, allowing simplicity to speak volumes.
Candles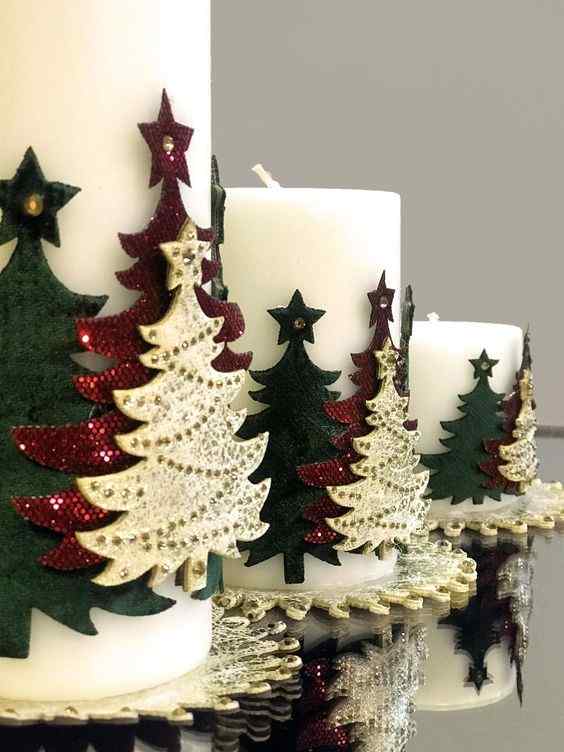 Illuminate your living room with the warm, flickering light of candles. Arrange an array of tall, stately pillar candles, delicate tea lights, and aromatic scented candles to infuse the space with cosy warmth and delightful holiday fragrances like cinnamon, pine, or vanilla. The result is a sensory symphony that elevates your Christmas decor.
Read: 12 Wall Art Ideas for Your Bedroom Room
Themed Tree
Step away from tradition and embrace a themed Christmas tree that tells a unique story. Select a specific theme, whether it's a whimsical candy wonderland, a woodland realm inhabited by charming creatures, or a coastal paradise with beach-inspired ornaments. Tailor your tree decorations accordingly, weaving a narrative that reflects your personal style and holiday spirit.
DIY Ornaments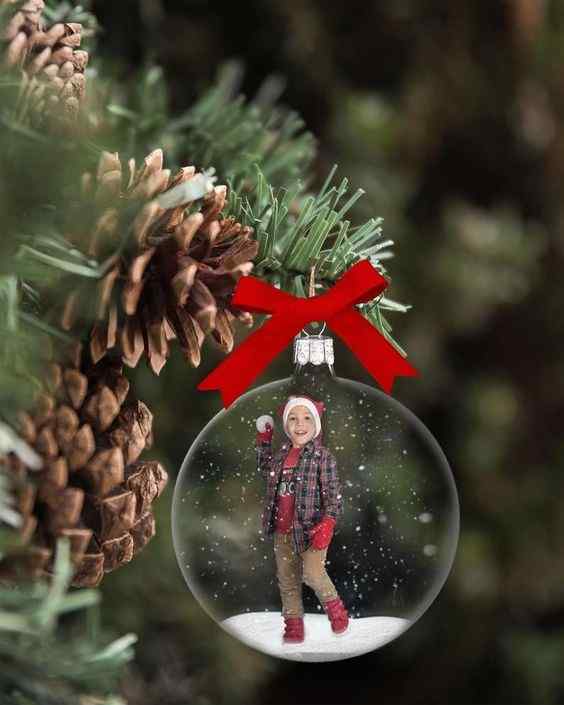 Elevate your Christmas tree's charm by crafting personalized ornaments. Incorporate family photos, children's handprints, or DIY craft projects into your decorations, infusing your tree with the warmth of cherished memories and personal touches.
Wreaths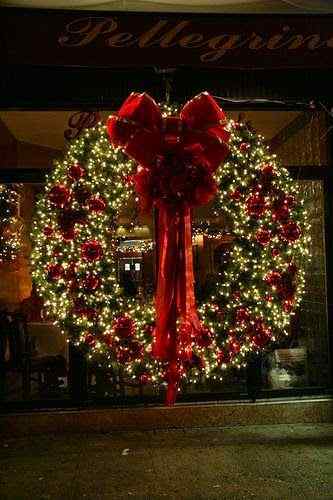 Elevate your living room's aesthetic with the timeless elegance of Christmas wreaths. Hang them on the inside of your door, above the fireplace, or on windows, inviting a touch of holiday sophistication into your space. These wreaths serve as welcoming beacons of festive cheer.
Ladder Display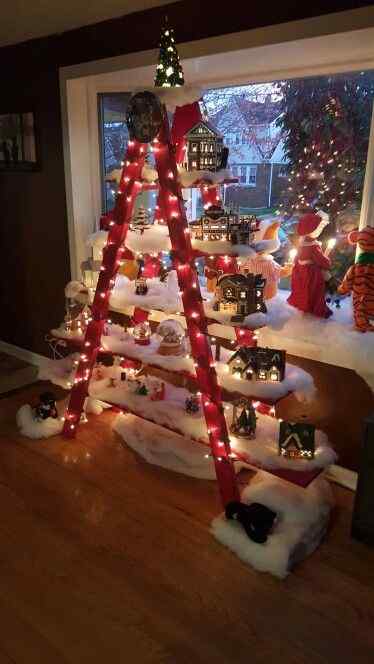 Add a dash of creativity and nostalgia by repurposing an old wooden ladder. Transform it into a unique holiday display that holds cosy blankets, twinkling lights, or delightful ornaments. Thisimaginative touch lends a whimsical charm to your living room.
Window Decor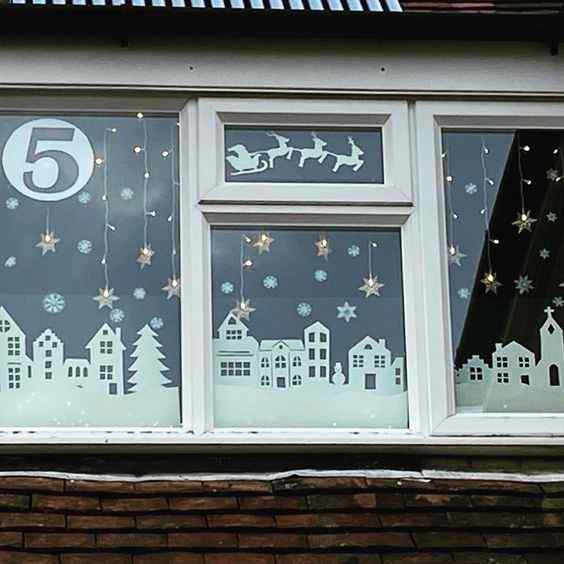 Enchant your windows with captivating holiday decorations. Hang intricate snowflakes or star ornaments at varying heights in front of your window, or apply charming window clings that evoke a winter wonderland. These window embellishments evoke a sense of holiday magic and delight.
Carpet of Presents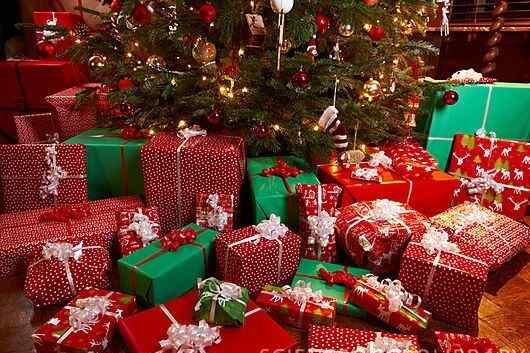 Elevate the excitement of the holiday season by artfully arranging a carpet of beautifully wrapped gifts under the Christmas tree. This not only adds a visual spectacle to your living room but also builds anticipation and joy as loved ones eagerly await the unwrapping of surprises.
Simplify your Christmas Swag with NoBroker
Decking the halls for the holidays is pure joy. If you're unsure about Christmas décor, match it with your home's current style. For a classic black-and-white theme, avoid rustic touches.
Need expert help? Try NoBroker's 5-star rated Home Services team for top-notch Christmas decorations. Click the link below to book NoBroker's festive painting services and full house cleaning services, while enjoying some amazing deals and DISCOUNTS!
FAQ's
Q1. Why is Christmas celebrated?
Ans. Christmas is celebrated to remember the birth of Jesus Christ, who is believed to be the 'Son of God' by Christians.  
Q2. Why are gifts exchanged at Christmas?
Ans. Gift giving is a widely practised tradition around the world rooted in symbolism from the tributes made to Jesus by the Three Wise Men, as depicted in the nativity story. 
Q3. How can I make my house look Christmassy?
Ans. From choosing the Christmas colours of Red, Green, and White, picking a Christmas tree, you can decorate the garden, entrance, living room, bedroom, dining room, ceiling and more to turn your home into a winter wonderland. 
Q4. How do I prioritize what to buy for Christmas decorations at home
?
Ans. Begin by gathering your ideas and measuring the space of decoration. Then list your items and prioritize them based on the measurements of the spaces you want to decorate including the height and length of the wall, your door, windows, breadth of the ceiling etc. This will give you a realistic idea of the items you need and the budget you can aim for. 
Q5. When should I put up my Christmas decorations?
Ans. Most people begin the decoration process from the 2nd weekend of December for ample time work between weekdays until Christmas Eve and take down the décor by the first week of January.