When you're designing your home, you put a lot of effort into the furniture and design, how much attention do you pay to the paints and colours you use for your home? Did you know that colour plays a part in how we act, our moods and emotions and even how much we eat?! Since it plays such a massive role in our daily lives, we've decided to help you make the right choices, especially when it comes to the most crucial room in your home, the kitchen.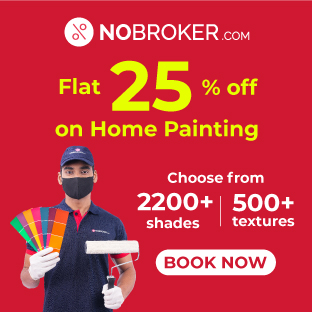 We've included kitchen colour ideas that are Vastu-compliant, modular kitchen colour combinations, and kitchen colour shades for kitchens of all sizes.
1. Kitchen Colour Combination of Red and White
Red, according to Vastu is a powerful colour for kitchens that are in the South or South East of a house. Red is also known to be an appetite stimulant, at the same time it is known to cause irritability, so when you are looking at kitchen colour schemes, use this combination in the right proportion.
Read: Asian Premium Emulsion 20 Litre Price 2023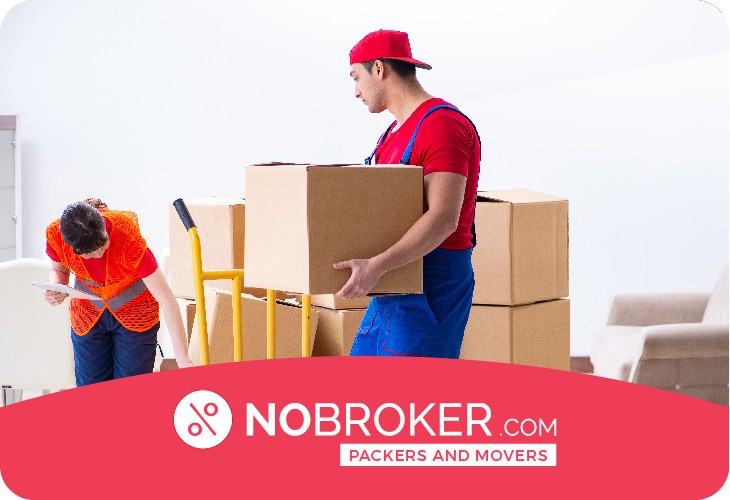 Book Best Packers & Movers with Best Price, Free Cancellation, Dedicated Move Manager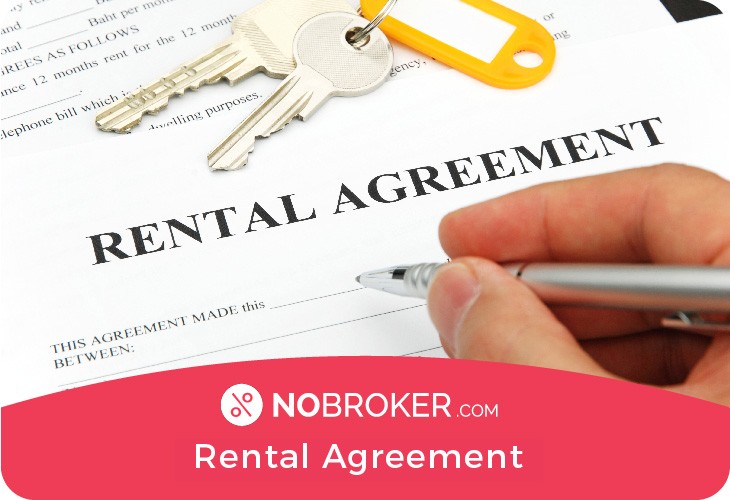 Get Rental Agreement With Doorstep Delivery, Super Quick & Easy
This is third
This is third
This is fourth
This is fourth
This is fifth
This is fifth
This is six
This is six
This is seven
This is seven
This is eight
This is eight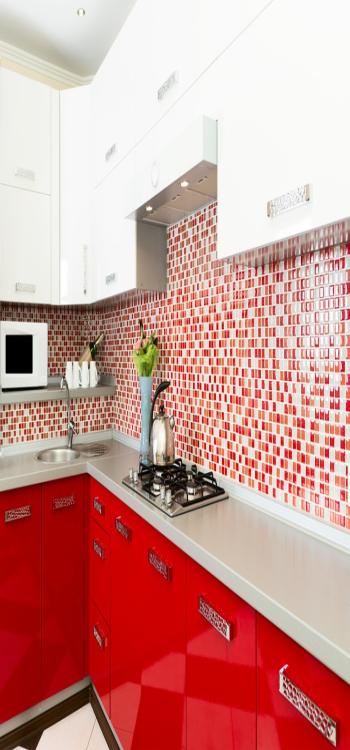 2. Modular Kitchen Colour Combination of Brown and Cream
These colours are both warm colours and ideal for your kitchen, even according to Vastu, if your kitchen is in the South or South-East portion of a house. You can use brown and cream trims as your kitchen cabinets colour combination, or brown cabinets with cream walls, either way, this combination will add warmth and charm to your kitchen.
3. Two Colour Combination for Kitchen Walls -Green and White/Silver
When you think of kitchens, the colour green might not be your first choice. Surprisingly, according to Vastu, the colour green mixed with white, silver, or even cream is a great option for kitchen colour schemes. Green can make your kitchen feel cosy and bring in a calm vibe to the space.
Read: Give A Twist to Your Kitchen with These 15 Island Kitchen Design Ideas
4. Simple Kitchen Colour Combination – Black and White
When you think of the best colour combinations for the kitchen, black and white seem like a boring choice. But when you mix and march, and use them in the correct proportions, you'll get a kitchen that looks classic, neat, and very modern.
5. Kitchen Design Colour Combination Dark Pink and Light Pink
Have you heard of the 'Pink Effect'? According to colour psychology studies, the colour pink 'calms and reassures our emotional energies, alleviating feelings of anger, aggression, resentment, abandonment and neglect.' Exposure to large amounts of pink has a calming effect on the nerves. Even Vastu approves of using pink in South or South-East kitchens. If you're one who feels that cooking helps you relax, then adding pink to your walls will help you relax faster.
Read: Oil Paint Price in 2023
6. Kitchen Furniture Colour Combination – Blue and Brown
Blue, one of the most calming colours, in combination with brown gives you a stylish kitchen that looks modern and is easy to maintain. This is also a preferred colour according to Vastu for kitchens in the North. You can have light blue or bold blue walls and brown kitchen cabinets as the colour combination for your kitchen.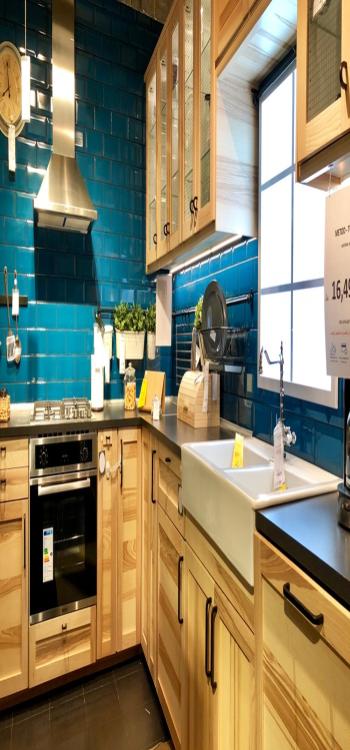 7. Kitchen Cupboard Colour Combination -Yellow, Grey and Brown
The colour yellow is known to exude energy, happiness and freshness. These colours are an ideal modular kitchen colour combination. The grey is subtle, the brown is warm and the yellow brings in a much-needed pop of colour to the kitchen. Yellow is also a Vastu approved colour for kitchens.
Read: Innovative Modern Age Ideas of Store Room Design
8. Kitchen Colour Schemes – Grey, Gold and White
If you're looking for a modern or futuristic look for your kitchen, the colour combination of grey, gold and white is what you need. Here, each colour plays an important part in adding glamour, brightness and charm to the kitchen. You can choose between dark grey for larger kitchens and light grey for smaller kitchens, the outcome will still be classy and modern.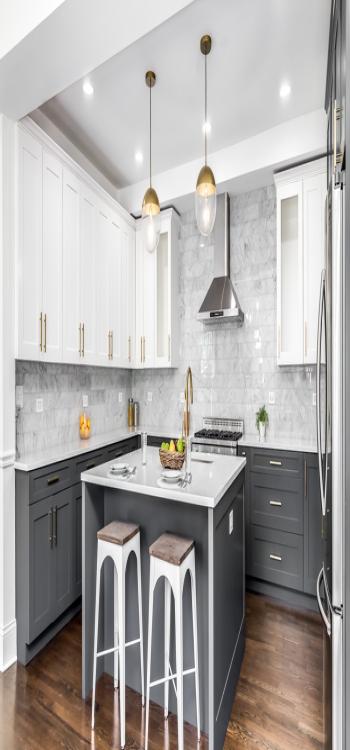 9. Colour Combination for Kitchen Laminates Orange, White and Brown
The best colour combinations for kitchen are the ones you least expect. Like, the combination of orange, white and brown. Orange again, is a warm and friendly colour, it is one of the preferred colours according to Vastu for kitchens in the South and South East. Now, orange on its own can be a very intense and bright colour, so we need a colour combination for kitchen laminates that can tone it down. Here you can either choose brown laminates and white walls or vice versa. Your kitchen will look and feel warm, bright and inviting.
Read: Top 20 Light Pink Colour Combinations
10. Colour Combination for kitchen – Rose gold and white
Rose gold has been a trending colour of late, the colour is warmer than gold and gives walls and cabinets a more royal and dramatic feel. When you pair rose gold with white for the kitchen, then you get a combination that works and looks great too.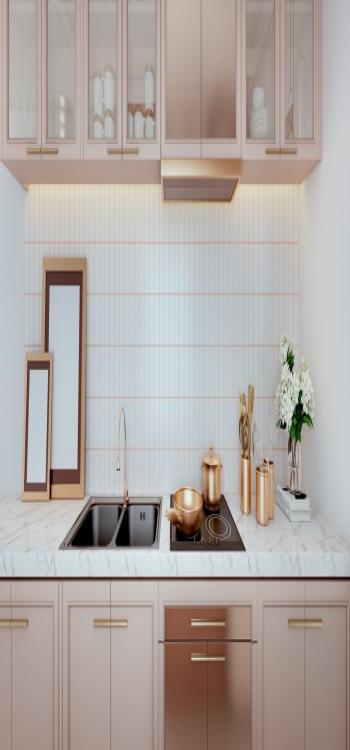 Kitchen Feng Shui Tips
Feng Shui is an ancient Chinese practice that focuses on arranging and harmonizing spaces to promote positive energy flow. Here are some kitchen Feng Shui tips to create a balanced and harmonious environment:
Clear Clutter: Clutter disrupts the flow of energy. Keep your kitchen clean and organized by removing unnecessary items from countertops and cabinets. Clear out expired food and regularly clean your kitchen appliances and utensils.
Balance the Elements: Incorporate the five elements of Feng Shui – wood, fire, earth, metal, and water – in your kitchen design. For example, you can introduce wooden elements with bamboo cutting boards or incorporate metal with stainless steel appliances.
Colors and Lighting: Choose colors that promote a nourishing and vibrant energy. Earth tones like beige, brown, and green are often recommended for the kitchen. Ensure good lighting in the kitchen to create a bright and energetic space.
Stove Placement: In Feng Shui, the stove represents wealth and abundance. Ideally, place the stove in a commanding position where you can see the entrance of the kitchen while cooking. Avoid positioning the stove directly opposite the sink or refrigerator.
Maintain Good Ventilation: Good airflow and ventilation are essential in the kitchen to ensure positive energy circulation. Install an exhaust fan or open windows regularly to remove any stagnant air and cooking odors.
Reflective Surfaces: Use mirrors or reflective surfaces strategically in the kitchen to expand the space and reflect positive energy. Place them in a way that they reflect natural light or a beautiful view.
Avoid Negative Energy: Keep the kitchen free from negative energy sources such as a cluttered refrigerator or broken appliances. Fix or replace any broken items promptly.
The above kitchen colour combinations will instantly spruce up your home. If you need to get your kitchen painted, let the professionals at NoBroker help. They will help you choose the right colour combinations for your kitchen, use high-quality paints, work efficiently and all this at a very affordable price. Click the link below to know more about this service.
Read: Asian Paints Lavender Colour
Check Out Other Colour Combination Blogs
Frequently Asked Questions
Q1. What is the best colour combination for my kitchen?
Ans. There is no one 'best' colour. It will depend on a variety of factors such as if you want your kitchen to be Vastu compliant if you have a small or large kitchen if you have natural or artificial light in your kitchen and so on. You can also go by how various colours make you feel, or just leave it to interior design experts.
Q2. Which is the best modern kitchen wall colour combination to have?
Ans. Most modern kitchens like using a lot of chrome, gold and silver. You can use it in combination with any of the colours suggested in the article. To achieve a modern look, go simple and subtle
Q3. What is the most popular colour for kitchens?
Ans. Most people like to keep their kitchens bright and cheerful, hence the most popular kitchen kitchen colour combination for walls are white, ivory, cream, peach, yellow, red, orange and even green. To know the latest kitchen colour combination of the year, ask a professional interior decorator or drop us a comment below and we will be able to help.
Q4. Is there a colour that can make my kitchen look bigger and brighter?
Ans. The best colour to choose if you have a small kitchen is white. This Indian modular kitchen colour combination helps to reflect more light hence making the kitchen seem brighter and creating the illusion of space
Q5. What are some things to consider when choosing kitchen color combinations?
Ans. Firstly, the size of your kitchen plays a role in color choice, with light colors expanding the perception of space in smaller kitchens, while darker shades can add drama to larger kitchens. Secondly, the amount of natural light in your kitchen should influence your decision, with bolder colors working well in well-lit spaces and lighter hues enhancing brightness in kitchens with limited natural light. Lastly, your personal style and preferences should guide your color selection process, allowing you to create a kitchen that resonates with your taste and reflects your personality.

Painting Service in Top Cities in India