Are you one of those who think brick walls might look too grungy or impersonal in contemporary homes? Then, it's time to broaden your horizons. Originally synonymous with under-construction houses, this industrial wall design trend has started making its mark in modern interiors. From lending a rustic-chic vibe to contemporary living rooms to creating the perfect facade for the front of the house, brick wall designs are highly versatile and affordable.
Now one might wonder why they are so popular? It might be because brick walls can look good anywhere. Brick walls have always saved the day whenever any room needs a touch of texture or character! Not comfortable with exposed brick walls? Then you can invest in brick wall styled wallpapers. They are highly favoured due to their affordability and aesthetic appeal. Today, let's look at some of the trending designs this year.
Choose brick walls for a trendier decor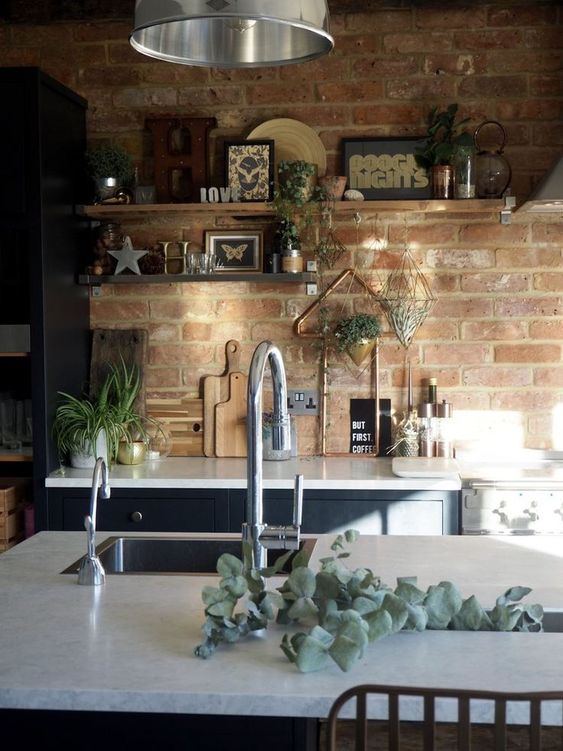 Earlier brick walls were limited mainly to under-construction sites and industrial areas. They were generally considered to be too grunge and impersonal for home interiors. But with time, interior designers have discovered the earthy charm of exposed brick walls.
Read: 16 Of the Most Beautiful Drawing Room Door Designs for Indian homes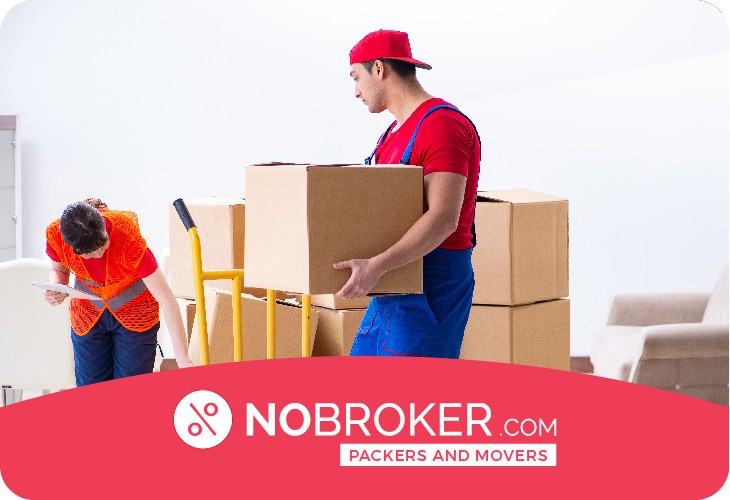 Book Best Packers & Movers with Best Price, Free Cancellation, Dedicated Move Manager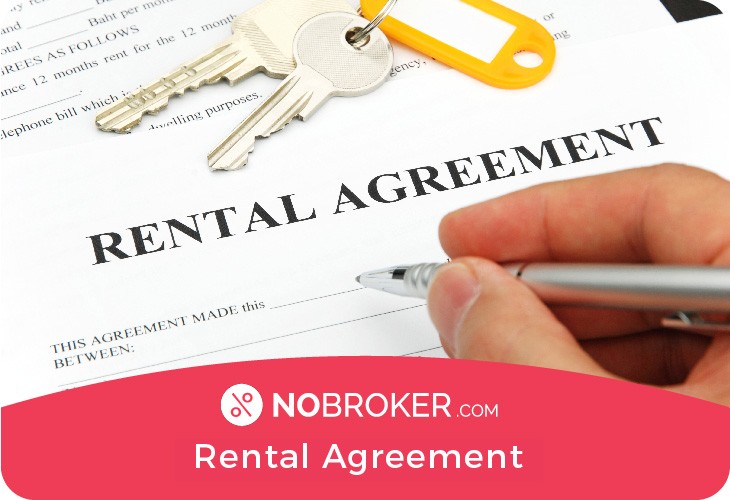 Get Rental Agreement With Doorstep Delivery, Super Quick & Easy
This is third
This is third
This is fourth
This is fourth
This is fifth
This is fifth
This is six
This is six
This is seven
This is seven
This is eight
This is eight
According to eminent design director Candace Campos, who designed LA's famous Soho house, the beauty of exposed brick walls lies in its go-to material for architectural buildings. So many critical historical landmarks around the world sports brick wall patterns designs. Hence, it automatically lends a historical and industrial essence to your exteriors/interiors.
Not only that, but you can also go for brick wall design wallpapers if you are under budget. Wish to take it up a notch? Try a front facade in brick wall design or go for brick walls in earthy palettes for your bathrooms- the options are endless!
Advantages of exposed brick wall design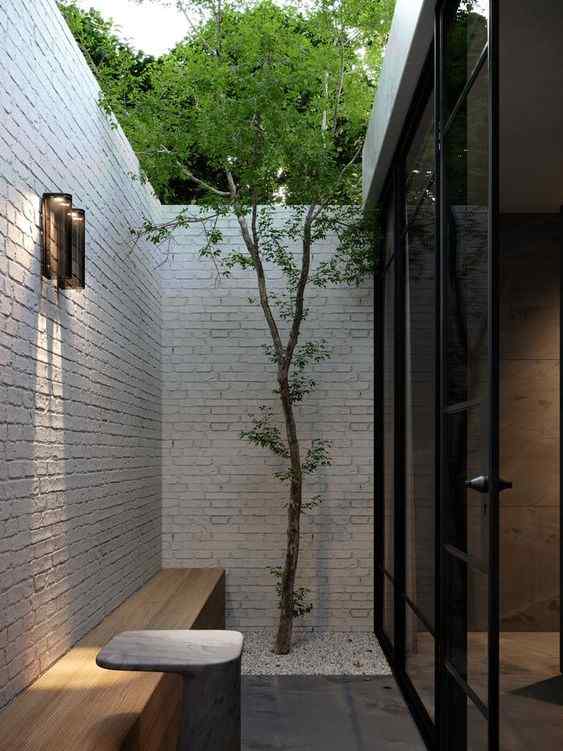 Here are some reasons you should consider going for a brick wall in your home:
Bricks are simply the foundation of any construction. So it's readily available and cheaper.
Brick walls are durable and can withstand any harsh weather conditions. This is why they are often used in brick wall designs outdoors.
Bricks come in various shapes and sizes, and they can be oriented in multiple patterns. This makes them a pretty interesting interior decor element to play with.
Due to their durability, they are easy to maintain, thereby decreasing the maintenance cost.
Bricks can be reused and recycled anywhere with ease.
Unlike PVCs and wood, brick walls are a more environmentally conscious choice. They produce significantly less pollution during their manufacturing process.
Trending brick wall designs front house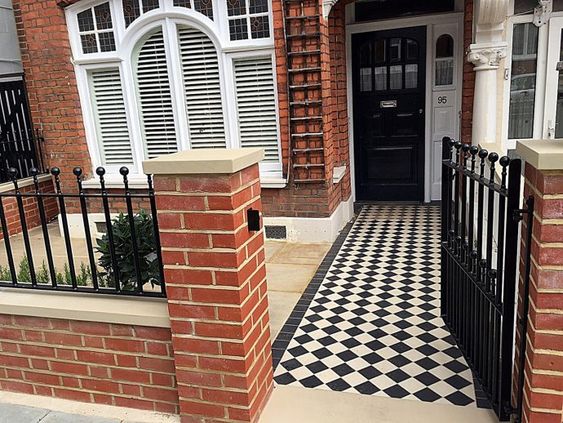 Brick walls lend a different kind of charm to both traditional and contemporary homes. Technically modern decor and brick walls should clash, but designers have been gravitating toward this more earthy and rustic design element in the last few years. Of course, you can always play with the rest of the decor to balance the earthy look. They are inspired by the raw interiors of industrial buildings and can fit anywhere. It is sure to blow away the mind of all your guests and visitors! Take a look at some of the design options below:
Read: A Guide to the Best Farmhouse Design Ideas And A Few Additional Styling Tips
Greet your guests in style with outside brick wall designs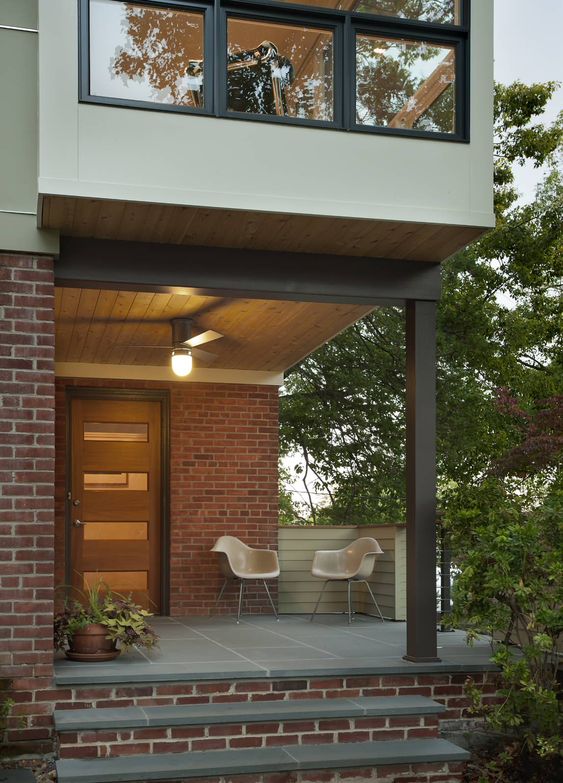 There is nothing as quintessential as exposed red bricks. An entire wall or ceiling made from exposed brick walls in bright red contrasts beautifully against wooden exteriors. Of course, you can use this idea for your interiors too.
Drape your relaxing zone with parapet wall designs in brickwork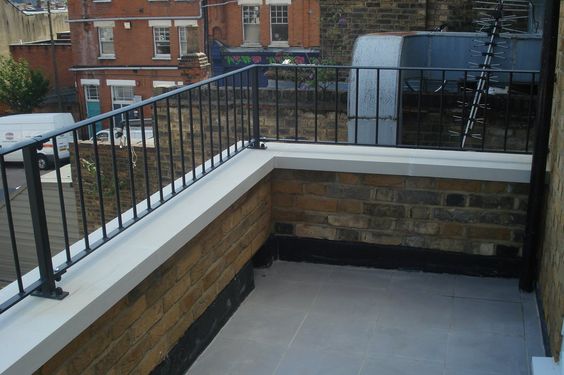 Who doesn't like to lean against the balcony and take in the fresh air while enjoying their evening tea? Of course, you need this space of yours to ooze a sense of comfort and simplicity in every way. That is why to stick as close to nature as possible and opt for identical brick tiles in soft and deep browns. This helps create a beautifully textured brick wall design.
Stay closer to the roots with white brick wall designs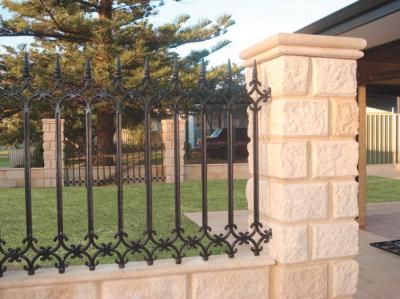 Take a look at this natural brick boundary wall design made of limestone. Then, pair them up with wrought-iron grills for a more enhanced effect. The clean and clear, no-nonsense design is durable yet is pleasing to the eyes.
Read: Beautiful and Space Efficient Iron Almirah Designs of 2022
Brick wall designs for living room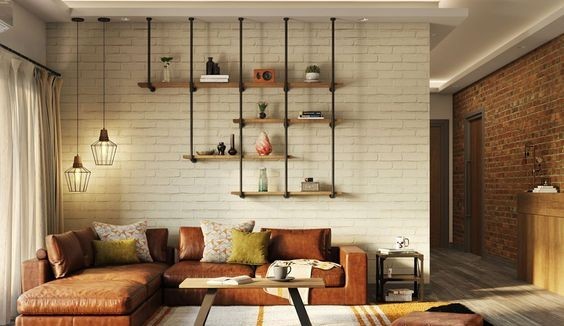 Architects and homeowners have increasingly turned to the gorgeous brick wall for texture, distinctive character, and timeless beauty in their living rooms over the last several years. Some see the living room's exposed brick wall representing the building's rich, historical heritage and a combination of the past and the present.
Old-n-gold Design of a Red Brick Wall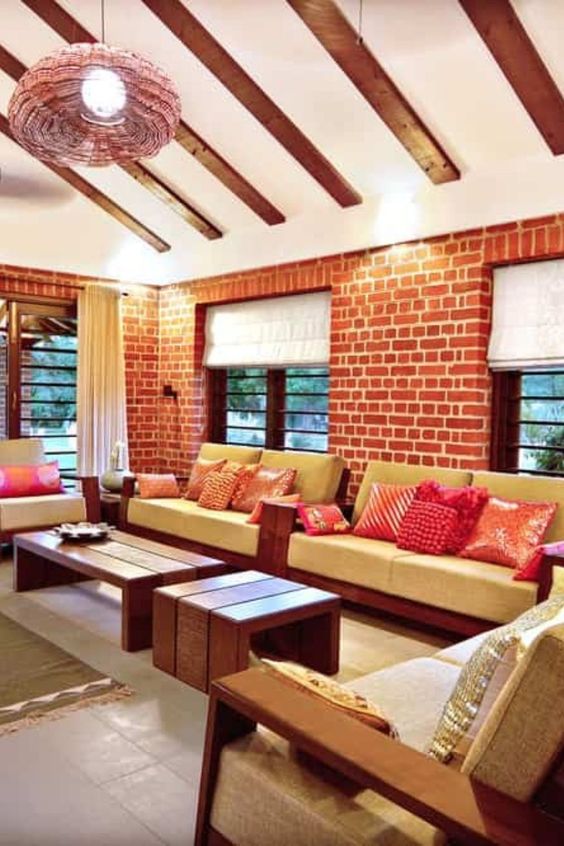 A red brick wall's ability to transform a room is unmatched. With only a little bit of brick and cement, it works its magic. Red bricks are an excellent choice for an accent wall since they draw the eye and serve as a focal point in any room. Cladding your interior design with real bricks is also a better and more eco-friendly option.
Wall Design with White Brick in a Rustic Ambiance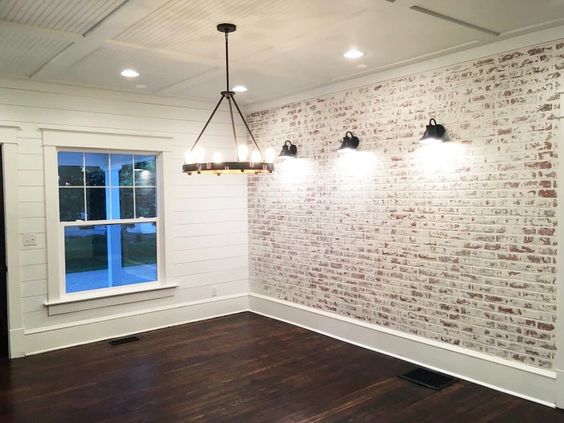 While red brick walls have their unique appeal, if you've always favoured the look of white brick, be sure to include it in your design scheme. Compared to red bricks, which have a more rustic feel, white bricks have a more refined look. As a result, it's perfect for use as a focal point behind a TV or an artwork.
Get Earthy with a Brick Wall in Grey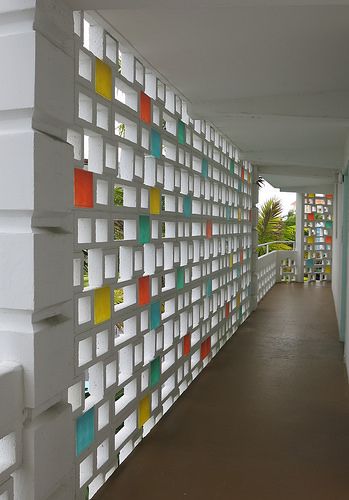 A grey brick wall is neither too earthy nor too simple, but its careful design makes it suitable for the task at hand. It combines the finest of bricks and tiles in terms of texture. The result is that your home's interiors will seem more streamlined and refined. In addition, an intriguing alternative to a red brick wall, a grey brick wall, may be created using mortar.
Read: Attractive and Cost-effective Glass Wardrobe Design Ideas for Every Room
Minimal Brick Wall Design Will Never Go Out of Style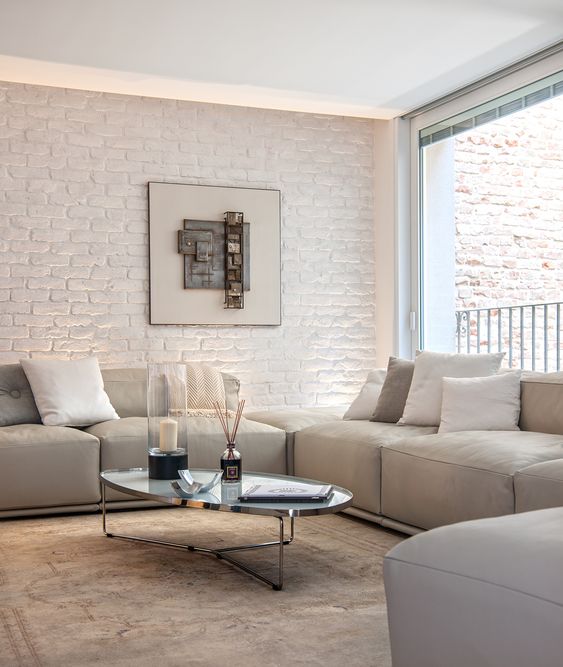 Many factors contribute to the growing popularity of minimalist design houses among urban millennials. Clutter-free living is a top priority for today's young adults, particularly millennials. A whole wall might be lined with white bricks to achieve the desired effect while maintaining a simple aesthetic. This brick wall design works nicely for both the home office and the living room.
Brick Wallpaper Design: A Simple and Quick DIY Project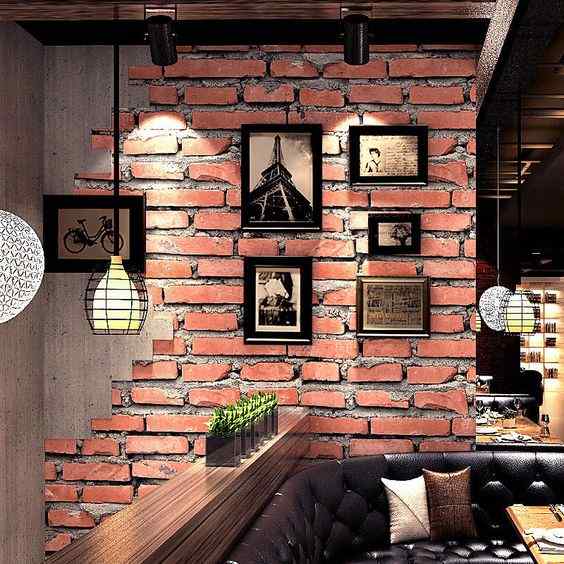 Brick wall designs might be tough to incorporate into your house at times. And, despite your best efforts, you may be forced to settle for something less desirable. However, the good news is that you may select wallpaper with a brick wall pattern embossed on it to make up for what you can't have.
Brick wall design for staircase area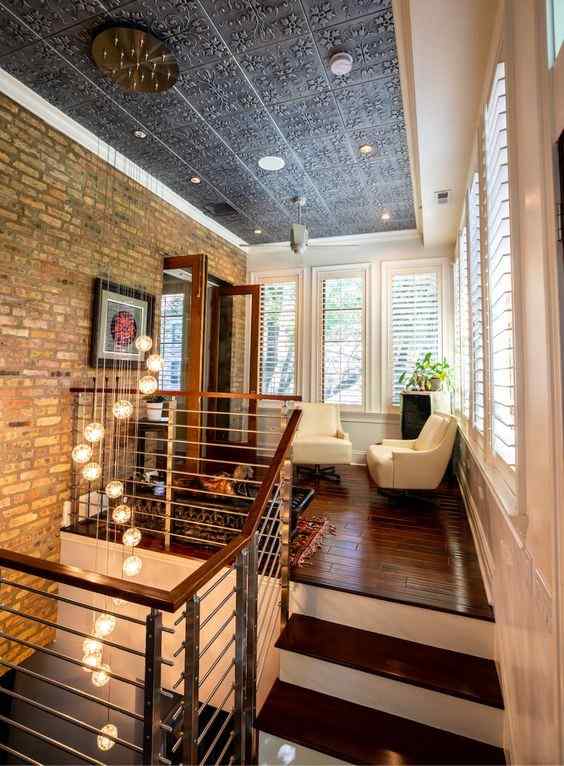 We often ignore the design possibilities of a staircase sidewall but not anymore! Here are some waysto enhance this area.
Elevate your staircase area with an entire brick wall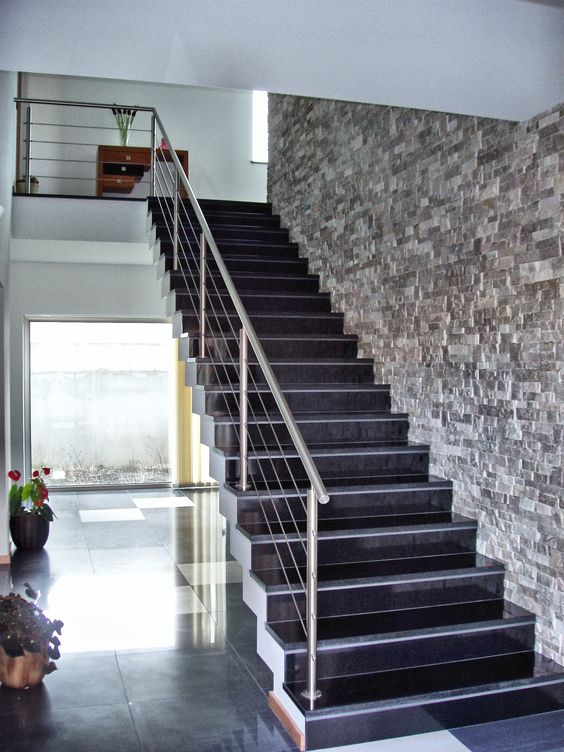 We often ignore the design possibilities of a staircase sidewall but not anymore! A neutral brick wall design helps to add so much character to the staircase area. The black marble stairs contrast beautifully against the statement wall. You can further accessorise this wall with some artworks or wall accents.
Enjoy the rawness of just naturally exposed bricks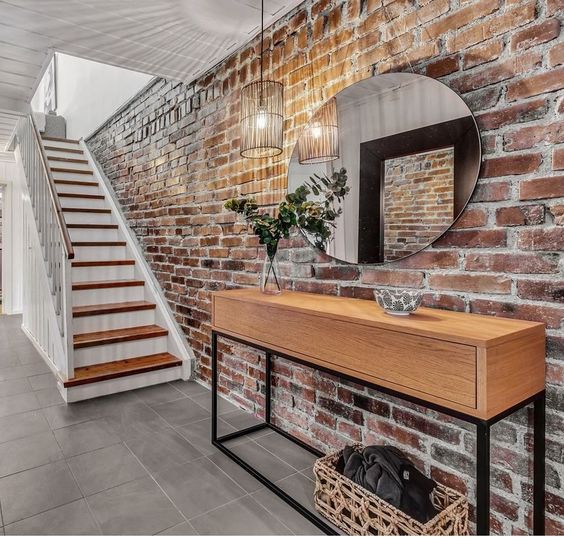 The bare brick wall with cement peeking through and the roughly finished edges contribute to the overall earthy feel of this design element. It is always a good idea to include some plants in this area. Having a window nearby further enhances this rustic feeling you are looking for.
Usher in an airy staircase area with glass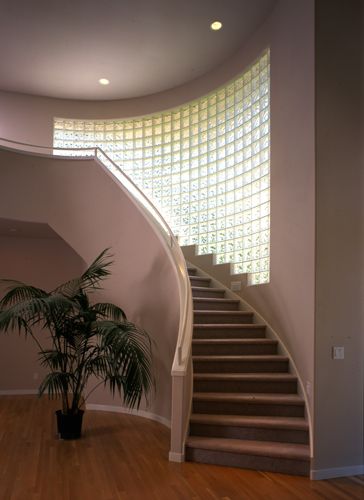 Make use of glass blocks instead of brick tiles, and you have got an elegant stairway! This hack is handy for west or south facing staircases that scarcely get any natural light. Let the goodness of the sun pour in with the help of this environmentally conscious design. Enhance the look of this area by adding in some additional windows(if possible) and some lovely potted plants.
Decorate a lovely staircase landing with the help of brick wall painting designs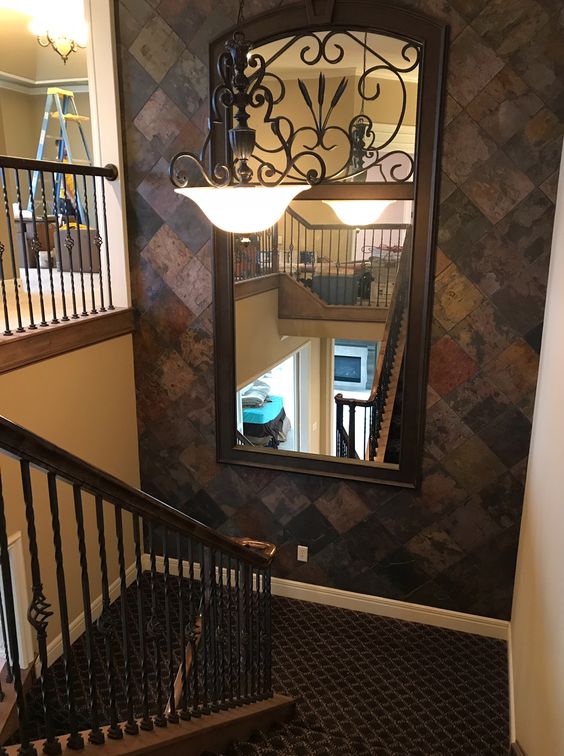 Why only focus on the staircase wall when we can also do so much on the staircase landing. If you have an empty partition on your dock, then make good use of it and add some aesthetic appeal by opting for painted brick wall designs. The owners have gone for a natural slate finish with the stones coloured in various dark hues. The dome-shaped pendant lighting illuminates this area and lends a mysterious vibe.
Glass brick wall designs for house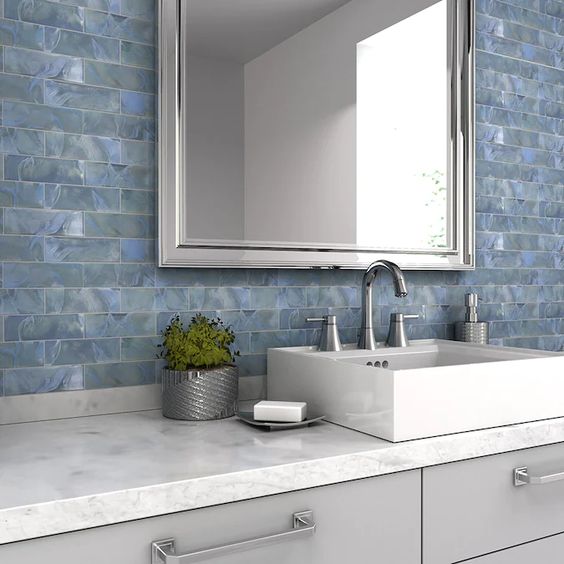 If you think elegance and luxury, then glass should be the go-to choice. The options are endless, from glossy backsplashes to glass block partitions for the shower area!
Highlight inconspicuous areas by letting in some sunshine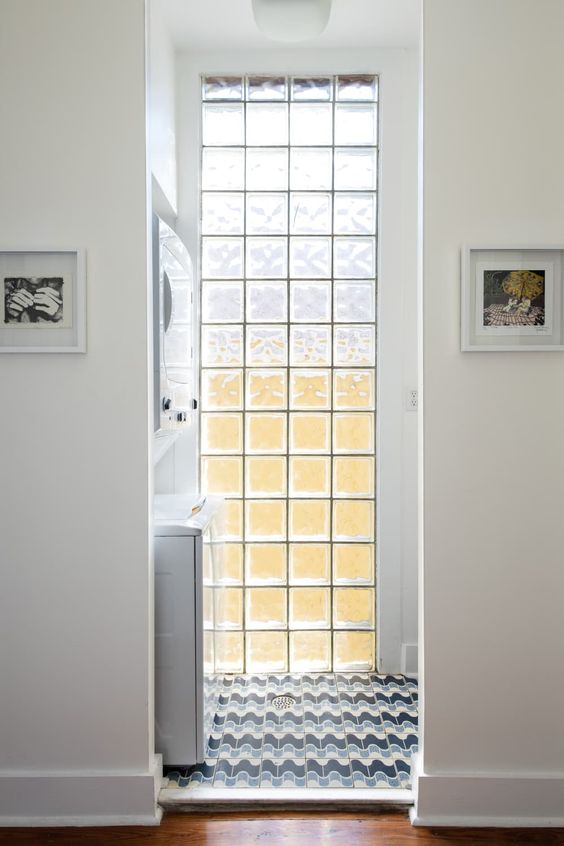 Have a small corner you wish to highlight? Use glass blocks and let in some natural light into the bathroom! Play around with some cute planters if you have the space.
Relax and enjoy the early morning warmth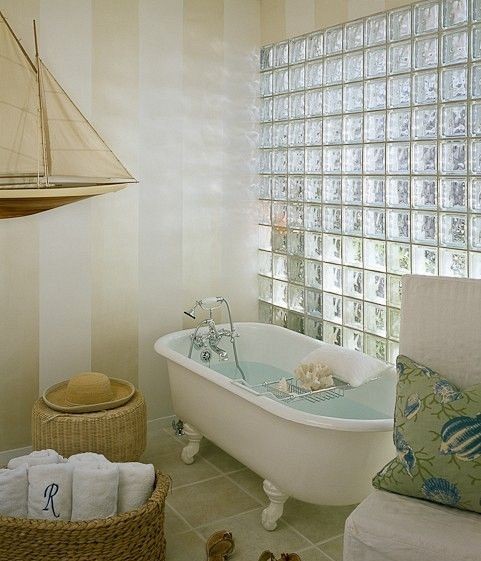 Who doesn't like some good old 'sunshine? So bathe in style while looking away through the dreamy glass block wall at the yonder. You can personalise this area with a comfortable settee and some artwork.
Create a statement with coloured glass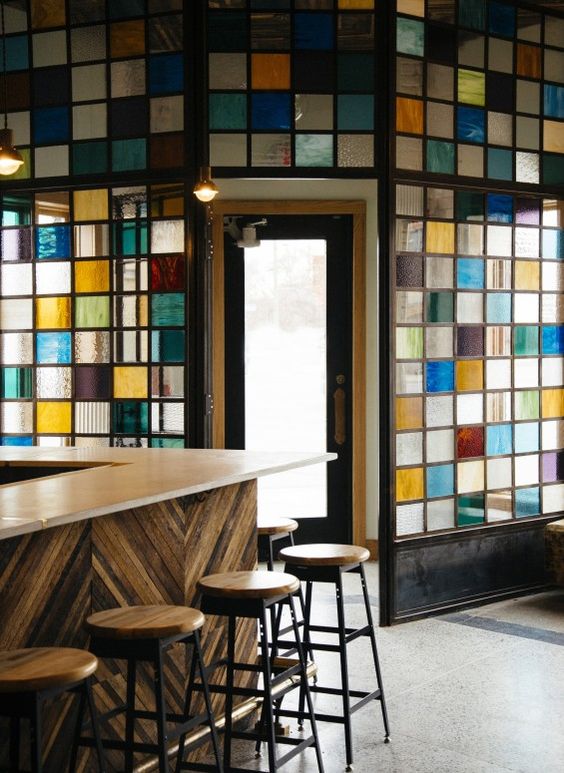 A glass block wall can be an excellent choice to separate your drawing and dining in an open layout discreetly. Mix n match various stained and patterned glass blocks to make a bold statement. This is also a good choice as a sidewall for your puja room.
We are sure you have now a fair idea about the various brick wall designs and how you can incorporate them into your home interiors. Then, the sky's the limit, from traditional brick and mortar to brick wallpapers to the more refined glass block walls! Wish to tweak your interiors? Take a cue from our blog page. If you need help designing your space, you can contact NoBroker interior designing services to closely scrutinise your requirements and give you the best design solutions. So, when can we expect a call?

FAQs
Q-1 Which colours complement brick walls?
A-1 Exposed brick may be enhanced with a wide variety of bright colours. Top 5: Red alongside red; Greens and lime; mild tan; hot tangerine; timeless white.
Q-2 Is fake brick aesthetically pleasing?
A-2 Faux brick panelling is an excellent choice if you want to give your house the appearance of brick. The Masonite board makes them easy to cut with a mitre saw. As a result, they don't seem as false as wallpaper would.
Q-3 What is brick staining, and how does it work?
A-3 What Staining Brick Is. It is possible to permanently alter the look of brick by applying a stain to its surface. Brick stain, unlike paint, is a mineral compound that penetrates the brick, becoming a part of it. Therefore, no matter how hard you hammer it, it won't break or detach from the brick.
Q-4 What about putting a brick wall in the bathroom?
A-4 You can, after all. Because of the moisture from showers, baths, and other sources, it is necessary to adjust the installation method when utilising brick slips in bathrooms. However, you only need to take a few basic actions to guarantee this doesn't become an issue.
Q-5 How do you attractively present an exposed brick wall?
A-5 Want a raw aesthetic but don't like the colour of exposed brick? Adding a couple of coats of paint to your highlight area can help it blend in with the rest of your home's decor. But, first, give the wall a thorough scrub, rinse it down, fill up any gaps with filler, and apply a primer.