Moroccan tile design never goes out of style, and there are numerous reasons for this. Anyone would fall in love with Moroccan tile design because of the charm of their handmade nature, which is reflected in their slight imperfection (which is true of all things natural). This is probably why Moroccan tiles can be found in a wide range of homes, whether they are designed with a contemporary theme or are entirely based on traditional ideas. In this blog, we will look at some of the best Moroccan tile designs for every room in the house.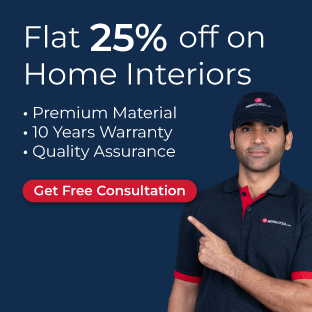 What Are Moroccan Tiles?
Moroccan tiles are a heritage that dates back to the 10th century in Morocco (North Africa). Moroccan tile construction is a skill that is passed down from generation to generation in Morocco. It is now a lost art form. Moroccan tiles are traditionally made by combining natural clay and water. The clay dough is hand-shaped, dried, and kiln-fired using olive pits. For top-class Moroccan tile texture, enamel glazing with hands is applied on the front portion of the Moroccan tiles. They are ceramic tiles that have been fired and glazed, a labour-intensive process. Unlike factory-made tiles, each Moroccan tile is unique and unidentifiable because it is hand-moulded, hand-cut, and hand-glazed.
Read: Modern Wardrobe Designs for Your Child's Room: Ideas and Inspiration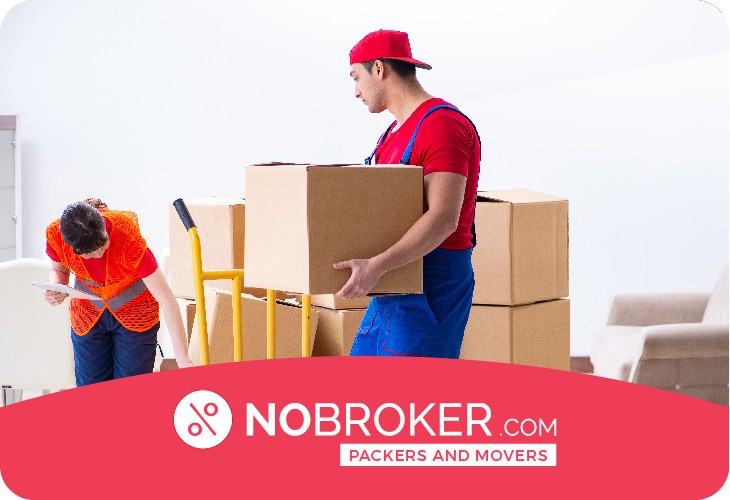 Book Best Packers & Movers with Best Price, Free Cancellation, Dedicated Move Manager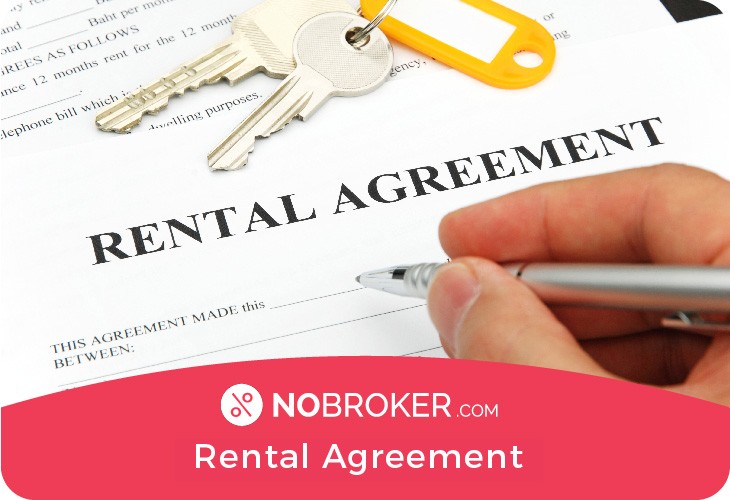 Get Rental Agreement With Doorstep Delivery, Super Quick & Easy
This is third
This is third
This is fourth
This is fourth
This is fifth
This is fifth
This is six
This is six
This is seven
This is seven
This is eight
This is eight
Moroccan Tiles: How to Use them in Home Décor?
With their vibrant colours and lavish patterns, the Moroccan tile design creates a sophisticated and chic atmosphere in the space. The vibrant reds, oranges, greens, whites, and blues of these encaustic art tiles are trendy and timeless. Something about the trendy Moroccan tile design gives your precious spaces a positive and energetic vibe. High-end homeowners and interior designers are increasingly using these tiles to create modern homes. Moroccan tiles, which come in various colours, are suitable for any building, be it a 2BHK flat or a grand villa, due to the variety and vibrancy. With their fresh and alluring appearance, Moroccan tiles have also found a place in Indian homes and hearts.
Here is how you can decorate your interiors with fascinating Moroccan tiles to decorate your interiors.
Moroccan Tiles for Kitchen
We love unexpected decor combinations like these rustic-inspired beadboard cabinets paired with a vibrant Moroccan tiles kitchen splashback when it comes to personalised living spaces. Colour can be blended in various ways to create a unified look in a space.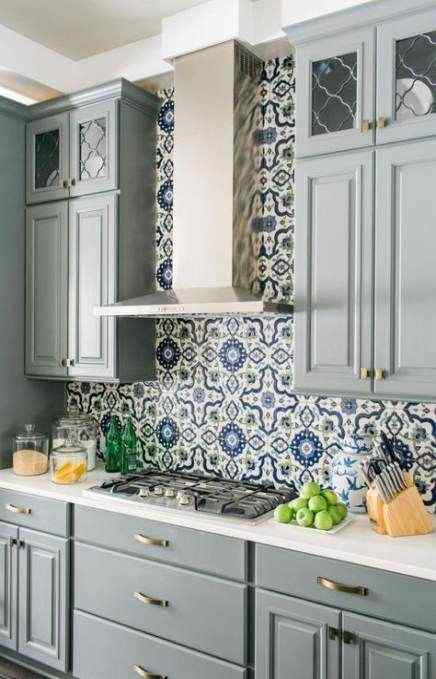 When it comes to kitchen interiors, Moroccan tiles can be used to create various looks. Moroccan kitchen tiles are an excellent choice for the kitchen walls, floor, or backsplash to add a stylish touch. These decorative Moroccan tiles will give your kitchen a more cheerful and lively feel. They look great with both neutral and bright colour palettes. When paired with colourful cabinets and neutral-toned countertops – the final product is luxe. The best places to use dramatic floor tiles are arguably in neutral-toned kitchens.
Read: 15 मनोरंजक अशा,भिंतींना जेवणाचे टेबल लावण्याच्या काही कल्पना
Moroccan Tiles: Backsplash for Your Living Room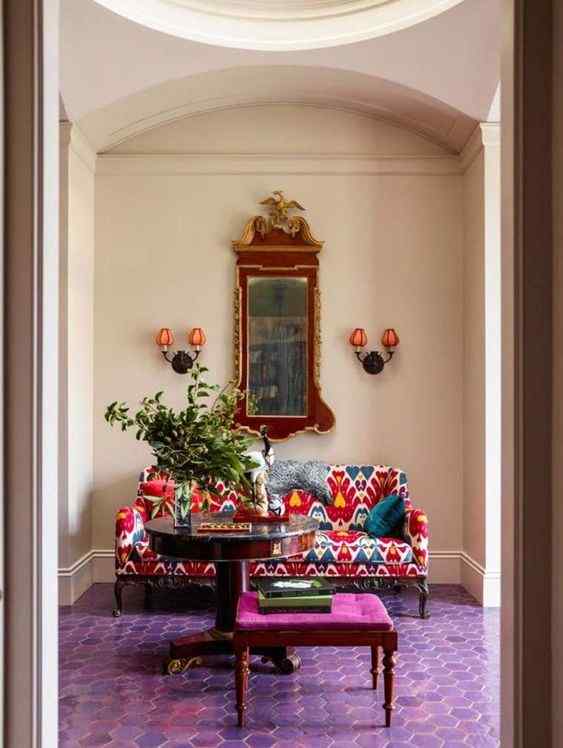 Moroccan tiles can instantly add a touch of glitz and make a plush statement in a mediumistic setting. If you prefer a minimalistic interior, use a light colour palette for your living room's walls, curtains, and furniture. Make a statement with Moroccan mosaic floor tiles on the floor. It will give it that much-needed zing to make it lively and fashionable. With this fascinating tile's captivating pattern and colours, your space will be transformed into something straight out of a magazine. Additionally, they pair well with wood tiles and add a playful touch without overpowering the space. Your visitors will be astounded by their beauty!
Moroccan Tiles on Stairs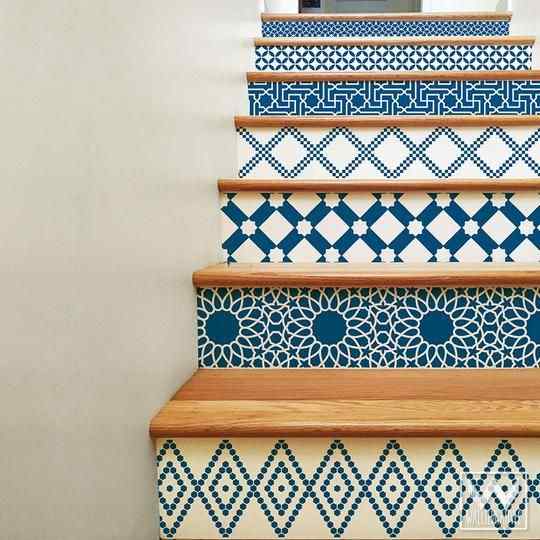 Why should your stairwell be uninteresting? Beautiful Moroccan tiles on the flooring or walls can give your drab stairwell a glamorous makeover. It will go from being a functional space used only to access the floors – to a more vibrant and colourful space that will add interest to your modern home. These tiles will easily blend in with any existing interior décor theme and improve your home's aesthetic appeal.
Read: 15 Wall-Mounted Dining Table Design Ideas
Moroccan Tiles in Your Bathroom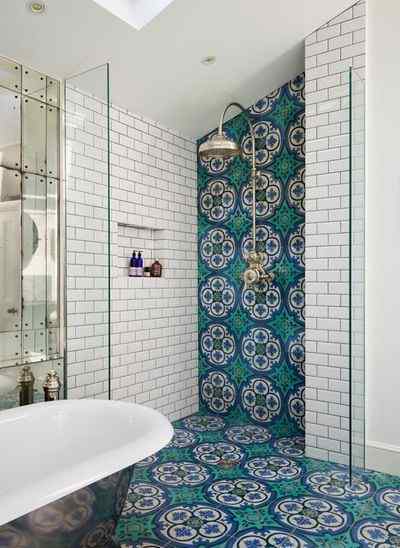 With black and white Moroccan floor tiles, you can create the Mediterranean-inspired powder room of your dreams. On the counter and sink, are there floor tiles? It is more effective than you might think. Bathrooms with white subway tiles are timeless, we understand. However, we believe that in spaces like these, colourful Moroccan design tiles have a fantastic place: the floor. Your bathroom can be transformed into a picture-perfect contemporary space by cladding your bathroom walls or creating an amazing Moroccan tiles backsplash in various hues and patterns. Rustic cabinets and a natural tone bathtub and basin will go well with it.
Moroccan Tiles in Backyard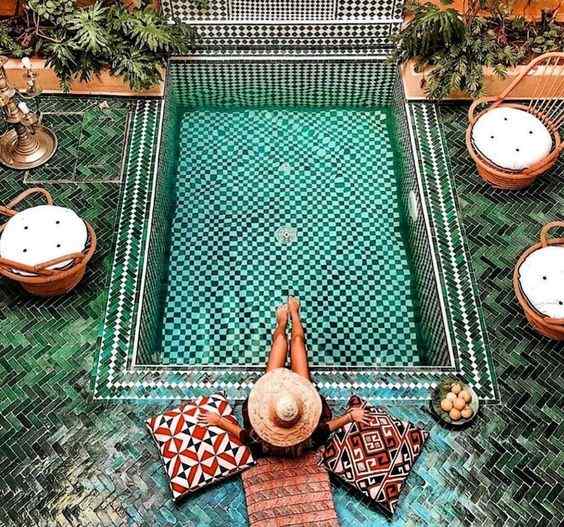 Moroccan tile flooring is sure to be a show-stopper in any backyard, big or small. The space appears brighter and more open when it is bathed in sunlight. We like how it contrasts with the traditional wooden bench and the brightly coloured cushions.
Moroccan Tiles on Pillars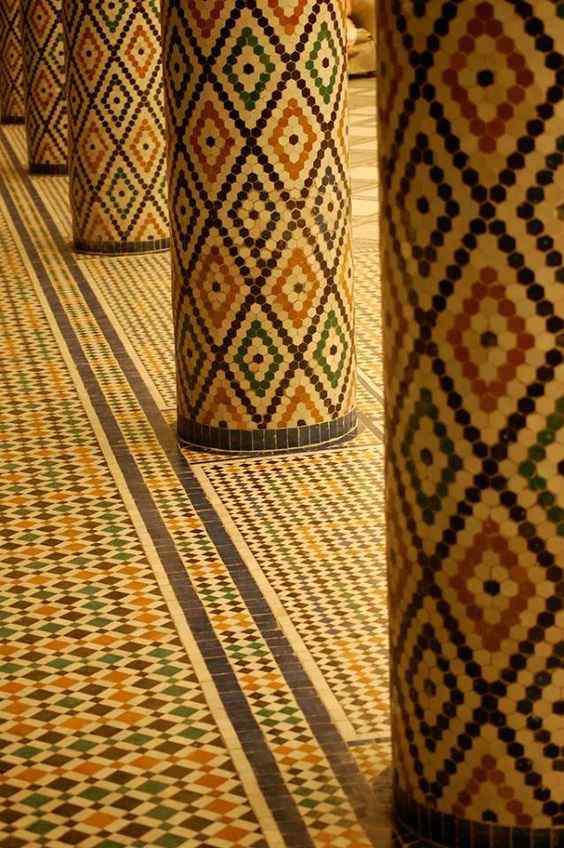 Pillars are a great way to add depth and character to the room, but they are often ignored when it comes to interior design. Do you have pillars in your living room that look dull and very neutral for your taste? With Moroccan tiles, you can turn them into a lovely centrepiece of the room. The best part about Moroccan tiles is that they can be installed on any surface be it flat or cylindrical (such as pillars).
Read: Everything You Need to Know about Interior Design Cost in Bangalore
The Aesthetics of Deep Boisterousness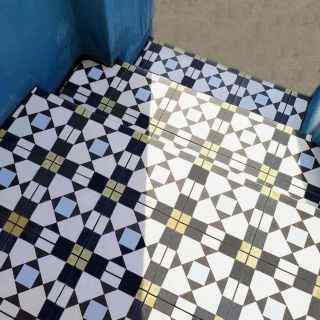 With boldly coloured furniture, this trending look foreshadows more deep assertive features. It is a goal for each corner to make an impact in their respective territories. One can find a vibrant play of plain textures and assorted colours. And the grey Moroccan tiles with a blue-brown colour palette find their place among the latest trend that is here to stay. Here, a black and white Moroccan tile or even a multi-coloured Moroccan tile can be used to enhance and beautify the space.
The Light and Pleasing Looking Moroccan Tiles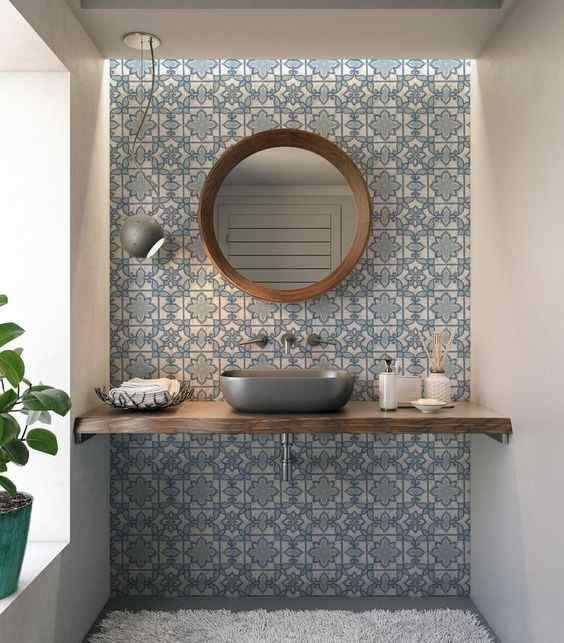 A calmly reflective and monochromatic look that allows for plenty of natural light and fresh vibes. It's an excellent opportunity to ensure a larger surface area for the Moroccan feature styling when the walls, floor, and furnishings are all playing sober. Playing with the surfaces is possible, as shown here, where the same set of patterns runs along the wall and the floor. To improve the look, it's best to keep playing in the monochromatic pit while deciding on the Moroccantile pattern stencil.
The Aesthetics of The Vindicate Withhold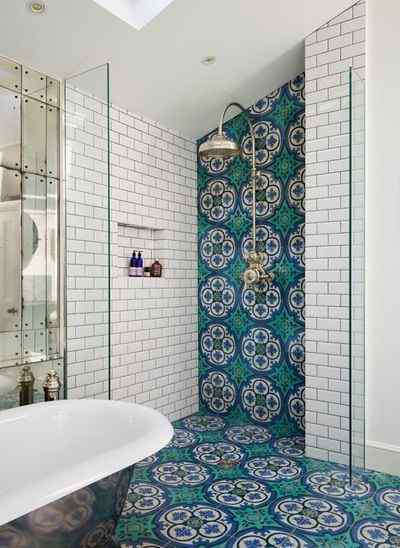 A space that a single element has completely taken over! The element has to be the space's most powerful punch. It can be a bright colour, textured, or even self-ornamented in a lovely way. With their bold outlook, the Moroccan style tiles are ready to justify their appearance and, in fact, overwhelm the other elements in this case. When playing with bold patterns on the floor, it's best to keep the walls, furnishings, and décor simple.
The Aesthetics of Checkerboard Play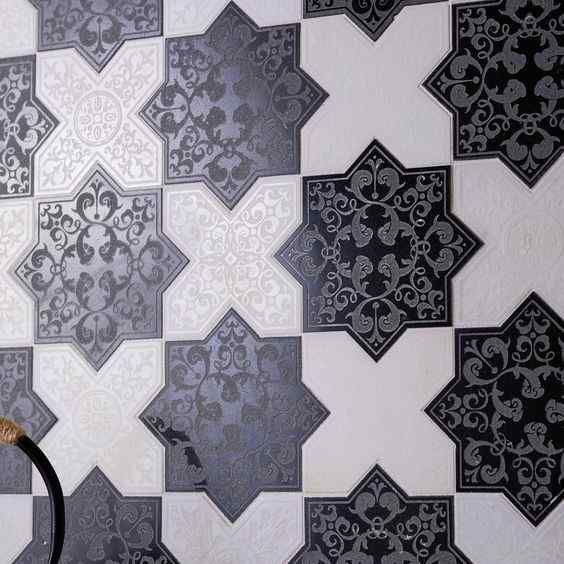 What's the point of patching an area with a single flooring pattern? Combining multiple patterns and designs can help to expand one's visuals. This trend involves grouping various figures to achieve a goal, such as grabbing attention, being directional, or highlighting a specific nook. This allows you to experiment with various tile arrangements and truly adhere to creating contrasting gestures.
Aristocratic Aesthetics in Two Tones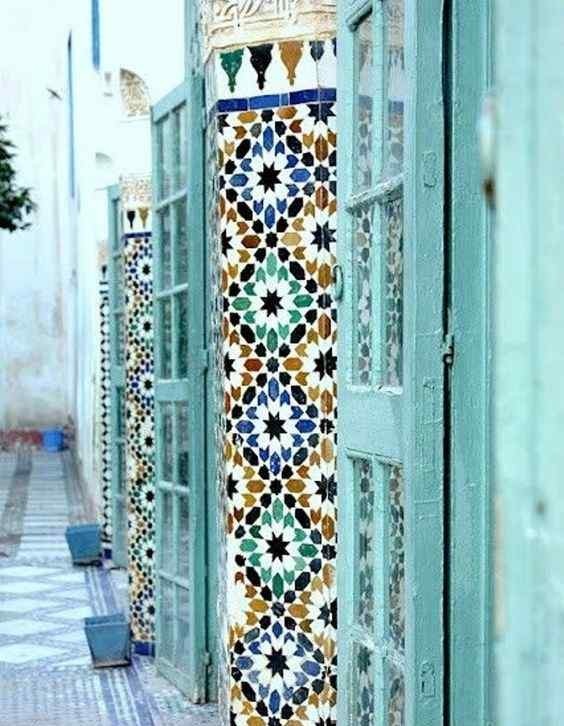 A person's preference for a particular aesthetic varies from one person to the next. So, if you prefer a clear-headed, clean look, this is your trend! Except for one, one can be very relaxed with the rest of the surfaces and allow that one to transform the space into a different semblance. Transforming and empowering that one surface can help elevate and change the atmosphere in the room. In such a curation, one can be entirely at ease with the colours, furnishings, and Moroccan tiles textures while also being acutely aware of the single element responsible for the overall transformation. The most straightforward option is a Moroccan mosaic tile, as you can't go wrong with a Moroccan-styled design.
Moroccan Tiles Price in India
Moroccan tiles are widely available in a wide range of prints and styles. The cost is determined by the size, pattern, and quality. It can cost anywhere from Rs. 65 to Rs. 300 per square foot.
Moroccan Tiles Maintenance
Moroccan tiles aren't tricky to keep clean if you follow a few simple cleaning guidelines.
It would help if you regularly cleaned such floors with water and a neutral cleaning agent.
You can clean with a soft cloth and a mixture of vinegar and warm water.
Clean stubborn stains with water and bicarbonate soda.
While vacuuming these tiles is safe, abrasive brushes and bleach or ammonia-based cleaners should be avoided.
Moroccan Tiles: Tips For Installing Them
Moroccan tiles do not have the same uniformity as other factory-made tiles. If you like the imperfection of hand-made natural elements, these tiles are for you.
Moroccan tiles are difficult to clean because of the protruding edges and corners. They are also unable to withstand harsh cleaning agents.
Moroccan tiles appear to be grout-free. Because the grout gets dirty more frequently, this method works well.
Moroccan tiles design in India has become a highly popular choice. You can count on these charming tiles to make your home more appealing and welcoming no matter where you put them. Why not get Moroccan tiles for your home now that you've seen how creatively they can be used? You can always count on NoBroker to help you connect with the best interior décor experts. For more information, please leave a comment below this article, our team will soon be in touch with you to assist further.

FAQ's
Q. What are Moroccan tiles popularly known as?
Answer – Zellij is the most appropriate name for the tiles that are most commonly found in Moroccan architecture. 

Q. Can Moroccan tiles be used for exterior walls?
Answer – Moroccan tiles are long-lasting and can be used on exterior walls as they do not get damaged by extreme weather conditions such as heat or rain. 

Q. What is the cost of Moroccan tiles in India in 2022?
Answer – Moroccan tiles in India are easily available and the price range between Rs. 60 to Rs. 300. The price depends on the quality and the size of the tile. 

Q. Is it easy to clean and maintain Moroccan tiles? 
Answer – Moroccan tiles are not tough or expensive to maintain. They can be easily cleaned with a floor cleaning solution and water. 

Q. Can Moroccan tile design be used on exterior pillars?
Answer – Yes, it is easy to install Moroccan tiles on exterior pillars as they are highly customisable.