Does your search for kitchen floor tile design ideas make you feel overwhelmed? Tile is all about having an authentic style moment, and there are now more shapes, sizes, colours, and finishes available than ever before, so it's easy to see why you're drawn to it.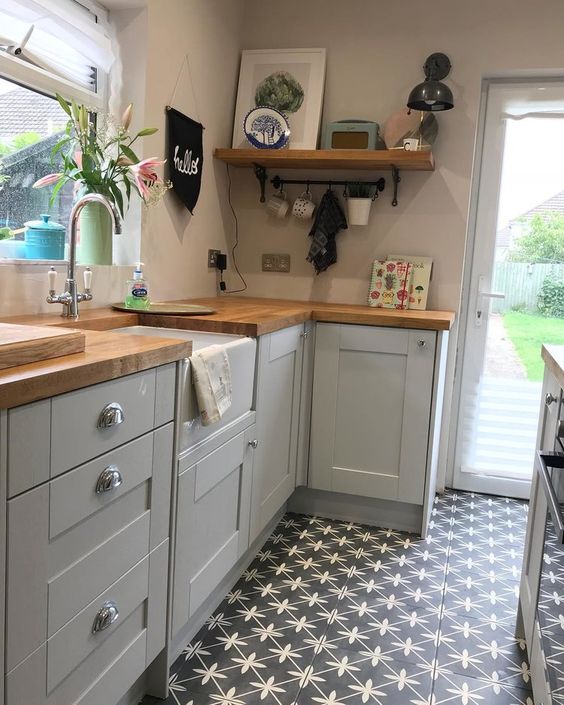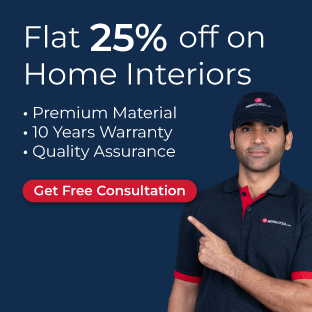 Since the kitchen is a high-traffic area and a frequent site of spills and other messes, tile is excellent for kitchen flooring. Tiles are not only more long-lasting, but they are also more waterproof and simpler to clean than wood, acrylic, or laminate.
Read: Top Window Glass Design Options for Every Room in the House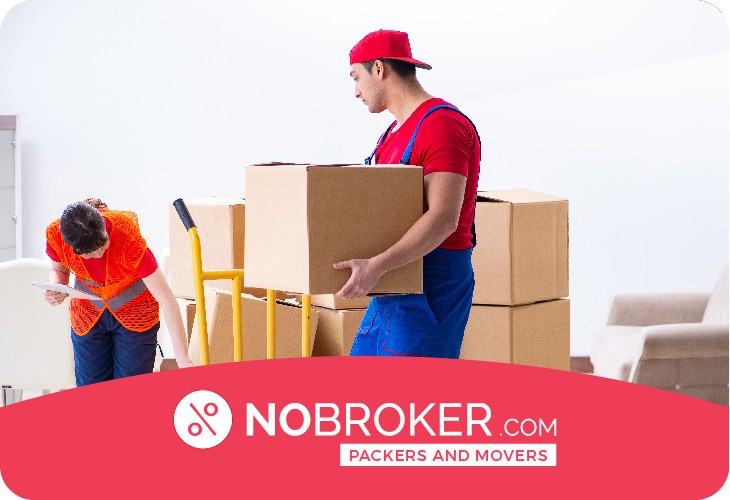 Book Best Packers & Movers with Best Price, Free Cancellation, Dedicated Move Manager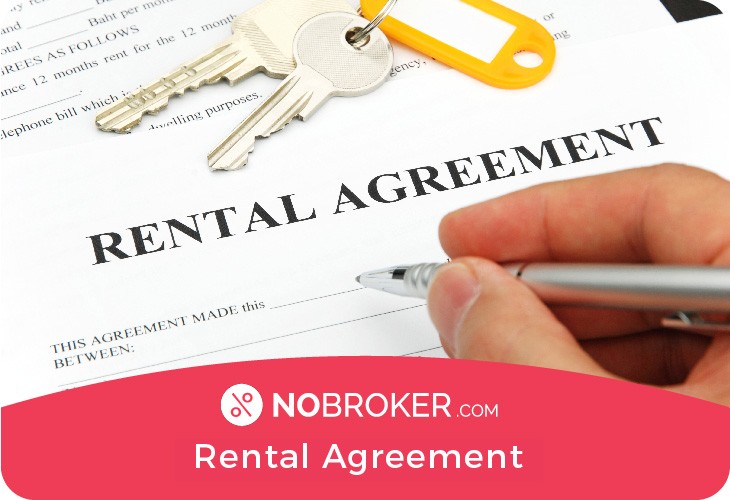 Get Rental Agreement With Doorstep Delivery, Super Quick & Easy
This is third
This is third
This is fourth
This is fourth
This is fifth
This is fifth
This is six
This is six
This is seven
This is seven
This is eight
This is eight
In addition, the kitchen floor tile ideas are limitless. Coloured porcelain tiles give your kitchen design ideas a unique flair, while natural stone's timeless appeal lends a touch of luxury or rustic charm, depending on your preference.
We've gathered tips from industry insiders and some of the latest kitchen floor tiles designs with pictures of 2022 to help you choose the perfect tile for the heart of your home.
Best Tile Shapes for Kitchen Floor
Selecting kitchen tiles involves choosing from a variety of shapes and sizes to suit your kitchen's aesthetics and budget. Opting for high-quality tiles for kitchens and utility rooms offers durability and water resistance. Your choice should align with your desired look and budget, with larger kitchens typically incurring higher tile costs, while open-plan kitchens can benefit from cost-effective large-format tiles due to easier installation.
Which colour is ideal for a kitchen floor tile design?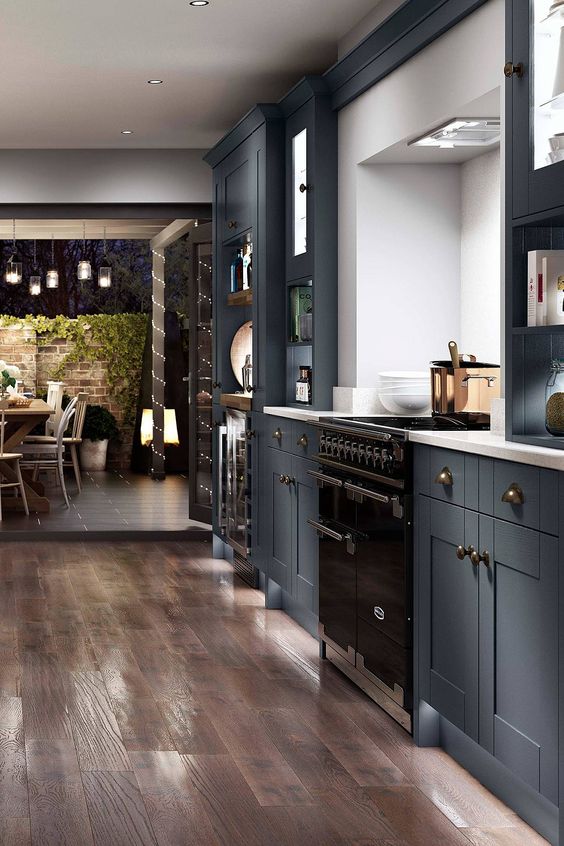 One of the most important considerations is to choose a floor colour that goes well with either a solid colour or natural wood treatment on the kitchen cabinets. A kitchen's colour scheme may be brought together using floor tiles that match the worktops and splashbacks.
Kitchen Floor Tile Designs with Pictures
Here is a carefully curated collection of kitchen floor tile pictures to inspire your personal design concepts.
1. Mix and match terrazzo tiles on the floor and walls for a contemporary look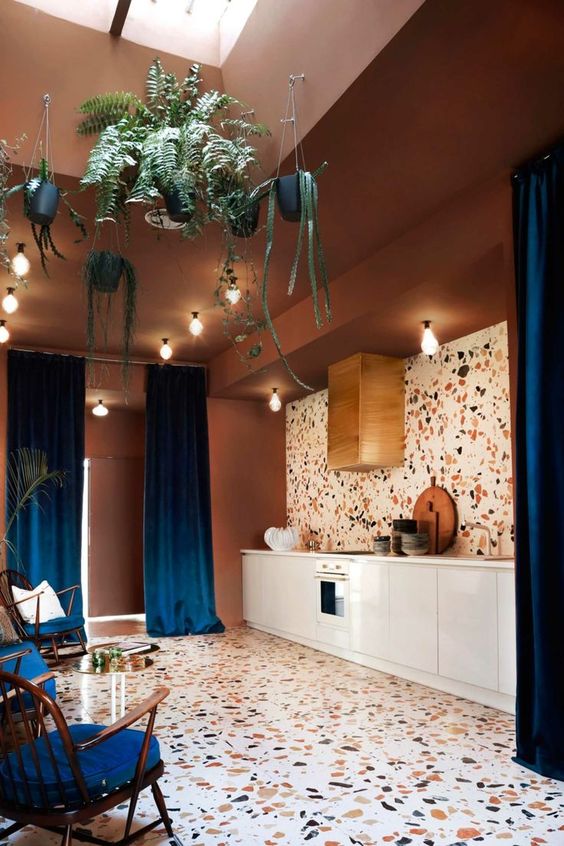 On-trend terrazzo kitchen room floor tiles design adds colour to otherwise basic kitchen cabinets. In addition, an open-plan kitchen-diner will have a more seamless appearance with matching floor and wall tiles.
To get a colourful fragmented appearance, marble, granite, quartz, or glass shards are mixed with a resin binder to form terrazzo, a composite material. Terrazzo tiles are an excellent option for kitchens and bathrooms since they are very hard-wearing and simple to clean.
Use terrazzo floor tiles with colour dots that match your kitchen cabinets, worktops, or backsplash for a colourful, coordinated design.
Read: 5 Ways To Brighten Up Your Walls
2. Rustic Wooden Finish Kitchen Floor Tile Design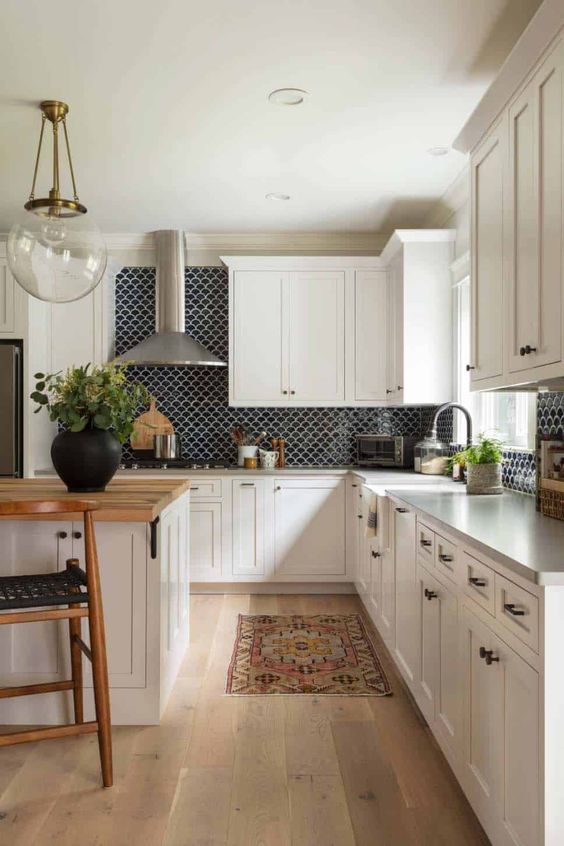 Although it's difficult to beat a natural wood floor for kitchen floor tile ideas, there are some drawbacks. Natural wood may warp and bend if exposed to water, making it unsuitable for kitchens or utility rooms.
In the good news, you can have all the benefits of a natural wood floor without drawbacks with several persuasive alternatives. Colour and texture options for wood-effect tiles vary from light blonde Scandi designs to dark, cosy woods.
It's a breeze to install these plank-like tiles since they are durable, simple to clean, and resistant to splashes and spills. Lay plank-effect tiles lengthwise to get the appearance of actual wood floor planks.
3. Spanish Style Kitchen Floor Tiles Design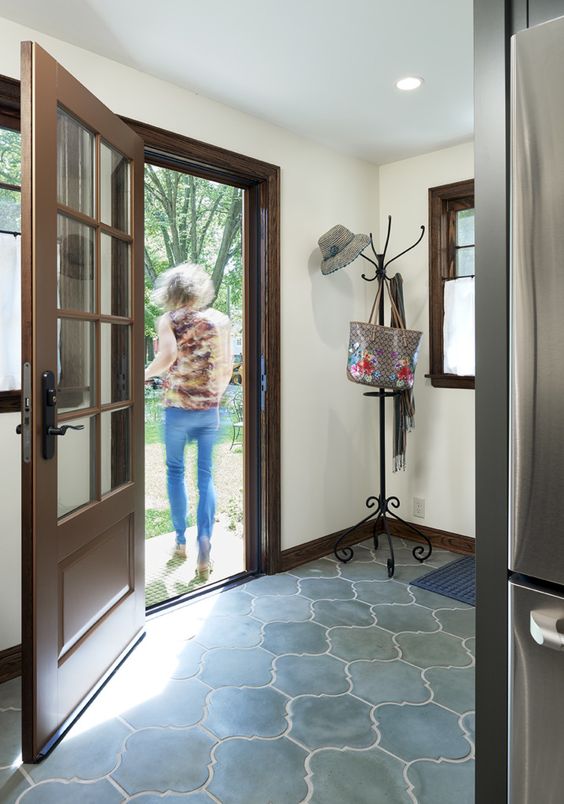 We're looking at a kitchen with a Spanish motif that's both slick and stylish. In conjunction with a functional kitchen arrangement, the ornamental kitchen floor tile creates a welcome atmosphere that radiates warmth. Terracotta floor tiles with a blue octagon pattern are the highest quality in the kitchen. The tiles are long-lasting, simple to maintain, and have a genuine old-world beauty.
4. Checkerboard Style Kitchen Floor Design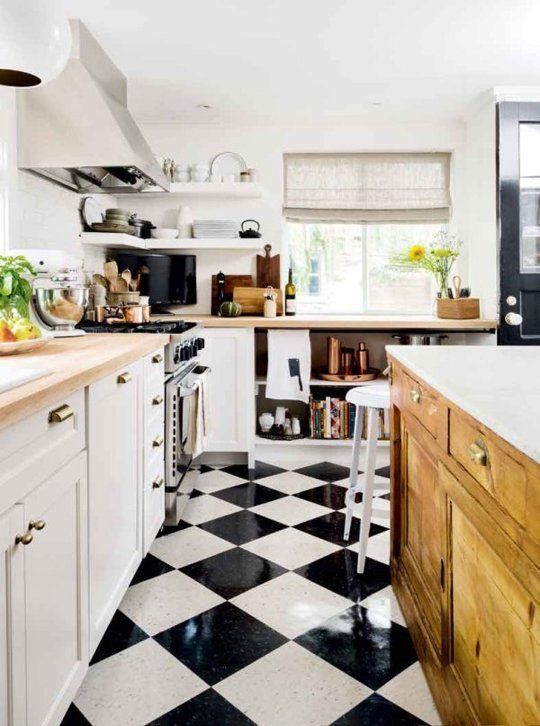 Monochromatic Checkerboard floor vinyl tiles in black and white provide a vintage air to this room's decor, making it seem more antiquated. An all-white kitchen with black-and-white equipment complements the traditional neutral aesthetic created by the black-and-white tile floor. This combination is quite popular. Clean, bright, and pristine, it brightens up the kitchen.
Read: Stylize Your Home with These Trending Ceiling Light Designs That Look Unique and Create a Statement
5. Checkerboard Part Two – The tiles that are misaligned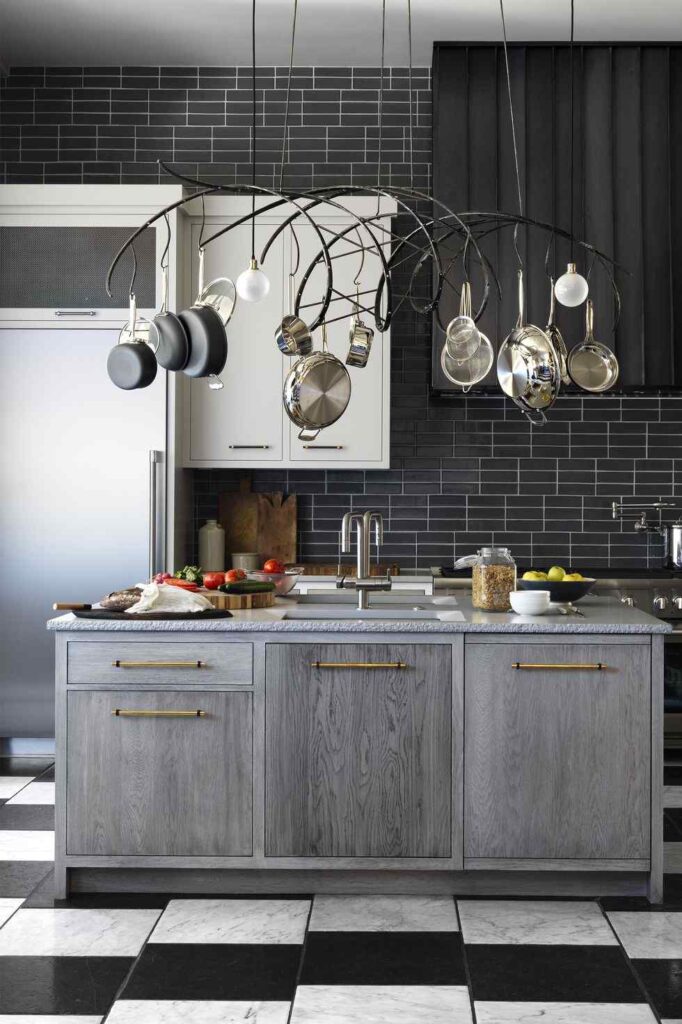 This ultra-sleek, industrial-style kitchen is deserving of nothing less than a beautiful, eye-catching backsplash. This modern take on a checkerboard is one of our favourites, thanks to the slightly misplaced, out-of-the-sync tiles that prevent it from looking overly polished. Does this give you a 3D floor vibe? For me, it does!
6. Tile for the kitchen floor in a neutral colour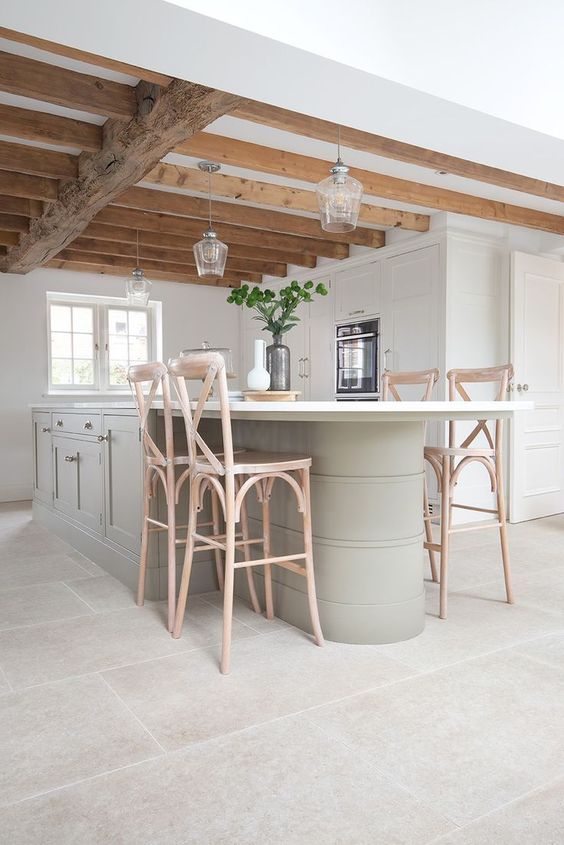 This rectangular tile design is a classic option for kitchen floor tile because of its durability. Stunning large-format tiles in a natural colour palette provide the basis for this clean and modern environment. We like the white, cottage-style decor that surrounds the space and how it seems both opulent and like a place where a family can enjoy spending time together.
7. Natural stone floor tiles that have been polished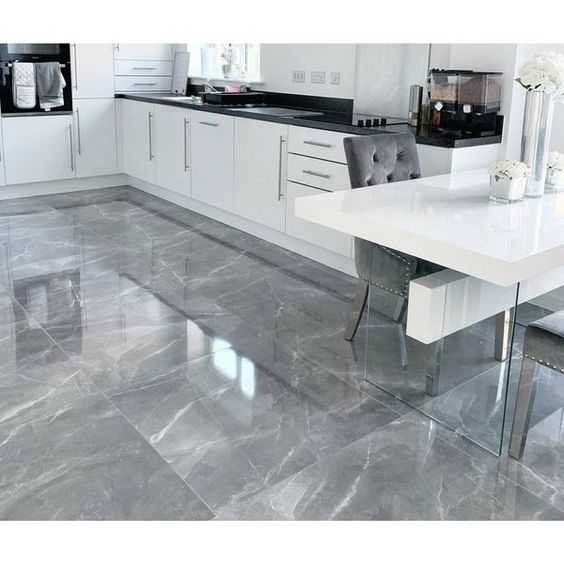 The traditional combination of black and white is always a good option, and marble is one of the most popular materials for a kitchen remodel. It is available in various patterns and colour combinations, and it enhances the overall design of any area. You may discover that it is more costly than other tile options, but many believe that the additional expense is well worth it.
Read: The rise of Parquet Flooring in India: A Guide
8. The spirit of adversity – The kitchen floor is a patchwork quilt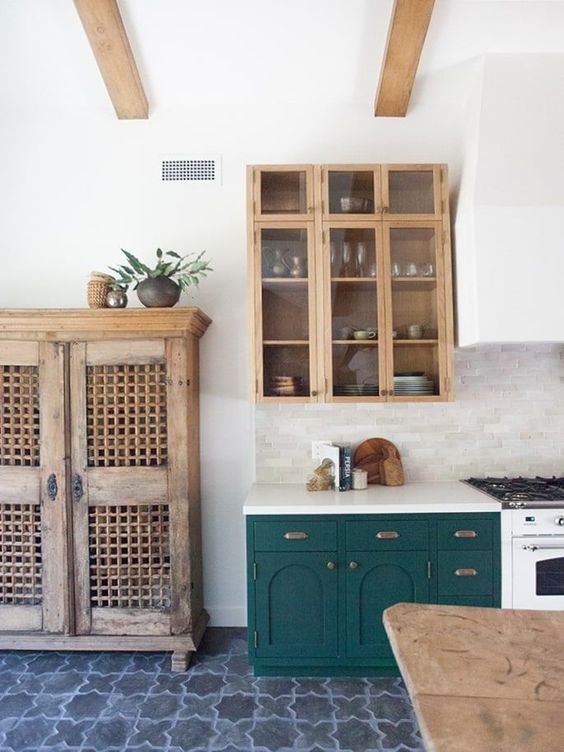 With its varied and intriguing design, this one-of-a-kind kitchen does not go too far from the essential simplicity of the kitchen's overarching aim. As a result, the brightly coloured tiles counterbalance the more neutral tones of the walls and wood floors. In addition, the patchwork of antique patterned kitchen vinyl floor tiles designs creates the illusion of depth and dimension.
9. Kitchen floor tiles in yellow and beige with a cheese accent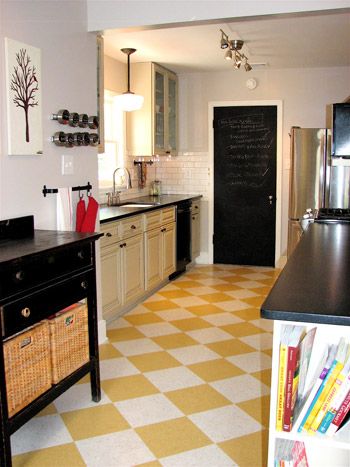 This bright yellow chess tile floor is very unexpected. Using this kind of flooring in a family-friendly environment, a vintage design or an eclectic vision is appropriate. If you believe yellow is too bright but still enjoy the design, try using a more neutral tile colour such as white or grey to compliment the yellow. You will quickly discover that this room will soon become one of your favourite spaces in your house. Thisis also a perfect option for white kitchen floor tiles.
10. Patterned ceramic tiles in a small size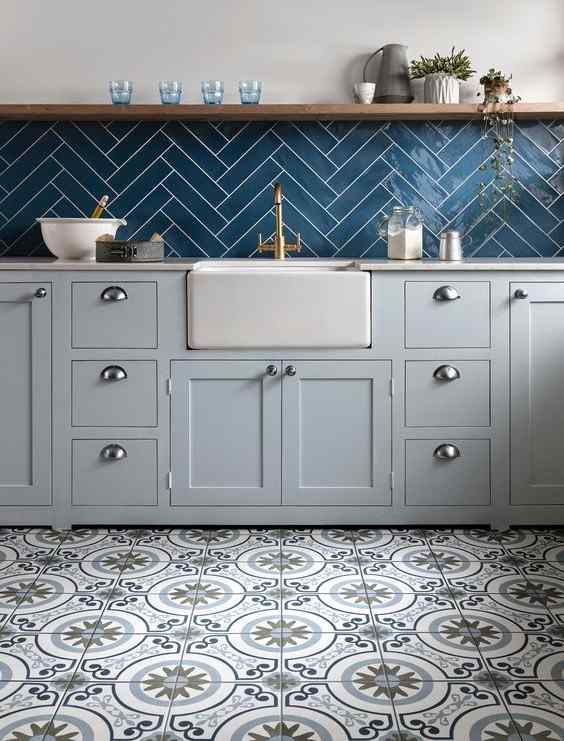 If you want to bring some life into your kitchen, consider placing a tile with a bit of design. Its complex black and white geometric design adds brightness and depth to this contemporary kitchen, which is decorated with various other tiles. You will discover that patterned tiles naturally become the main focus of your home.
11. Turn up the heat using high-quality vinyl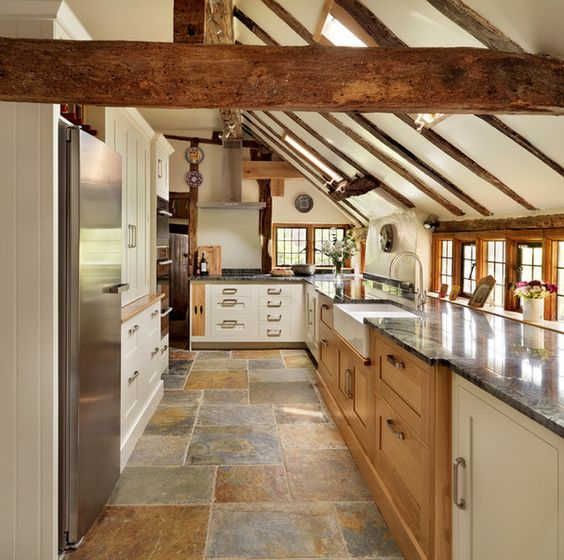 Natural slate is an excellent choice for a contemporary, rustic kitchen since it is dark and dramatic. On the other hand, the natural slate may be abrasive and chilly to the touch, making it unsuitable for use with delicate items like china and glass.
Realistic slate-effect patterns are available in LVT flooring (luxury vinyl tile) that are warm and less abrasive to the touch. High-end LVT flooring is also available in tile and plank forms, creating a realistic arrangement that appears very accurate and similar to the actual thing as much as possible.
It's vital to consider the age of the structure, the atmosphere you're going for, and the size of the area you're decorating when picking a colour for your house. Sizing matters a lot when it comes to choosing a laying pattern. If the space and the design are of equal size, the result will be the same. For example, a basketweave pattern would work well in a small kitchen, while a flagstone pattern would work well in a large one.
12. With green leafy tiles, you can bring the outside in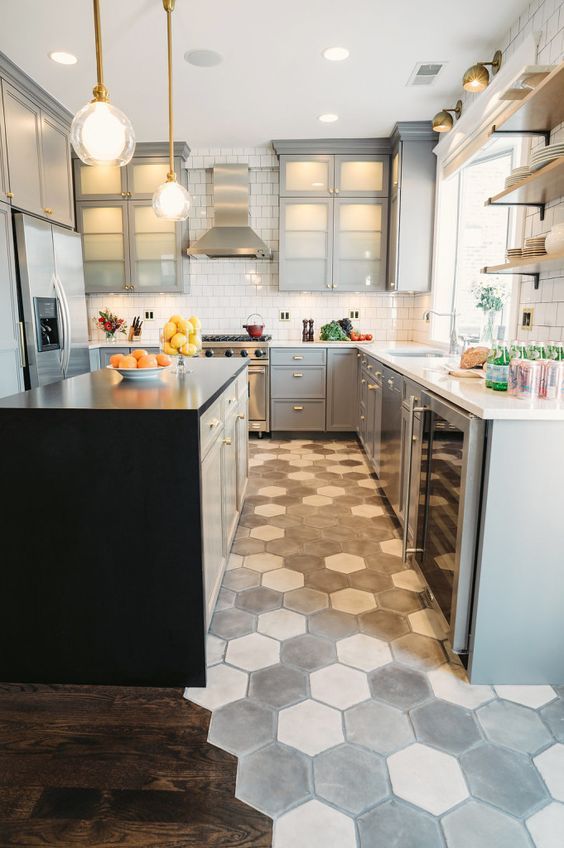 Decorative floor tiles, such as this one, may inspire a whole design plan. It's possible to incorporate patterns into a space without using hectic patterns and bright colours by using hexagonal tiles instead of square ones. You may create a honeycomb impression by using plain-coloured tiles with contrasting grout, or you can experiment with a multi-coloured mosaic look by using many tonal tones of the same colour.
13. Use colourful vinyl to create a tiled impression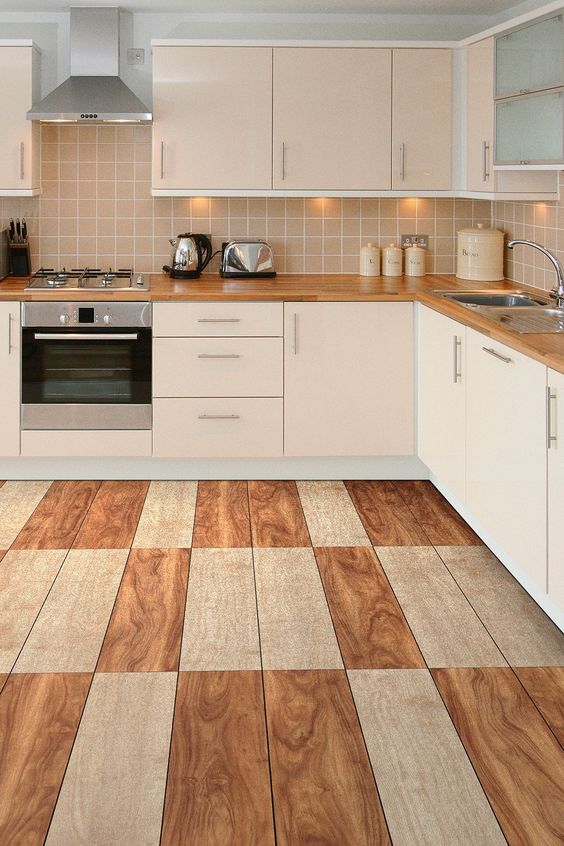 Vinyl flooring is one of the best options for a warm and cosy feel underfoot. It's a terrific option for kitchens where tiny ones are often barefoot since it's durable, easy to clean, and low-maintenance.
For a fraction of the price of genuine tile, the current tile-effect designs from vinyl, which were formerly a taboo subject, now have a lot of fans. Self-adhesive vinyl tiles (like these) or sheet vinyl on a roll may be used for DIY installation.
14. Mix and blend with fun pastels for a fun look.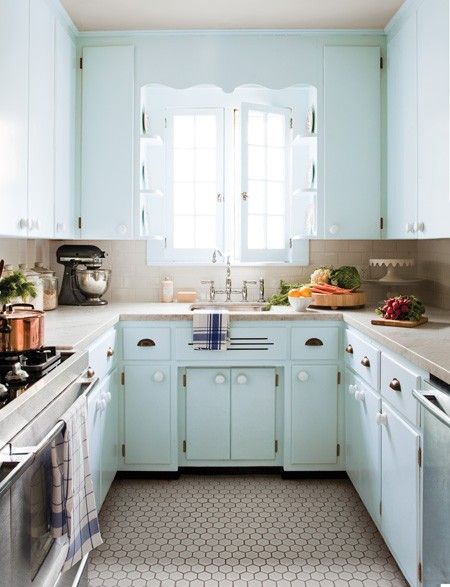 In a contemporary kitchen diner, go for a lively Miami-inspired motif. Choose two or three essential colours and use them again throughout the concept to coordinate patterned floor tiles, cabinets, and furnishings in a whimsical pastel palette.
Tiling it, the outward-facing side of a kitchen island may be made the centre of attention. Use a variety of floor tile formats to provide interest, but stick to the same soft pastel colour scheme throughout.
15. Floor Tiles for the Italian Kitchen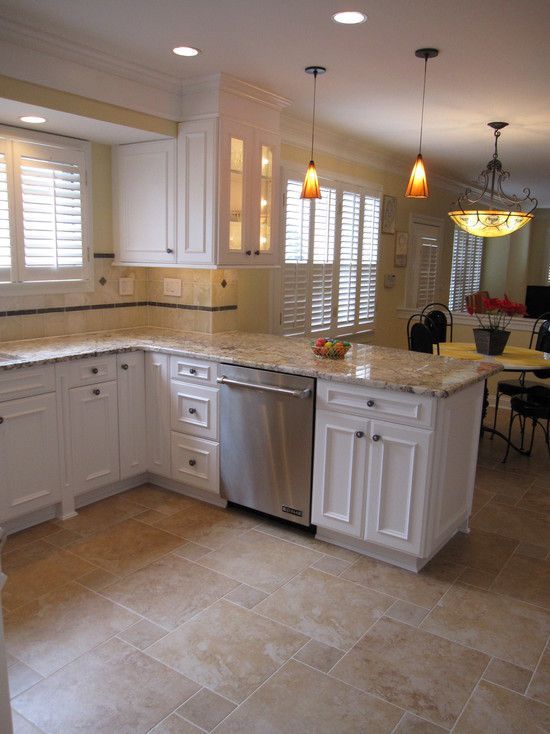 A monochrome aesthetic is achieved in this kitchen using cement-coloured stone fusion Italian tile with subtle patterns. The tiles have a long lifespan, are low maintenance, and may be used in any setting. The stone kitchen floor tiles look stunning with the white and grey cabinets. The furnishings and the backsplash match the colour palette of the whole kitchen décor.
16. Floor Tiles with 3D Effects for the Kitchen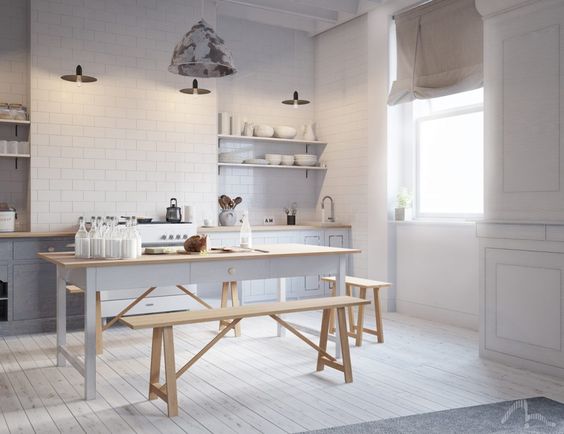 Using these fantastic 3D floor tiles, you can create a work of art in your kitchen. You may improve your kitchen's design with white floor tiles and create beautiful tile art. These tiles are non-slip and water-resistant, making it easier to work in the kitchen and allowing you to feel more connected to nature. Kitchen floor tiles from 3D Kajaria are an excellent example of a company that specialises in this kind of tile and can meet all of your needs.
Wooden Floor Finish for Kitchen Floor Tiles Design
Opt for wooden floors with a deeper finish since kitchens tend to get messy. Light-coloured surfaces tend to need more maintenance. One of the most important considerations is to choose a floor colour that goes well with either a solid colour or natural wood treatment on the kitchen cabinets. A kitchen's colour scheme may be brought together using floor tiles that match the worktops and splashbacks.
The Best Way to Clean your Kitchen Floor Tiles
Kitchen tiles grout can be very easily cleaned using baking soda and water. Because of the high volume of activity and the potential for undiscovered spills, floor tiles might accumulate more dirt and staining over time. To make sure they sparkle, follow our step-by-step instructions:
Before cleaning the kitchen floor, vacuum it to remove any loose dirt and debris. You may use either a soft microfiber cloth or a mop to scrub the floor with a high-grade floor cleaner combined with warm water.
Try to avoid walking on the floor until it's completely dry! Repeat the procedure until you're satisfied with the results, if necessary.
To keep your kitchen floor tiles looking their best, we have a variety of tile cleaning supplies. Many treatments are available, from heavy-duty cleaners to sealers that preserve the tiles.
Best Way to Clean Grout of your Kitchen Floor Tiles
The grime and oil in a kitchen may readily discolour the grout, making it the most challenging portion of the tile to keep clean. Even if your tiles are immaculate, discoloured grout may detract from the overall appearance of your kitchen.
Read: Best Wooden Centre Table Designs for Indian Homes
There are various ways to clean your grout, but baking soda, warm water, and a toothbrush is the simplest and easiest way!
Simply:
To make a paste, combine the baking soda with warm water. Warm water or white vinegar may be substituted if desired!
Use your toothbrush to get down into all grout thoroughly in between the tiles.
Rinse thoroughly with warm water and a clean towel after 30 minutes with the paste still on.
Do further work in those areas.
Cleaning and maintaining your kitchen's tiles regularly
If you want to extend the life of your tiles, there are a few simple techniques to keep them looking their best.
Cleaning and maintaining your kitchen tiles regularly.

Regular vacuuming of your kitchen floor tiles will help keep food and grime off of them for as long as possible.
Avoid stains by cleaning up any spills as soon as possible and regularly wiping tiles to remove dirt and oil.
These simple techniques can make cleaning your kitchen tiles simpler and less of a burden if you follow them consistently. This will keep your kitchen appearing clean, and fresh every day, preventing grime buildup.
How Can NoBroker Help?
By now, you must have a fair idea about the various trending kitchen floor tiles design and how you can style them to match your decor and aesthetics. The tiles don't necessarily have to be coloured. You can create a statement with minimal black and white patterned tiles too. Flip through our blog section if you want more home interior design tips. If you are stuck choosing the right decor for your home, give us a call. NoBroker interior designers will discuss all available design options and guide you through the process so you can make an informed decision. Lastly, which one of these designs did you like the most?
Read More Kitchen Related Blogs

FAQs
Q-1 What is the best floor for a kitchen in terms of durability?
A-1 A kitchen floor made of ceramic tile, hardwood, bamboo, or natural stone is the most long-lasting. These floorings have their advantages and disadvantages, but with appropriate maintenance and safety considerations, they may all survive for many years.
Q-2 Is it possible to colour kitchen floor tiles?
A-2 Floor tiles may be painted. There are better ways to renovate your home, but this won't last. In the long run, the paint won't be able to stand up to the rigours of daily use. It would help if you used semi-gloss or gloss paint instead of flat paint to get the most excellent results. Oil-based paints are more durable than latex paints.
Q-3 Are pastels a good option for kitchen flooring?
A-3 Sure. Pastel-inspired flooring and furnishing look great in a contemporary kitchen. However, balance out the pastel with some whites or neutrals.
Q4 What are some unconventional kitchen flooring options?
A4- Depends on how far you are willing to experiment. You can play it safe by opting for slate finish tiles for a rustic vibe. Else try Spanish or Italian inspired ceramic/mosaic patterned tiles in bolder colours for creating a statement.
Q5 Is vinyl flooring a good option for kitchens?
A5- Vinyl flooring is one of the best options for an underfoot warm and cosy feel. It's a terrific option for kitchens where tiny ones are often barefoot since it's durable, easy to clean, and low-maintenance.