In a u-shaped kitchen design, built-in cabinets, worktops, and appliances are installed on three sides, with a fourth side left open or having a cased entrance or entry door as the focal point. In bigger areas with sufficient width, u-shape modular kitchen designs are sometimes equipped with a freestanding island or seats for guests. In smaller rooms, a peninsula may be connected to one side of the room to give seats and more counter space while still providing enough space for moving in and out of the kitchen. U-shaped kitchens may be constructed into three walls of a dedicated room with an entrance door or cased opening on the fourth wall, making them ideal for tiny spaces.
Here are some suggestions for designing your kitchen around u shaped modular kitchen that will assist you in making it more useful, elegant, and joyful to use in the process.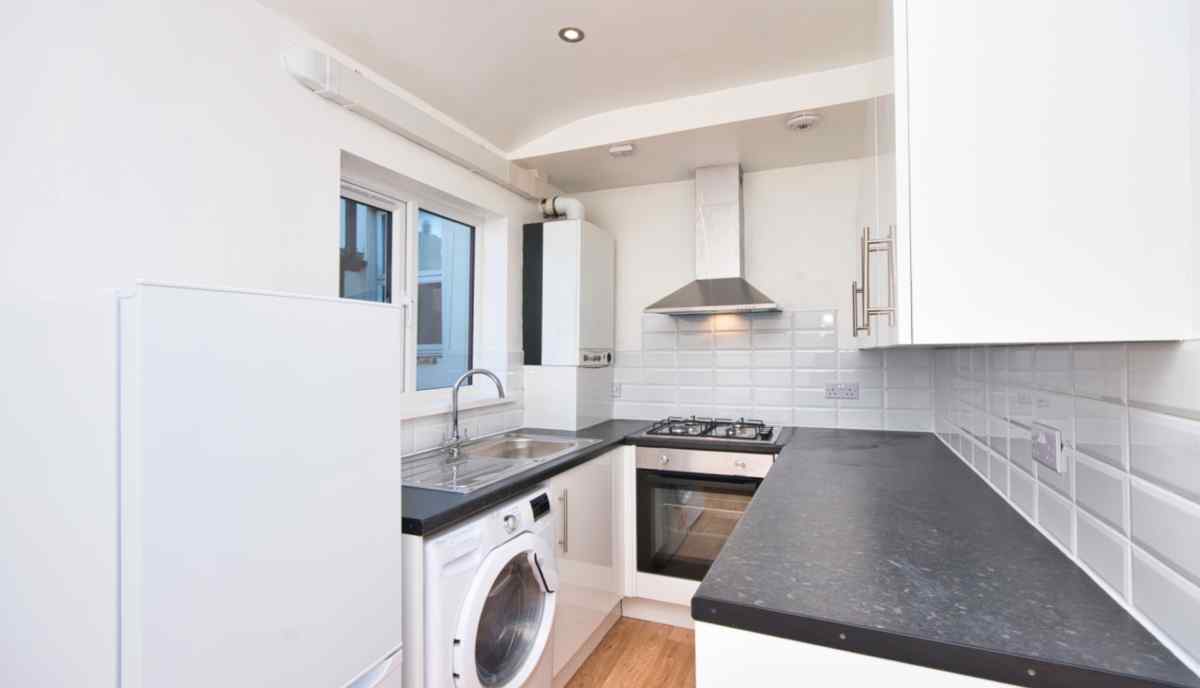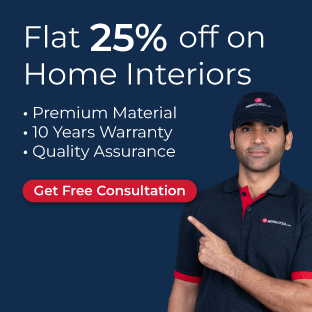 Rustic U-Shaped Modern Modular Kitchen Design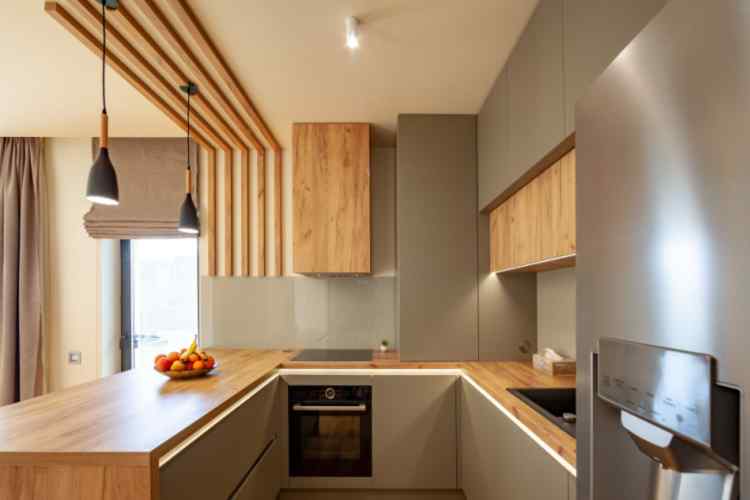 This kitchen design incorporates contemporary and rustic elements to create a stylish and functional modern kitchen. It combines wood with white cabinetry and a black kitchen surface for a striking look. The beautiful lighting in the kitchen adds to the space's overall appeal and perfectly illuminates the rustic-looking kitchen trolley cabinets.
Read: The Latest Trends in Elevation Design for 3-floors Building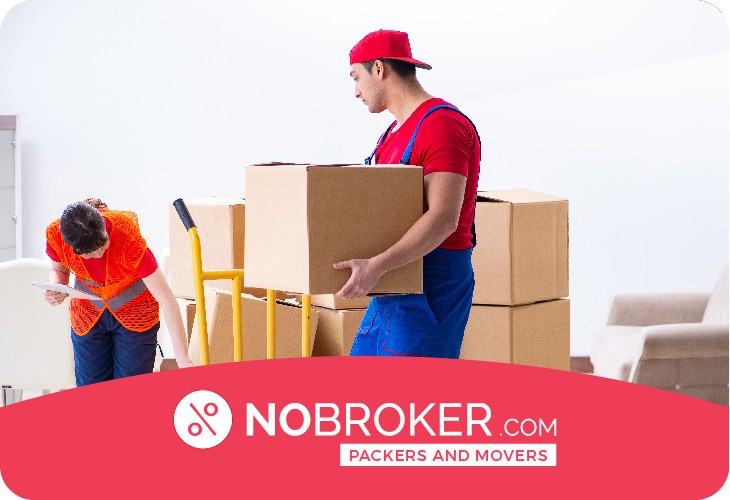 Book Best Packers & Movers with Best Price, Free Cancellation, Dedicated Move Manager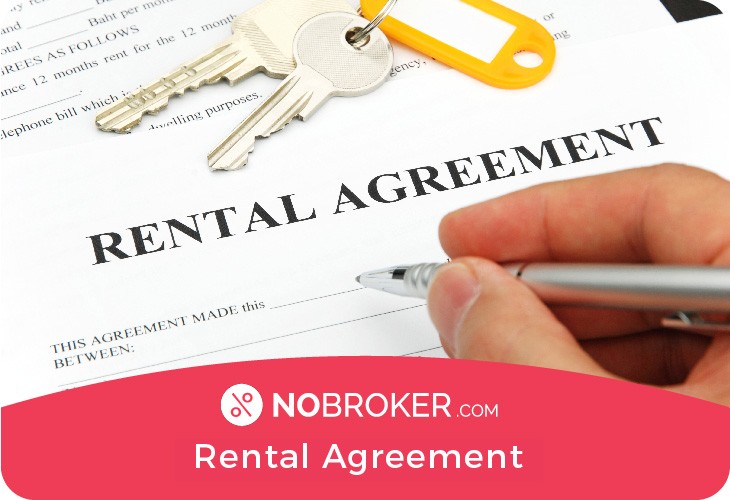 Get Rental Agreement With Doorstep Delivery, Super Quick & Easy
This is third
This is third
This is fourth
This is fourth
This is fifth
This is fifth
This is six
This is six
This is seven
This is seven
This is eight
This is eight
Modern U-Shaped Kitchen Layout with Large Storage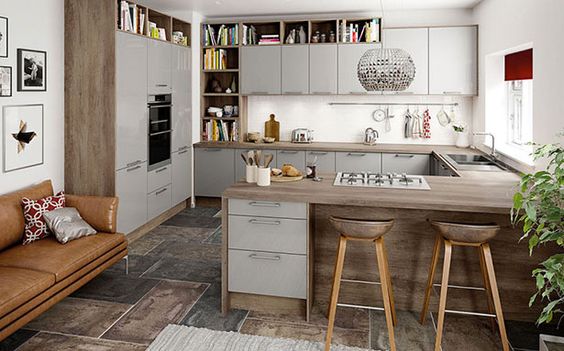 Gorgeous and functional, with a modern u-shaped kitchen, this kitchen is a great place to cook and entertain. If you're looking for storage, you'll find plenty in this room. For storage purposes, this kitchen design makes use of cabinets and loft space. The main aspect of this style of kitchen design that attracts many homeowners is that it hides some of the storage cabinets from the guests and enhances the look of the space.
U-Shaped Kitchen Design with a Window to Dining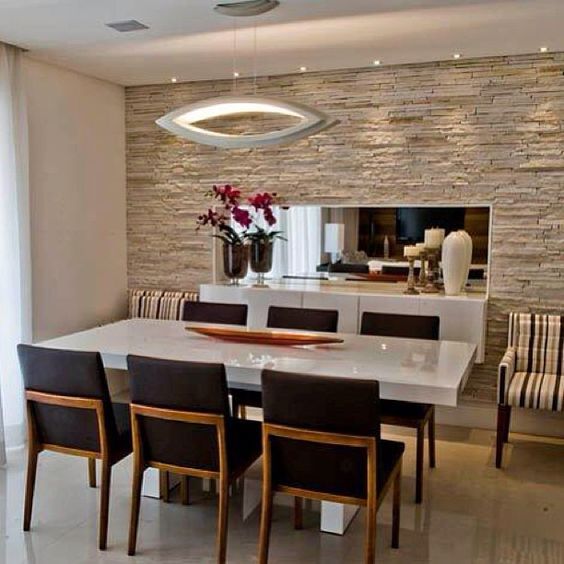 A well-lit kitchen with windows is a certain hit. Windows allow for plenty of natural light to enter the kitchen while also being functional. If there is no chimney in the kitchen, the kitchen windows of a modern u-shaped modular kitchen may assist in removing smoke from the room.
U Shaped Kitchen Design in Bright Yellow Shade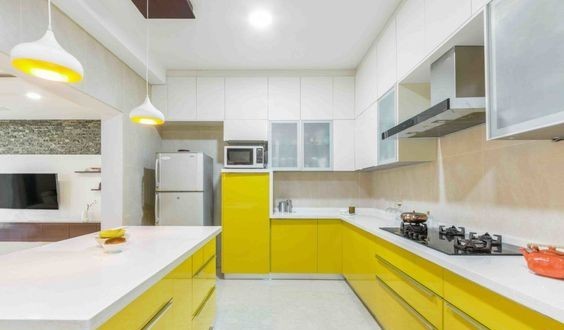 You want to be able to get some work done in your kitchen. This bright yellow u-type kitchen design makes use of colour psychology to ensure that you are at your most productive while working in the kitchen. The contrast between the yellow and the white cabinetry and black refrigerator creates a gorgeous kitchen. The brilliant confluence of yellow and white is perfect for a kitchen as it truly lifts the mood of the persons using the kitchen.
A Simple U-Shaped Kitchen Design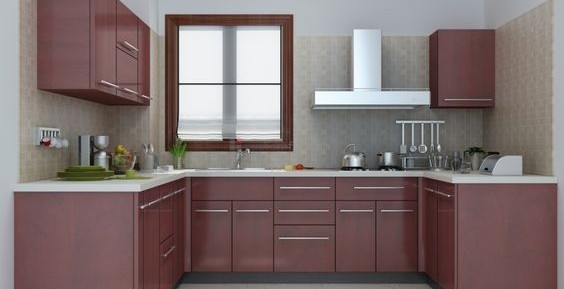 If you're a fan of the minimalist aesthetic, you'll like this limited space small u-shaped kitchen design. An open kitchen with plenty of natural light and vegetation to provide a pleasant atmosphere in a clutter-free area that prioritises utility above form in terms of design. The simplicity of this design is elevated by the fact that this is the most efficient use of available space.
Read: Everything you Need to Know about 1 BHK Interior Design Cost in India
U-Shaped Kitchen Design with an Island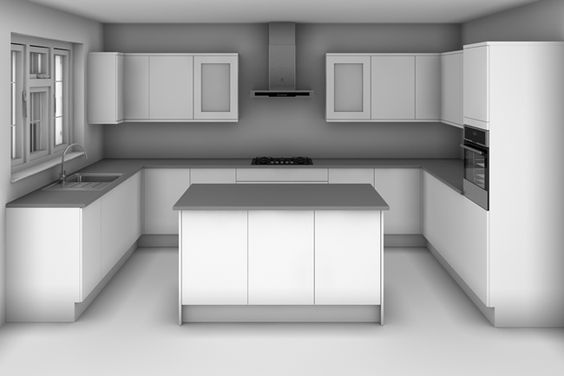 A kitchen island provides convenience without being overbearing in its size. It has a wide range of applications. In addition to serving as a breakfast counter and storage space, modern small u-shaped kitchen designs may also serve as a cooking surface. If you want to take your kitchen design to the next level, it may be included in the design of your cabinets.
U-Shaped Kitchen with a Central Dining Table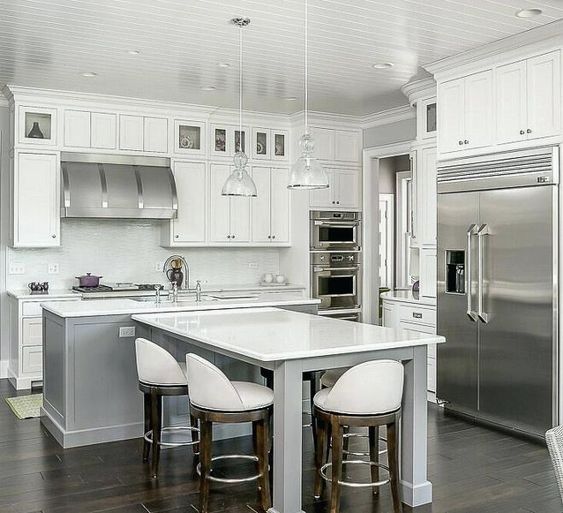 If your u-shaped kitchen design in Indian homes is big enough, you may always add a kitchen island to the space. However, suppose your kitchen has enough counter and storage space around the perimeter and enough depth or breadth in the middle to accommodate a sitting area. In that case, some people prefer a dining table and chairs rather than bar seating around an island.
Read: Bathroom Floor Tiles Design: Your 2023 Guide to Choices & Trends
U Shaped Kitchen Design Near Window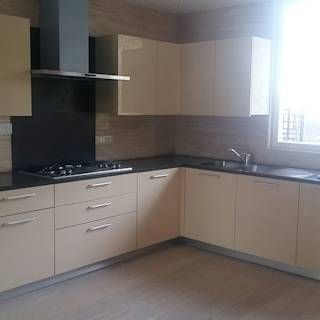 Dark paint on the far wall and the base of the kitchen island will create a focal point and define the area, preventing your limited space small u-shaped kitchen designs from looking too boxy and one-note in appearance. If you want a lighter profile, an antique or imitation farmhouse table or a sculptural live edge type dining table is a good choice since they have more presence but can be swapped out more simply if your preferences change.
U-Shaped Kitchen Design Created by Pendant Lighting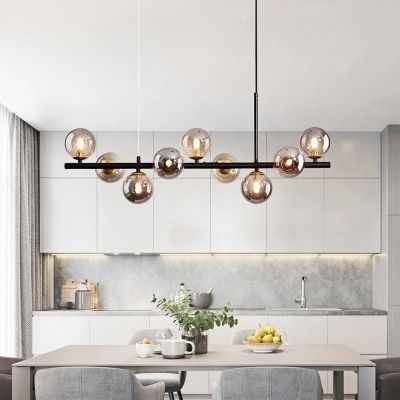 Having a vast u-shaped kitchen plan might make you feel like you're in a cave. Hanging pendant lighting above the island or dining area in the centre of the room will assist in defining the sitting area and fill some of the empty vertical space, making the kitchen a more pleasant place to spend time in and more inviting.
A Neutral U-Shaped Kitchen Design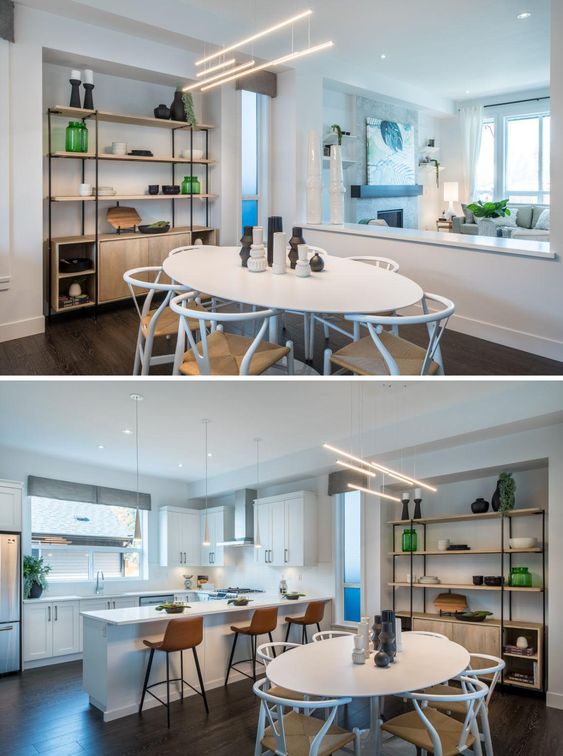 Even though they are becoming less prevalent nowadays, older houses and flats often include smaller self-contained rooms that house the kitchen. Although restricting your kitchen to a single room with a u-shaped modular kitchen design with a window form may seem like a disadvantage in an era where open-plan kitchens appear to be the norm, there are many benefits.
Make A Statement with a Dramatic U-Shaped Kitchen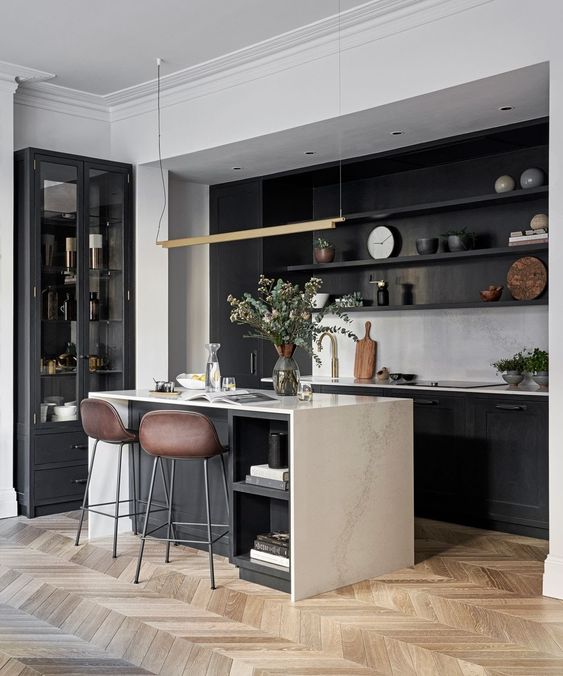 In a u-shaped kitchen cabinet design with equal sides, create a focal point on the far wall with a stunning piece of slab stone over the range, statement pendant lighting, striking tilework, or a large-scale piece of art to create some low-key drama. In such a setting everything will be within a few steps of where you are, which will do cooking and cleaning up a breeze.
Read: Grill Design for Veranda: How to Choose the One for Your Space
U-Shaped Kitchen with Open Shelves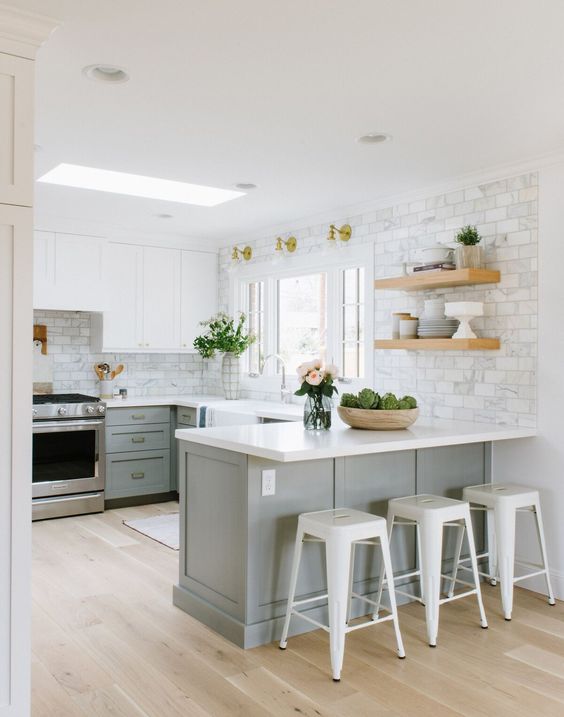 To avoid the sensation of claustrophobia that might accompany a U-shaped small modular kitchen design, open or floating shelves can be used on the walls in place of cabinets. Open storage should be kept tidy with good organisation, and don't miss the style chance to add colourful glass, accessories, artwork or other design pieces to make the area seem more welcoming and cosier.
U Shaped Kitchen Table with a Round Top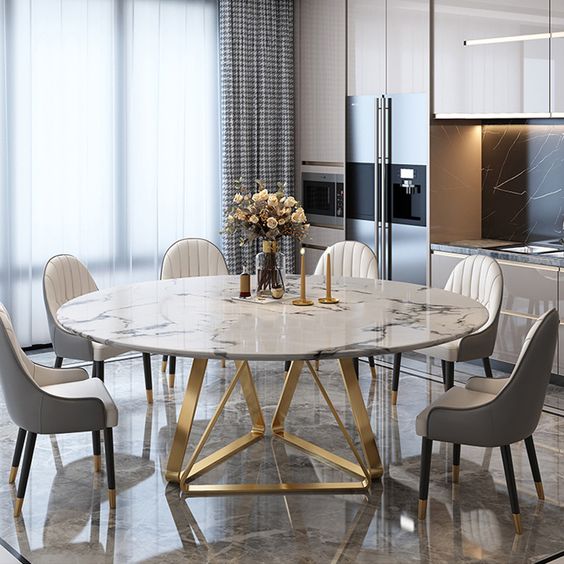 To preserve an ordered and minimalist appearance, a U-shaped kitchen with continuous built-in floor-to-ceiling storage might be beneficial. While many people prefer to include a square or rectangular island or table in the middle of a big U-shaped kitchen, adding a circular table may help to provide visual interest, break up all of the straight lines, and improve overall flow.
U Shaped Kitchen Design with Monochromatic Colours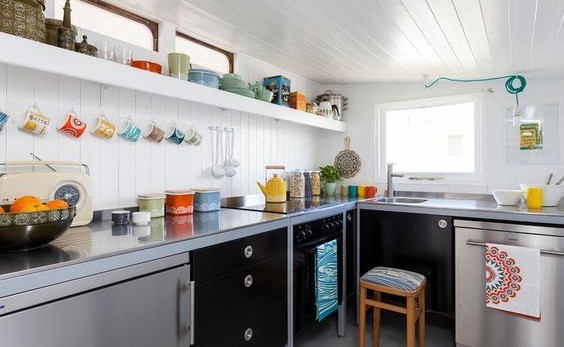 Kitchens with long sides, such as U-shaped kitchens, might seem congested due to the abundance of cupboards and equipment covering all three walls. Reduce visual clutter by using an all-white colour scheme; hide equipment such as the refrigerator behind built-in doors that match the cabinets; and integrate wood elements such as wood flooring, a kitchen island, or seating to create a striking visual contrast.
U-Shaped Kitchen with Peninsula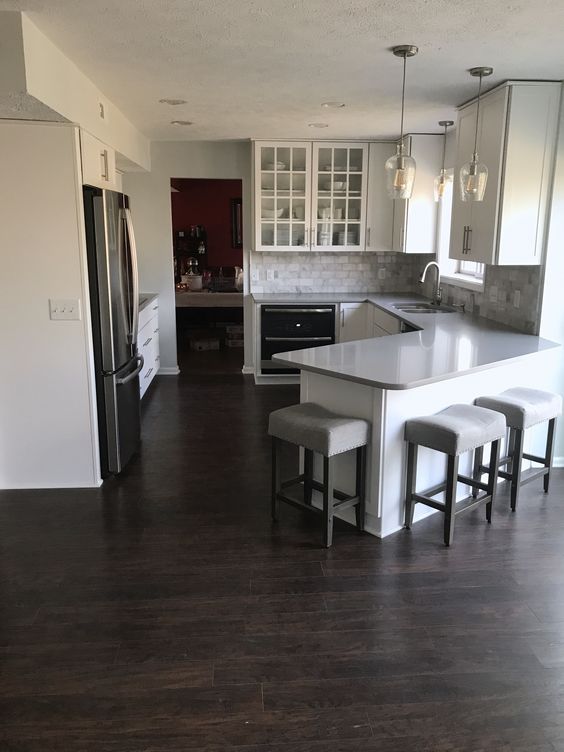 In a U-shaped kitchen with a thin profile and an integrated peninsula, limit clutter to a bare minimum using under-counter storage and appliances, and leave the surface clean for eating and food preparation. The peninsula blends in perfectly with the compact u-shaped kitchen and makes efficient use of space to create an eating/sitting area.
U Shaped Kitchen Design with Chimney.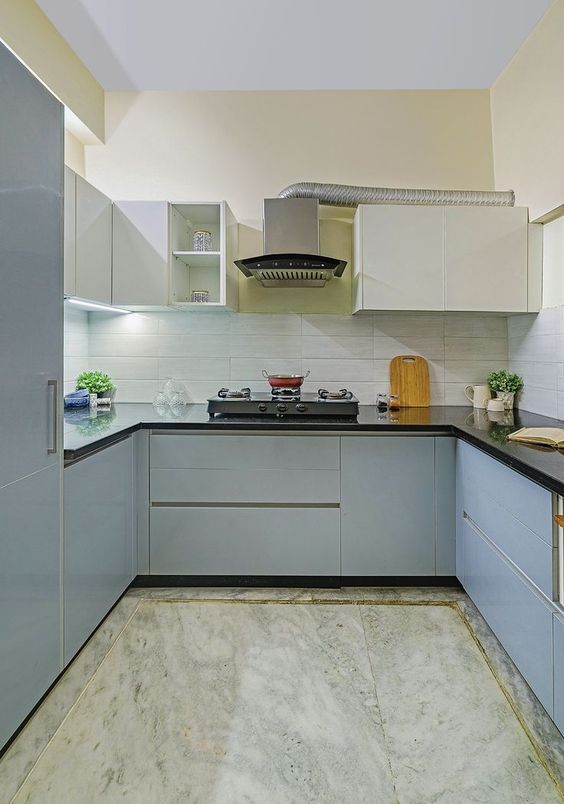 You can reduce visual clutter by using lots of built-in cabinets and open shelves to exhibit beautiful things or store common goods in a U-shaped kitchen. However, wherever feasible, keep some wall space clean and uncluttered, particularly around windows and doorways. Allowing for some negative space will enable the design to breathe and make the area more pleasant for the user. Adding a chimney to the design perfectly encapsulates the efficiency of space.
Factors to Consider while Choosing Kitchen Designs
To begin, sketch up a layout for your future kitchen. This is since designing a kitchen is a difficult task. Aesthetics and utility should be as closely aligned as feasible. Having a visually appealing kitchen is important, but so is having a favourable kitchen for food preparation and cooking. Among the most important considerations in kitchen design are the following:
Think About Layout – The first step is to sketch out the kitchen layout before you even begin to think about any other aspects of the project. This involves thinking about where to put the kitchen's major fixtures, such as the sink, countertop, refrigerator, dining room table and chairs. Make sure the overall design is clean and simple. Layout clutter is the last thing you want, so make sure everything is in its proper place. As a result, you'll be able to make sure that your kitchen is useful and efficient.
Storage to Keep Kitchen Accessories – Kitchen storage is essential after the arrangement. You'll need a lot of counter space and storage for all of your culinary utensils and food. When it comes to your kitchen, overhead cabinets, extra drawers, or more shelves may be a good place to start. In terms of kitchen storage, you want to keep things tidy. It's also critical that you create a healthy atmosphere in your kitchen where food may be prepared and cooked safely.
The Lighting – To create the right atmosphere in your kitchen, you must also pay attention to your kitchen lighting. The correct lighting will establish your kitchen's ambience. This isn't all; your kitchen's light sources will make it easier for you to cook and eat securely. There are a wide variety of lighting alternatives for your kitchen. Ambient lighting may be used throughout the area, or pendants can be added for additional illumination.
The Surface of the Ceiling – One aspect of the kitchen that should not be overlooked is the flooring. This is because a home's flooring might jeopardise everyone's safety. Consider lighter and safer flooring options as a matter of thumb. Your kitchen may be bright and airy if you choose light materials. Spills and other dangers on the floor will be easier to see with their help. After all, safety is a key concern for the kitchen.
Ventilation – While doing it, don't forget about sufficient ventilation. To keep the air moving in your kitchen, you need proper ventilation. Food preparation requires it, but it's much more important to preserve the kitchen's aroma. When it comes to chicken curry, you don't want its fragrance to linger for too long. Choosing a high-quality range hood with a strong extractor for your kitchen's ventilation is good.
When it comes to kitchen design, you want it to be both aesthetically pleasing and very useful. Consider the five essential elements listed above: layout, storage, lighting, flooring, and ventilation. This will help you make the best design decision. All of these things may improve the overall appearance of the kitchen and make every component more functional. Choosing the right u-shaped kitchen design can be a tough decision. To make it easier, you may consult home interior design experts at NoBroker.
Read More Kitchen Related Blogs

Frequently Asked Questions About U-Shaped Kitchen Design
Q1. What is a U-shaped kitchen, and how does it work?
Ans. In a U-shaped kitchen, built-in cabinets, worktops, and appliances are installed on three sides, with a fourth side left open or having a cased entrance or entry door as the focal point. U-shaped kitchens are often equipped with a freestanding island or chairs in bigger areas with sufficient width.
Q2. What is a reasonable size for a U-shaped kitchen?
Ans. According to the manufacturer's recommendations, u-Shape Kitchens should be around 107 ft2 | 10 m2 in size. The widths of U-Shape Kitchen layouts typically range from 9′-12′ | 2.7-3.7 m, with depths that vary depending on the situation.
Q3. What are the benefits of having a U-shaped kitchen?
Ans. One significant advantage of a U-shaped kitchen is that it allows two or more chefs to work simultaneously, which is very useful for entertaining or just feeding a large family. The U-shape arrangement also allows for less traffic flow, which helps to keep folks out of your hair while you're in the kitchen.
Q4.  What is the average cost of 9 feet by 14 feet small u-shaped modular kitchen design?
Ans. Ans. The final cost may depend on the quality of the materials and the labour costs but the average cost of a medium-sized u-shaped kitchen design can be around Rs. 1,10,000 to Rs. 1,50,000.