Who said kitchens can't have a touch of vibrant colour and aesthetics ? While kitchen wallpaper design may not have been the go-to choice in the past, it has resurfaced as a coveted trend in recent years.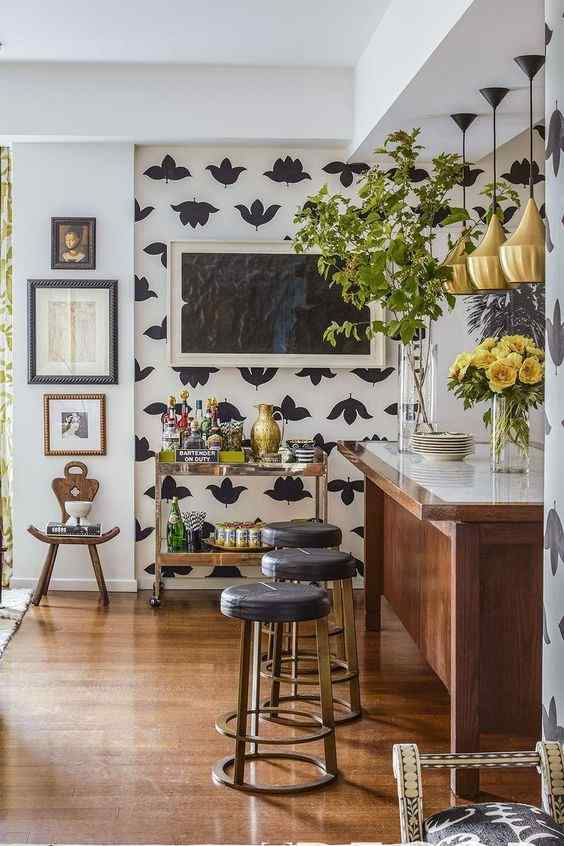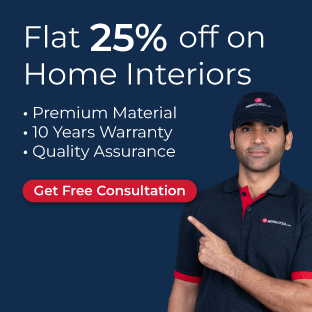 Gone are the days of mundane kitchen walls. Modern wallpapers offer a plethora of captivating designs that effortlessly blend style and functionality. Transform your kitchen into a warm and inviting space with just a stroke of a carefully chosen wallpaper.
From Offbeat to Classy – Trendy Kitchen Wallpaper Designs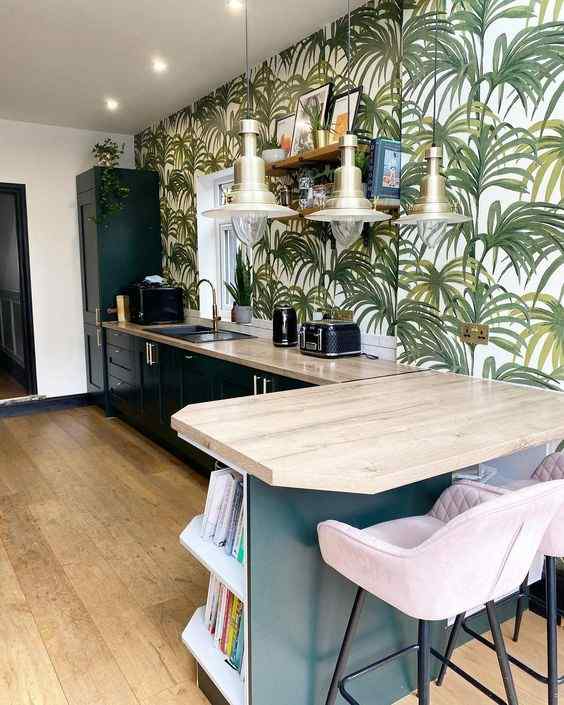 Check out this gallery of stunning kitchens with bold wallpapers and get inspired to experiment with your own kitchen design.
1. Clashes can be Classy
As this quirky wallpaper mashup shows, opposites attract. The two wallpapers interspersed with each other in this kitchen nook are brilliantly finished, mixing colours and extending in a way that piques your interest. Instead of overpowering the greyish wallpaper on the right, the bold floras on the right add energy and brightness to the room.
Read: Best Single Door Designs for Indian Homes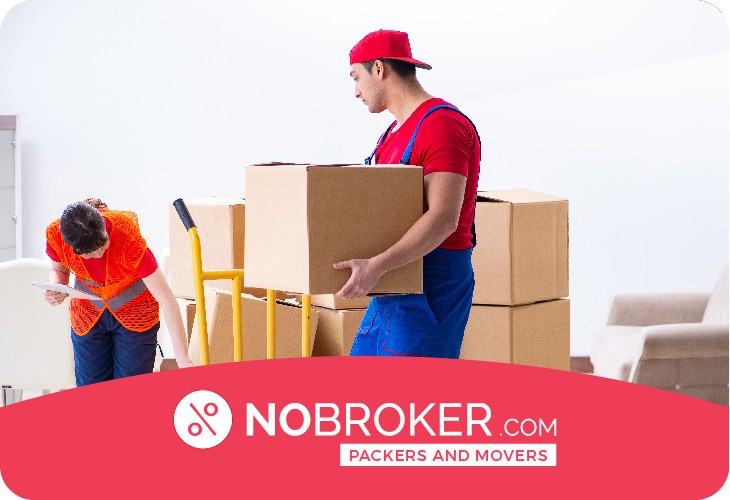 Book Best Packers & Movers with Best Price, Free Cancellation, Dedicated Move Manager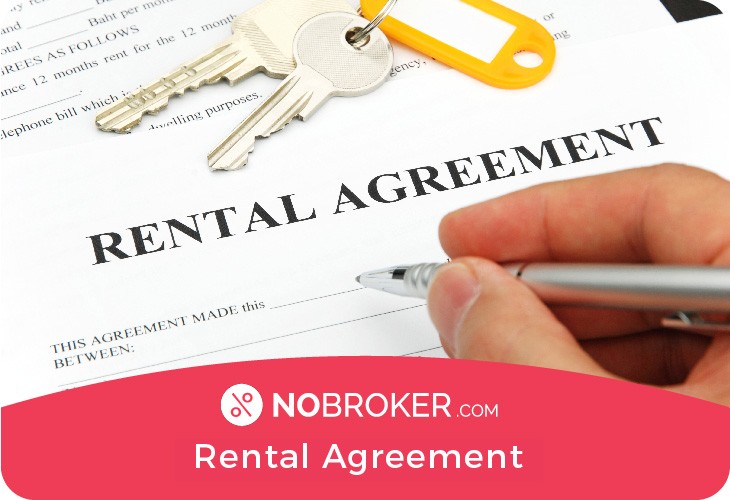 Get Rental Agreement With Doorstep Delivery, Super Quick & Easy
This is third
This is third
This is fourth
This is fourth
This is fifth
This is fifth
This is six
This is six
This is seven
This is seven
This is eight
This is eight
2. Patterned Pairing with Kitchen Fittings.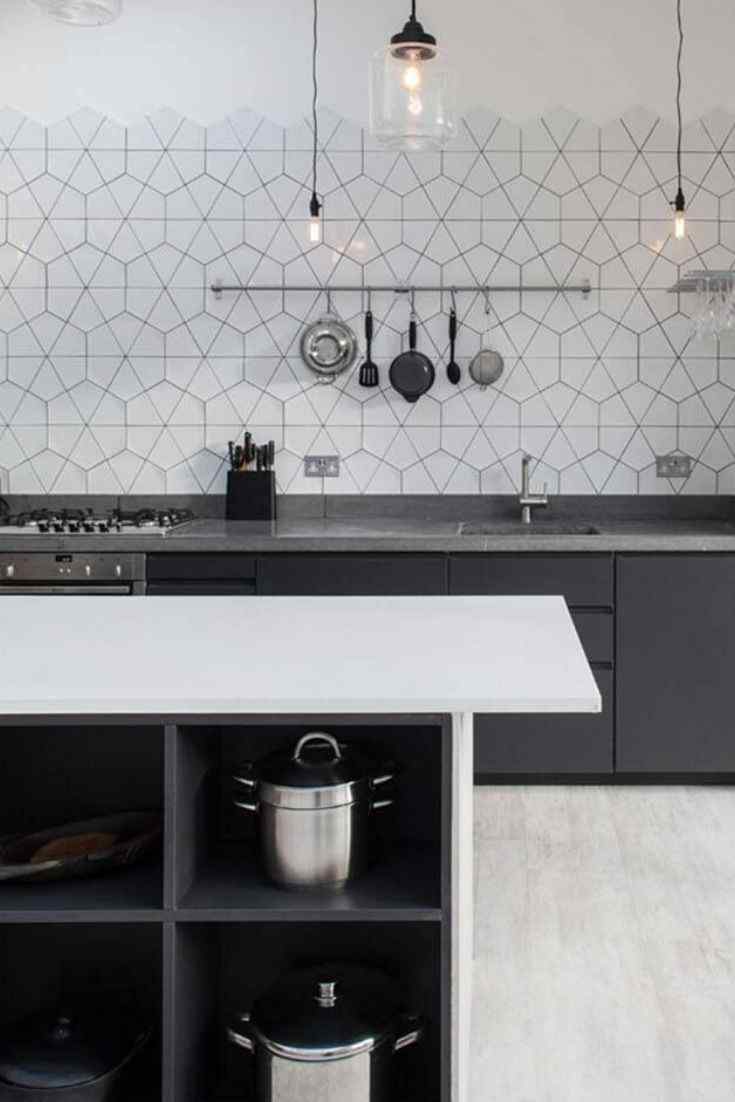 If you want to give your kitchen a cohesive look, choose a kitchen wallpaper that emphasises the room's fixtures. The worktops, lighting, faucets, and hob have matching wallpaper designs, giving the room a cohesive aesthetic. The all-grey and white around the rugged ceiling lights provide a dramatic contrast to the scheme, making it even more vibrant.
3. Go with a Great Design.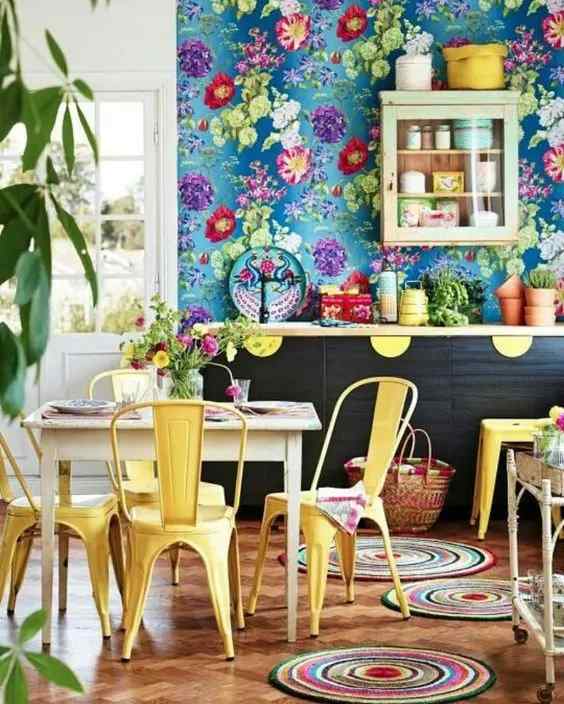 A colourful floral kitchen wallpaper idea adds the wow factor to the kitchen in a home owned by a vintage fan. It's a brilliant idea to use a large-scale pattern on only half of a wall so that it doesn't overwhelm the rest of the room. As a result, they've also painted an adjoining wall in a complementary white shade. They've even painted the kitchen furniture and cabinet in sections of the same vibrant yellow as the wallpaper.
4. Novel Floral Arrangement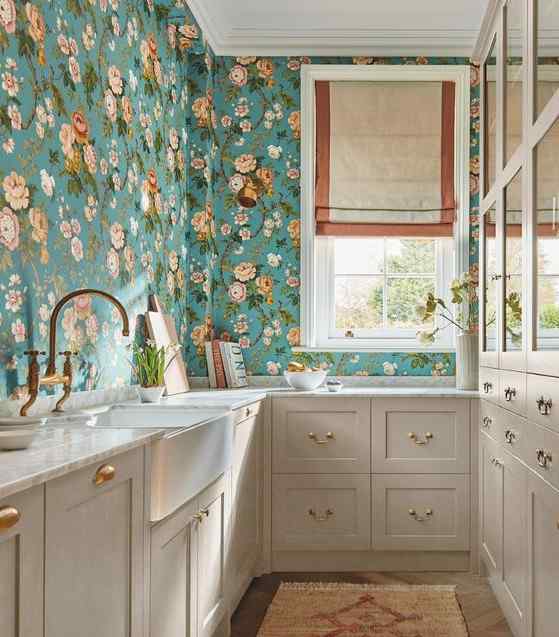 Pick a wallpaper pattern carefully to avoid the illusion of a smaller space in a kitchen with high ceilings. The bright, light, and fresh floral wallpaper in this collection, on the other hand, adds the pattern your kitchen craves while also making the space feel more open and airier.
Make sure the wallpaper you choose matches your kitchen cabinets, or if it doesn't, consider painting your cabinets a different colour.
5. Driving Definition.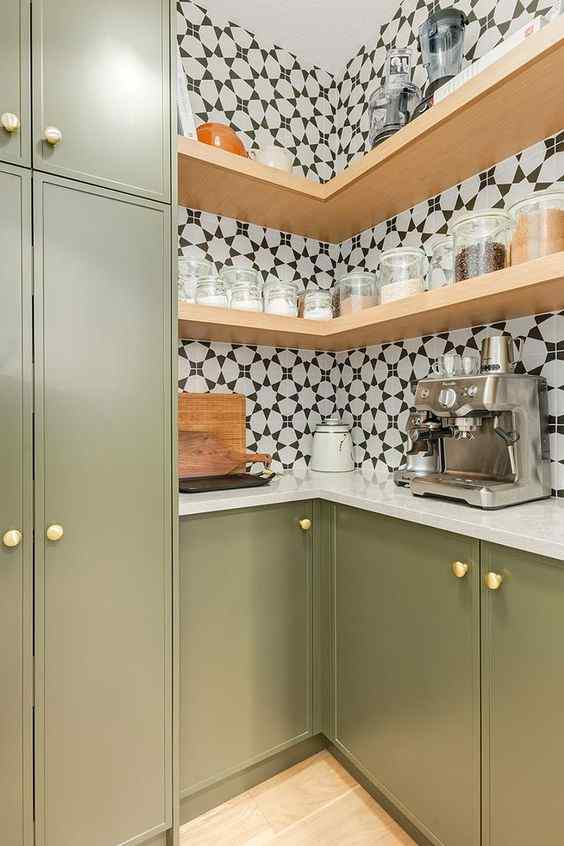 If you have an open-plan kitchen, use wallpaper to divide the space into distinct zones. Keeping the wallpaper on the walls at the same level as your cabinets helps define the boundary between the kitchen and the rest of the room. With a floating shelf running the room's length, the homeowner has brought the entire space together.
Read: Creative Balcony Seating Ideas for Maximising Your Outdoor Area
6. Bring Nature In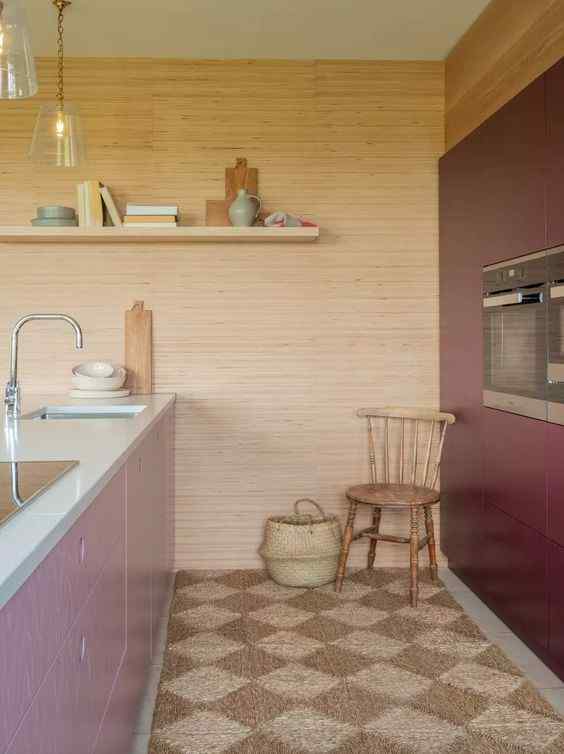 Wallpaper is a great way to bring a little bit of nature inside. Natural textures, such as wood, add depth, interest, and a sense of texture to an otherwise featureless room. A country-style kitchen can also benefit from the rustic, earthy tones of wood or green jungle prints that work well with neutrals like grey and white.
7. Capture the Ceiling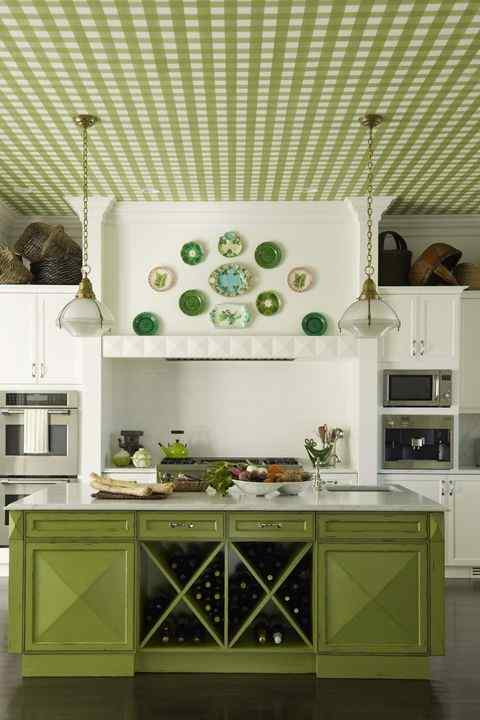 Cover the ceiling of a drab kitchen with geometric wallpaper to give the room new life. Consider using the best kitchen wallpaper designs that can easily be peeled and stuck on walls. You can add even more visual interest to the ceiling by constructing some pendant lights out of decorated bushel baskets that have been turned upside down.
8. Love for the Long Haul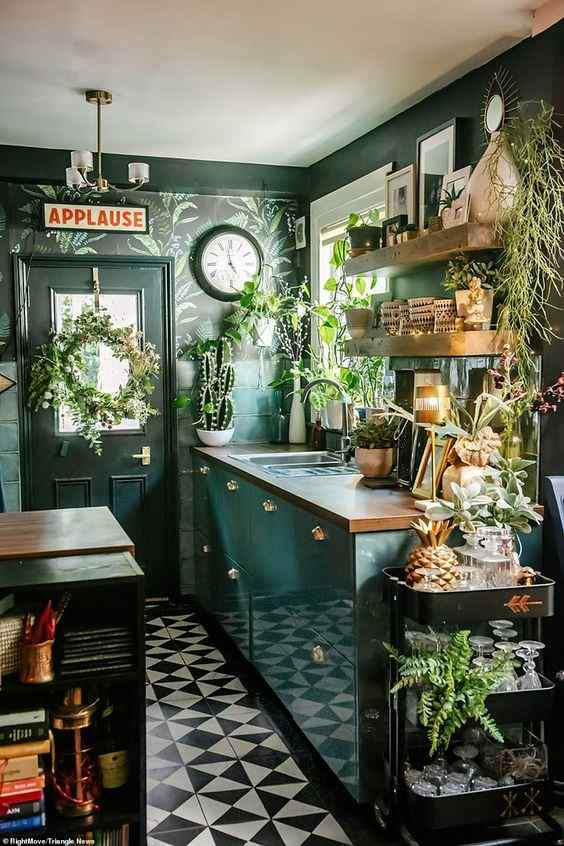 Even though most wallpaper for kitchen walls is relatively easily removable and replaceable, you want to know that the design you're going to invest in will last for many years to come. Don't settle for anything less than what you know you'll love for the long haul. You don't want to sacrifice functionality for aesthetics in your kitchen, so start with natural elements like trees, flowers, and other motifs inspired by the natural world.
Read: 16 Of the Most Beautiful Drawing Room Door Designs for Indian homes
9. Thoughtful Harmony
It's a great idea to draw inspiration from the beach and cottages while decorating your home. Watercolour wallpaper and white painted wooden furniture can create a nostalgic feel in any room.
Before you buy the wallpaper, please order a sample to see how it looks in the room where you plan to install it. Please make sure you look at the wallpaper at different times of the day to understand better how it will look in your kitchen.
10. Audacious Venture.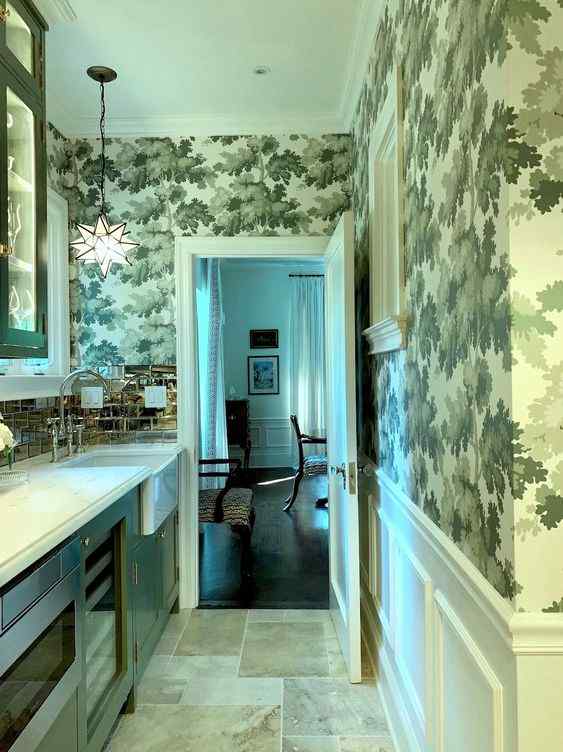 Even though feature walls are less prevalent in other parts of the house, they continue to be a well-liked design element for multi-functional rooms such as open-concept kitchens, where they can be used to restrict different areas such as the dining area.
Wallcoverings are an excellent way to bring the room's design together and divert attention from the mechanical gadgets and gizmos on display.
Wallpapers in the home kitchen can be more daring and energetic because of the kitchen's busy environment. Soft furnishings and fittings in this Scandinavian kitchen design have been cleverly chosen to match the shades on the walls for a cohesive look.
11. Graceful Boldness.
(An excellent way to renovate your kitchens is by adding a waterproof wallpaper to the kitchen, especially around the sink and cooking area)
Read: A Guide to Interior Designers in Noida Cost
A kitchen's rigid, clinical feel can be softened with the addition of wallpaper. Either as a subtle complement to your kitchen's existing colour scheme or as a focal point, a bold colour or layout will help draw attention and make a statement.
With this eye-catching wallpaper, you'll leave no one in any doubt about your style. Subdued hue fittings are used to keep the focus on the print and create a modern and contemporary look.
12. Your refrigerator could be wallpapered too.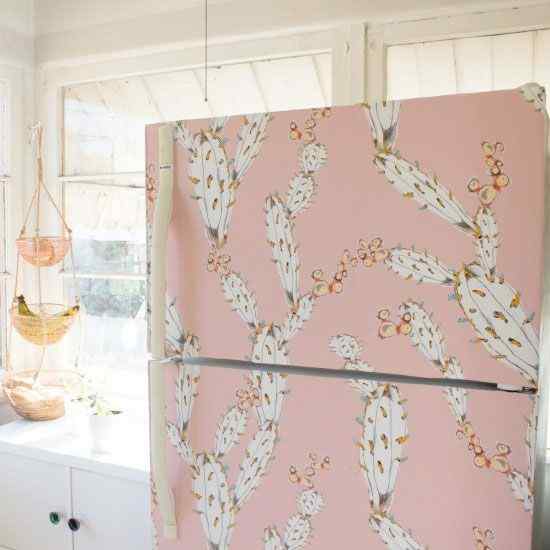 Why wallpaper the walls when you can use the leftovers to spruce up a dingy fridge? Add some personality to your refrigerator with a design inspired by your favourite mural.
13. Panel Perfection.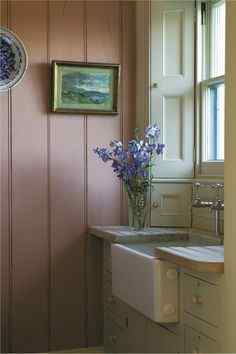 You may have been given a black kitchen and want to turn it into something warm and inviting. Wall panelling at dado level and a dark or muted neutral paint colour, followed by a light, delicate wallpaper, can transform a kitchen in a fraction of the time and cost of a complete replacement or even new cabinet doors.
14. Brave Brickwork.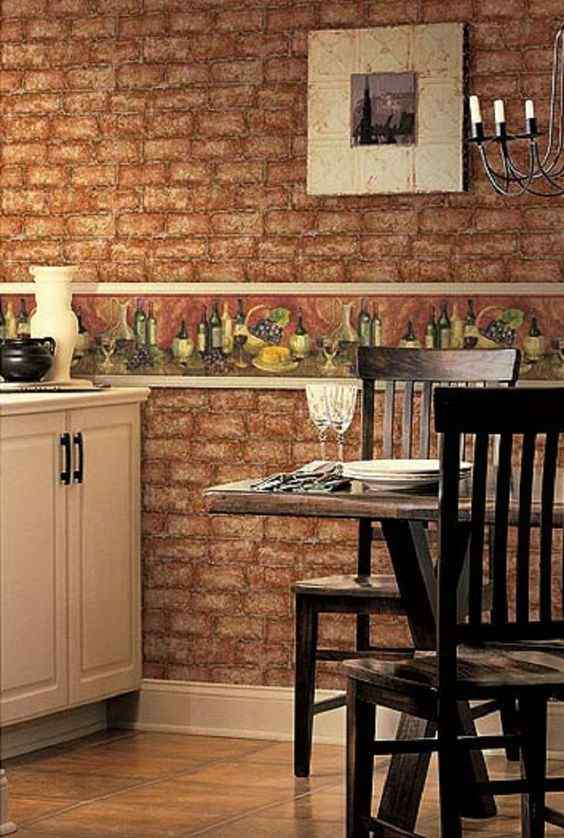 Bare brick walls, especially in industrial-themed homes, are a hot trend. The kitchen has a cool, modern touchthanks to this rustic brick effect that has been cleverly applied from floor to ceiling. Coffeehouse iron chairs have been used to complete the look, keeping with the industrial theme.
Is Wallpapering the Kitchen a Good Idea?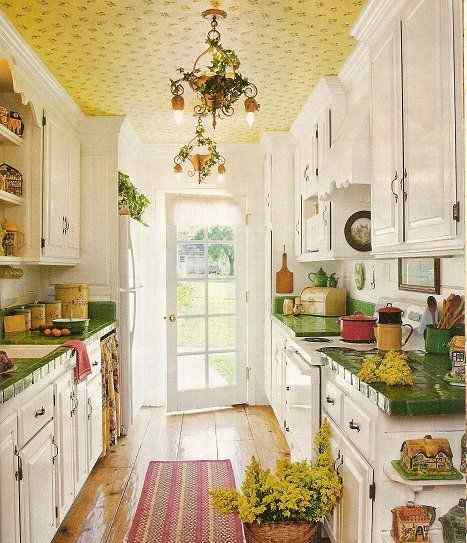 Yes, in our opinion. If you're looking to add a splash of colour and pattern to your space without breaking the bank, this is a great option. Kitchen wallpaper, especially countryside/biophilic inspired designs, can inhibit a kitchen from beginning to feel merely functional by bringing life and energy to the room. '
Even though painting can bring tint to a room, wallpaper's rich template and energy have us swooning.
What Is the Ideal Wallpaper for Your Kitchen?
When it comes to selecting the ideal wallpaper for your kitchen, the possibilities are endless. One option is to install a custom splashback, serving as a protective shield for the wallpapered portion of your wall. For a tastefully balanced look, consider wallpapering the upper two-thirds of your kitchen wall while leaving the lower third unpainted. This clever contrast adds depth and visual intrigue to your culinary haven. With the right wallpaper choices and a touch of creativity, your kitchen will become a true reflection of your style and taste.
The Art of Wallpapering: How to Go About It?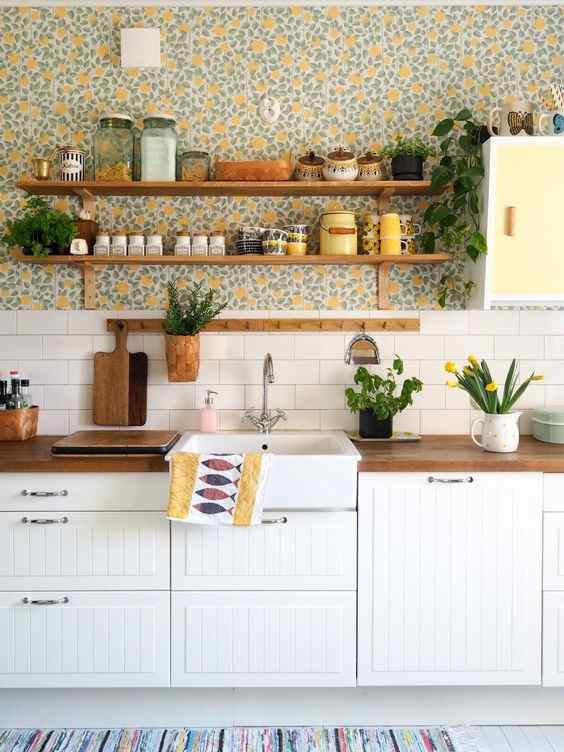 As with any other room in your house, wallpapering a kitchen follows the same process. Before you begin, wipe down your walls with a damp cloth to remove any dirt, grime, grease or dust. Allow the fabric to air dry thoroughly. A few scraps of paper can be used to make paintings, line the backs of cupboards, or decorate the inside of a dresser if you have a lot of half-height walls in your home.
In conclusion, the world of kitchen wallpaper design offers boundless opportunities to infuse your culinary space with colour and imagination. Each wallpaper choice, whether bold or graceful, has the power to transform your kitchen into an inviting sanctuary. It's essential to select a wallpaper that complements your overall interior design, ensuring a harmonious and cohesive look.
However, navigating the world of wallpaper selection and installation can be overwhelming and time-consuming. That's where NoBroker interior services comes in. With their expertise and range of services, they can assist you in finding the perfect kitchen wallpaper and guide you through the process, making it hassle-free and enjoyable.

FAQ's
1) What kind of wallpaper should you use in your kitchen? 
Ans: Vinyl, Novamura, and washable wallpapers are three of the most common types of kitchen wallpaper. Vinyl wallpaper has a paper backing and is covered with a vinyl print that has been coloured and pattern printed on it.

2) How popular is floral wallpaper these days?
Ans: It doesn't matter what room style you're decorating in 2022; floral interior decor is here to stay. Thanks to these new season designs, it's easier to incorporate pretty flowers into your home decor
3)Are kitchen backsplashes possible to decorate with wallpaper?
Ans:Backsplashes protect your walls from splatters and spills from the kitchen. However, if you're sick of the classic subway tile, try something new with wallpaper and tempered glass as your ally.
4)What can I do to keep my kitchen wallpaper protected? 
Ans: Decorators varnish can be applied after the wallpaper is dry. Decorating varnish is similar to wood furniture or hardwood floor varnish, but it is designed to be used on various surfaces, such as wallpaper. Water damage, stains, and mould can all be prevented by applying a coat of varnish to the surface. 

5) Is it true that all wallpaper is water-resistant? 
Ans: If you are willing to put in the time and effort, you can turn any wallpaper into a waterproof one. It is possible to waterproof wallpaper to be used in any room, including the bathroom.