A kitchen is perhaps the most favourite place of every homeowner. It is a place that keeps everyone happy and well-fed. So naturally, people spend a lot of time thinking of different ways to design the perfect kitchen for their needs. Indian homes today have much smaller kitchens than what people had a decade ago. As apartments keep getting smaller, so does the dedicated kitchen room in the house. Just because you don't have a lot of room to work with doesn't rule out the possibility of creating a beautiful small kitchen design. There are also numerous clever ways to inject life and character into a tiny kitchen.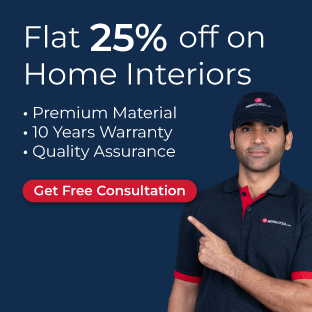 It is possible to transform a tiny kitchen into a joyful and practical place in your house by following the correct design ideas and methods. Here are some small kitchen ideas to help you make the most of the small kitchen area in the house.
Read: Types of Curtains: A Comprehensive Guide for Home Decor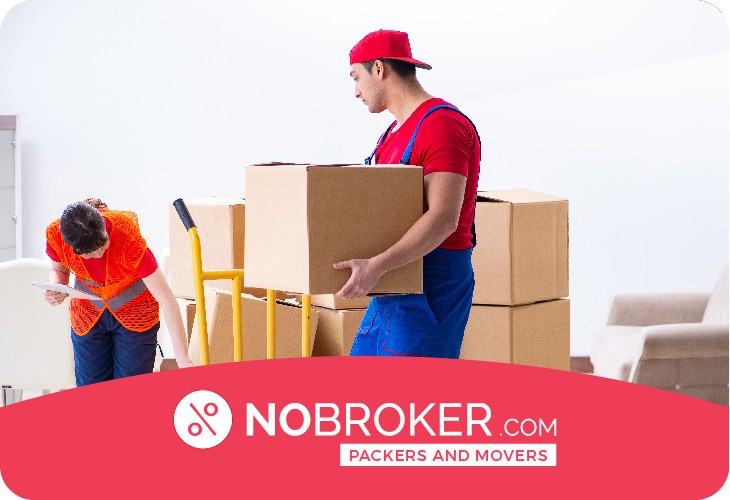 Book Best Packers & Movers with Best Price, Free Cancellation, Dedicated Move Manager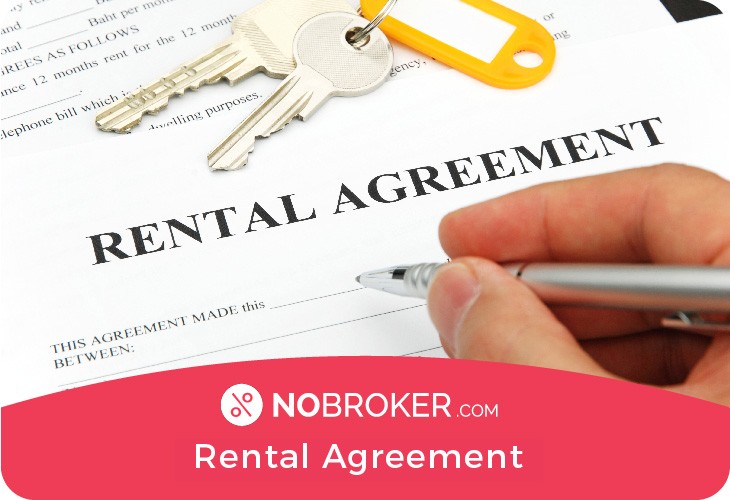 Get Rental Agreement With Doorstep Delivery, Super Quick & Easy
This is third
This is third
This is fourth
This is fourth
This is fifth
This is fifth
This is six
This is six
This is seven
This is seven
This is eight
This is eight
1. Use Divisions to Your Advantage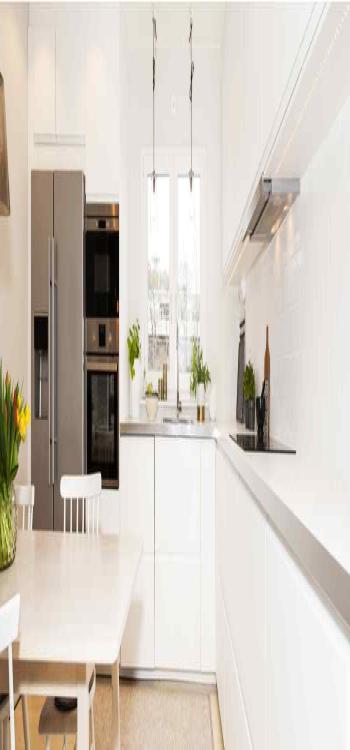 Small kitchens (especially gallery kitchens), may make it seem as though it's hard to effectively divide and organise the area. But, integrating a partition allows you to better divide activities and create dedicated prep spaces inside the room. Choose a half-wall made of glass to keep the area open while allowing light to enter through it. Treat one portion of your kitchen as if it were a prep kitchen, and keep your appliances and heavier utensils out of sight from the general public. This is one of the best small kitchen design ideas if you are very particular about cleanliness in your kitchen. Some other ideal sizes for a very small kitchen design can be:
12 by 6 feet kitchen design
8*10 feet kitchen design
8 by 7 kitchen design
8*8 kitchen design
6 feet by 10 feet kitchen design
8×8 kitchen design
8 by 12 kitchen design
2. Creating Extra Storage Space Available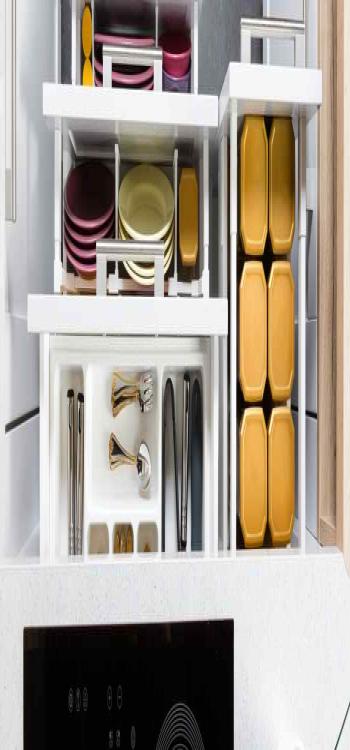 Storage is unquestionably one of the most significant factors in any kitchen, but it is much more crucial in a tiny kitchen due to the limited area. A one-wall kitchen is great for homeowners who want a functional and visually appealing kitchen despite limited space. Once you've decided where you're going to put the storage, you should start thinking about lighting. A small modern kitchen design with cabinetry that extends from wall to wall will reduce natural light, making the area seem smaller and more confined. Include some open storage and shelves to get around this problem.
Beautiful Small Kitchen Design Ideas for A Modern Kitchen
3. Cabinets With a Limited Footprint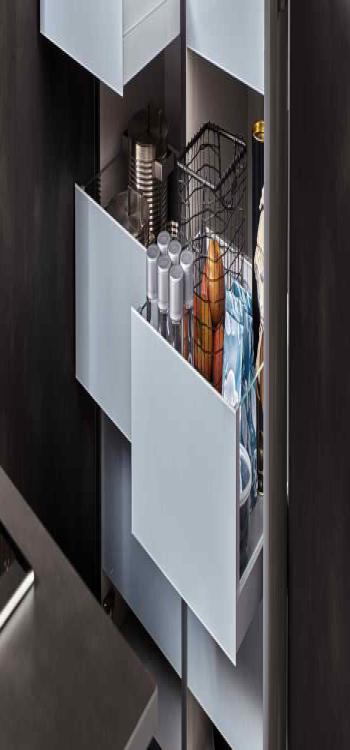 You must reduce and prioritise your items because you have a limited amount of space in your kitchen. Due to the limited amount of available space, you must only keep the goods you use regularly and essential for everyday cooking. Small cabinets like these may be installed almost anywhere in the kitchen, such as – near the ceiling, above a window, or even on bare walls and ceilings.
Read: Home Office Ideas: Maximize Comfort and Efficiency
4. Open Shelves are Convenient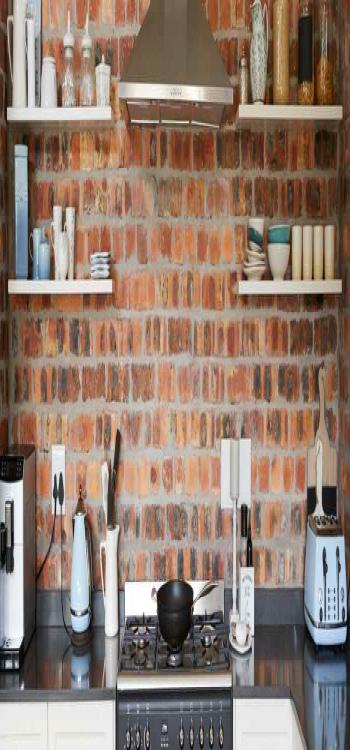 When you install open shelves, you can keep all of your regularly used products within easy reach at all times. Open shelving is very affordable, it enables you to display all of your beautiful dishware's while also making your kitchen seem more inviting.
5. Hanging Pot Racks
The sudden popularity of hanging pot racks in the kitchens is understandable. Not only do they look stunning, but they are also quite practical and make pots and pans much more accessible to the homeowner. When heavy pots and vessels are kept in cabinets, they take up a lot of space, which tiny kitchens already lack. Racks may be mounted above the counter, beside a window, or over the stove, making them one of the best small kitchen designs.
Vintage Small Kitchen Design Ideas for A Simple Kitchen
6. Shelves Made of Copper
Copper kitchenware has been a popular choice for a long time, but metal is increasingly being used on shelves and other furniture components and other applications. Cooking with copper shelves is straightforward, open, and reminiscent of the open kitchens of older times – not to mention that the colour is a great accent to any kitchen decor.
Read: Our Round-Up of the Top Sliding Wardrobe Designs
7. Metallic Sheen Kitchen
The use of stainless steel in the kitchen gives the room a very trendy and fashionable appearance for a small space small modular kitchen design. Its sleek and silvery shine reflects the surrounding environment, making the space look bigger and more interesting while also providing more depth.
Modular Kitchen Décor Design Ideas for A Small Space
8. Install Sliding Glass Doors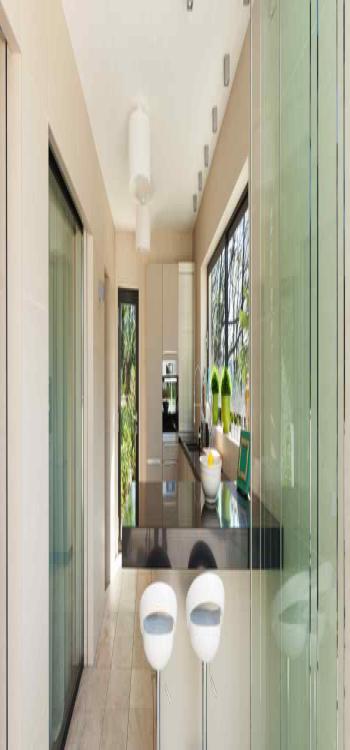 Glass doors are a beautiful option for tiny kitchens because they provide the illusion that the cooking space extends into the dining or living room beyond the kitchen. This is one of those modern small space small kitchen design ideas that can become a game-changer for your décor. Today, cabinets made of glass are sturdy and do not break easily, assuring the cook while using the kitchen.
9. L Shaped Kitchen with an Open Floor Plan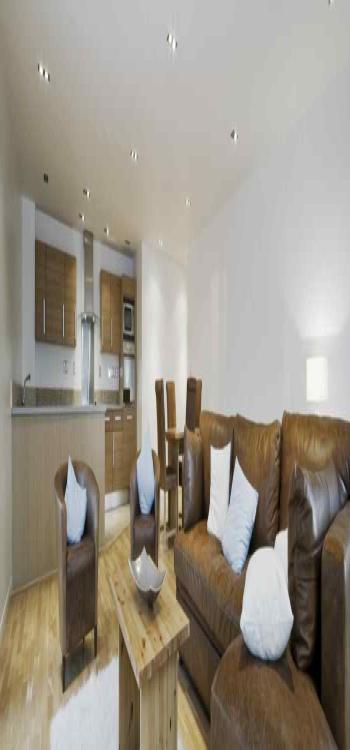 Demolish the wall that separates the kitchen from the living area, to create more open space for a small l shaped kitchen design. The shiny white cabinetry and oak floors give the room a European feel, and the dining table is nearly as functional as a kitchen table.
Read: Redecorate Your Home In 2023 – Choose the Correct Living Room Wall Tiles Design
10. L Shaped Kitchen with a Glass Wall Separator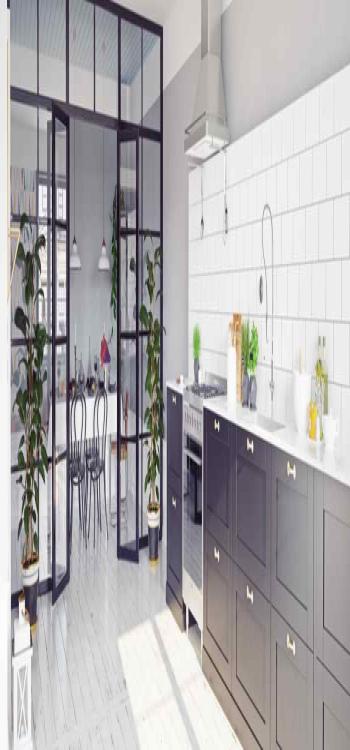 The addition of a glass wall to this traditional oak kitchen gives it a contemporary feel of small space simple small kitchen design. We observe classic light oak cabinets in this well-designed kitchen, contrasted with a contemporary lacquered light-blue glass backsplash. A glass wall separates the kitchen from the dining area elegantly and seamlessly. Without taking up valuable floor space, this method effectively keeps the smoke and aromas of the kitchen at bay.
11. Wood Inspired Parallel Kitchen Design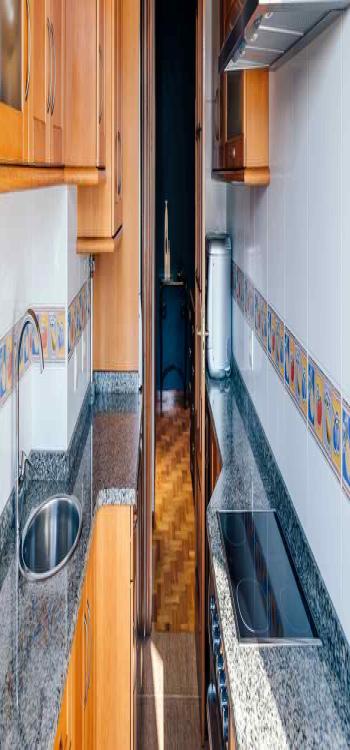 A kitchenette painted in a vibrant wooden colour creates a bold statement that is guaranteed to turn attention and has become one of the best parallel modular kitchen designs. You can paint the wooden cabinets with any colour of your choice. Red, for example, is supposed to stimulate people's appetites and cause them to get hungry. So, a strong red contemporary parallel kitchen design is not only visually attractive but is also likely to energise the rest of your home with its vibrant colour.
12. U Shaped Kitchen with Island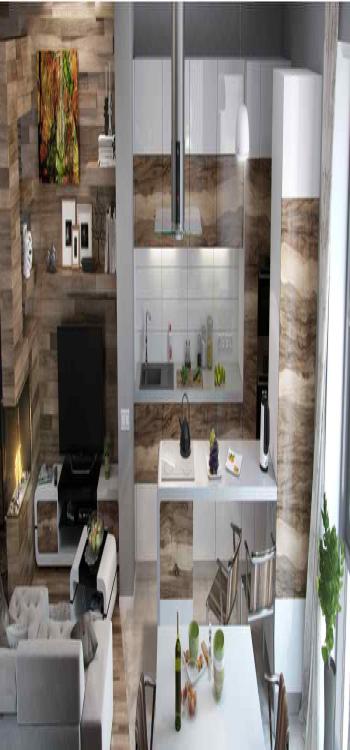 An island counter is located in the centre of this functional modern small u-shaped kitchen design also includes cupboards and fittings on three sides of the walls. The unique feature of this design is that it gives you a spacefor cooking that is not directly next to the kitchen walls. Because it requires an intricate pattern, this design style is best suited for medium-sized kitchens.
13. U Shaped Kitchen with a Peninsula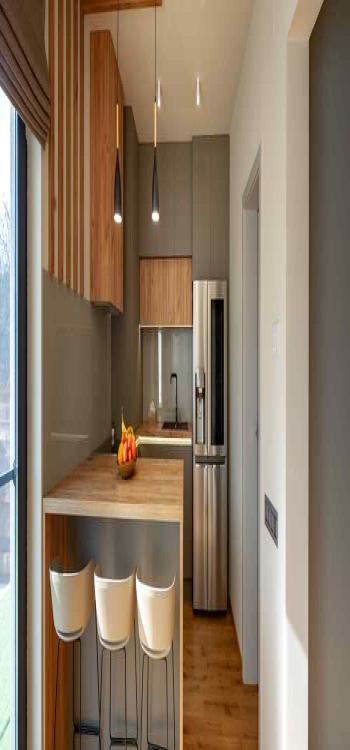 A U-shaped kitchen design with a peninsula is an awesome option as it is incredibly versatile and serves as a separator between the kitchen and dining rooms. The white and grey undertones in this space give it a neutral yet elegant appearance. This is one of the most common small kitchen designs, especially those with a small or medium kitchen space.
14. 8×8 kitchen Designs – Extend the Cabinets to the Ceiling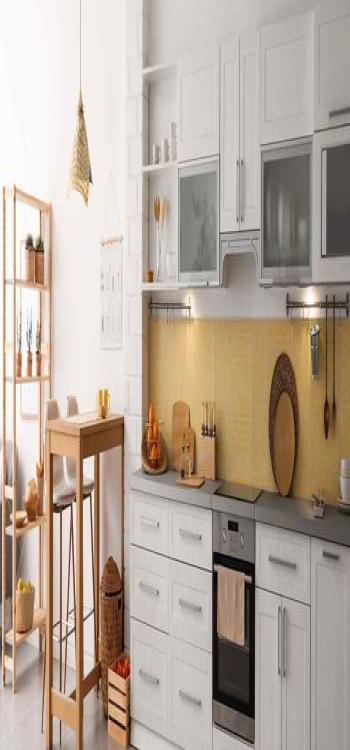 Ask your contractor to install cabinets that go all the way to the ceiling. This will accommodate any kitchenware that needs to be stored above the cabinetry and eliminate the issue of cleaning the dust that settles on top of the cabinet. In addition, this small 8 by 8 kitchen design gives your otherwise little kitchen some much-needed height.
15. Construct Multiple Open Shelf Units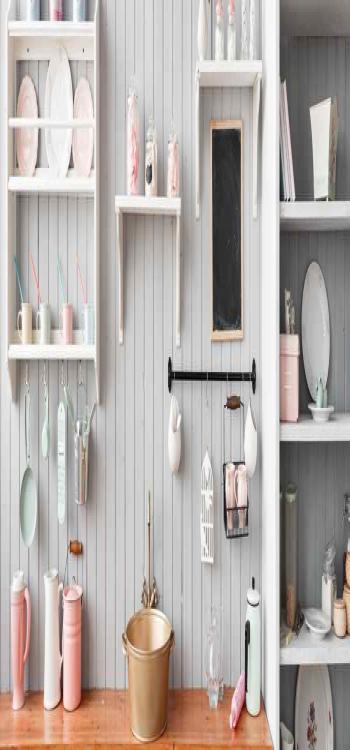 Many of the most recent small simple kitchen designs have open shelves integral to their layout. Open shelves are not only a low-cost small modular kitchen design option, but they also provide the appearance of more space by opening up your walls and making your kitchen seem airier. In contrast, closed-in wall cabinets may make your small kitchen seem claustrophobic and lack counter space and storage space for very small modular kitchen designs.
16. Red And White Kitchen Designs – Perfectly Festive Kitchens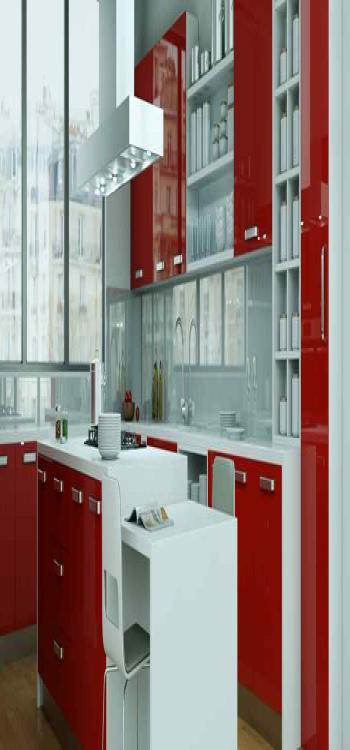 When it comes to designing your kitchen, the use of red and white accessories is completely distinctive for small kitchen designs red and white. You should use some red and white hues in your design if you want to include a cherry-themed accent.
17. Use Paprika Cabinets in White and Red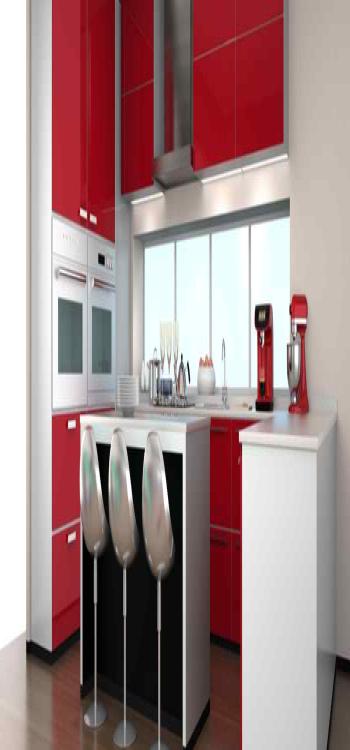 Red undertones to kitchen cabinets enhance the opulence of your red small kitchen design. Cabinets in red and white might help to make your kitchen seem more visually appealing. The above-seen image with a Small open Kitchen design photos in red and white might serve as inspiration for your own creations.
18. The Aesthetic of Subdued Red Cabinets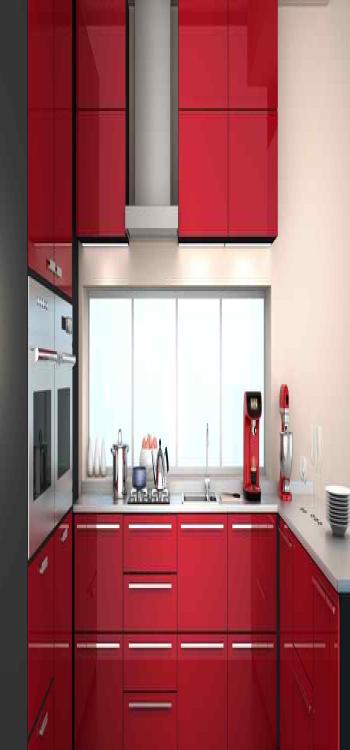 Red undertones to kitchen cabinets enhance the luxury of your red small kitchen design. Cabinets in red and white might help to make your kitchen seem more visually appealing. The above-seen image with a Small open Kitchen design photos in red and white might serve as inspiration for your creations.
19. Incorporate Chandeliers in a Reddish Hue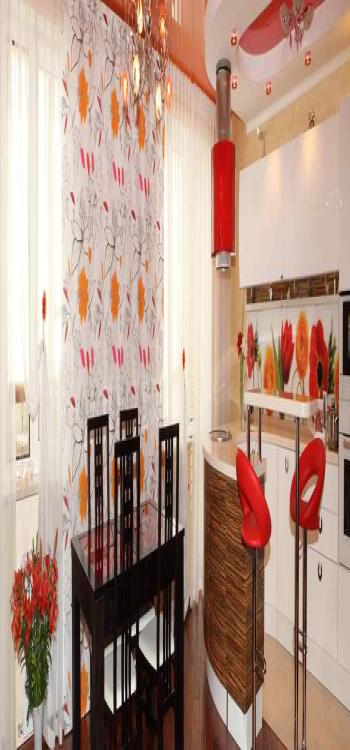 Instead of using basic lights, red-toned chandeliers provide a beautiful touch to your kitchen. If you have an open kitchen layout, it is a good idea to choose some red chandeliers that are one-of-a-kind in appearance. It is quite OK if you do not get a mixture of red and white chandeliers. All that is required is the addition of white or warm-toned lighting.
20. White Kitchen Ideas That Make the Space Seem Larger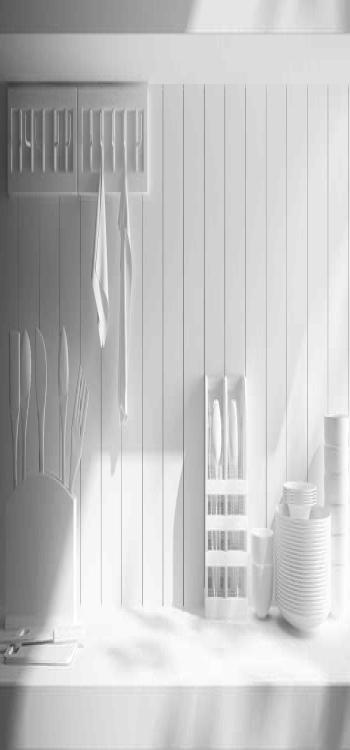 When creating a tiny kitchen, attention to detail, such as the choice of materials and colour combination, is essential. The design idea for a small white kitchen includes white cabinets around the border, and a dark grey island is great. It goes without saying that the colour white is a fantastic choice for making a small area seem bigger as it provides the illusion of the kitchen being much more spacious than it is in reality.
21. Using Material That Reflects Light Back to You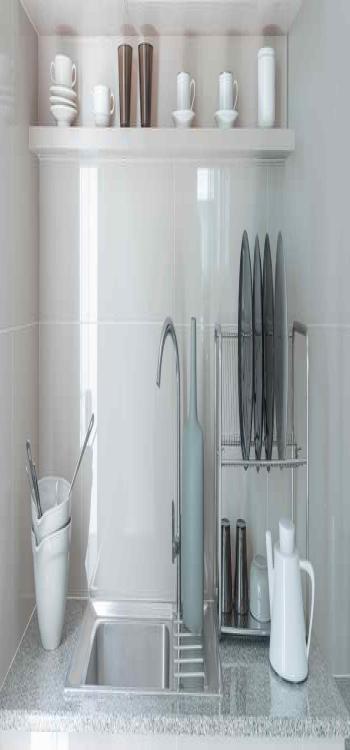 There are many clever methods to make your kitchen seem larger than it is. Light paint colours and reflecting materials like brilliant quartz or a mirrored backsplash can keep the space open and airy. A variety of high-gloss white subway tiles are used in the small kitchen design (as seen in the picture above) are utilised throughout the kitchen as a white kitchen backsplash concept. These provide ideal contrast if you have cabinets with darker shades on the lower level of the kitchen.
22. Modular Kitchen with Just One Wall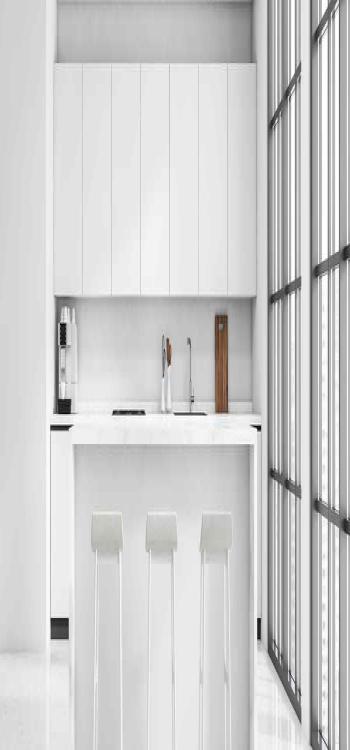 Essentially, this form of kitchen arrangement centres on a one-wall setting that hosts several modules of kitchen equipment in a linear configuration, making it the most straightforward and clear-lined smart small kitchen design. As a result, the kitchen zone in an open-plan arrangement continues to function as a single area with no clearly defined boundaries between it and the rest of the living environment.
23. Design of a Galley Kitchen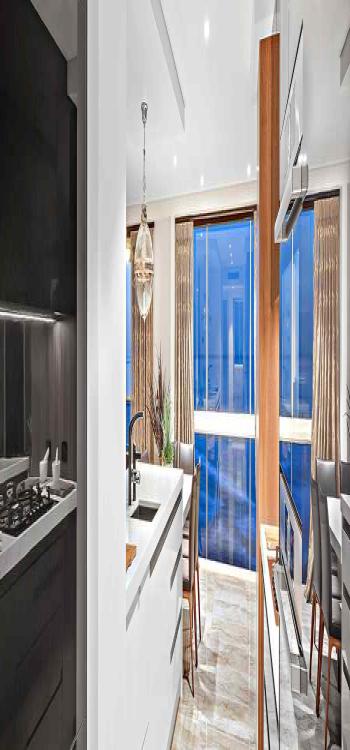 This sort of galley kitchen is named after a ship arrangement because it is positioned towards the back of the living area and, like a ship's galley, it extends lengthways as a hallway through the ship's interior. Furthermore, since the galleys are, more or less by necessity, constrained spaces, the galley kitchens are particularly well suited for compact residences and become an ideal small kitchen design.
24. 8×6 Kitchen Design Ideas – Single Colour Palette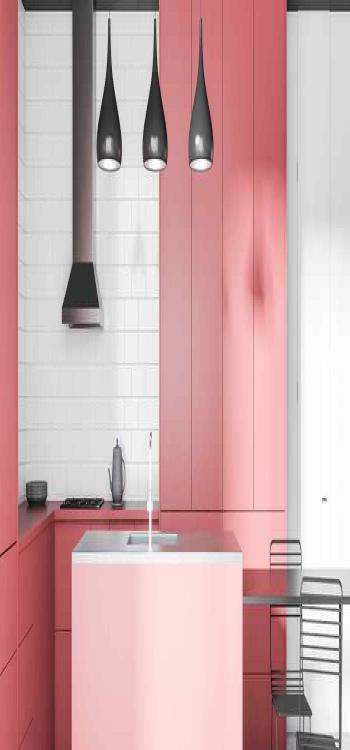 The safest option for a compact kitchen is to use colours from the same colour family across your space to get a smooth, spacious appearance. However, if you'd want to experiment with additional colours, limit yourself to no more than 2-3 choices for your tiny kitchen space. You should choose a neutral background with pops of brighter colours added in via appliances, cabinet knobs, and even a backsplash for low budget small kitchen design to get the best results.
25. Kitchen Design For 9 By 7 Feet – Kitchen That Merges with A Dining Area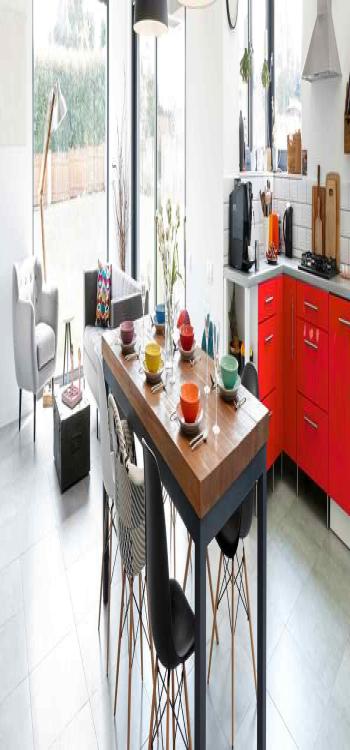 Is it possible to eliminate the need for a separate dining area and instead integrate one into your kitchen? How? Add two stools or chairs to the peninsula (the half-wall that divides the kitchen from the living room) or to the bar, the quickest and simplest solution for a small kitchen 9 by 7 kitchen design. Another option is to build an additional level onto your kitchen peninsula, allowing one side to be utilised for eating or as a bar and the other lower side to be used for food preparation and storage.
26. 7×7 Kitchen Ideas for Compact Homes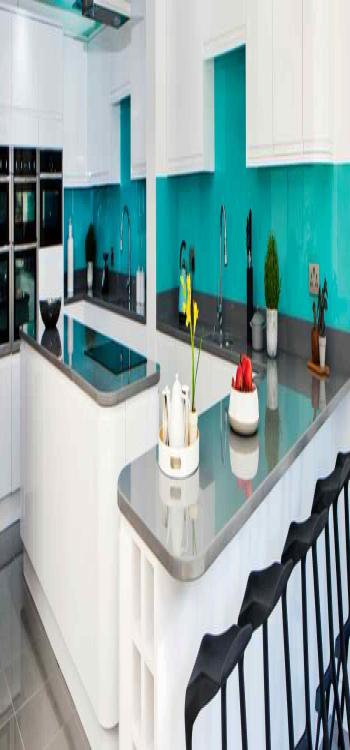 If you absolutely must have cabinets, keep in mind that cabinet designs for tiny kitchens are one of the most important and defining features of a room of this size and shape for a small 7×7 kitchen design. It is possible to give your kitchen cabinets a basic and contemporary design by replacing heavy handles and buttons with finger pulls, slender and sleek handles, small knobs, or magnetic strips.
27. C-Shaped Kitchen Design with a Wood-Inspired Design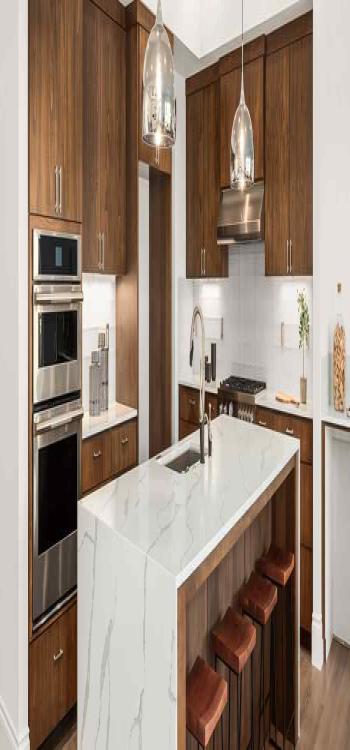 Using a bold-looking material such as wood, you build three locations for your counter, each having a cabinet connected to it for a small c shaped kitchen design. You may even put traditional cupboards for storage along one wall if you like. White, grey, or pastel colours for the walls and flooring may be used in conjunction with the wood to compliment it perfectly.
28. Customizable C Shape Small Kitchen Design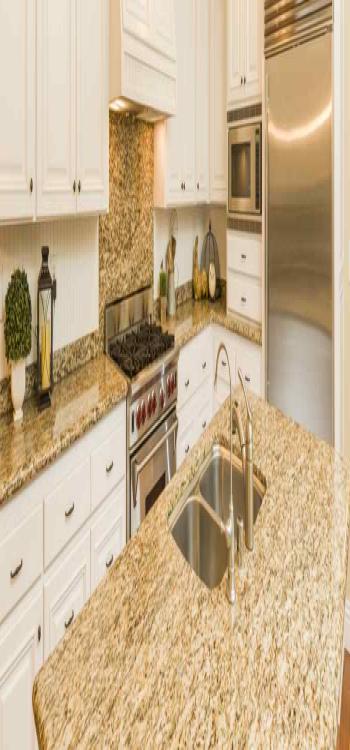 The best thing about C or U-shaped kitchen design is that the length of each of the three sites may be adjusted easily. If you make two sides longer, the C-shaped plan will resemble a U-shaped layout in appearance. Always give the cooking counter first and foremost consideration to provide adequate room for small kitchen designs with an island.
29. Smart Storage Space with Square Kitchen Design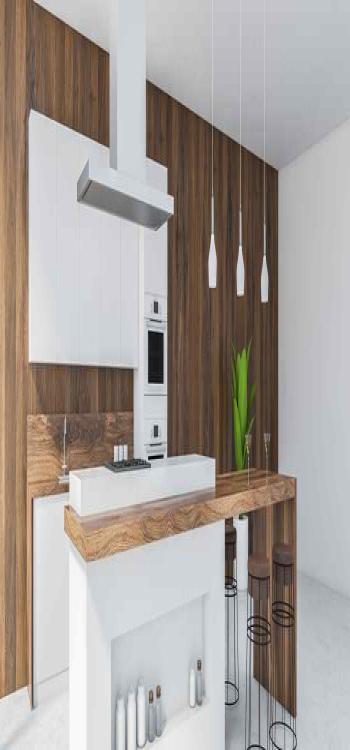 Square kitchens offer the potential for a lot of storage space, but far too frequently, that space results in a cluttered kitchen environment. Kitchens tend to be cluttered, and finding a place for everything while making it conveniently accessible may be difficult for a small square kitchen design. As a result, a certain amount of wasted space will exist in almost every kitchen. Still, with careful design, this may be reduced to an absolute bare minimum for your small traditional kitchen design. .
30. A Square with an Island in the Middle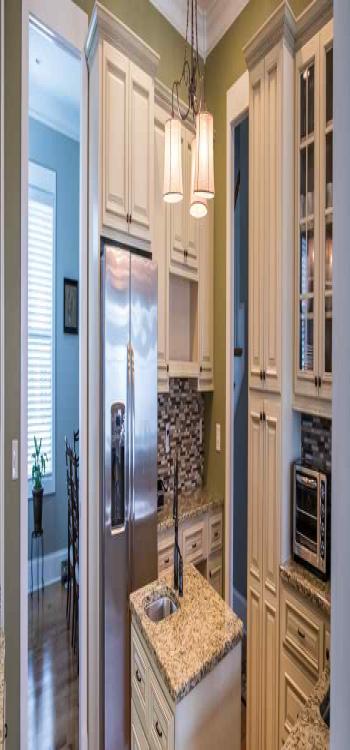 An open kitchen island is a fantastic way to incorporate the whole family during one of the most important times of the day: cooking and eating! Assuming your square room has enough space for an island, you have numerous choices for how to include it into your bespoke design as a functional component for luxury small kitchen design. In addition, a kitchen island provides extra storage space for cabinets and serves as a casual dining table or breakfast bar for guests.
Using the available space smartly is the key when it comes to small kitchen designs. Several design ideas mentioned in the article are great as they need little planning and can be done with minimal investment. If you need a professional interior designer to help you plan the decor of the house, you will surely find help at Nobroker. Just comment below this article; our executive will be in touch with you soon.
Read More Kitchen Related Blogs

Frequently Asked Questions About Small Kitchen Designs
Q1. Which are the best colours to use for small kitchens?
Ans. White, off-white, grey, brown, and red are some of the best colours to use if you have a small kitchen area. 
Q2. What is the standard size of an Indian kitchen?
Ans. A standard size of an Indian kitchen in urban cities is 12 feet x 12 feet, in this size, the homeowner gets around 20 feet of wall space.  
Q3. What is the best way to use open walls in the kitchen?
Ans. Open wall space in small kitchens is essentially real estate! The best use of these walls is to turn them into open storage by installing wooden planks. 
Q4. What are the different types of small kitchen design layouts?
Ans. L-shaped kitchen, U-shaped kitchen, C-shaped kitchen, island kitchen, peninsula kitchen are some of the most popular types of kitchen design layouts. 
Q5. Can you have an island type kitchen in a small kitchen space?
Ans. Yes, it is entirely possible to have a small square-shaped island even if your kitchen area is compact.