Light fixtures are like jewels of your home—a gorgeous finishing touch that combines everything in complete harmony. We've long held this belief. Despite the importance of lighting in every room of the house, arguably no room demands more attention than the kitchen. A well-thought-out kitchen lighting design can help you achieve the ideal level of brightness and ambience in this multipurpose room. Additionally, your kitchen could use an overhaul after spending so much time preparing meals for you and your family.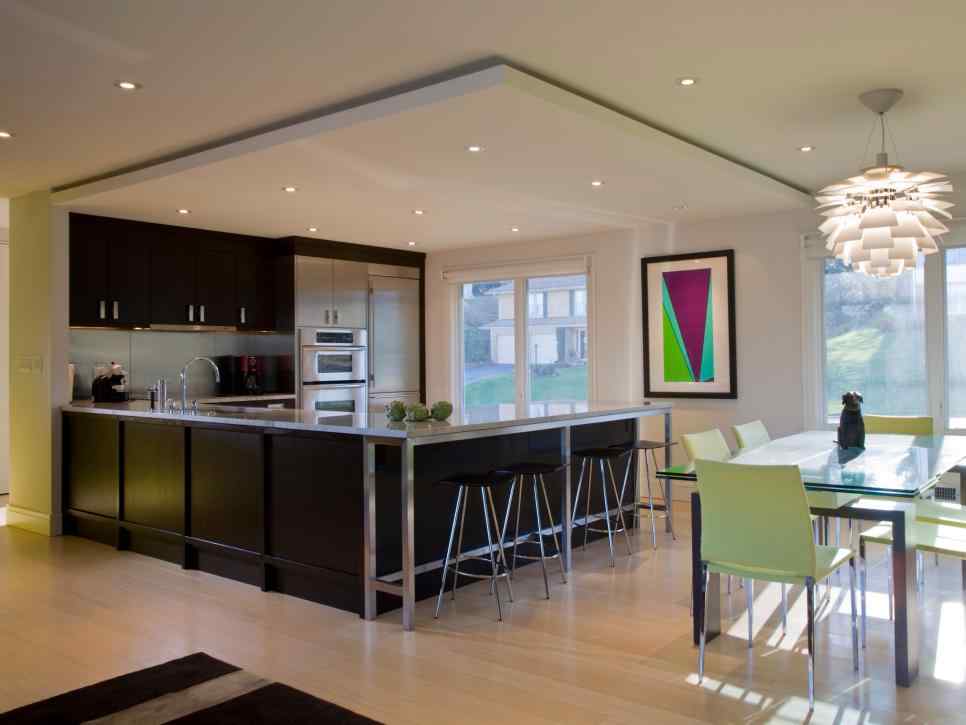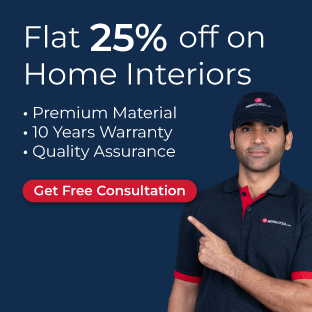 Want an epiphany about your kitchen's design plans? It's time to spruce up your kitchen's look by replacing the ordinary pendant with a more eye-catching option.
We sifted through the past to bring you the best kitchen lighting design ideas. You're sure to get some good ideas from this list, which covers anything from flush mounts to chandeliers and anything in between.
What to consider When Designing a Kitchen Lighting Plan?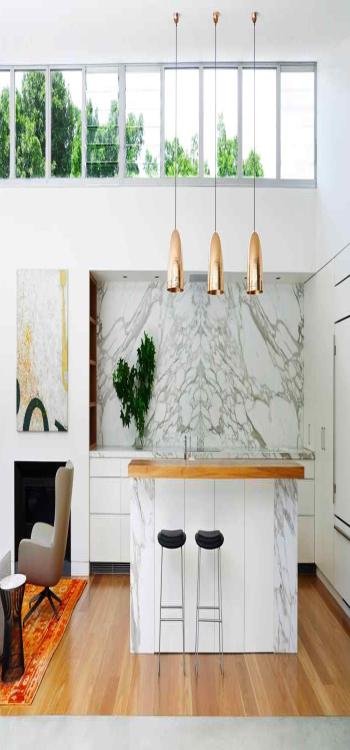 When considering how to arrange the lighting in a kitchen, it is crucial to make sure that the plan incorporates all three categories of lighting: task, accent, and ambient.
Read: Enhance Your Home with Stylish Acrylic Name Plate Designs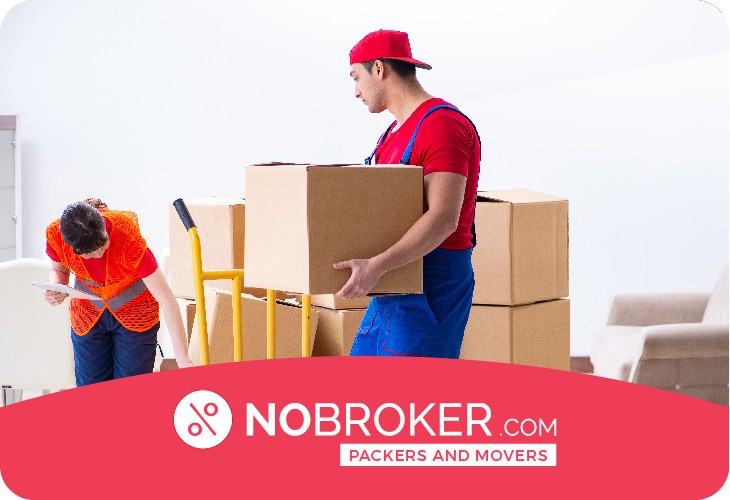 Book Best Packers & Movers with Best Price, Free Cancellation, Dedicated Move Manager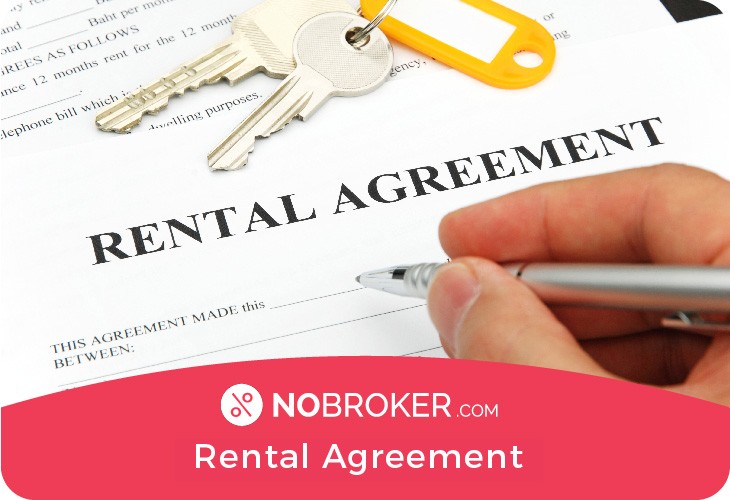 Get Rental Agreement With Doorstep Delivery, Super Quick & Easy
This is third
This is third
This is fourth
This is fourth
This is fifth
This is fifth
This is six
This is six
This is seven
This is seven
This is eight
This is eight
Ambient Lighting: The soft overhead light known as ambient lighting illuminates the floor and walls of the kitchen, making it simple to enter, exit, and move around in the space.
Task Lighting: For enhanced precision in food preparation, cooking, and cleaning, task lighting is brighter to highlight counters, islands, sinks, and other work surfaces.
Accent Lighting: Using accent lighting, such as a coffered ceiling or a fine china collection, you can draw attention to architectural or decorative elements in the kitchen that are between the brightness levels of ambient and task lighting.
Incorporating all three types of lighting ensures the proper illumination level for a kitchen's diverse functions. It also aids in reducing glare and shadows, both of which can be caused by relying solely on on solid task lighting.
How do You Develop a Lighting Design Plan for a Kitchen?
The first thing to remember is where the kitchen requires the lightest. Task lighting should always be the first consideration when designing a kitchen's lighting. Functional task lighting will be necessary for most kitchen parts, including the counters and the stove.
Consider how your kitchen will look when you aren't in the middle of a cooking session. Think about the amount of natural light in your kitchen and what kind of atmosphere you want to set. Dimmer switches can be used to adjust the brightness in multi-functional kitchens.
Accent lighting is a great way to add visual interest to your lighting design. Accent lighting helps draw attention to specific aspects of the kitchen's design, so keep this in mind when planning your lighting scheme.
Read: Mivan Technology, Heard of It? Don't Worry, We're Here to Tell You All About It!
Make Your Calculations Beforehand for the Kitchen Lighting Plan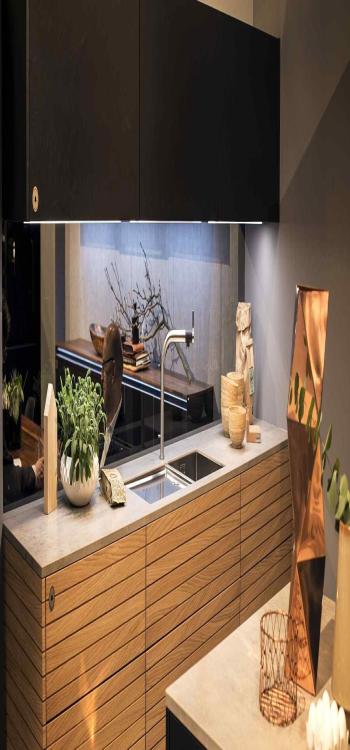 Lumens are the unit of measurement used to determine the amount of light required in a kitchen. Lumens are units used to measure brightness. The brightness of your kitchen lighting depends on what you're doing in the kitchen and how many lights you have.
For this, multiply the square footage of the kitchen floor in square feet by the desired foot-candle or intensity of light. You'll need 1,000 to 2,000 lumens for a 100-square-foot kitchen that uses 10 to 20-foot candles of light. If you divide the number of lumens into the number of lumens each bulb produces, you can figure out how many bulbs you need.
Fortunately, an expert lighting designer or interior designer will be able to provide you with the guidance you need.
One light should be as bright and dimmable as feasible if you have one light source available. If you plan your kitchen with multiple illumination sources, it will be bright enough for you to work in.
Where should the Kitchen Lights be Positioned?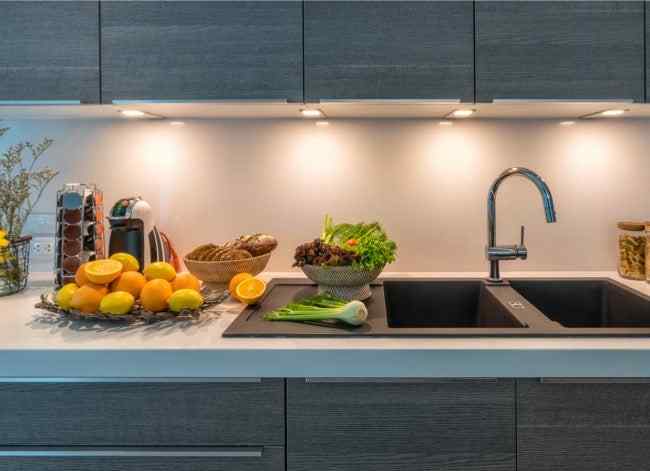 You must consider the lighting's function before deciding on a location. Unhindered illumination of a countertop is required for task lighting. You should aim for the back/centre of the counter to ensure that when you bend or lean forward to accomplish something like chopping, mixing, or stirring your shadow does not fall directly on top of the food you're preparing.
Read: How to Make a Room Soundproof: 15 Ideas That Work Like a Charm
Place spotlights or pendants right over such locations to avoid being blinded when working at the sink, stove, or workstation.
Decor and architectural aspects should be highlighted using accent lighting. To achieve a backlit impression, move the light source one to two inches away from the back of the shelf.
A lot will depend on your choice of light fixture where you want to place the ambient lighting. A flush or semi-flush fixture will go in the middle of the ceiling if you don't have a kitchen island.
Because of this, recessed lights must be spaced evenly across the ceiling and put a few inches back from the front edge of counters to avoid creating a shadow.
Kitchen Lighting Ideas to Brighten Up Your Cooking Time
If you are interested in modernising your kitchen without having to make significant financial investments, you have found the ideal place. A simple change to your kitchen's lighting can have a considerable impact. Make a statement in your kitchen with these fixtures that won't cost you a fortune and will liven it up. We've gathered our best show-stopping light fixtures for the kitchen, including modern sculptural pieces, antique chandeliers, and subtle accents.
Read: Make Your Dining Room Stylish- Purchase Your Glass Dining Table Design
1. Mix the White with the gold.
In the mood for something a touch glitzy yet still fully current? The gold accents on these white pendants add a dash of glitter without becoming overbearing. They have a wonderful circular pattern, which distinguishes them from other items and allows them to fit in nicely with the current aesthetic of the room, which is white and blue.
2. It's time to go black.
Don't be afraid to use black in the kitchen; it can seem beautiful. Do you need further evidence? It's here. With black kitchen lights next to white walls, you can notice a clever usage of monochromatic. Trendy black-and-white kitchens are a great way to expand a room visually. And if you want to go a little further, some light brown furnishings can bring out the farmhouse spirit of your space.
3. Rose gold is unbeatable in every category.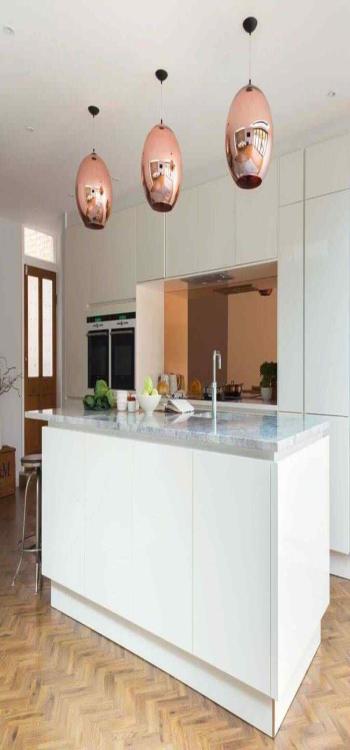 Our adoration of rose gold will quite literally lastforever. It looks gorgeous over everything from your mobile to appliances to your kitchen light fixtures. It even looks good on your furniture.
4. Spice Up Your Kitchen Lights, But Make Sure It Stays Coherent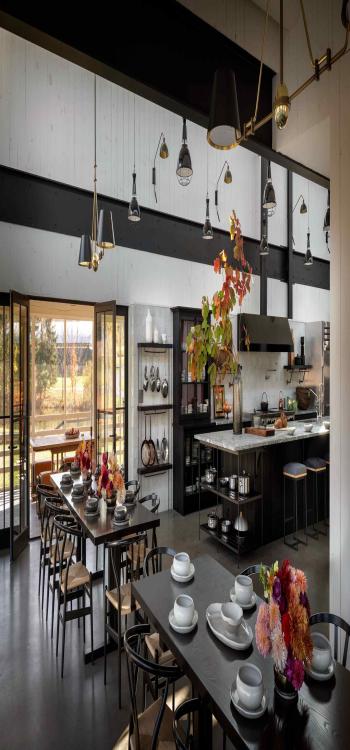 Because every kitchen requires a variety of lighting, you might want to experiment with various fixtures to see what works best in your space. It's okay to experiment with a wide range of colours and forms, but keep the overall look cohesive by adhering to one central theme or colour scheme.
A big barn conversion kitchen demonstrates this notion by using three different types of lighting above the worktops, island, and dining tables: pendant, chandelier and wall lighting. They are all black with brass details, and the overall look is a modern interpretation of the old design.
5. Use Feature Lighting to Enhance a Neutral Scheme
It's not just their illumination intensity that makes a significant difference, but their form can frequently be the finishing piece in your kitchen design puzzle.
A pair of pendant lights in black and dark green dangle above an island in a kitchen primarily coloured with white and light oak, thanks to the contemporary kitchen lighting ideas implemented in this apartment. Along with the faucet, the dramatic black hue of the lights adds structure and a creative design element to the room.
6. Think About Using a Mono Light to Digitise a Point of Interesse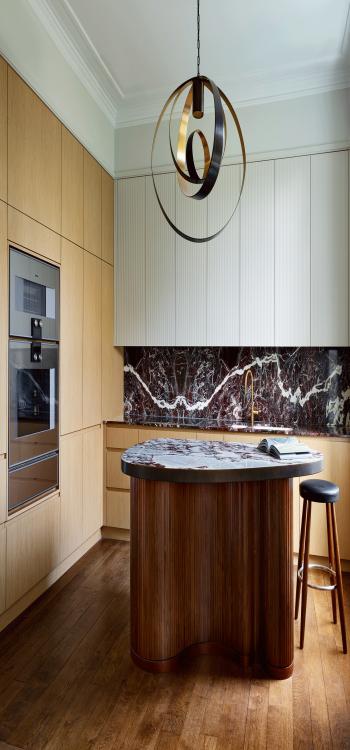 Open-concept spaces benefit significantly from the unifying effect of one designer light placed atop an island unit. It adds an air of refinement while drawing attention to an important design element.
If you're only going to use one fitting, ensure it's large enough to meet the island's dimensions. It's neither too big nor too small, so it doesn't look out of place in the room. If the island's shape allows, place it in the middle or above a bar in the sitting area. As a rule of thumb, the pendant should be at least 90cm above the work surface.
7. Lanterns that can Change their Shape.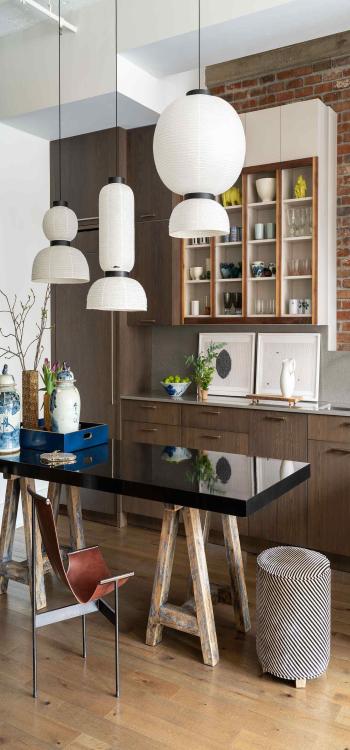 Mixing up the fixtures in your kitchen may add a lot of aesthetic appeals, just like how the three Formakami in this apartment are all slightly different. This gives this kitchen a large shining black table with weathered sawhorse legs in the centre and a quirky-yet-orderly edge.
8. Mischievous Pendant Designs
This contemporary kitchen in this house has been given a dash of whimsicality thanks to the addition of two pendant lights in the shape of squiggly lines. The finished product is in some ways whimsical, in some ways spare, and in all forms spotless.
9. Bring in a Little Rustic Flavour
This kitchen is what we'd call "modern traditional," and we love the subtle hints of more rustic aspects, such as the one-of-a-kind lamp fixture, counter stools, and accessories that can be seen here. The space is clean and harmonious. These minute details lend an additional depth of personality to the already endearing environment. The light fixture's metallic elements help bring the complete appearance to a cohesive conclusion.
10. Make the Most of the Earth's Resources
If you prefer Scandi-style interior design with lots of cane and light wood tones, rattan or woven jute light fixtures can be a terrific way to bring the outdoors in. Of course, we would never turn down a great brass, copper, or oil-rubbed bronze light fixture.
This sculptural pendant is somewhere between softly nordic and inspired by Japanese culture. To put it another way, it is high-design and makes a statement while remaining subtle.
11. Light Up the area Beneath Cabinets.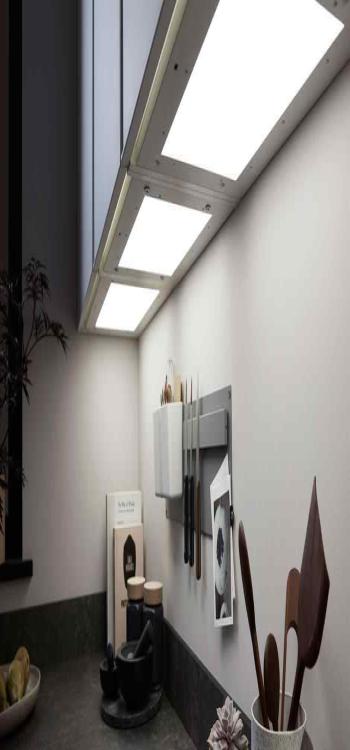 If you take the time to illuminate your cooking space properly, you might find that it doubles as a home office, a haven for food preparation, and even dancing on occasion. Integrated cabinet lighting is one design component that has proven successful throughout the years. These lights are meant to be installed in place of the bases of the wall cabinets. They give illumination inside and below the cabinet, and motion sensors activate them. This means there are no tangled cables or dirty switches in the structure.
12. Begin with the Foundation and work your way up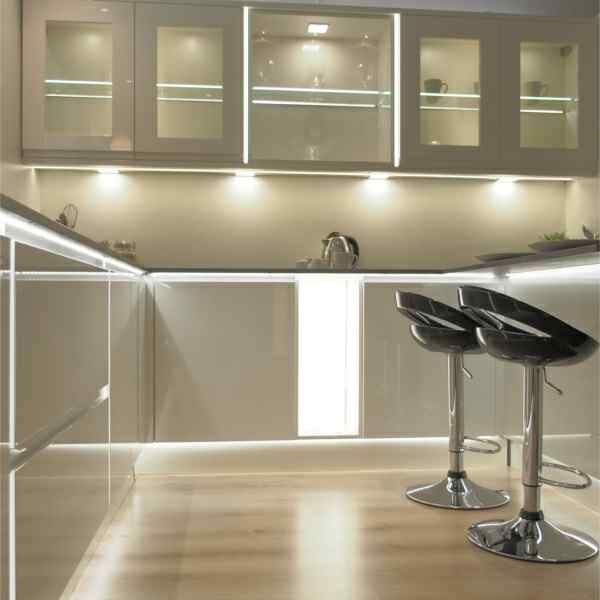 Consider the entire space, from the floor to the ceiling, when deciding how much light to put in it. An island can be illuminated from the bottom to create a warm, welcoming atmosphere. Lighting is critical in establishing an overall sense of well-being in any room, and this lighting style is no exception.
LED profile lighting is one of the most dramatic ways to light up your kitchen island if you want to make a statement. Profile lighting, which sits below the worktop, creates a warm and inviting atmosphere in a contemporary kitchen.
13. Mirrored Lamp Shade Kitchen Lighting Design Ideas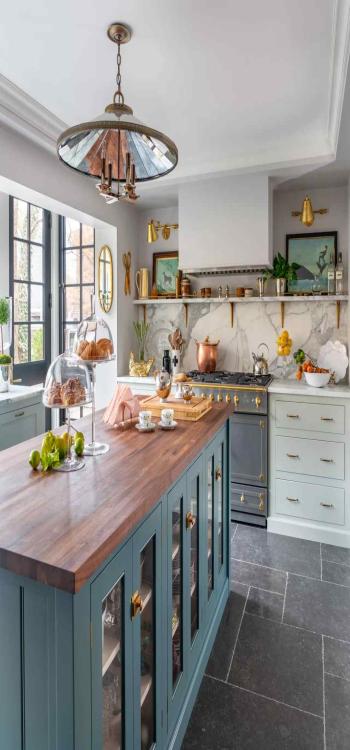 Lighting your kitchen adequately necessitates balancing the use of both natural and artificial light sources. Reflective surfaces can be used in a design in such a way that they enhance the appearance of the space throughout both the day and the night. Glass cabinet doors and a dramatic mirrored lighting fixture create a dazzling jewel in the middle of this kitchen, which is lit by metallic brass elements and reflected light from the darker lower portions of the kitchen.
14. Use Black and Gold Birdcage Designs to create Optical Illusions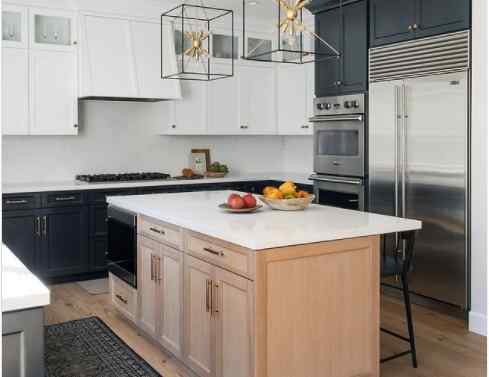 Lighting is an area where experimentation is critical. A light fixture made of metal, bronze or gold adds an exquisite yet industrial feel to the room. You may also play around with the light bulbs to give the chandelier a new look. Cage-style pendants arranged in graphic shapes add immediate impact.
It is possible to get your hands on various geometric shapes, from the simple cube to the faceted hexagon, all of which have been modernised in metallics and harsh industrial tones. With a gravity-defying impression, industrial caged pendant lights are available in various metallic and bright colour finishes to add interest to any kitchen decor – traditional, rustic, urban, or modern!
15. Instead of Downlights, use Wall Lamps
As 'fitted' stiffness of wall units gives way to more relaxing open shelving, kitchen wall lighting options are becoming more prevalent. Kitchen wall lights are ideal as an alternative to ceiling downlights and as a design accent on empty walls. They can be used in conjunction with overhead and task lighting because they are on independent circuits. They can be used alone to create a more relaxing atmosphere in the evening.
If you need task illumination, look for adjustable wall lights that handle high-wattage bulbs. Increase the amount of control you have by using dimmer switches.
16. Invest in Some Stylish Shades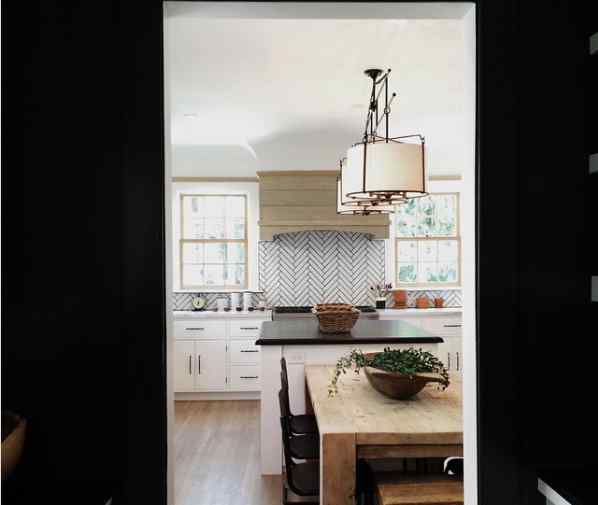 If you're going to use a shade, keep in mind it's not just basic. These white tones are still impartial, but they are in no way uninteresting due to the black accents.
17. The Layered Lariats: Have You Heard of Them?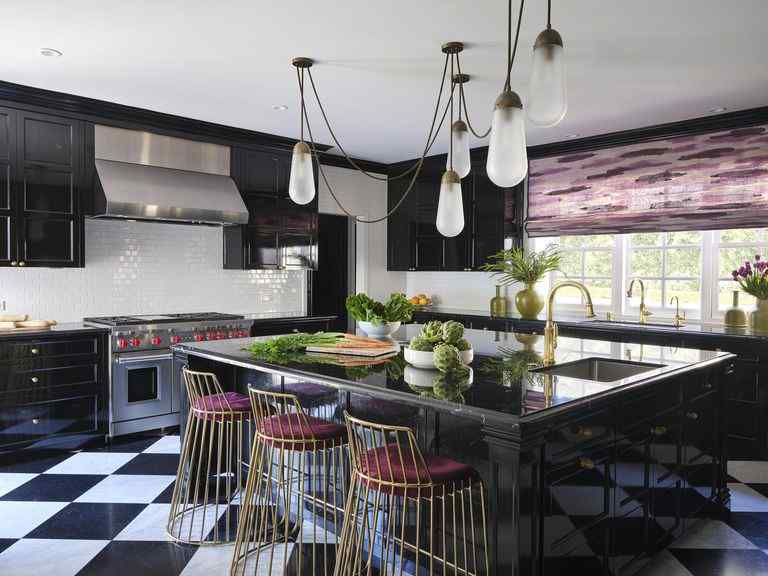 "lariat style lighting" refers to using long, linear overhead lights with a decorative drop, such as a tassel, bar, or bead string. A lariat design is a sure bet for a grouping of lights that stands out both on its own and as part of a larger ensemble. Overlooking a polished island, an industrial pendant hangs from the ceiling, surrounded by brass fixtures and classic Twentieth-century vintage Bride's Veil counter stools.
18. Interesting And Creative Use of Tube Lighting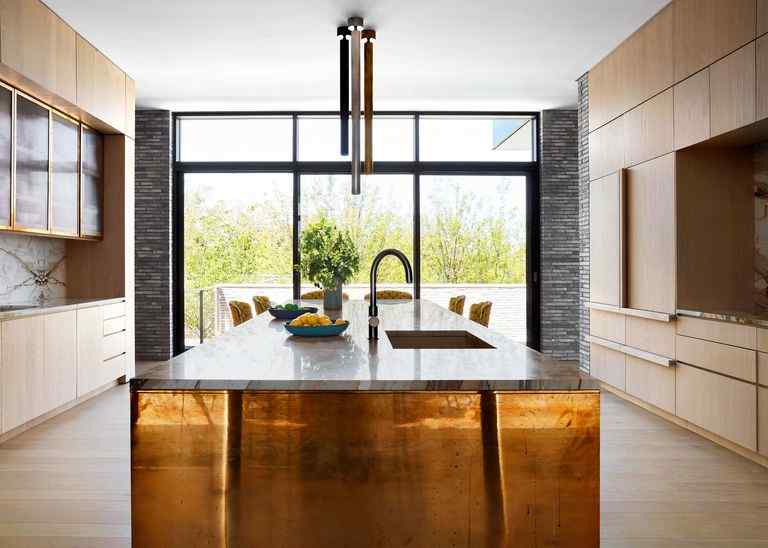 The new light fixture installed in this beach house is sure to win over the hearts of anyone who enjoys a good dose of suspense in their lives. Not only does the drawn-out setup balance off the ample space offered by the island, but it also directs the eye upward, drawing attention to the lofty ceilings.
19. Allow the Lighting to Be the Main Attraction
Suppose the remainder of your kitchen is minimalistic and uncomplicated. In that case, you might want to think about selecting more complex or elaborate lighting to serve as the room's focal point. Not only does a pendant with multiple facets and a Moroccan-inspired design reflect more light, but its artisanal appearance also gives off an air of sophistication that is both creative and personal.
20. Make a Statement in a Big Way!
This is proof that scale is significant. This large pendant lamp adds a quirky touch to the eat-in kitchen area, and at the same time, it delicately echoes the undulating curve of the tulip table underneath it. Here we see how a simple form can enormously impact when you experiment with proportions unconventionally.
21. Choose Lighting that is aligned with the Kitchen Island.
Modern kitchen islands and peninsulas don't feel complete until they have some eye-catching lighting overhead. Preparation is essential, especially on islands longer than two metres. Knowing what will happen on the island helps you plan where to put the lights. Linear pendants are less effective on long surfaces because they can obscure important work areas like the prep area and breakfast bar.
Aim for realism, but with a dash of originality. Six-light pendant with directional lighting and sleek design maximises visibility in the workplace.
22. Invest In a Dramatic Chandelier!
A chandelier that makes a statement is the kind of thing that will make your kitchen stand out to guests. Because of its uncluttered appearance and straightforward, open framework, this one, despite its considerable size, does not come across as intrusive.
23. Try a Layered Light Fixture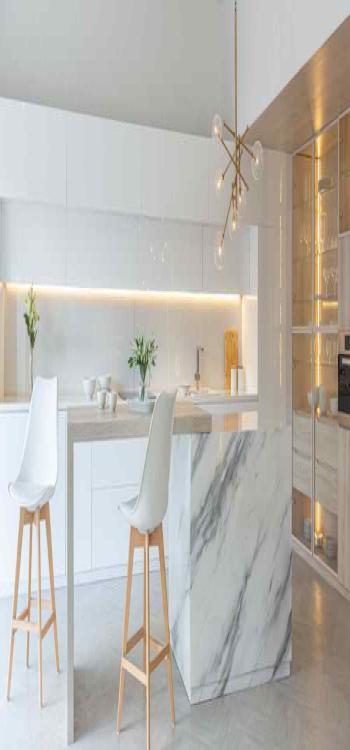 With this delicate layered, modern kitchen chandelier, you can make your kitchen stand out. Despite its smaller size, the provision of multiple bulbs ensures every part of your kitchen is well-lit. The simple colour scheme makes the kitchen decorative lights suitable for most kitchen styles.
24. Keep It Simple
Get this long tube light fixture for your kitchen for maximum brightness without compromising on style. With the outer covering matching the kitchen's dark theme, you can get a seamless lighting solution that doesn't look too jarring and doesn't take the attention away from the kitchen itself.
25. Strength in Numbers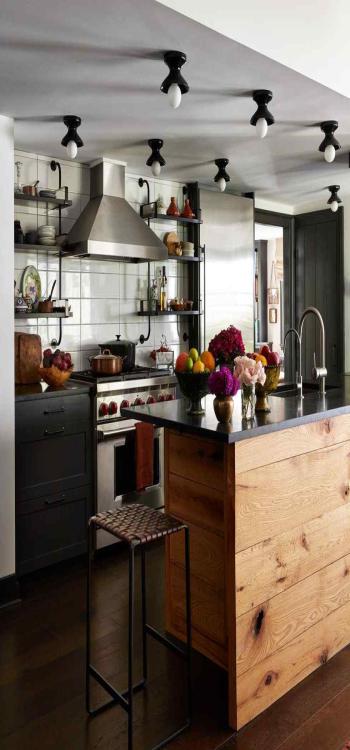 By using the same fixture repeatedly throughout your kitchen, you may further demonstrate the power of repetition. Follow Ryan Lawson's lead and utilise flush mounts from Schoolhouse Electric Company to their full potential in this quaint Connecticut home.
Vastu Tips for Decorative Lights for Kitchen
Families gather in the kitchen to prepare meals for their own consumption. It is a crucial area that gets appropriate lighting as well as specialised lights to enable functionality. Additionally, according to Vastu shastra, this location must adhere to certain lighting guidelines:
According to Vastu, there should be little to no shadows and well-dispersed lighting in the kitchen.
Fluorescent appliances, such as bulbs and tube lights, conserve energy while also illuminating your kitchen and maintaining the room's brightness. But make sure you adhere to all tube light Rules for Vastu and Vastu bulbs
For important work areas, special task lighting can be provided behind the wall cabinets.
Make sure to install lights within the pantry and storage space.
How to Choose the Right Energy-Efficient Light Bulb
When it comes to lighting a kitchen, there are several ways to cut costs without sacrificing style or functionality. One way to save money is to choose energy-efficient light bulbs that can last longer and use less energy. Here's how to choose the right energy-efficient light bulb for your kitchen:
Look for LED bulbs. LED bulbs are the most energy-efficient option and can last up to 25 times longer than traditional incandescent bulbs.
Choose the right color temperature. For kitchen task lighting, look for bulbs with a color temperature of 3500-4000K, which is a cool white that will provide bright, clear light for cooking and food preparation.
Consider the wattage. When choosing LED bulbs, the wattage is less important than the lumens. Look for bulbs with 800-1100 lumens for general kitchen lighting, and up to 1500 lumens for task lighting
How to Cut Costs When Lighting a Kitchen
Now that you know how to choose the right light bulb, here are some ideas for cool and modern kitchen lighting:
Kitchen down lighting ideas. Install recessed lights in your ceiling to create a sleek and modern look. Use adjustable downlights to highlight specific areas of your kitchen, such as the sink or the stove.
Modern kitchen ceiling lights. Choose a modern ceiling light fixture that complements your kitchen decor. Look for fixtures with clean lines and simple shapes for a minimalist look.
Open kitchen lighting ideas. If you have an open kitchen, use pendant lights or chandeliers to define different areas of the space. Hang a row of pendant lights above your kitchen island to create a focal point.
Kitchen lights design. Mix and match different types of lighting to create a layered and functional kitchen. Use under-cabinet lighting to illuminate your countertops and task lighting to highlight your stove and sink.
Kitchen ceiling lighting ideas. Install a statement ceiling light fixture that reflects your personal style. Choose a fixture with multiple bulbs to provide ample light for your entire kitchen.
By following these tips and ideas, you can cut costs on your kitchen lighting while still creating a stylish and functional space.
You can try various kitchen lighting designs to suit your preferences. Most decorative lights come with dimmers nowadays, so you can adjust the illumination accordingly. Are you still confused about lighting up your cooking space? Give NoBroker interior designers a call, and we will guide you into choosing the perfect lighting for your kitchen.

FAQ's
Q-1 What are the best options for kitchen ceiling lights?
A-1 The kitchen benefits significantly from using linear suspension lights, which can be hung at least 40 inches above the counter.
Q-2 Is using daylight bulbs in the kitchen a good idea?
A-2 Cooking duties like slicing vegetables and following recipes necessitate using daylight bulbs, which are ideal for the kitchen. It may not be required to install bulbs with such high colour temperatures if you don't frequently do duties in your kitchen.
Q-3 How many light fixtures should I install in my kitchen?
A-3 One recessed light should be used for every 4 to 6 square feet of ceiling area, according to a rule of thumb that is commonly used. This ensures uniform illumination across the space. Pay attention to this regulation if you use only recessed ceiling lights to light your kitchen.
Q-4 In a kitchen, where should downlights be placed?
A-4 They should be carefully placed over a kitchen island and your work surfaces. It's also possible to put them in such a way that they illuminate the front of your cupboards, illuminating your work surface underneath. Lighting artwork in your home with downlights is an excellent option.
Q-5 Should lighting in the kitchen be warm or cool?
A-5 If you're looking for a warm, inviting atmosphere in your kitchen, you'll want to use a warmer bulb—which is easier to see in the dark. The hue of a bulb, like any other decor piece, can alter a room's ambience in addition to changing visibility.