Are you struggling to transform your kitchen into the heart of your home? "Kitchen Design Tips" could be the answer you've been searching for. After all, who doesn't dream of a kitchen that's both stunning and incredibly functional? But here's the catch: without the right guidance, your dream kitchen can turn into a design disaster. In this blog, we're about to reveal a treasure trove of kitchen design wisdom that will elevate your space to a whole new level. From optimizing your kitchen layout to selecting the perfect countertops, get ready to unlock the secrets of a dream kitchen. It's time to cook up something special, so keep reading.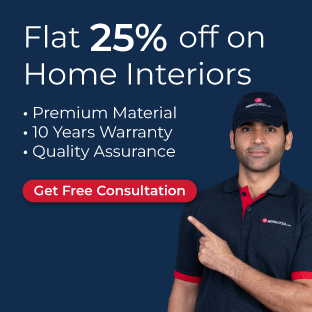 The Basic Elements Of Kitchen Design
Designing your kitchen is more than just choosing colours and materials; it's about understanding the fundamental elements of the best kitchen interior design. These elements play a crucial role in ensuring that your kitchen details are not only functional but also visually appealing. Let's delve into the key design elements you should consider when planning your dream kitchen design layout.
Read: 32 Unconventional Ideas for Creative Office Partition Design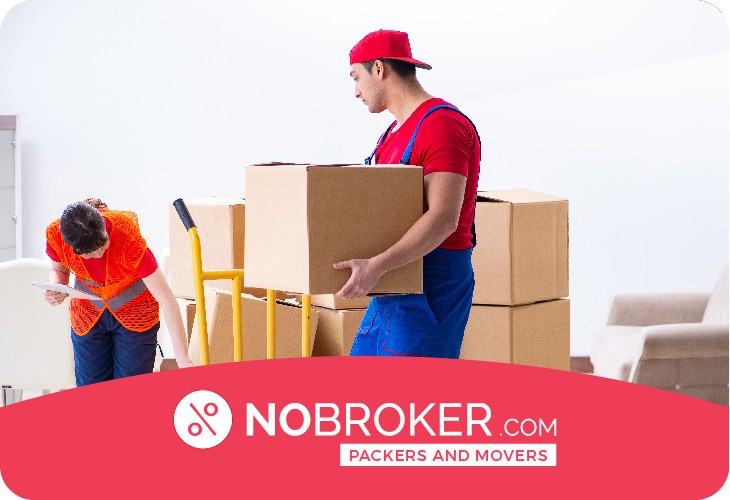 Book Best Packers & Movers with Best Price, Free Cancellation, Dedicated Move Manager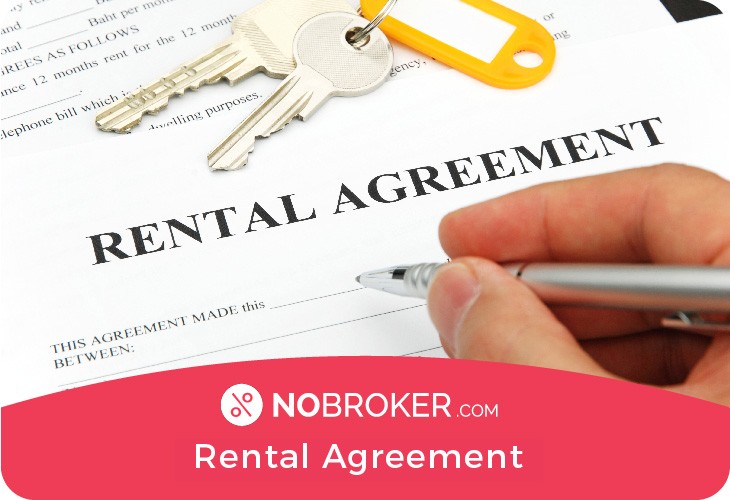 Get Rental Agreement With Doorstep Delivery, Super Quick & Easy
This is third
This is third
This is fourth
This is fourth
This is fifth
This is fifth
This is six
This is six
This is seven
This is seven
This is eight
This is eight
1. Space: In kitchen design, space is the canvas on which you work. It can be divided into two categories: positive space, where you place objects and negative space, the open areas. The balance between these two types of space determines the overall feeling of your kitchen. A well-balanced space creates a welcoming and aesthetically pleasing environment.
2. Line: Lines guide the eye through your kitchen. Whether it's the lines in your cabinetry, countertops, or the architectural layout, each contributes to the overall harmony and mood of the space. Vertical lines convey dignity, while horizontal lines offer a sense of stability. The use of lines influences the emotional impact of your home kitchen design.
3. Form: Every component in your kitchen has a form or physical shape. Forms can be measured in terms of height, width, and depth. There are two types of forms: man-made and organic. Creatively utilizing different forms can enhance the mood and aesthetics of your kitchen setup.
4. Colour: Colour has a significant impact on the mood and atmosphere of your kitchen. Different hues can evoke various emotions. Neutrals offer a calming ambience, while bold colours can create excitement. White, a timeless choice, can make your house kitchen design feel spacious and open.
5. Texture: Texture can be both tactile and visual. Tactile texture is felt when touched, while visual texture is perceived through sight. The use of different textures can add personality and character to your kitchen self-design. Smooth textures convey elegance, while rough textures suggest sturdiness.
Read: Bathroom Makeover: Top Bathroom Renovation Ideas and Trends
By understanding these fundamental elements of beautiful kitchen designs, you can craft a space that not only looks great but also functions efficiently. So, when planning your kitchen, consider how space, lines, forms, colours, and textures come together to create the kitchen of your dreams.
The 13 Best Kitchen Design Tips to Renovate Your Kitchen in 2023
1. Eliminate Wasted Steps
When you are planning a kitchen Idea, you need to find the right place for the stove, sink, cabinets and more. The aim is to have as many things as possible at arm's reach so that you don't walk around the kitchen for everything that you need. The prepping area, the cooking sections, the washing section, and the storage section all need to be planned carefully. You can consult the knowledgeable NoBroker Interior Experts who can assist you with designing your kitchen while considering Vastu principles.
2. Design Wide Walkways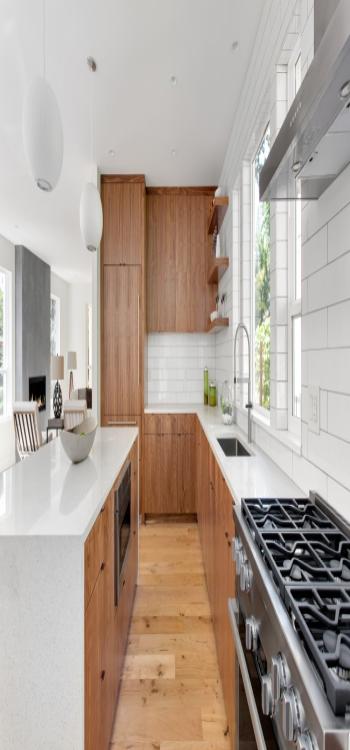 The kitchen is one of the most used rooms in the house. You're in there to cook breakfast, lunch and dinner. You will also find all members of the family coming in to see what's cooking, or to get some food, or to cook something too! When this room is used so much and has to accommodate so many people you need to design your kitchen with wide walkways so that people can walk freely, without bumping into things or people.
Read: Opening Doors to Style: Modern Bedroom Door Design Concepts
3. Keep the Corners Clear

When you think of space management, it's very tempting to utilize all the space you have, including the corners. The experts suggest otherwise, especially for your kitchen. Utilizing corner storage can limit the available space within your walkways and make cleaning a daunting task. That's why maintaining clear corners in your kitchen is the recommended approach.
4. Find the Right Height
For your stove, sink, and microwave, the height of your countertop is very important. In most homes, they pick a random height to make the counter. When you are doing your kitchen interior design, you can change the height of the counter so that accessing the stove, sink and microwave is easy for you. When you hire NoBroker Interiors to design your kitchen, they will find the right height for each object and place it so it is more convenient for you.
5. Determine the Kitchen Island's Function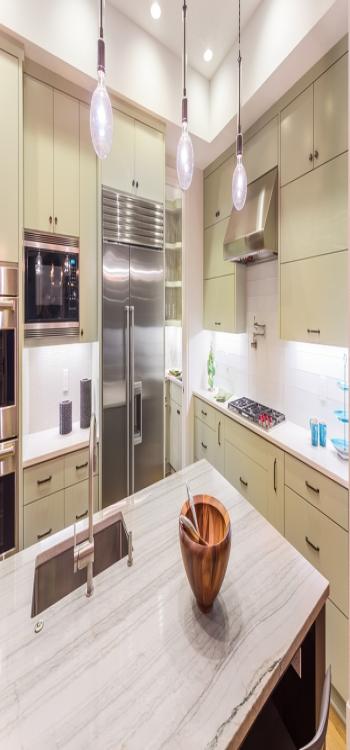 If you look at any modern kitchen interior design, you'll see that they have a kitchen island. This is nothing but a small counter that is in the middle of the kitchen. This makes cooking a little more convenient as it is centrally placed, you don't have to walk around the kitchen for things, and you can place it on the counter to make things easier. But, you need to decide what you want to do at the kitchen island, do you want to use it as a prep station, a cooking station, or a washing station, then you can design the island for that particular function.
Read: Kitchen Counter Granite Design: Find Inspiration for Your Kitchen Remodel
6. Plan Landing Space
Landing space is critical, this is needed for cooks to place food items or cookware, hot off the stove or to clean up. These open countertop spaces called "landing areas" are required near the sink and near the stove, if you have a bigger kitchen, then you can have more landing space. But for small kitchens, use kitchen space savers to create extra space in your kitchen. Expert interior kitchen designers will tell you that you need a minimum of 12-15 inches of landing space on either side of the stove and 18-24 inches of landing space by the sink.
7. Consider the Kitchen Countertops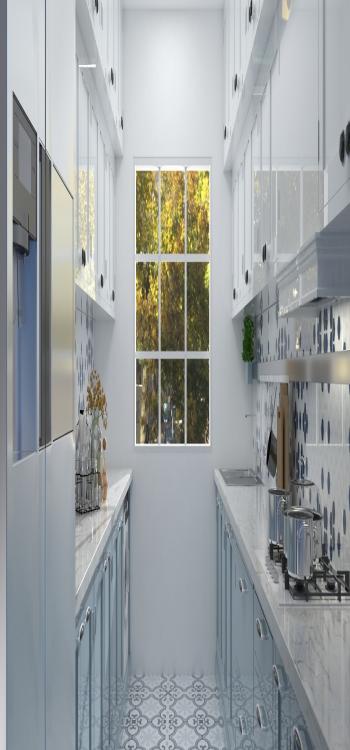 Apart from the height of the countertops, you also need to consider the different materials used to make your countertop. You can choose granite, marble, quartz,ceramic, cement and so on. You need to be careful choosing this as each material has its own pros and cons. An experienced designer will be able to suggest something based on your usage and requirement.
8. Arrange the Range
When you are designing the interiors for your kitchen, you need to keep in mind what type of cooking range you want to have. Do you want a regular stove? A range oven, a Stacked double oven, a single oven and son on. Depending on the choice you make, the kitchen needs to be designed. If you put a stove on top of the counter, then you need to keep in mind stove height and counter height, if you have a standalone range, then you will need a gap between the counter for the range to fit it.
9. Cut Cleaning Time
Let's face it, cleaning is not exactly exciting, especially after a cooking marathon. From scrubbing veggies to washing dishes, cleaning the stove, wiping countertops, tackling cabinets, and mopping the floor, it's an endless chore. That's why when designing your kitchen, choose décor and materials wisely to make cleaning easier. Some materials are low maintenance, while others stain easily or can't handle heat. And beware of materials that either proudly display every speck of dirt or cleverly conceal it. Read more about Kitchen cleaning from here.
Read: Give A Twist to Your Kitchen with These 15 Island Kitchen Design Ideas
10. Break up Cabinetry Blocks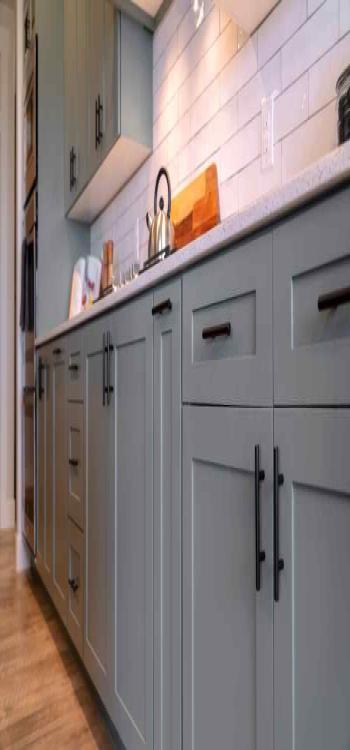 Many amateur designers think it's a good idea to have all your cabinets together. It might look neater, but it's not functional, especially in your kitchen. Cabinets need to be broken up and used wherever space is available. You need to have cabinets for your groceries, masala dabbas, cutlery, crockery, cookers, and large appliances like toasters, mixers and so on. They need to be spread out so that you can access what you need at each stage of cooking, and it helps your kitchen look better.
11. Use Light Colours in Small Kitchens
Did you know that colour plays a part in how we act, our moods and emotions and even how much we eat?! Since it plays such a huge role in our daily lives. That's why we should choose the combination of kitchen colour wisely. In most Indian kitchens we prefer using dark colours, dark colours don't stain easily and require less maintenance. However, dark colours are not a good idea in small kitchens, they make the space look dull, dark, and smaller. If you use a lighter colour, you'll notice that the kitchen instantly looks larger and a little brighter and more welcoming.
12. Find a Focal Point
When you design your kitchen interiors you need to design them so that there is a focal point in the kitchen. The most common kitchen focal points include the stove, backsplash, and chimney/hood, but it can also be the sink, island, or window. If you have a large kitchen, you can have more than one focal point. Without a focal point, your kitchen will look boring and bland.
13. Take it Outdoors
Looking to design an outdoor kitchen? Whether you're planning a budget-friendly DIY or a customized setup, there are plenty of options to suit any backyard. Consider the features you want, such as a barbecue, pizza oven, sink, fridge, and ample preparation space. Remember to assess power and plumbing needs, choose weatherproof materials, plan structure and storage, and consider wind, sunlight, and safety.
What are the Seven Types of Kitchen Layouts?
Based on the type of build, a kitchen layout can be classified into seven distinct types namely-
1. Island Kitchen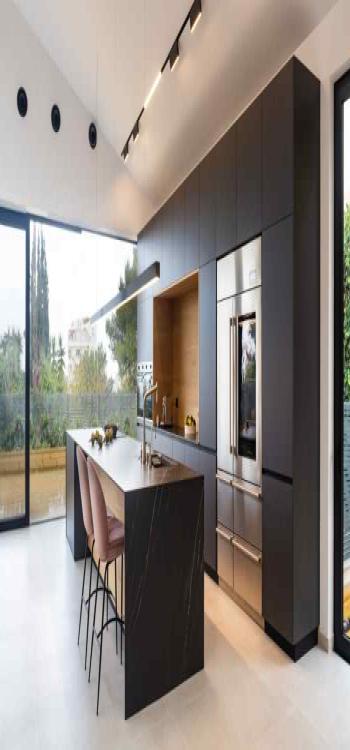 With interior kitchen design ideas becoming one of the latest design trends, an island kitchen is a perfect choice if you have a big space for your kitchen. As the name suggests, the kitchen is shaped like an island with the entire space being taken by modern, functional amenities.
2. Parallel Kitchen

Parallel Kitchen is a trending modern small kitchen idea that utilises space by placing two countertops parallel to each other. This allows your small kitchen ideas to be less claustrophobic and have a free flow of light.
3. Straight Kitchen

A straight kitchen design is a simple kitchen interior design idea that has just a single countertop in a Small Kitchen. It's a perfect choice if you have a small space and want to try a simple yet colourful kitchen idea.
4. L-Shape Kitchen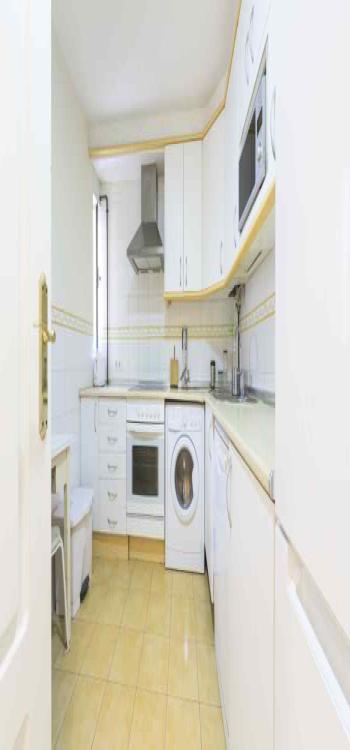 The L-shaped Kitchen has the countertops placed together to form an L. It is a good choice for a small kitchen interior design as it will help you keep the space clutter-free.
5. U-Shape Kitchen
The countertops of a U-shaped kitchen design idea are placed in three lines adjacent to each other to form a U.
6. Open Kitchen
An open choice is a popular choice in kitchen interior design especially small kitchen interior design as it easily blends with the rest of the house. The Kitchen is kept open with all functional amenities placed inside the space.
7. Galley Kitchen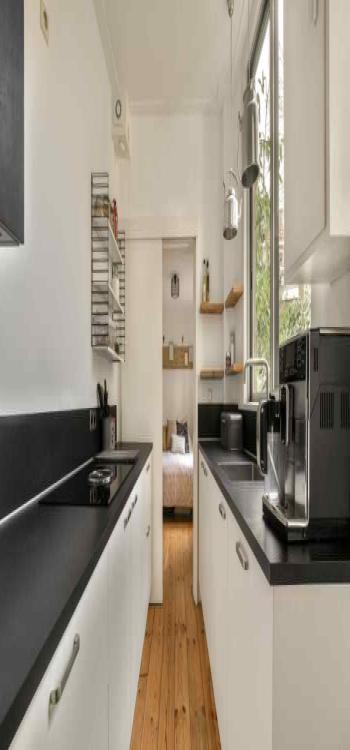 A kitchen design idea with two rows of cabinets placed facing each other supported by a narrow walkway. This design is mostly preferred in professional kitchens.
Designing your modular kitchen requires a balance between style and functionality. Create an efficient layout facilitating easy access and choose lighting fixtures that enhance both its ambience and functionality. Opt for durable, easy-to-clean materials and most importantly, Make your taste shine while ensuring all practicality. Incorporating all these elements together can be quite a challenge. You can seek guidance from NoBroker Interior Services for expert assistance.
FAQ's
Q.  What is a good kitchen design?
Ans. A "work triangle" should be established between your refrigerator, sink, and cooktop. You should also provide enough storage and if at all feasible, a sizable clear surface for food preparation. These factors are crucial for an efficient kitchen design.
Q. What are the six fundamental kitchen layouts?
Ans. The Six Most Common Types of Kitchen Layout
The One Wall Kitchen
The Galley Kitchen
The L-Shaped Kitchen
The U-Shaped Kitchen
The Island Kitchen
The Peninsula Kitchen
Q. Where in the kitchen should a refrigerator go?
Ans. Always place the refrigerator adjacent to a bench with enough room between them. This will make it possible to load groceries quickly, reducing the length of time the door is left open. It will also make it simpler to quickly collect the components needed for food preparation and set them down on the prep bench.
Q. According to Vastu, where should the kitchen sink be placed?
Ans. The northeast orientation is ideal for installing sinks and faucets since it denotes the presence of flowing water. Additionally, because water and fire are two opposing elements, it is important to make sure that the sink and taps are located away from the cooking gas.
Q. Which colour is auspicious in the kitchen?
Ans. White is viewed as a representation of positivity and purity. Additionally, it is connected to neatness and light, two elements that are essential to a productive kitchen. According to Vastu, the greatest colour for a kitchen is white. This is due to the fact that it spreads good vibes and makes for the perfect kitchen wall and floor colour.