When it comes to decorative accents, brown is an obvious choice. Not only is it a classic colour, but it's also an easy and stylish way to add warmth to your kitchen.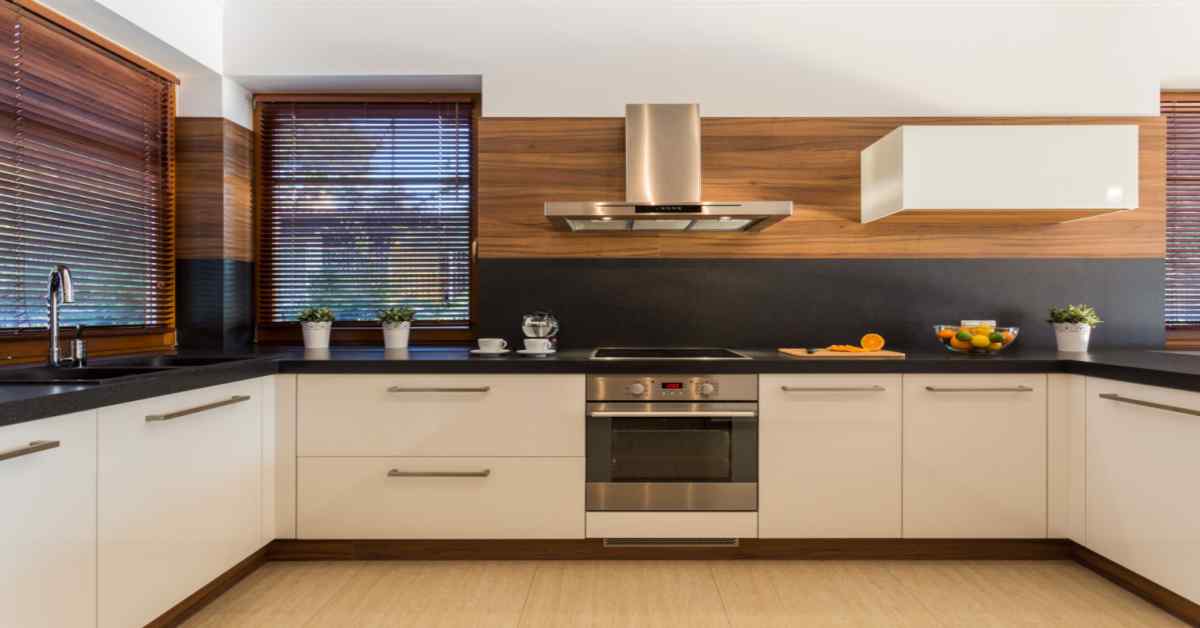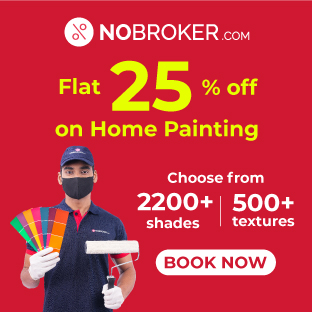 Brown kitchen colour combinations allow you to create a soothing, and inviting look. But, with all the options, how can you decide which brown kitchen colour combinations will work best in your space?
In this Blog, we'll share 12 of the best brown kitchen colour combinations for modern and rustic homes.
12 Brown Kitchen Colour Combination
To give you some design inspiration, here are twelve brown kitchen colour combinations to finish your space.
1. White And Brown Kitchen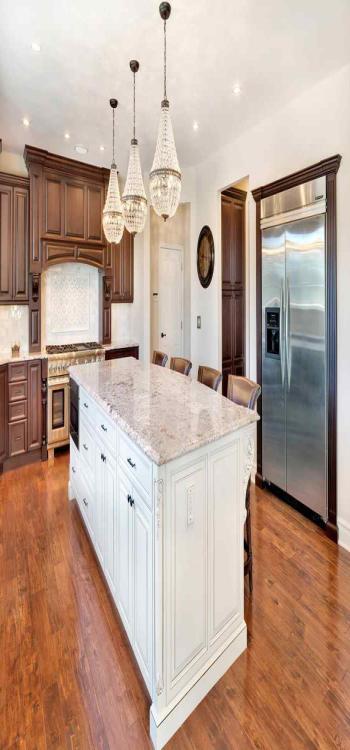 The first of these combinations features a brown backdrop with white countertops. This creates a bright and airy feel in the kitchen while incorporating the depth of brown hues. To add an accent colour, opt for blue and white tile backsplash and neutral-coloured curtains or blinds to bring the whole look together.
Read: 3 BHK Painting Cost in Top Cities (Bangalore, Mumbai, Delhi, Pune, Chennai, and Hyderabad)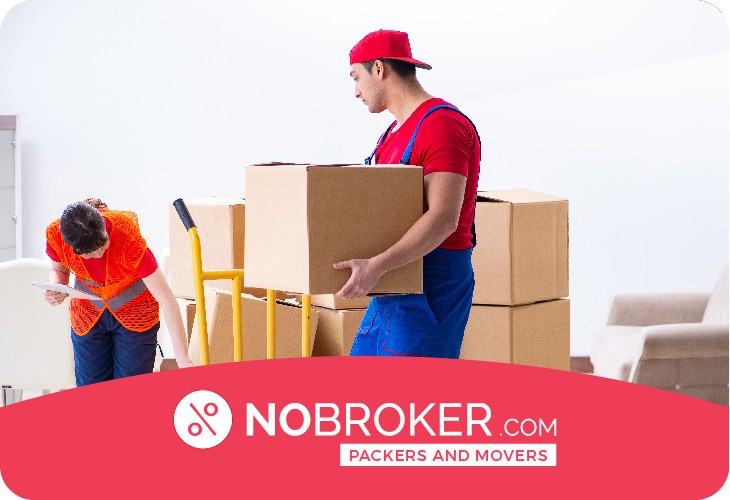 Book Best Packers & Movers with Best Price, Free Cancellation, Dedicated Move Manager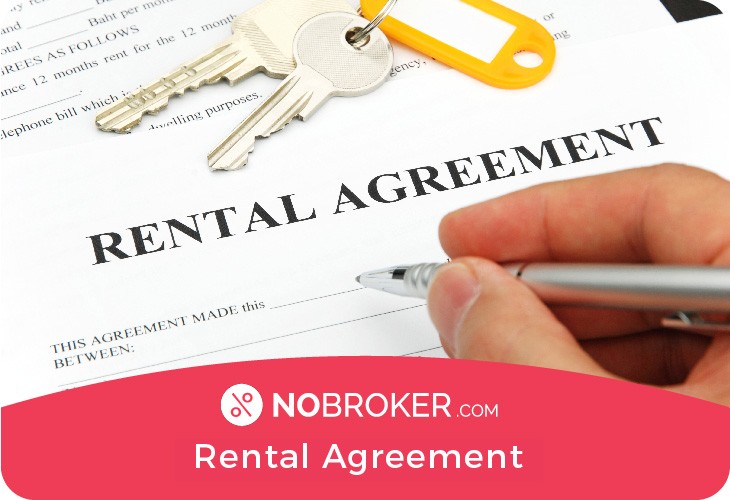 Get Rental Agreement With Doorstep Delivery, Super Quick & Easy
This is third
This is third
This is fourth
This is fourth
This is fifth
This is fifth
This is six
This is six
This is seven
This is seven
This is eight
This is eight
2. Light and Dark Brown Kitchen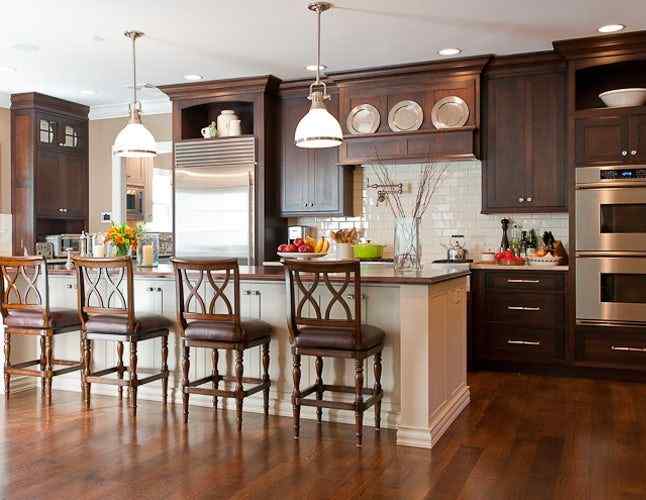 A combination of light and dark browns is a timeless and elegant choice for any kitchen. Incorporate a warm, dark, chocolate-brown cabinet with a light beige to create a perfect contrast. This look is ideal for traditional kitchens and works well with all styles of appliances, such as stainless steel and white.
3. Copper and Chocolate Brown Kitchen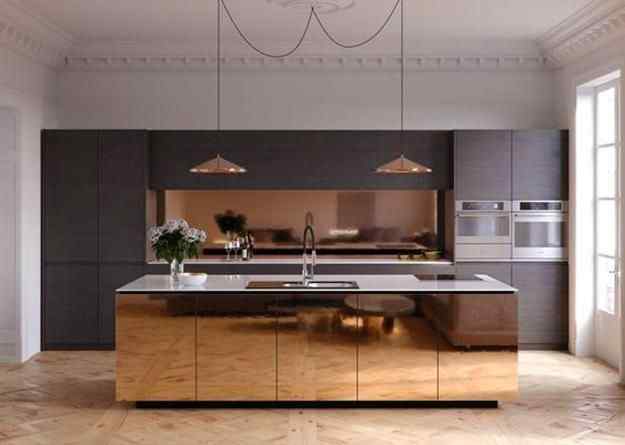 Perhaps one of the most interesting and eye-catching brown kitchen colour combinations is a combination of copper and chocolate brown. Try pairing copper cabinets in a light, weathered finish with dark chocolate walls and white quartz countertops. This is sure to create a warm and inviting atmosphere.
4. Grey and Brown Combination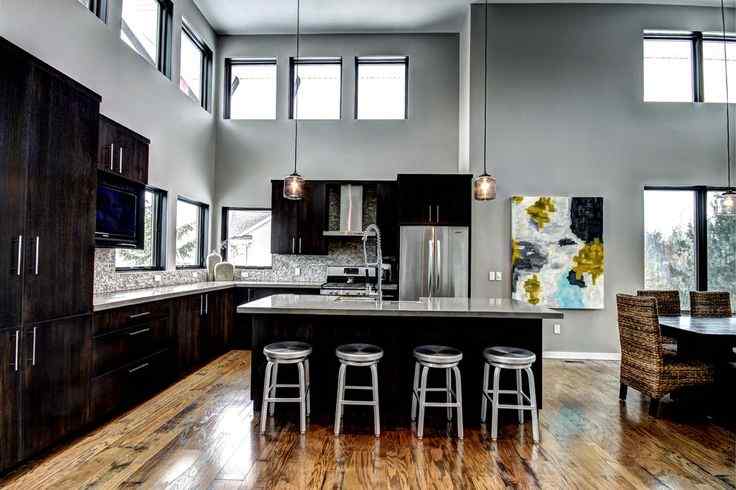 Grey and brown are a classic colour combination in decor and can be used for a warm and inviting kitchen. Try adding a medium brown to the walls and cabinets, then pair it with a light or dark grey for the countertop and backsplash. This combination will bring warmth while adding texture and interest.
5. Brown and Yellow Combination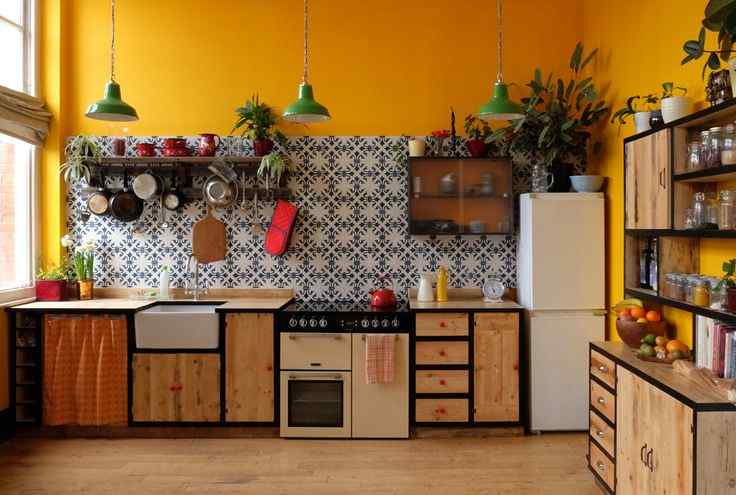 If you're looking for an uplifting brown kitchen colour combination, consider combining brown and yellow. Start with a bright yellow on the walls and cabinets and pair with a medium brown for the countertop and backsplash. This classic combination is sure to bring a cheerful atmosphere to the room.
6. Golden Brown Kitchen Cabinets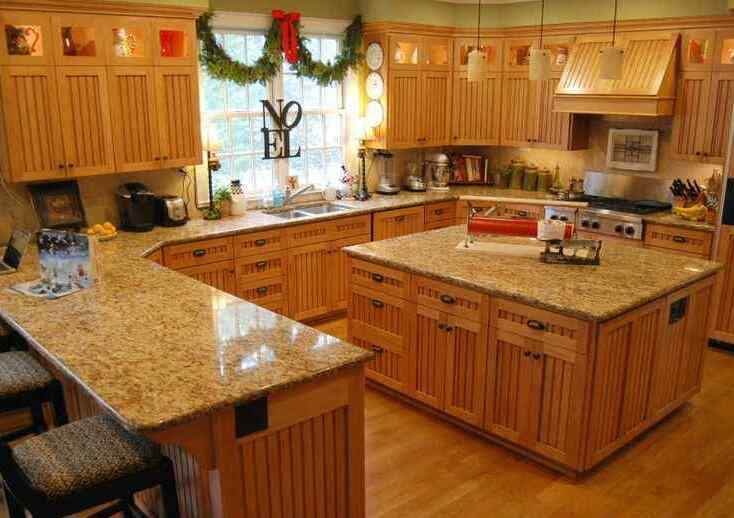 If you want to add a bit of luxury to your kitchen design, consider using golden brown kitchen cabinets. This will add a hint of warmth and glamour to the space. If you're looking for an even bolder look, try pairing the cabinets with lighter shades of grey and white for a modern yet elegant look.
Read: Best Home Painters in Kukatpally, Hyderabad
7. Orange and Brown Kitchen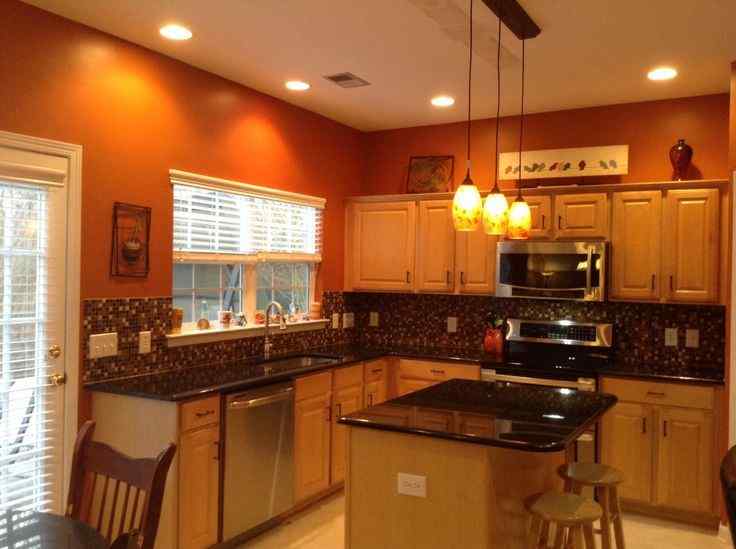 This combination is a great way to add a splash of colour to your kitchen—the orange pairs nicely with the warm tones of the brown, creating a cosy and inviting atmosphere. Try pairing brown wood cabinets with orange walls or a more dramatic look with an orange island and brown walls.
8. Blue and Brown Kitchen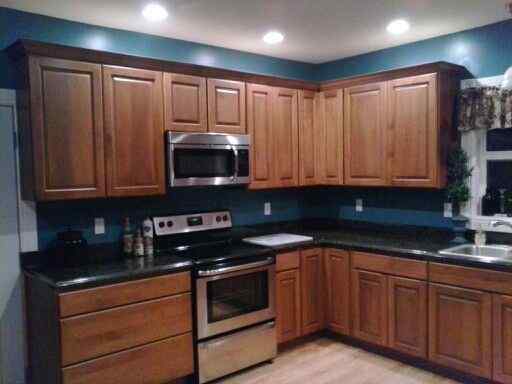 Blue and brown is a classic combination that can bring a modern twist to any kitchen. Using blue on the walls and brown for cabinetry is a great way to create a chic aesthetic that still feels warm and inviting. You can also use hues of blue and brown to create a more subtle feel.
9. Green and Brown Kitchen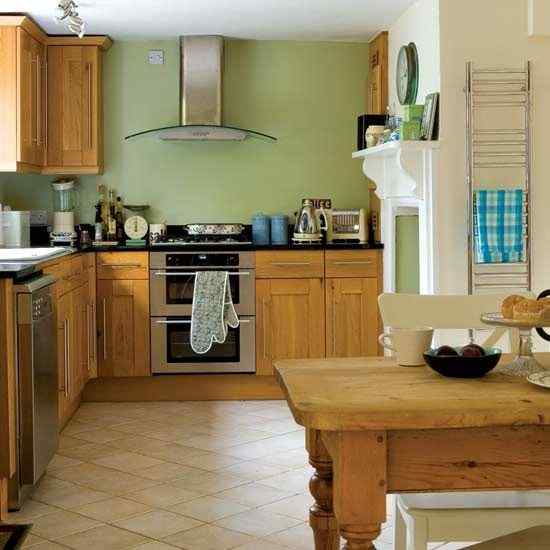 This combination is the perfect pick if you want to bring some colour into your kitchen. Green and brown pair nicely together, creating a unique and striking look. Try using green wallpaper with brown cabinetry or a more traditional look with green walls and brown furniture.
10. Black and Brown Kitchen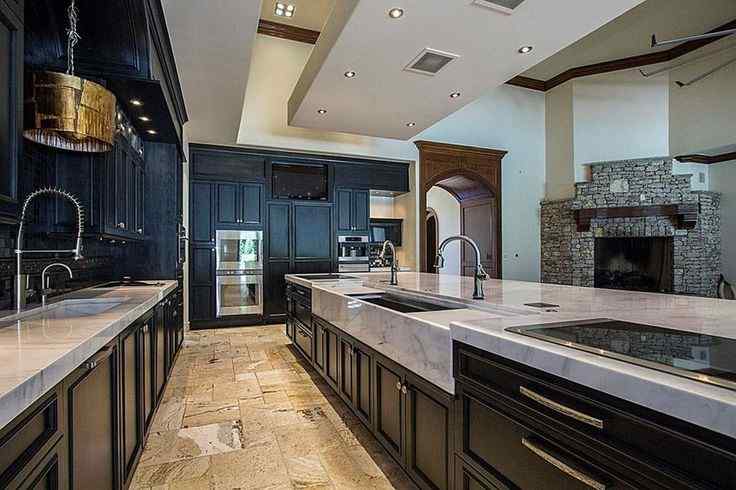 Pair brown cabinets with a black countertop and backsplash for a dramatic statement. The contrast of these two colours will make your kitchen look sophisticated and refined. Use wooden flooring and a reclaimed wood island to add warmth and texture. This combination of colours and materials will make your kitchen inviting and unique.
Read: Birla Putty Price
11. Brown Cabinets with Wooden Floor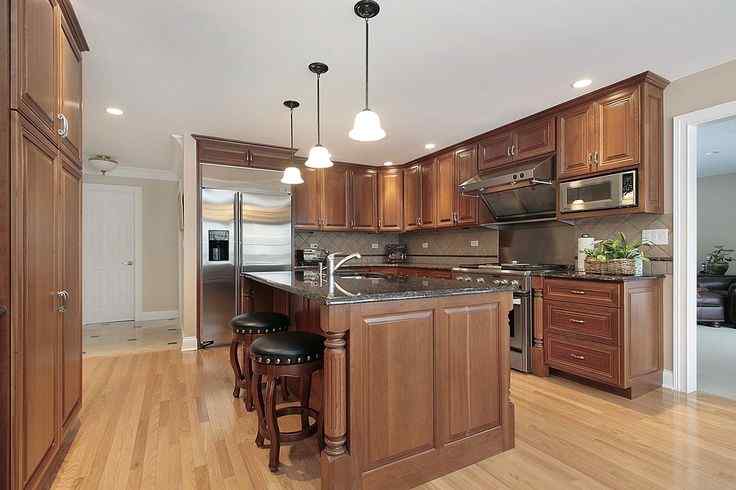 If you prefer a softer, more traditional look, brown cabinetry with a wooden floor is an attractive choice. Pick a light or medium tone of brown and keep everything else light and bright. To introduce depth and dimension, use a glass backsplash to balance out the warmth of the wood floor.
12. Brown Kitchen with Brick Backsplash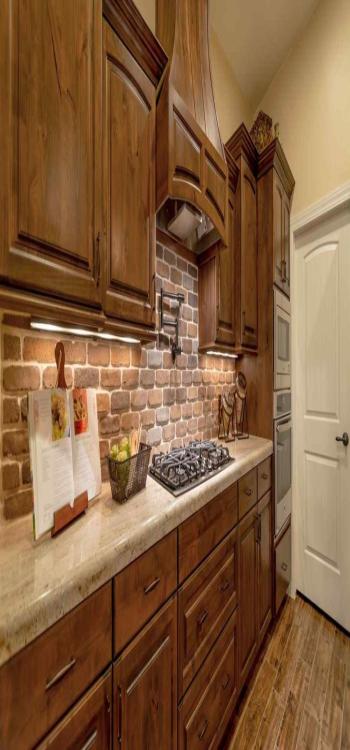 Finally, a brown kitchen with a brick backsplash is a great choice for a funky modern look. The neutral brown cabinets provide a strong base for the brick's warm reds, oranges and yellows. To make it even more interesting, use a glass countertop and white appliances. Combining all these elements results in an eye-catching kitchen with a stylish and contemporary vibe.
Different Finishes to Complement Kitchen Cabinets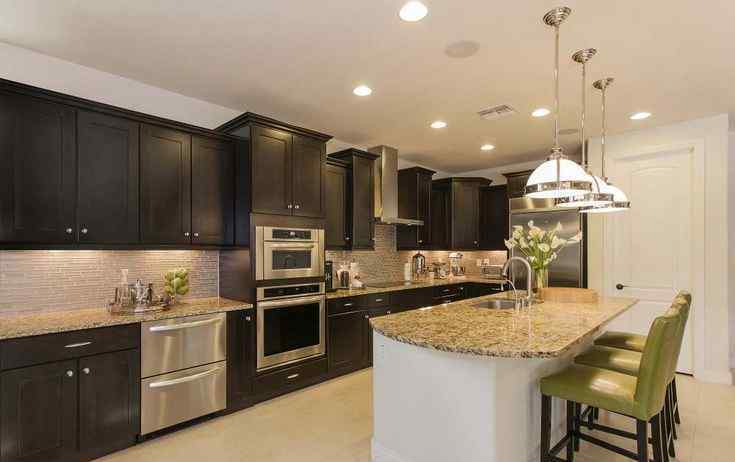 The kitchen is the heart of any home, so choosing the right finish for the cabinets can be extremely important. There are a variety of finishes available to complement existing kitchen cabinets and help to create a unique look. These include membrane, laminate, glass, and acrylic.
Membrane–finishes are popular for their durability and waterproof properties. They come in a wide range of colours and textures, allowing them to match most existing décor. Because they are so durable, they are often used in high-traffic areas or environments where moisture is present.
Laminate–finishes are a great choice for flooring because they are more affordable than wood and easier to maintain. Laminate is available in a variety of colours and textures so that you can create a unique look for your home. Laminate is also scratch-resistant and durable so it will last years.
Glass–adding this finish to your kitchen cabinets is a popular way to add a touch of elegance and sophistication to the space. Glass is a beautiful material that can help reflect light and make your kitchen feel more open and airy.
However, glass is also a delicate material that is prone to scratches and can be easily damaged. Therefore, it is important to take extra care when cleaning and maintaining glass finishes to keep them looking their best.
Read: Asian Paints Interior Colour Combination Catalogue
Acrylic–finishes are the most durable option for your home, as they are highly resistant to scratching, heat and humidity. Acrylic finishes come in a wide range of colours and textures, so they are perfect for creating a unique look. Whether you are looking for a high-gloss or mattefinish, you can find an acrylic finish that suits your needs.
No matter what kind of finishes you choose for your kitchen cabinets, the key is to create a unique look that complements your existing décor. Membrane, laminate, glass, and acrylic finishes can all be used to create a beautiful and unique kitchen.
A brown kitchen colour combination can be a beautiful and timeless way to create a cosy atmosphere in the heart of your home. From light, earthy tones to dark, rich shades, you can incorporate brown into your kitchen in many different ways.
A great way to start is by painting your walls a warm shade of light tan or beige, instantly brightening the room. Then, add a touch of sophistication with darker brown cabinets and an island for extra storage space. Finally, choose neutral accessories like white countertops, stainless steel appliances, and wooden accents to complete the look.
Together, these hues will create a beautiful and inviting kitchen you can enjoy for years. Brown kitchens come in many different shapes and sizes. If you're considering remodelling your kitchen and want to make a statement, you should consider adding brown to the mix.
Brown is a versatile colour that can help tie together different design elements in your kitchen. One of the best ways to incorporate brown into your kitchen is with a colour combination. NoBroker can help you identify houses that contain brown kitchen parts and give a platform for contact with property owners or agents to obtain additional information.
Read More Kitchen Related Blogs

FAQ's
Q1. Which countertops go best with my dark-coloured kitchen cabinets?
A1. Marble, white quartz, or brown granite would look good with deeper brown cabinetry. Of course, marble might still work with lighter brown cabinetry, but you may also choose a black countertop to add a striking contrast.
Q2. Is a kitchen better off in a brown colour?
A2. According to Vastu Shastra, one of the most popular colours for kitchens, brown infuses your home with warmth and a sense of contentment. So paint your kitchen a cheerful shade of brown.
Q3. What accessories go best with my dark brown kitchen cabinets?
A3. A potted plant will add a splash of vibrant greens to any shade of brown. To unify the space and add some visual interest, you could also match the accessories to the colour of your hardware or add a complementary splash of colour.
Q4. What improves the lighting n a kitchen?
A4. To quickly increase the lighting in your kitchen, think about placing lights underneath the sagging cabinets. Recessed lighting can also be added to the ceiling. CFL light bulbs replicate crucial natural light, whereas halogen light bulbs add a lot of light to a dim area.
Q5. Should kitchen cabinets contrast with walls by being lighter or darker?
A5. The aesthetic you want to achieve will determine whether your cabinets are lighter or darker than your walls.