If there is one thing this pandemic has taught us, it's that life is not all about the rush. We no longer dash out of the house every morning to catch our commute to work. We do not have any more hassle to cook and pack lunch boxes every day quickly. Hence, we have a lot more time in hand to enhance our daily routine to be a little more mindful and pleasurable. And to do so, the first investment you must make is in a classy dressing table for your bedroom. But, before buying one, make sure you go through all the latest modern dressing table designs of 2023 for the bedroom, and choose the one that suits you the most.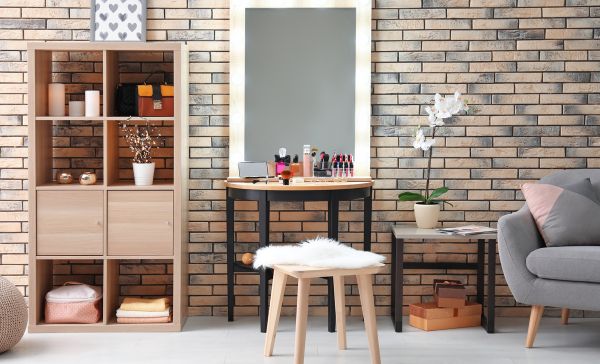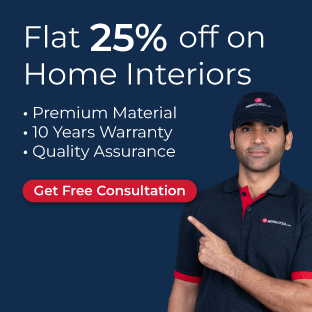 You must be cautious while selecting your ultimate bedroom dressing table design, as it is not only a carefree personal space for your skincare routine but also an essential element of your home interior. The right kind of dressing table will help you get rid of all those rifling through the purses for your favourite lipstick on the one hand and give you a chance to live out your celebrity fantasy of setting up a makeup area dedicated just for yourself. And who knows, with #dressing table crossing over 500,000 Instagram stories, this new dressing table design may become your next trendy Insta story backdrop.
Read: New and Trending Track Lighting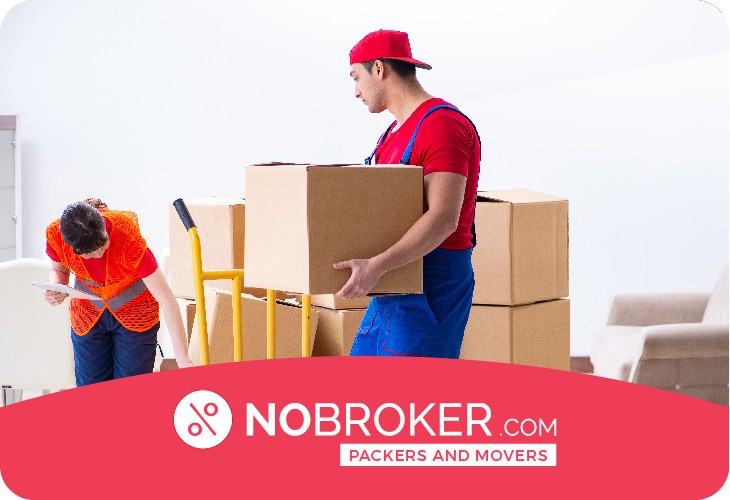 Book Best Packers & Movers with Best Price, Free Cancellation, Dedicated Move Manager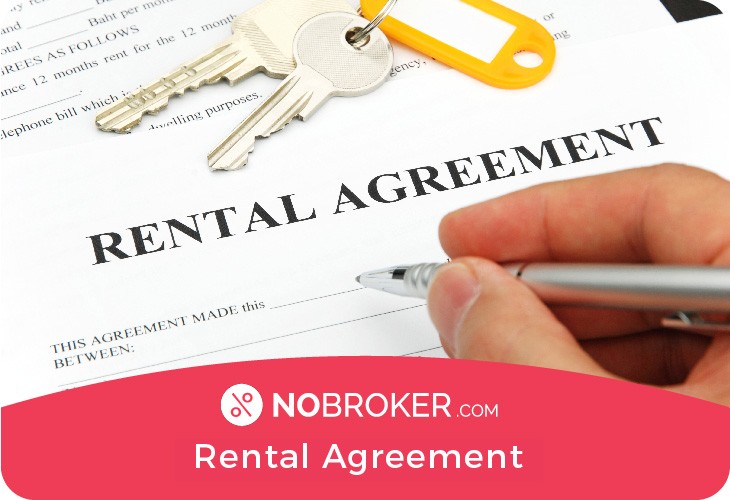 Get Rental Agreement With Doorstep Delivery, Super Quick & Easy
This is third
This is third
This is fourth
This is fourth
This is fifth
This is fifth
This is six
This is six
This is seven
This is seven
This is eight
This is eight
Let's check out some of the latest dressing table designs with photos to glam up your bedroom in 2023.
Modern Dressing Table Designs for Small Bedrooms
Small bedrooms need functional and lowkey dressing tables that do not take up a lot of space. Here are some dressing table ideas for those with a space crunch.
1. Alcove Dressers
Make innovative use of the alcoves in your room. Install a built-in makeup cabinet to store all your cosmetic essentials. Try to place this area as close to the window as possible. So you can make the most of the sunlight! Install a soft-focus light for evening makeup sessions. Make sure to leave some space underneath for tucking in a small stool.
Take the picture below. Look at the strategically placed cabinet that takes up zero floor space. The small niche makes it easy to tuck away the seat after use.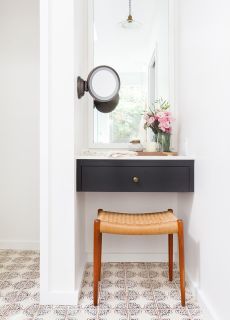 Not a fan of this simple design? With a little bit more space, you can turn your dressing room into a luxe area. See how the padded walls provide a rich backdrop for this hanging mirror. The pale pink flower bunch adds a bit of drama to this grey and white space.
Read: Realize your perfect jewellery showroom interior designs: Tips & tricks for a stunning showroom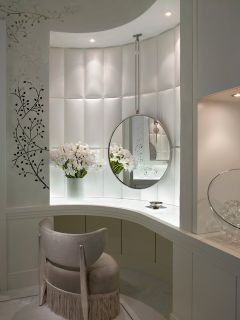 2. The Corner-Shelf Warm Look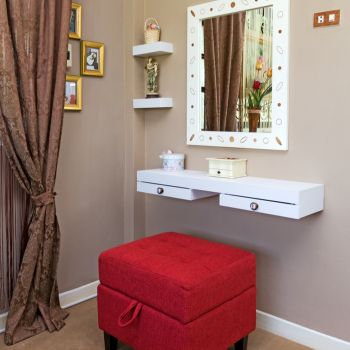 Simple is elegant! Note how this small shelf in pearl white stands out against the soft lavender walls. The bright red ottoman is creating an air of opulence in this area. Make sure to use house corners optimally like this.
3. Wall-Mounted Dressing Table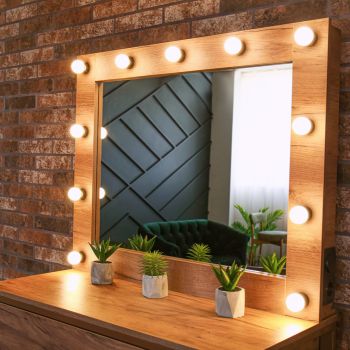 Letting your whole dressing cabinet fixed onto the wall is an effective way to keep your floors clear. Store your cosmetics easily in the drawer. The chunky square mirror adorned with makeup lights adds some warmth and elegance to this space, while the brick walls provide an earthy backdrop for this dressing room. Smaller simpler hanging dressing tables are available for those who want a more minimalist look.
4. Minimalism is the Key
Modern dressing table designs for the bedroom do not need to be elaborate, especially if you have a small makeup stash. For example, take a look at this ultra-simple dressing area. The mirror is the focal point here. The charcoal grey drawer and chair aptly add to the minimalist charm of this modern drawing-room. You can display your makeup and perfume bottles or choose to stash them away at your convenience.
Modern Dressing Table Designs for Spacious Bedroom
A spacious room gives you the luxury of exuding comfort and style and the freedom to decorate the space more craftily. All you need is the right accents, colours, and furnishings.
Read: Liven Up Your House with These POP Light Designs
5. Luxurious Dressers with a Touch of Gold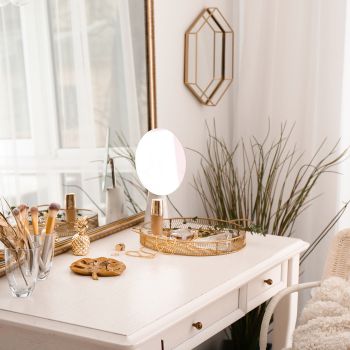 A long and elaborate mirror is always a great focal point of any functional dresser. Instead, invest in a simple dresser with a mirror with side detailing. Something a little different from the generic dressing table designs for Indian bedrooms. Pair this up with a statement Victorian-style chair, and you have got an Insta-worthy dressing corner!
6. Mix and Match Styles
How about a neat and cosy dressing table in your bedroom? Take a look at this white dressing table with a wooden finish top. Cute white shelves in a ladder-like design add to the charm of this space. You are getting lots of space to store your makeup stash, too. This is a great idea for a bedroom dressing table design. The large mirror against the rustic brick walls adds a different dimension to this cosy spot.
7. Timeless Wooden Dressers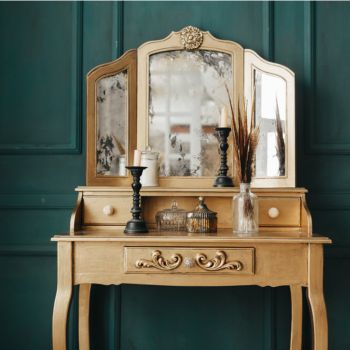 Trends will come and go, but a solid wood dressing table is timeless. Most wooden dressing table designs for bedrooms involve a solid wooden floor-standing cabinet accompanied by a round mirror. However, if you are looking for something unique, you can use wooden frames with a full-length mirrors attached to them. Add some studio-style spotlights or some white vanity lights around the length of the dresser. Design a few niches on the frame and install them on your wall. Also, it doesn't always have to be a rectangle. You can provide your carpenter with a bit of space for creativity and add some curvaceous cuts to the wood.
Read: Fun Bunk Bed Design Ideas that People of All Ages will Love
8. Dresser for Kids
Kid's bedrooms are naturally soft and pastel with cute motifs. Their dressing tables are no exception. So, carve out a small niche to set up a small-length mirror and some tiny shelves to accommodate their fashion items. After all, kids too need some space to store their toy watches, bags and hairbands! This compact dressing table in this room fits in perfectly with the decor and yet is just enough for kids and can be useful up to their teen years.
9. Linear Dressing Tables
Are you on a tight budget? Then go for streamlined dressing tables that do not stand out too much and are in tune with the rest of your decor. For example, look at the picture below. This simple linear design of this white dressing table is lowkey and functional yet doesnot look out of place. A medium-size mirror and your makeup essentials in the display can alter this dressing area completely.
10. Reinvent Your Work Table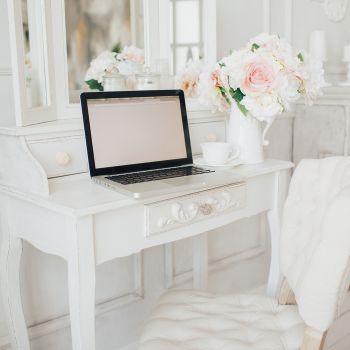 A lot of us are working from home nowadays. So how about a dual-purpose workstation that can double up as your dressing table too? The best part is you can grab your lipsticks for a quick touchup before any online meetings!
11. Mirrored Cabinets
Mirrored cabinets serve as your dressing table with loads of storage area. If you have a knack for accessories and perfumes, these modern bedroom cupboard designs with dressing tables are perfect for you.
12. Private Dresser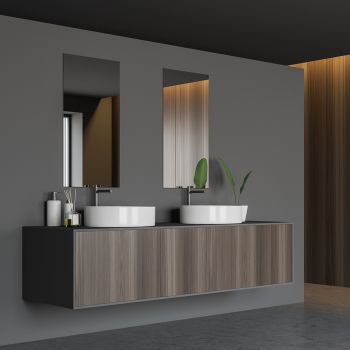 Not everyone likes having a complete dresser in their rooms. So instead, opt for a dresser in the privacy of your bathroom. Install cabinets on either side of the mirror to store your makeup. A wall-hanging or a wooden floor cabinet also works.
13. Make Use of Your Passage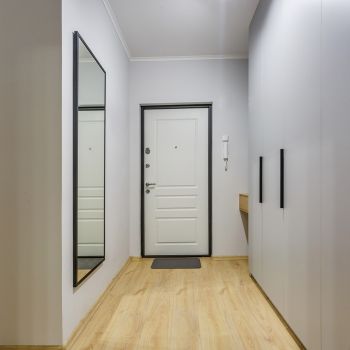 If you have a spacious bedroom, then use your passage to create a fantastic dressing area. Cupboards, mirrors on both sides, shelves for storing your perfumes and accessories- it cannot get better than this! You can also find these kinds of dressing rooms in luxury hotels.
14. Glam it Up
Are you a dramatic person? In that case, your dressing room should also exhibit the same flair. Invest in-studio lights and a plush stool/ottoman. Don't forget the large mirror. Now you are all set for a dramatic makeover!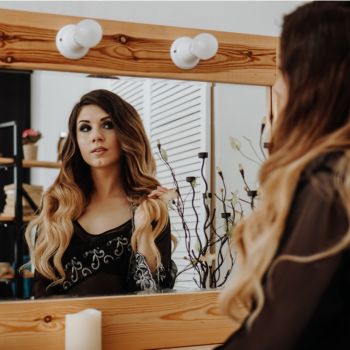 15. Journey Back to the Time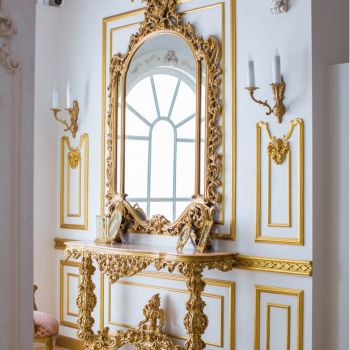 If you are an old soul, some vintage charm is just what you need in your dressing room. Look at this vintage dressing table with elaborate details in pale pink and white.
How to Choose your Bedroom Dressing Table Design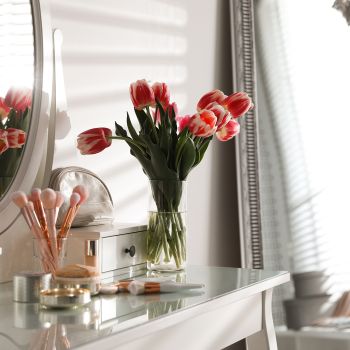 Small or large, exotic or simple dressing table designs for your bedroom should go with the overall theme and aesthetic of your bedroom
16. Space-efficient Dresser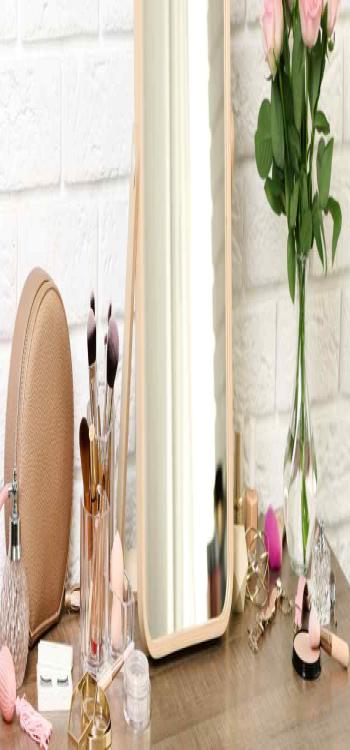 Small or large, exotic or simple dressing table designs for your bedroom should go with the overall theme and aesthetic of your bedroom
17. Wooden Relief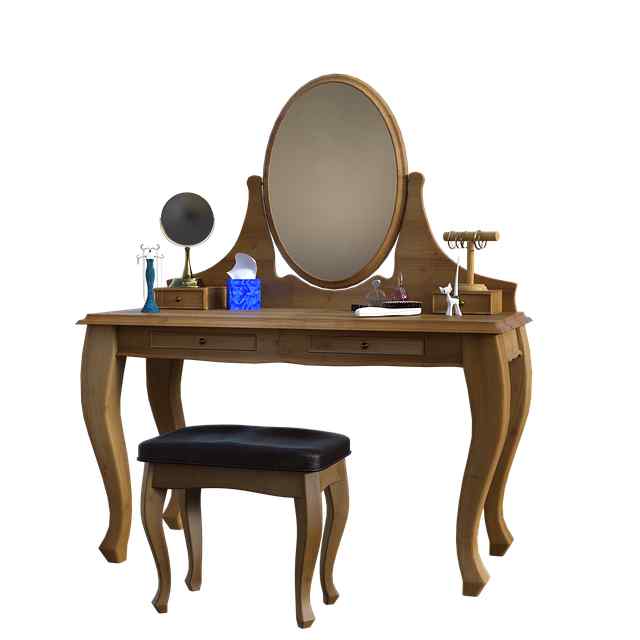 This wooden dressing table design for the bedroom gives a sense of royalty to the room. It saves space but also adds a solid corner to your room. With this type of design, you can follow a minimal wooden theme for your bedroom.
18. New Traditions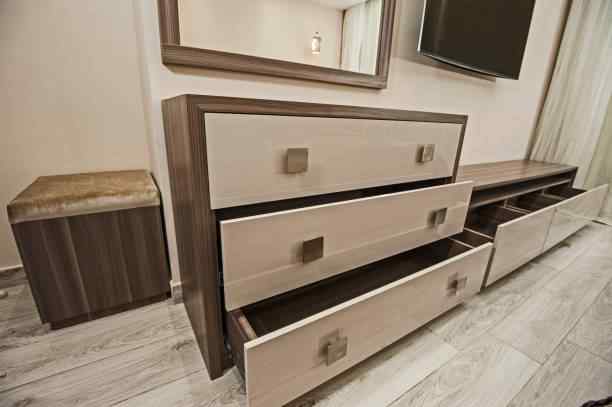 If you're comfortable with experimenting and letting go of the traditional design – the above dresser style works well for you. It has a separate mirror and storage area which adds to the modern aesthetic of a bedroom.
19. Wall-mounted dressing table designs for bedroom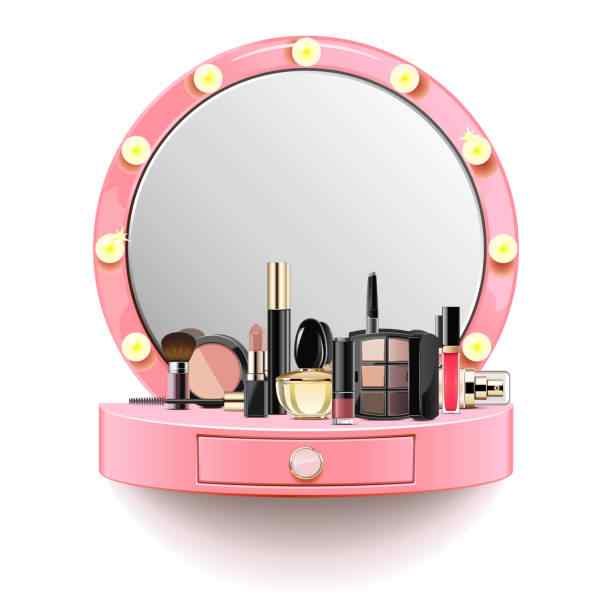 This type of dresser design is perfect for a modern dressing table design for a small bedroom. This dressing is space-efficient and is also pocket friendly.
20. Pure Perfection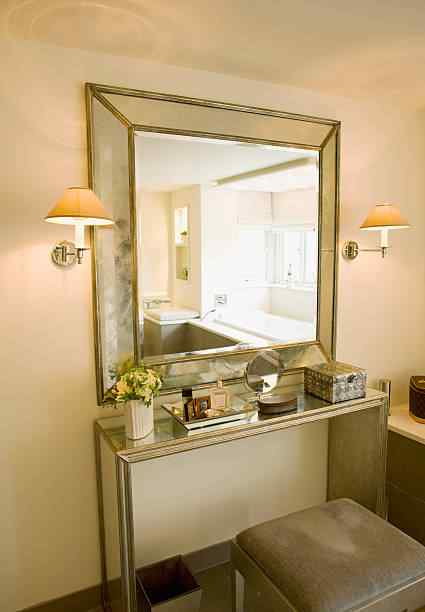 This design of the dressing table is a perfect balance of gold and panache. The design of the dresser and mirror is unique, but the real game-changer is the colour scheme used here.
Top Factors to Consider when Choosing Dressing Table Design for a Bedroom
The first and most significant step is to determine the furniture's requirements and needs. The number of cabinets and drawers you'll need in the dresser, as well as the accessories you have, can help you determine. Before you buy a dresser, be sure it comes with the mirror you want. Storage capacity, different drawers for keeping distinct accessories such as socks, ties, accessories, cosmetics, and a mirror are all on the list.
Availability of Space
There are many modern dressing table designs for the bedroom, and the usual one has a few drawers and a mirror. Before purchasing the dressing table, be sure to check the height, depth, and breadth of the dresser to ensure that it fits into the available space in your bedroom. You can choose the perfect dresser furniture set for your bedroom with this knowledge.
It is critical to imagine the furniture in the room to create a cohesive concept. This will keep the various pieces of furniture and decor in the bedroom in balance. It will also keep the room clear of any clutter.
Theme
It's critical to have a theme in your bedroom so that the decor and furniture can be centered around it. Consider the items you'll need in your bedroom as well as the furnishings that will be the focal point. The bedroom's unnoticed beauty might be enhanced by a dresser with a magnificent mirror. A genuine atmosphere is created by using a thematic approach to house design.
Advantages of a dressing table
Stylish Dressing table designs for the bedroom come in a variety of materials, including solid wood, engineered wood, MDF, and HDF. A solid wood dressing table is both durable and long-lasting. The solid wood material's feature-rich surface lends an attractive look to bedroom interior design. It creates a sophisticated dressing area in your bedroom where you may visualise yourself confidently wearing a dress for the day.
Interiors
Stylish Dressing table designs for the bedroom come in a variety of materials, including solid wood, engineered wood, MDF, and HDF. A solid wood dressing table is both durable and long-lasting. The solid wood material's feature-rich surface lends an attractive look to bedroom interior design. It creates a sophisticated dressing area in your bedroom where you may visualise yourself confidently wearing a dress for the day.
Organization
A dresser allows you to organize all of your accessories and belongings that may have been causing clutter in your bedroom. It can also serve as a storage area for items such as smartphones, charging cables, grooming supplies, tablets, and watches.
Style
A dressing unit, along with a bed and a wardrobe, can be the focal point of a bedroom. Integrating mirrors into the furniture will provide the impression of more space and light inside the room. The versatile dressing station will help to organize and simplify your room by providing additional storage space. Adding lighting fixtures will enhance the space's ambiance and make it more appealing to the eye.
Consider Room Dimensions
Always consider your bedroom dimensions while choosing a dressing table. Large, complicated dressers sure look good but also take up a lot of space, which makes it quite challenging to fit in our modern apartments. On the other hand, if you possess a spacious bedroom, a sleek dressing table design can give you space to add up accessories like an adorned flower Vase, a floor lamp, or a small shelf beside the dresser to elevate the look of the room.
Dimension Ratio Matters Too
You should also consider the dimensions of the dressing table you choose. While something too big can crowd the space, a tiny one won't serve the functionality. Hence, your dressing table dimensions should match the proportion of your bedroom.
Know Your Requirements
It is also essential to understand the usage of the dressing table before you buy one. For example, do you like your makeup neatly stacked in a drawer or exhibited smartly on the dresser? Do you have kids who can reach out to your openly showcased cosmetics quite easily? It will also help you shortlist the styles you want.
Where should a dressing table be placed?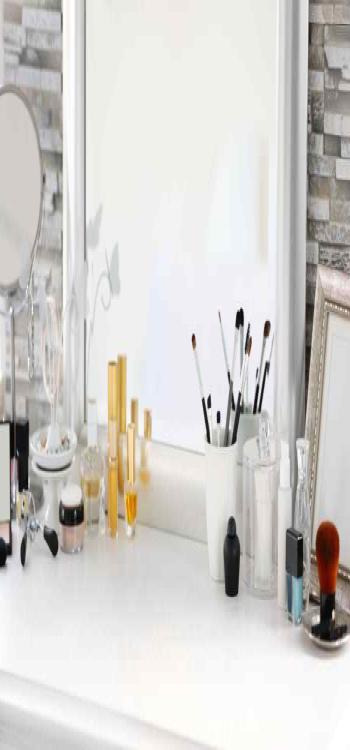 It makes sense to integrate the dressing table into your bedroom as dressing, bathing and sleeping go hand-in-hand. Quite often the bedroom functions as the landing for the dressing room and bathroom.
It is best to put your dressing table in your bedroom where you can get as much natural light as possible. You may place the dressing table with a mirror, across from the windows of your bedroom so that it will reflect light onto your face.
What should you have on a dressing table?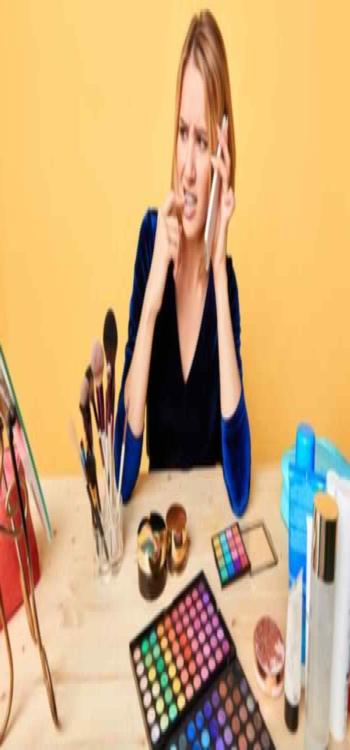 Your dressing table should be the hub for your make-up equipment,self-care and beauty supplies. Supplies need to be personalised and organised as per priority — you shouldn't have to search around for your favourite lipstick or beard conditioner, especially when you are in a hurry.
How to Declutter Your Dressing Table: 4 Easy Steps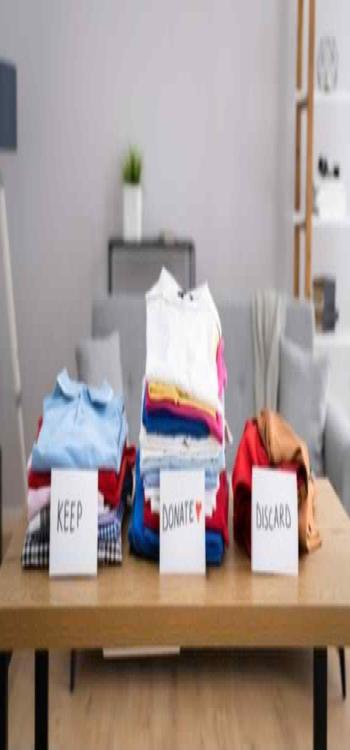 Let's take a page from Marie Kondo, a Japanese Organising Consultant to declutter your vanity table. take each item on your dressing table and consider four questions:
Question 1: Do you NEED this product/item?
When you think about it, you will realise that a lot of our purchases are done on a whim, often under the influence of marketing. However, if the item under consideration is not something that is needed, It will only add to the clutter.
If the answer to this question is no, perhaps you should discard the item, or think about giving it away to somebody else.
Question 2: Will you still USE this product?
Say the item under consideration passes the first test. The next thing you ought to do is to evaluate the usefulness of the product. Maybe it is a skin moisturiser that you bought because of need and never used for three months. Such items also need to be discarded.
Question 3: Has it expired?
There is no point in retaining expired products on your dressing table. Throw them out instead of risking accidental usage, and damage to your skin.
Question 4: Does the Product SPARK JOY?
Consider if you enjoy using the product. If yes, keep it, if not, discard it.
Follow this approach with each item on your dressing table, and you will have an easier time discarding the items that do not have positive responses for this questionnaire. Although it might feel distressing to discard items that you have purchased, remind yourself that this is going to help you in the long run.
Be it contemporary, ultra-glam, or vintage- your dressing area should reflect who you are. The above-mentioned modern dressing table designs for bedrooms are unique in style and help personalise the dressing area. These dressing table designs for Indian bedrooms are indeed an inspiration for the ones who love decorating their houses. If you are still not sure what design to choose, click the link below and let the expert interior designers at NoBroker help! You get to work with the most trusted interior designers in India who understand your requirements and choose unmatched design patterns that suit your apartment and personality.
Read More Bedroom Related Blogs

FAQ's
Q1. Can dressing rooms be built in small spaces?
Ans. Yes, there are lots of dressing room options available for small spaces.
Q2. Are minimal dressing tables good?
Ans. Yes, minimal dressing tables are both functional and compact. Hence, they are perfect for small bedrooms.
Q3. Can I build a dresser in the bedroom?
Ans. Yes, you can. It is perfect for private people.
Q4. Are mirrored cabinets a good option?
Ans. Yes, they are perfect for storing your accessories and makeup stash.
Q5. What is that one timeless dressing table that can fit anywhere?
Ans. The rustic wood finish and wooden tables are timeless and go with every kind of decor.