Bunk bed designs offer numerous vertical advantages to both adults and children, and they are making a big comeback in the home in a brand-new way.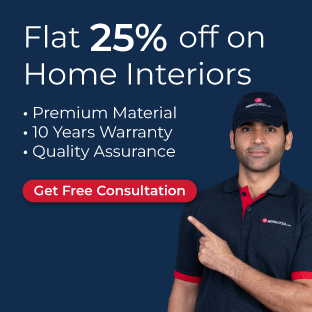 Modern bunk beds are available in an unending range of designs, sizes, and elements, and each one is a masterful combination of ergonomics and a delightful assortment of pleasant aesthetics. The contemporary bunk bed is available in various styles, from traditional loft-and-lower-bed models to Murphy bed prototypes with built-in shelves and drawers. Some wall unit bunks also have built-in closets and study areas, making them mini-bedrooms in their own right.
If you're still concerned about the bunk bed being a child's game, know that many adults choose the 21st-century bunk bed, which is on-trend and ultra-modern. These modern bunk bed designs are perfect for those with limited space, single inhabitants, or simply those looking for a more distinctive and utterly marvellous scheme for their bedroom.
What Makes Bunk Bed Designs a Popular Choice?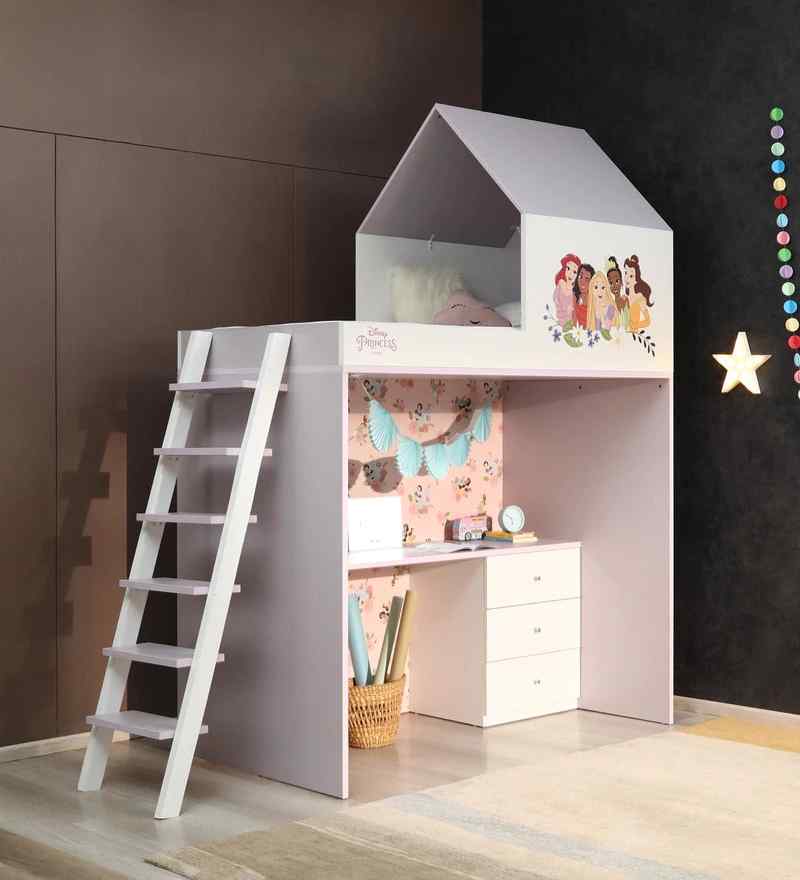 Aside from private residences, bunk beds can be found in various public and military settings. Bunk beds can cost more or less depending on what you intend to use them.
Read: Elevate Your Home's Exterior with Outside Stairs Design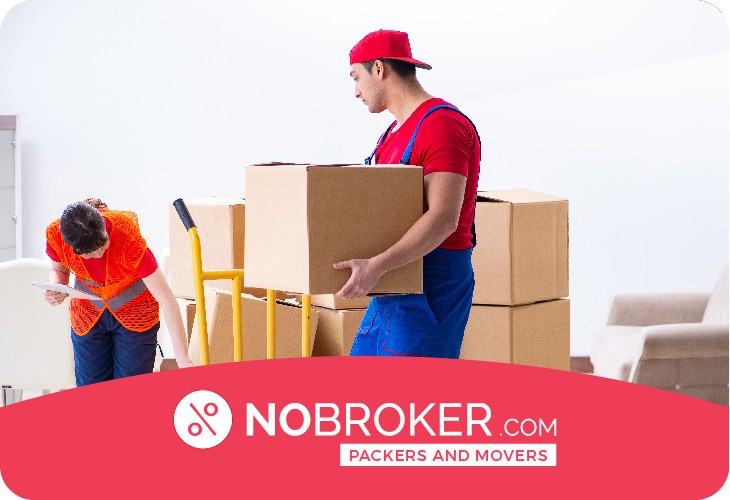 Book Best Packers & Movers with Best Price, Free Cancellation, Dedicated Move Manager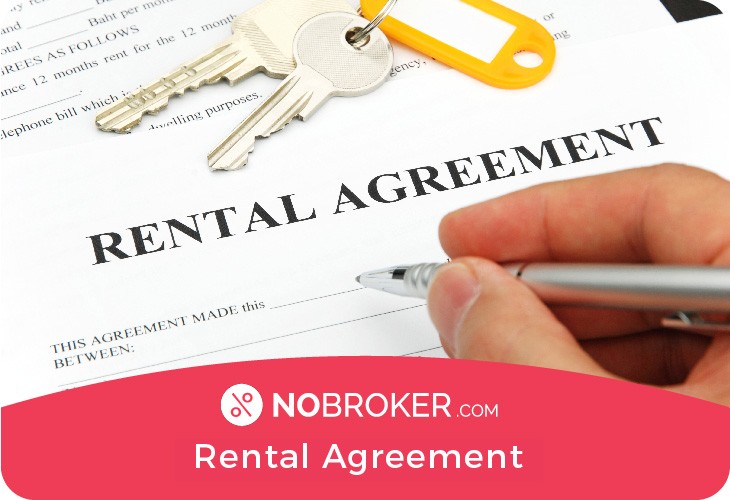 Get Rental Agreement With Doorstep Delivery, Super Quick & Easy
This is third
This is third
This is fourth
This is fourth
This is fifth
This is fifth
This is six
This is six
This is seven
This is seven
This is eight
This is eight
Today, bunk beds, also known as up down bed designs, are the most popular choice for families because of their many advantages:
You can get two for the price of one bed, allowing you to use the remaining space for other essentials like furniture and decor.
You don't need any additional furniture to complete the room's functionality because it provides options for storage, a workspace, and a play area.
It maximises sleeping space by allowing more than one or two people to sleep comfortably without feeling cramped or confined. As a result, you no longer have to worry about sleepovers.
There are no extra costs for building separate bedrooms in your house (if it isn't necessary) and no additional costs for headboards and other accessories.
The bunk bed can be rearranged as your space needs to change, allowing you to save money in the long run. It is possible to dismantle the bunk bed into two separate twin beds side by side or move one of the beds to another room if one of your children grows up and requires private personal space in a different room.
It is more than just a spot for the child to sleep at night, giving them more opportunities for play and enjoyment. Children's creative imaginations can soar when their beds are transformed into castles, forts, and other imaginative constructs. So that each of them can sleep, read, or play to their heart's content without disturbing the other, they can even choose to have different lighting by using night lamps with individual switches.
Different Types of Bunk Bed Designs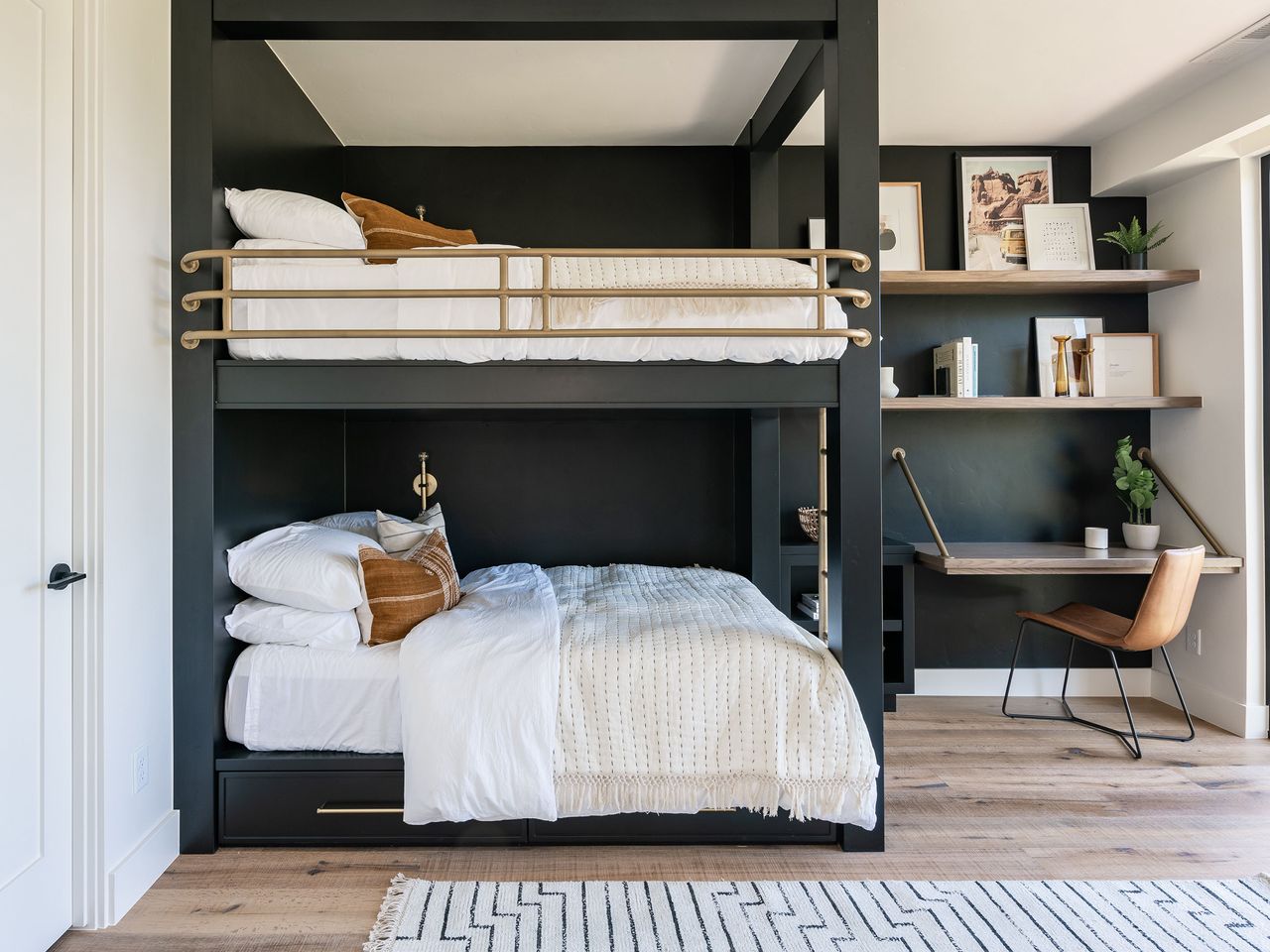 Now let's take a look at the different types of double-decker beds that are currently on the market:
Read: Eye-Catching Wooden Wall Panelling Design for Every Room in The House
Generic Bunk Bed: The most common design has two separate bunks stacked on top of each other.
Trundles – This bunk bed has a third bed that can be tucked under the lower bunk of a regular bed when not in use. You can roll it out on casters when you have a guest for the night and enough floor space.
Loft Bunk Bed – A bunk bed with only the top bunk used for sleeping can be replaced by a floor space large enough for activities such as playing, studying, moving around, or storing your belongings.
Futons – This bunk bed has two distinct functions: a common sleeping space at the top and flexible and convertible space at the bottom, where it can be used for both sleeping and sitting while you watch TV or do other activities.
A twin bed – It is affixed to a full-size bed at the bottom, allowing it to accommodate up to three people at a time (ideally a teen and two small kids).
Read: Unleash Your Inner Mixologist With NoBroker's Home Bar Designs
Complete Over Bunk Beds for Adults – It is possible to fit four people in this bunk bed because the top and bottom bunks are the same widths as a double bed.
L-shaped Bunk Bed: With the bottom bunk at the right angle to the top bunk, an L-shaped bunk bed is an excellent choice for a medium-sized room.
The triple bunk bed: Its advantage over the trundle bed is that it can sleep three people instead of one like the trundle bed.
Bunk Beds with Workspace: There is an installed workspace or study desk at the bottom bunk, with the upper bunk intended solely for sleeping, unlike loft bunk beds. There is a chance that they will cost more than other bunk bed designs.
Quirky Bunk Beds: Intricately designed and styled bunk beds that focus on a specific theme, such as a treehouse, playhouse, or even a fort.
Quick Tips for Buying the Perfect Bunk Bed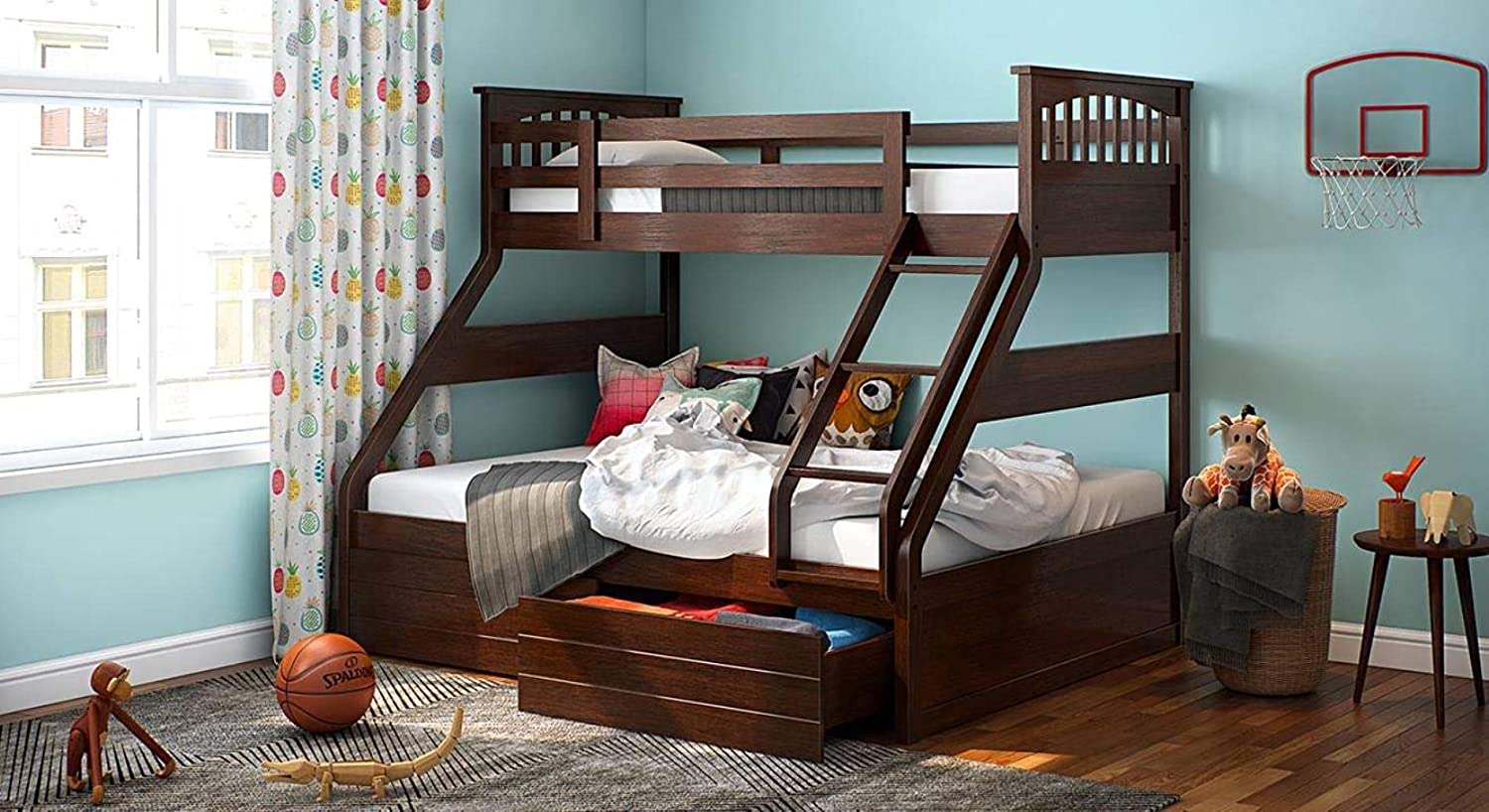 It's possible to make an educated and safe purchase of a bunk bed that you won't later regret by remembering a few simple guidelines while shopping:
Check that there is sufficient space for the occupants of both levels of the bunk bed to sleep comfortably and sit up without the risk of hitting their heads by measuring the height of the bunk bed concerning the ceiling and the distance between the beds themselves. Choose a mattress that fits your bunk bed perfectly and is low profile (5″ thick) to make the most of your available floor space and headroom.
Think about how much your children will grow as they get older before you buy a bunk bed so that you don't end up spending more money later down the road when you need more space for your kids. Consider what's to come.
The room's dimensions and floor space should be measured to make it easier for you to get around the room on a daily basis. You have to decide if you want a trundle or a set of drawers under your bunk bed.
The top bunk of a bunk bed can only be reached using either a ladder or a set of stairs. It takes up more space, is more difficult to remove, and is safer for younger children to have stairs. In addition to being fun for older children, ladders can be detached from the rest of the structure, occupy less space in the room, and take up less room. Guard rails and a proportionate gap between the ladder's / stair's steps can also be added to prevent falling or slipping accidents. Never compromise safety for financial considerations.
Check to see if the bunk bed is pre-assembled or not. Some bunk beds come fully assembled, while others require some assembly on the customer's part. Consider hiring a professional handyperson to do the job if you don't have time to do it yourself.
When it comes to making the beds, you may not have direct access to both sides of the beds at all times. Either arrange for a small step stool or place the duvet and fitted sheet at the foot of the bed so that you can access the top bunk.
Maintaining a balance between aesthetics and usability will earn you bonus points. When choosing a colour for the bunk bed, think about how it will fit in with the rest of the room's decor and how well it will perform.
Age plays a role in bunk bed design, as many children stop sleeping in their beds after a year or more. It's essential to make it a point to encourage them to select a bunk bed that can grow with them.
Top Space-Saving Bunk Bed Design Ideas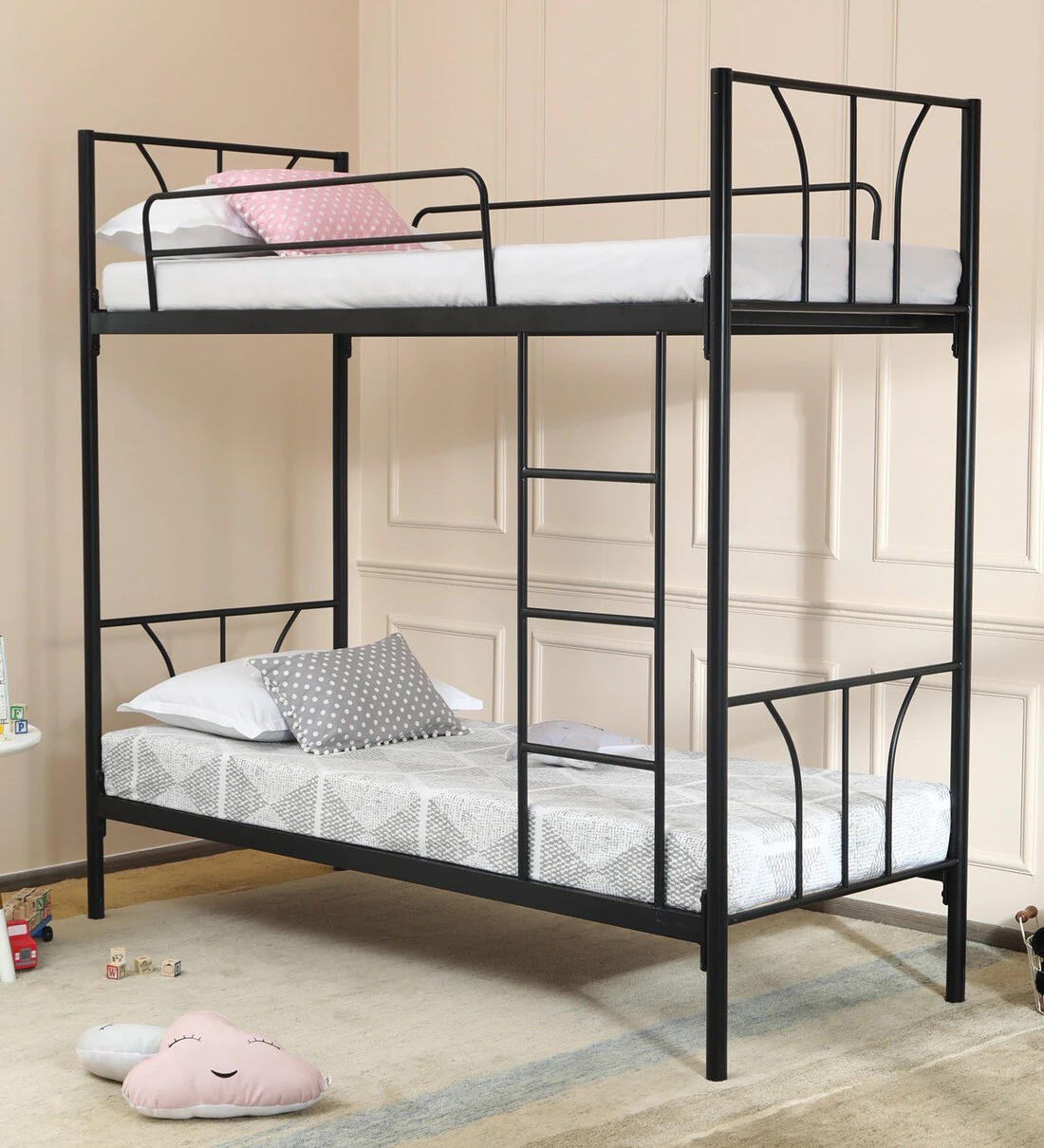 So, without further ado, here are some stunning bunk bed designs that will catch your eye.
Read: Transform your Interiors: Embrace Frosted Glass Design
1. The Rusty Farmhouse Bunk Room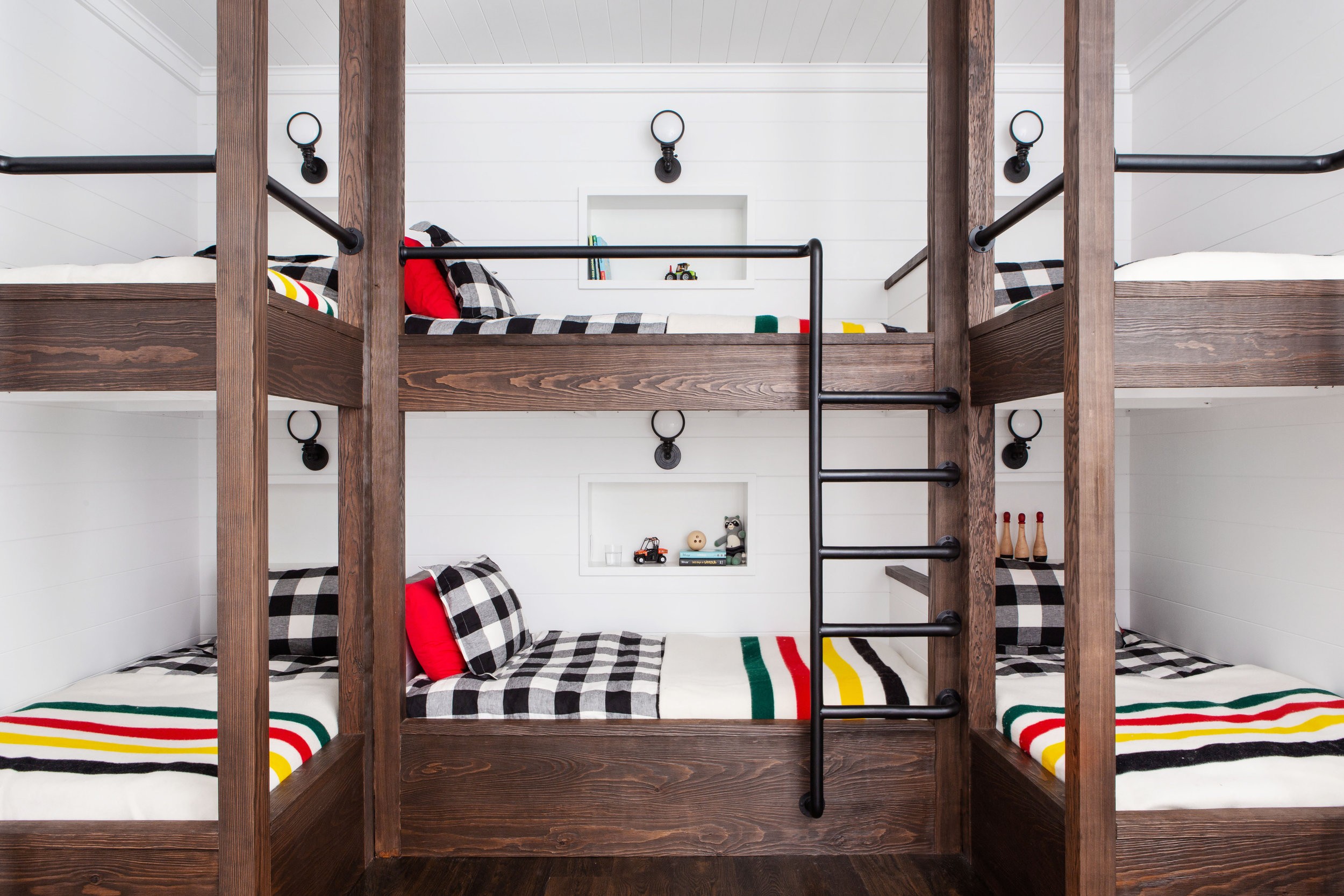 With its dark brown stained wood, matte black metal railings and fences, and clean white walls, this dapper farmhouse bunk room is perfect for kids and adults. Built-in wall cubbies keep everyone's bedtime necessities organised, and six unique wall sconces, one for each bed, define the space while providing reading lights for everyone.
2. Extra-Large Brass Platform Bunk Bed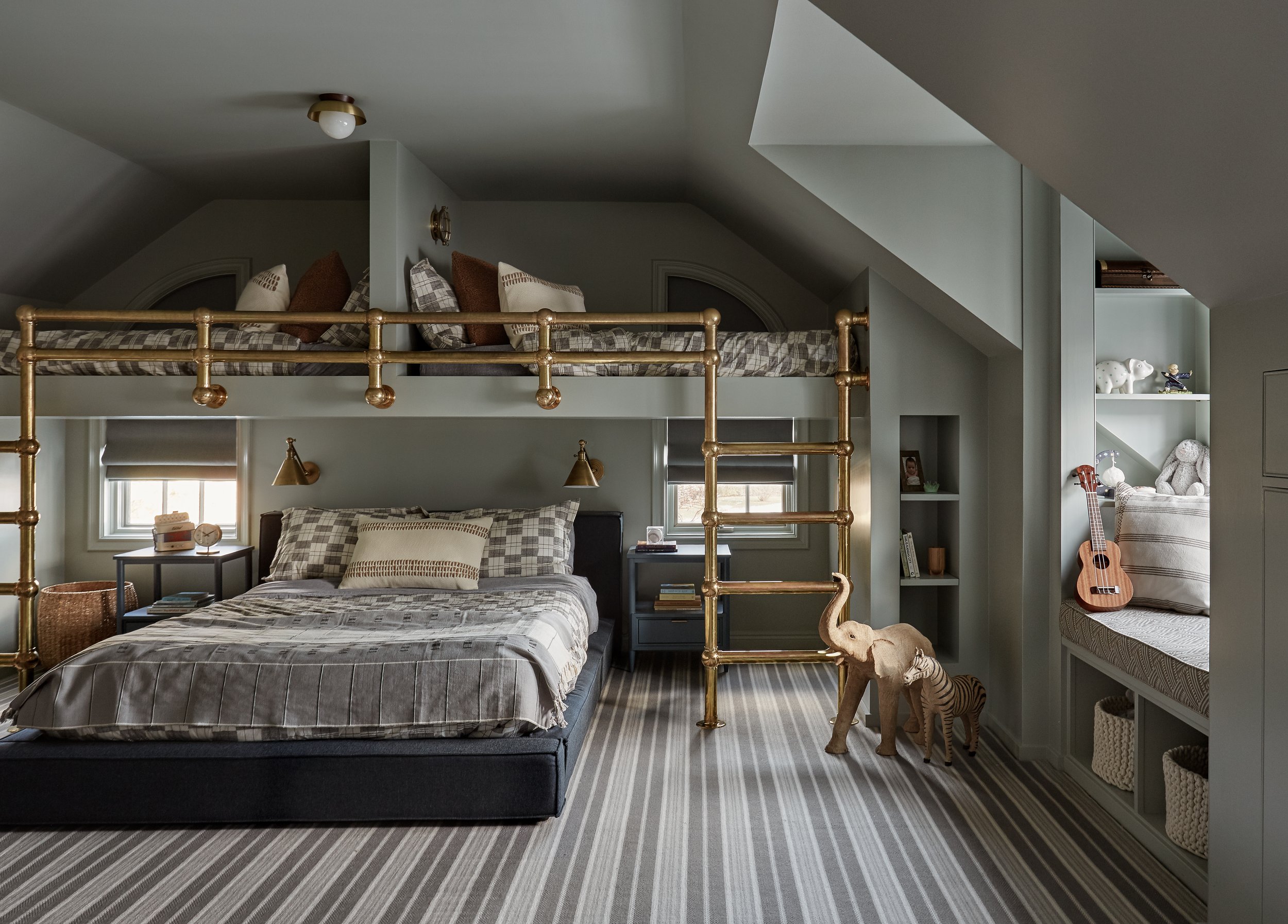 The walls are a calming pistachio green in this bunk room, the floor has a large bed, and the semi-vaulted ceilings feature massive brass bunk beds.
3. Versatile Floor-to-Ceiling Bunk Bed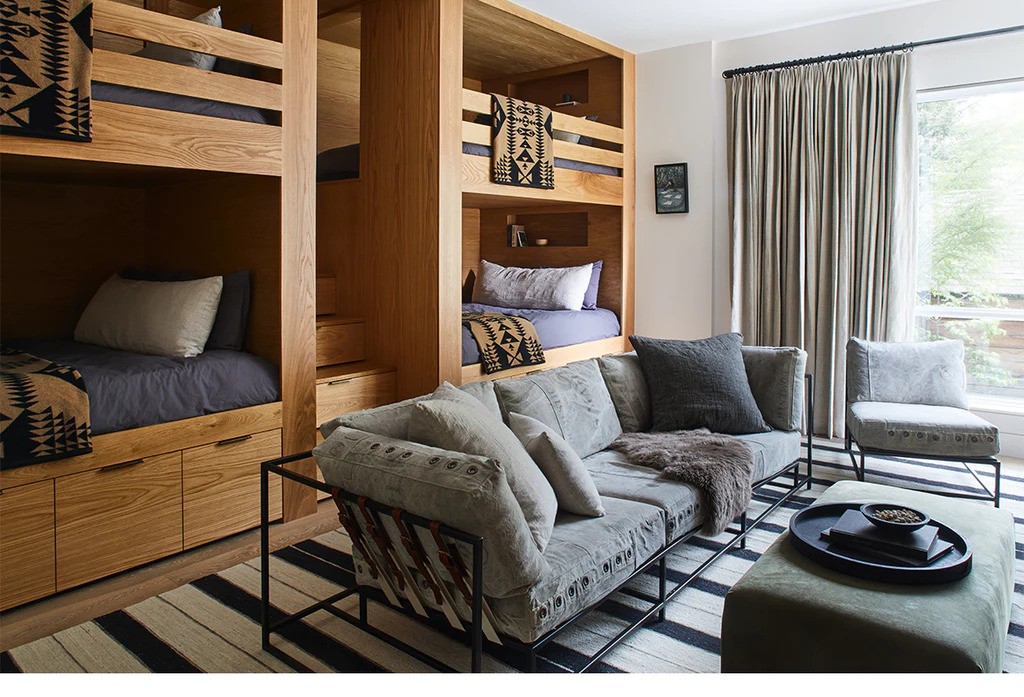 This multipurpose bunk room features a wall of floor-to-ceiling double bunk beds crafted from wood warmly stained and suitable for either adults or teenagers. With contemporary furniture in greys and blacks facing away from the sleeping area, guests can relax and socialise in the sitting room.
4. Bunk Beds in Soft Neutral Colours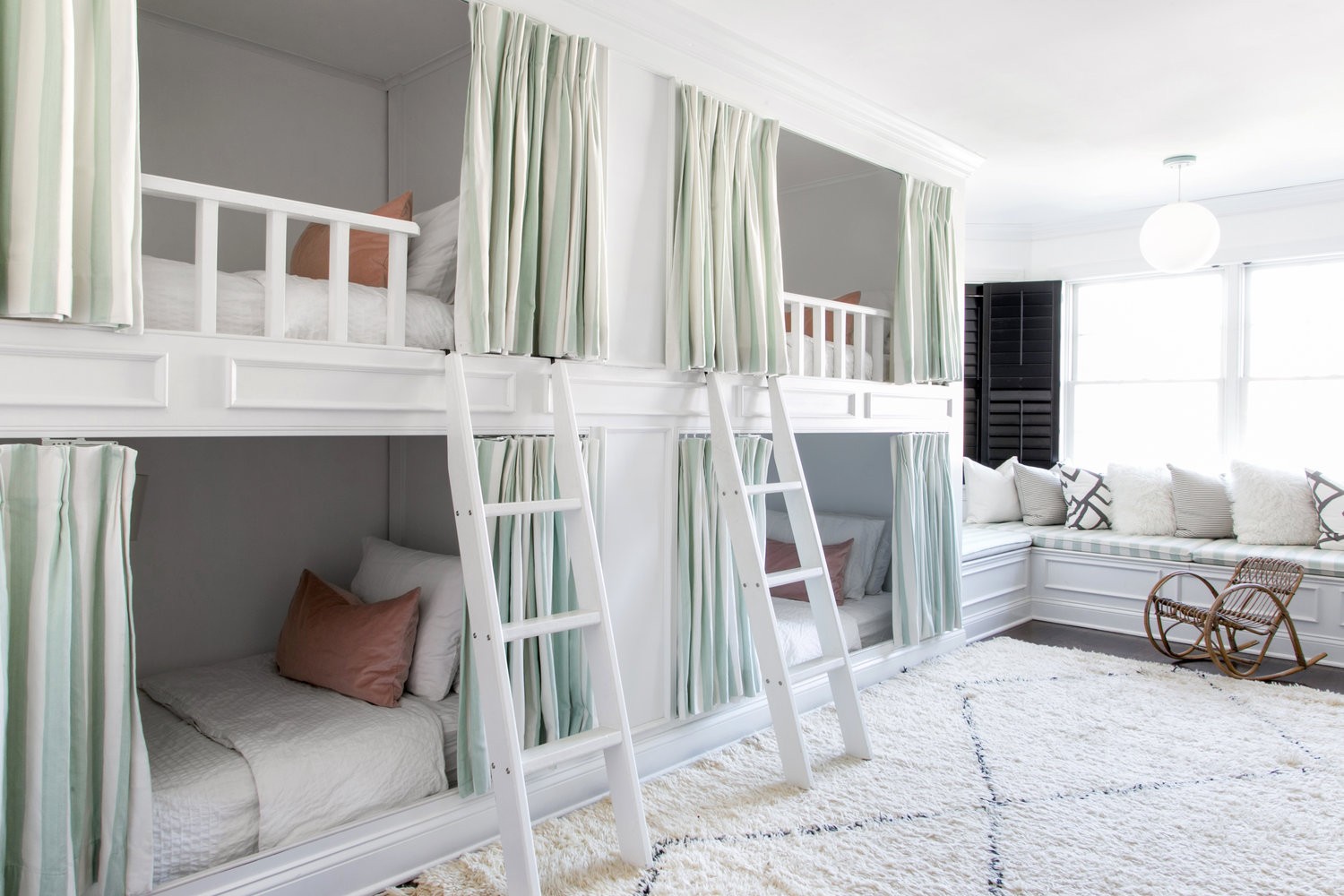 This cosy and neutral bunk room features a set of built-in double bunk beds that pass the majority of the length of one wall. Additionally, a long banquette window seat wraps around the room, providing seating for reading and socialising. To keep out the light, each bed has a set of iridescent pastel green privacy drapes.
5. The Tussled Bunk Design for the Beach House Style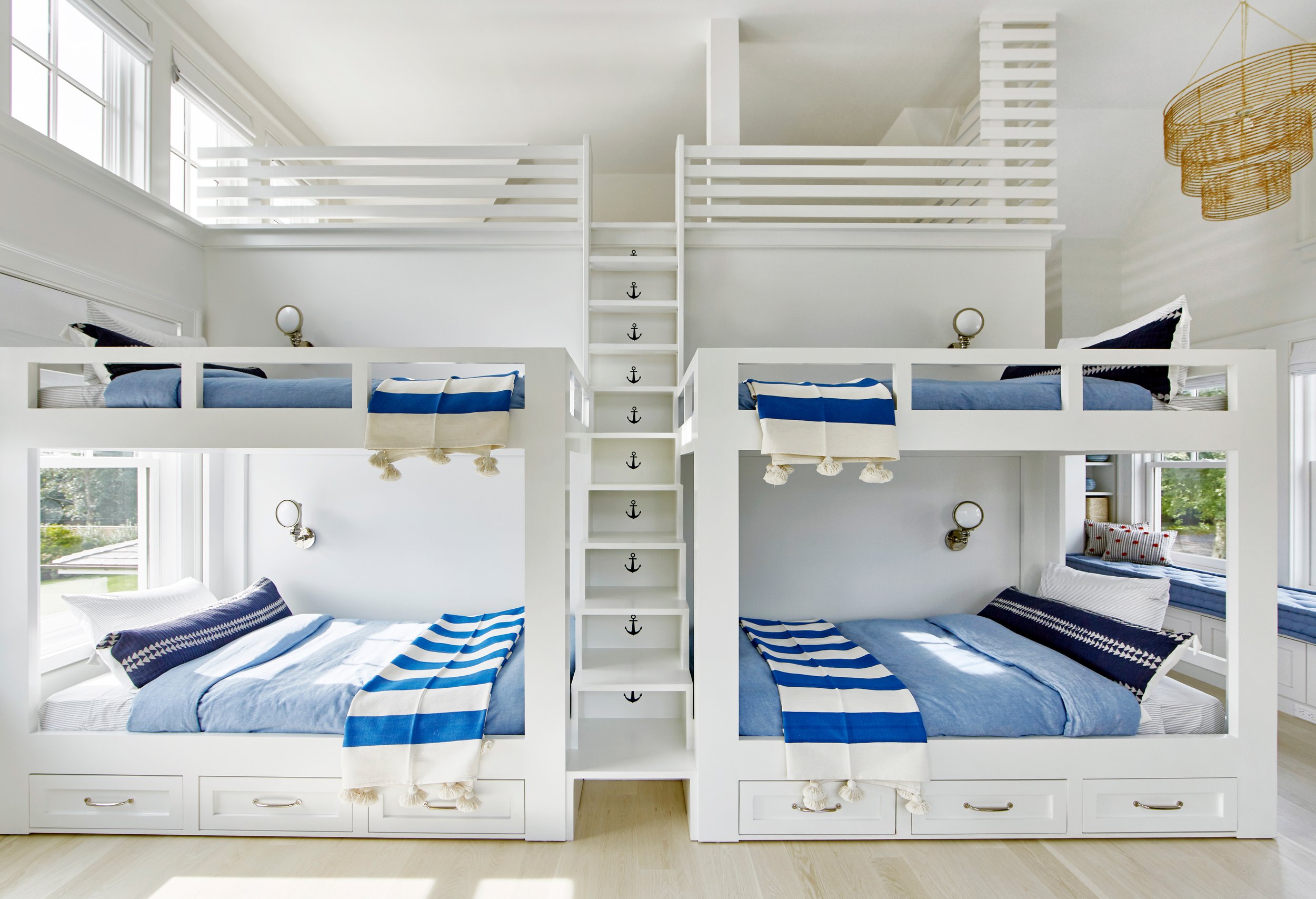 The beach house-inspired beauty can be one of the best bunk bed designs for boys. It features a combination of white and blue hues, tasselled patterned throw blankets, and a rattan pendant light to create an atmosphere reminiscent of a Greek island. Centrally located stairs lead to a third floor with lookout windows, which flood the space with natural light, benefiting the soaring ceilings.
6. Don't Forget the Storage!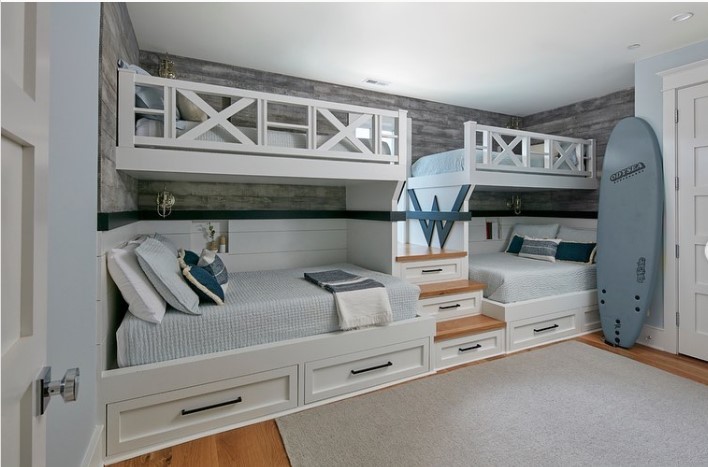 When designing a space, keep in mind whether or not it will serve multiple purposes, such as a bedroom that doubles as a playroom. Once you've done that, you can start thinking about innovative ways to make the most of your available space while incorporating helpful storage solutions. Anything from simple wall treatments to elaborate murals can be used here.
Even if you're most excited about the design possibilities that bunk beds present, it's good to think about how the room will function from every angle.
7. Take a Look Around Your Guest Space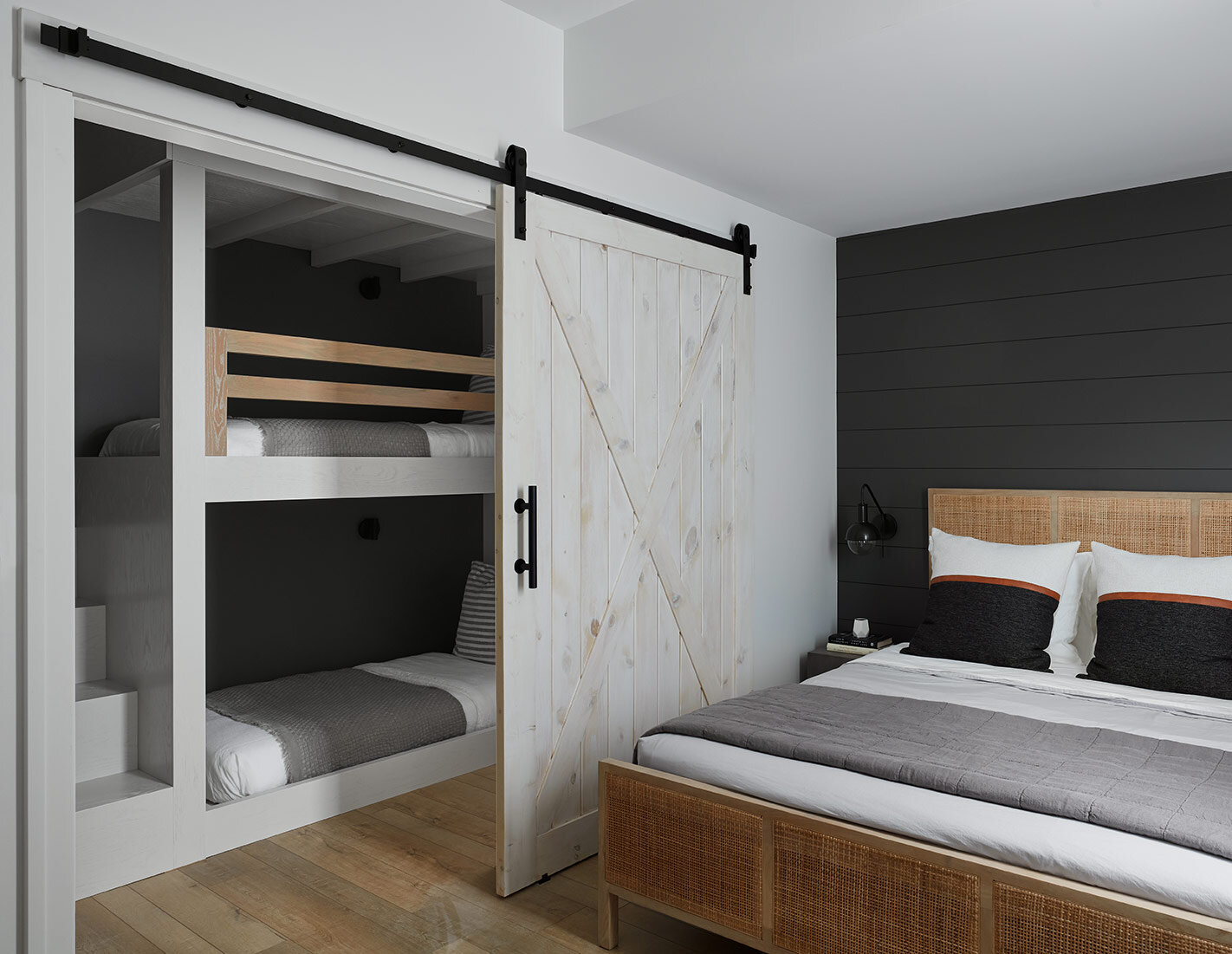 More sleeping arrangements are on display, but the room's capacity is constrained. As a result, a barn-style door was added to create a cosy bunk room for the kids. During the day, the bunkroom is part of the guest suite, but you can slide the barn door shut if privacy is required. We opted for a stairway instead of a ladder to get to these bunk beds, and we added reading sconces to each one.
8. Design a Fairytale World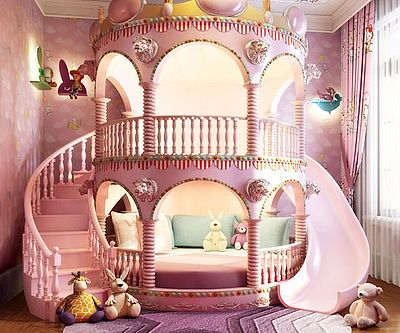 Even though this sprawling master suite was designed for children, the overall aesthetic is stunning enough to appeal to adults. There's a castle atop the room's central bed, making it feel like an actual castle in this bunkroom. The castle's cushioned floor provides a haven for imaginative play and a welcome respite from everyday life for children. Blush pink and white tones are used throughout the rest of the room to create a fun and carefree environment for these young guests.
It's possible to add a touch of magic to a room like this with just a little extra trim or crown moulding or the right colour of paint.
9. Mix vibrant hues with sophisticated designs.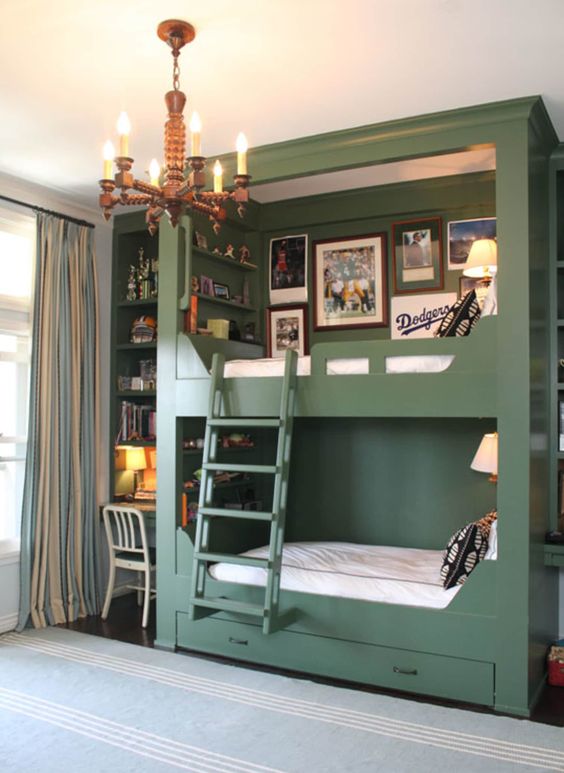 With a dash of bohemian flair, this bunk-bed-worthy room is transformed into a beautiful space for two young people. For a pair of pre-teens, the area is made to feel grown-up yet lively with blue and peach-orange tones.
10. Utilise Unusual Areas to Your Advantage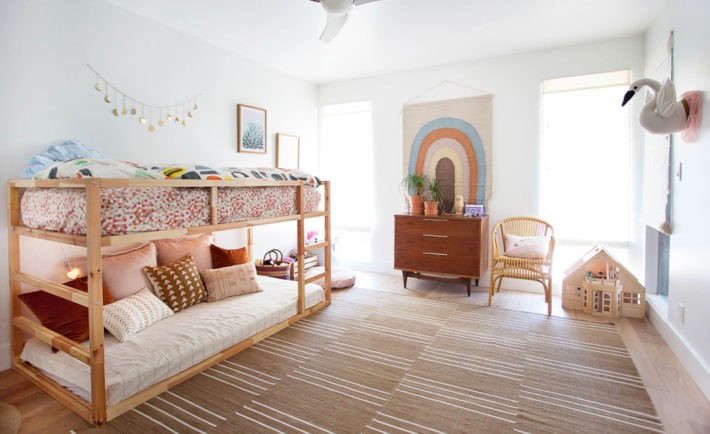 It's an impressive design feat that this bunk enclosure is appropriate for children and adults. The colour scheme and pattern on the ceiling are soothing while also being on-trend. The curtains provide additional privacy and evoke a fortlike atmosphere appealing to adults and children.
11. A Bunk Bed for Adults is an option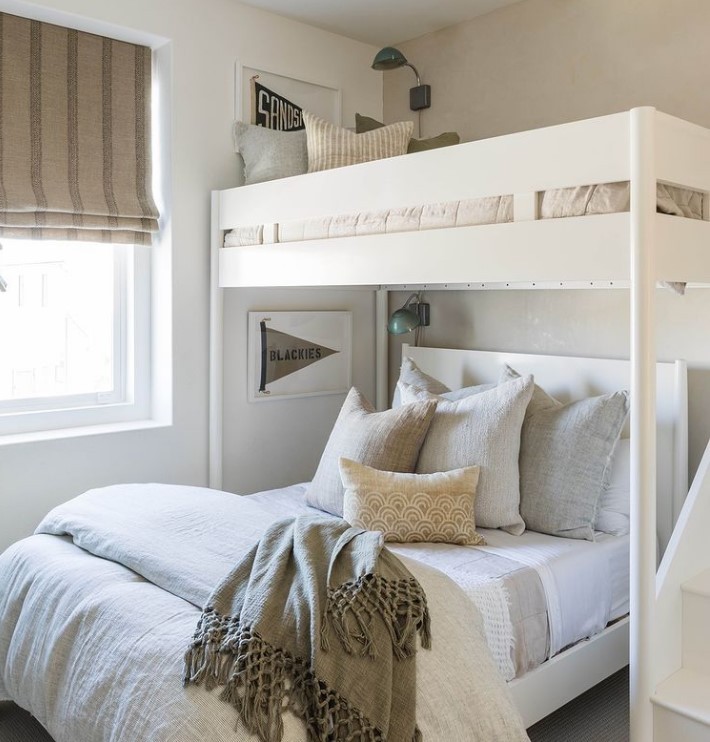 Adult bunk beds can be a compelling alternative for those who aren't sold on the idea of giving up their traditional bed frame and mattress. To make this childhood favourite suitable for grown-ups, the bedroom does a fantastic job of re-creating it.
Additionally, the space has a vacation-home vibe, and even if you don't use it as your master bedroom, it's an excellent option for a guest bedroom.
12. Mini-Library Combo Bunk Bed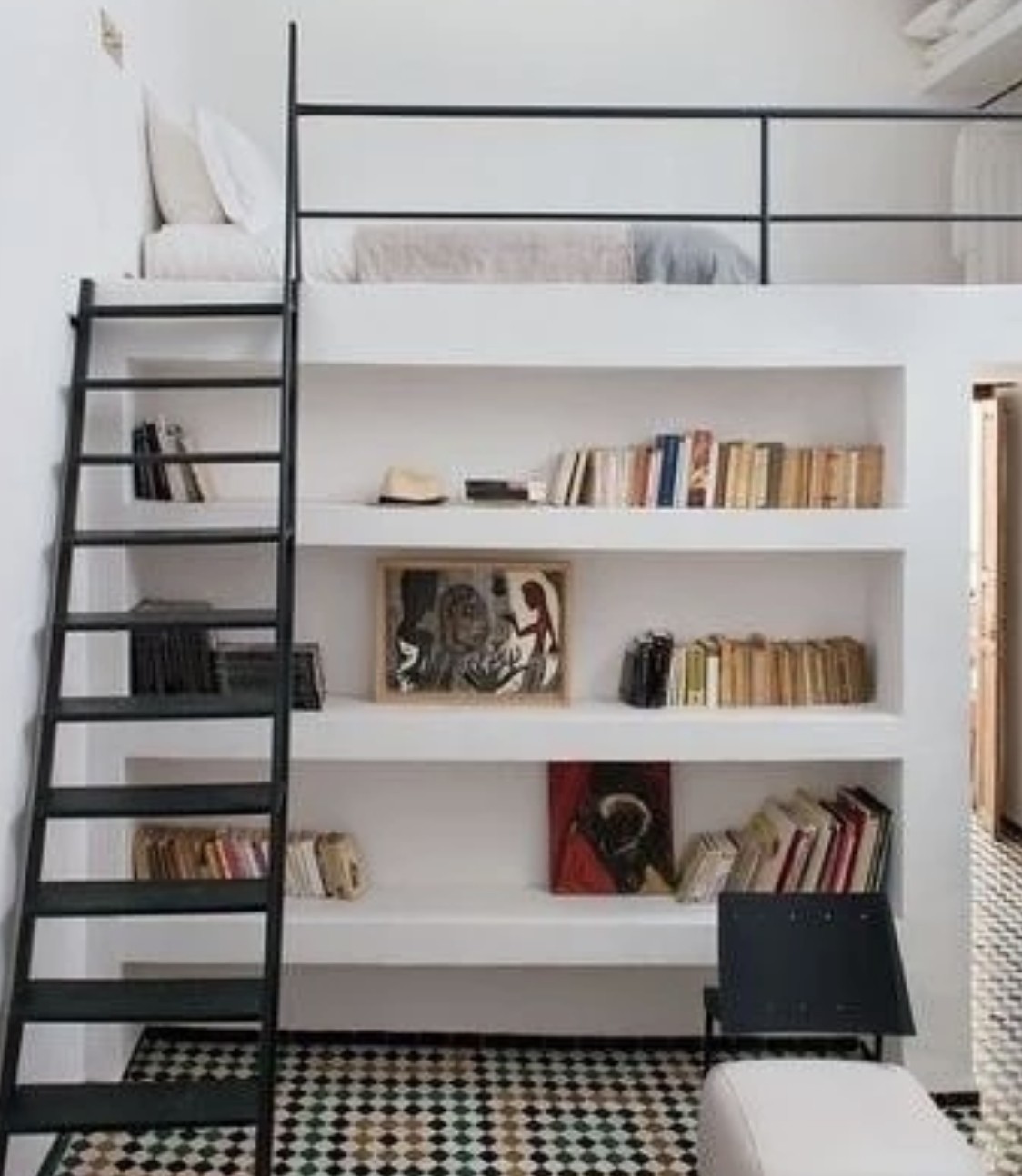 All you need in a kid's room is this wooden loft bunk bed with a mini library beneath it. Because of the guard railing, your child will have a smoother night-time ascent and can spend the day reading books or working on schoolwork in the library. The wood finish is a perfect match for the room's decor.
13. A Bunk Bed and a Wall Bed in One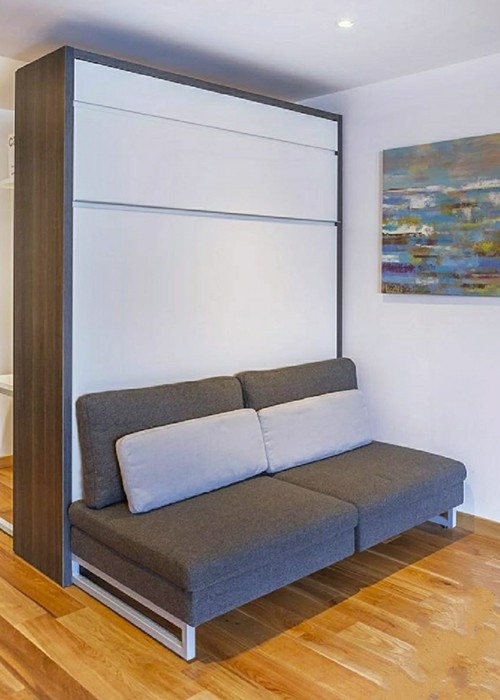 This bunk bed and wall bed combination is an excellent choice if you need more sleeping space and additional seating in your bedroom. The wall bed can be pulled down to reveal a hidden sofa that can be used as extra sleeping space or as a place to store personal belongings when not in use. There is nothing artificial or out of business about the room's design.
14. Combination of Loft Bunk Beds and Living Space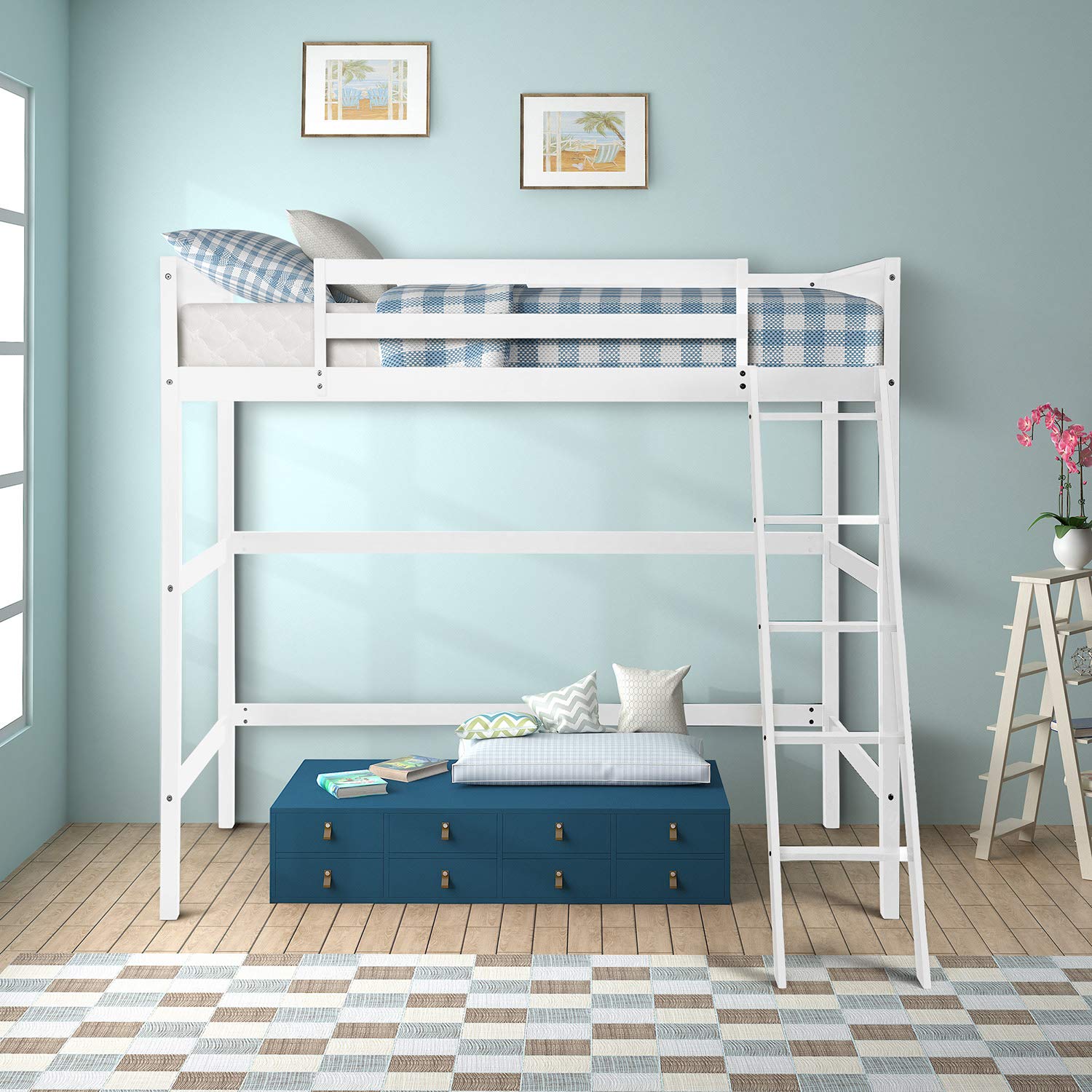 This loft bunk bed and living room combo are perfect for a modern studio apartment with limited space, but you don't want to sacrifice any comforts. Access to the double bunk bed is via a ladder, secured on all sides by a sturdy structure. The living room area is located beneath the loft bed and includes a stylish sofa and a pouffe that can be used as a footrest or an extra tabletop. This minimalist and visually soothing interior design are based on the theme.
Benefits of Bunk Beds
They aid in space conservation
Bunk beds are fantastic space-saving beds, which is one of their main benefits. When it comes to saving crucial floor space, bunk beds can be especially helpful if your child needs more area in their bedroom for play. Additionally, bunk beds can free up space on desks and chests of drawers, among other pieces of bedroom furniture.
They can be Customised
Many bunk beds on the market now can be modified to suit your child's requirements. Many children's bunk beds can be customised to your child's preferences in terms of colours and designs.
They are economical
The ability to save money is one of the key advantages of kid bunk beds. Instead of spending a lot of money on two beds if you have siblings sharing a bedroom, you may save money by buying just one bunk bed! Bunk beds might enable you to save money over time and use that money on other bedroom accessories or toys that your kids might require.
That being said, we hope this blog has provided you with enough information about the various types and benefits of bunk bed designs and how you can go about purchasing them from a wide variety of options currently available. Now is the time to make the right decision for your home. Check out our blog, NoBroker Times, for more interior design inspiration for your home or office!

FAQs
Q-1 For children's bedrooms, how do you arrange bunk beds? 
A-1 Instead of being kitty-cornered, bunk beds work better when they are tucked up against a single wall. Placing a bunk bed next to a partition allows for additional storage and shelving below and creates an open area between each bunk. 

Q-2 Are the top bunks safe to sleep in? 
A-2 Using bunk beds is entirely risk-free. Because of this, upper mattresses and frames are a tiny bit larger than lower mattresses and frames. Stuck: Upper will get stuck if the upper falls. No, it won't be able to fall down the bunk
Q-3 Is it possible for adults to sleep in bunk beds?
A-3 People come in a wide variety of sizes, shapes, and colours. A heavier person should be able to fit comfortably into the bunk beds you choose. Buy bunk beds that can support a maximum weight of 500 pounds. Typically, these are heavy-duty, steel bunk beds.
Q-4 For the top bunk, how do you ensure privacy? 
A-4 Tuck the sheet's edges around the bunk's sides after hanging it from the hook. Your fabric bunk shelter might benefit from hooks installed at every four corners to give it more shape. Otherwise, the sheet could hang too low and make the room feel confined. 

Q-5 How do you expand the area between bunk beds?
A-5 When stacking two beds on top of each other, place an additional block between them. Take a few measurements to get the ball rolling. Assist the occupant of the bottom bunk in rising to the edge of the mattress. Determine how much space is required for them to sit up straight.