Most people think "small bathroom ideas," and they think cramped shower stalls, dim lighting, and vanities stuffed to the gills. In this article, well, you shall find bathroom design ideas, that can help you make the most of the space you are working with. And while a small bathroom may mean making a few sacrifices on space, it can also be welcoming and comfortable. Plus, consider the major pros of a small bathroom. With less square footage to deal with, it's cheaper to renovate, faster to clean, and easier to decorate.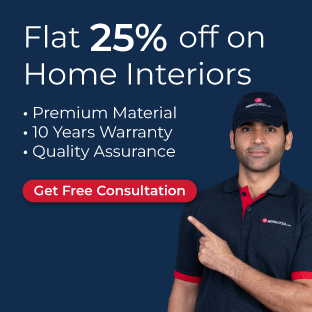 Bathroom design ideas can, well it can be tricky to navigate, and they can vary from person to person, and it is key that when deciding on a plan for your bathroom, you should keep in mind the functionality of the space for you. That's why we have included bathroom inspiration in this article. Check out 20 most amazing designs of bathroom.
Read: 12 Classy Black Bedroom Designs that will Make You Feel Like a Million Bucks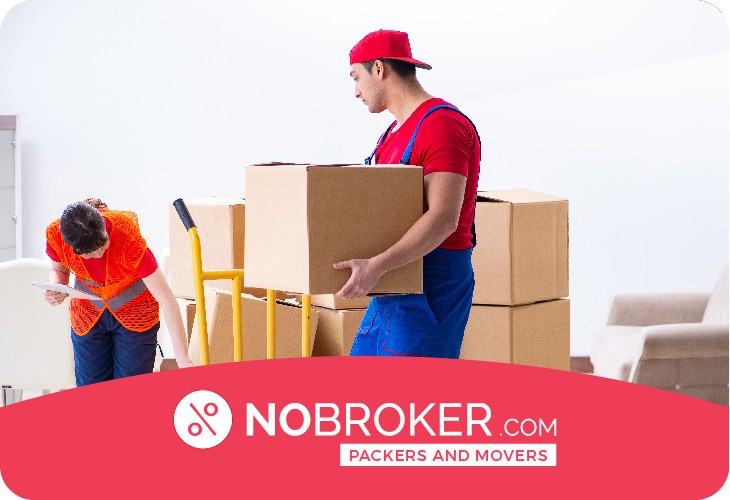 Book Best Packers & Movers with Best Price, Free Cancellation, Dedicated Move Manager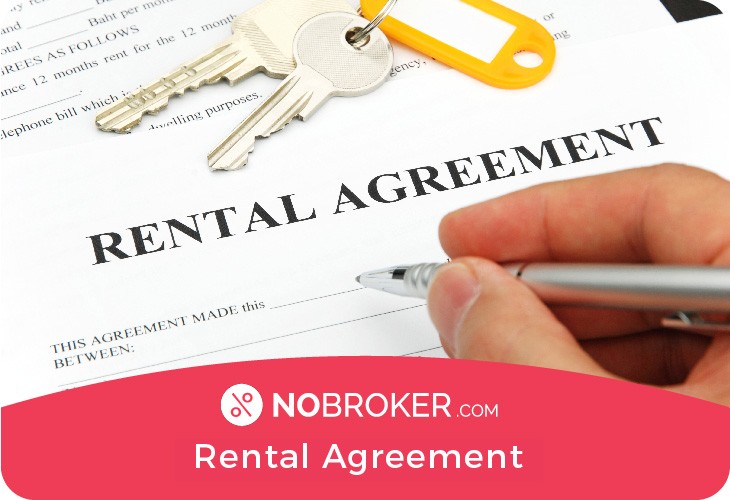 Get Rental Agreement With Doorstep Delivery, Super Quick & Easy
This is third
This is third
This is fourth
This is fourth
This is fifth
This is fifth
This is six
This is six
This is seven
This is seven
This is eight
This is eight
20 Inspiring Bathroom Design Ideas to Make Your Bathroom Feel Unique
If you're considering renovating your small bathroom, there are many ways to create the illusion of more space while maximising what you have. When designing or planning out, bear in mind that very small bathroom ideas can vary from a cosy shelving nook to strategically placed clawfoot tubs, read on to find out some awesome bathroom designs for a small bathroom.
Be it the master bathroom design ideas, modern bathroom ideas, small bathroom remode ideas, bathroom decorating ideas, modern bathroom designs or even bathroom renovation ideas, we have you covered as the bathroom is a space that is used to its best potential, it can bring out the best in the space and make it the best possible version space can hold. When you are planning, leave no stone unturned, bathroom floor tile ideas, bathroom cabinet ideas, and small bathroom ideas can greatly help to add personality to space and this is able to give it that extra edge that makes your bathroom feel unique.
1. Washroom Designs with a Modern Touch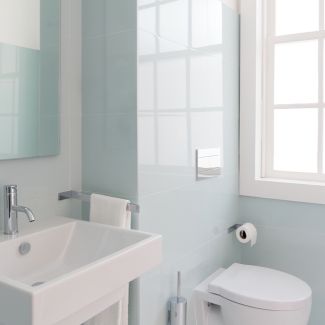 One of the best aspects of modern, contemporary design is the seamless, clean lines that create an open and airy feel. This can help give the illusion that space is, and feels, much bigger than it actually is, in part because the eye is drawn to the crisp, straight lines of the vanity, this helps to elongate the room and almost seems to push the walls out. Neutral colours such as white and unpainted wood are also great choices for small bathrooms. Modern design helps add a modern twist to space and gives it the feeling of being edgy and cool.
Read: Double Height Living Room for an Eye Catchy Makeover
2. Wainscoting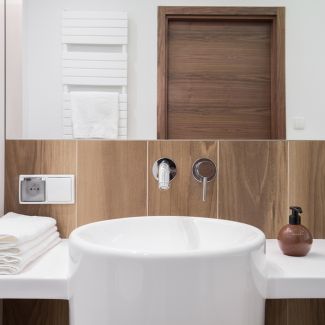 Adding wainscoting to your bathroom creates a more classic look and lends a bit of visual interest. Dining rooms are another popular place to install wainscoting. Some homeowners choose to continue the wainscoting to the ceiling with crown moulding for a more formal look. For a more design-forward approach, invest in a graphic wallpaper, such as this tropical one seen on Design Sponge. By keeping the wainscoting white and neutral, the bold print adds a pop of personality without overwhelming the small space. Generally, the cap sits about one-third the way up the wall. So, if the ceiling is 9 feet, go for 3-foot wainscoting. For taller wainscoting, such as one with a plate rail, cap it two-thirds the way up the wall.
3. Shiplap
Street, a leading home décor influencing blog has stated that tile, shiplap, plaster, rattan, or living walls of plants are set to become more popular in 2023. If you want a wainscoting alternative, shiplap can be a great choice in small bathrooms. Shiplap boards have grooves cut into their edges for a tight, overlapping fit. Shiplap panelling can add instant character, texture, rusticity and a focal point to any room in your house. It is also is an affordable and easy way to be installed with just a few basic tools – a saw, level, stud finder, hammer and nails. The lines also appear to visually extend the wall and make it feel wider than it really is.
Read: Home Gym Ideas: Creative and Affordable Ways to Stay Fit and Healthy
4. Luxury Tubs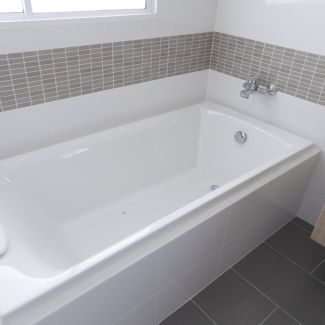 Do you think lack of bathroom square footage means you have to forgo a luxury tub? Think again. That tub of your dreams, the one you plan to use in your Instagram photoshoots, the one you plan to use to relax and rejuvenate in, well you can have it, in any space you please. What you need to know is how to balance out the space, make it appear as though there is a ton of negative space and when you do so you should also bear in mind the colours that you choose, as some colours can help bring in depth.
5. Tubs and Showers
If you dream of a standalone shower and a claw-foot tub, this cosy bathroom, can be a realised dream. It is something that you bring into your home as a piece of furniture that you love. Like the picture of small bathroom designs with shower shown in the picture, by replacing a standard shower curtain with a glass door panel, the bathroom feels more open. The frosted glass windows allow precious natural light in (a small space's favourite accessory), without sacrificing privacy. This can also help brighten and elongate the space.
Read: Explore Our Stylish Wooden Sofa Designs Catalogue
6. Wallpaper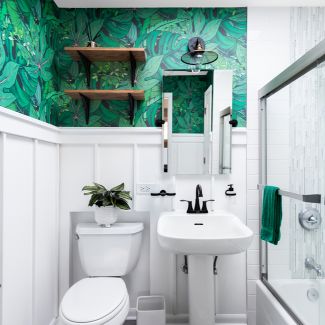 If your small bathroom is bursting with anything, let it be a personality (rather than stray makeup and toiletries). Wallpaper can transport your bathroom into any realm you wish it to go to, vintage-inspired wallpaper to add pops of colour to an otherwise neutral white space, glam, chic, edgy, minimalist or traditional, you can surely find it all. While wallpaper can be expensive, one benefit of a small space is that you won't need to purchase much in order to make a big statement.
7. Small Windows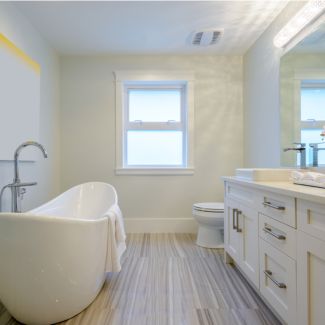 Natural light can make even the tiniest bathroom feel spacious and open. This attic bathroom staple has been used for years to help illuminate a space, be it on a ceiling space, a slanted window, or even on a corner, this window can bring in a stream of natural light, it also helpsto create an inviting and surprisingly roomy feel. Bonus points for the clever use of the under-the-pedestal storage, which makes use of vital, often forgotten space, or you can also make floating shelves around the window to optimize the space.
8. Gold Fixtures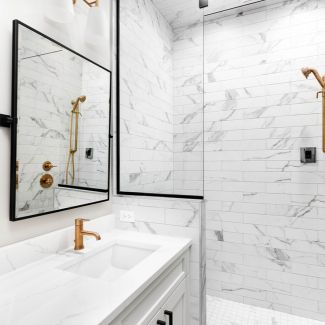 Midas-approved gold fixtures throughout the design can give your bathroom that regal edge. Not only does the gold give the bathroom a classic look, but by keeping the accessories uniform throughout the space, the room feels cohesive and meaningfully decorated. One of the best ways to make a small bathroom feel inviting is to smartly decorate every nook and cranny.
9. Single Showers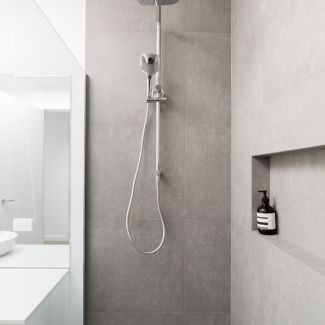 If you can live without it, forgoing a tub is a great way to earn back precious floor space and open up a small bathroom. The glass shower stall is ideal as it helps you get the most out of your space, as it uses mixed tiles on the floor and walls, which add a sense of variety and eclecticism despite the tiny space that you have to work with.
10. Pink Bathroom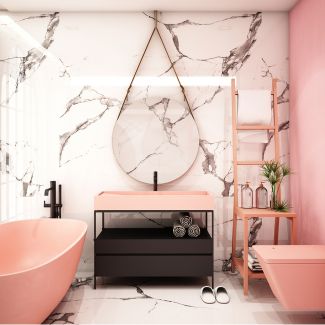 This candy-coloured bathroom forms a decorative outlet in a small space. Gives a retro 70s bathroom feel. Well, guess what, it's unique, creative, and welcoming. Though neutral colours can provide a calming backdrop, this bubble-gum pink bathroom is incredibly fun, and the single colour palette keeps it from becoming overpowering. If this shade is not your go to, you may choose from an array of pastel shades.
11. Galley Bathroom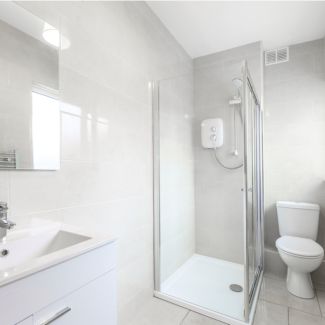 A galley bathroom can feel claustrophobic if not designed correctly, but with the right bathroom layout, it can feel downright spacious. The double vanity and glass shower stall options in this space give you the perfect space for him and her moment, while also keeping the space open, whilst visually elongating the room.
12. Scandinavian-Style Bathrooms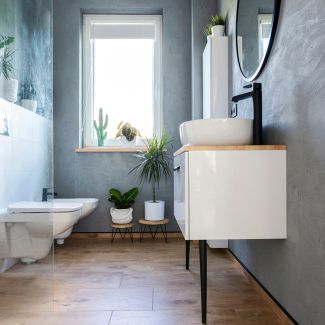 When it comes to small spaces, "hygiene" is everything right now, especially now in the times of COVID-19, extra precautions need to be taken to ensure cleanliness is maintained. This Danish concept that encompasses effortless chic vibes is all about a comfortable, warm-feeling design and a perfect vibe for a cosy space. The tucked-away shower, the key to this bathroom makes the rest of the room feel far more spacious and open.
13. Bathroom Storage Solutions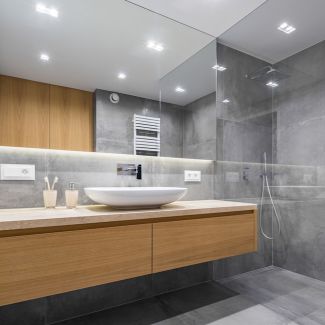 One of the biggest downsides of a small bathroom is, of course, finding a place to hide all of your stuff. Storage in a small bathroom will require a bit of creativity. Creating secret compartments, under the sink spaces, floating walls mantle place holdings gives endless storage, but a ladder shelf provides the perfect place for towels, bath supplies, and other knick-knacks.
14. Black Bathroom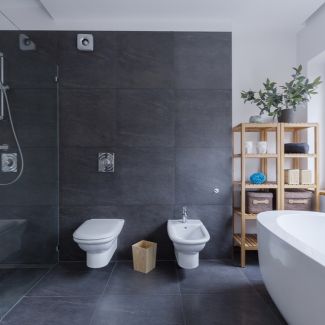 This moody bathroom option can come with stunning black accents that work in tandem with a light tiled floor and neutral wallpaper to add depth to the room (without feeling too dark). Black paint may take some guts to incorporate into your decor, but the payoff is worth it. Well take a note from the Adams family, and embrace your dark side.
15. Latest Bathroom Designs with Modular Setting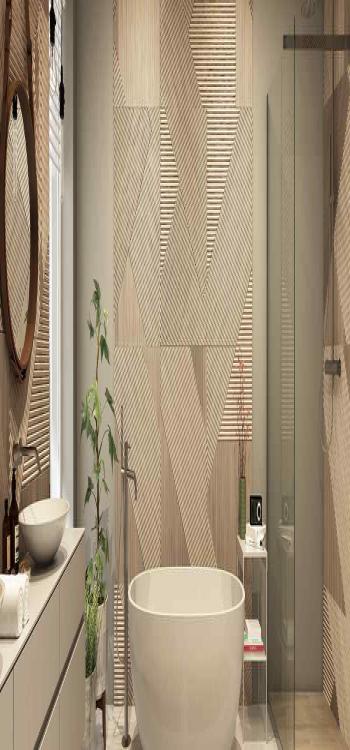 A modular bathroom design idea for your interiors can be the perfect new addition to your home this summer. You can ace any minimalistic bathroom design idea and execute the latest patterns with it. Like the picture shown above, you can also implement a monotonous theme for your bathroom interior design ideas. The textured walls are paired with the white marble sink and bathtub. The shower partition is also carefully designed to not take away the aesthetics of the space and yet provide it with a modern, tasteful appearance suitable for your home in 2023.
16. New Bathroom Designs for Your Home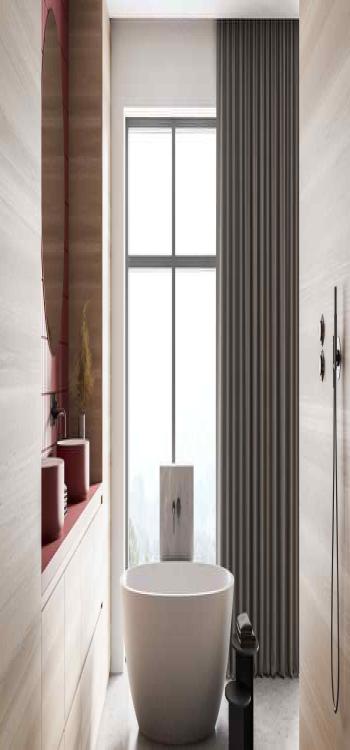 While implementing a new bathroom design idea for your home, you may face a lot of issues ranging from the type of the design to be implemented to the quotation of the labour's involved. It is a good idea to narrow down the design idea and talk to expert professionals. With this process of execution, you will have a fair idea about the pros and cons of the designs you are planning to get. Also, this gives you a generalised idea of the required space and how you can utilise it effectively to the best.
17. 4×6 Bathroom Design with a Pop of Green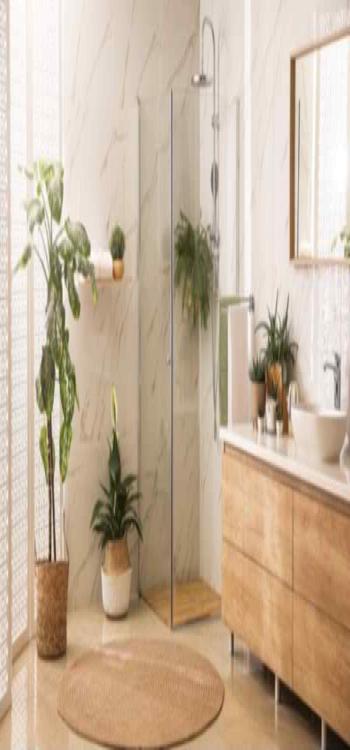 If you can't afford an outdoor shower, it doesn't mean you can't create an outside atmosphere in your bathroom. Use contemporary glass doors and windows to highlight garden vistas (and give in plenty of light), and add some vegetation to the shower. The chemicals left behind by cleaning and cosmetic items are removed from the air by plants. They also instantly breathe new life into any bathroom.
18. 6×4 Bathroom Design: Mostly White with a Touch of Black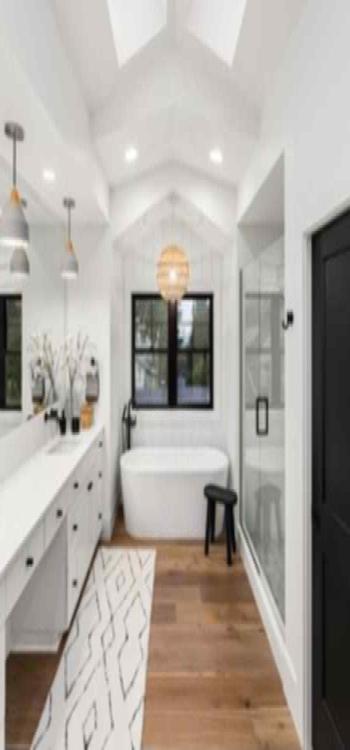 For those narrow bathroom spaces, go for light shades like white or beige. Set up the wash counter and cabinets opposite the bathtub. Add black accents like stools, cabinet handles, window frames and more to make the white stand out more.
19. White Marble Shower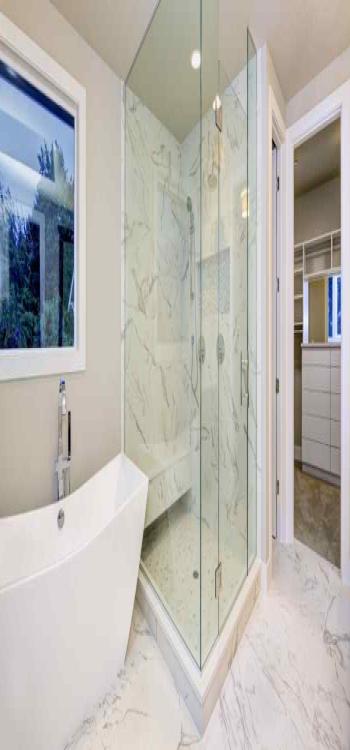 The white marble shower, walls, and vanity in this main bathroom design set the stage for an opulent, coordinated appearance. Add contemporary floor lamps that look like gallery pieces to create a pleasing contrast with the overall historic design. Additionally, the area is kept traditional with the help of the high-gloss ceiling and the timeless, neutral colour. (Pro tip: The easier it is to clean and preserve paint, especially in high-moisture locations like a bathroom, the greater the paint sheen.)
20. Retro Chic Bathroom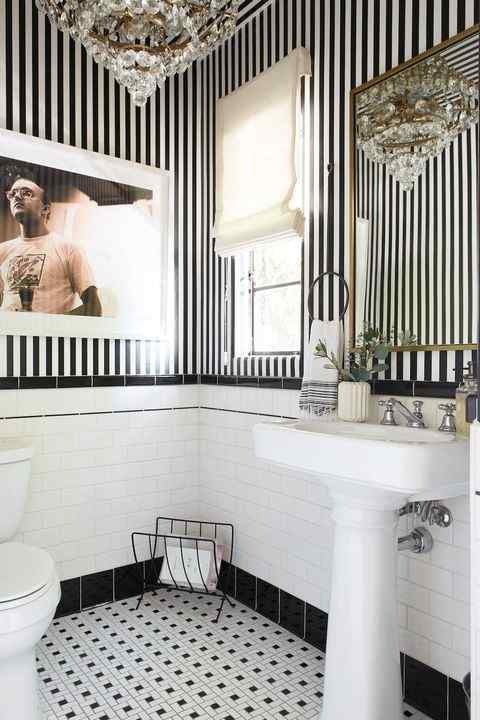 This bathroom is an example of how little renovations can give a dated room a brand-new feel. A pleasing juxtaposition is made by the stark, hyper-realistic photograph's contrast with the traditional black-and-white striped wallpaper and flashy chandelier. A hand towel ring, tailored linen curtains, an accent magazine rack, and a case were added to complete the room's decor without replacing the sink or toilet.
Tiny Bathroom Doesn't Have to Look Tiny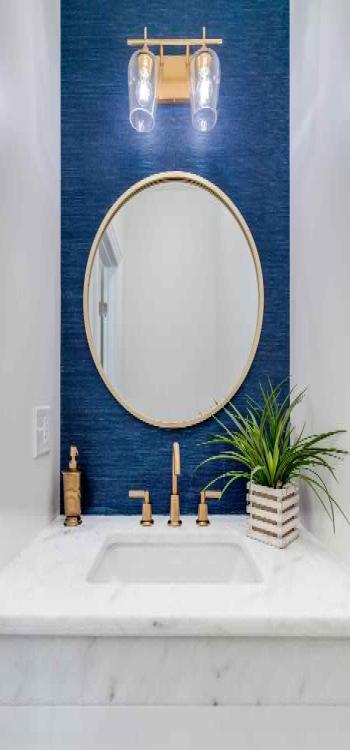 Although it might appear that a small bathroom would benefit from a clean, crisp white backdrop, that isn't necessarily the case. In reality, the minimalist aesthetic of today can sometimes make small spaces appear smaller. For tiny bathroom ideas, instead, use striking hardware, contrasting tiles, and colourful accents to make a statement.
That being said, when it comes to Bathroom Design Ideas, it's crucial to involve expert professionals in construction and planning. Get the best bathroom features for your home with NoBroker. Our 5-star rated interior Services team offers industry-leading expertise. Click the link below to book now and enjoy amazing deals and DISCOUNTS!
FAQ's
Q1. How long should a bathroom last?
Ans. Designing your bathroom is no exception to this long-lived rule, given that the average bathroom lifespan is around 10 years. Let's be honest, no one can predict the future, but there are some simple steps you can take to ensure that your bathroom can be made as to future proof as humanly possible.
Q2. What are the new trends in bathroom design?
Ans. Bathroom Design Trends That are Popping Off This Year
1. Floating Vanities.
2. Large-Format Wall Tiles. 
3. Back-Lit Mirrors and Medicine Cabinets. 
4. Space-Savvy Soaking Tubs. 
5. Warm Colours and Durable Paint.
6. Quartz Countertops. 
7. Smart Toilets.
8. Wood-Look Tiles and Heated Flooring.
Q3. What are the steps in a bathroom renovation?
Ans. Steps to Remodel a Bathroom
1. Remove or Demolish Bathroom Fixtures.
2. Install Your New Shower or Tub Basin. 
3. Install New Fixtures and Features. 
4. Lay Down Your New Floor Tiles.
5. Hang New Drywall and Start Painting. 
6. Install Your New Vanity and Cabinets. 
7. Finish Hooking Up the Plumbing.
Q4. What is the best bathroom design app?
Ans. The Best FREE Bathroom Design Apps
1. My bathroom by Laufen is a great bathroom planner that's available to use online. 
2. Easy Planner 3D is a basic bathroom planner for those who just want a simple layout.
Q5. What is the cheapest way to remodel a bathroom?
Ans. Inexpensive Bathroom Remodeling Ideas
1. Limit Your Tile. Tile gets expensive, especially when you hire a contractor to lay it all out for you. 
2. Save on Counter Tops. A popular trend is to splurge on granite countertops. 
3. Paint. 
4. Update Fixtures. 
5. Freshen Caulk and Grout.
6. Redo, don't Buy New. 
7. Buy used. 
8. Go Green with Upgrades.
Q6. How long should a bathroom renovation take?
Ans. On average, complete bathroom remodels can be done in about a week or so. The time taken will depend on the number of workers on the job and the size of the bathroom. 
Q7. What colours make a small bathroom look bigger?
Ans. One of the easiest ways to give your room a spacious look is to use lots of white — white tile, white paint, white vanity and so on. This noncolor colour naturally recedes, making space look bigger.
Q8. How can I make my bathroom look more expensive?
Ans. Here are 7 Ingenious Tricks to Make Your Bathroom Look Expensive
1. Add large-scale lighting. 
2. Use plants (yes, really) 
3. Punch up your towels. 
4. Incorporate gold and metallic accents. 
5. Add an unusual mirror. 
6. Hang oversized art. 
7. Swap out your shower curtains.