A drawing room is a room in the house that is often the go-to option for entertaining guests and visitors. For many homeowners, a drawing room is almost like the face of the residence as many of their friends and family members spend a lot of time in the space. Naturally, decorating the drawing room is something that every homeowner has to ponder upon. A false ceiling is a perfect way of decorating the drawing room and making it eye-catching. False ceiling designs for drawing rooms made of Plaster of Paris are very resilient and may survive for many years without showing wear or tear. It is possible to purchase POP in powdered form, and the paste may be created by mixing it with water.
The ceiling design is created by putting the POP to a mesh and letting it float in the air. POP is also more cost-efficient than gypsum boards in terms of durability. To achieve elegance, you will need to employ an expert to install a POP ceiling. POP ceilings also need additional time for installation since the surface must be completely dry before application. First and foremost, before contemplating a POP false ceiling, determine if the height between the floor slab level and the ceiling slab level is sufficient to allow a false ceiling design for the drawing room. It is necessary to finalise the lighting scheme in advance since it will influence the design of the artificial ceiling.
Read: Top 15 PVC Panel Ceiling Designs for the Bedroom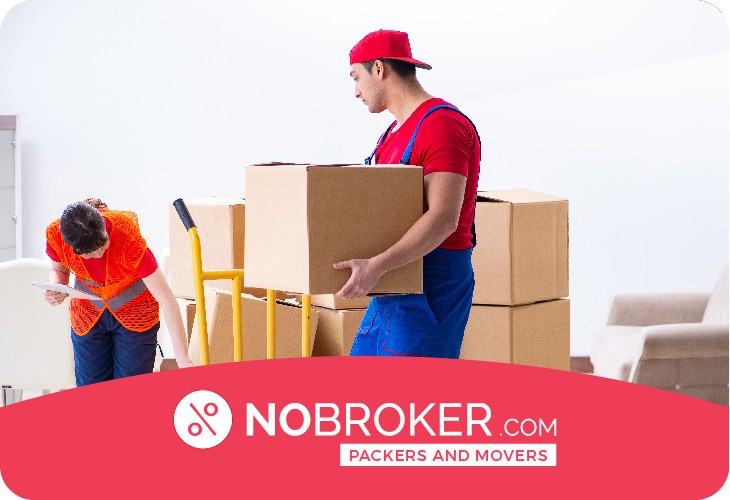 Book Best Packers & Movers with Best Price, Free Cancellation, Dedicated Move Manager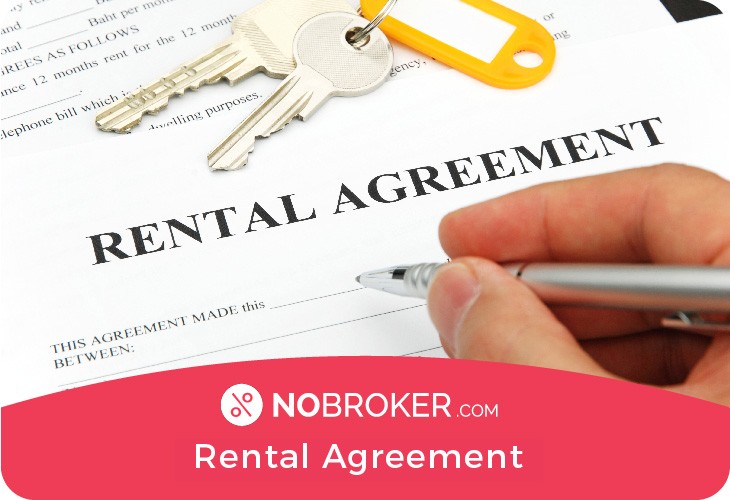 Get Rental Agreement With Doorstep Delivery, Super Quick & Easy
This is third
This is third
This is fourth
This is fourth
This is fifth
This is fifth
This is six
This is six
This is seven
This is seven
This is eight
This is eight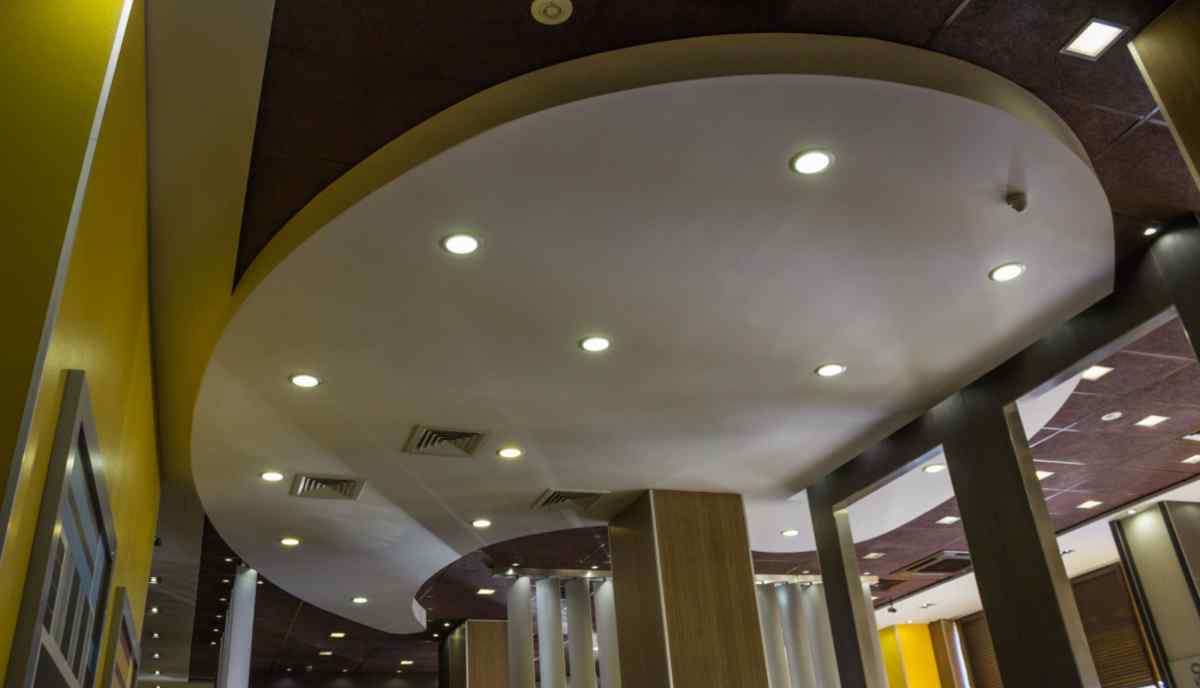 False Ceiling Design Guide for Your Living Room
POP ceilings may also provide an additional layer of insulation in a living room or other similar space. If you want to create a warm atmosphere in your room, you may use LED lights in the fake ceiling to achieve this. If you have a limited budget to spend on a fake ceiling, you may choose basic POP designs for your living room that are simple to install, pleasing to the eye, and offer a minimalist feel to your space.
Designing a fake ceiling with POP panels is the newest false ceiling design for the drawing room. The usage of LED light fixtures in coved ceilings is a style that has been popular for some years and is still popular today. The use of neon lights has grown more popular among homeowners. Another option for making a distinctive impression in the living area is to use quirky POP patterns for the ceiling. If you like a more traditional style, go for geometric patterns or a basic coffered ceiling design.
Wood Panels Ceiling Design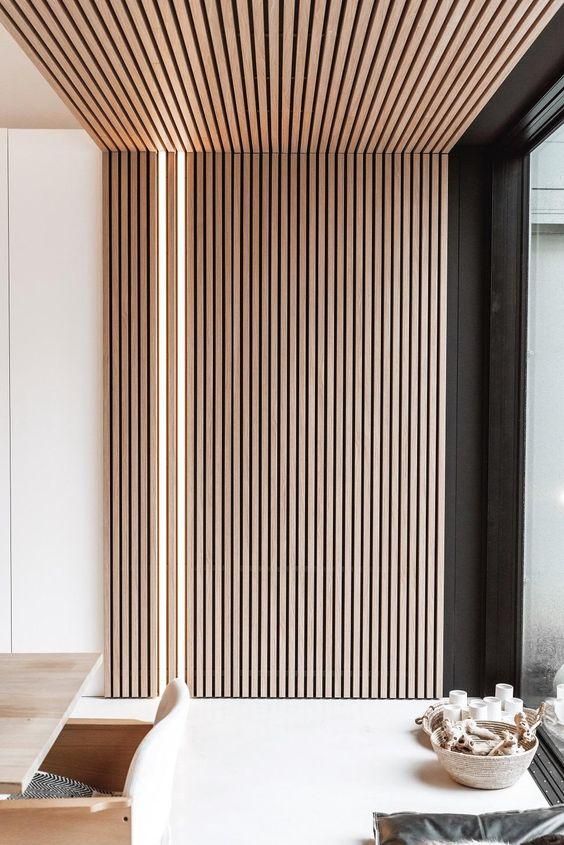 The use of wood panels to create a false ceiling design for drawing rooms is becoming more fashionable. The use of wood in a space adds a rich touch. To complete the aesthetic, make a statement with modern ceiling light fixtures, such as a statement chandelier. Furthermore, you may experiment with different patterns with this fake ceiling design to make the area more personalised. A beautiful false ceiling design for the drawing room for the roof may be seen here.
Read: Our Round-Up of the Top Sliding Wardrobe Designs
POP Designs are used to Create Accent Walls.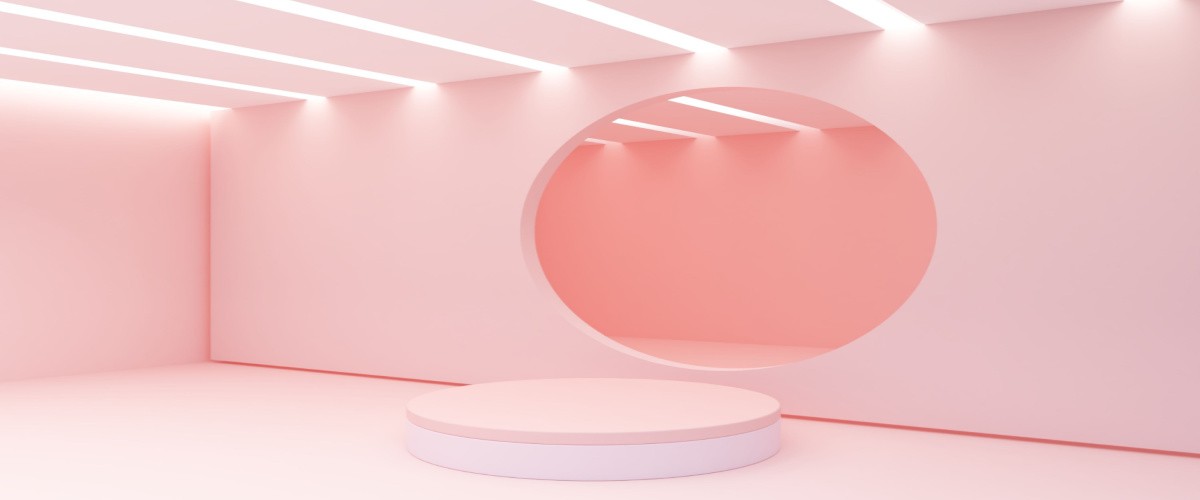 Create a complex wall design or commission a one-of-a-kind artwork. Whether the design is elaborate or bold, this material will work nicely for you. Depending on the decor of your house, you may either utilise a single colour or two tones on the design as well. Oil or enamel paint may be used to cover a drawing room false ceiling, which can be left exposed for a more natural effect or covered with oil or enamel paint.
False Ceiling Ideas with Two Ceiling Fans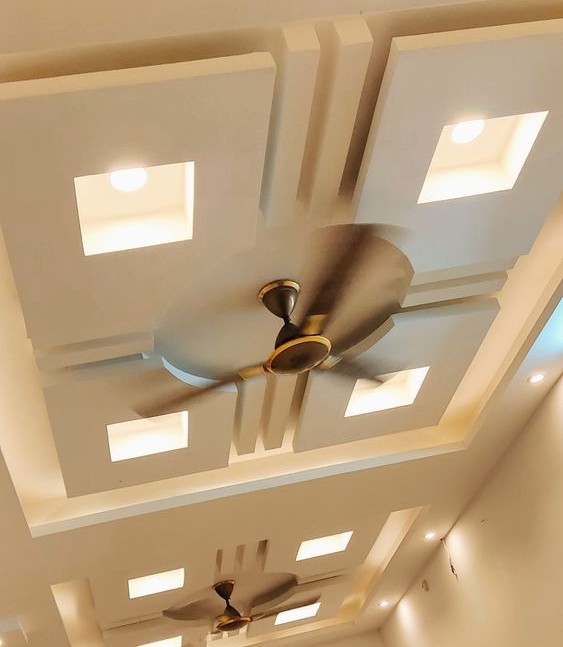 If there are two fans in the living room, a false ceiling design for a drawing room with two fans may be built in various ways. You may construct two artificial ceilings with enough room for the fan to be installed. As seen in the example above, a combination of fans and a chandelier will provide an abundant appearance in a large living area. One may also choose a drawing room false ceiling with a flowery pattern design with circular POP frames for two fans and lights.
Read: 25+ Different Types Of King Size Bed Design For Every Style
False Ceiling with a Coffered Design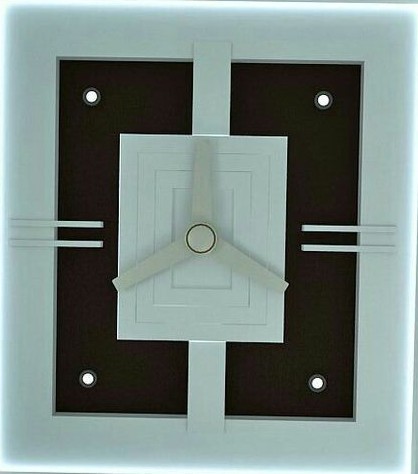 Compared to other false ceiling designs for drawing rooms with fans, a coffered fake ceiling offers a level of style that is unparalleled in the industry. It adds depth and dimension to a plain hall, and it is available in various architectural patterns. It primarily consists of a partitioned ceiling design, with the option of including a dual colour motif.
POP Design with a Tray-Like Appearance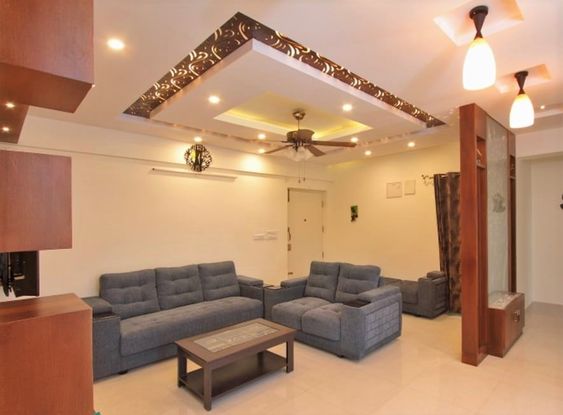 As demonstrated below, you might choose a basic pop false ceiling design for the roof's drawing room with a tray appearance. A stacked tray fake ceiling may also be used to create additional effects and raise the overall décor quotient of a room. Install recessed lights and other design features on the wall to give the space a more modern appearance.
POP Design with a Textured Surface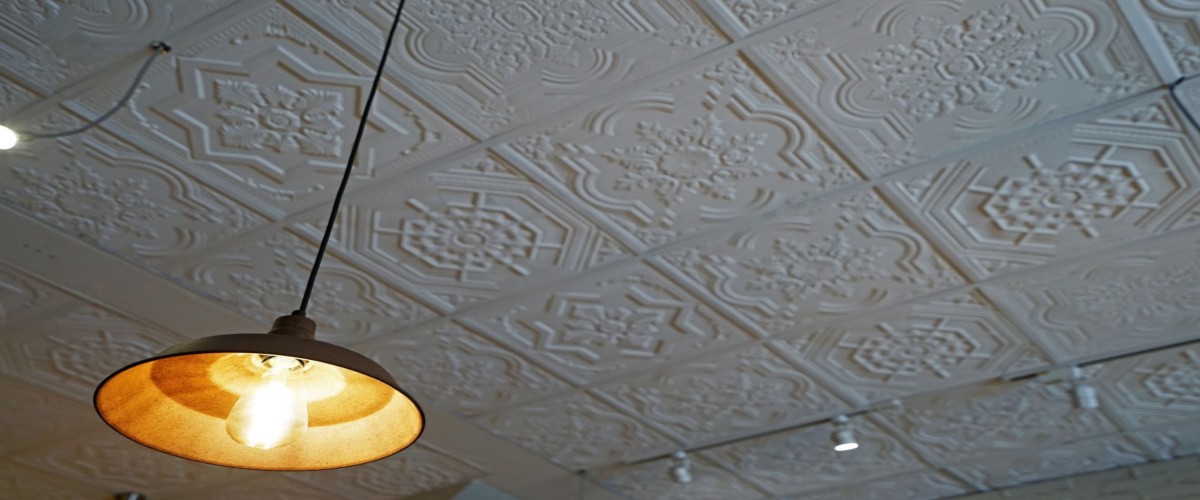 If you go with a textured modern false ceiling design for the drawing room for the roof, you will have various design options to choose from. This fake ceiling design is appropriate for use in the drawing-room and bedrooms, among other places. You may even use it to create an accent wall in your home.
Abstract POP Designs
A basic design of a false ceiling for the drawing room combined with abstract patterns might help to improve the appearance of your living space. With the material, you may create any design of your desire with no difficulty. Abstract false ceiling designs may not be everyone's cup of tea, but there's no denying that when paired with proper lighting, they look super attractive.
Read: Best Two-Colour Combinations for the Living Room in the Indian Market
Wooden Pop-Up Ceiling Design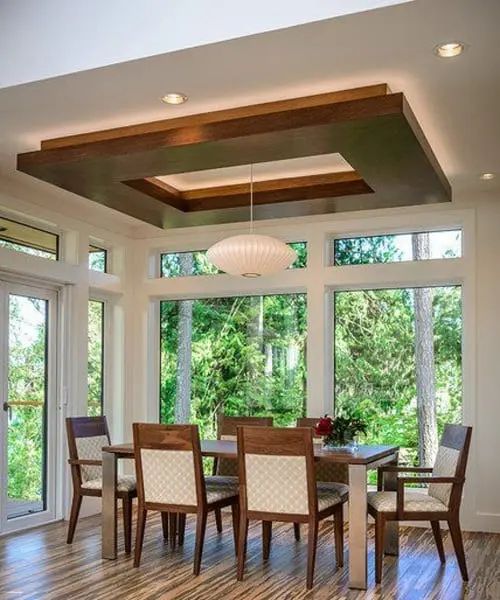 Wood and pop art components may be used to create a sense of warmth and cosiness in your home with this pop-down ceiling design for the drawing room. It is possible to create a more complicated visual effect by arranging the pieces in this pattern rather than using one dominating piece. Wooden panels placed around the perimeter of Pop's central component provide visual interest.
Colourful Pops Of Colour In a Rectangular Hall Ceiling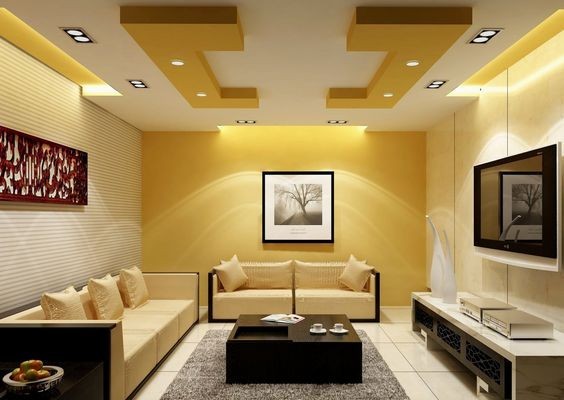 This stunning false ceiling design for a small drawing room for a rectangular hall opens up the area and adds a whole new depth to the overall design. The hollow suspended ceiling separates your sitting area from the rest of your living space. A chandelier may be hung from the ceiling in the middle portion for a distinctive effect. As a bonus, the wiring may be hidden in this creative way of a fall ceiling design drawing room while still providing ambient lighting for the room.
Traditional False Ceiling Design for Drawing Room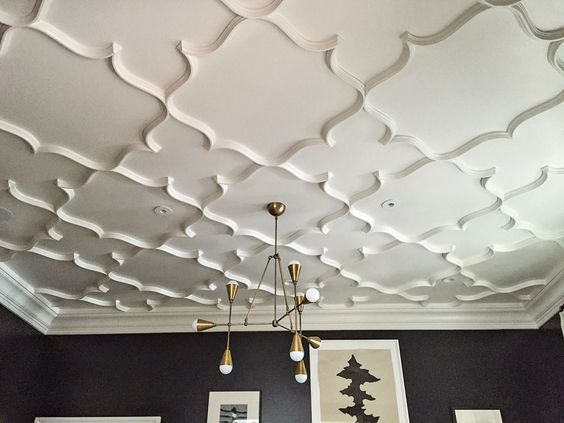 This is the best false ceiling design in the drawing room if you're looking for a simple way tocover up your area. Make your living room fit for royalty with only a few well-placed checkerboard ceiling frames and a beautiful chandelier in the middle! If you want to brighten the room while still adding some personality, a simple hanging lamp is a great option!
Gypsum Pop Art Design
POP ceiling designs for walls using gypsum boards have been the most popular choice for many individuals in recent years. You may easily mould them into any desired shape since they're lightweight and easy to work with. Plaster of Paris should be utilised to finish the basic roof for drawing room false ceiling design 2022. Gypsum boards may be cut into any shape or size and hung from the ceiling for a custom look of a small drawing room false ceiling design.
Colourful Accents for a Modern Drawing Room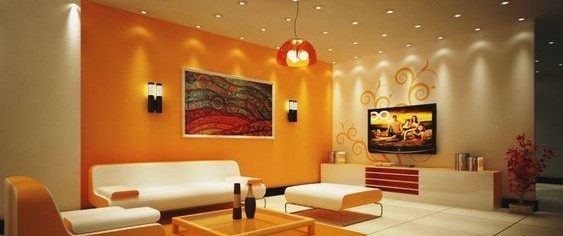 This is the design to utilise if you have a small hall and a limited budget for your Hall. It is possible to create the illusion of more space in a tiny room by using a drawing room pop false ceiling. It is possible to create a magnificent look with only one colour and some white paint. The correct arrangement of lights may achieve a royal impression of the area.
Luxurious Lighting In False Ceiling Design for Drawing Room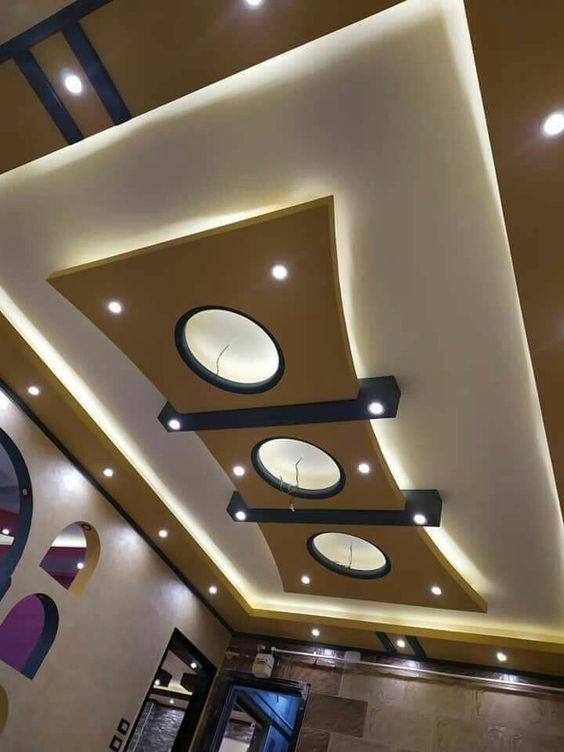 This POP design for the Hall has metallic colours and lights, making it ideal for those who want a little glitz in their surroundings. The backdrop of the gypsum board perfectly complements the LED lights that shine brightly in front of it. As a bonus, this eye-catching modern drawing room false ceiling design is easy to replicate and reasonably priced for the average customer.
POP Impact with a Decorative Flair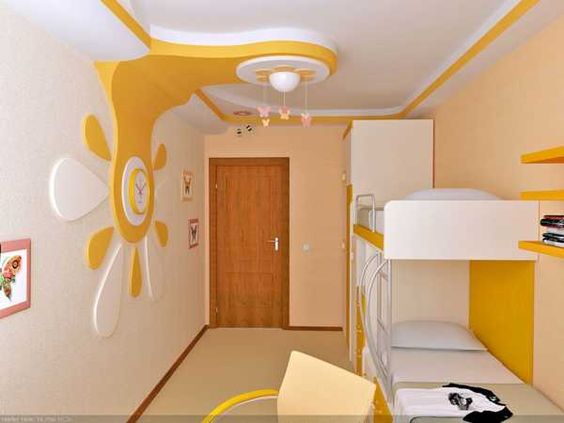 This ceiling design incorporates fabric and point of purchase into the design (PoP). Thick fabric hangs from the central dome ceiling, giving a palace-like aspect to your small abode. The best way to finish this latest pop design ceiling drawing room is to get furniture specifically designed for the room. Hang a lighting system from the focal point of the ceiling to provide a range of eye-catching effects.
Talk to a local interior designer if you'd want additional information about your options and what works best for you. Don't forget to address your budget and the design's maintenance components to avoid problems soon. Choosing the right false ceiling design for the drawing room might be tough! You can always consult the home interior design experts at NoBroker, who can help you choose the most suitable and cost-effective option. If interested, please leave a comment below this article; our executive will be in touch with you soon.

Frequently Asked Questions About False Ceiling Design For Drawing Room
Q. What is the best type of fall ceiling design for drawing room
drawing rooms?
Answer: Gypsum ceilings by Saint Gobain are very durable because of their high-quality metal framing. Given the accuracy with which gypsum boards are manufactured in factories, the design consistency is maintained, making it the perfect material for the finest fake ceiling designs.
Q. Which colour fake ceiling is the most effective?
Answer: The use of wooden rafters or beams in the artificial ceiling compliments the colour white well. Even if you do not want to use real or fake wood, a rich chocolate brown contrasted with white may be utilised to create a magnificent false ceiling with a striking colour combination that is warm and inviting.
Q. Which type of artificial ceiling is the most suitable for Indian conditions?
Answer: Polyvinyl chloride (PVC) is an excellent plastic material for artificial ceilings in garages, basements, kitchens, toilets, and bathrooms, among other applications. Compared to other more expensive ceiling panels, PVC ceiling panels are a much more cost-effective option. These panels are simple to install and keep up to date.
Q. Is it necessary to paint the artificial ceiling?
Answer: False ceilings are built of a different material than walls and need a different kind of paint for several reasons. While it may seem that a person may use the same type of paint on their walls, this is not the case.