'Sharad Navratri', also called Durga Puja, is one of the most celebrated and longest festivals in India, honouring the divinity of Goddess Durga. Over nine whole nights, the nine forms of the Goddess are worshipped. The time commemorates Her victory over the evil Mahisashura. While the festival is celebrated differently across India's several regions, one ritual remains a high priority for all – preparing for this auspicious season with simple yet charming ideas for Navratri decoration at home.
For one, these nine festive days includes fun, devotion, music, food, and more with friends, relatives and loves ones. For another, this season of happiness, festivity, and fervour is complimented with clean, adorned, and colourful homes. But how do you transform your humble abode into a residence that celebrates the joy of festivity when inviting your friends, relatives and the Goddess Durga into it?
Fortunately, we have nine simple, creative Navratri decoration ideas that can help your home stand out!
Adorn Your Grand Entrance – 1st Step for Navratri Decoration at Home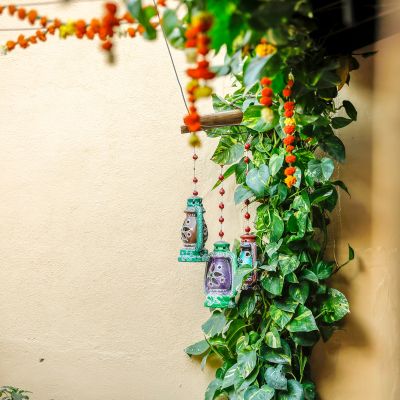 A well-decorated and distinguished entryway gives your guests an indication as to what is in store for them indoors. You can use a combination of fairy lights, paper lamps, candles, ethnic dolls and toran – live pots and hanging plants. A well-lit entrance, for example, is a warm welcome, bringing the festival's flavour to your doorstep. Alternatively, bouquets of fresh flowers are also a great way to offer a fragrant welcome to your guests. Traditional artworks such as paper lamps, ethnic dolls and toran offer a homely charm, all while enhancing the style quotient of your welcome. To further the effect of these options, you can also decorate the floor at the entrance with freshly made rangolis. Finally, there is nothing like a good story. Dig into your grandparents' trunk for an antique item, polish it, and decorate your front door with it. As one of the first things to be noticed at your home's entrance, you are sure to get into a few great conversations.
Read: Feng Shui Bedrooms the Easy Way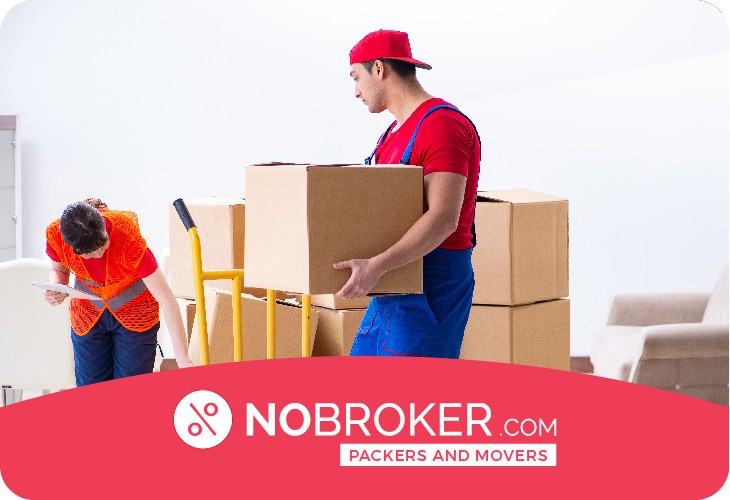 Book Best Packers & Movers with Best Price, Free Cancellation, Dedicated Move Manager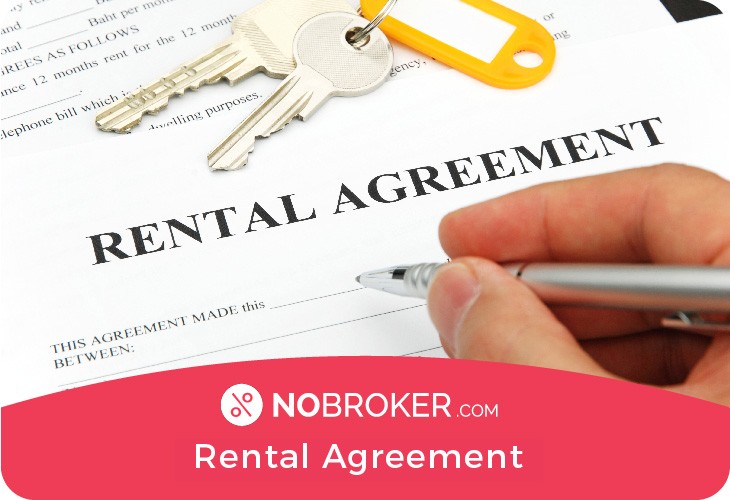 Get Rental Agreement With Doorstep Delivery, Super Quick & Easy
This is third
This is third
This is fourth
This is fourth
This is fifth
This is fifth
This is six
This is six
This is seven
This is seven
This is eight
This is eight
Shake Up the Décor with Some Cleaning and Colour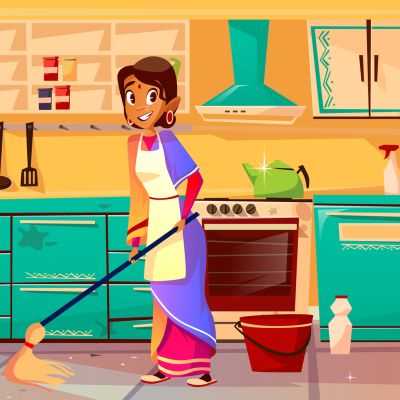 The festival of Navratri is a good time to spruce up your walls in the areas of gathering or the mandir room. You can take this opportunity to clean up the home and freshen up the layout of your common rooms by rearranging furniture pieces. Consider switching to bright or warm coloured linens, cushion covers, curtains etc., and adding metallic décor accents such as wall lamps, 'samai' or metallic diya stand, decorated trays etc. Colours such as white, yellow, orange and red really bring out the festive essence of Navratri. If you have indoor plants, you can organize them indoors for an earthly interior look. If you have any new artwork or wall painting you haven't used yet, now is the time to break them out. Another free of cost and simple option is the use of vivid-coloured fabrics such as old sarees, pieces of cloths, curtains, bedsheets, etc. that you can use as backdrops on walls or even Navratri thali decorations.
Read: The Best Wall Stain Remover Guide: How to Remove Stains from Walls without Removing Paint
Build Bouquets of Fragrant Flowers for Navratri Decoration at Home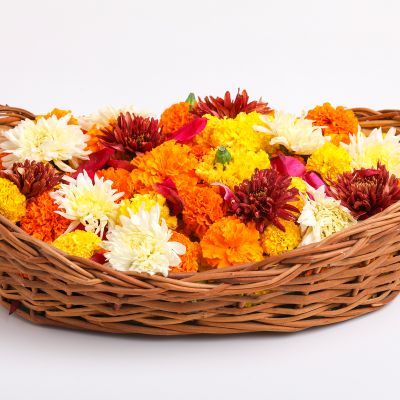 Flowers may be one of nature's oldest and simplest forms of decorations for any happy event. Their delicacy and purity for use in prayers and offerings are well known. They also help remove harmful toxins from the air, improve our moods, and maintain a relaxed atmosphere, thanks to their aromatherapeutic powers. Furthermore, with a wide spectrum of colours available in nature, flowers are very easy to incorporate into design features and themes. For creative and interesting Navratri decoration ideas, you can use flowers to adorn your walls and windows with wreaths made of marigold flowers. You can deck the home temple, the stairs, the chandelier and more with flower bouquets. Flowers are also very useful for Navratri aarti thali decoration. You can even pick fresh flowers to create patches of flower rangoli carpets to transform your home into a holy, lively space.
Read: Flower Pot Designs – Transform A Cheap Flower Pot into a Designer-like Elegance
Style Up Your Floor with Rangolis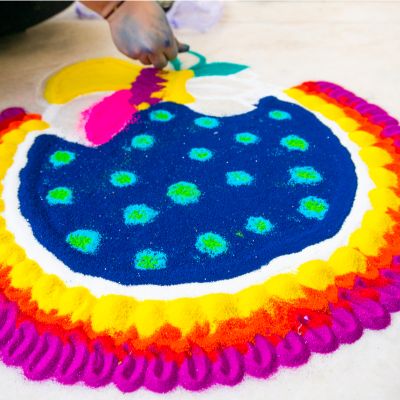 The nine devis of Navdurga are nine distinct colours of Navratri. For instance, orange is the colour of day one to honour Devi Shailputri Mata, white commemorates Devi Bramhacharini on the second day, the ninth day's colour is peacock green, and honours Siddhidatri Mata for accomplishing 'siddhi' and so on. To celebrate these colours in a beautiful spectrum, nothing suits an auspicious occasion better than rangolis – the creative expression of art through colours and kaleidoscopic designs. Believed to be a harbinger of good luck and prosperity in the Indian tradition, rangolis can be fun to make with people, and every rangoli decoration is unique depending on the creativity of the maker. The best thing about rangolis is that they do not need you to purchase expensive items to make it. You can make rangolis out of colours, flowers, diyas, flour, or even rice! You can even organize a rangoli making contest among guests each day and with small rewards to make the Navratri decoration experience fun and exciting.
De- 'light' Your Guests with Painted Diyas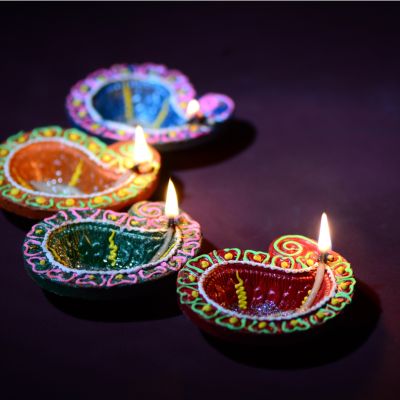 One of the most prominently used decorative items in India, nothing can beat the diya in enlightening the aura of your festive home. Simple terracotta diyas can spruce up the Navratri mandir decoration at home with brightness and beauty. Not just in and around the temple, you can ornate them along walls, pavements, veranda, balcony, and rangolis. To take your creativity to the next level, you can also decorate the simple diyas with bright paints, glitters, fruit petals, seashells and more! Hand decorated diyas are always cherished memories due to the fun experience that comes with them. You can take it a step further by adding a fragrant twist, and use hand-poured aroma candles, which are great for lighting up the mood and ambience on any occasion.
Read: Kutcha House, Their Construction, Purpose, And Significance!
Exhibit Your Navratri Golu Decoration Ideas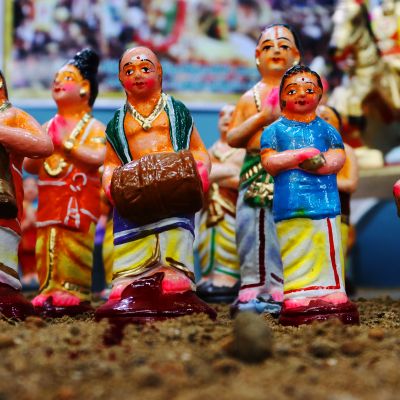 Commemorating the legendary events from mythology, Golu or doll displays are a common practice during the Navratri festival. Represented artistically across nine steps to symbolize the nine days of Navratri, as well as the spirituality and essence of life. As one of the key Navratri decoration items, you can complement the set-up with diyas, flowers, wooden dolls that depict everyday life in ancient Indian villages etc. Along with the Navratri Kalash decoration – an importantcopper vessel with coconut and mango leaves that stays at the golus for 10 days, you can also use a variety of floral arrangements for the Navratri thali decoration.
Raise The Bar with Decorated Garba Pot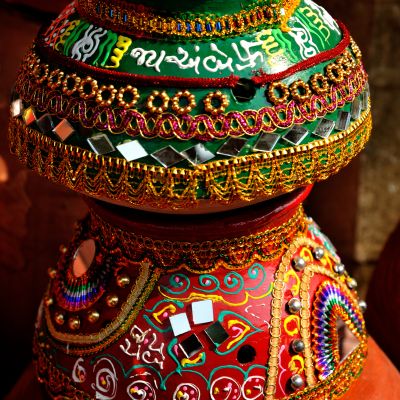 Often missed, earthen pots can be one of the most underrated decorative items during festivals. However, during the Navratri season, garba pots (earthen pots with holes), are an indispensable part of the festival, as it symbolizes nascent life, unity and love, and is worshipped for the nine days of the festival. It is typically put in the heart of the communal gathering, where colourfully garbed men, women and children sing and dance around it. While their spiritual use is well known, you can bring out your creative side by hand painting earthen pots. You can use your Navratri garba decoration ideas with intricate designs, use them with diyas, and even fill them with flower bouquets. Simply painting the entire pot, a certain colour, adorning it with a few colourful patterns, and embellishing it with foils or glass mirrors can dazzle your guests.
Embellish Interiors with Special Cane Crafts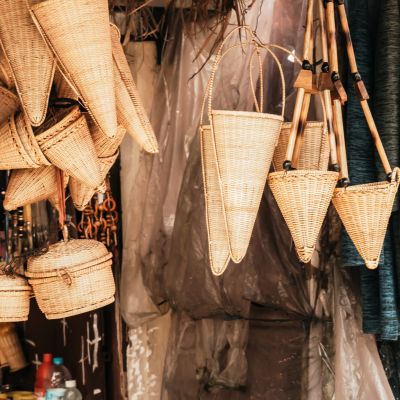 The art of weaving crafts from nature is truly remarkable. Collectables and accessories made with the craft of bamboo basketry can be unique to your home decor during the Navratri festival, as they offer a rich earthly look. They are not only eco-friendly, and need low maintenance, but are also light-weighted, and come with unique styles. Moreover, a wide range of Indian artisans from across the country lend new designs by blending age-old ways to create them by hand – from baskets, combs, toys, mats, to mugs, musical instruments and more. You can adorn your wall with cane accessories including cane wicker baskets filled with flowers. You can also dangle cane wicker baskets with lights from tree branches to light up the outdoors colourfully and creatively. Cane crafted aesthetic corner items are also great for your Navratri decoration ideas, which can both serve as decorative and a utility accessory for say, guests to put their umbrellas in.
Photogenic Fairy Lights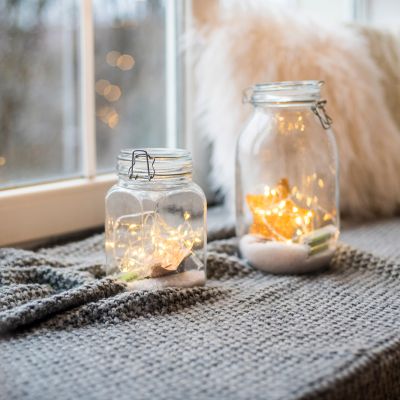 Rows of tiny beads of illuminating LED 'fairy' or 'rice' lights are widely used decoration items. It works wonders in radiating the place of worship, lighting up your walls, and dazzling up the entrance. But what more can you do with them to stand out? One great trick is to put them in glass jars and bottles or paper bags with punched holes and use them as lanterns. Another way is to make a chandelier of these lights to illuminate the Navratri mandir decoration at home. To add a twist to the celebration, you can also add memorable printed photos along with these lights on the wall. A simple set-up as this can elevate the rejoicings and fun that is to be had for the nine days of Navratri.
The sky is the limit when it comes to choosing and using a combination of the aforementioned options of simple, creative, and easy Navratri decoration at home. Essentially, your Navratri themes should be about celebrating the victories of your loved ones, celebrating your personal achievements, and the moments you came out safe out of a tough situation. This is where colours and decoration come together to reflect your auspicious energy, colourful style, and nine days of fun and fervour within your humble abode.
Looking to get your home clean and painted quickly and with great results? Try the professionals at NoBroker for your Navratri decorations at home this year. Our Home Services team has professionals that are all 5-star rated and come with the best experience in the industry. Click the link below to book NoBroker's festive painting services and full house cleaning services, while enjoying some amazing deals and DISCOUNTS! Just click below to know more.
FAQ's
Q1. Why is Navratri celebrated?
Ans. By some Navratri is celebrated to honour the victory of Goddess Durga over the demon Mahisashura, and by some to celebrate the victory of Lord Rama over the King Ravana. Essentially, the nine days of festivities rejoice in the victory of good over evil.
Q2. What are the types of Navratri?
Ans. There are four seasonal Navratris. Magha Navratri is celebrated in January or February. Vasanta Navratri is celebrated in the summer, between March and April. Ashada Navratri is celebrated in the monsoon, i.e., June or July. Sharada Navratri is celebrated in the post-monsoon month of either September or October.
Q3. Which are the nine colours of Navratri?
Ans. Each day of Navratri is dedicated to a colour and a Goddess in this order: Day one is Orange (Goddess Mata Shailputri), day two is White (Goddess Brahmacharini), day three is Red (Goddess Chandraganta), day four is Royal Blue (Goddess Kushmanda), day five is Yellow (Goddess Skandmata), day six is Green (Goddess Skandmata), day seven is Grey (Goddess Kalaratri), day eight is Purple (Goddess Mahagauri), and day nine is Peacock Green (Goddess Siddhidatri).
Q4. Which items are essential for Navratri decoration at home?
Ans. There are a few essential must-haves for your Navratri decoration at home including the pooja thali, Navratri Kalash with coconut and mango leaves, lamp diyas, aggarbati stands, rangoli, marigold flower etc.
Q5. How do I remove the Navratri golu dolls?
Ans. It is important to not remove the golu on Vijayadashami, especially in the evening. Also, Tuesdays and Fridays are not auspicious to remove the golu. You should offer naivedyam and aarti later in the night before displacing the Navratri Kalash.