Do you believe in the saying 'less is more? If your answer is yes, we have the perfect décor for you to use in your home. The Minimalist style is a great one for those who appreciate space and the absence of clutter, it helps keep your home looking airy and clean too. In this article, you will learn about minimalist interior design and how it can help to elevate the look of your home. You also get a short lesson on what minimalism is and how you can achieve this at home with ease.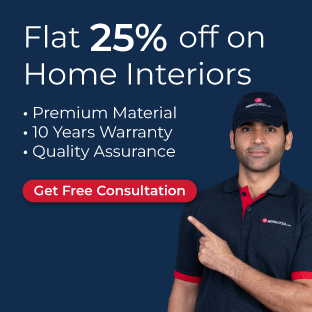 What is Minimalist Interior Design?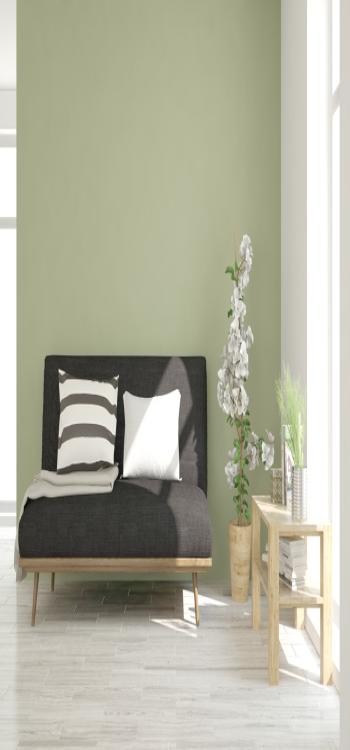 Minimalism is defined as simplicity, when you design tone down everything as much as possible and remember, there should be a place for everything, and everything needs to be functional.
Read: Elevate Your Space with Mirror Wall Panels: The Ultimate Guide to Stylish Home Decor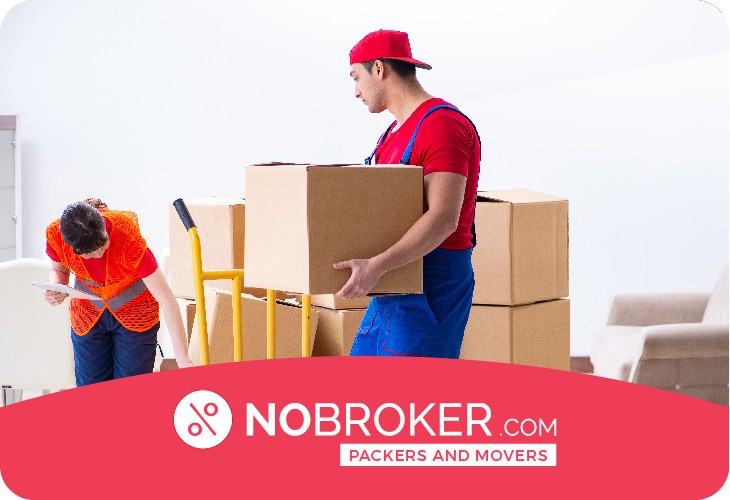 Book Best Packers & Movers with Best Price, Free Cancellation, Dedicated Move Manager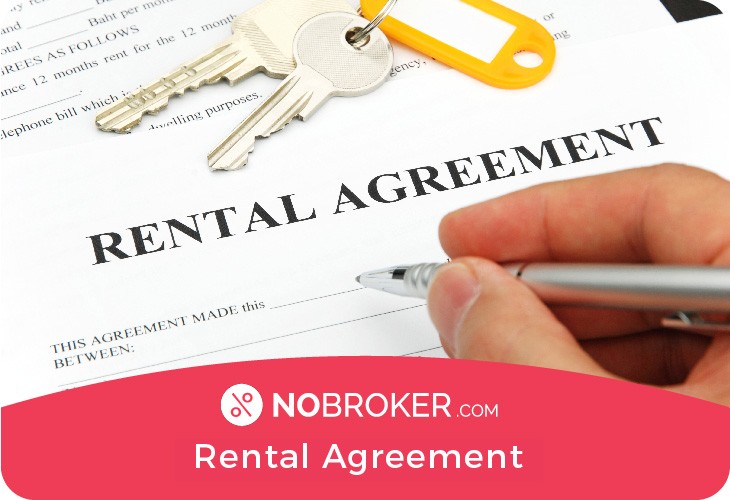 Get Rental Agreement With Doorstep Delivery, Super Quick & Easy
This is third
This is third
This is fourth
This is fourth
This is fifth
This is fifth
This is six
This is six
This is seven
This is seven
This is eight
This is eight
'Minimalism is rooted in an art movement in the 1960s, and it later expanded into the design and architectural aesthetic most commonly associated with simplicity, neutral colour palettes, and clean lines.'
The minimalist design means clean, modern lines, a smart colour pallet (neutral colours are preferred), NO clutter or at least hide clutter, and making your home look warm and not clinical. It might sound easy to pull off a minimalist design, but it's hard to make your home look and feel warm when you have very few items in your home. You are creating a gallery-like setting, yet making it inviting and comfortable, finding this balance is very tough.
When is Minimalist Style Interior Design needed?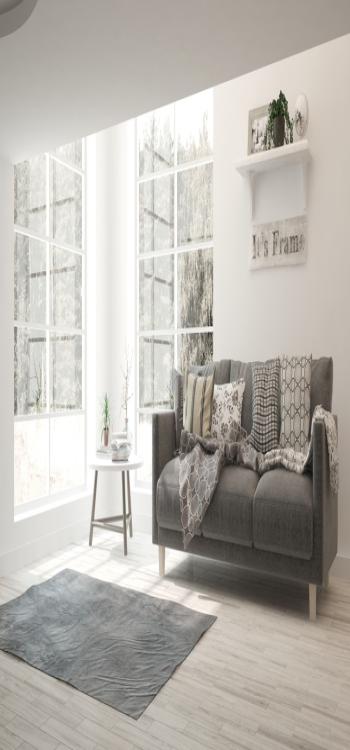 If you're redoing the interiors of your home, and you genuinely like a less is more feeling, then this style is for you. Apart from this, here are a few more scenarios where this style comes in handy –
The lack of clutter in the minimalist interior design means that it is perfect for small homes as it makes spaces appear larger.
If you don't want to spend too much money on furniture and interiors, this style is a great option. You will be focusing on a few key pieces that serve many purposes instead of many small pieces for show.
This is a style that will never go out of fashion if you get it right.
It is easy to put together and match pieces, there are no confusing rules to follow.
How do I Achieve Minimalism in Interior Design?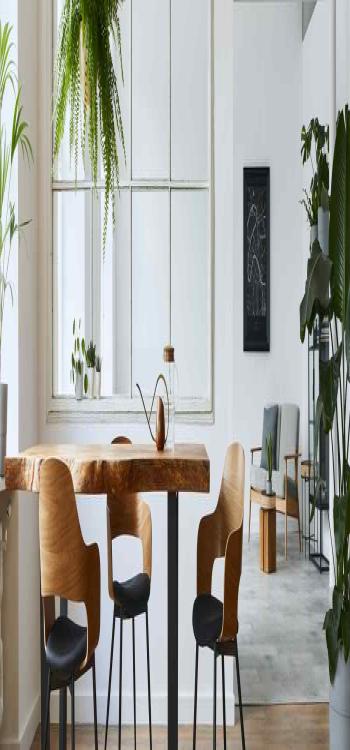 When decorating your home in the minimalistic style there are a few minimalist style interior design characteristics that you need to keep in mind. These principles are to do with colour, furniture, light and more. You can use all these principals to put together a lovely décor on your own.
Read: Attractive and Cost-effective Glass Wardrobe Design Ideas for Every Room
Minimalist Colours
When choosing a colour, keep in mind it should look clean and fresh. It does not have to be dull colours, but it does have to be soothing to the eyes.
Interior design and author Will Taylor said – "Yellow undertones give a white paint a warmer and creamier appearance, while blue undertones give a crisper look." This goes to show even when choosing simple white paint, you need to pick carefully.
It is also a good idea to stick to a trio of hues per room, these colours should be a few shades apart from each other. This will make your interiors look more consistent. The best colours to work with are whites, creams, blacks, and greys.
Remove Clutter
This is the most BASIC step you will need to take if you want to achieve a minimalist décor. You need to have fewer things in your home, or at least learn to hide as many things as you can to make your space look better. If you bring in something new to the house, remove one old thing, it will help you control how much you have and also maintain balance.
Read: Try These Trending Kitchen Trolley Design Ideas
Display only your favourite pieces or necessary pieces. Everything else must go out of sight. Invest in furniture that can double up as storage like beds with storage draws, ottomans with storage and so on.
Remember, it's always quality over quantity
It's better to have a room with a few carefully chosen pieces and not a mix of cheap trendy pieces. You need to choose good quality pieces that will stand the test of time and not pieces that look tacky in a few years. Consider each piece before you buy it, look for things that you like and that are classy, and timeless.
Use Textures
If you stick to neutral tones, it is very possible that your home will start to look bland and boring. The best way to stop this monotony and break things up is by introducing many textures. These textures will help to layer the look of the room and bring in a more 'homely' feel to the space.
Use textures like woven details, natural wear, patina, and rough or smooth finishes. You also can't go overboard with the texture or you'll end up with a mess.
Bring in Natural elements
Since there is a lot of white spaces and clean lines in a minimalistic home, you can cut down the monotony by bringing in some elements of nature, like plants and flowers. They work wonders at brightening up spaces and bringing cheer to a room. You can have small plants on tabletops or larger ones in the corners of rooms.
Read: 10 Exquisite Crockery Unit Designs: Elevate Your Dining Space!
Let in the Natural Light
The best, easiest, fastest way to get your home to look and feel warm is by letting in as much natural light as you can. This way you get a warm home without having to over-accessorize and crowd your home with too much extra stuff.
Elements that make a Successful Minimalist Design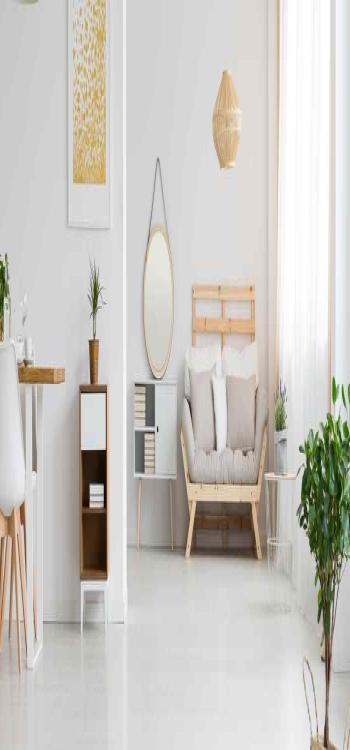 Depth with Simplicity
There is an underlying emphasis on functionality and user-friendliness in minimalist interior design. While the layouts, colour palettes, and effects are limited, there is a strong focus on delivering key elements and aesthetic interior decor items to the viewer effectively.
Balance
In Japanese minimalist interior design, there is certain work put behind creating a balance of energy. The layout of a room – furniture and art should align one another and also stand out on their own.
Contrast
Another factor that influences the efficacy of a minimalist interior design is contrast. The colour play in the roomshould complement one another but also the furniture in the room.
Unusual Accents
Something that could look entirely out of place in a busier design can look edgy and exciting in the simplicity of a minimalist style. In minimalist style interior design items – the grid and layout need to be paid attention to.
Principles of Minimalist Interior Design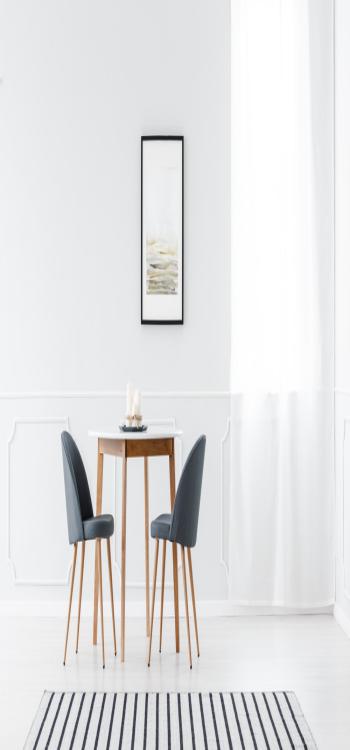 Minimalist interior design has depth and elegance. Minimalists perceive simplicity where you would see starkness. You may perceive it as frigid, while minimalists regard it as elegant. Minimalist style interior design perceives art where otherwise it is disregarded.
There are compelling reasons for this. The average household contains 300,000 or more objects. As a result, the average person spends twelve days per year in their home hunting for things they can't find. The art of minimalist house designs extends beyond interior design items to encompass a way of living. A way of living that is supposed to provide a slew of advantages, including increased happiness, reduced stress, and increased freedom. There is beauty in simplicity, but it requires talent, just like any other home design style. Here are 9 guidelines for perfecting modern minimalist house design.
Now let's explore the characteristics of minimalist interior design, including simplicity, and functionality.
Quality Fixtures Investment
While some modern minimalist interior designs encourage people to be frugal, minimalist interior design isn't always about saving money. Designer light fixtures, high-end storage units, and modern gas fires are all eye-catching and minimalist contemporary interior design ideas to decorate without cluttering.
Assorted Materials
Minimalist interior design concepts typically employ a muted colour palette, with texture provided by a range of materials such as wood, glass, ceramics, cloth, and canvas. The minimalist theme interior design approach is all about combining form and function, which is simple to do with a beautiful texture on a utilitarian home object.
Striking Furniture
If you're unsure where to begin, start with a statement piece of furniture. Then it's a matter of creating a tale around it with lamps, plants, and paintings which works as a great trick for minimalist house interior design. When you say yes to colour, it doesn't mean you're inviting chaos into your minimalist interior design idea. However, you must keep the ideas of form and function in mind, as well as a clear line connecting your interior design.
Artwork
Choose a single supersized art piece for a room and let it dominate, even if it appears to go against minimalist home interior design standards at first. This balances the masculine and feminine energies of your home. These are effective yet simple interior design items.
Colour Accents
Combine a neutral design (think grey, stone, and beige) with a contrasting colour element, such as a work of art, a piece of furniture, or a feature wall. An accent element is like a pleasant surprise in a room, and it doesn't have to be overpowering. It's just a great approach to Scandinavian minimalist interior design to bring out something unique.
Subtle Furniture
With so many options in today's market, it's easy to get carried away when it comes to purchasing furniture. When it comes to minimalist interior design, it's best to keep the furnishings simple so that other aspects, such as art, may take centre stage.
Scenic View
If your home has a spectacular view, follow the contemporary minimalist interior design, and allow the view to be the focal point. Keep your furniture minimal and get rid of whatever you don't use. Choose one or two indoor plants, as well as artwork that complements them.
Open Space
Don't succumb to the urge to stuff a room with furniture just because there's a lot of it. When it comes to minimalist interior design, the aim is to keep everything open. Allow yourself to get carried away by the vastness. Space is supreme.
Light as Decor
Think outside the box and choose beautiful lighting instead of functional lighting. Although chandeliers are a minimalist's worst nightmare, there are some gorgeous lights that are works of art in and of themselves that can enhance any Scandinavian minimalist interior design.
Minimalist Furniture
Minimalist furniture design is not just about decluttering your space, it's about decluttering your mind.
Embrace unconventional ideas like multi-functional furniture, hidden storage and unconventional colour schemes to achieve a minimalist look that also improves your daily life and well-being.
When it comes to color schemes, neutral colors such as white, black, and gray are commonly used in minimalist designs to create a sense of calm and serenity. However, don't be afraid to experiment with bold and unexpected hues that can add depth and personality to your space.
Transform your home into a sanctuary of simplicity and functionality.
Start by identifying the furniture pieces that no longer serve a purpose and consider replacing them with multi-functional pieces that can serve multiple purposes.
Experiment with hidden storage solutions that can keep your home organized and clutter-free. Remember, minimalism is not about deprivation, it's about making conscious choices that promote a sense of well-being.
Why You'll Love Minimalist Home Decor?
Minimalist interior design helps you save money. The reason for this is that you won't have to spend as much money on furnishing and decorating your property. You can also repurpose and upcycle a lot of what you already have. As a result, designing your home in a minimalist style is incredibly cost-effective.
Another significant advantage of opting for a minimalist interior design for your home is that you will create a more relaxed and serene atmosphere. Consider a room with too much stuff; it will be cluttered and disorderly. This type of environment will make you feel gloomy and unhappy. A minimalist design, on the other hand, combines both aesthetics and functionality. And it will undoubtedly make you feel at ease, serene, and content.
If you follow these simple principles, you'll have a lovely minimalistic interior design home in no time. If you need help then just contact NoBroker, we have home interior services that can transform your home and make your vision come to life. Be it a new home or redoing/updating your old home, NoBroker interiors is the best choice for you. Get your interiors done by professionals, at reasonable rates and fast! Click below to know more about NoBroker interiors.
FAQs
Q1 
What is 
minimalist interior design?
Ans. Minimalist interior design is related to modern interior design in that it focuses on employing only the minimal necessities to create a clean, uncluttered environment. Simple, clean lines and a monochromatic palette with colour as an accent characterise it.
Q2 Are minimalist interior design items costly?
Ans. In fact, it is the opposite. Minimalist decor is eco-friendly as well as pocket-friendly.
Q3 Are colour accents important in minimalist home decor
?
Ans. An accent element is like a pleasant surprise in a room, and it doesn't have to be overpowering. It's just a great approach to Scandinavian minimalist interior design to bring out something unique.
Q4 
How to pair artwork in a minimalist interior?
Ans. Choose a single supersized art piece for a room and let it dominate, even if it appears to go against minimalist home interior design standards at first. This balances the masculine and feminine energies of your home.
Q5 
Any tips on furniture placement in a minimalist room?
Ans. If you're unsure where to begin, start with a statement piece of furniture. Then it's a matter of creating a tale around it with lamps, plants, and paintings which works as a great trick for minimalist house interior design.