A dining room without a wash basin sounds like something incomplete, right? The dining room wash basin lets you rapidly clean the food residue from your hands following each meal. Having a sink in your dining room is a true luxury. It is impossible to conceive of living without washbasins – think about it. If not for wash basins, we'd have to use a bowl and a tumbler to clean our hands. Whether it's a brand-new residence or an older residence needing an updated dining room wash basin, we are here to assist you.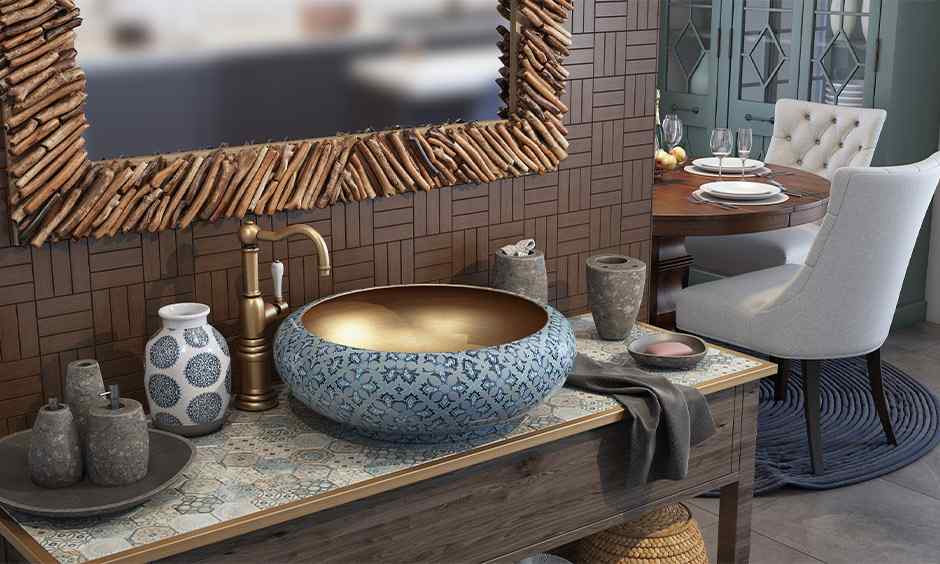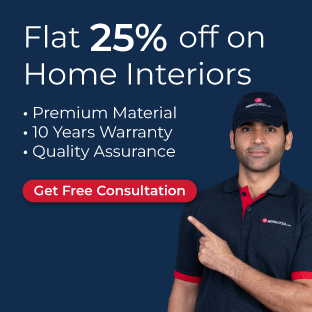 Why should you have a Sink in the Dining Area?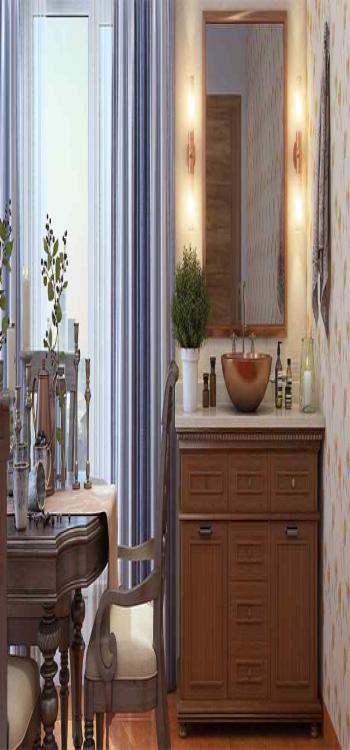 Using the sink in the bathroom or powder room to wash hands before or after each meal is considered unsanitary by many Indian families. Because the kitchen sink primarily serves as a receptacle for cleaning, it is inconvenient to wash one's hands in the sink.
Read: Our Round-Up Of The Top 10 Kitchen Chimney Design Ideas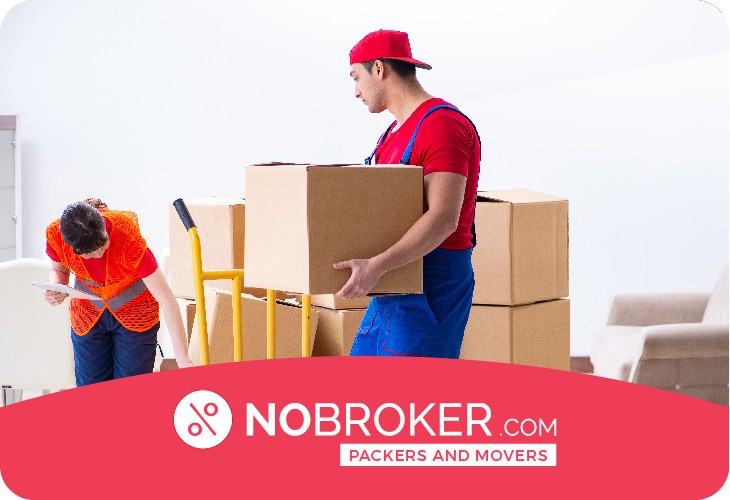 Book Best Packers & Movers with Best Price, Free Cancellation, Dedicated Move Manager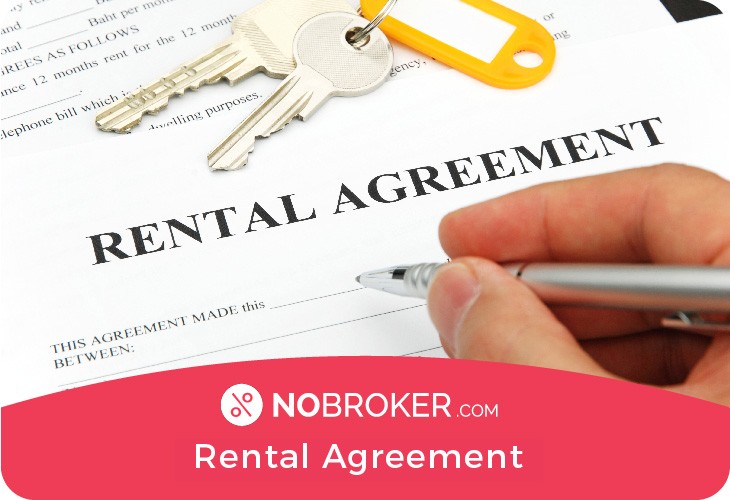 Get Rental Agreement With Doorstep Delivery, Super Quick & Easy
This is third
This is third
This is fourth
This is fourth
This is fifth
This is fifth
This is six
This is six
This is seven
This is seven
This is eight
This is eight
What is the Best Location for the Wash Basin?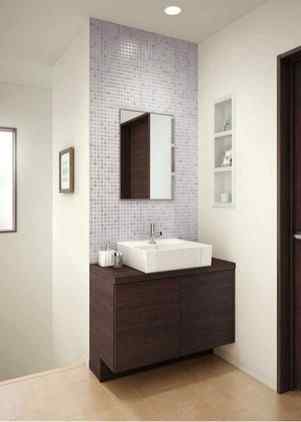 Washbasins can fit in a small dining room area in a house on the smaller side. Do not use tiles that do not match the colour of the crockery unit, the furniture, or the site; instead, use tiles that do.
Create a functional zone or corner in a large house by placing a semi-open divider between it and the rest of the area. Using the space below the steps, the washbasin is installed. With the floating cabinet and mirror, you can see how light it feels and how it doesn't look overbearing.
How to Camouflage the Washbasin's Water Connection Camouflaged?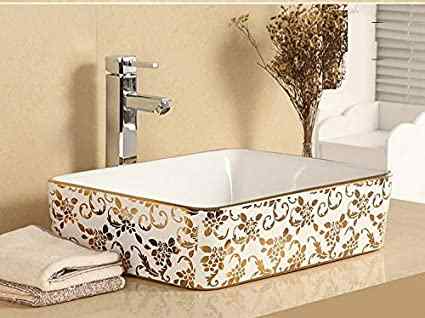 Before starting construction, consider where you'd like your sink in the dining room and how you'd like to conceal its water supply line while designing or building your new home.
The kitchen and baths in most new construction flats are tiled from top to bottom. Some kitchen or bathroom tiles may have to be broken so that a water supply line can be extended into the dining room to install a washbasin. The plastered wall will also need to be chipped to hide the plumbing line. If a kitchen or bathroom tile is damaged, it must be replaced.
What Should be the size of the Washbasin?
The sink's width and depth should be at least 7 and 8 inches, respectively. The finished washbasin height, measured from the floor, should be approximately 2 feet and 10 inches.
It's essential to leave at least 4 feet between the sink and the nearest wall so one person can wash their hands while another can pass.
Different Types of Wash Basins Based on Building Materials Used
The material you select for your wash basin will impact its long-term usefulness and maintenance requirements.
Read: Top 12 Kitchen Rack Designs For Indian Homes
1. Ceramic
Ceramics are created from natural ingredients. This material is scratch- and limescale-resistant, easy to clean, and impervious to chemical damage.
2. Stainless steel
It is only possible to clean stainless steel using a gentle cleanser. However, it is vulnerable to scratching. In terms of design, it has a contemporary and industrial feel.
3. Stone
Stone is a popular choice because of its ability to withstand heat stress. However, harsh chemicals will damage it, so all that is needed to clean it is a bit of soapy water. For zen-inspired restrooms, this is the material of choice.
4. Composites and resins
A new trend in tabletop wash basin design for the dining room is using composite materials made from polyester resin. Cleaning is a breeze with soapy water, and these materials offer the most significant level of hygienic standards while also being available in a wide variety of hues and designs.
5. Polished and Sanded Concrete
In addition to being extremely durable, polished concrete has a contemporary appearance.
6. Granite
Granite is also a rigid material that can withstand a lot of heat.
7. Marble
Because marble is more delicate than the other substances available, it is typically reserved for use primarily in private bathrooms. The use of specialist products is necessary because of its tender care requirements.
8. Glass
Although glass is brittle, it can be cleaned with just about any product. It's hygienic, and stylish, and comes in several shades.
Read: List of Top 15 Bedroom Furniture Designs
Ideal Materials for the Wash Basin Countertop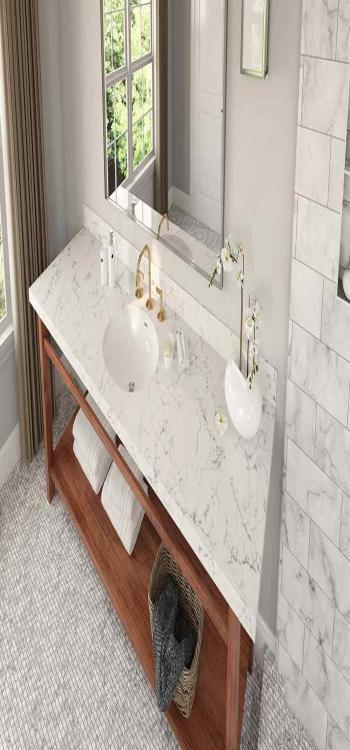 Due to its role as a sink, the countertop beats from the constant dripping and splashing of soapy water. When picking a countertop material for your home, you should consider factors such as cost, durability, and beauty. Using this approach, you can select your champion from the six finalists.
1. Marble
Marble is one of nature's most prized creations, known for its delicate vein patterns and silky feel. Unpolished marble slabs can only be polished after the final installation of the marble. Because marble is a porous stone, it must be sealed regularly to prevent staining. The countertop must be cleaned soon after any liquid spills occur.
2. Quartz
Crushed quartz, colour pigments, and polymer resins make quartz an artificial stone. Aside from its durability, non-porous nature, low-maintenance requirements, and ease of cleaning, quartz is one of the most excellent materials for countertops. Quartz counters have the disadvantage of not being as heat resistant as natural stone and fading in direct sunshine.
3. Granite
Granite, a naturally occurring stone, has a unique speckled appearance that sets it apart from other materials. It comes in various patterns and colours, such as blue, green, red, green, and so on, all pre-polished. Installing a granite countertop is the best option because it is exceptionally durable and resistant to scuffs and spills. On the other hand, granite necessitates regular sealing and is prone to chipping if hit hard enough.
Read: Smart Bedroom: Elevating Your Sleeping Space with Technology
4. Other Solid Substance
A premium countertop material produced in a factory, a solid surface is known for its durability. Crushed stone and acrylic resins go into their construction. Because a solid surface may be moulded into any shape, the most intriguing aspect of using it is that it is malleable. Mould or mildew can't form on a solid surface and is available in a wide selection of designs, colours, and patterns. For those who don't like the look of plastic, a solid surface can be transformed into an ideal countertop with an incorporated sink.
5. Tiles
It is possible to utilise any type of tile to clad the countertop. There are a wide variety of colours and designs available in ceramic tiles, and they may easily give the countertop a more creative appearance. Tiles have a drawback because the grout lines collect a lot of dirt and other debris. Tiles, on the other hand, are extremely brittle and are prone to breaking.
6. Concrete
bathroom's design while being reasonably priced. Concrete is a versatile building material that can be shaped, coloured, and textured to fit any aesthetic preference. It is cast in place, making it scratch- and stain-resistant. Because of the potential for hairline cracks, a concrete countertop must be sealed regularly.
15 Trending Wash Basin Designs For Dining Room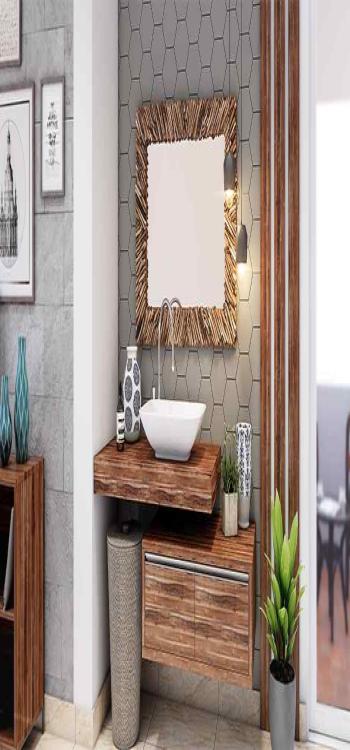 Many elements determine whether there should be a wash basin in the dining room. One of the most important considerations when creating your ideal wash basin is the size and style of your dining room. You might choose to install the following sinks in your dining room.
1. The Rustic Mirror Royal Washbasin Design For Dining Room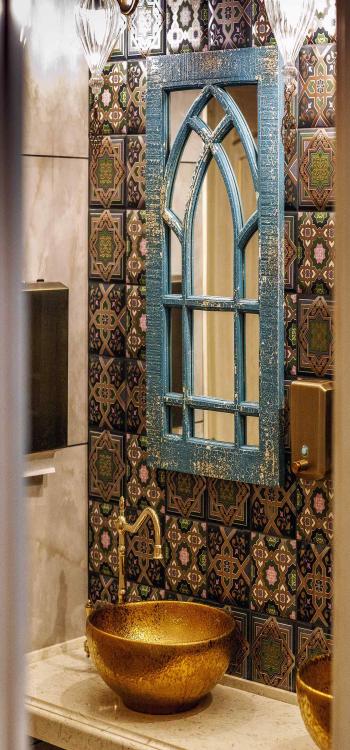 Looking for something majestic that can enhance the beauty of your dining space? Look no further!. This golden glorified basin with an unfinished metallic texture on a serene marble top is perfect for you. The basin combines an antique bronze faucet and multi-colour, multi-pattern back panel to complete the look. Adding to the beauty is the rustic wooden jharokha style blue framed mirror.
2. Wash Basin with a Vibrant Black Finish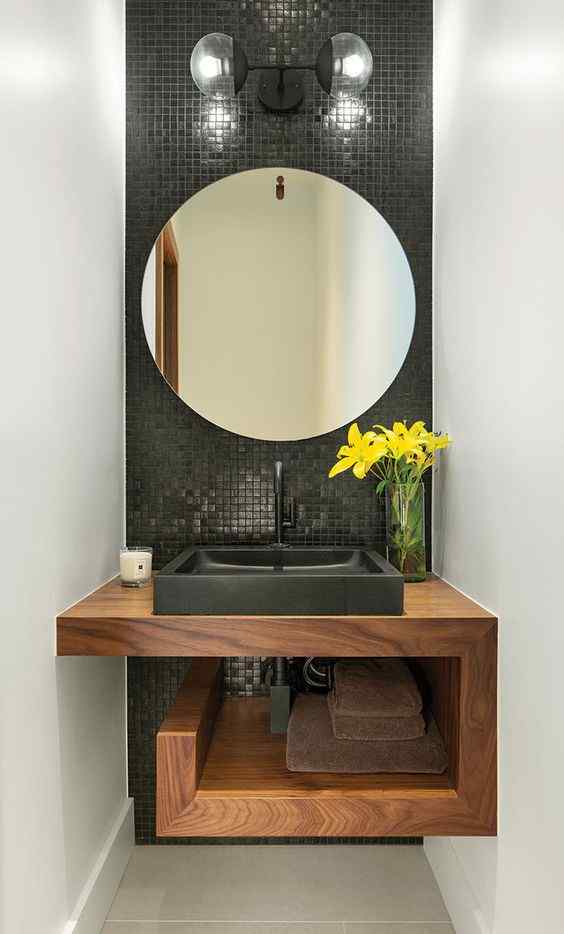 Many people aren't scared to go against the grain when it comes to their home's design. Charcoal or jet black wash basins will be ideal if you are one of such people. It not only shines out in your room because of its signature colour but also because of its beautiful textures. It's also easier to clean than a lighter-coloured wash basin. Get your hands on this one and use it to create a stunning dining area at home.
3. Stylish Marquina Marble Washbasin with a high-gloss finish.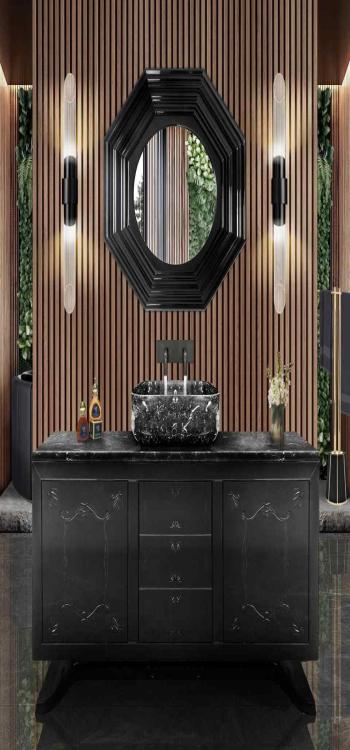 This washbasin and vanity cabinet was inspired by the central mausoleum structure at New York's Metropolitan Museum of Art. It combines a current urban chic attitude with classic, straight lines. An ornately carved sculpture on the glass doors adds to the overall elegance of this black lacquered timber structure. Marquina marble adorns the tabletop and rectangular sink of this stunning piece. The striped wooden backdrop and hexagonal heavy framed mirror make it a lovely addition to any living or dining room.
4. Bronze wash basin with a rustic stone and metal finish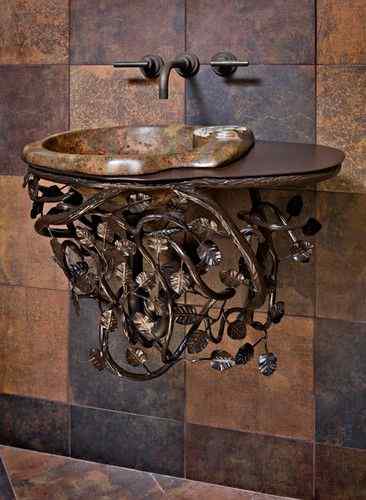 This designer wash basin features a stone jar set on a sturdy iron base for a rustic look. The foliage-covered pipes give the sink an air of fun. The front of the base can be lifted to facilitate plumbing repairs, and there is a hook on the side for hanging a towel.
5. An Artisan Handmade Ceramic Wash Basin for your Bohemian Interior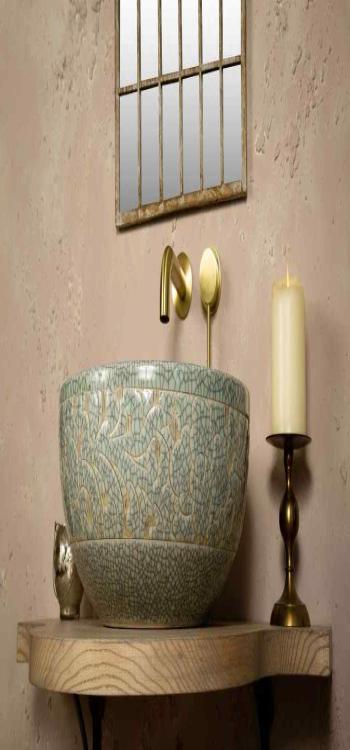 You'll need a boho-inspired washbasin in your dining room if the rest of the decor is bohemian. The elegant aesthetic can be achieved by placing an oval washbasin in the area. The middle of the bowl is adorned in a gentle and ethereal mint green crackle glaze with a faded, embossed design. A rustic, bohemian-style home would be complete without this beautiful countertop wash basin. A wooden wall-mounted base table with gold faucets in the basin completes the overall aesthetic.
6. A Copper Wash Basin That Looks Like Art.
A design with some old-fashioned charm sounds appealing to you? If so, have a look at this copper dining room wash basin. You may add an Indo-Western flair to your dining room with this beautiful copper wash basin. A matching copper-framed wash basin is added to the elegance of this copper-framed mirror. It's built on top of a slab of ice-cold white marble. You can keep all your bathroom necessities organised in the wooden chest of drawers and cupboards attached to this copper wash basin. The counter of this bathroom sink is large enough to hold all your hand soaps, moisturisers, and even a tiny plant.
7. A Modern Single Vanity Set with a Wood Cabinet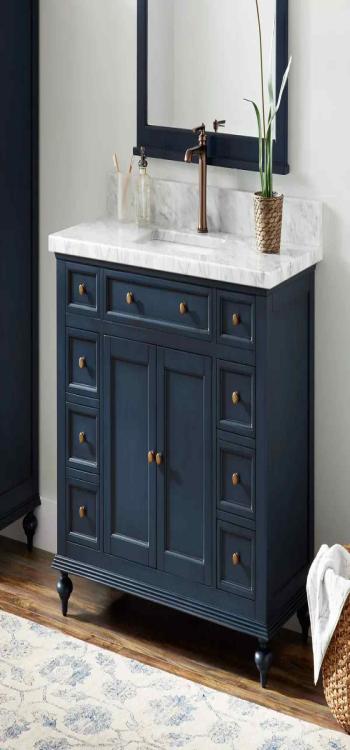 It features six valuable drawers, a large interior, and a marble vanity top with a single under-mount vitreous china sink. The cabinet has a Vintage Navy Blue colour, beautiful moulding around the bottom frame, and antique brass handles. This mahogany washbasin and vanity set is built to withstand daily use.
8. Indulge Your Terracotta Cravings With This Aubrey Basin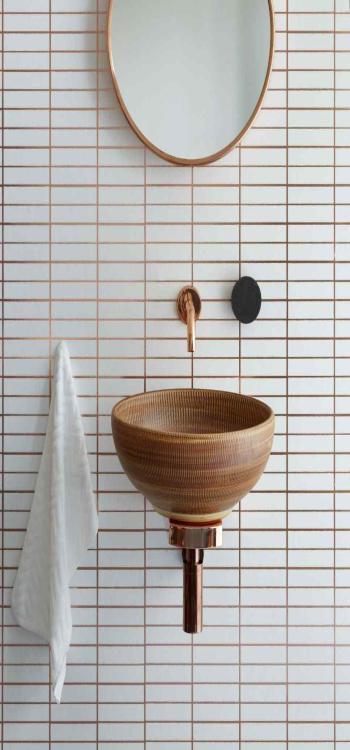 The Aubrey Basin is the ideal accessory to add as the crowning touch to the design of your dining room if you are a follower of the trend toward copper or terracotta accents in the interior design of your home. You may use the Aubrey to make a subtle but powerful statement in your bathroom with its basket weave decoration on the bowl's surface.
9. Wood Coloured Ceramic Countertop Wash Basin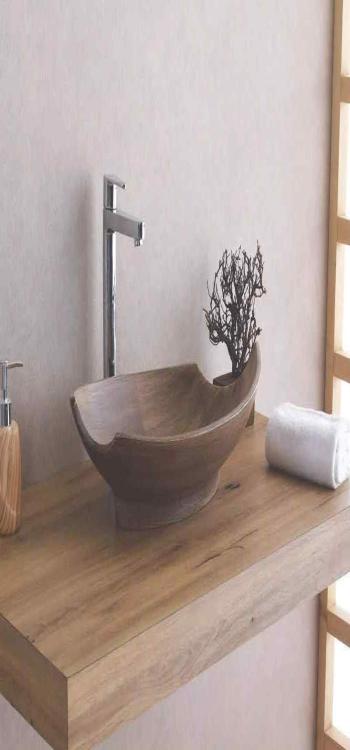 Unlike other ceramic basins, this one has a countertop design that makes it an excellent modern wash basin design for the hall. The glaze layer prevents dirt from adhering to it. This attractive basin's refined yet smooth sides allow it to fit comfortably on your countertop. This basin is the centrepiece of your dining room. Because of its beautiful bowl design, this basin can accommodate taps that are positioned on the counter as well as those that are wall-mounted.
10. Decorate your living room with a mini waterfall!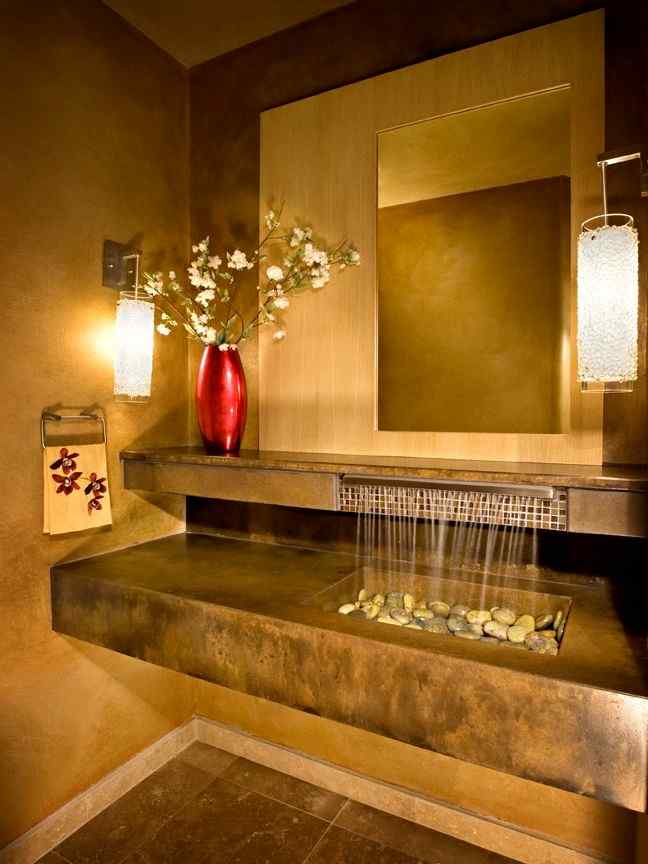 When it comes to establishing conventional outdoor spaces like outdoor dining areas, it only makes sense to incorporate some of our favourite inside characteristics indoors, doesn't it? With the sound of running water hitting the stones, your living space will be transformed into a natural habitat by this living room wash basin design. It's reasonable to wonder if running the water continuously would be a waste; however, most indoor and outdoor artificial waterfalls and equivalent water features recycle the water.
11. Dining Room Wash Basin With Soothing Silhouette Motif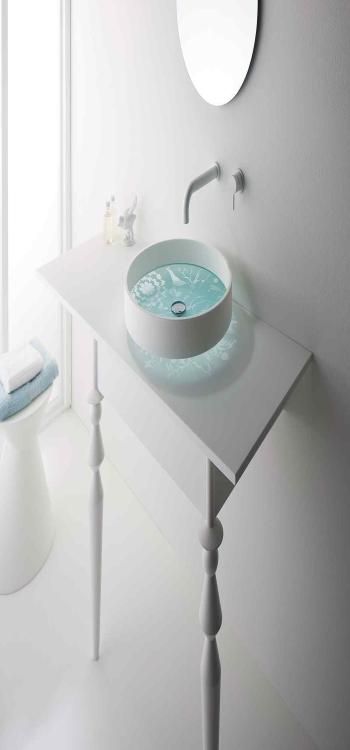 Incorporating the Motif basins into a dining area creates a clean, hygienic vibe and enhances your home's existing style. The basin can be engraved in three different patterns: forest, kaleidoscope, or pebble, and is made from a blend of solid surface and glass.
12. Composite concrete with a stunning pink hue.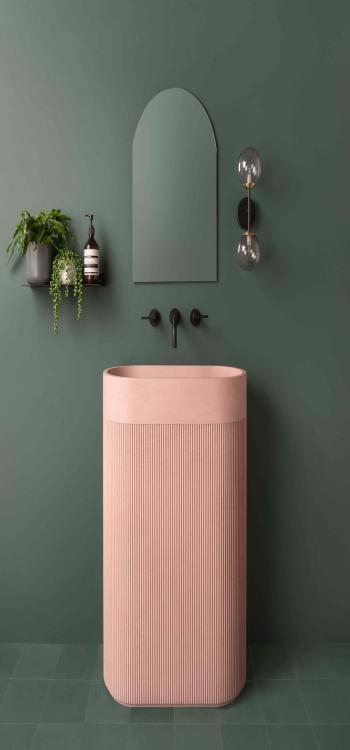 Considering a sink for a dining room, most people don't think of concrete as a material of choice. However, I can assure you it has a lot going for it. It is, first and foremost, a practical, solid, and long-lasting item. In addition, it's pretty adaptable, allowing for a wide range of shapes, sizes, and colours. This dazzling pink concrete wash basin is a sight to behold. The sink is lovely in every way. The novel ribbed surface pattern and the striking shade complement each other beautifully against the dark green background.
13. Add Depth to Small Dining Spaces with a Carved Out Basin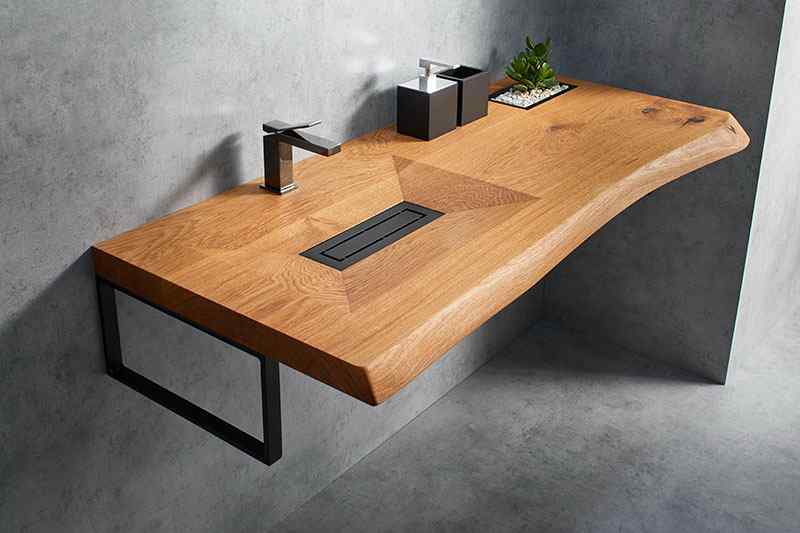 A wooden vanity with a basin carved into its surface that is one-of-a-kind. What a great question! The planter is composed of black painted steel, and the drain and supports are likewise made of black steel. Unique oil coats the vanity's surface, making it water-repellent while enhancing the wood's natural texture and richness of colour.
14. Intricately Crafted European Style Crystal Cut Glass Basin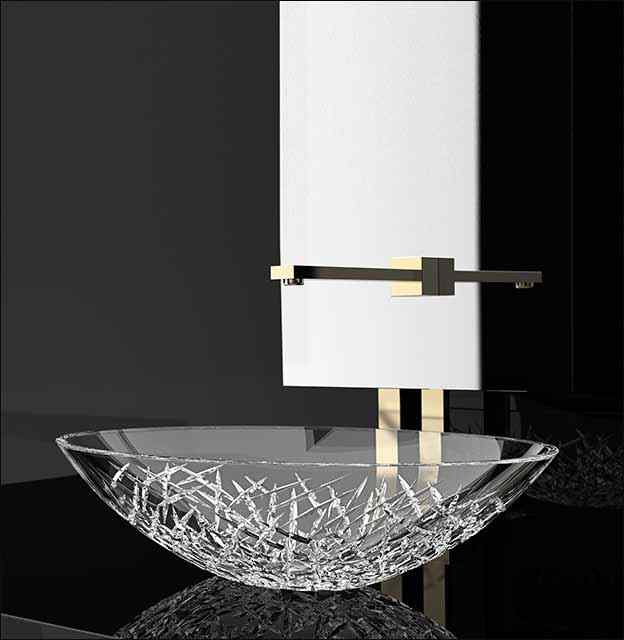 The Crystal glass bowl embodies this maxim at its most refined, elegant European design at its finest. Like the best drinking glasses, it has a cut-glass look to them. Beautiful as a finishing touch and a design highlight for fine home interiors, this unusual glass bowl is available in two shapes: round and oval. Place it on a glossy black countertop with gold-finished faucets to enhance the overall vibe.
15. A Classy Washbasin With A Tough, Rugged Look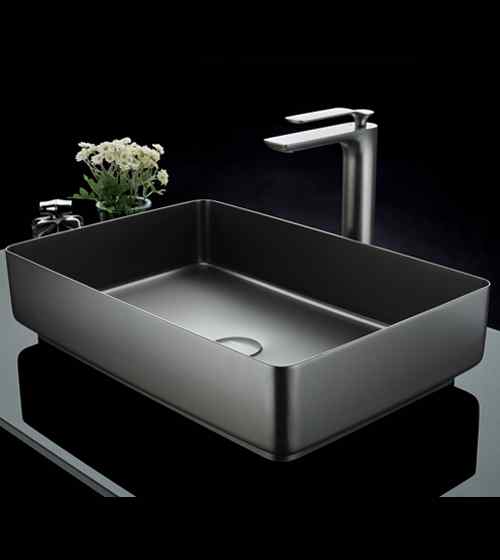 Do you think you need a hard break from your washbasin use? There is nothing wrong with a metal band. If you're worried about stains, stainless steel wash basins come in various styles. Other materials are more prone to staining, requiring more frequent cleaning and care. Stainless steel is the way to go if you want a long-lasting and low-maintenance wash basin. Hand towels, lotions, hand cleansers, and other toiletry items can be stored in dining room wash basin cabinets or wicker baskets on a metal stand attached to the side of the cabinet. Adding a steel-framed mirror to this dining room wash basin makeover will give it a contemporary feel.
We are sure you have already shortlisted some of your favourite dining room wash basin design ideas. We have covered a lot of basin styles and countertop designs along with possible cabinet options so that every type, from minimal to eccentric, is covered. Not sure how to mould these styles into your home? Contact NoBroker interior designers for more wash basin area interior design ideas to fit your preferred styles into your space. We are always happy to help!

FAQ's
Q1. Which variety of washbasin is the most convenient?
Ans. Ceramic washbasins are now the norm since they are easier to keep and clean. When it comes to the cleanliness of a bathroom, ceramic wash basins are ideal. For any bathroom, ceramic is the perfect material for a wash basin.
Q2. How can I figure out what size basin I need?
Ans. Make sure to measure the full sink's length and width. Take a tape measure and measure the basin's dimensions: length, width, and depth. Depending on the sort of sink you have, you'll also need to take an accurate measurement of the sink's height. To ensure that the sink you choose will fit on your countertop, measure the available area.
Q3. Drop-in versus under-mount: What's the difference?
Ans. Unlike an under-mount sink, a drop-in sink can be placed from the top. It's just a minor tweak to the original idea, though. Sinks are attached to counters using mounting brackets, with caulk used to close the gap between the countertop and sink.
Q4. What's the most acceptable sink shape?
Ans. Even today, the preliminary round sink design remains the most popular. Square sinks will give your bathroom a more contemporary appearance. It is entirely up to your preference for what form you should take.
Q5. Which countertop material is better, quartz or granite?
Ans. Quartz is more durable due to its higher hardness than granite. On the other hand, quartz is practically unbreakable and bacteria-free because it isn't porous like granite.