Dimly lit dinners are a thing of the past. Instead, embrace the charm and potential of your small dining room with innovative lighting ideas that brighten your space and elevate your dining experience. From modern lighting to dining room lamps, cool dining room light fixtures, and more, explore a curated selection of small lighting ideas to transform your cosy dining area into an enchanting, chic oasis.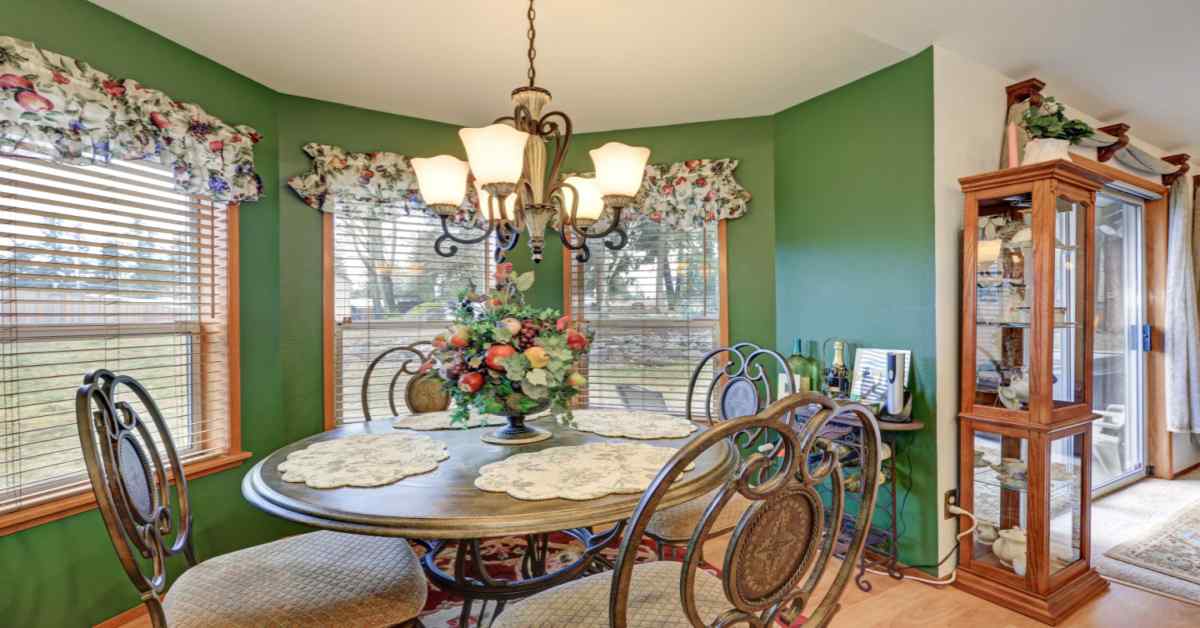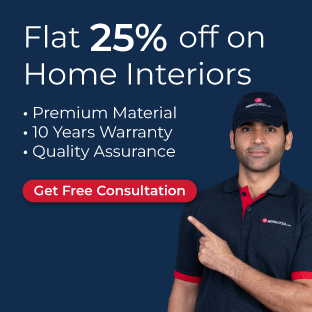 In this article, we'll explore the best Small Dining Room Lighting Ideas, choose the perfect light fixture for your dining table and discuss the importance of size, style, height, and complementary lighting to create a refined and sophisticated ambience.
Trending Small Dining Room Lighting Ideas
It's time to unveil the most stylish and innovative ways to illuminate your cosy dining space. So get inspired by captivating designs that merge functionality with a touch of panache.
Read: Beautifully Designed False Ceiling Designs for Drawing Room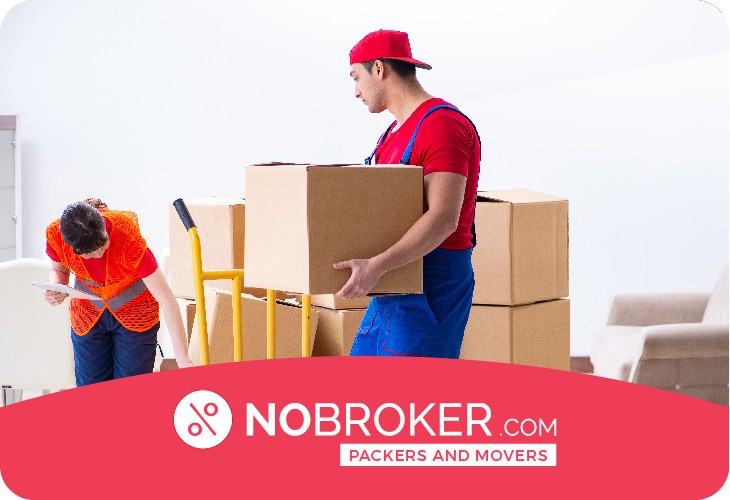 Book Best Packers & Movers with Best Price, Free Cancellation, Dedicated Move Manager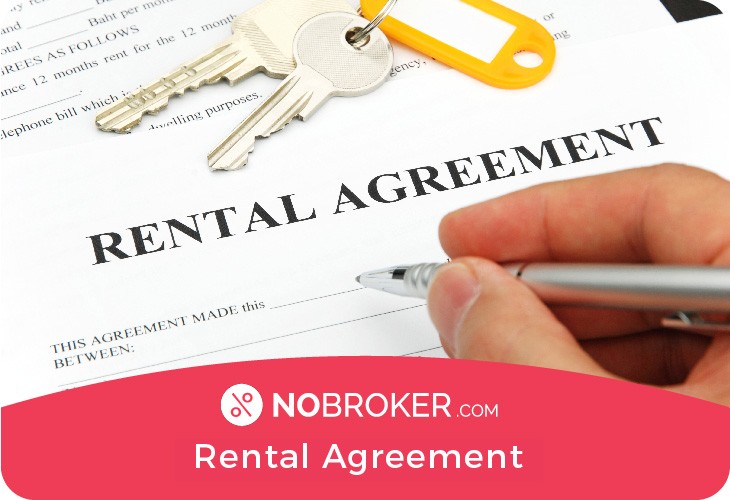 Get Rental Agreement With Doorstep Delivery, Super Quick & Easy
This is third
This is third
This is fourth
This is fourth
This is fifth
This is fifth
This is six
This is six
This is seven
This is seven
This is eight
This is eight
1. The Citron Serenade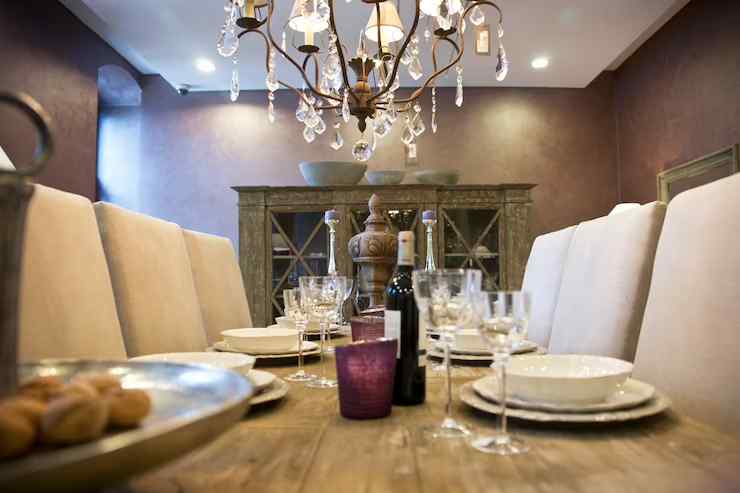 The captivating chandelier in the picture above, called "Citron Serenade," lends an air of refinement and elegance to the dining area. Flourishing gracefully from a polished metal frame, this stunning chandelier features a cascading design with multiple layers of long, teardrop-shaped citron glass pendants. In addition, the chandelier's amber light creates a cosy ambience, ideal for sharing special meals with loved ones.
The dining room is modern yet inviting, thanks to the thoughtful combination of rustic and sleek design elements. The bright natural light streaming through the room's many windows contributes to its spacious and airy vibe. The dark walls and floor contrast beautifully with the lush greenery. This Citron Serenade-style chandelier shines as the focal point in this elegant dining room.
2. Regal Shabby Chic Radiance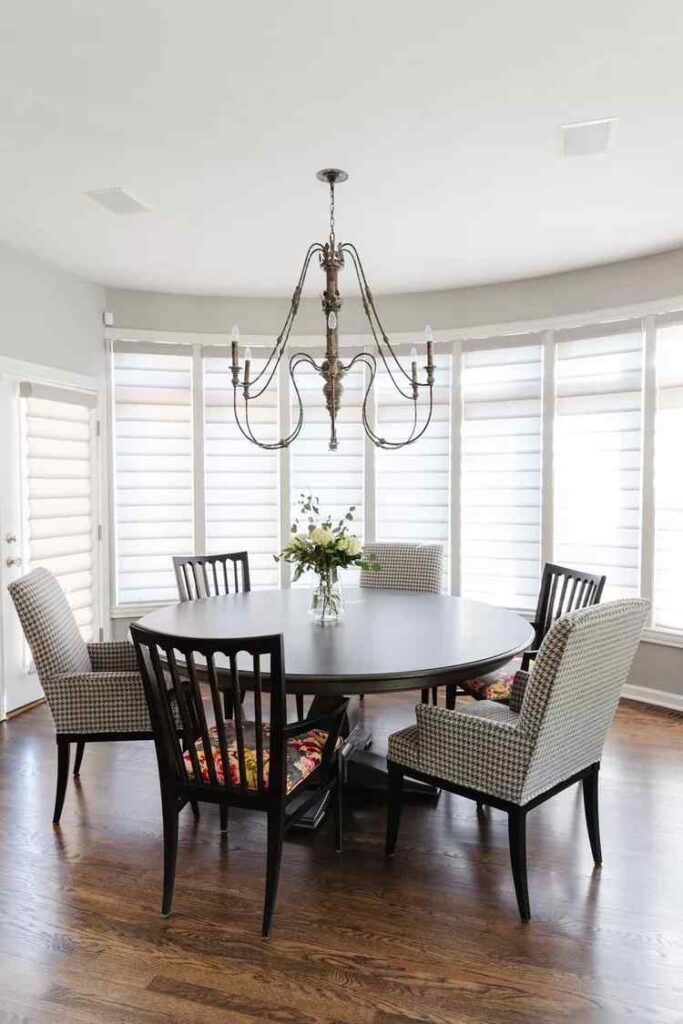 The exquisite chandelier is the showpiece of this elegant dining room because of the air of timeless sophistication it exudes. The chandelier has a dark antique metal frame that gracefully supports many curved arms covered in tiny crystal drops and beads.
These glimmering accents capture and refract light, giving the room a sense of glamour and enchantment. Like classic candelabras, these lamps have arms that support tapered light bulbs that give off a warm, inviting glow over the table.
The small but chic dining room perfectly synthesises classic beauty and modern taste. This tiny room's grandiosity is accentuated by the abundance of natural light let in by the floor-to-ceiling windows, which are dressed in sumptuous drapery. The dark wood furniture and the glittering chandelier add depth and elegance to the room's otherwise muted colour scheme.
3. The Lush Verdant Trio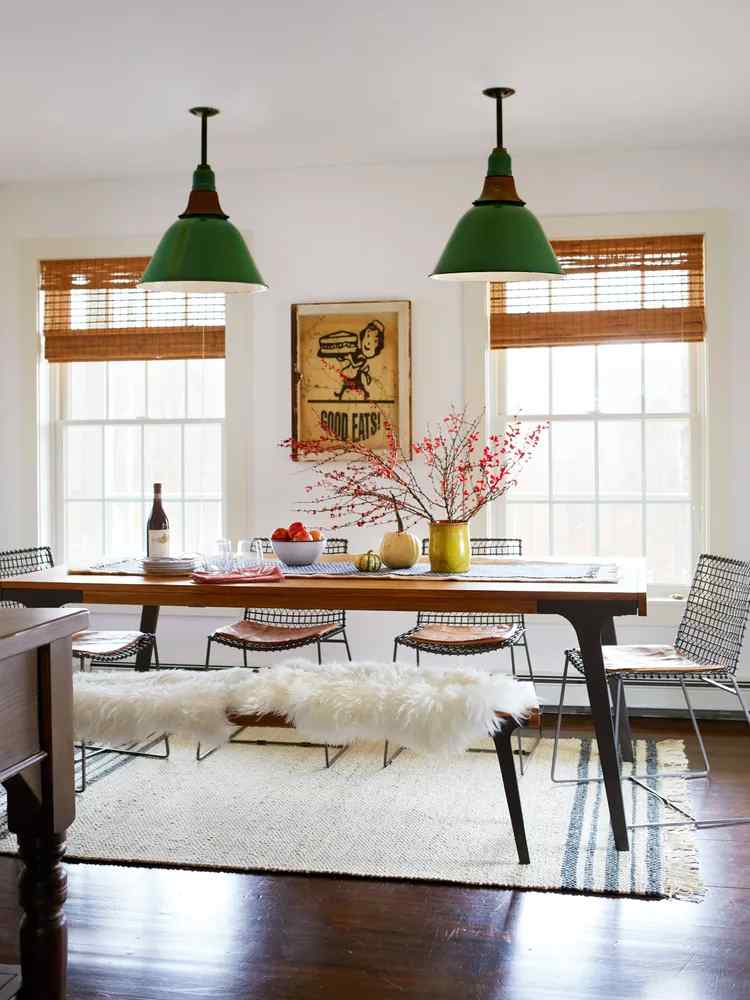 The striking dining room lighting here consists of three cylindrical green pendants that hang gracefully above a sleek, modern wooden dining table. The bold colour of the chandelier's glass shades draws the eye and adds a refreshing pop of colour to the dining room's design.
Read: 15+ Awe-Inspiring Small Bedroom Ceiling Design Ideas
The dining room exudes contemporary sophistication, with a harmonious blend of earthy wood tones and contrasting black elements. Large windows fill the room with abundant natural light, highlighting the chandelier and illuminating the area with a warm, inviting glow.
Minimalist decor, including a simple yet eye-catching wall art piece, allows the Verdant Trio chandelier to shine as the focal point.
4. Geometric Glass Glow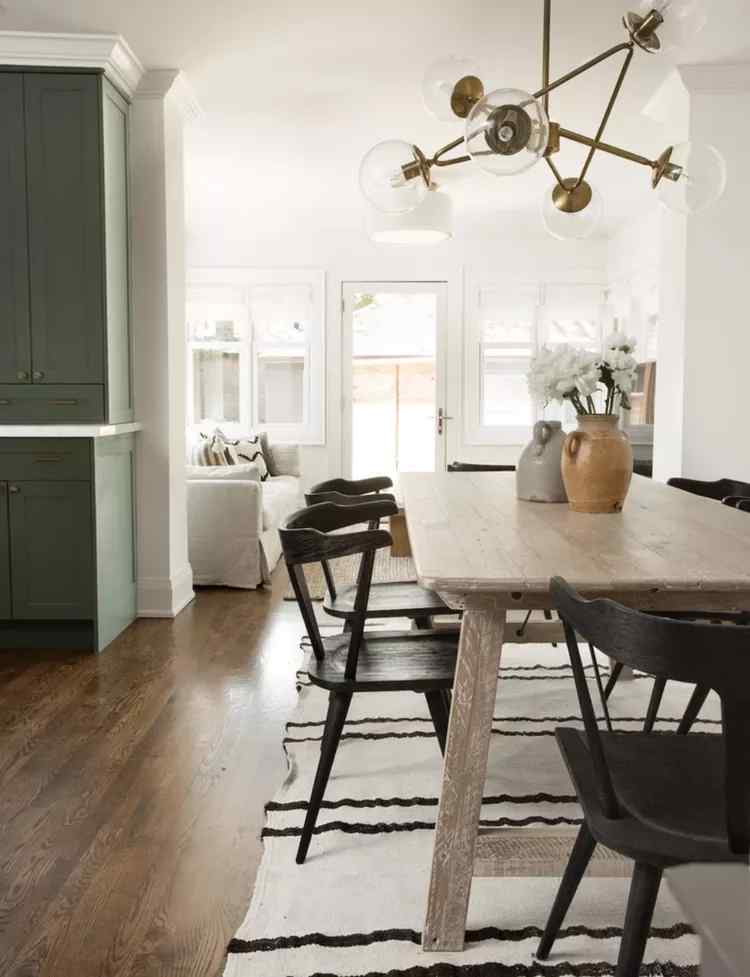 This fascinating chandelier comprises several metal frames with sharp corners that hold cylindrical bulbs. The cutting-edge style makes a striking statement in the dining room while adding visual appeal.
The dining room has a contemporary vibe but still feels cosy thanks to earthy tones. The room is anchored by a long, weathered wooden table and furnished with high-backed chairs in a neutral colour palette.
The large windows and focal lighting fixtures bathe the room in warm, natural light, making it feel homely and welcoming. A stylish and up-to-date dining room made possible by the complementary combination of materials, hues, and a statement light fixture.
5. Beaded Wooden Brilliance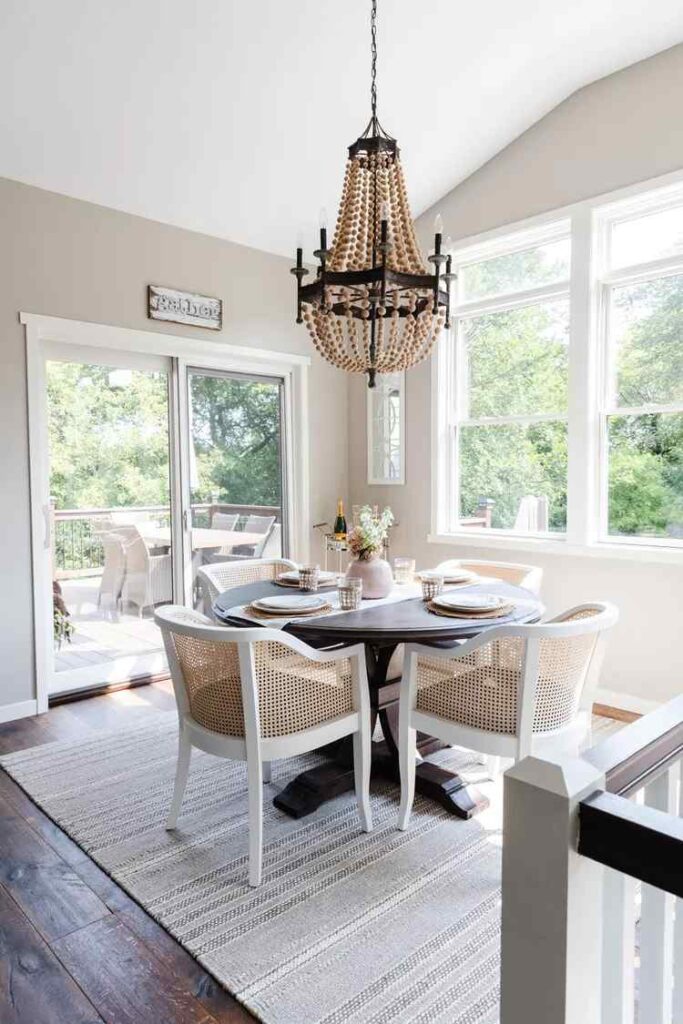 The charming lamp in this cosy dining area comprises a string of wooden beads suspended from a circular metal frame. The organic, flowing design gives the dining area a touch of bohemian allure and cosiness.
Read: Traditional Indian Kitchen Designs 2023
The dining room is warm and inviting, thanks to various organic materials and textures. The spacious windows let in plenty of natural light, creating a warm and inviting ambience. In addition, the chic and welcoming vibe of the dining room is amplified by the light fixture.
6. The Spherical Symphony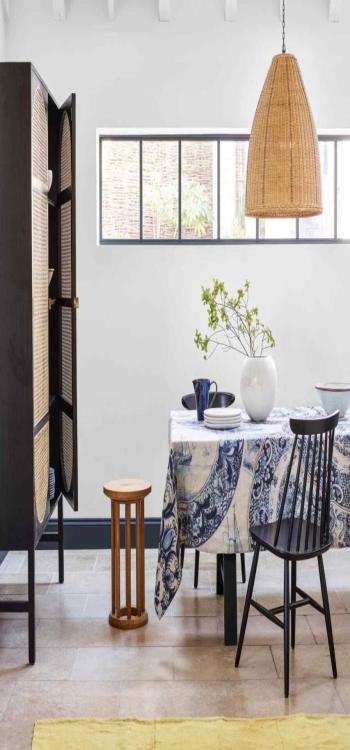 This eye-catching pendant lamp is made from a cluster of varying-sized spheres expertly woven from natural jute fibres. The natural, earthy aesthetic adds a touch of rustic allure to the dining area.
Elegant and modern, the dining room features sleek surfaces and a soothing colour scheme. The room feels more spacious and open thanks to the large window that spans nearly the entire wall. Some tasteful plant accents and bold abstract wall art pieces add visual and textural layers.
The dining room light in the bohemian style is an eye-catching focal point that complements the room's contemporary decor while adding a touch of natural elegance ideal for hosting special dinner parties.
What Type of Lighting is Best for a Small Dining Room?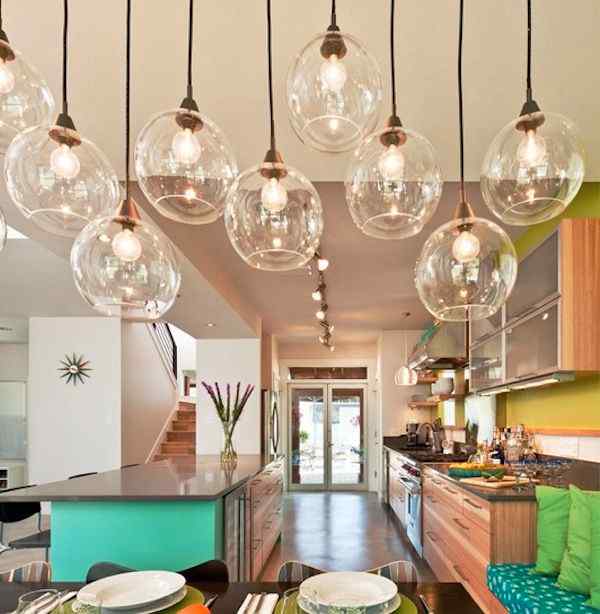 Creating the perfect dining room ambience requires a thoughtful combination of lighting elements that harmoniously complement your space, design style, and desired atmosphere.
Read: Explore Our Stylish Wooden Sofa Designs Catalogue
Even in a small dining room, the best lighting options should exude elegance, sophistication, and versatility, offering visual appeal and functionality. Here are some of the top lighting choices to consider for a luxurious dining room experience.
Chandeliers
Chandeliers are the epitome of luxury and opulence, making them ideal for a lavish dining room. A well-chosen chandelier can serve as a striking centrepiece, commanding attention and setting the tone for the entire space.
From classic, crystal-laden designs to modern, minimalist styles, chandeliers come in many options, allowing you to select a piece that perfectly complements your dining room's aesthetic.
Pendant Lights
Pendant lights offer a more streamlined, contemporary alternative to chandeliers while still providing an air of sophistication. Pendant lights can be hung individually or clustered in diverse designs, materials, and sizes to create a unique, eye-catching focal point.
Opt for high-quality materials and refined designs that exude elegance to ensure your pendant lights align with your luxurious dining room theme.
Wall Sconces
Wall sconces provide the subtle, ambient lighting that adds depth and warmth to a dining room. These fixtures can accentuate artwork and architectural features or enhance the atmosphere.
For a luxurious touch, choose wall sconces with intricatedetailing, abundant materials, or unique designs that contribute to the sophisticated ambience of your dining room.
Recessed and Cove Lighting
Recessed and cove lighting can be incorporated into a luxurious dining room to provide subtle, unobtrusive illumination that highlights specific areas or creates a soft, glowing ambience.
These discreet lighting options can emphasise architectural details or create a layered lighting effect with more prominent fixtures like chandeliers or pendant lights.
How to Choose a Light Over a Dining Room Table?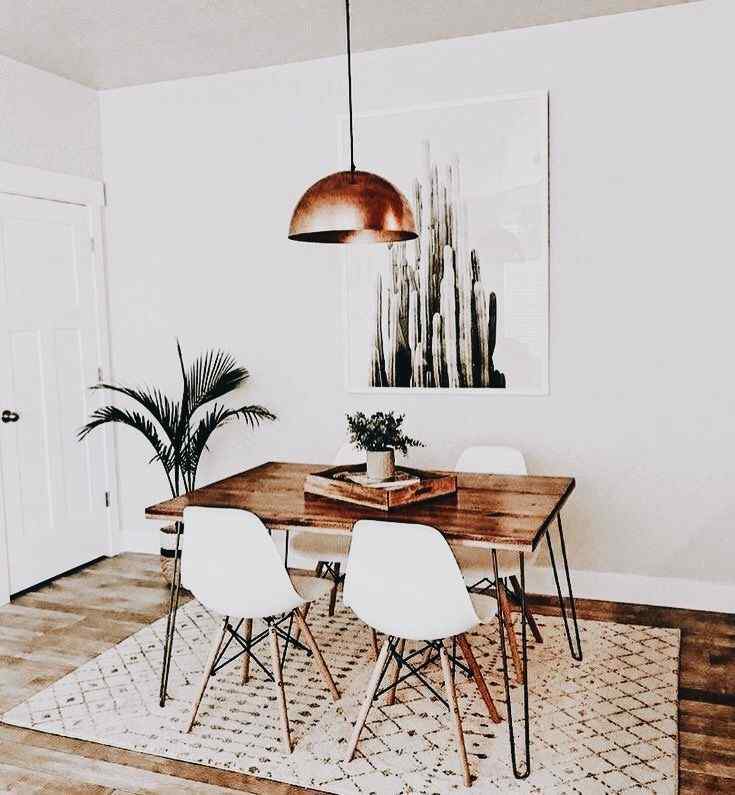 Selecting the perfect light fixture for your dining room table requires careful consideration of various factors, including size, overall style, and desired ambience. Follow these guidelines to choose a luxurious light over your dining room table.
Size and Scale
Begin by evaluating the size and shape of your dining table and the dimensions of your dining room. The light fixture should be proportional to the table and the space, neither overpowering nor underwhelming. Generally, the fixture's diameter should be approximately one-half to two-thirds the table's width.
Style and Design
Consider the overall style of your dining room and select a fixture that complements your existing décor. For a luxurious dining space, opt for a fixture with refined, sophisticated details and high-quality materials. Don't be afraid to make a statement with your light fixture, as it will be a focal point in the room.
Height and Position
The height you hang your light fixture is crucial for aesthetics and functionality. Generally, a fixture should be hung 30-36 inches above the dining table surface to provide ample illumination without obstructing views or conversation. Adjust the height based on your specific room dimensions and personal preferences.
Illumination and Functionality
The primary purpose of a light fixture above your dining table is to provide effective illumination for your dining experience. Consider the type and number of bulbs and their brightness and colour temperature to ensure the fixture will create the desired ambience for your dining room.
Dimmable fixtures offer added versatility, allowing you to adjust the lighting levels to suit various moods and occasions.
Layering and Complementary Lighting
Besides the main fixture above your dining table, consider incorporating other types of lighting to create a layered effect. This may include wall sconces, floor lamps, or recessed lighting to provide ambient and accent lighting. As a result, you can achieve a more dynamic, luxurious atmosphere that enhances your dining experience by combining different lighting elements.
Material and Finish
The material and finish of your light fixture play a significant role in the overall aesthetic of your dining room. Choose high-quality materials like crystal, glass, or polished metals for a luxurious look. The finish should complement your dining room's colour scheme and other design elements, whether classic, antique finish or a sleek, modern design.
Small dining rooms present a unique opportunity to showcase your creativity and personal style. With these small dining room lighting ideas, you can transform your intimate dining space into a stylish, inviting haven that perfectly complements your home.
From pendant lights and chandeliers to layered lighting and innovative fixtures, discover the endless possibilities for illuminating your dining room with flair. The NoBroker website is a good place to start if you need Small Dining Room Lighting Ideas. You may get inspiration, network with experts, and more efficiently plan your project using its extensive array of resources and tools.

FAQ's
Q1. What are some good small dining room lighting ideas?
A1.Some good small dining room lighting ideas include pendant lights, chandeliers, layered lighting with ceiling and wall sconces, table lamps, floor lamps, and linear fixtures or track lighting.
Q2. How do I select the right size chandelier for my small dining room?
A2. To choose the right chandelier for your small dining room, first measure the width and length of your dining table. Add these two measurements together, and the resulting number in inches will give you a good guideline for the diameter of your chandelier. 

For instance, if your table is 36 inches wide and 48 inches long, a chandelier with a diameter of around 24 inches (36 + 48 = 84, 84/3.5 = 24) would be an appropriate size.
Q3. How high should I hang my pendant light or chandelier above the dining table?
A3. Generally, pendant lights and chandeliers should be hung 30-36 inches above the dining table's surface. This height ensures that the fixture provides ample light without obstructing views or conversation. Adjust the height according to your specific room dimensions and personal preferences.
Q4. How can I create a cosy atmosphere with dining room lighting?
A4. To create a cosy atmosphere in your dining room, consider using dimmable fixtures, warm-coloured light bulbs (2700K to 3000K), and layered lighting that combines ambient, task, and accent lights. Incorporating these elements allows you to set the mood for intimate dinners, lively gatherings, or any dining occasion.
Q5. What are some trendy dining room light designs for small spaces?
A5. Trendy dining room light designs for small spaces include minimalist pendant lights, modern chandeliers with slim, linear designs, and innovative fixtures like LED strip lights or track lighting. Look for designs that showcase your style while maximising space and providing effective illumination.