Everyone's home is a haven for them. People spend a lot of time deciding the right decor for the house. Plants are a great investment for it and can be placed in various parts of your home. Now that we're all in the middle of a pandemic, we can all use some extra luck. There are several lucky plants for your home in India that can do the job!
In addition to bringing good luck and money to your home, they also have many other useful benefits. Researchers have proven that plants help with reducing stress. They also purify the air that you breathe and help reduce humidity in your house.
Read: North West Kitchen Vastu: Creating a Sacred Cooking Haven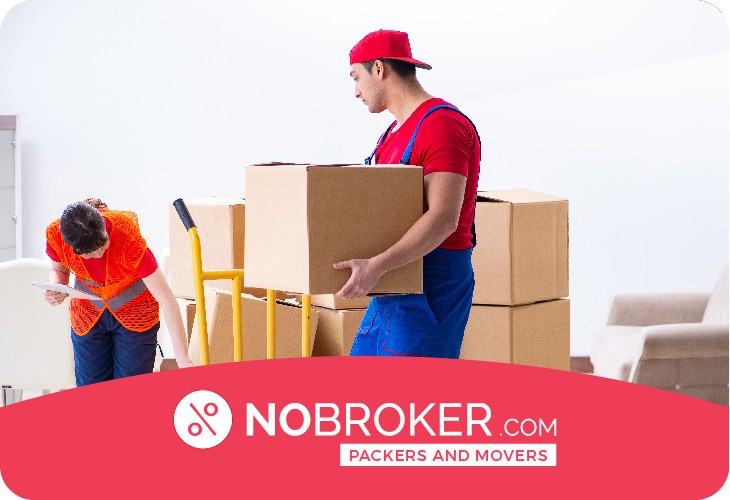 Book Best Packers & Movers with Best Price, Free Cancellation, Dedicated Move Manager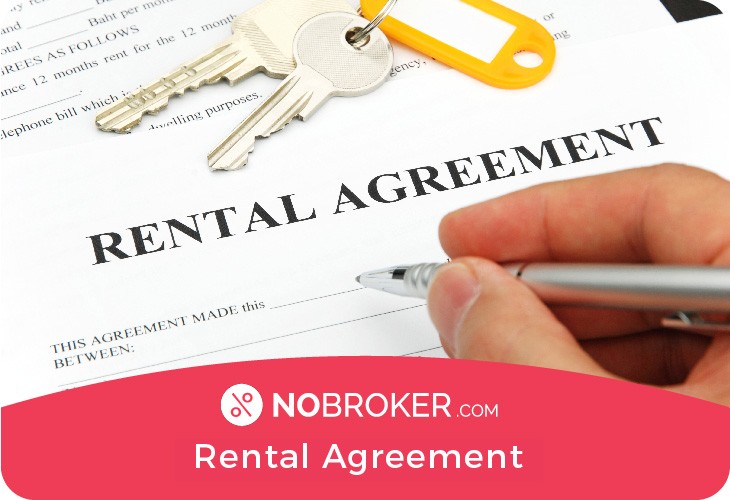 Get Rental Agreement With Doorstep Delivery, Super Quick & Easy
This is third
This is third
This is fourth
This is fourth
This is fifth
This is fifth
This is six
This is six
This is seven
This is seven
This is eight
This is eight
Plants also add to the aesthetic of your home, and now with brilliant decor ideas, they can serve as a treat to the eyes. Taking care of plants is also a healthy hobby because it gives you a break from the digital world and keeps you grounded (literally). Plus, you are also helping and serving the environment! Feng Shui is an art that believes that a few plants bring you good luck, money, and positive energy. Want to know about the lucky plants to keep in the home? This article does just that! Continue reading…
Lucky Plants for the Home
Here is a list of plants that attract money and bring you good luck.
Tulsi – In the Indian culture this plant holds great divinity and reverence. There are many varieties available in the market – Manjari, Laxmi, Krishna, etc. The plant kills harmful bacteria, generates good energy, and when eaten creates a sense of calmness. The leaves can also be added to your tea which helps with throat infections.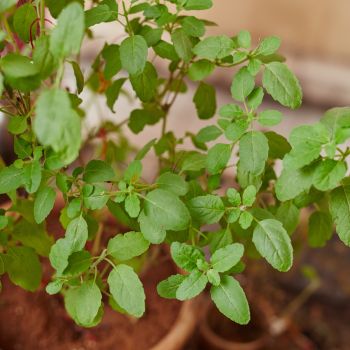 Plants now mentioned below are good luck indoor plants –
Bamboo plant – In Asian culture, this is a lucky indoor plant. It is believed to control all 5 Feng Shui elements – water, wood, fire, earth, and metal. The highlight of this plant is that it is low maintenance and works as a great decorative piece.
Jade Plant – This plant is usually gifted to new business owners, or at a housewarming to suggest new beginnings that bring luck. The plant is a good luck plant for the front door and keeps the entrance of your home stagnant with positive vibes. More so they have a nice look which adds to a good show for your guests.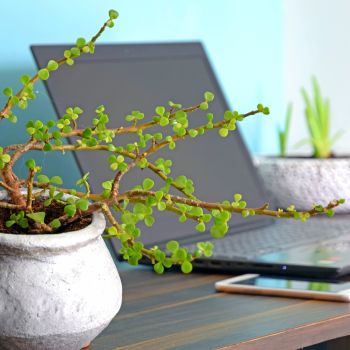 Money Plant – This plant brings money and good luck; it helps in conquering financial obstacles. We live in polluted times, and the money plant helps clear toxins from the air and acts as a natural air purifier. The plant not only attracts money, it also harmonizes you with the environment. It is also useful for decorative purposes – you can intertwine its vines on the rails of your balcony to give it an earthy feel. Money plant is a very lucky plant for homes.
Boston Fern – This is a lucky plant for your home. This plant generates positive energy at all times. The plant best thrives in bright, indirect sunlight; which makes it a good luck plant for the indoors. The plant can be placed anywhere in your house, from your bookshelf, or cupboard, or even the bathroom; it is can also be kept at your entrance and acts as a lucky plant in front of the house.
Good Luck Flowers for Home
Flowers add to the beauty of your home, and why not keep ones that bring good luck and fortune.
Read: Vastu for Flats – 10 Vastu Signs to Look for in Flats
Peonies – This plant is best kept in the southwest direction of your garden. Peonies are a good luck flower for your home because it symbolizes prosperity, blessings, and fertility.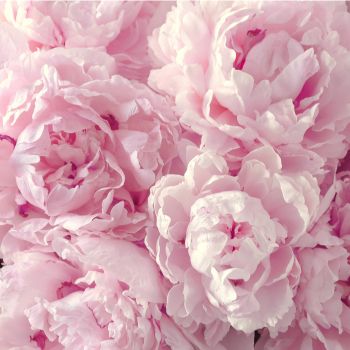 Marigold – These flowers attract money and positive energy. Marigold also symbolizes optimism and good fortune. These lucky flowers for home also serve as good luck plants for the front door. These flowers can be hung on your front door, not only adding to the visuals but also bringing your home good luck. Marigolds are commonly used in Indian celebrations.
Lotus – This is a lucky plant for home and the flower has medicinal value; it is also linked to the Indian Goddess Lakshmi who is the goddess of wealth and fortune. It is a lucky plant for your home, and this flower symbolizes wealth, fortune, peace, and harmony. If you have a fountain at home, this flower could also be of decorative purposes.
Orchids – This is a lucky plant for homes. The flower symbolizes good luck and prosperity in all aspects of life. It also boosts relationships and could benefit the environment of a strained home. The flower could also be used for decorative purposes.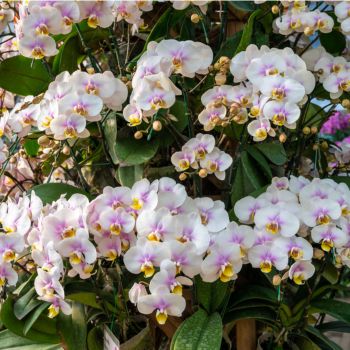 Jasmine – These are believed to be the favourite flowers of Lord Shiva and are often used as offerings in the temples. The flower represents good luck, harmony, and love. Not only are these flowers beautiful but they also have a good scent to them. They will always leave your balcony smelling fresh and good.
Lucky Trees for Home
Don't fret when you hear trees – they come in all sizes. Here is a list of lucky trees for your home –
Read: Make Your Home Compliant with These Main Door Vastu Ideas
Neem – In the Vedas, the Neem tree was referred to as Sarva roga nivarini, which means curer of all ailments. It is a lucky tree for your home as according to Vastu it is an auspicious tree. It creates positivity and a healthy environment as it is a natural air purifier.
Banana – This is a lucky tree to plant at home. It is worshipped in India and is considered a sacred plant. The tree generates prosperity, good fortune and also brings mental peace. According to Vastu, the tree must be planted in the north-east direction.
Coconut tree – This is a lucky plant for the home. In the Vedas, it is referred to as 'kalpavriksh' or the sacred tree. It is believed to harbour positivity and good fortune in a household. In addition to this, the tree fulfills all the desires of the heart and keeps it calm. South or south-west is the ideal direction to plant the tree.
Ashoka tree – This tree is called the 'evergreen tree'. It is good luck to have this tree at home because it removes suffering and brings joy wherever it is. The beautiful flowers that grow on it are a treat to the eyes.
Citrus Tree – According to Feng Shui dwarf lime trees and lemon trees are good luck trees for home. They attract good luck and wealth and also smell fresh. They can spruce up any living space and are lucky indoor plants. These trees go great in the kitchen, or you could also train them to grow taller so as to go well in the drawing room. This is a really lucky plant for your home.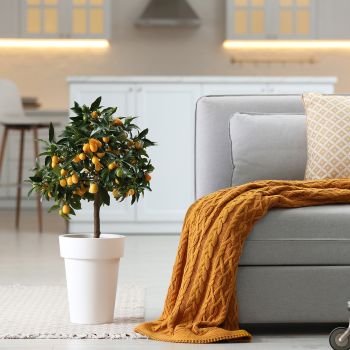 Lucky Herbs for the Garden
Herbs are beneficial and can be used for multiple purposes. Here is a list of herbs that can be grown at home-
Sage – According to Feng Shui, sage is a lucky herb to grow in a garden. It clears off negative energy and wards off any negative or evil aura that is present. It has cleansing qualities to the environment both naturally and spiritually. It has a strong aroma and many medicinal properties
Lavender – This is an important herb to grow at home. The herb helps in enabling a peaceful environment by calming the senses and strengthens the health of the household. Lavender can also be used as a stress reliever – keep the herb in a packet in your pillow. It helps release stress and smells heavenly.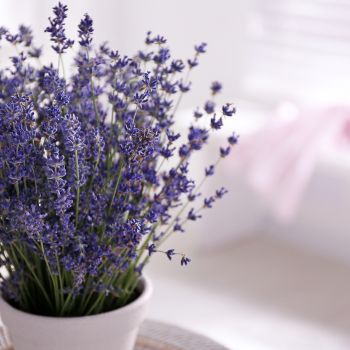 Carom (Ajwain) – This is a herb that is available in every household in the kitchen, but this is also a herb that can be grown at home. Ajwain is considered an auspicious plant for your home in India, and according to Feng Shui, it symbolizes wealth and health. It is a low-maintenance plant and does not require much water or sunlight. The Ajwain plant's benefits include being an antidote for a tummy ache. Yes, that's right, the leaves of this herb are edible and can be used to cure an upset stomach.
Mint – This is a lucky herb for the garden. It wards off any evil vibes and attracts good energy. The herb smells good and fresh and helps calms one sense. According to Feng Shui, it is also believed to help one be hopeful. Plus, this goes well with your lemonade and chutneys.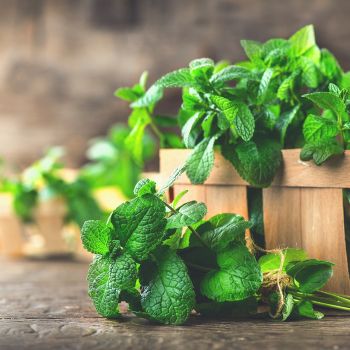 Thyme – this is a good herb to have grown in your garden and is a lucky plant for home. It boosts self-confidence and helps create any obstacles in the path of your career. It also is essential in the kitchen and has medicinal properties.
Tips to Grow and Take Care of Plants that Bring Good Luck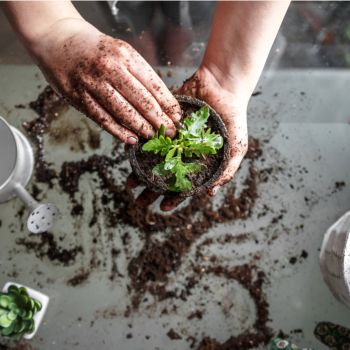 If you are new to being a plant parent, do not worry. There are numerous videos on youtube to help you figure out and here are a very few tips for you:
If you are a beginner, choose low-maintenance plants that bring you good luck. Such as bamboo plants and Boston fern.
Avoid plants with thorns, as they might hurt you and they emanate a negative aura.
While buying a plant, tree, or herb, make sure you ask how much water the plant needs and what amount of sunlight is sufficient for the plant.
Invest in a good pot. Do not grow your plants in a chipped or broken vase as it cannot contain water, which in turn is harmful to your plants.
If you see any decaying or dead leaves on your plant, remove them timely as they attract negative energy and are harmful to you and the plant.
Buy a good pesticide spray for your plants to protect them from pests.
Invest in good fertilizers.
If you find yourself unmotivated to take care of your plants, then set a daily routine to take care of them. This in turn will become a habit.
Your house is your safe space and you deserve a good environment that boosts your existence. It is essential to keep lucky plants for home because a healthy life is everyone's goal. If you have doubts about how to add them to the decor of your house, then there's nothing to worry about. Our experts here at NoBroker will assist you in your plans and will make your house a good luck charm for you. If you still have any doubts or questions, comment them down below and we will get back to you. Good luck to you! Click on the link below to find out more about how NoBroker Interior Designers can improve the luck in your home.
FAQ's
Q1. What are some low-maintenance good luck plants?
Ans. You have multiple options like Bamboo plant, Boston Fern, Ajwain, Jade plant, etc. 
Q2. Can I keep my Citrus plants in the drawing room?
Ans. Yes, you can. They go well in every corner of your house, plus they smell so good! But Vastu states not to keep them in the bathroom or washroom.
Q3. What kind of pot should I use for the Boston Ferns?
Ans. Boston Ferns bring immense good luck and are easy to maintain. You put them in a bamboo pot or a DIY rope pot. 
Q4. Are fake plants fit for home?
Ans. According to the norms of Feng Shui, the answer is no as they are believed to stagnate your growth.
Q5. Are cacti suitable as indoor plants?
Ans. No they are not, neither are any plants with thorns. They are believed to be unlucky.