The garage doors that blend in with their surroundings are the most desirable. A house that has been thoughtfully designed will have architectural details that are in harmony with one another. For example, the sizes and shapes of the windows and doors will be the same throughout the house. Your attention shouldn't be disrupted by any mismatched components on the garage or elsewhere, for that matter; the garage door must harmonise in with the rest of the building when viewed from the front façade, and there shouldn't be any such elements anyplace else, either.
Everything from the landscaping and entry to the roof, doors and windows may be viewed from the street. Other features like porches or railings can also be visible from the road. Included in this are the garage and the door to that garage. Your home's exterior design may be determined significantly by the garage door you choose to install. We are fortunate that they have advanced considerably beyond the unimaginative handyman options they once offered. Take a look at some of our preferred garage gate designs to get ideas for how you can bring instant elegance to any residence.
Different Styles of Garage Doors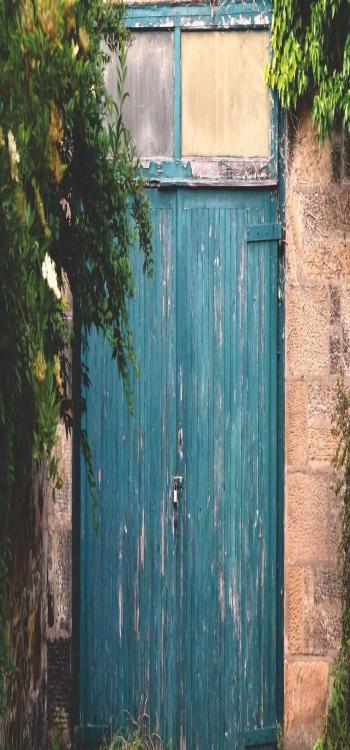 Homeowners have a wide range of options when it comes to garage door designs. It doesn't matter what style or design of home you have; there is a garage door that will complement it. Using one of the garage design software packages, you can develop and see the type that's best for your home. Most garage door styles can be found here:
Read: Introducing Your House to Artificial Grass Decor with These Inspiring Ideas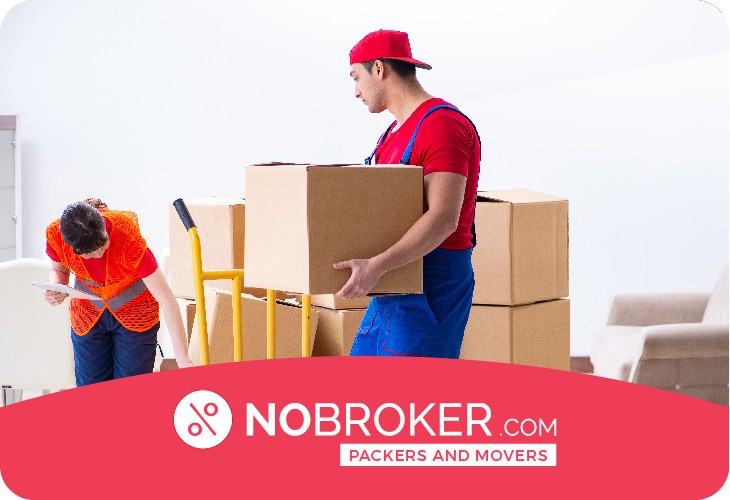 Book Best Packers & Movers with Best Price, Free Cancellation, Dedicated Move Manager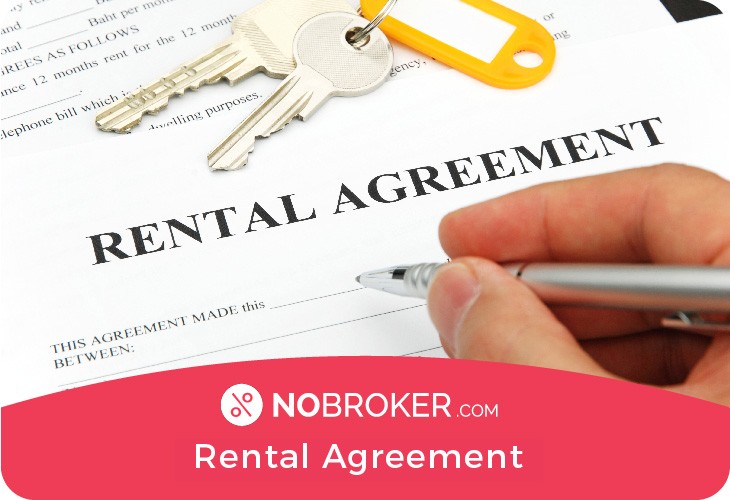 Get Rental Agreement With Doorstep Delivery, Super Quick & Easy
This is third
This is third
This is fourth
This is fourth
This is fifth
This is fifth
This is six
This is six
This is seven
This is seven
This is eight
This is eight
1. Doors for Garages with Raised Panels
The raised panel garage door is the most popular design. As a result, it's now the most common type of garage door available. Raised garage doors traditionally had panels that float above a rail and stile frame. To keep the design fresh, minor alterations have been made to the material and appearance. Raised-panel garage doors that are more recent use fibreglass are solid and moulded to look like the original "rail and stile" design.
The raised panel garage door can be purchased in various materials, including wood, steel, and aluminium, even though fibreglass is the most prevalent.
2. A carriage house-style garage door.
The doors on antique carriage houses gave their name to the carriage-style garage door design. Horse-drawn carriages were the dominant form of transportation at the time, so the carriage-style door was already around when cars were introduced. The carriages were stored in barns, and the doors and swings had to be large enough to accommodate them. Carriage-style garage doors – large, broad doors that open outwards – were inspired by this.
Read: How To Decorate a Christmas Tree and Fun Activities with Your Kids for the Festive Season?
Carriage-type doors were fashioned initially of solid wood with elaborate woodwork adorning the facade. Decorative window inserts and barn-style criss-cross boards are among the most popular designs. Hardware such as iron hinges and oversized handles add to the door's rustic appeal.
Carriage-style doors open wide because they are hinged on the sides and glide outwards. Garage doors that swing outward from the centre have been around for a long time, but newer types incorporate automated openers that fold open. Traditional swing garage doors retain classic elegance, but modern carriage-style doors incorporate the latest energy-saving technology.
Traditional-looking carriage-style garage doors are popular in a wide range of home styles, from traditional to contemporary. Homeowners are drawn to this garage door design because of its robust yet attractive appearance. The ageless attractiveness of this design also ensures its longevity.
3. Garage Doors in Contemporary Style
Pure forms, bold lines, homogeneity, and mixing materials are the hallmarks of contemporary house design. Contemporary garage doors are ideal for creating a minimalist facade since they are designed to integrate with the exterior of a building seamlessly.
Slab-style garage doors are the most popular choice for modern residences. One panel folds up to form the opening, as opposed to the three or four individual horizontal panels on other designs that bend at the hinges when the door is raised. Automated garage door openers are used to open slab-style doors.
Read: 'Tis the Season to Jingle All the Way with Simple Christmas Decoration at Home
Contemporary garage doors can be made of wood, steel, aluminium, composite, fibreglass, or even glass, depending on what material best complements the house's exterior.
Compared to the designs of conventional garage doors, contemporary garage doors are far less complicated. It is more noticeable, frequently straight, with no frills, but the entrance may have rectangular or square glass panes on the top or side. The entire garage door may be made of glass in some circumstances.
4. Modern Garage Doors of the 21st Century
There are many similarities between contemporary garage doors and modern garage doors. They are sleek, striking, seamless, and characterised by powerful, crisp lines and precise forms, each of their designs is equally impressive.
The most popular modern garage door design features tempered glass panels housed in a sturdy, corrosion-resistant metal framework. Modern homes also embrace frameless garage doors, which have a more smooth and clean appearance.
Modern garage doors come in various glass panel treatments. The glass can be coloured or frosted in addition to the usually clear appearance. Mirrored grey or dark bronze, opaque white or opaque black and translucent black glass are other options for modern garage doors' glass treatments.
Read: Refurbish Your Interiors with These On-Trend Asian Paints Colours for The Living Room
In contrast, powder-coated aluminium frames come in white, black, or bronze, while anodised aluminium frames come in bronze or black. Powder coating for the aluminium frames of modern garage doors can be applied in about 200 different colours.
When it comes to garage doors of modern days, the "high tech" models incorporate a slew of innovative functions.
Advanced light-filtering technologies in some glass panels can reduce the amount of UV light entering your home. Low-E glass, also known as low-emissivity glass, is another common material in contemporary garage doors. It is a specific kind of glass that has been specially coated with a skinny layer of metallic substance, which helps it reflect heat in the same manner during the summer as it does during the winter.
Materials Used to Build a Garage Door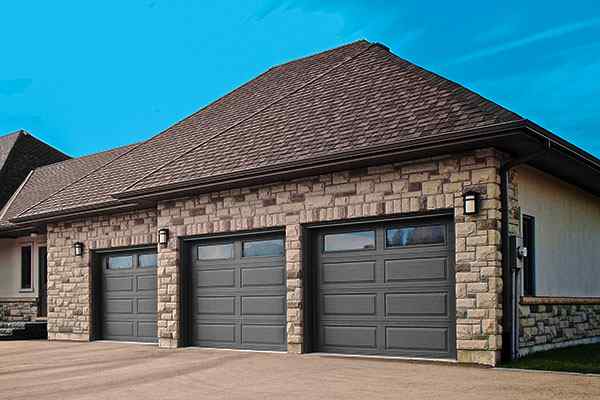 Garage doors are made from various materials, and each has a substantial impact on how well they work. Your home's value, look, and curb appeal are all affected by the quality of your garage doors. The same is true for the materials youchoose for your garage doors. Garage doors can be built of wood, steel, glass panels, or more modern materials like vinyl, composites, or fibreglass, much like any other door in your home. Each of these choices is outlined below:
1. Garage Doors Made of Wood
Wood is still the most commonly utilised building material inside and outside the home. Traditional, warm and inviting, this material is ideal for a garage door that can efficiently serve as a focal point of your home's exterior and is easy to maintain. This is an excellent choice for a garage door for homes with a rustic, country, or classic design aesthetic.
Mahogany, fir, hemlock, meranti, redwood, and cedar are the most frequent wood used to make garage doors. For decades, these species have adapted to various environmental situations. On the other hand, redwood can withstand high humidity better than cedar or redwood. Wooden garage doors can be made to fit your exact specifications in terms of style and size.
Despite their durability, wood garage doors have a hard time coping with excessive moisture and humidity. Rain, hail, and snow can't stand up to this type of material. When exposed to water, wood expands, contracts, and eventually rots. Mould and mildew can also grow on it, making it a prime candidate for pest and termite infestation. As a result, wood garage doors need a lot of upkeep.
Wood garage doors sit between the middle and the high end of the price spectrum when it comes to cost. Size, style, and material all have a significant impact on cost. Compared to their more expensive counterparts, mid-priced wooden garage doors are often constructed from a lightweight wooden frame filled with foam insulation and coated in plywood or hardboard.
2. Garage Doors Made of Steel
Garage doors made of metal are trendy. Steel and aluminium are the two most frequent metals used in garage doors. The tremendous tensile strength of steel, an iron-carbon alloy, has made it a household name. Because of its low cost and high tensile strength, it is a common building material in architectural and industrial design.
Insulation and gauge are critical factors to consider when purchasing a steel garage door.
To improve your home's energy conservation and noise cancellation capabilities, you need to get insulated doors. Galvanised steel is commonly used to construct steel garage doors, with insulation between the layers.
Afterwards, we have the thickness or gauge. Steel is generally produced in various gauges or thicknesses that vary from 0 to 38, the gauges 24 to 28 are the most commonly used for garage doors in residential applications. This implies that the higher the gauge number, the thinner the metal. Steel is typically produced in these gauges or thicknesses.
The less likely it is for a garage door to dent if it is this thick. Low-cost doors have panels with a gauge of 27 to 28 thinner than those of more expensive doors. While sturdy, thinner versions are not as impact-resistant as the thicker ones. Steel garage doors with a gauge of 25 to 26 are considered mid-level, while those with a gauge of 24 or higher are considered top quality. The metal's oxidising, rusting, and denting properties can be mitigated to some extent by using a fibreglass overlay on garage doors made of steel.
Two layers of galvanised steel with insulation separate the best steel garage doors. In most cases, the surface is primed, painted, or given a protective top coat. A composite material can also cover steel garage doors, but this option will be more expensive.
Steel is a far better option than wood if you're searching for a low-maintenance garage door. Steel garage doors are resistant to humidity and heat, unlike wood, which decays when exposed to moisture. Lifetime warranties cover the majority of high-quality steel doors on the market.
In terms of style and appearance, steel garage doors come in various designs. Steel garage doors can be painted in multiple colours, but they can also be given a wood grain finish to mimic the look of natural wood without the usual drawbacks.
Steel garage doors are likewise an affordable alternative in terms of price. Untreated or base steel, on the other hand, is vulnerable to oxidation and corrosion, making it an unsuitable material for coastal dwellings. You may protect it against rust by applying a protective coating. A rapid fix for any blemishes would also be necessary.
3. Garage Doors Made of Composite Material
A composite garage door may be an option if you want to avoid the high cost of a wood door. Composite garage doors have a wood frame and are covered with fiberboard sheets. A bonding agent and reclaimed wood fibres account for 80% of the composition of the fiberboards. A polystyrene insulation core is used to insulate the middle of a composite overhead door.
Compared to wood, composite garage doors are a great value. However, despite their lack of attractiveness, they are available in designs that are as near to the actual thing as possible. As a "cheap wood garage door," it lacks the disadvantages of rot, split, decay, or termite infestation.
Durability and inexpensive upkeep are two further advantages of composite garage doors. It doesn't need to be repainted or stained and can be easily cleaned. Composite garage doors, in addition to their durability as a material, are also energy-efficient.
4. Doors made of fibreglass
Fibreglass is additional material for garage doors. Fibreglass is the lightest of all the materials used in this application. It is formed of great glass filaments that make up fibreglass. The thin filaments are created by forcing molten glass through small holes after heating it to a molten state. Many goods can be made from glass filaments by weaving them into larger sheets, such as furniture, composite doors, and windows.
Despite their flimsy appearance, fibreglass garage doors are solid and dependable, even in the harshest climates. They are highly resistant to dings and dents. Moisture and humidity don't cause it to expand, warp, or decay. Because of their resistance to seawater corrosion, they are ideal for coastal residences.
Energy efficiency is one of the main drawbacks of fibreglass garage doors. If you're trying to keep the temperature of your garage at a comfortable level, don't use this material. Temperatures outside might easily reach your garage, making you feel sweltering inside.
When exposed to severe temperatures, fibreglass garage doors can become brittle and therefore unsuitable as a material for residences in cold climates.
5. Door Panels with Glass for Garages
Glass-panelled garage doors offer a more modern alternative. Aluminium frames are typically used for glass-panelled garage doors, which come in various styles, such as frosted glass, tinted glass, etched glass, and more. Opaque panels and glass can also be used in some designs for a more striking appearance. These unique finishes are frequently used to compensate for the lack of privacy and security. Glazing that has been heat-treated to increase its strength while decreasing transparency is known as tempered safety glass or acrylic panels.
Glass panels for garage doors are available in various thicknesses, although the standard thicknesses for single-panelled doors are 1/8″, 3/16″, and 1/4″ thick, while the insulated glass is 1/2″ vast. Most manufacturers offer a special coating for their garage doors to combat the fact that glass is a poor insulator. This helps to keep your house at a consistent temperature.
A glass-panelled garage door's best features are its aesthetic value and beauty. Because they are more modern than other materials, they go well with contemporary dwellings. Glass, on the other hand, has a unique ability to make a room appear more extensive and more spacious. When it comes to the metal frame and the type of glass to be utilised, you have a lot of design alternatives.
The lack of privacy and security with glass-panelled garage doors is a significant worry for most homeowners. Durability is another issue with glass-panelled garage doors. The larger and tougher panels utilised for this type of application are prone to cracking and can be damaged by bumps or hail, and they can also be scratched.
6. Vinyl Garage Door Designs
As with PVC, vinyl is a byproduct of the polyvinyl chloride (PVC) manufacturing process. It was developed as a flexible and long-lasting alternative to metal to save money.
Polyurethane insulation and steel frames are standard in vinyl garage doors. To the untrained eye, they resemble fibreglass garage doors in appearance. Despite this, the patterns and colours available are somewhat limited.
In terms of durability, vinyl garage doors are among the strongest on the market. With constant exposure to humidity and temperature fluctuations, it still operates admirably. It will not rot, degrade, rust, or corrode when exposed to dampness, salt, snow, or hail. Sound insulation and noise cancellation are excellent features of this product, which is also deemed "childproof".
Vinyl garage doors are less expensive than other types because of their composition.
Inspiring Garage Door Designs and Ideas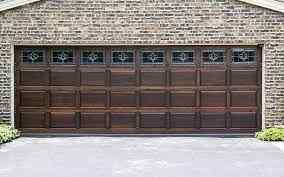 Whether buying, renting, renovating, constructing, or flipping a house, a bespoke garage door may make it stand out even more. It isn't easy to start, though, because there are many possibilities. You can use these garage door design inspirations to construct a garage door that reflects your style.
1. Beauty and the Beast of Double Bay
Craftsman-style, double-paned doors are a fantastic complement to this home's design and character. Door moulding adds just enough visual interest, while the glass panels at the top enable natural light to enter the garage. The exterior of the doors is illuminated by three gooseneck sconces when the sun sets.
2. Timber Herringbone Barn Style Garage Door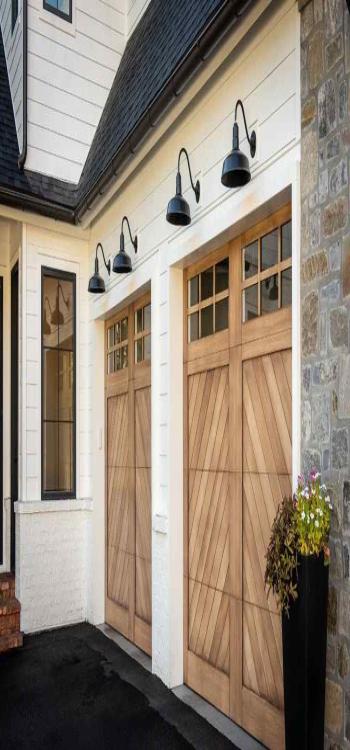 Choose a herringbone-patterned barn door made of natural timber. It will provide depth and contrast to your home's otherwise flat walls. Doors made of wood are ideal for a rustic yet contemporary style. While they may be more expensive, they may require more garage repairs and care. Nonetheless, keep in mind. These doors need to be replaced more frequently than regular garage doors because of the wear and tear they take. As an alternative, you might consider going with a wood-look door.
3. Black Carriage Style Garage Door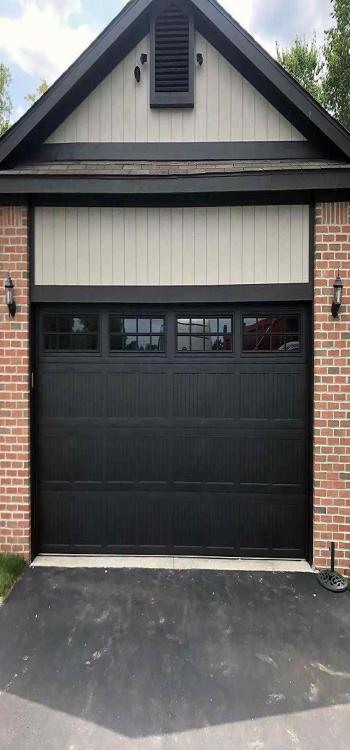 Craftsman garage doors, often called carriage house garage doors, are becoming increasingly popular in the United States. The modern farmhouse style wouldn't be complete without one of these decorative accents. Designed to resemble ancient horse-and-carriage residences, these buildings sport a retro aesthetic. Typically, they are built of wood, but contemporary technology has made it possible to achieve a wood-like appearance with steel and insulation.
4. Garage Door Painted in a Bright Sugary Hue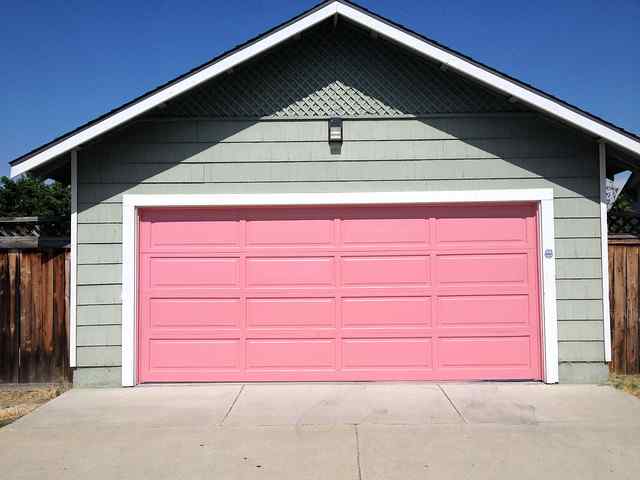 Are you a fan of bright splashes of colour? When choosing paint, you'll need to consider elements like the colours of your home's façade and style, the surrounding landscape, and your personal preferences. A sense of cohesion is what you'll be looking for. There are many ways to get this look, like painting the trims the same shade as your garage door or painting the windowsills, roof, and front door, something in pastels. It's safe to say that a colourful garage door will draw attention. How about a candy-coloured hue?
5. The Beauty of the Mediterranean in All of Its Glory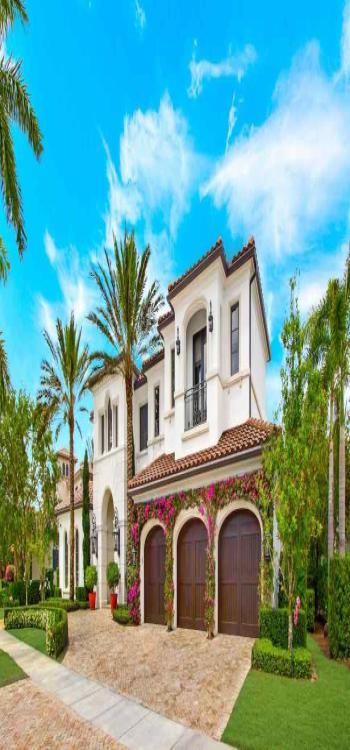 This ancestral Mediterranean mansion has three garage stalls, which occupy most of the house's facade. The paned stained hardwood doors are highlighted and attract attention to their exquisite details by being framed in trellises that are covered in gorgeous bougainvillaea.
6. Bold and Black with an Industrial Theme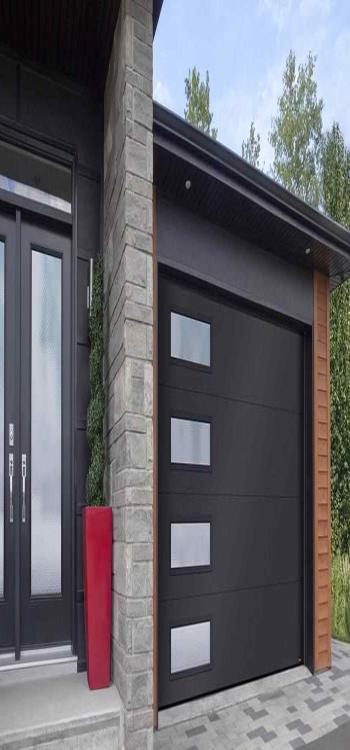 The side of this garage door with an industrial concept has been fitted with a cluster of four windows to give it a distinctive appearance and to let more natural light inside. The front entrance, garage door, and window trim should all be painted in a daring shade of black for an appearance that can't be missed.
7. When You Have No Clue, It's Better in Blue
Despite their resemblance to natural wood, these garage doors are manufactured of moisture-resistant polymers impervious to rot and warp. The doors can be stained or painted in any colour to match any decor. An intense shade of blue highlights the door's details and makes them pop against the white siding.
8. Feel Breezy in a Beachfront Setting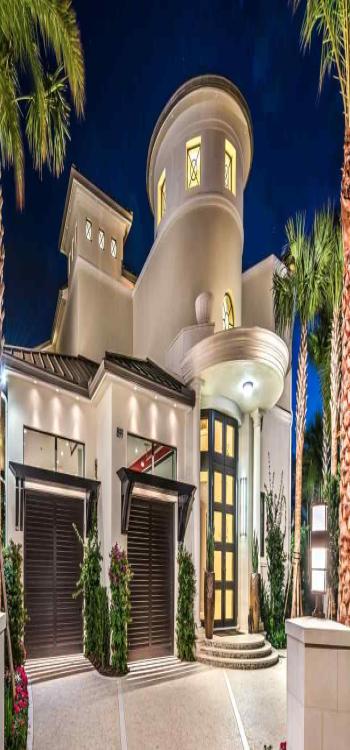 The louvred, or shutter-style, garage doors in this luxury beach property give it a beachy feel. The doors can be closed at night for privacy and security, but they can be opened during the day to bring in fresh air and light.
9. Door Mural for the Garage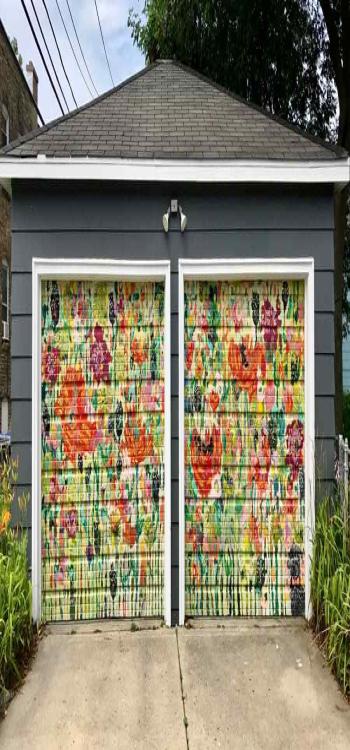 A garage door mural is a terrific option for homeowners looking for a unique way to personalise their outside with their garage door. Once you've decided how your property's art looks, it's time to go to work on making it happen. If you lack artistic ability, you may consider employing a professional team to assist you.
10. ​​The theme of a rustic lakeside setting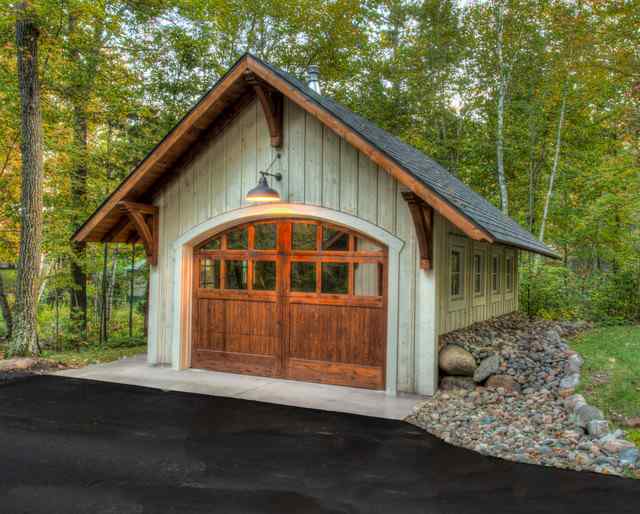 This rustic design features garage doors that were constructed to order and contain endearing details such as multi-paned windows that complement the arch of the doorway and an overhead light that appears from another era.
11. A Diverse Assortment of Tudor-Style Accents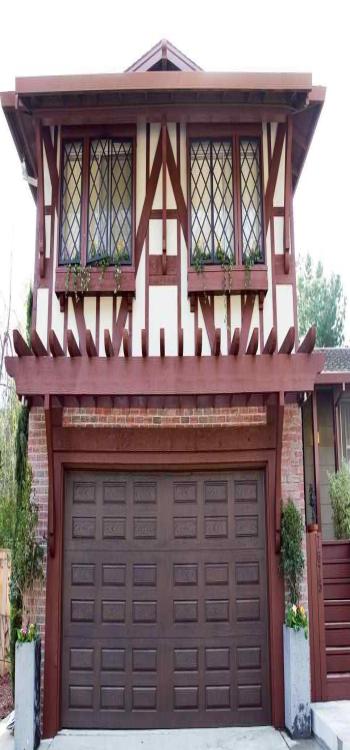 A vast garage door provides more room for decorative touches. This Tudor-style home's garage has a door with a multitude of raised panels, a wood lattice awning, and two concrete planters, all of which contribute to the impressive features of the property's exterior.
12. A Pure and Perfect Form of Symmetry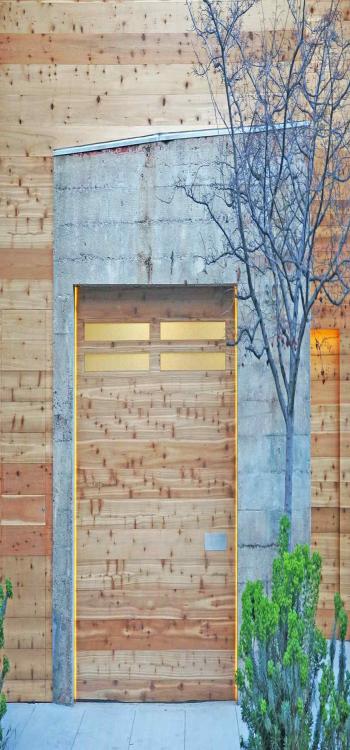 The architect of this house decided to avoid using a striking stain colour on the cedar garage doors by leaving them untreated. Instead, he installed light strips on either side of the entrance to create a glow on the door's surface. This ingenious design makes the contemporary industrial home appear homey and comfortable.
13. The Perfect Combination of Modern Charm and Sophistication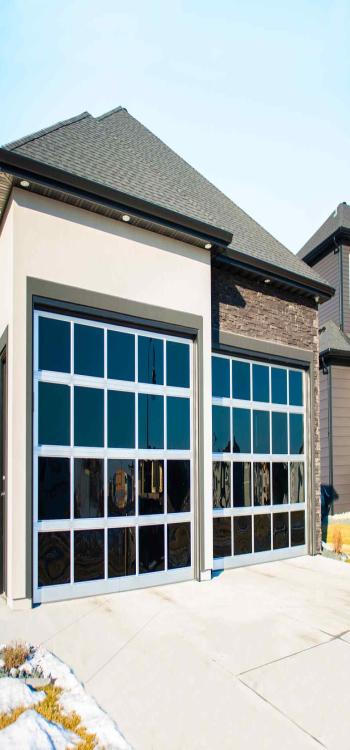 These coordinating garage doors are a replica of the standard ones found in most residences; however, they include black glass panels rather than raised ones. The design creates a one-of-a-kind appearance ideal for people passionate about modern design and offers a new level of refinement to the traditional door.
14. Add a Hand full of Spanish Eloquence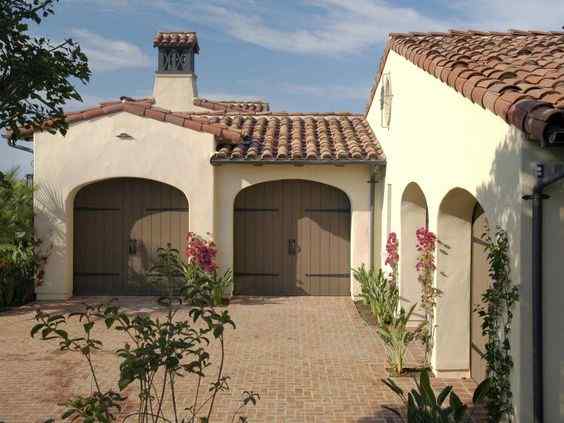 Infuse your Mediterranean or Mission-style home with a touch of elegance by installing garage bays that boast distinctive architectural characteristics. Wooden doors with handles and hinges made of wrought iron give an impression of simple style while avoiding the appearance of overriding the rounded bays.
Choose your garage doors carefully. Whether it is the material or the design- opting for a style that fits your preferences and budget is the foremost priority. Not sure how to make a statement with your garage door designs? NoBroker Interiors are here to help. Contact us for a consultation today!

FAQs
Q-1 What type of garage door is the most prominent?
A-1 In a sectional door, panels are hinged together and fitted with rollers that run on two parallel tracks. Residential areas use this design of door the most frequently.
Q-2 How vital is the type of garage door opener I purchase?
A-2 A 1/2-horsepower motor should be plenty for a sectional double-car garage door, but a higher-power model will run more smoothly and put less strain on the engine. For heavier or one-piece doors, a more powerful opener may be required.
Q-3 What is the mechanism of a roller garage door?
A-3 Steel or aluminium slats (or laths) are used to make roller garage doors open vertically. In contrast to a sectional garage door, a roll-up garage door has its panels moving along internal tracks as the door is opened.
Q-4 Can my garage door's height be increased?
A-4 Installing an extension spring and rails for more oversized doors necessitates removing and reinstalling an existing garage door opener to accommodate more oversized doors. Removing and rebuilding a side wall of the garage to make room for new entryways is another option.
Q-5 When it comes to overhead garage doors, how do they work?
A-5 A curved arm attaches the door to the garage door opener to help with movement. Using an electric motor and a torsion spring system (also known as extension springs) to balance out the door's weight, the door may be moved open or closed with ease and steadiness.