In big homes and flats, foyer designs are an opening aesthetic to the whole space's décor. Have you heard of the phrase "first impressions"? What does your house say about you? Does your entryway design have a warm, inviting, and modern feel? There's nothing quite like a spectacular entranceway to make a statement. Whether in a majestic house or a modest 1BHK, a well-designed entryway is the first area to meet your family and guests. We think the entrance design sets the tone for the rest of the house; therefore, we went above and beyond to make this little space appealing while still functional. The term foyer comes from the French word foyer, which means "entryway." With time and use, the word foyer has come to include entryways, entrance halls, and hallways. It's a spot where you may welcome visitors and guests into your house. This room may also be utilized as a waiting area for visitors.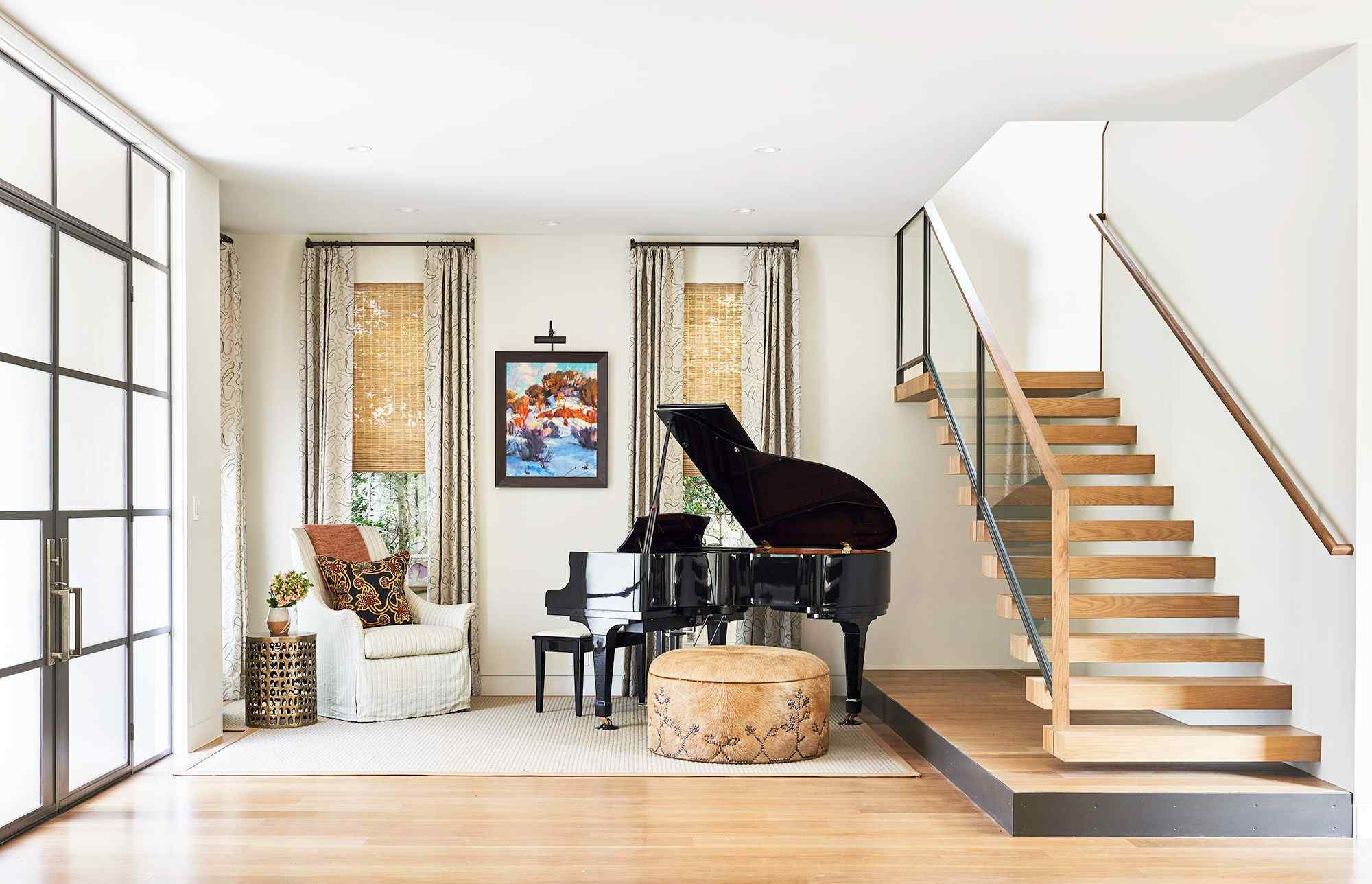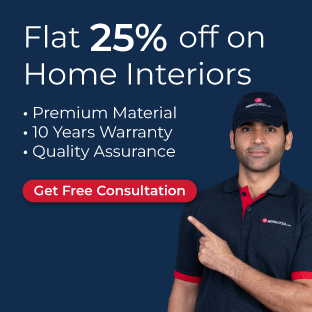 Importance Of a Unique Foyer Design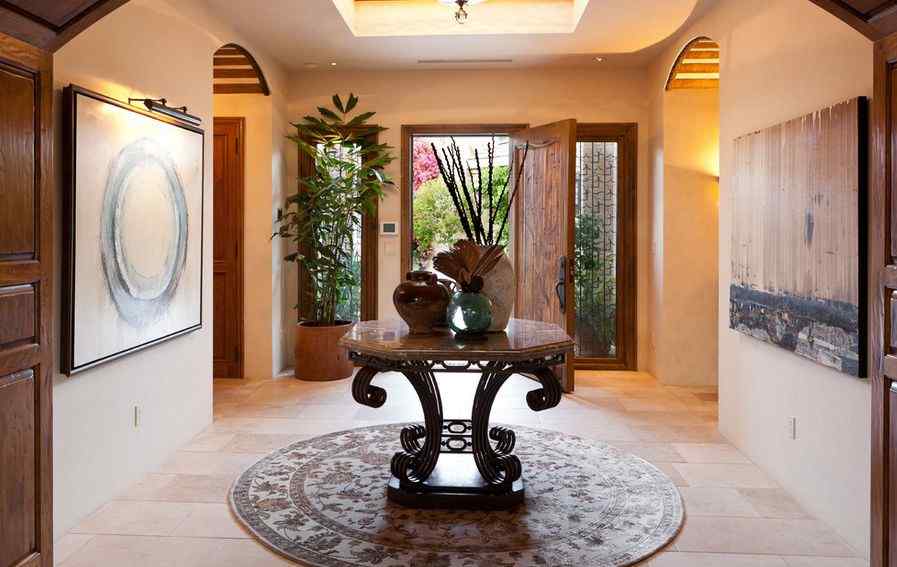 The foyer design may be simplistic, mainly if the space isn't too large. The finest part about creating a foyer is that specific furniture and home décor are required for an entrance of any size. These home décor objects should fit into the entryway without crowding it or wasting any of the available floor space.
Read: Do You Want a Clutter-Free Living Room? Make A Statement with One of These Elegant Showcase Designs for Hall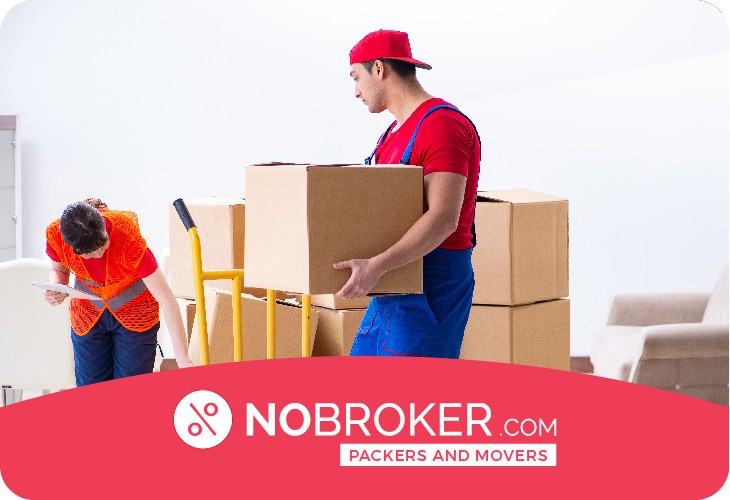 Book Best Packers & Movers with Best Price, Free Cancellation, Dedicated Move Manager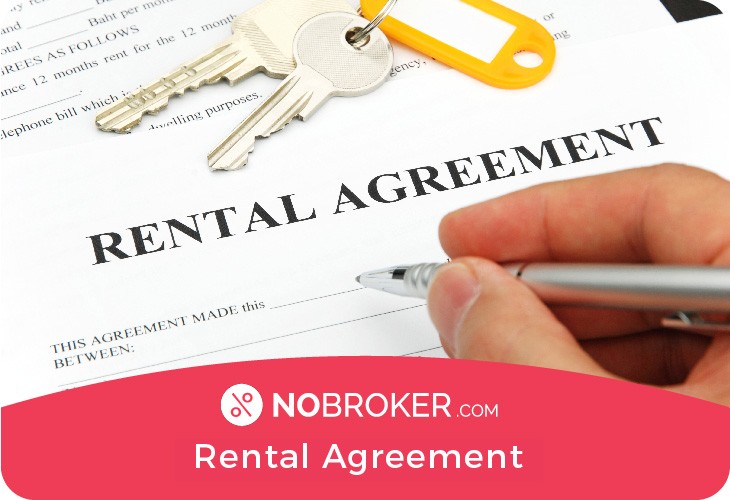 Get Rental Agreement With Doorstep Delivery, Super Quick & Easy
This is third
This is third
This is fourth
This is fourth
This is fifth
This is fifth
This is six
This is six
This is seven
This is seven
This is eight
This is eight
A foyer must be thoughtfully planned to accommodate coats, hats, and other accessories. Rugs and carpets are essential, as are paintings and frames on the wall and other decorative things like flowers and chandeliers and chairs and console tables or shelves. Adding a massive mirror to your entrance area will seem more significant.
Extravagant Theme-Based Ideas for Foyer Design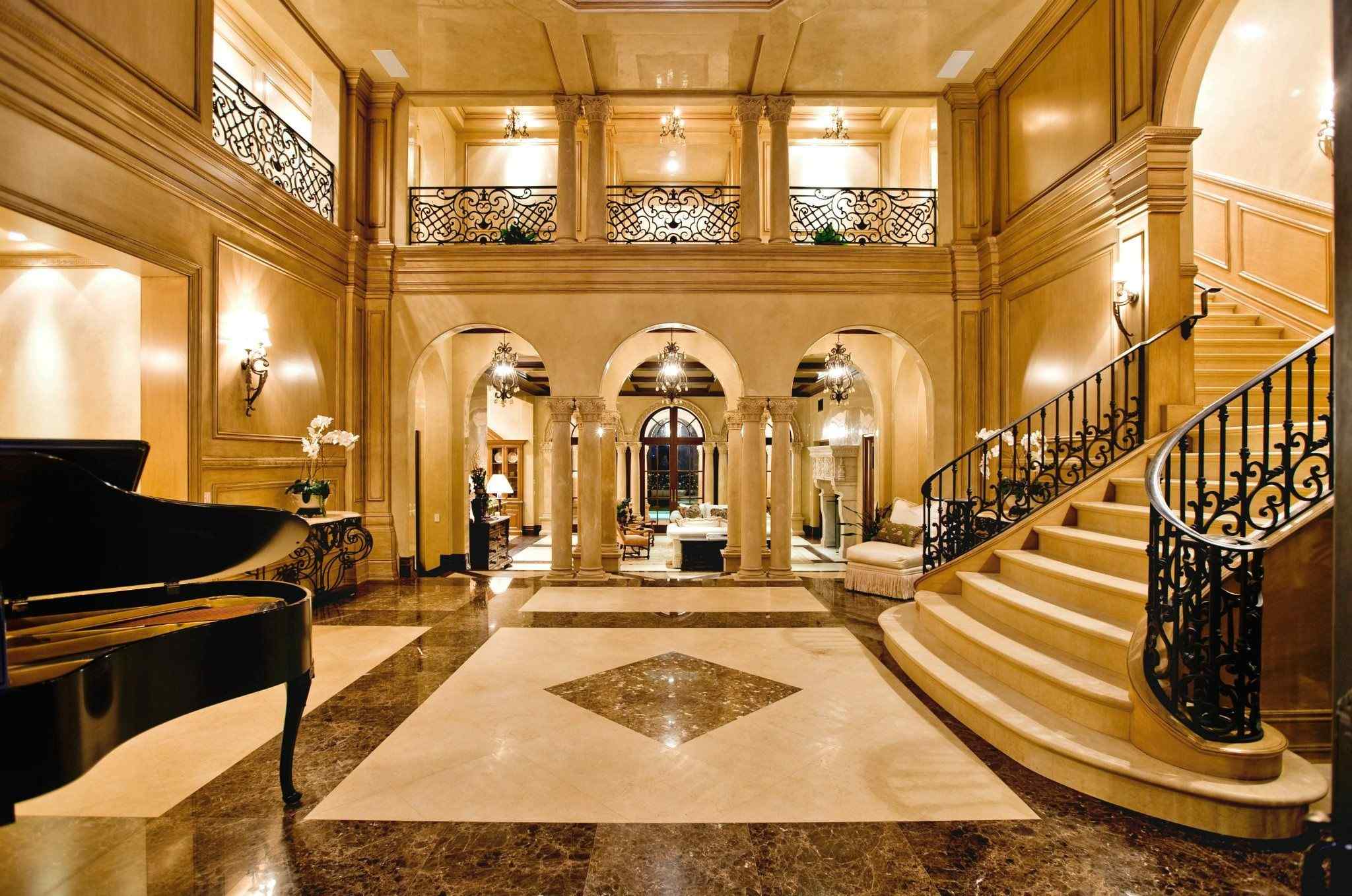 If you want to leave a lasting impression, ensure that your home's front door is well-designed. White columns set against Prussian blue walls welcome guests to this residence. The entrance is adorned with a gorgeous pedestal table that serves as a beautiful centrepiece. Carpeted hardwood flooring adds to the grandeur of the space.
1. Pass the way with ease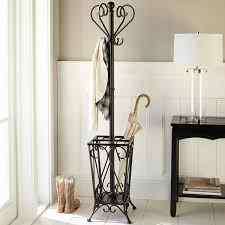 This foyer design is just what you need to get a relaxed and stylish appeal. An umbrella stands and hooks strategically placed on the open shoe shelves make this a functional option. This is the perfect apartment or flat entry design with a free-standing mirror and white brickwork.
2. Foyer design, make the most of it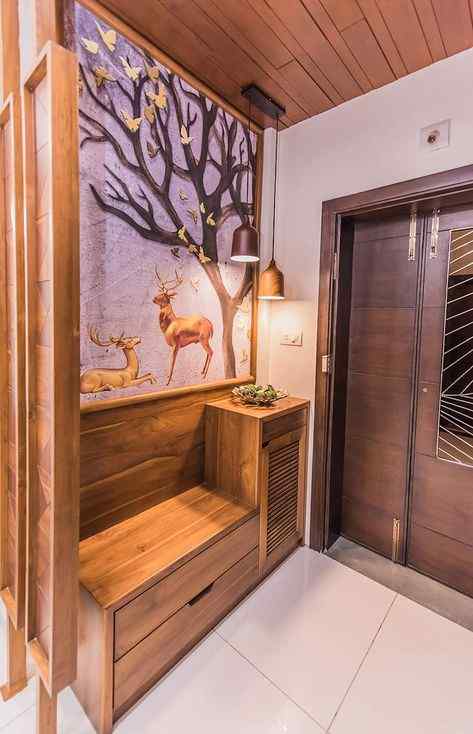 Don't allow the space behind your main entrance to go to waste! Instead, as shown in this home's entryway design, have a unique solution created just for you. Finishing touches include delicate latticework, which prevents the furniture from seeming cluttered. Shoe-changing is made easy by the padded seat of this pair of dressers. The window has been left unobstructed to enter the room with as much natural light as possible.
Read: 10+Best Skylight Designs for a Brighter and Airier Space
3. With foyer seating, you can make your home cosier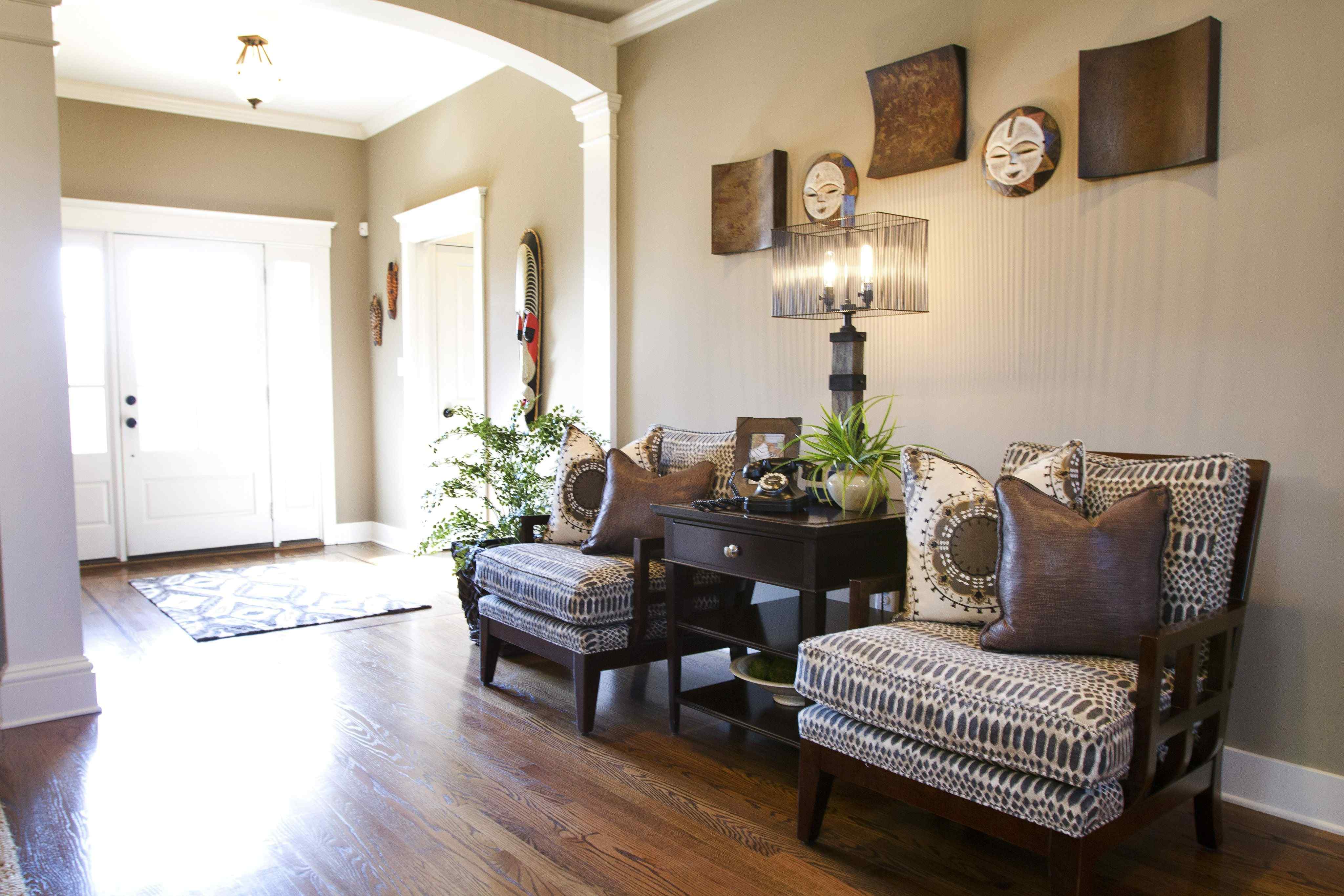 Installing a bench, a chair, or even some stools or ottomans in your entryway is just one of many options for adding seating. They take their entryway seating quite seriously in this place. Thanks to an invitingly cushioned bench, one may easily spend some more time at the entrance. A beautiful cabriole-leg console offers a flat area for storing your wallet and keys.
4. For Stairwells and Small Foyer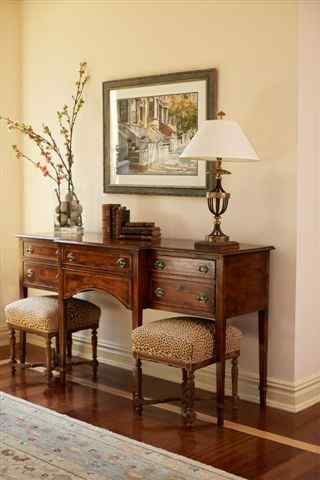 Some homes feature little entryways that lead to larger foyers. Stairs going up to a higher level are often seen on each side. Because of the size of the lobby, you have very little room to play with. However, with a bit of creativity, you may exploit space limitations in your favour. An antique cabinet and chair adorn the stairwell wall in this entrance. The opposing wall is adorned with eye-catching artwork.
5. Smokey mirror foyer
In the entrance, mirrors are often employed. Mirrors, plated with gold frames, are employed not just as wall adornment here. They're also engaged in the panels of the shoe cabinet, where their silvery shine contrasts with the dark wood. Matted gold ottomans provide seats on each side of the cabinet and bring the styling's gold colours forward.
Read: 5 Storage Ideas for Small Homes for Extra Storage
6. With a foyer table, you can get rid of the clutter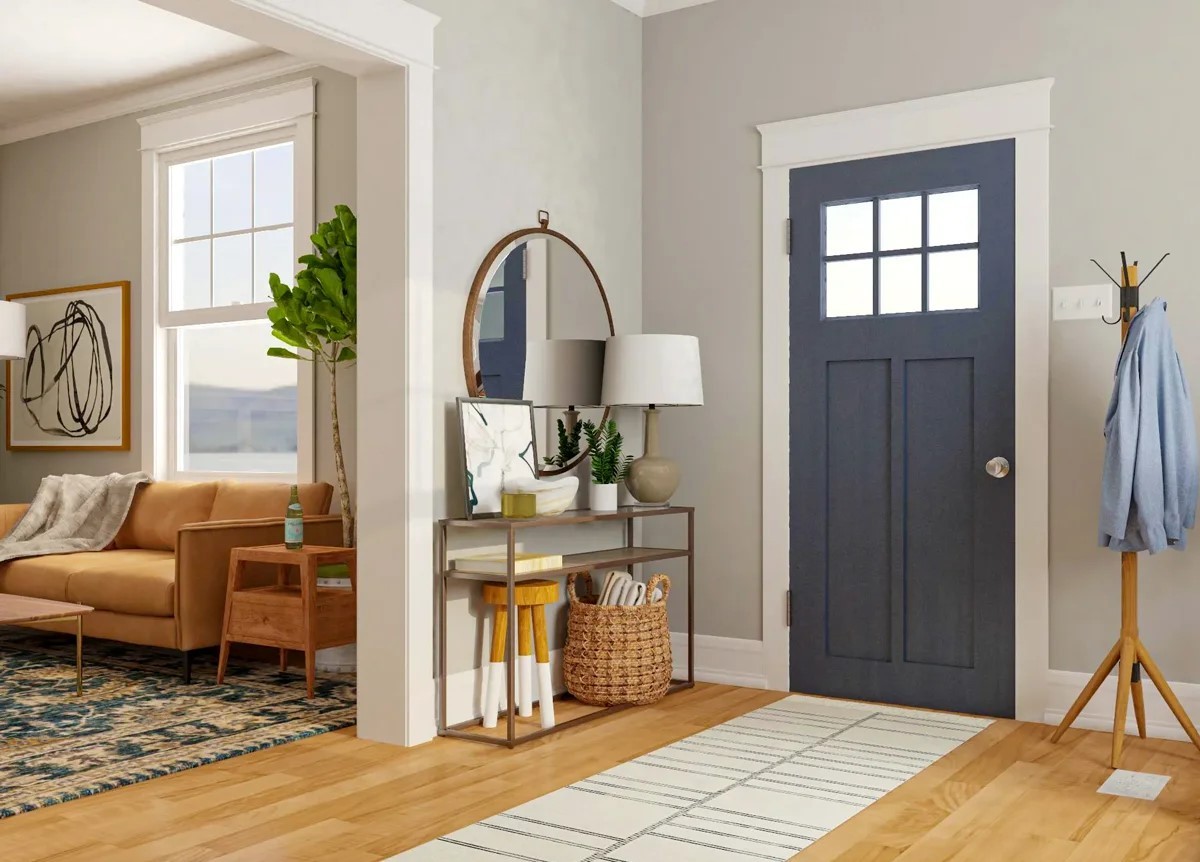 We like how this entryway opts for an exquisite foyer table instead of boxy storage and seats. A white console table is positioned behind the entrance, with a large old clock hanging over it. The opposite wall is adorned with framed artwork. The doorway décor, such as the clock and artwork, may be significant since the floor area is kept open and uncluttered.
7. Reach for the floor and the ceiling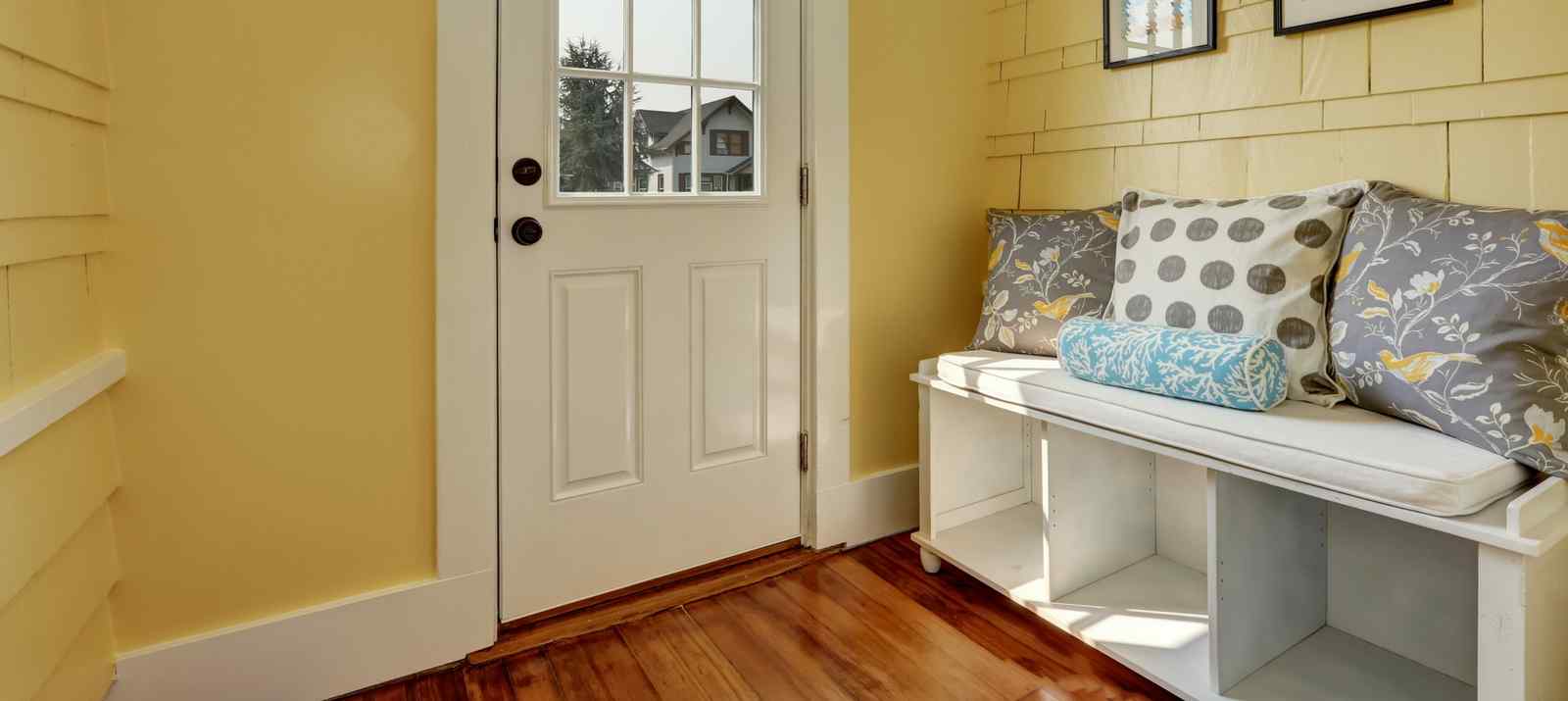 This entrance area design would appeal to you since it provides enough storage. The cabinets are lined up with the main door entry and reach close to the ceiling. Thanks to muted colours and a few open shelves, the foyer is refreshed and stylish. Sleek metallic tones are added to the remainder of the contemporary entryway design by a beautiful chandelier and mirrors. As a flat entry design, this space-saving design works well.
Following the trend of reaching for the ceiling, here's an entryway design that gets stunning effects while staying low. Wooden panelling lines the wall, which is flanked by an extra-long bench. Underneath the bench is built-in storage. A few cushions and some box shelves add to the sense of spaciousness, comfort, and elegance. The overall appearance is clean and elegant.
Read: L-Shaped False Ceiling Design Trends: Modern and Functional
8. French-style foyer designs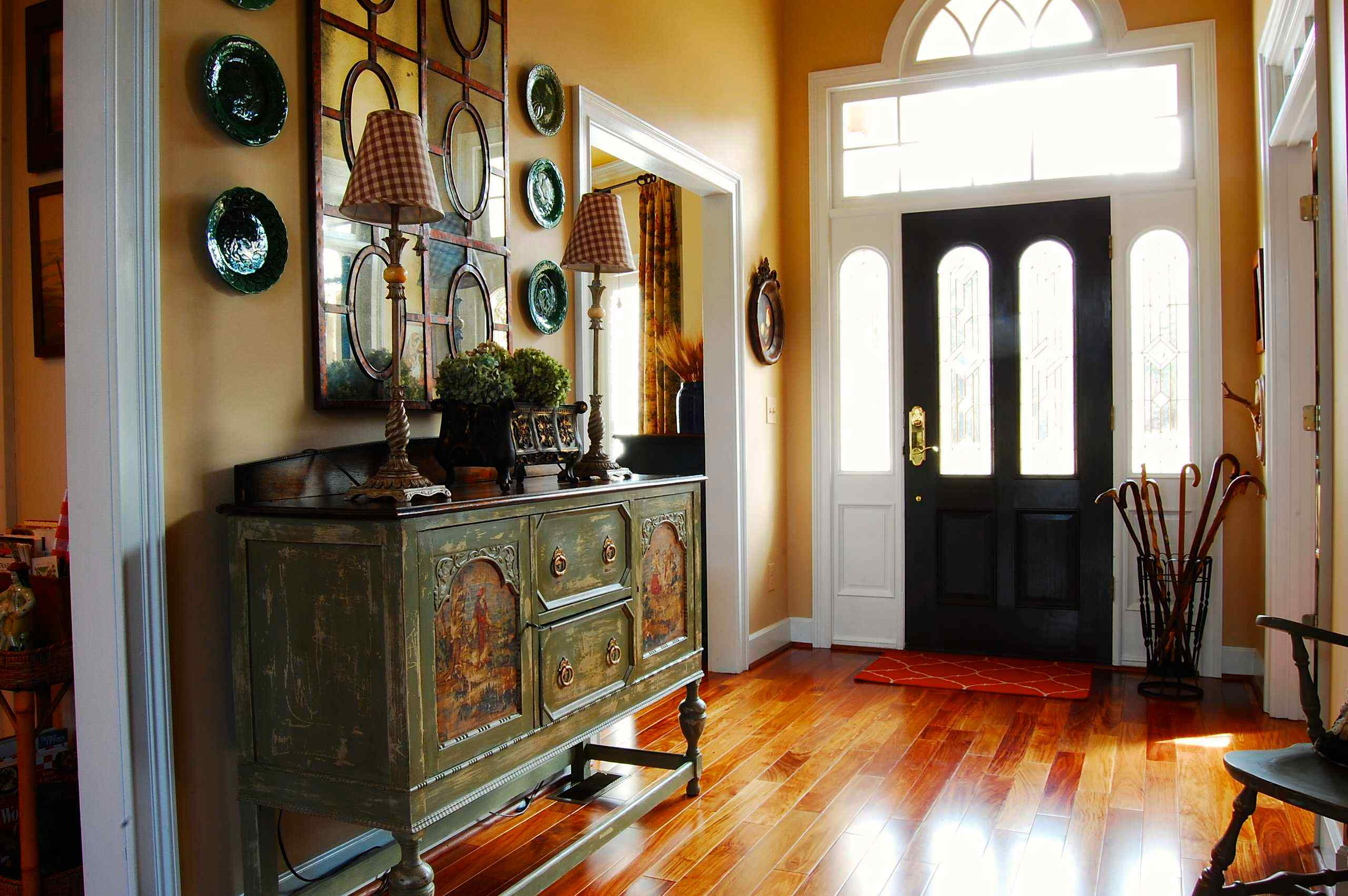 A French-style aesthetic is characterised by opulence, opulence, and opulence. If you're going for a French-inspired entryway design, go for furniture that exudes a sense of refinement. Make use of white and neutrals in the form of white-washed wood and wall colours.
Additionally, you can incorporate refined and rustic elements into your home's interior design in order to strike a balance between cosiness and glamour. For a truly French-style entryway, use floral designs, soft, vibrant colours, and contours in your fabrics, wallpaper, and accessories. Consider some truly French foyer cabinet designs to complete the look!
9. Designing an industrial foyer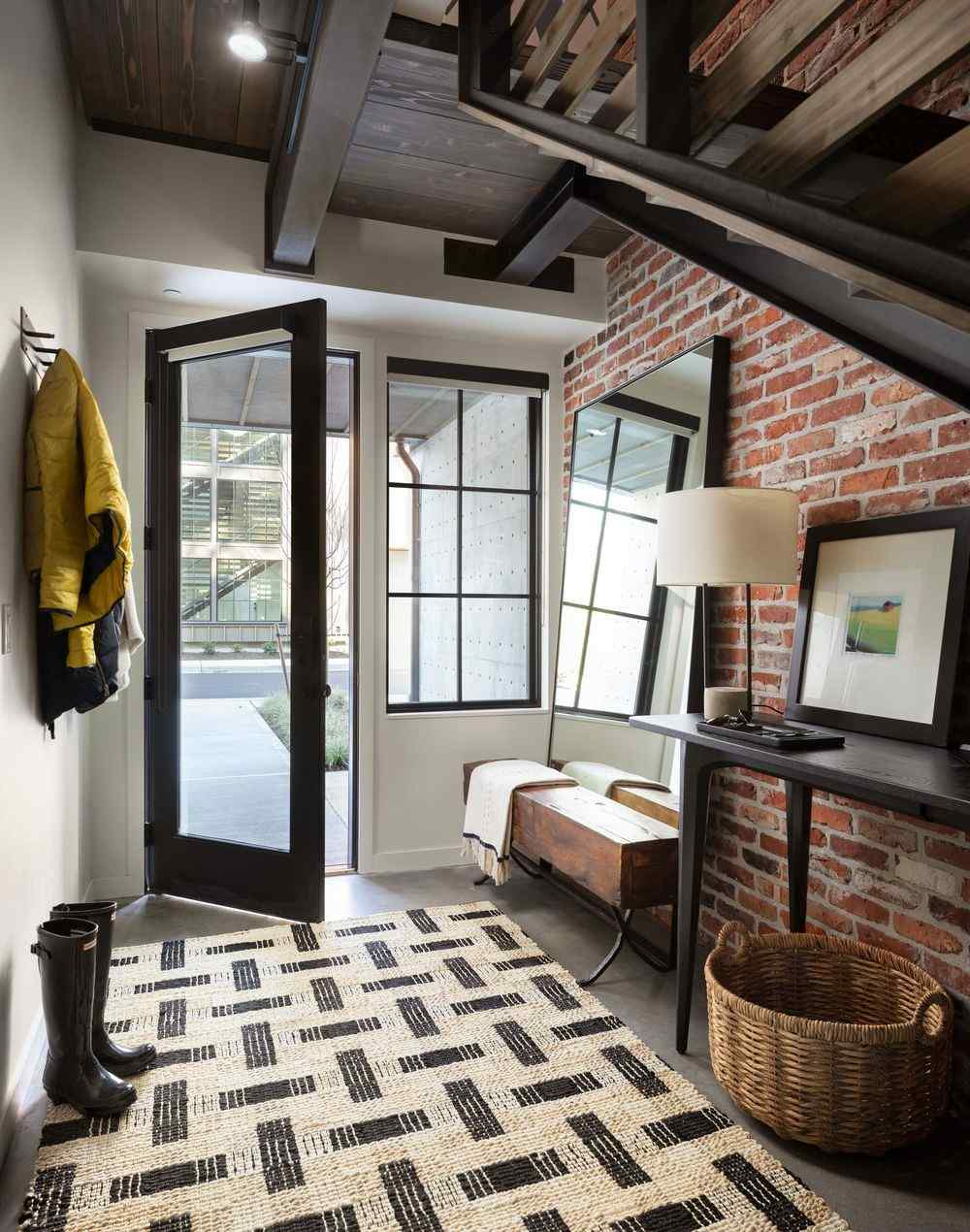 With an industrial style for your entryway, you'll want to pay attention to everything from the flooring to the ceiling. For an industrial look, concrete, hardwood, or marble flooring is a must. Enhance the face of the floor by using soft carpets. The architectural elements of your home's interior should be preserved if they are there. Pieces such as huge paintings in vivid colours, industrial-style mirrors, and brick wallsare fantastic additions to an industrial-themed entryway decor.
Lighting is an important consideration. Hanging light fixtures, pulley lighting, or any lighting that can be suspended from the ceiling or add a little flair and character to the area are some vital home decor pieces you can experiment with to give your entryway design an authentic industrial look.
10. Designing a minimalist Foyer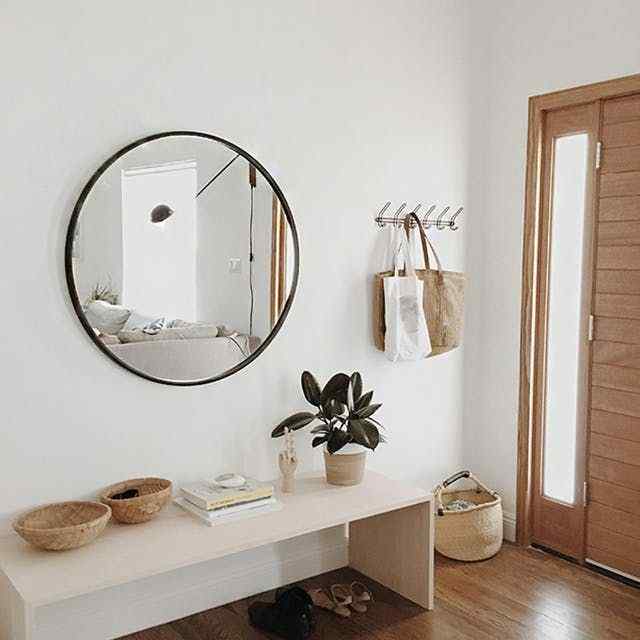 One of the hottest interior design trends is to keep things simple. A minimalistic design is, in fact, one of the best foyer design ideas for flats. If you're striving for a minimalist look, make sure the entryway is devoid of clutter. Make sure there are just a few pieces of artwork or furniture in your lobby.
In your entryway, you can put up an enormous mirror with an eye-catching primary or differing design. Retain a single set of colour schemes. Wallpaper could be used to dress up one of the walls. If you have furniture, keep it a single colour. Accent pieces like an artificial plant or mirror can add a dash of charisma to your sleek and modern foyer design.
11. Foyer designs with a modern seaside theme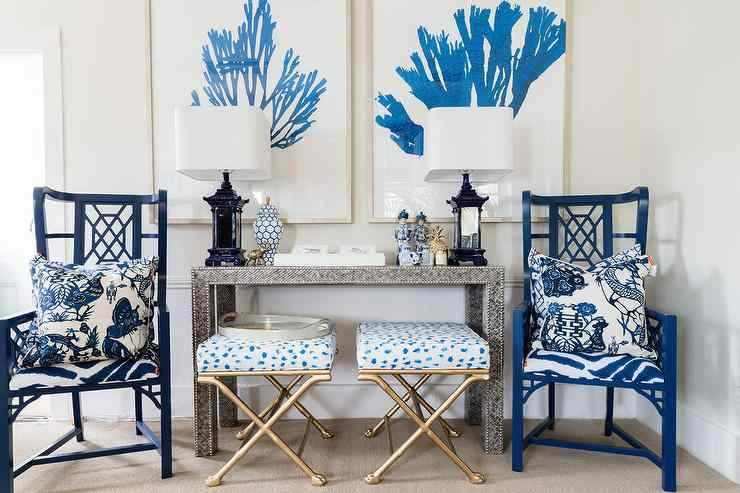 Do you like to create a seaside ambience in your foyer? You don't have to transform it into a coastal paradise. For the walls, use blue and white hues that complement each other. Furniture may then be added to the foyer.
If you want to decorate your entryway nautical style, wooden or cane furniture are excellent choices. You may use seashells, pebbles, starfish, and other beach-themed décor to adorn your walls and ceiling as a finishing touch. Install a wall-mounted anchor that doubles as a rack or hook to complete the look!
12. Hang a Portrait of Your Dog or Cat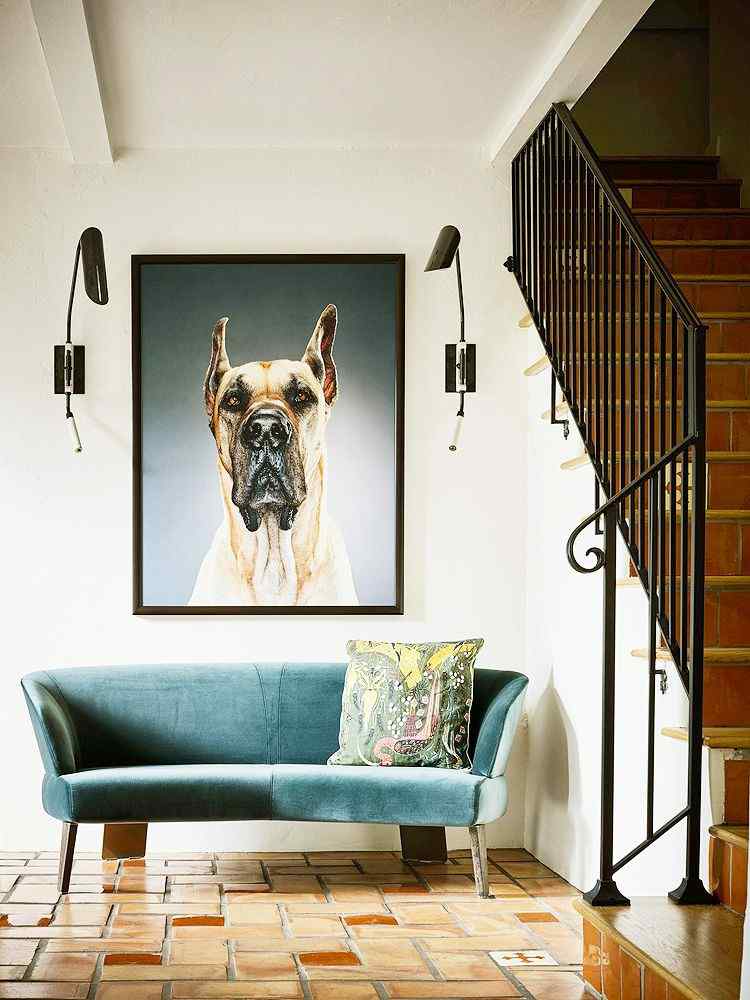 Hire a professional artist to create a lifelike portrait of your pet that can be displayed in the foyer to welcome you and your guests every time you enter. The contrast between the dog's severe but adorable expression and the mellow floor tiles and comfy pillows creates a lighthearted atmosphere.
13. Include a Standout Instrument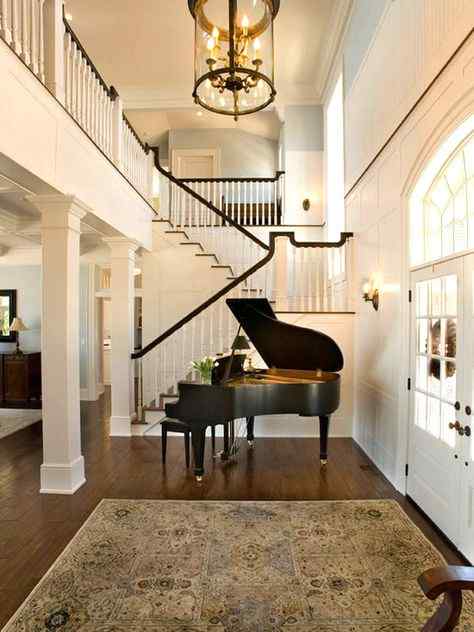 There is no better way to make a grand entrance with a grand piano. The piano's glossy black finish lends a stately, formal air to this entryway, while the light wood flooring and modern glass elements provide a grounded welcome. This classic entrance foyer design is truly timeless.
14. Invest in an Eye-Catching Rug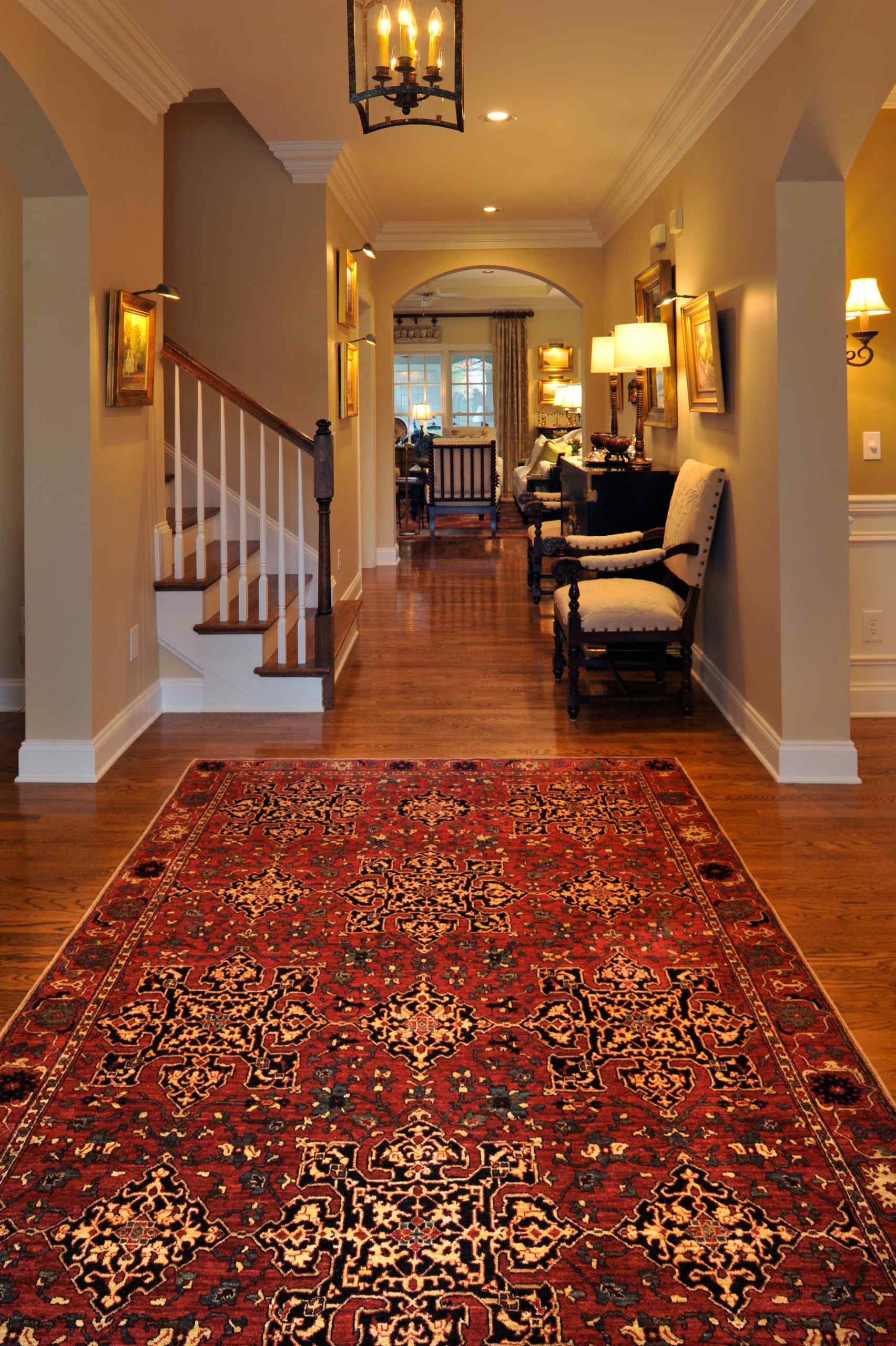 The architectural staircase and burnt orange rug in this entryway show restraint and personality simultaneously. The rug's rust and sage hues soften the room's darker tones and serve as a unifying element.
Accessorise Your Foyer Design the Right Way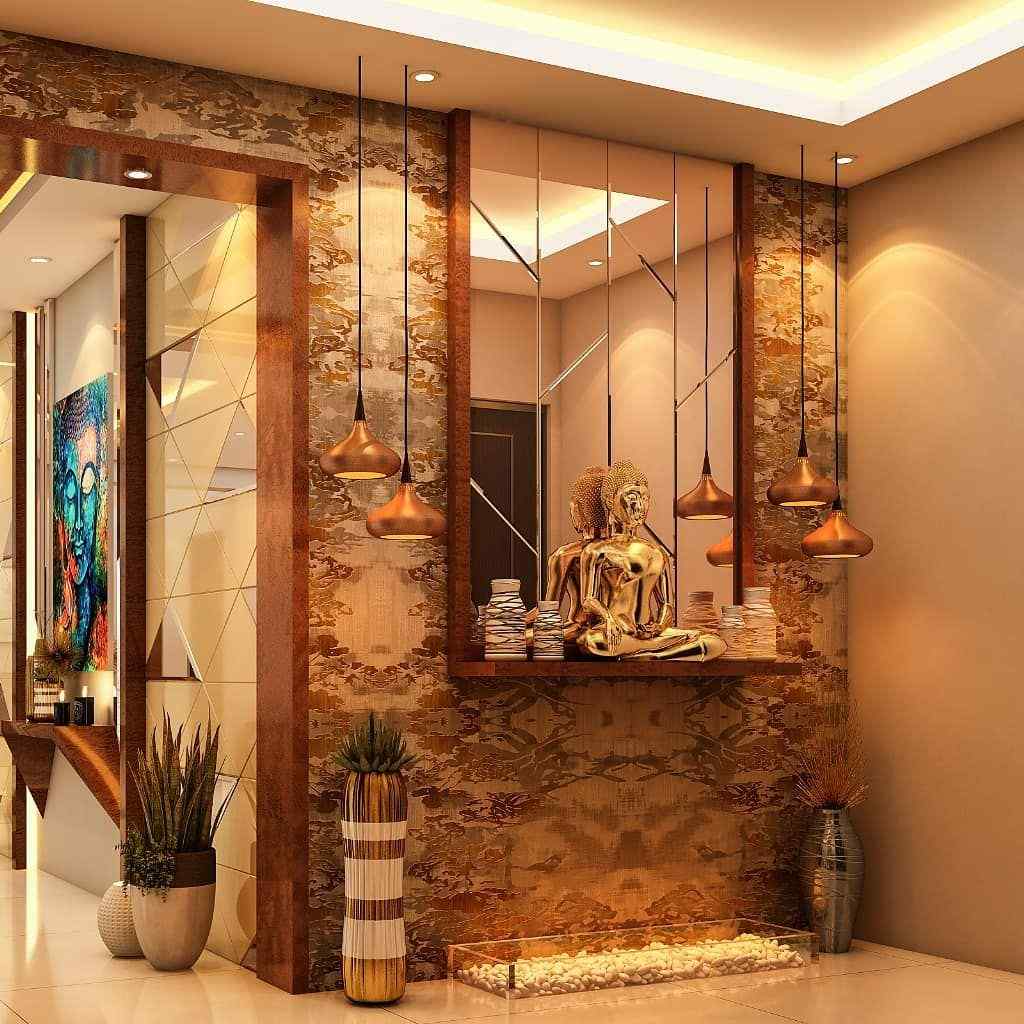 Mirrors make a statement: It's not necessary to spend a lot of money to decorate your entrance. The only thing missing from your entryway wall décor is a funky mirror. A bold statement mirror sets the tone for a stylishly decorated house in this foyer. You may keep your keys and collectables on the console table. This entrance lobby design can be adapted to suit both traditional and modern homes.
Figures of idols: It's up to you what kind of religious symbols you choose to display at your entrance. With them, the surrounding area is filled with positive energy. Your visitors will receive a sense of your passion and religion as soon as they enter your house.
Elegant Lights: Chandeliers, pendant lights, softly lighted bulbs, and Victorian lighting are excellent options for your entryway. Backlit lights or lights that are recessed into a fake ceiling are additional alternatives. – Keep your home's entryway well-lit so visitors have an excellent first impression of your property.
Artwork: While the bright artwork, flower vases, and chandelier contribute to the room's overall warmth and glimmer, the recessed lighting does the same for the rest of the space.
Rugs and Carpets: Adding rugs and carpets to the overall decor of a foyer is essential. You may add colour to your entryway with rugs or carpets and serve as a barrier to people's shoes when they enter your house.
Wall Shelves: The use of wall-mounted shelves in the entryway is common in many designs. It's possible to mount a wall shelf above a console table or even on the side of a door. Many people use these hooks to hang coats and hats in their homes and businesses.
Ingenious Pieces of Furniture: Selecting a shoe rack with chairs is an excellent option if your goal is to combine design and utility. Add a coat rack and a key holder to the mix! Consider the rest of your decor while picking out a shoe rack!
Shoe store racks: A shoe rack in the foyer is ideal since you often remove your shoes. It's a brilliant idea to keep all of your shoes in one place and include a piece of furniture in your home design at the front door. Shoe cabinets and racks may be built into the wall or stand alone in the entryway, depending on the available space.
Storage Cabinets for the foyer: If you're searching for a fantastic storage unit for your foyer, then aim for a design that can double up as a console table or shelf. So, you receive two products with double the worth for the same amount of storage space! The presence of a storage cabinet in the entryway is a no-brainer as it is one of the primary functions of the space. A variety of items may be stored in these cabinets, including shoes, jackets, hats, etc. This is a terrific idea if you don't use your entryway often and want to make better use of your space. A well-placed storage cabinet is an excellent piece of furniture that enhances the look and feel of a home's interior.
When it comes to the foyer design, keep in mind that the first few seconds are crucial in creating a positive first impression for your visitors. Using our tips, you'll be able to strike the perfect balance between fashion and function, leaving others with a lasting impression. For more exciting tips on interior decor, check out our blog NoBroker Times.

FAQs
Q-1 What does the term foyer mean?
A-1 The term foyer comes from the French word foyer, which means "entryway." With time and use, the word foyer has come to include entryways, entrance halls, and hallways. It's a spot where you may welcome visitors and guests into your house. This room may also be utilised as a waiting area for visitors.

Q-2 What exactly is the function of the foyer?
A-2 A foyer serves as a link between the space's entrance point and its remainder. Originally, foyers were used to accommodate guests who needed a place to wait. Foyers were employed to trap heat in colder regions since they established a length between the main entryway and the remainder of the house, preventing heat from escaping readily when the door was opened.
Foyers are now utilised as a small area where visitors may remove their hats and jackets before entering a property.
Q-3 In an open living room, how do you create a foyer?
A-3 You may construct a foyer even if your living room is open. Create a visual divider between the living room and the entrance using optical illusions. To make a piece of your living room appear like a foyer, you may utilise a variety of design alternatives.

To hang jackets and hats, screw wall hooks into the wall near the entrance.
Make use of a floating shelf.
Place a small chair or seat by the entrance to accommodate guests;
Frames should be hung on the wall.
A rug is a good idea.
Q-4 What is the difference between a foyer and an entryway?
A-4 As a simple doorway into another place, an entryway may be found in every public or private location. It becomes a foyer when an entrance area is rebuilt into a lobby, hallway, or waiting room, whether in a hotel, theatre, or private property.

Q-5 How should the space in the foyer space be utilised?
A-5 The most effective approach to putting a foyer area is to utilise it! If you have a foyer area, you should make sure it looks beautiful by decorating it. Place a chair or a bench in addition to a small table in this area so that guests may sit or wait there as they walk in. You can also invite them to wait there. When visitors come to visit you, it's helpful to have somewhere for them to hang their coats and hats, so consider installing a coat rack or some wall hooks. The term foyer comes from the French word foyer, which means "entryway." With time and use, the word foyer has come to include entryways, entrance halls, and hallways. It's a spot where you may welcome visitors and guests into your house. This room may also be utilised as a waiting area for visitors.