Everyone's first and last impression of any space is created by its interior design. Similar to this, a gym's interiors that have an exhilarating and energetic atmosphere inspire members and keep the atmosphere positive and happy. A well-thought-out and implemented design can produce a gym interior that is both aesthetically beautiful and useful. To give the gym a spacious, airy appearance, equipment zones and open areas must be balanced. Your physique can change for the better with regular workouts and exercise. It maintains a complete balance between your body and mind. Despite the fact that most of us enjoy exercising, we often hesitate to purchase gym memberships. You may design your own ideal gym or a full-fledged commercial fitness centre with a little creativity and the correct tools. We, therefore, sought our experts for their best gym interior design ideas to revamp your workout area. Here is everything you need to know and take into account if you've recently purchased a space for your commercial fitness centre and want to make it both beautiful and practical; or if you want to renovate your current gym and improve your members' training experiences.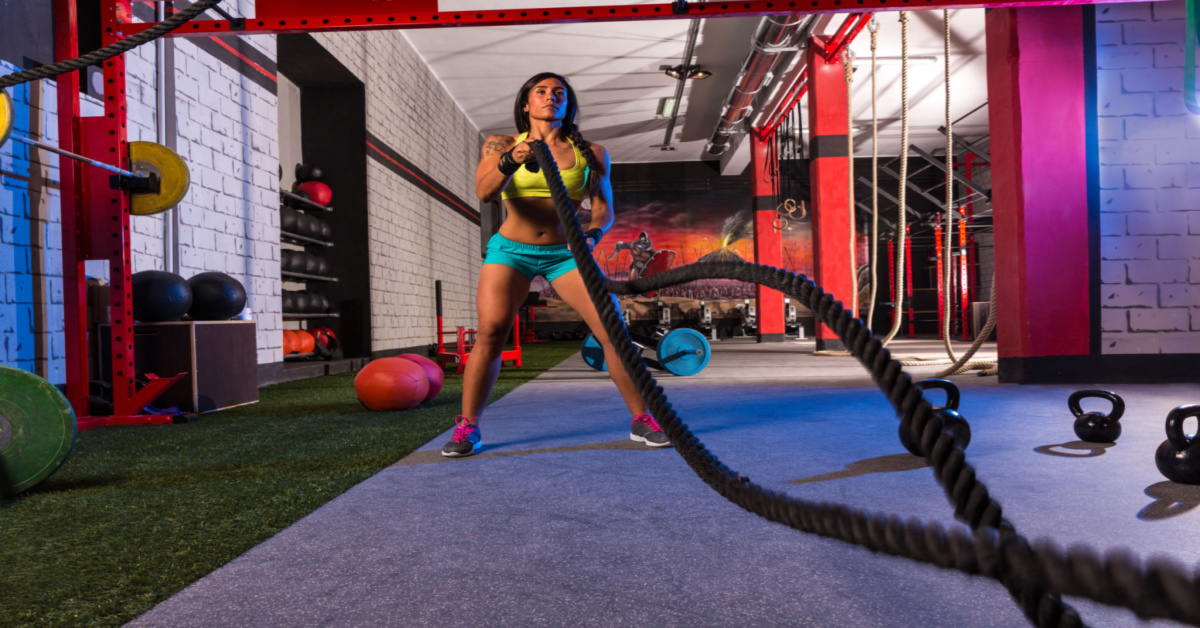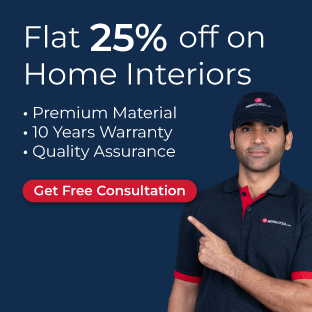 Steps to Consider While Designing a Gymnasium Interior
Before you even consider the layout and customer journey, there are a few important considerations to make while building your gym.
Read: An Exclusive Glimpse at Superstar Aamir Khan's House in Bandra, Mumbai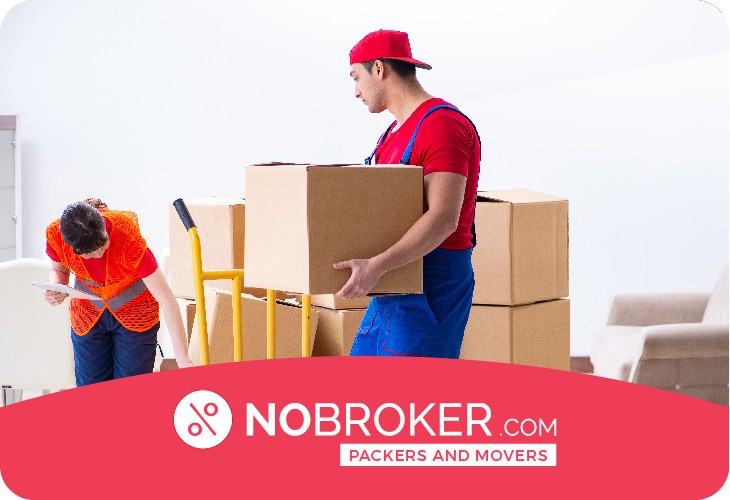 Book Best Packers & Movers with Best Price, Free Cancellation, Dedicated Move Manager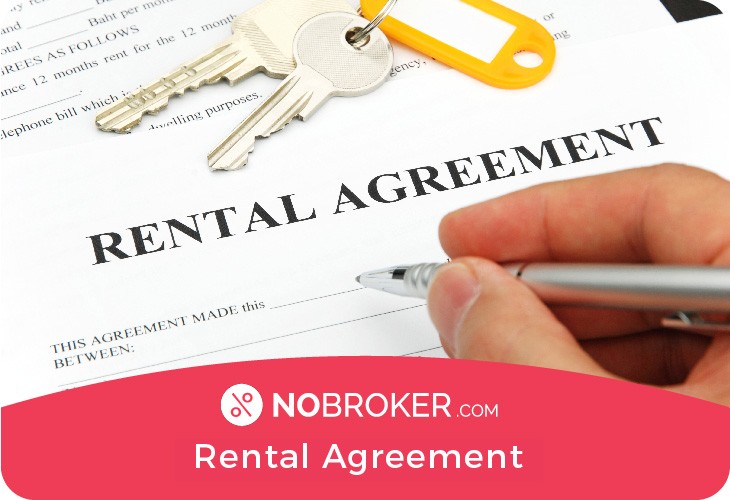 Get Rental Agreement With Doorstep Delivery, Super Quick & Easy
This is third
This is third
This is fourth
This is fourth
This is fifth
This is fifth
This is six
This is six
This is seven
This is seven
This is eight
This is eight
Demographic: Who are your memberships, and how will they use your gym room interiors? Some aspects of the gym interior design can be universal, but understanding your audience can help you identify the precise features you'll need. Look at data from your current membership base if you are undertaking renovations. Do your research if your gym is new. What city are you in? Is it urban, suburban, or both? Do you provide various group classes or none at all? What kind of membership are you seeking? There are no right or incorrect answers, but if you want to design your gym effectively, you must concentrate on your target market.
Image: How do you want your area to appear and feel? Consider the terminology you want people to use to describe your facilities. If industry trends don't feel right, resist the urge to follow them. Stay true to your brand and to who you are. If you're unsure, seek the assistance of a brand or marketing specialist to help you define your image.
Budget: What financial resources do you have to use? Try to avoid cutting corners because they generally come back to bite you. When you buy on a budget, you frequently buy twice.
Innovation: Be prepared to push the envelope and think creatively. Avoid copying what 90% of gyms are doing. Be the 10% who makes a change.
Creative Gym Room Interior Design Paint Colours for Commercial And At-Home Fitness Centres
When you start designing your modern gym interior, you will have to decide on the gym interior wall design and colour palette well in advance so that the vision for execution is flawless and without any hassle. With that in mind, here are our best colour choices for your gym interior design wallpaper.
Read: Top 10 Modern and Stylish Living Room Corner Decor Ideas
A Red Home Gym Paint Scheme can Help You Feel Motivated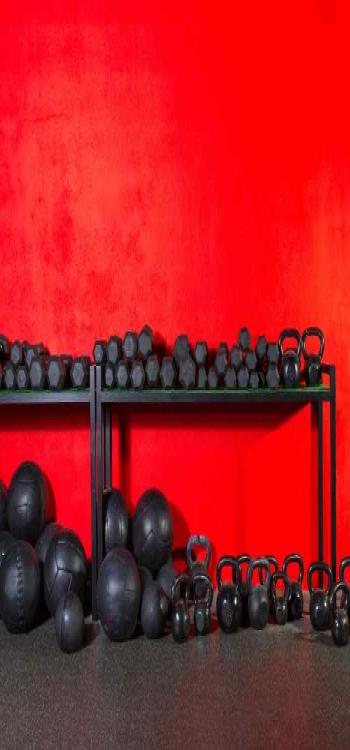 The greatest place to begin when designing your home gym is by thinking about paint colours. You should choose a colour for your home gym that will inspire you whether it's early on a Sunday morning or directly after a long workday. Red is a fantastic choice since it is seen as a motivational hue and is connected to resilience and strength. Consider adding just one wall as an accent wall if you feel like painting all of your walls red would be too daring. A warm red is a fantastic choice because it blends in well with the silvers and blacks that are frequently seen in exercise equipment.
Read: Bathroom Floor Tiles Design: Your 2023 Guide to Choices & Trends
Meditate in a Green Yoga Studio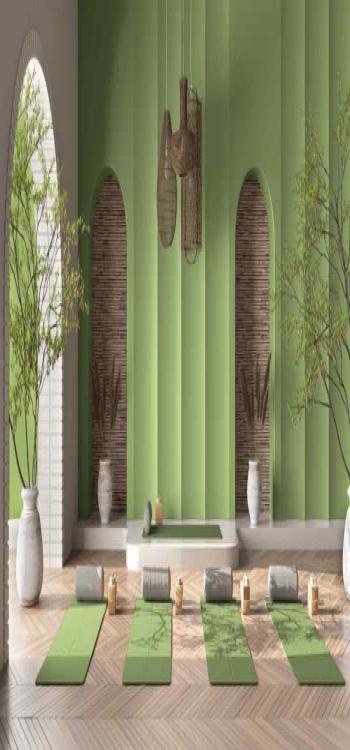 You'll need some serene hues for your at-home yoga space. White and green are excellent choices for calming energy. Lighter hues like sage green and milky whites will keep the room looking serene. Green, which draws its inspiration from nature, brings you back to earth and gives your everyday workout the much-needed grounding energy. Take into account installing some tall mirrors to give your room depth. Mirrors not only create the impression that the space is bigger, but they also allow you to evaluate your form. Bonus cost-saving advice: Purchase your full-length mirrors from IKEA rather than the expensive fitness retailers.
A Neon Blue Fitness Room can Help you Feel Energised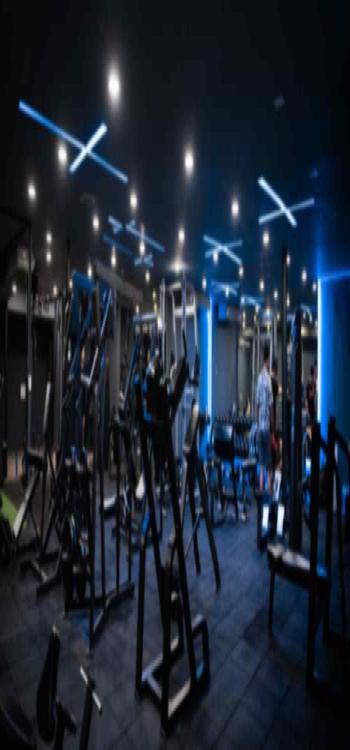 Neon colour schemes are the best choice if you want to modernise your environment to affect how you work out. It may sound absurd, but the vivid blues, pinks, and greens that dominated the fitness culture of the 1980s were chosen for a reason. Because neon colours are energising, they provide you with the energy boost you need to train around your hectic schedule. Try adding a splash of vivid blue to an accent wall; you'll understand what we mean!
Use an Orange Weight Room To Be Outstanding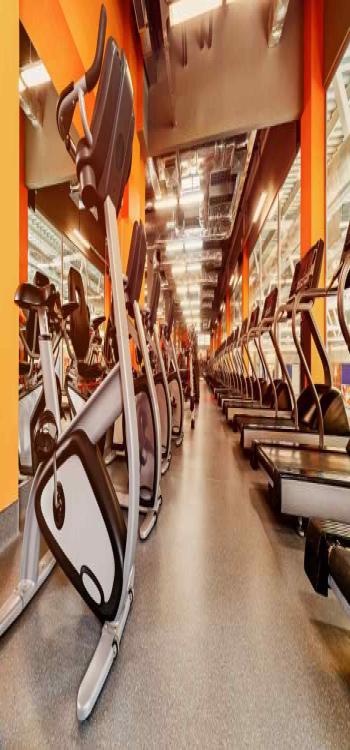 Everybody has had years where they abandoned their exercise regimen due to a broken New Year's resolution. A fantastic approach to commit to your schedule is to build a weight room in your house. You should think about using strong colours that will provide you with power and vitality for the weight training area. Because it blends the strength of red with the calming qualities of white and yellow, orange is a fantastic choice. It will keep you warm and upbeat till your New Year's resolution the following year!
Read: Redesign Your Cooking Space With 15+ Kitchen Countertop Design Ideas
A Minimalistic White Home Gym Will Keep it Classic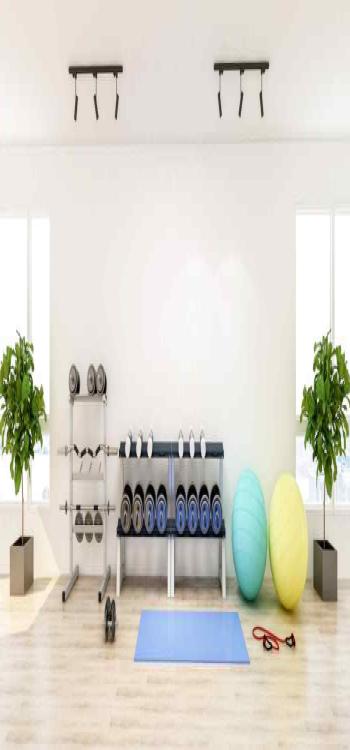 Consider choosing warm white walls with a black chalkboard wall if you want a more minimalist design. For a home gym, chalkboard walls are a terrific option because they provide you with the chance to post your statistics and inspirational quotes on the wall while still allowing room for adjustment. White walls provide you with the flexibility to add other elements to the room, such as hardwood floors or a wooden bar.
The Best Ideas for Gym Interior Designs 2023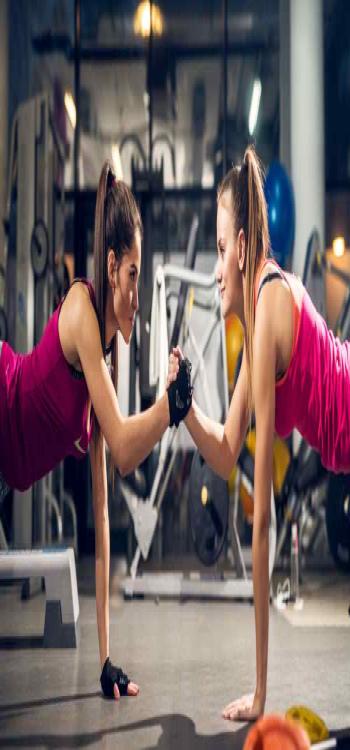 When adopting gym design concepts for your company, consider the world. Use channel lettering as themain focus of your gym lobby design ideas, to begin with. Make sure to include fitness-related accents and design elements in each gym space. In the section below, you'll find interior signs, lighting solutions, and more.
Ideas For Gym Lobby Design
The customer journey begins in the gym lobby. Make sure it stands out with a lively, inspiring atmosphere and provides convenience. Your gym lobby design ideas should include lobby signs with a warm colour scheme. Make a good first impression by decorating your welcome area.
Gym Interior Design Concept 1: Showcase Bigger Pictures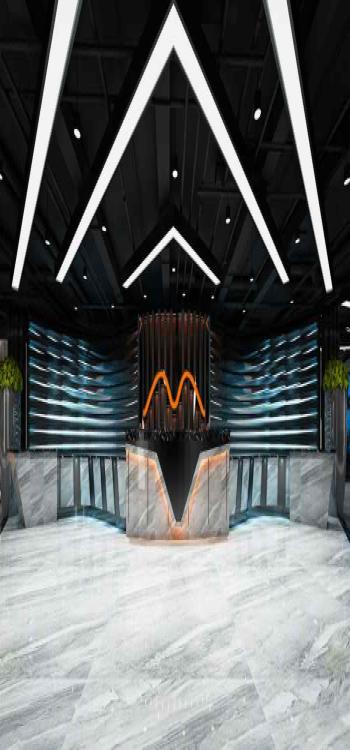 Large-scale visuals shown in gyms have profound effects. Your facility is used by people to get in shape. Use eye-catching adhesive wall prints to demonstrate what they can strive towards. Incorporating eye-catching designs on walls, floors, reception desks, and other surfaces is a common practice in gym lobby design. These gym interior design ideas can give the impression that the area is more prominent by using clever colour and composition choices.
Gym Interior Design Concept 2: Add Layers and Dimensions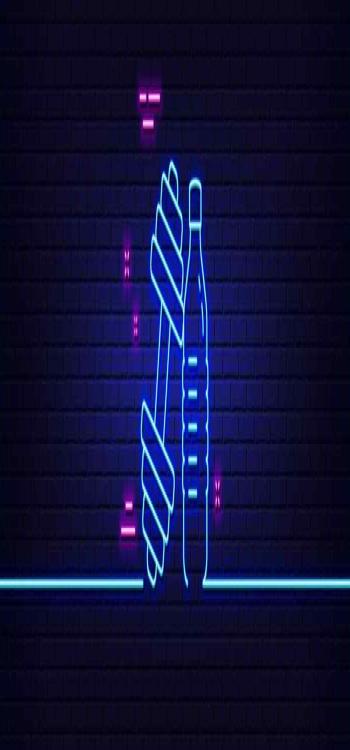 To give depth to your design, use 3D decorations and signs. Continue using theme-based designs for free-standing, hanging, and wall-mounted workout studios. The decision will be based on how big your lobby is.
Gym Interior Design Concept 3: Consider the Experience of the Consumer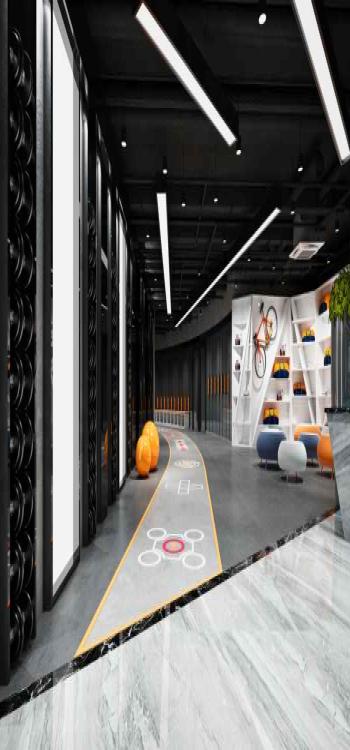 A clear and convenient design is an added benefit. This is especially true if you wish to create a welcoming environment for gymgoers. Your welcome area should have directional signs and educational gym lobby design ideas. They are simple to incorporate into the general design of your fitness centre.
Exercise/ Workout Area Designs for the Gym
The focal point of your gym's design is the exercise area. Its design should be focused on improving the training environment. It should also contain directions, warnings, and guidelines for the exercises. Of course, a key component of this field is gym branding design. The article goes on to discuss branding in more detail.
Gym Interior Design Concept 4: Decorate Drab Surfaces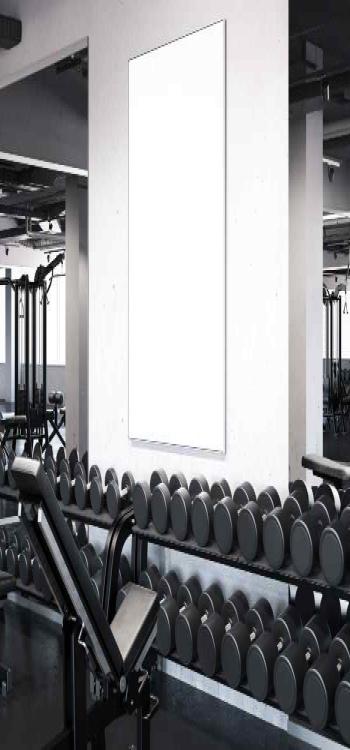 The mind is calmed and concentration is aided by art. This holds even while exercising. Custom decals are a necessity for any commercial gym design. Large format printing and this adaptable media have a variety of uses and can inspire creative designs for fitness centres. Bright and striking graphics can be displayed using simple adhesives on any smooth surface. They speed up and simplify the renovation procedure. You could also choose prints on canvas or acrylic. The choice will rely on the aesthetic of your gym because each has its own appeal.
Gym Interior Design Concept 5: Incorporate Lighting into the Design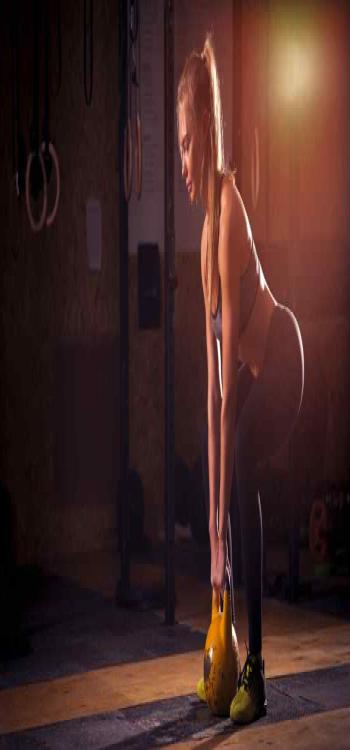 When it comes to gyms, lighting and design should go hand in hand. Where there is more activity, there has to be more light, says Grace DeSimone, editor of the American College of Sports Medicine's Resources. You can need varied illumination in terms of colours and intensities depending on the kind of gym you have. Don't undervalue the significance of lit gym interior design ideas, in other words. Instead, use them to provide gym goers with a dynamic experience.
Gym Interior Design Idea 6: Incorporate Inspirational Language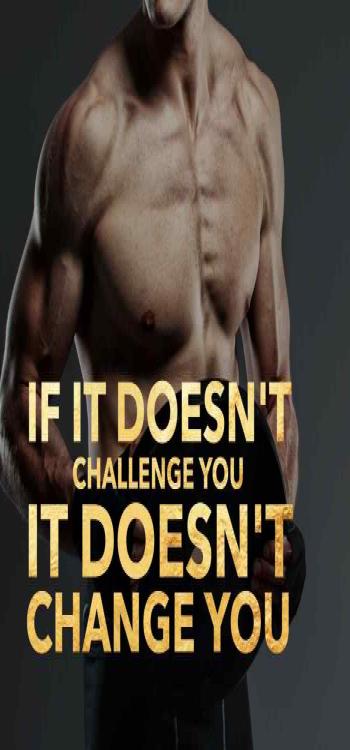 Ideas for gym design are all about inspiration. Your interior design will be more enticing to clients if you display a quote on the wall, ceiling, or somewhere else. It should be simple to incorporate this concept into the overall design. There are several possibilities available, including LED solutions and stickers. Reverse channel letters, for instance, can be used to spell out motivational sayings and slogans using a colour that goes with your theme. They are amazing concepts for designing a fitness centre and they transmit your message.
Consider the particular requirements and tastes of your target market. This will enable you to implement your gym interior design ideas successfully. Get a free estimate.
Design Ideas for a Gym Locker Room
You might be surprised to learn how much the design of the locker room affects how often people use the gym. When they are worn out from a challenging workout and in need of the most comfort conceivable, individuals go there. When people need it most, calm hues, soft lighting, and light décor can promote relaxation.
Gym Interior Design Idea 7: Let the Lockers' Originality Shine Through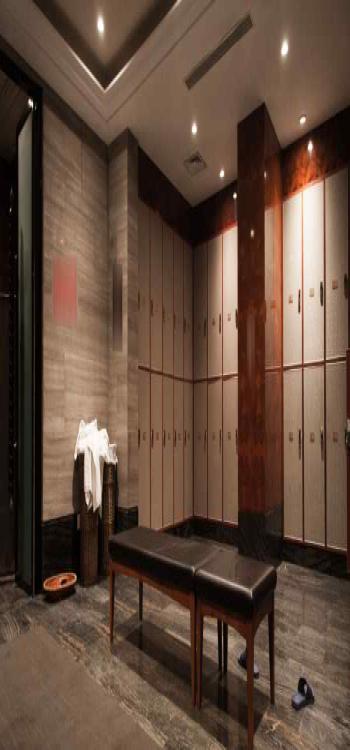 In addition to being an essential component of the gym, changing room lockers shouldn't be overlooked while coming up with gym interior design ideas. They can display prints of thematic images or abstract graphics that are readily changed out for a new look. You could also just paint them a lovely colour. Since your lockers have so much space, the objective is to get creative with gym design ideas.
Gym Interior Design Idea 8: Include Necessary Signage in your Design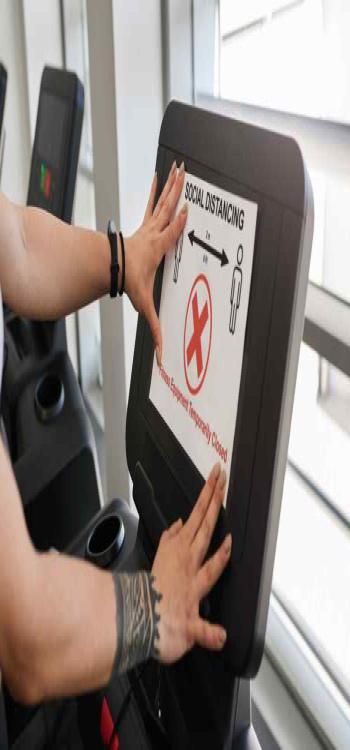 There is important information that gym properties must provide, which is frequently mandated by law. However, they don't have to be uninteresting or ugly. Your material and colour choices can give fire exits, navigation arrows, and other safety signs a unique flair and make them a part of the overall design. You should always be aware of any obligatory signage requirements in your community.
Gym Interior Design Idea 9: Include Decorative Lighting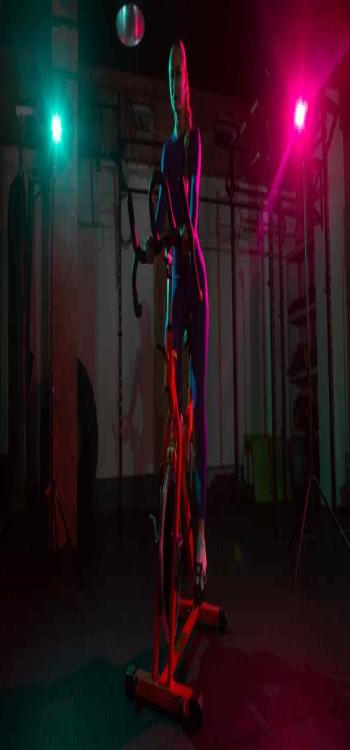 Lighting can give it a wonderfully unique appearance, whether you want to display a statement or the shape of a person jogging. A fantastic choice for such gym interior design ideas is sided illumination. Halo-lit signs can be used to decorate the lobby, training studio, or locker room of your fitness centre, serving as the centre of attention.
Choose an overarching theme for the gym interior design ideas used across your business. You can also choose unique themes and lighting options. Just bear in mind that there should be a unifying element that captures the essence of your gym.
Ideas for Gym Exterior Designs
The experience that individuals get before they even enter the building is greatly influenced by design. You may draw customers to your business and improve the appearance of your building by using outside signs and other design elements.
The interior is frequently the first consideration when developing design concepts for fitness centres. An overlooked but crucial component of operating a successful gym is outside design. Grandiose gym branding ideas combined with decorative design elements will produce a remarkable appearance and thrill potential customers.
Use Unpaid Window Surfaces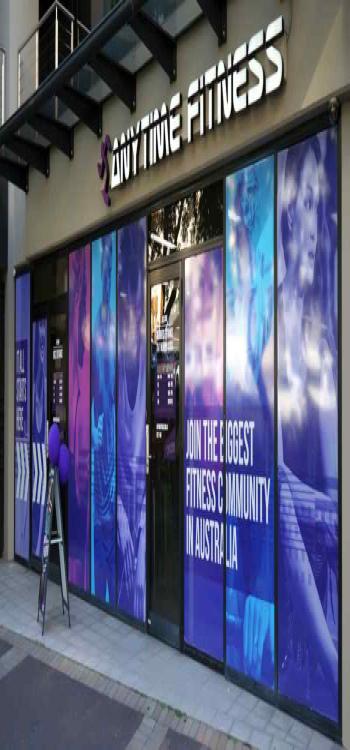 For design ideas for fitness centres, window adhesives might be a huge benefit. All window decals have ornamental uses, but they also contain elements that block or distort the view and offer privacy without obstructing light. Additionally, window decorations can be used to create a customer-drawing display for your storefront.
Use Lighting to Improve Vision at Night
Light-up signage should be at the top of your list of commercial gym design ideas because it can increase exposure. If you're trying to figure out how to build a gym, choosing this approach will help you beat out the competitors. You have a lot of creative freedom to achieve your aims thanks to the configurable capabilities of these contemporary gym design tools. Consider stadium signs as well if you manage a fitness centre with a sports arena.
Tips for Modern Gym Design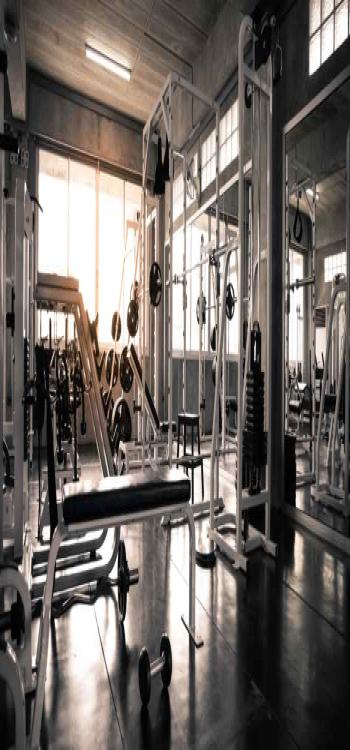 Ideas for modern gym interior design frequently borrow elements from various other designs. Simply put, the present day defines modern design. So, here's how to create a gym in this dynamic manner.
Black and white is the most widely used colour scheme for modern commercial gym design ideas. Grey in any shade is acceptable, and it can be paired with a strong accent hue like yellow. Generally speaking, if you stick with a neutral colour palette with only one or two eye-catching touches, you'll be safe.
Include Texture and Layers
In modern design, layered design solutions are welcome. Another characteristic of this design is textures and geometric patterns.
Include Lighting in the Plan
Contemporary design encourages artistic innovation, unlike many other styles that just employ lights for practical objectives. The preferred material for these light fixtures is metal.
In minimalist gyms, each and every element of design should serve a specific purpose. Just to be clear, inspiring the attendees is likewise among the list of crucial duties.
Utilize a Monochromatic Colour Scheme
For minimalist design ideas for fitness centres, pick one hue and utilise a variety of tones of it.
By no means is it new to say that keeping things simple is at the heart of minimalist design. Keeping surfaces smooth, lines clean, and shapes simple is the easiest way to do this.
Ideas for Gym Branding
To enhance the effectiveness of your visual identity, branding and design should work in harmony. In actuality, your entire layout and gym branding concepts ought to perfectly reflect the essence of your business. When it comes to clients in your area, strong branding can position you at the top of the list. Here are the top gym branding suggestions to kickstart your business after the pandemic.
Brand your building's exterior
First and foremost, use lightbox signs to prominently display your logo on the building's façade. They present a polished and appealing appearance. They'll assist you in differentiating yourself from the nearby structures and other competitors.
Display your Logo Anywhere You Can
Your gym branding design should consistently include signage that features your logo. They can be used anywhere, including on your training equipment, in the lobby, the gym, and the locker rooms. Continue deliberately branding the area with your logo to make it synonymous with fitness.
Show off Instead of Hiding
This style is characterised by exposed pipes, concrete walls, structural wood, and rustic metal.
Utilize Commercial Materials
This design emphasises the components utilised in construction. Metal furniture and concrete flooring are two examples. Interesting brick walls, steel, and wooden signs all get a new view so we can see the raw materials for what they are.
The addition of plants will offer a calming, feminine touch to soften the environment, even though the aforementioned characteristics may seem a little rough around the edges. It's also a fantastic method to spruce up the surroundings with colour.
Get The Best Gym Interior Design with NoBroker
Use these branding ideas and design concepts for gym interior design to give your company a sleek and modern boost. Your gym attendees will become devoted lifelong clients if you can create an environment that encourages a healthy lifestyle. Still, have doubts about the materials and the colour palettes? We suggest you leave this part for our experts. NoBroker has the best interior designing professionals and they will be your perfect gym interior designers. Just comment about your requirement under this blog and our executive team will be in touch with you.

FAQ's
Q. Can I turn a little area of my home into a home gym?
Ans. Yes, turning a tiny area of your home into a small gym interior design is easily possible. All you have to do is rearrange your area. Make equipment plans based on your financial constraints. You may turn your home into a gym with very little money spent and little space reorganisation.
Q. How can I maintain order in my home gym?
Ans. To hold the accessories, you might design open storage or multipurpose storage. To maintain order and cleanliness in the home gym, you may also choose vertical storage.
Q. What colour should I choose to paint my home gym?
Ans. Red, blue, orange, and yellow is vibrant colours that may be favoured as they will inspire intense exercise.
Q. How can I make my home gym interiors look nicer?
Ans. You can decorate according to your preferences and financial constraints. Your exercise facility is a reflection of who you are.
Q. Can children utilise the home gym?
Ans. You must designate a certain area or corner for children, complete with kid-friendly accessories. Encouragement of youngsters at a younger age would be a wise move.
Q. Why consider gym photos as wallpaper for a fitness space?
Using gym photos as wallpaper can transform a fitness space, providing motivation and inspiration to individuals during their workouts. These visuals can showcase fitness achievements, motivational quotes, or scenes depicting an active lifestyle, creating a personalized and encouraging ambiance within the gym area.
Q. How important is the choice of colour combination for gym machines?
The colour combination of gym machines plays a crucial role in creating an engaging and motivating workout environment. Vibrant and well-thought-out colour schemes can enhance the overall aesthetic appeal of the gym, influencing users positively and promoting an energetic atmosphere.