Bring some pzazz to your bedroom with wall art! Whether you prefer modern or traditional styles, we've got you covered. Our guide will show you how to transform your bedroom into a personalised haven with the right wall art.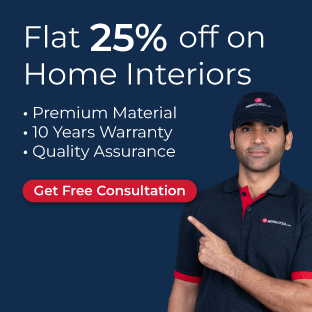 Embrace the Beauty of Wall Art
Bring your bedroom to life with the perfect piece of wall art. Don't just settle for plain walls, elevate your space with artwork that adds both visual interest and a unique touch to your decor.
Not only does wall art enhance the look of your room, but it also has numerous mental health benefits. Studies have proven that being surrounded by art can help reduce stress levels, boost your mood, and overall improve your well-being. Plus, having a special piece of art that you admire can bring a daily dose of joy and inspiration to your life.
12 Eye-Catching Bedroom Wall Art Ideas
Check out these stunning Bedroom wall art ideas.
Read: Elegant and Grand Pop Designs for Drawing Room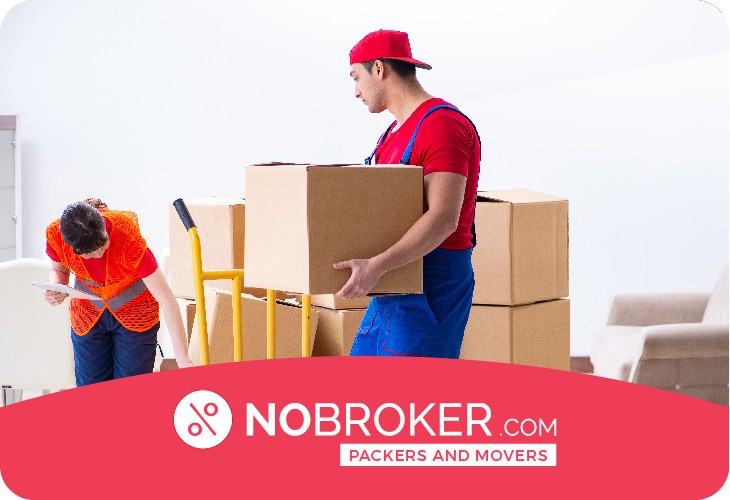 Book Best Packers & Movers with Best Price, Free Cancellation, Dedicated Move Manager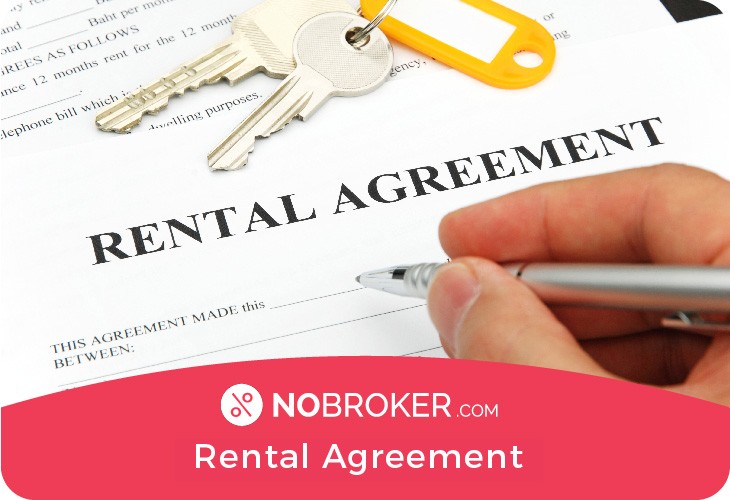 Get Rental Agreement With Doorstep Delivery, Super Quick & Easy
This is third
This is third
This is fourth
This is fourth
This is fifth
This is fifth
This is six
This is six
This is seven
This is seven
This is eight
This is eight
1. Whimsical Wall Drawings for Your Bedroom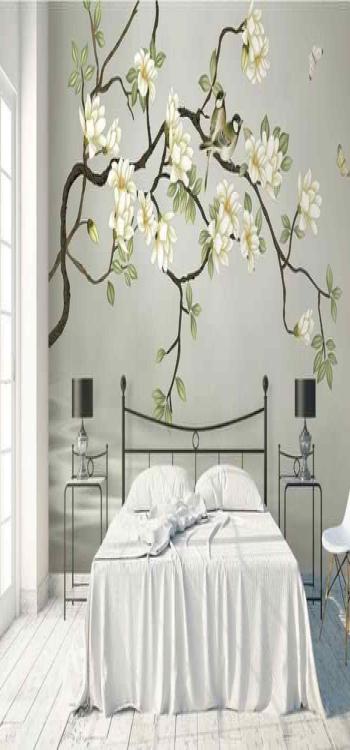 Add a touch of magic to your bedroom with whimsical wall drawings. Turn your wall into a canvas and create a unique and personal work of art. You can choose from a wide range of styles, from whimsical creatures to geometric shapes, to create a playful and imaginative atmosphere in your room. A wall drawing can be as simple or elaborate as you like and is a great way to express your personality and add some fun to your space.
2. Girl Power Glam Wall Art for Your Bedroom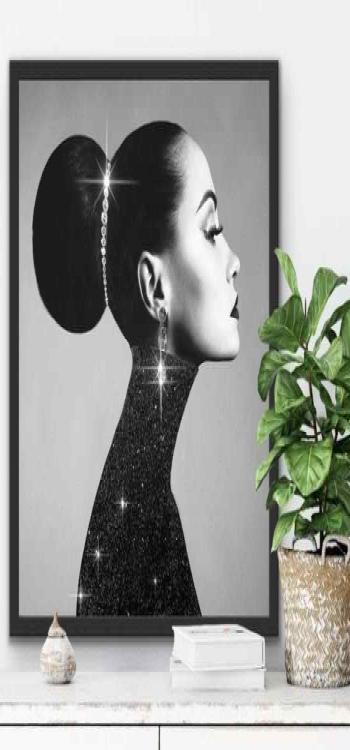 Create a stylish and sophisticated bedroom with girly glam wall art. Choose prints and posters that feature delicate florals, soft pastels, and other feminine details. You can also add some sparkle with glitter accents or metallic frames. Whether you prefer minimalist or maximalist styles, girly glam wall art will help you achieve a chic and sophisticated look in your bedroom.
3. 3DWall Art for Your Bedroom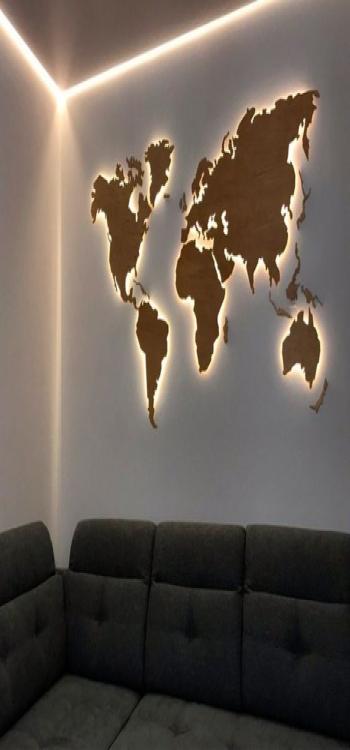 Bring your walls to life with 3D wall art. This type of art adds an extra layer of dimension to your space, creating a unique and eye-catching focal point. You can choose from a wide range of styles, from abstract shapes to nature-inspired designs. Whether you prefer modern or traditional styles, 3D wall art will help you add interest and depth to your bedroom.
4. Bold Black and White Wall Art for Your Bedroom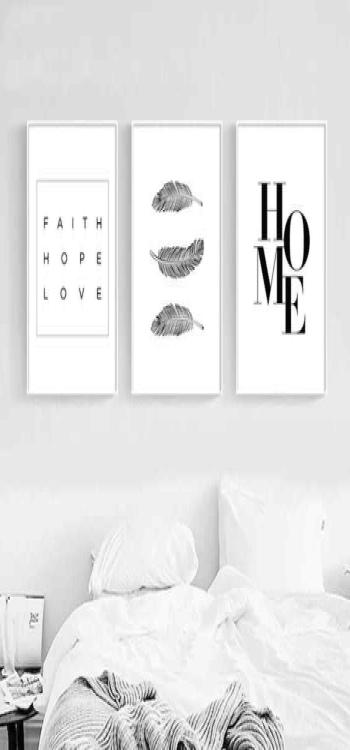 Make a bold statement in your bedroom with black and white wall art. Choose prints and posters that feature striking contrasts, graphic patterns, and strong silhouettes. This type of art will help you achieve a chic and modern look in your room, while also making a statement. Whether you prefer abstract or figurative styles, black-and-white wall art will help you add drama and sophistication to your space.
Read: Architecture of Traditional Houses in Pune
5. Royal Purple Wall Art for Your Bedroom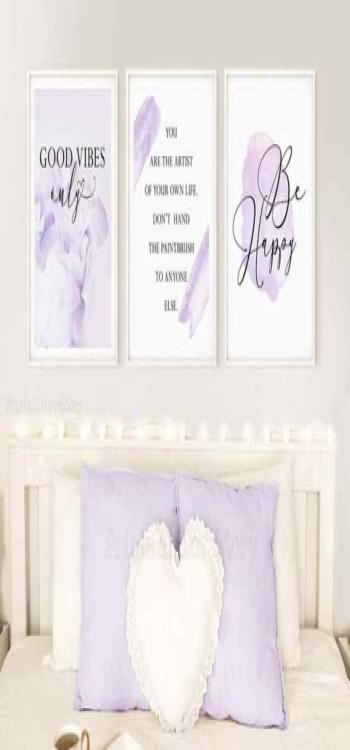 Create a luxurious and regal atmosphere in your bedroom with purple wall art. Choose prints and posters that feature rich purples, deep plums, and other regal hues. Whether you prefer florals, abstracts, or something in between, purple wall art will help you add a touch of sophistication and elegance to your space.
6. Trendy Wall Art for Your Teen Bedroom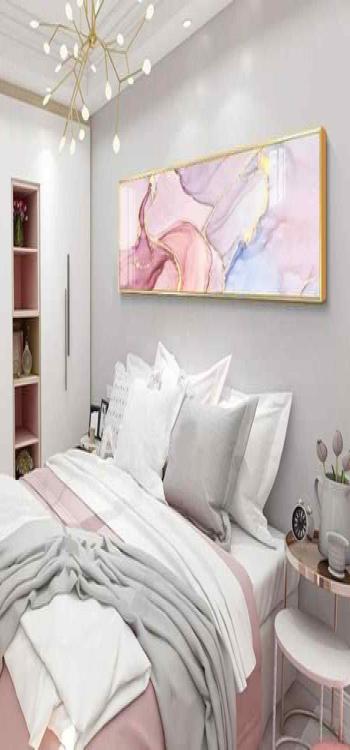 Make your teen's room a reflection of their style with trendy wall art. Choose prints and posters that feature current design trends, like pop art, graphic patterns, or inspirational quotes. This type of art will help your teen express their individuality and stay up-to-date with current fashion. Whether your teen prefers bold or subtle styles, trendy wall art will help them make their mark on their space.
Read: Create a Modern Luxury Kitchen: Tips and Inspiration on NoBroker
7. Fun and colourful Children's Wall Art for Bedrooms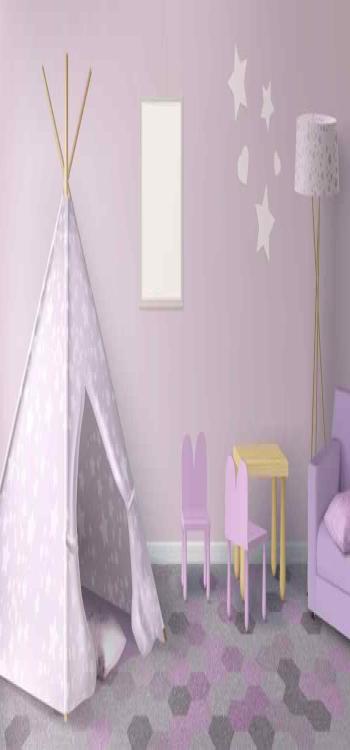 Turn your child's bedroom into a magical place with fun and colourful wall art. Choose prints and posters that feature bright colours, whimsical creatures, and playful patterns. This type of art will help your child's imagination soar, while also creating a fun and lively atmosphere in their room. Whether your child prefers animals, robots, or fairies, fun and colourful wall art will help them make their space their own.
8. Sleek and Modern Wall Art for Small Bedrooms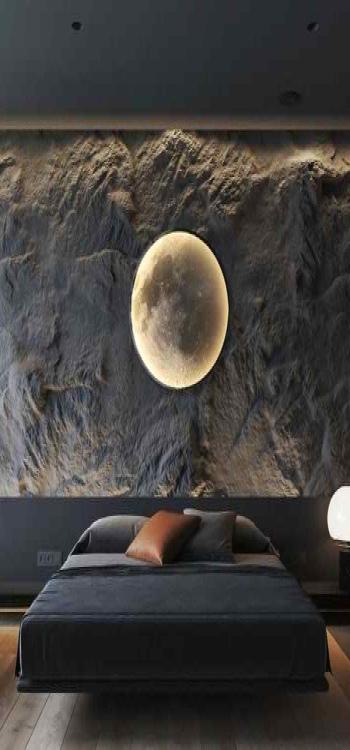 Modern wall art designs are perfect for small bedrooms where space is limited. The sleek, clean lines of modern artwork can make a small room feel larger and more open. When choosing modern wall art, opt for pieces that are simple, yet impactful. This will help to create a cohesive look in your room while making a statement.
Consider hanging a large piece of modern wall art above your bed. This will draw the eye upward, giving the illusion of height, and making the room feel bigger. Alternatively, you can also opt for a series of smaller, coordinating pieces that can be grouped to create a visually stunning focal point.
9. Rustic Charm with Wooden Wall Art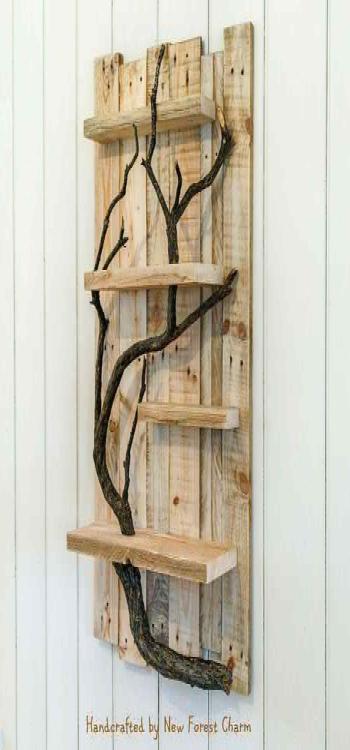 Add a touch of nature to your bedroom with wooden wall art. Choose pieces that incorporate natural wood grains, knots, and textures to create an earthy, rustic look. Consider incorporating wooden plaques, sculptures, or even a wooden wall hanging for a unique and charming touch.
10. colourful Quotes for a Pop of Personality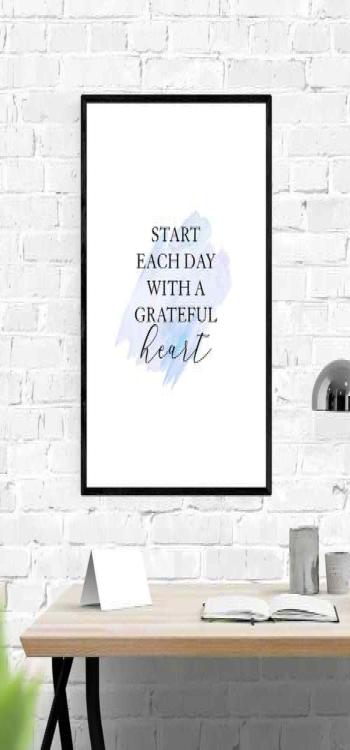 Make your bedroom a daily source of inspiration with colourful quote wall art. Choose quotes that motivate, inspire, or bring a smile to your face. Print or paint the quotes on canvas, or use vinyl decals as a temporary option. Hang them in a series for a statement wall, or scatter them throughout the room for a playful touch.
Read: Revamp Your Space with Creative Living Room Seating Ideas
11. Map it Out for a Travel-Inspired Space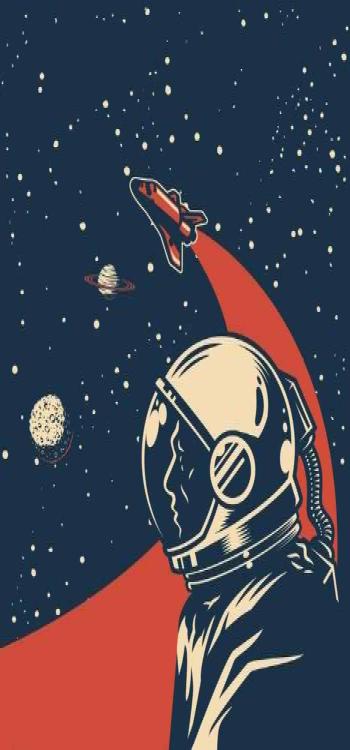 Turn your bedroom into a travel-inspired sanctuary with maps. Use world maps, city maps, or even vintage maps to add a touch of adventure to your space. Consider framing maps, or using them as wall decals. Highlight your favourite destinations, or mark the places you've been to create a personalised touch.
12. Gallery Wall for a Personal Touch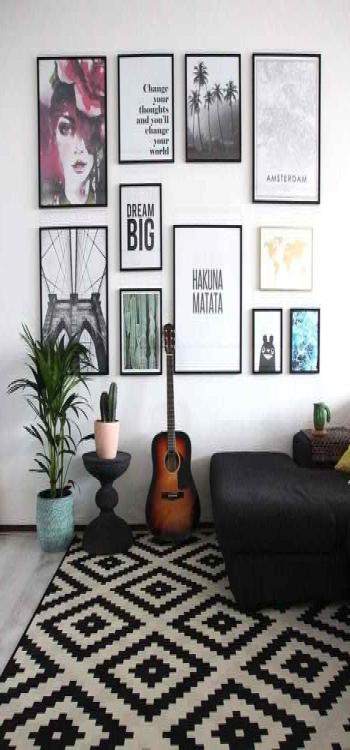 Create a gallery wall in your bedroom to showcase your favourite memories and art pieces. Hang family photos, art prints, and other keepsakes in a creative and eye-catching way. Mix and match different frames, sizes, and styles to create a unique and personal touch. Have fun with it and let your personality shine through!
How Can NoBroker Help?
Bedroom Wall art can transform your personal space into a relaxing and inviting retreat.
There's a wide variety of options available, ranging from minimalist pieces to statement-making works of art. Whether you prefer abstract designs, nature scenes, or something unique, there's a wall art option for every taste and style.
By exploring the different possibilities of wall art, you can find the perfect piece to complement your bedroom decor and enhance the overallambience of your space.
And with NoBroker's vast collection, discovering the ideal wall art for your bedroom has never been easier.

FAQ's
Q1:What materials are commonly used in wall art for bedrooms?
A1: Wall art for bedrooms can be made of various materials such as canvas, wood, metal, fabric, paper, and more. It all depends on the desired look and feel of the room, as well as the type of wall art.
Q2: How much wall art is too much for a bedroom?
A2: This is subjective and can vary depending on the size of the room and personal preference. A general rule is to have one large piece of art or a group of smaller pieces that are cohesive in style or colour. It's important to not overcrowd the walls and maintain a balanced look.
Q3: Can wall art be used to enhance the design of small bedrooms?
A3: Using wall art in small bedrooms can create the illusion of more space and add visual interest. Opt for larger pieces or a gallery wall to make the biggest impact in a small space.
Q4: How can I choose wall art that fits my bedroom's style and theme?
A4: Consider the colours, patterns, and textures already present in the room, and select wall art that complements them. Pay attention to the subject matter and framing style of the wall art to ensure it fits the overall theme of the room.
Q5: Are there any wall art pieces that are not suitable for bedrooms?
A5: Wall art that is too large or busy, or has bright colours and harsh lighting can be distracting and affect sleep quality in a bedroom. It's best to choose wall art that is calming and relaxing to create a peaceful sleeping environment.