The surge in "smart home" tech's popularity continues. Vital for security, convenience, and real estate value, smart features are a millennial preference, with 77% seeking homes with such attributes. While systems for lighting, security, and climate control take centre stage, bathrooms, often overlooked, are now a focal point. Enabled by techs like Amazon Alexa and Apple HomePod, bathrooms are embracing the trend. Customization thrives with diverse systems, from digital showers to comprehensive smart bathroom setups, amplifying the connected living experience.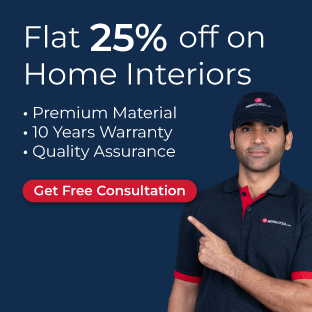 What is meant by the term "smart bathroom"?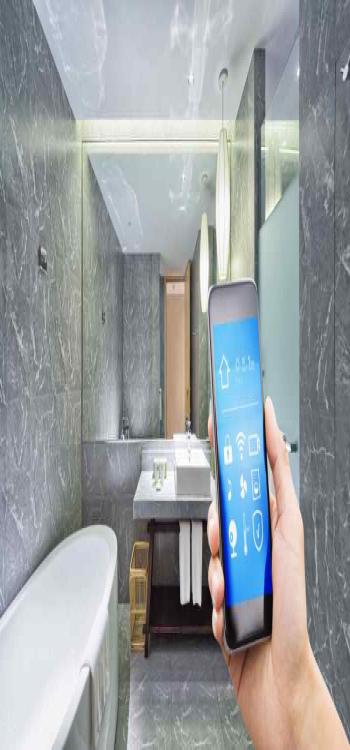 You will have full control over your bathroom experience as well as the ability to personalise it when you have a smart bathroom because it is connected to the other smart bathroom gadgets in your home, such as smartphones and voice control devices. To name just a few examples, you'll have access to settings like programmable thermostats and automated water fills for your bathtub.
Read: 21 of the Most Beautiful and Trendy Balcony Door Design for Indian Homes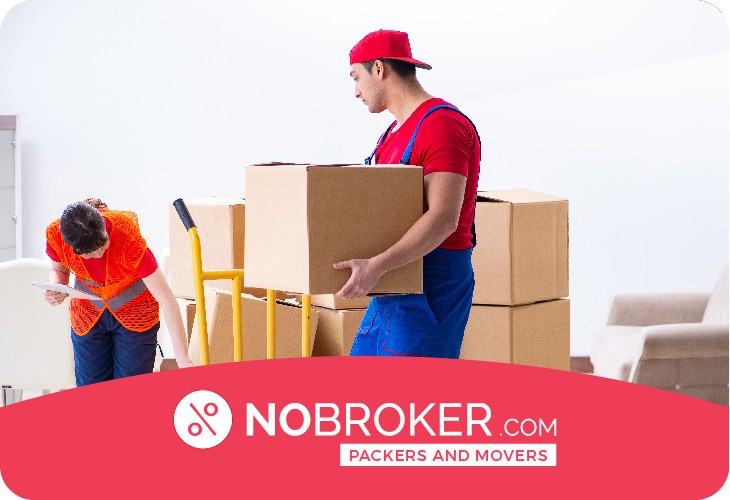 Book Best Packers & Movers with Best Price, Free Cancellation, Dedicated Move Manager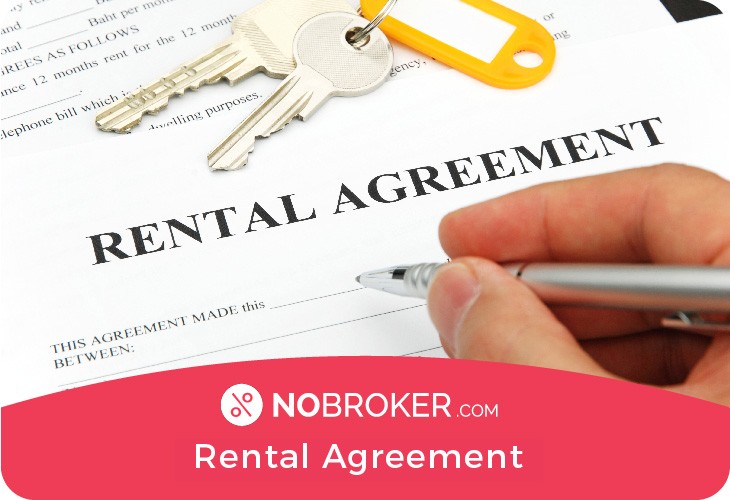 Get Rental Agreement With Doorstep Delivery, Super Quick & Easy
This is third
This is third
This is fourth
This is fourth
This is fifth
This is fifth
This is six
This is six
This is seven
This is seven
This is eight
This is eight
According to the NKBA Design Trends 2021 research, the three most popular smart bathroom improvements are charging points for electronic devices, bidets, and smart toilets. The topic of automatic toilets, which we'll get into shortly, consistently ranks high on people's wish lists.
The key advantages of smart bathrooms are their convenience, safety, and cost-effectiveness. We surveyed people about their experiences with smart home technology and found that 46% use it for convenience, 15% use it to save money on utilities, and 16% use it for security. That's a good idea because plumbing leaks are much more common than break-ins. Yet another benefit? Insurance costs might be reduced by installing a smart bathroom.
Top Smart Bathroom Solutions: The Era of Hygiene
The bathrooms of the future are more high-tech, germ-free, and streamlined. Currently, the most popular innovations in the smart home industry involve the use of artificial intelligence and the Internet of Things. These have the potential to improve our mental and physical health and come with a wide range of personalization options. What follows is a list of the most cutting-edge features that will undoubtedly be included in tomorrow's washrooms.
1. High-tech Toilets
According to a YouGov study from December 2020, smart toilets are the most sought-after addition to any bathroom remodel. Seat warmers, automatic lids that close without touching them, night lighting, and even speakers for playing music are just a few of the amenities found in today's many "smart" loos. Just in case you'd like to put on some tunes and get to work.
Because of their improved design and smaller size, smart toilets may be installed in smaller areas. Because they don't need users to touch anything, and because many of the stalls clean themselves, they're also cleaner.
Read: Modern Dressing Table Designs for Bedrooms in 2023
To begin with, you should expect to pay an additional INR 30,000 – 60,000 for a smart toilet. There is a hefty price tag involved, but these tools are well worth it. Overflowing is significantly less likely to occur with smart toilets, and water usage is limited to what is required thanks to this technology's ability to detect levels.
2. LED mirrors that you can control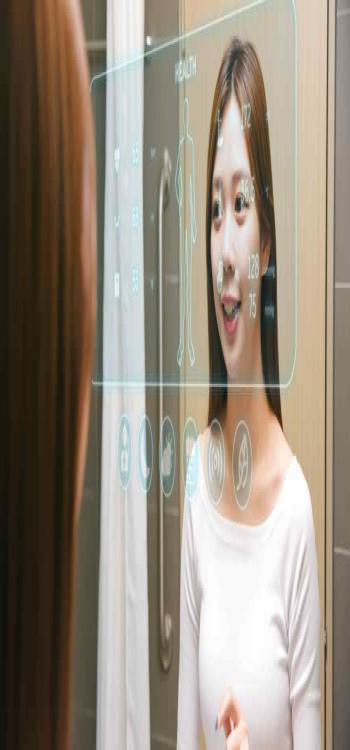 Enhance your bathroom with ingenious solutions: Waterproof TVs ensure TV time during baths, avoiding gadget accidents. Interactive LED mirrors, smart mirrors, display time, weather, news, and more. They serve as control centres for other smart devices, elevating your bathroom's functionality. Prices range from INR 5,000 to INR 15,000, making your morning routine exciting and efficient. Perfect for personalized skincare advice, multitasking, and planning. Upgrade to the future of bathroom convenience!
3. Modifiable privacy glass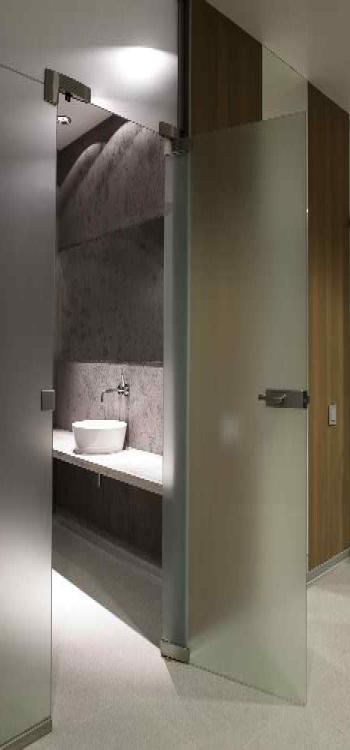 Elevate your bathroom with innovative features: Demisters prevent foggy mirrors. Adjustable privacy glass for windows offers transparency or obscurity, maintaining secrecy while welcoming natural light. Control with your phone or voice assistant for optimal convenience. Inside-adjustable privacy glass enhances privacy, saves energy, and trumps traditional options like curtains for cleanliness. Enjoy uninterrupted entertainment by projecting TV shows and news onto opaque glass via Bluetooth. Privacy glass, priced around INR 2000 to INR 4000 per square foot, combines utility and luxury for a modern bathroom experience.
Read: Best Living Room Rugs to Tie Your Home Decor Together
4. Smart Shower or Bath Systems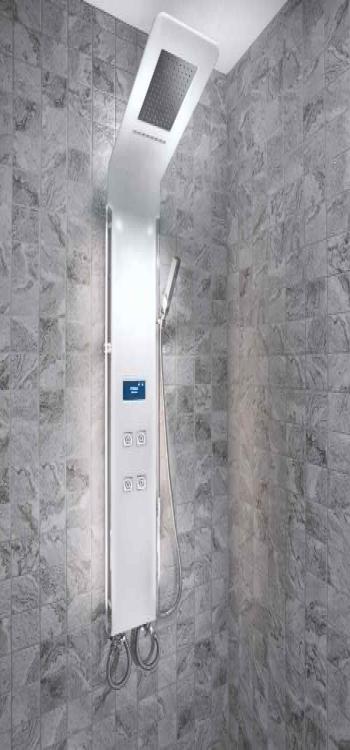 Experience the ultimate convenience with the Kohler Smart Shower, blending digital shower excellence with home automation. This smart shower empowers you to control water temperature, flow rate, shower duration, and more from your smartphone. Consistent temperature, safety, remote access, and water-energy savings define its benefits. A thermostat maintains a steady temperature, averting burns. Expect around 3% monthly water savings and reduced heating costs. Aquant, Kohler, and Jaquar offer options from INR 10,000 to INR 2,00,000, based on features and outlets. Note that quoted prices often exclude showerheads, installation, and materials during renovations.
5. The Smart Scale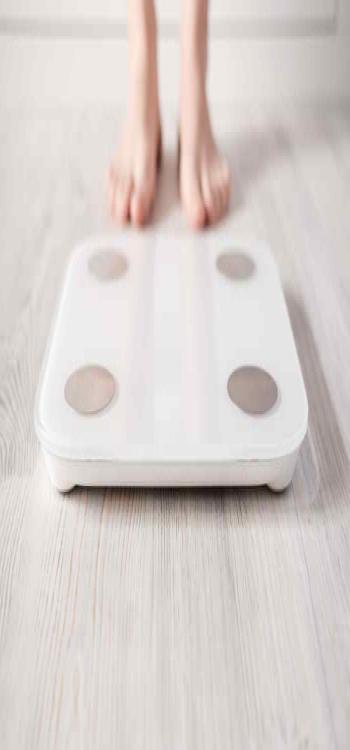 Kohler introduces a range of smart devices for bathrooms, including an app-controlled smart shower. Smart scales enhance health monitoring, tracking weight, body composition, heart rate, and more. They sync with health trackers and apps, offered by brands like Eufy, Omron, and Garmin. Affordable and versatile, smart scales range from INR 1500 to INR 15,000, elevating your bathroom tech without breaking the bank.
6. Smart Faucets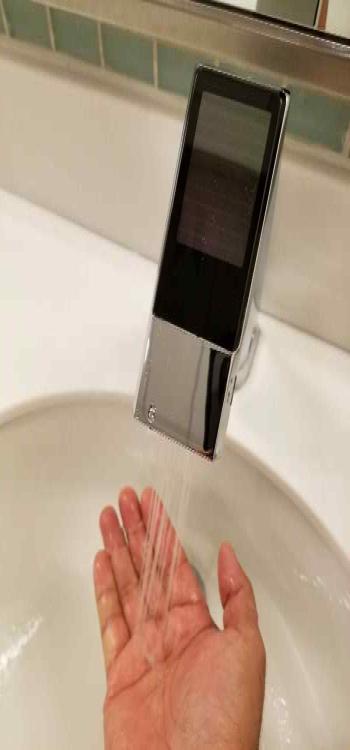 Experience convenience with smart home bathroom faucets, operable via touch, gesture, or voice. Temperature and efficiency indicators empower precise water temperature control, enhancing water use efficiency and reducing costs. Touchless operation minimizes germ spread while washing hands. While not as advanced as other smart bathroom tech, smart faucets offer economical water and money savings. Prices range from INR 2,000 to INR 10,000, making them an accessible water-conscious choice.
Read: Wallpaper for Pooja Room: A Guide to Choosing the Perfect Wall Decor
7. Radiant Floor Heating Systems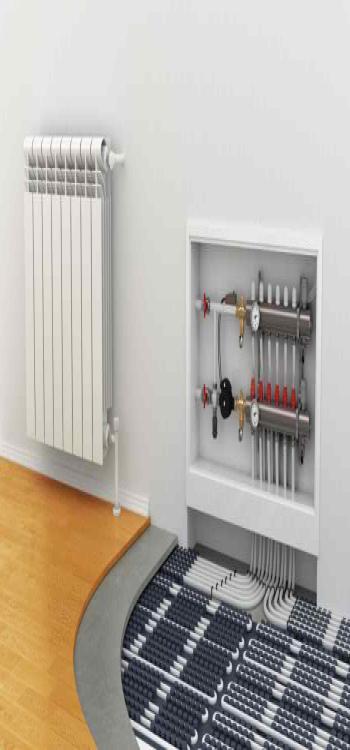 Elevate your bathing moments with automated technologies. Thermo radiant floor heating systems ensure cosy toes in winter, offering faster and more precise temperature control compared to radiators. Whole-room warmth enhances comfort. Cost-effective radiant floor heating uses less energy and lowers the bathroom's temperature. It's efficient, freeing up wall space when replacing conventional radiators.
8. AI Enabled Smart Washer and Dryer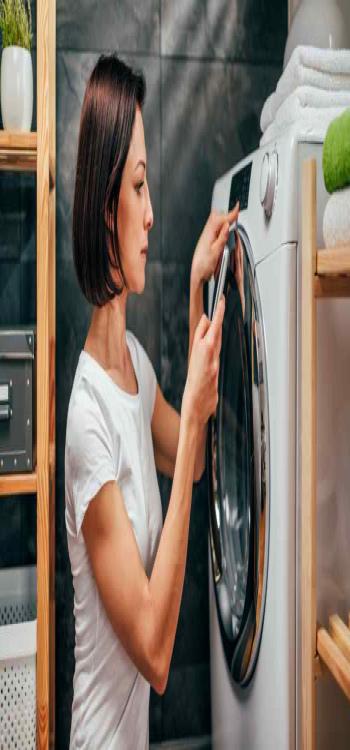 Kohler's internet-enabled automatic toilet now features voice-activated flushing. Modern smart washers and dryers, powered by AI and internet connectivity, revolutionize laundry. Control cycles, and settings via smartphone, and receive notifications. Smart laundry devices automate detergent measurement, energy monitoring, and off-peak scheduling. Smart washing machines and dryers from brands like Samsung, LG range from INR 60,000 to INR 1,50,000. Invest in these efficient devices for simplified living, water-energy savings, and cost-effectiveness compared to conventional sets costing INR 30,000 to INR 50,000.
9. Water Recycler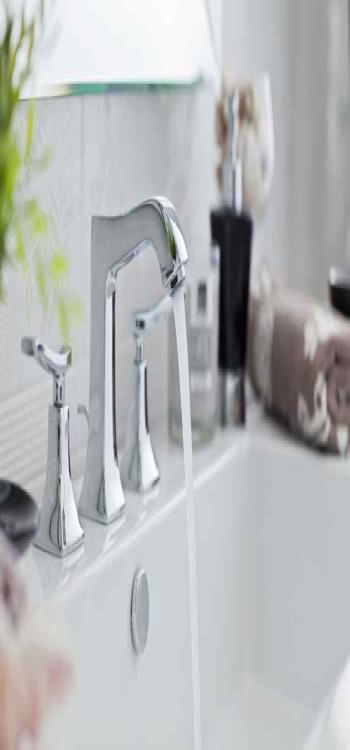 Up to 95% ofthe water used in a home's shower, bathtub, washing machine, and air conditioner can be recycled and put to use in other ways, such as flushing toilets, watering plants, and filling swimming pools. This clever gadget is an investment that will undoubtedly recoup its initial cost and then some, and it also has significant positive effects on the environment. With a water recycler, you may cut your water and sewer bills by up to 45 per cent while helping to maintain steady supplies.
10. Intelligent bathtubs
An intelligent bathtub can maintain the temperature you choose for your soak. One of the most time-consuming aspects of having a bath can also be eliminated with these: filling the tub. The tub may be filled automatically, and you can be notified when it's full. In the same vein, you may empty your bathtub without having to do any work. Connecting to a music streaming service or switching channels on a waterproof TV is now a breeze with voice-activated controls. Spa-like experiences may be had in some smart tubs thanks to features like aromatherapy, steam, and light therapy that can be operated by voice.
11. Smart Plumbing Pipes
Although plumbing fixtures probably aren't at the top of your priority list when designing your dream bathroom, "smart" fixtures can help you save a lot of money on your water bill. An intelligent sensor placed under a sink or close to a water heater can track how much water is being used. Isolating leaks and other issues in this way can save money and prevent water damage. Find out which of your appliances are guzzling the most water and adjust your routine to save even more money.
Trending Smart Shower Designs of 2023
There are several different alternatives available on the market for you to select from, regardless of whether you want to add smart features to the shower system that is already installed in your home or you want to install a brand-new shower unit that offers smart features.
There are an infinite number of alternatives; therefore, selecting the best available option from the available choices might be quite challenging. In light of this, below you will find a rundown of all the top smart shower solutions now available on the market, from which you may make your selection.
1. Thermostatic Shower Valve by Moen Model S3102.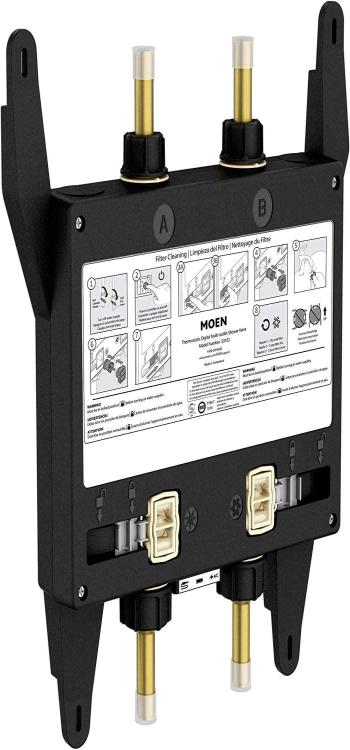 Moen has top-notch thermostatic solutions that can assist you if you are pleased with the shower system that is currently installed in your home but would like to upgrade it to a system that is more technologically advanced.
Moen provides this dual-outlet thermostatic regulator that is simple to install and gives you complete control over the temperature of the water. The valve can be purchased from their website. In light of this, you can precisely adjust the temperature you desire without exerting any effort. This shower valve from Moen includes both 1/2-inch CC input connectors as well as 1/2-inch CC outlet connections for easier installation.
On the other hand, the unique characteristic of this shower valve is that it allows you to link it with two different types of shower fixtures, such as a showerhead and a hand shower, which is going to be an extremely practical feature. To make use of this valve, however, a thermostatic controller, which is not included in the package and must be purchased separately, is required. This is the sole drawback. In terms of the length of the warranty, Moen provides a protection plan that lasts for a full five years for this shower valve.
Best Features:
Uses ½" CC inlet connectors and ½" CC outlet connections
Compatible with both of the standard shower fixtures
Voice Activation as well as Remote Control Supported
Included in the purchase is a warranty good for 5 years.
Pros:
Offers a separate control panel for each shower fixture
Simple to set up the highest possible level of construction quality
Cons:
2. A smart shower controller from Moen, the TS3302TB Model.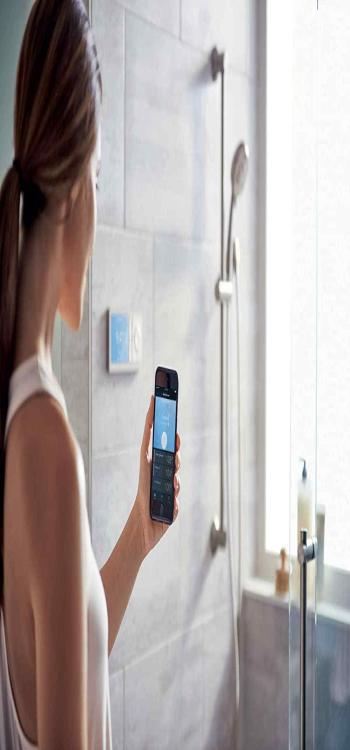 When upgrading to a smart home, remember a digital controller is crucial for a thermostatic valve in your shower. Moen offers these options. The Moen TS3302TB Smart Shower Dual-Outlet Digitized Shower Control system suits two-outlet shower valves. Easily adjust the water temperature for each fixture. With minimal buttons, it's user-friendly. This Moen controller features voice control via smart home assistants like Amazon Alexa, Apple Siri/HomeKit, or Google Assistant. Its five-inch LCD screen displays temperature data. Moen offers a 5-year warranty for this digital shower controller.
Best Features:
Allows for the use of shower valves with two outlets
Compatible with both of the standard shower fixtures
LCD measuring 5 inches in size; compatible with digital voice assistants
Includes a warranty good for 5 years.
Pros:
Artistic finesse
Simple to operate
Construction of the highest calibre.
Cons:
3. KOHLER Moxie Alexa Wi-Fi Shower Speaker with Bluetooth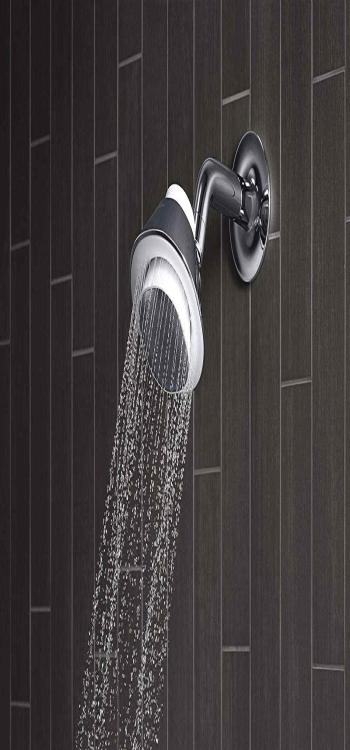 Moving on to the next possibility, Kohler has a very solid showerhead available for you to consider purchasing if you enjoy listening to music while you are in the shower and are interested in doing something novel with your current shower setup.
This high-tech showerhead is unlike any other on the market since it features an integrated Harman Kardon Bluetooth speaker. Once you pair it with your smartphone, you'll be able to listen to all of your favourite tunes whenever you want, making it a real one-of-a-kind product. Because the speaker is detachable and portable, you merely need to remove it from its housing to charge it, and then you may replace it. You do not need to be concerned about any kind of water damage because this showerhead speaker has a waterproof grade of IPX7.
Regarding the showerhead, it is finished in dazzling chrome and presents an air of refined sophistication. In addition, the showerhead has a terrific water flow of approximately 2.5 GPM, which is a very respectable amount. You can even control this smart showerhead with your voice thanks to its integration with Alexa, which means that you may use voice commands to operate it. If we are talking about its warranty, Kolher provides a warranty that is valid for an entire year for it.
Best Features:
Alexa, from Amazon, is supported.
Integrated rechargeable batteries A water flow rate of 2.5GPM is offered by the Bluetooth Speaker.
Included in the purchase is a warranty good for one year.
Pros:
Quick and easy set-up
Battery life that lasts a long time
Superior sound clarity
Cons:
Does not provide control over the temperature
4. ELLO&ALLO Smart Shower Vertical Panel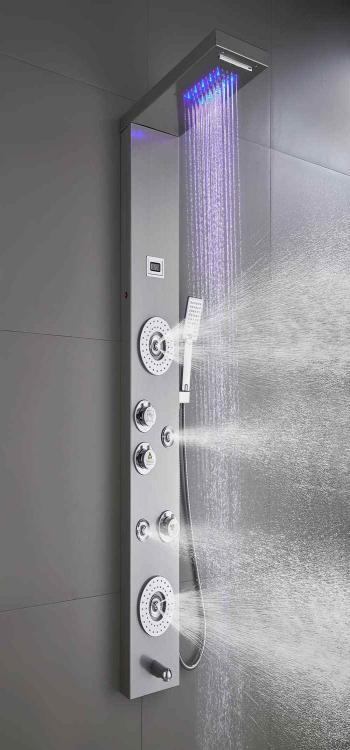 Check out this tower system from ELLO&ALLO if you are interested in installing a new shower system in your bathroom. It is highly recommended that you give it some serious thought before making a final decision.
Because its body and design are both made of stainless steel, this shower tower system is exceptionally long-lasting, and it also has a fairly nice finish. The shower faucet is made of copper, and the water pipe is made of PVC; as a result, the system is quite sturdy and expertly put together. In addition, it has a 1/2-inch female threaded inlet and outlet connector, which makes it simple to install in any bathroom.
This tower system produces an outstanding 1.8GPM water flow at 80 PSI, which is one of the most critical aspects of any shower system. One of the most crucial aspects of any shower system is the pressure. A built-in LED display is included with this shower system, and it also has high-powered body massage jets, a multi-function handheld shower wand, and a tub spout in addition to these other features. In addition, for your convenience, four jet nozzles can be adjusted, and the shower fixtures have three different settings. In addition, ELLO&ALLO provides a warranty that is valid for a full two years for this intelligent shower system.
Best Features:
LED temperature display that is built right in
Provides a total of six different types of showers
Nozzles with 4 Variable Jets
At 80 PSI, it provides a water flow of 1.8 GPM.
Included in the purchase is a warranty good for two years.
Pros:
304 solid stainless steel for the body
Space-saving wall-mount construction
Classy style and design
Cons:
Cannot alter temperature as and when required
5. Blue Ocean SPA392M Shower Panel with Handheld Shower Head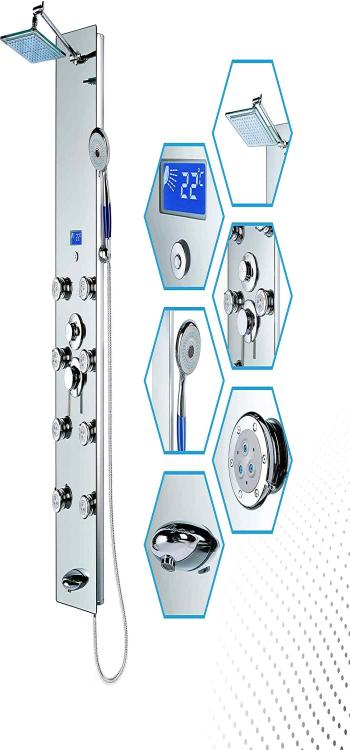 Blue Ocean is one of the most well-known names in the world of sanitary ware, and it is a great option for you to investigate if you are interested in outfitting your bathroom with a high-end tower shower system.
The fact that this shower tower system comes with a total of 8 adjustable nozzles, which is fairly rare to find on a shower system in this price range, is the primary selling point that sets it apart from similar products on the market. In addition, it is an excellent shower system because its 8 nozzles make it possible to have a wonderful massage while you are in the shower. In addition to that, the shower system is equipped with a temperature display that will inform you about the temperature of the water so that you can have the relaxing and enjoyable experience of bathing that you want.
In addition, this tower system provides both a rainfall showerhead and a handheld showerhead, giving you the flexibility to take a shower in the manner that most suits you and allowing you to make the most of your time in the bathroom. In terms of construction quality, it is manufactured from aluminium and has a fairly good build quality overall. In addition to that, Blue Ocean is willing to stand behind it by providing a warranty that is valid for a whole year.
Best Features:
Integrated display for the temperature
It has 8 jet nozzles
Produced using Aluminium
Including both a handheld showerhead and a waterfall showerhead
Includes a warranty for the first year.
Pros:
Quality for the price
Crafting with elegance
Simple to operate
Cons:
Valves that regulate the temperature are not included.
Advantages and Drawbacks of a Smart Bathroom Design
In case you're on the fence about whether or not you should install smart technology in your bathroom, we've compiled this list of benefits and drawbacks to help you make up your mind.
The Benefits of Having Smart Gadgets for Bathroom
The water temperature, sprinkler, sauna, music, and chromotherapy can all be managed by separate LCD panels installed in the shower.
1. It Saves Energy
Saving the planet and minimising costs are two goals shared by all humanity's champions. Every once in a while, we all wish we could fly off the handle and save the world like a superhero. It's not easy to have a positive effect on the planet, which is why so many individuals look for ways to lessen their carbon footprint. Using energy-efficient devices, such as smart pipes, lighting, and so on, is one approach to cutting back on energy consumption. If you have smart pipes, you may effortlessly adjust the water temperature to your preferred setting before getting in the shower, saving you time and water.
2. Danger of Contamination Reduction
When you turn the sink faucet on and off, do you ever consider the germs you might be touching? The recent global epidemic has made us hyper-vigilant about our hygiene and the hygiene of those around us, underscoring the importance of maintaining a focus on health in these trying times. Everyone avoids being sick as much as possible, and with modern plumbing in the lavatory, that concern is eliminated. For instance, with the help of sensors and digital assistants like Amazon's Alexa, "smart plumbing" eliminates the need to manually turn on and off the water and flush toilets.
3. Averts potential harm
Everyone hates having to shell out cash for things like repairs, but unfortunately, accidents and other causes of property damage are a fact of life. Fortunately, there are measures you can take to avoid this, and updating your home with the latest technological advancements is one of them. With smart plumbing, for instance, you can leave the house without worrying about any problems.
You may rest easy knowing that your home is being taken care of when you're away on a trip or out on a date thanks to these devices. In the event of a leak or malfunctioning toilet, smart plumbing can immediately alert you and record the situation for further analysis.
Not only will the smart plumbing system alert you to a problem, but it will also allow you to shut off the water supply, preventing any further damage to your home and saving you a significant amount of money.
4. Captivating and Functional
Smart bathroom technology is perfect if you want to spend a lot of time in the bathroom, sing in the shower, and generally relax and unwind there. If you enjoy being online all the time, then bringing that enjoyment into the toilet with you may be a huge time saver and a lot of fun.
The Downsides of smart bathroom gadgets
Smart bathroom accessories, such as toothbrushes with a sonic motor and sensors, are essential for bathroom automation.
1. Unreliable Or Glitchy
Despite your undying devotion to the World Wide Web, you have to admit that its unpredictability occasionally causes serious problems. Without water, using the restroom becomes a major difficulty if this occurs. Consequently, you will be unable to use your faucets or toilets if the electricity goes out.
2. Confusing
No matter how tech adept you are, there are always going to be goods in the market that leave you scratching your head. Because of the learning curve involved in using this tool, you should expect to encounter numerous technical challenges before you finally master it.
Be aware of this before you go out and get some smart technology for your bathroom, as it will also be an issue for individuals who are not savvy in technology.
3. Too Pricey
If you are not inclined to buy things that are at a high price point, then smart technology isn't for you. Energy-efficient appliances may help you save money over the long run, but they are still an expensive investment that you should carefully consider.
A contemporary and high-tech bathroom doesn't need to look like something out of a science fiction movie. The modern, smart bathroom provides the items and services necessary to create the lavatory of your dreams. Visit our website to find out more about how to turn your house into a smart home, or get in touch with our trained team of professionals at NoBroker today.

FAQs
Q-1 Would Alexa be able to draw you a bath?
A-1 With the latest update for Alexa and Siri, you can now say "Alexa, turn the shower to 100 degrees" from the comfort of your bed and then step into water that is exactly 100 degrees Fahrenheit moments later.
Q-2 Is the investment in a smart toilet justified?
A-2 The use of the flushing function is limited by smart toilets. Because they are automatic, they handle the requirements for flushing more effectively. In addition, smart toilets can monitor the amount of water in the tank and adjust the flush accordingly. This means that they only distribute the necessary quantity of water for a flush, as opposed to a predetermined quantity as is the case with other types of toilets.
Q-3 Do high-tech toilets require electricity to function?
A-3 There is some debate as to whether or not the environmental benefits of smart toilets are justified given that they require electricity to function. However, you will observe a change in the amount of water that you consume. Toilets with built-in sensors can determine how much water should be used for the flush and then use exactly that amount
Q-4 What exactly is meant by "PerfectFill Kohler"
A-4 You can pre-set a bath to the temperature and depth that you deem to be optimal with the use of a "drain kit system" called PerfectFill. You can provide a voice command or use the Kohler Konnect app to begin the process of automatically filling the bathtub to those specifications.
Q-5 Is there a way to use Google Nest in the bathroom?
A-5 The bathroom is the one room in the house where I would hesitate to put something significantly more expensive, but the Nest Mini is an excellent choice for that room. With this bathroom, Google speaker, your entire bathroom, not just your shampoo bottle, will become your mic and stadium when you're in the shower. This makes it the ultimate shower companion.