While there are different types of kitchen layouts to choose from, be it the Island, L-Shape, U-Shape, Open, Parallel, Straight, or Galley. First, understand the shape of your Kitchen and plan accordingly.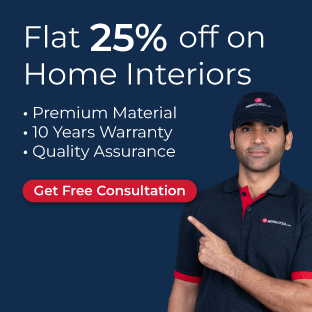 6 Different Types of Kitchen Design

• Once the layout is understood, the next step would be to work on the Kitchen triangle (The kitchen triangle is the distance between the hob/cooktop, Fridge and Sink). The position of these would already have been planned in an apartment building. This should be planned very efficiently as it will cause fatigue to the user if not planned properly.
One thing to be noted here is that the fridge location has to be located towards the entrance of the Kitchen so that the person working in the kitchen as well as any other member of the house has easy access to the fridge.
Kitchen – Work Triangle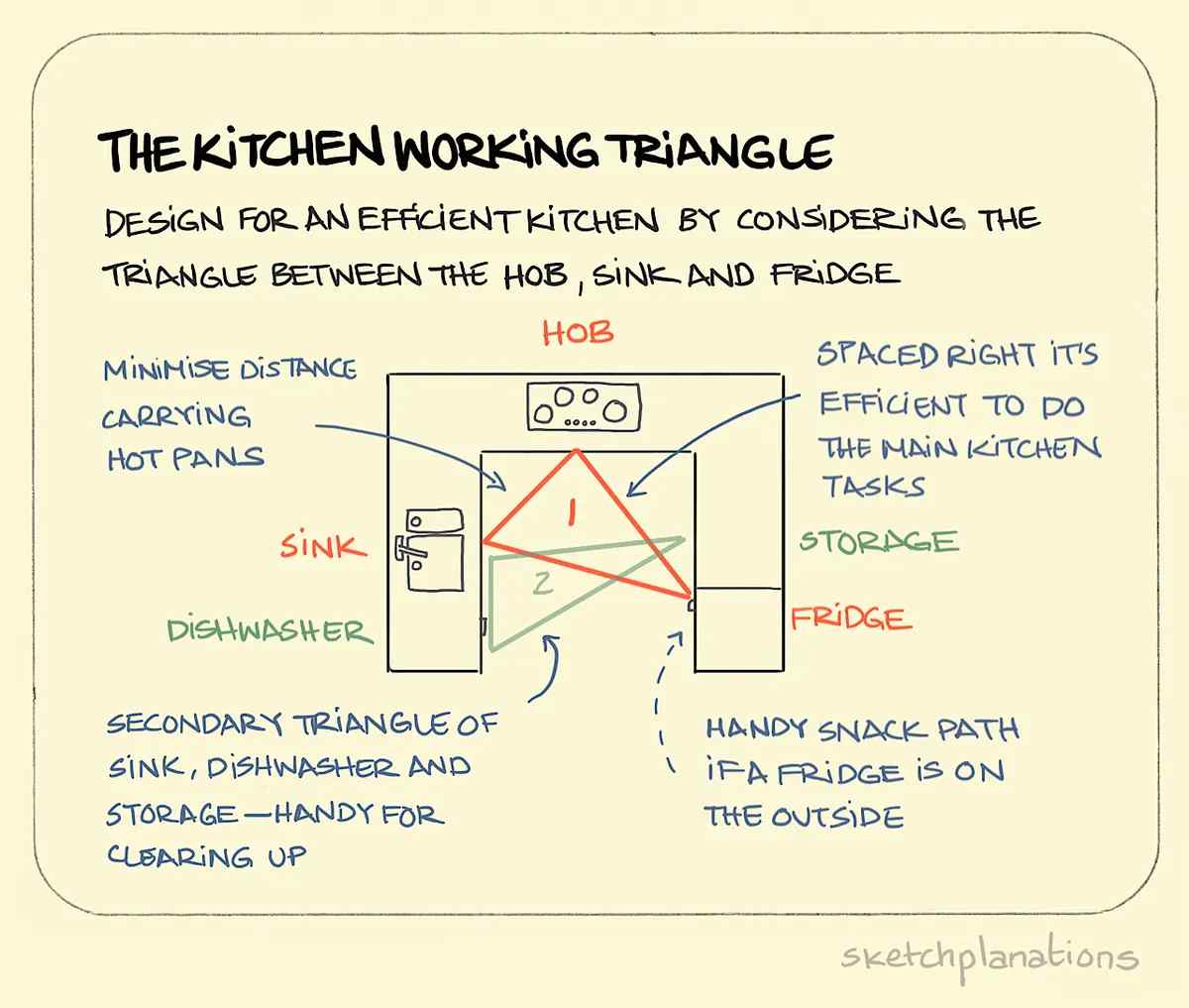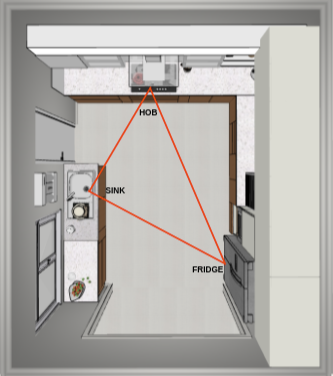 • Now the Kitchen work triangle sets a base for the zoning of the Kitchen. Kitchen zoning would be done based on the activity going around that space and the storage requirement accordingly.
Read: 7 Vaastu Compliant Paintings to Enhance your Bedroom Space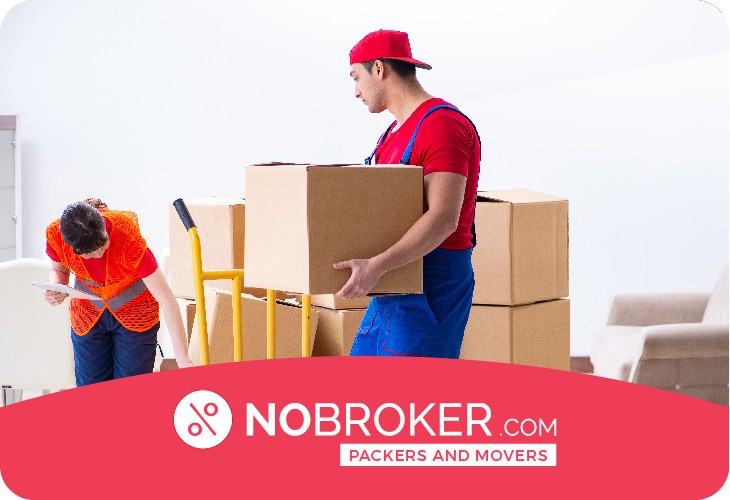 Book Best Packers & Movers with Best Price, Free Cancellation, Dedicated Move Manager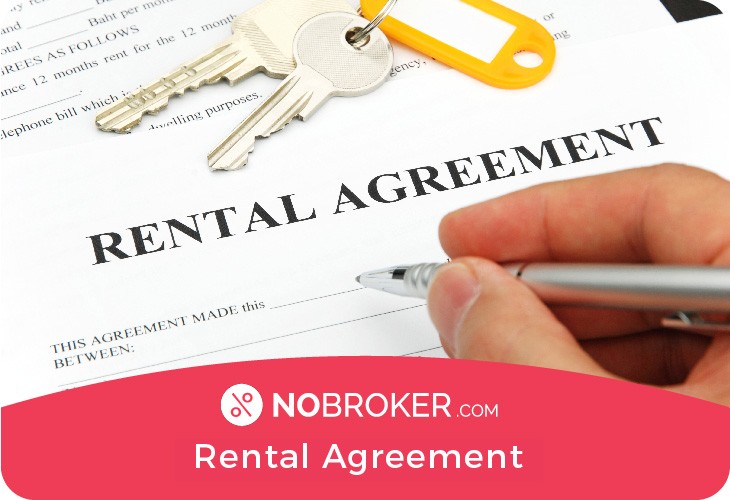 Get Rental Agreement With Doorstep Delivery, Super Quick & Easy
This is third
This is third
This is fourth
This is fourth
This is fifth
This is fifth
This is six
This is six
This is seven
This is seven
This is eight
This is eight
The zones are as follows
Cooking Zone – All cooking essentials such as spices and oil, cutlery, spatulas and plates, etc would come in this zone. Dado area around this space can be accessorised with accessories such as rails with hooks to hang cutlery, towels etc.
Preparation zone – This zone is ideally where all the cutting, chopping and pre-prep of dishes happen. The ideal location would be next to the cooking zone. Dry food storage, plates and cutlery storage are to be planned here. Accessories such as worktop extensions are best suited in this area.
Pantry and appliances zone – To be positioned near the preparation zone. This zone will have to be customised as per your storage and appliances requirement. There are a lot of accessory options that can be worked out here. A tambour unit with a roll-up shutter is a smart and easy way to organise your small appliances and baking supplies. This accompanied by a tall pantry unit which will house all the Kitchen dry food storage/ Kitchen supplies will be the best way to organise this place. You can also add a tall/mid-tall unit here which will house your Oven/Microwave if at all you need these appliances.
Pot and Pan storage/ Miscellaneous storage – This zone should ideally be placed near the cooking zone and would house the pots and pans required for the cooking and also can be used to store other vessels.
Read: Everything you Need to Know about 1 BHK Interior Design Cost in India
For any additional storage, loft storage is the best solution depending on the size of your Kitchen and storage requirements. Do not populate your Kitchen with lofts all around if you have a small Kitchen as this will make the Kitchen feel smaller.
Cleaning Zone – This zone houses the Sink area, RO/Water purifier, Waste management, and Storage for towels/napkins and Utensils storage.
Kitchen – Zoning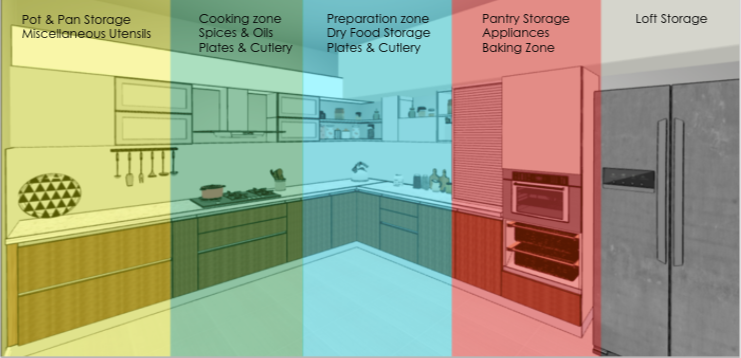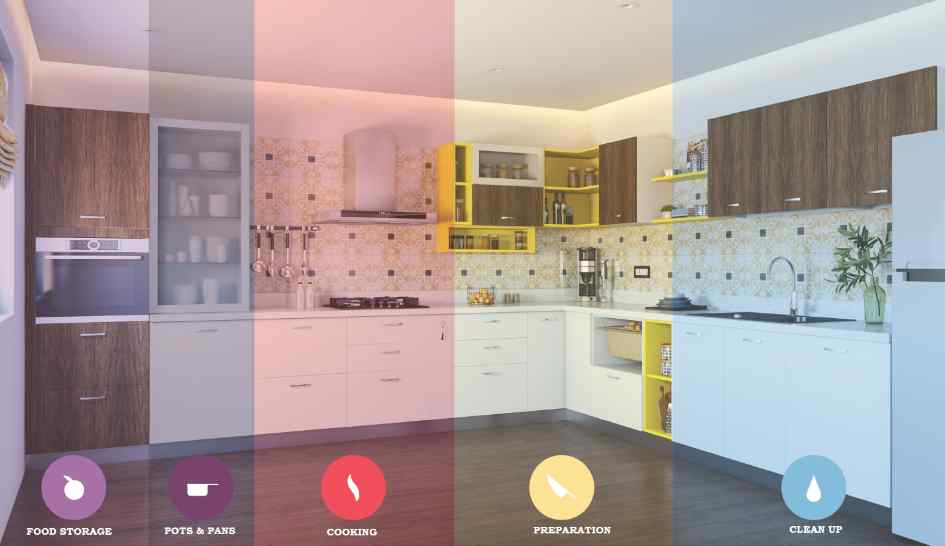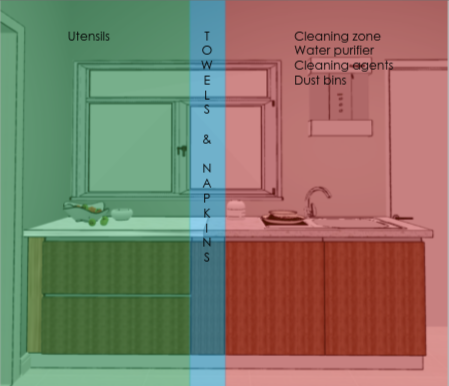 • Once the zoning is completed you can now start to add units and accessories as per your requirement and budget. There are tons of accessories available in the market which can ease up your life and enhance your experience of using your Kitchen. So make sure to take expert advice here from your Kitchen Designer. Make sure to also see how easy it is to maintain these accessories as a few of them require it to be handled with care and require regular maintenance.
Kitchen – Accessories & Organisers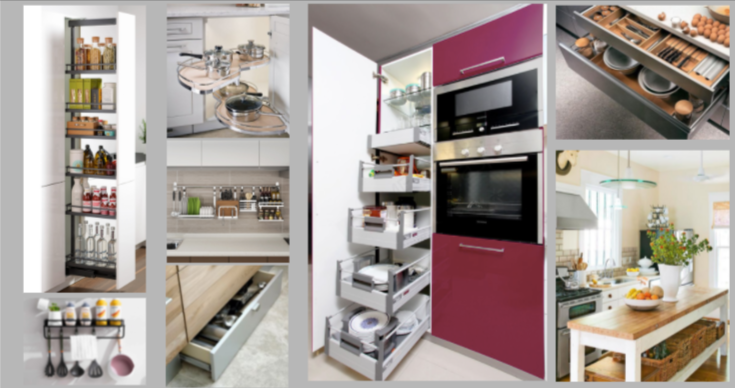 Next would be to finalise the finish of your Kitchen and there are a lot of options that you can find based on your liking and budget requirements. The most economical finish is the laminate finish. Acrylic, PU, lacquered, etc are premium finishes.
Take expert advice here based on the ease in maintenance of such finishes, pros and cons, use and user of the Kitchen, amount of natural light available and your budget as well.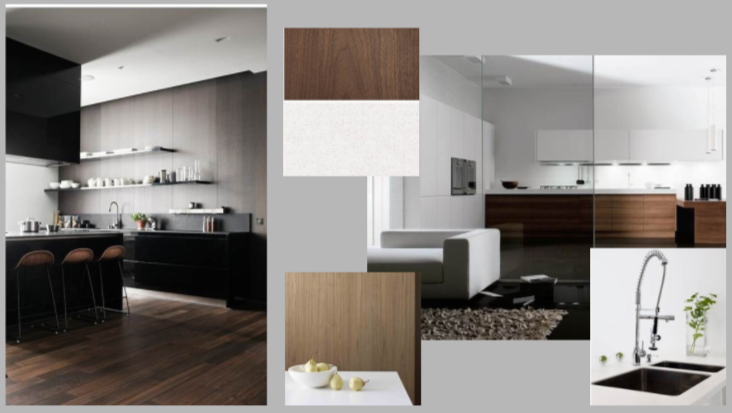 • Regarding the core materials which will be used in your Kitchen, use materials that suit best the finish that you will be finalising and go ahead with a trusted brand that will provide you with a good warranty and service. Also, be aware of the weather and moisture content in your city and take expert advice here based on this.
• Choose your countertop materials wisely as this is also a major factor in the costing, look and maintenance factor of your Kitchen. Granite is the most commonly used, durable and economical countertop material in the market. You can opt for quartz countertop, if you would like to use a different shade of colour on the countertop if you are not a fan of the typical black or grey granite counters.
Pointers to be taken care of while Designing the Kitchen
Shutter openings of doors to be designed to open away from you so that you have enough clearance to access the units.
Always follow standards in terms of height and depths of units as these are specified keeping human Anthropometrics in mind.
Never have the Hob/cooktop and sink next to each other as this is not very comfortable to work and not hygienic as well. There should be a minimum gap of 3′ between your cooktop and sink.
When designing a parallel Kitchen, make sure to have at least 3.5′-4′ of space between both counters so that you can have enough space to move around and access the units.
Make sure you choose the right kitchen chimney design.
Select the cooktop based on your cooking requirements as these are very crucial in creating the right experience for any user in the Kitchen.
Also, choose nice dado tiles which are easy to maintain and complement your Kitchen overall.
Add a few decor and design elements in the Kitchen like a small plant, decor items, frames and pictures, etc to make your Kitchen stand out and bring out some character to it.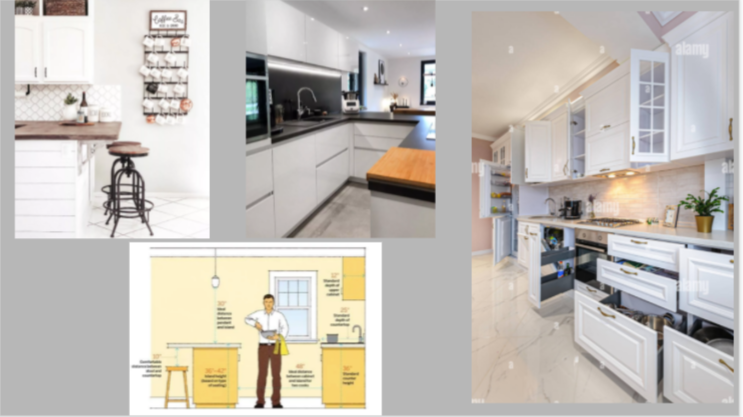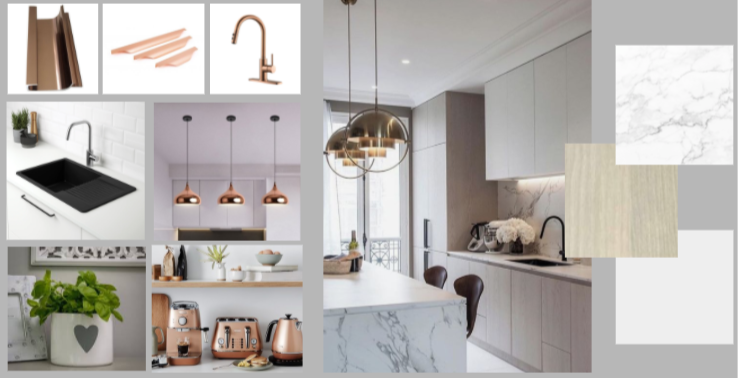 FAQs
Q. What are the six fundamental kitchen layouts?
Ans. The Six Most Common Types of Kitchen Layout
The One Wall Kitchen
The Galley Kitchen
The L-Shaped Kitchen
The U-Shaped Kitchen
The Island Kitchen
The Peninsula Kitchen
Q. Where in the kitchen should a refrigerator go?
Ans. Always place the refrigerator adjacent to a bench with enough room between them. This will make it possible to load groceries quickly, reducing the length of time the door is left open. It will also make it simpler to quickly collect the components needed for food preparation and set them down on the prep bench.
Q. Which colour is auspicious in the kitchen?
Ans. White is viewed as a representation of positivity and purity. Additionally, it is connected to neatness and light, two elements that are essential to a productive kitchen. According to Vastu, the greatest colour for a kitchen is white. This is due to the fact that it spreads good vibes and makes for the perfect kitchen wall and floor colour.
Q. According to Vastu, where should the kitchen sink be placed?
Ans. The northeast orientation is ideal for installing sinks and faucets since it denotes the presence of flowing water. Additionally, because water and fire are two opposing elements, it is important to make sure that the sink and taps are located away from the cooking gas.