Your bedroom is more than just a place to sleep—it's your personal sanctuary, a haven of comfort and relaxation. And when it comes to creating the perfect ambience, the right sofa in front of the bed can make all the difference. In this blog, we delve into the world of couch designs for bedrooms, unlocking the secrets to transforming your space into a haven of elegance and tranquillity.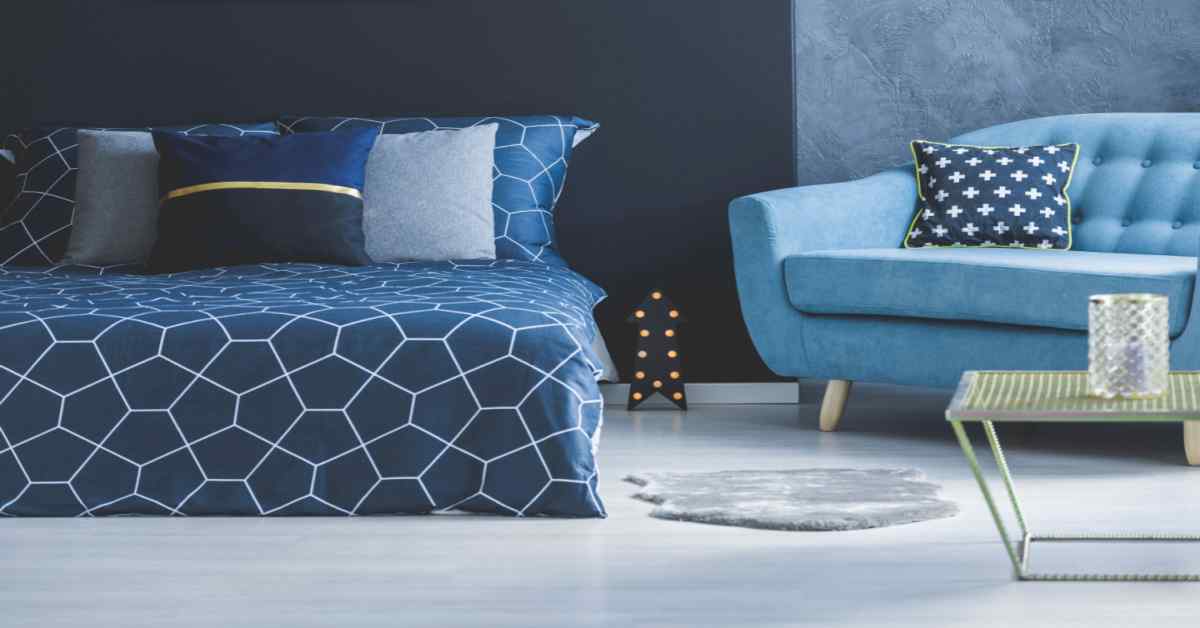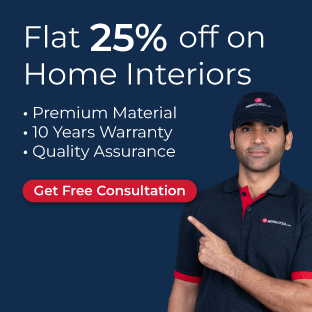 Discover why the couch is an essential element in bedroom design, as it provides not only a comfortable seating area but also serves as a statement piece that elevates the overall aesthetic.
Read: Types of Doors: A Comprehensive Guide to Different Types of Doors and More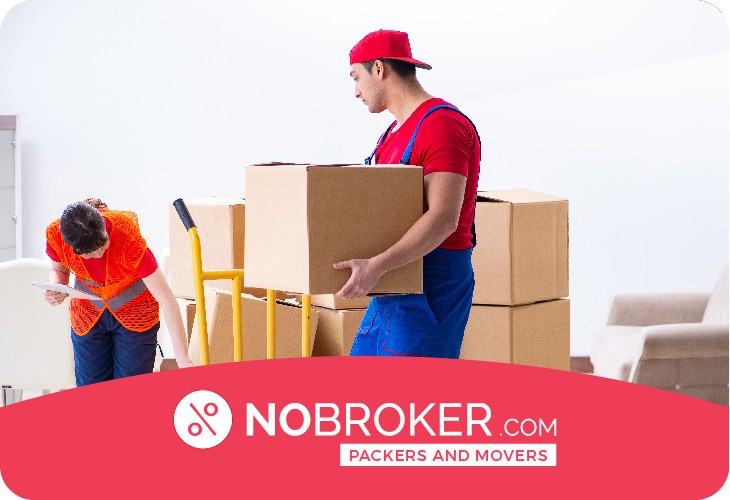 Book Best Packers & Movers with Best Price, Free Cancellation, Dedicated Move Manager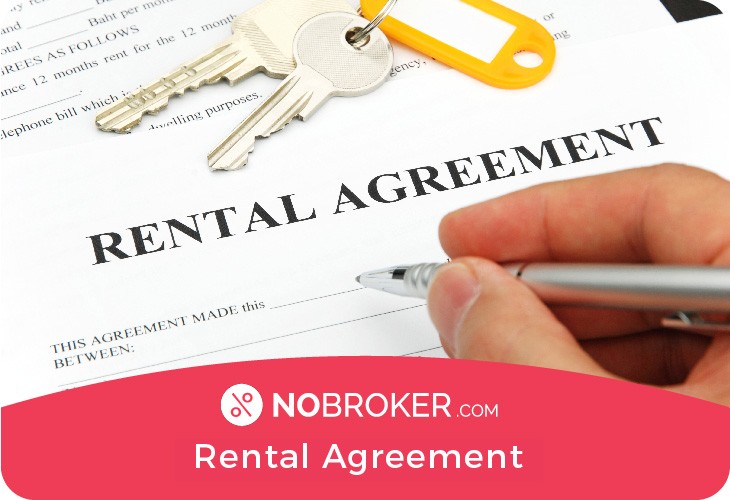 Get Rental Agreement With Doorstep Delivery, Super Quick & Easy
This is third
This is third
This is fourth
This is fourth
This is fifth
This is fifth
This is six
This is six
This is seven
This is seven
This is eight
This is eight
From sleek L-shaped sofas to cosy bedroom couches, intimate loveseats, and elegant settees, we will explore a range of designs that suit various bedroom sizes and styles. Join us as we discuss the importance of selecting the perfect couch for your bedroom and uncover inspiring ideas to create a space that blends comfort, functionality, and undeniable charm.
10 Stunning Bedroom Sofa Designs
Your bedroom serves as a retreat, a place where you can unwind and find solace. Elevating the comfort and style of your bedroom can be accomplished with the addition of a captivating sofa. In this article, we present 10 exceptional sofa designs that are tailor-made for bedrooms, each exuding its own distinctive charm and practicality. Let us delve into these inspiring designs and explore how they can metamorphose your bedroom into a haven of serenity and elegance.
1. The Luxe Lounge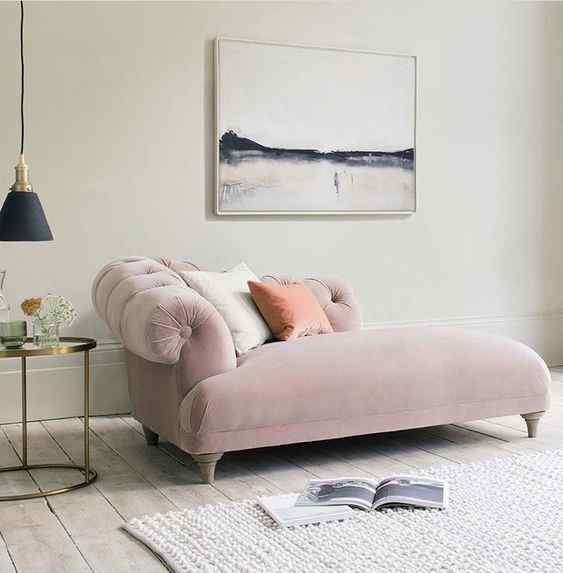 Imagine a resplendent velvet small sofa for the bedroom in a deep jewel tone, embellished with exquisite tufting. This lavish piece radiates opulence, making it the perfect addition to any bedroom. The plushness of the velvet invites you to sink into its comforting embrace. Pair it with metallic accents, such as gold or silver side tables and lamps, to create a sophisticated and glamorous ambience. Adorn the sofa with a faux fur throw or accentuate it with velvet pillows for an extra touch of comfort and style.
2. The Minimalist Retreat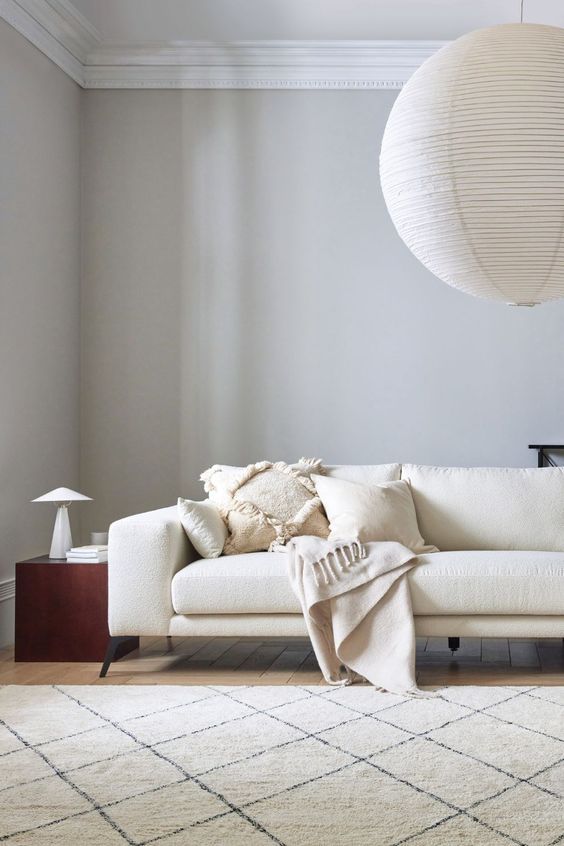 For those who appreciate clean lines and simplicity, a sleek, low-profile sofa in a neutral colour palette is an ideal choice. Opt for a minimalist design featuring slim arms and tapered legs, promoting an uncluttered aesthetic. Enhance the space with monochromatic textiles, such as linen or cotton, and soft lighting to cultivate a serene and Zen-like atmosphere. Introduce cosiness with a chunky knit blanket or textured cushions in muted tones.
3. The Bohemian Beauty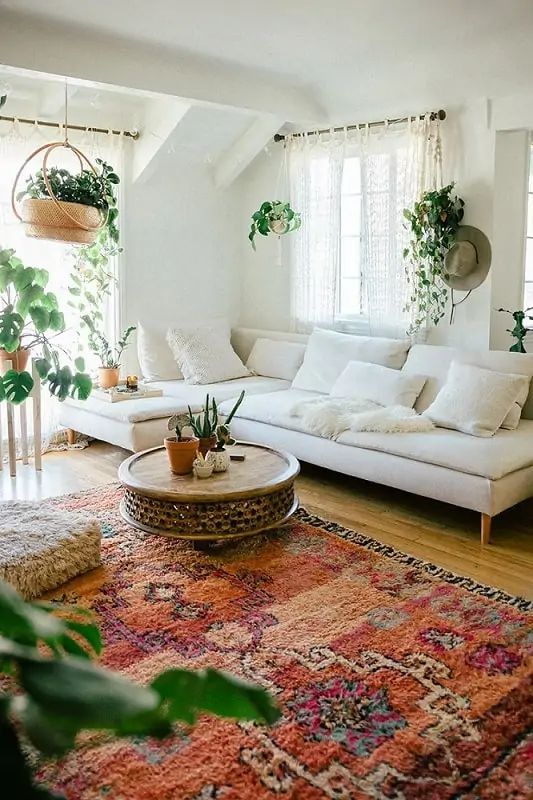 Embrace the allure of eclectic charm with a bohemian-inspired sofa, boasting vibrant patterns, textured fabrics, and playful details. Seek out a sofa that showcases a fusion of colours and prints, such as paisley or ikat.
Read: Planning A Bedroom Renovation? Here Are Bedroom Wall Tiles Design
Complement the design with an assortment of colourful pillows in varying sizes and patterns, alongside an array of lush plants, to create a whimsical and cosy vibe. Complete the ambience with a vintage rug and a captivating macrame wall hanging for a truly boho-chic bedroom retreat.
4. The Versatile Daybed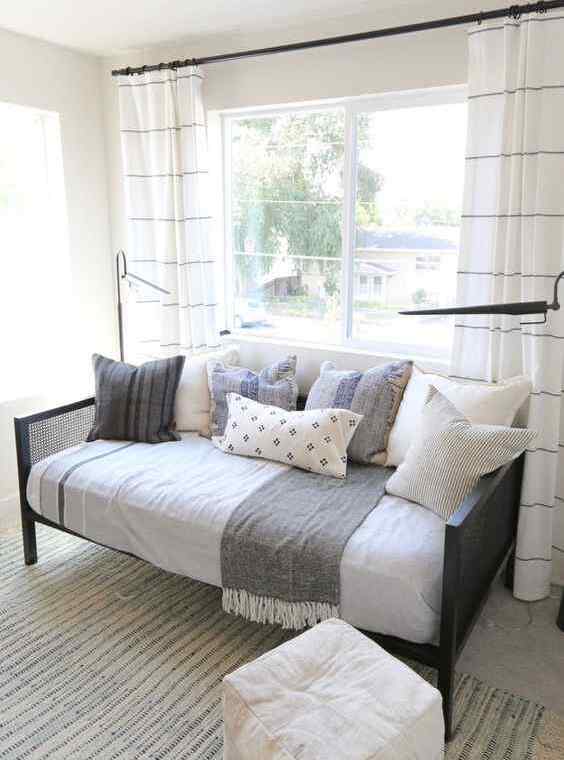 Combining the functionality of a sofa with the comfort of a bed, a daybed is a versatile addition to any bedroom. Opt for a stylish daybed design with a sleek frame and plush upholstery.
Envelop the daybed with a flowing canopy or drapes to create a dreamy nook for reading or lounging. Style it with a mix of throw pillows in different textures and colours to inject personality into your bedroom. Consider adding a side table or a small bookshelf nearby to complete the cosy reading corner.
5. The Scandinavian Serenity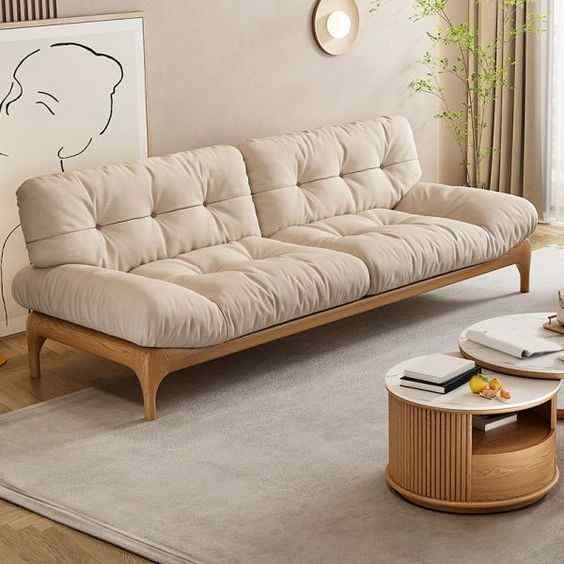 Embrace the essence of Scandinavian design in your bedroom with a sofa that epitomises clean lines, minimalist aesthetics, and a soothing colour palette. Look for a Scandinavian-style sofa that features slender legs and a streamlined silhouette, radiating an understated elegance.
Enhance the atmosphere by introducing warm, textured rugs and cosy blankets in neutral tones, creating a sense of hygge-inspired tranquillity. To add a touch of vibrancy, consider incorporating a statement piece like a throw pillow with a captivating Scandinavian pattern, completing the harmonious Scandinavian haven in your bedroom.
Read: Eye Catching Drawing Room Wall Design Ideas for Every Home
6. The Vintage Classic
Step into a bygone era by adorning your bedroom with a vintage-inspired sofa. Seek out pieces with tufted leather or velvet upholstery, curved silhouettes, and intricate ornate details.
To truly capture the essence of old-world charm, pair the sofa with antique accessories and vintage-inspired artwork. This combination will transport you back in time, creating an atmosphere of elegance and nostalgia that adds a distinct character to your bedroom.
7. The Cosy Corner
Utilise every inch of your bedroom by transforming a corner into a cosy haven with a corner sofa. Opt for a compact design that snugly fits the space, ensuring maximum utilisation of the area.
Enhance the comfort and inviting ambience by embellishing the side sofa for the bedroom with cushions and throws in soft textures. This corner retreat becomes an ideal spot to unwind, relax, and indulge in your favourite activities, whether it's reading a book, enjoying a cup of tea, or simply basking in solitude.
8. The Modern Chaise Lounge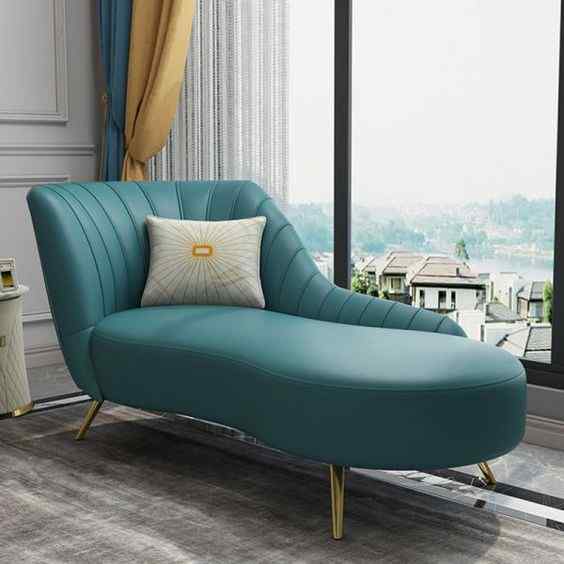 Elevate your lounging experience to new heights with a modern chaise lounge in your bedroom. Choose a sleek and sculptural design that complements the overall decor of your space. Place it strategically near a window or by a cosy reading nook.
Read: A Complete Guide to Semi-Modular Kitchens for Indian Homes
Complete the look by adding a statement floor lamp and a side table, offering both functionality and a touch of sophistication. This combination creates a luxurious and stylish retreat where you can recline and unwind in utmost comfort.
9. The Space-Saving Solution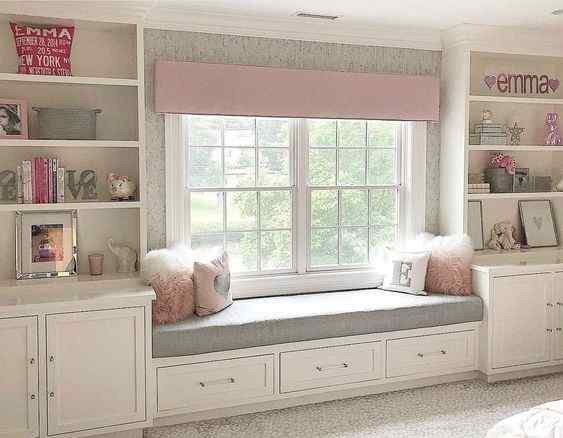 If your bedroom is on the smaller side, a sofa with built-in storage can be a game-changer. Opt for designs that cleverly incorporate hidden compartments or under-seat storage, providing you with ample space to keep your belongings organised and your bedroom clutter-free.
Additionally, maximise efficiency by pairing the sofa with multi-functional furniture pieces that serve multiple purposes. This space-saving solution allows you to optimise the limited square footage of your bedroom while still enjoying the comfort and functionality of a sofa.
10. The Eclectic Mix
Embrace your creativity and design instincts by mixing and matching different sofa styles to create a truly unique bedroom aesthetic. Experiment with textures, patterns, and colours that reflect your personal style and preferences.
To bring harmony to the eclectic mix, incorporate decorativepillows and throws that tie the various elements together, creating a cohesive and visually captivating look. This approach allows you to infuse your bedroom with your individuality, resulting in a space that is truly one-of-a-kind and showcases your artistic flair.
Essential Tips for Choosing the Perfect Sofa
When it comes to designing your bedroom, selecting the perfect sofa is a crucial decision that can transform the overall ambience of your space. Whether you envision a cosy reading nook or a stylish seating area, finding the right sofa design is essential. In this article, we will provide you with helpful tips to ensure you choose a bedroom sofa that ticks all the boxes in terms of size, comfort, style, and durability.
Size Matters
Before diving into the world of sofa designs, it's essential to consider the size of your bedroom. Start by measuring the available space and consider the sofa's dimensions to ensure it fits harmoniously in your room.
Opt for a sofa that complements the scale of the room without overwhelming the space. If you have a smaller bedroom, consider a compact single couch for a bedroom or a loveseat, whereas a larger bedroom can accommodate a sectional or a full-sized sofa for a more dramatic effect.
Comfort is Key
Your bedroom should be a sanctuary of relaxation, and the sofa you choose should contribute to that comfort. Look for sofas with plush cushioning and a supportive frame to provide maximum comfort.
Consider the seating depth and backrest height to find a design that suits your preferences. Don't be afraid to test out different options in person, as the comfort level can vary from one sofa to another.
A Reflection of Your Personal Style
The world of bedroom couches offers a plethora of style options, catering to diverse tastes and preferences. It is crucial to consider your bedroom's existing decor and overall aesthetic when selecting a sofa design. If your bedroom exudes a minimalist ambience, you may find a sleek and clean-lined sofa to be a perfect match.
On the other hand, if your room showcases vintage or rustic elements, a tufted or leather sofa can add a touch of elegance and charm. Let your unique personal style serve as a guiding light, allowing the chosen sofa to become a striking statement piece that elevates the visual allure of your bedroom.
Durability for the Long Haul
Investing in a bedroom sofa chair is a decision that should withstand the test of time. Consider the durability of the materials used in the construction of the sofa. Look for sturdy frames made from hardwood or metal for long-lasting support.
Additionally, opt for upholstery fabrics that are both aesthetically pleasing and resistant to wear and tear. Fabrics such as microfiber or leather are known for their durability and ease of maintenance, making them excellent choices for a bedroom sofa.
Additional Features and Versatility
While the primary purpose of a bedroom sofa is to provide comfortable seating, consider if there are any additional features that would enhance its functionality. Some sofas come with built-in storage compartments, which can be perfect for storing extra pillows, blankets, or books. Others may have a reclining feature, allowing you to lounge and unwind after a long day.
Think about how you plan to use the sofa in your bedroom and choose a design that offers versatility to meet your specific needs.
By following these essential tips, you'll be well-equipped to choose the perfect sofa for your bedroom.
Remember to take into account the size, comfort, style, and durability of the design to create a harmonious and inviting space. Whether you opt for a modern sectional or a classic loveseat, your bedroom sofa will undoubtedly become a treasured addition to your sanctuary of rest and relaxation.
Which Sofa Shape is Perfect for Bedroom
Finding the perfect sofa for your bedroom is a quest that balances style, functionality, and comfort. When it comes to selecting the ideal shape, there are several factors to consider. One option that often works wonders in bedrooms is the sleek and space-efficient loveseat. Its compact design not only saves valuable room but also adds a touch of cosiness to your personal sanctuary.
Alternatively, a sectional sofa can be a fantastic choice, especially for larger bedrooms. This versatile shape allows you to create a custom seating arrangement, maximising both relaxation and socialising opportunities.
If you desire a touch of elegance and sophistication, a chaise lounge sofa can instantly transform your bedroom into a luxurious retreat. Its elongated shape invites you to unwind after a long day, providing a perfect spot for reading, daydreaming, or simply enjoying a moment of solitude.
Regardless of the shape you choose, finding a sofa that complements your bedroom's overall aesthetic and colour scheme will ensure a harmonious and visually captivating space where you can truly unwind and recharge.
Selecting the right couch design for your bedroom, also known as couch design for the bedroom, is crucial for creating the perfect ambience. A well-chosen couch not only offers comfortable seating but also acts as a statement piece that enhances the visual appeal of your personal sanctuary. Whether you prefer sleek and modern designs or cosy and vintage-inspired styles, there is a wide range of couch designs for bedrooms available to suit different tastes and styles. By carefully considering and selecting the ideal couch design, you can transform your bedroom into a haven of elegance, comfort, and tranquillity, where you can relax and unwind in style.
How NoBroker Can Help
If you're looking for the perfect couch design for your bedroom, NoBroker can assist you every step of the way. With their interior design service, you can benefit from expert consultation and a hassle-free consultancy experience. NoBroker interior design expert offers a wide selection of couch designs tailored for bedrooms, ensuring that you find the ideal piece to complement your style and meet your specific requirements.
Whether you need guidance on choosing the right size, material, or style, NoBroker's interior design service is here to help you curate the perfect couch for your dream bedroom. Say goodbye to endless searching and enjoy a seamless experience with NoBroker as you create a bedroom that combines style, comfort, and functionality.

FAQ's
1. What are the benefits of choosing a couch design for the bedroom?
Ans: Selecting a couch design for the bedroom offers several benefits. It provides comfortable seating, enhances the visual appeal of the space, and creates a cosy and inviting atmosphere for relaxation and lounging.

2. Can I place a couch in front of the bed in the bedroom?
Ans: Yes, placing a couch in front of the bed can add a touch of luxury and create a separate seating area in the bedroom. It provides additional seating options and can be a functional and stylish addition to the room.

3. What are some modern bedroom sofa designs that I can consider? 
Ans: Modern bedroom sofa designs often feature sleek lines, minimalist aesthetics, and contemporary materials. Options include modular sofas, sectional sofas, and futons, which offer versatility and a modern touch to your bedroom.

4. How can I make a small bedroom feel cosy with a couch? 
Ans: To make a small bedroom feel cosy with a couch, choose a compact design that fits the space well. Add soft cushions and throws in warm colours and textures, incorporate ambient lighting, and create a dedicated seating area that promotes a sense of comfort and intimacy.

 5. What is the ideal size for a couch in the bedroom? 
Ans: The ideal size of a couch in the bedroom depends on the available space. Measure the area where you intend to place the couch and ensure it fits without overwhelming the room. Consider the proportions and scale of the furniture in relation to the bedroom size.