A ceiling light fixture's primary job is to brighten up the space, but the ideal style of light and its appropriate placement may dramatically transform the look and feel of an area. It is possible to create an enthusiastic, romantic, or calming atmosphere by strategically placing lighting fixtures around the space. A room's proportions, natural light, and other considerations determine which ceiling light design is best.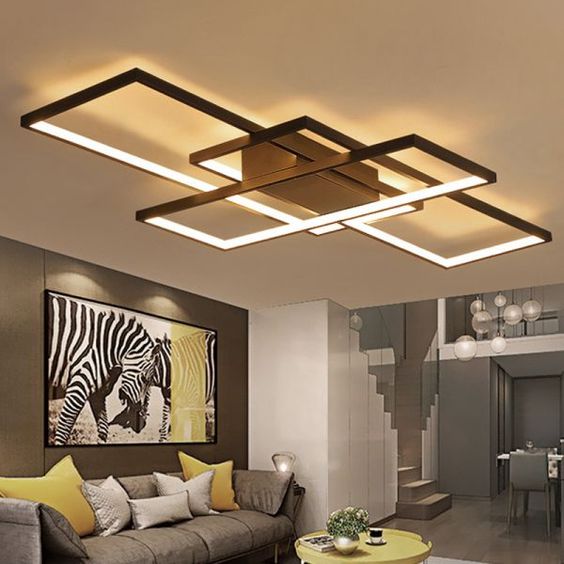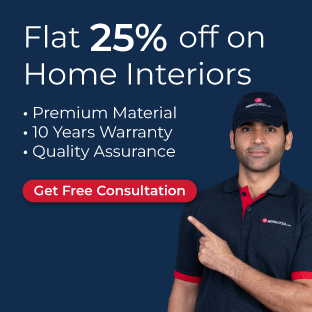 The goal of lighting a space is to eliminate shadows without sacrificing visual appeal. Lighting fixtures must be employed to their fullest potential to achieve this effect. We've compiled a catalogue of creative solutions to make the most of your space's ceiling lighting.
Why choose LED Home Ceiling Light Design?
If you want to reap all the advantages of having fantastic looks in your house, you can obtain some LED ceiling lights and get the desired outcome. LED home ceiling light designs come in various shapes and patterns, but they may look lovely in any house. Furthermore, using LED ceiling lighting in your home will bring pleasure and confidence to the aesthetic appearance of your home. It can also quickly fulfil all of your lighting needs.
Read: 22 Wallpaper Design Ideas for Home Redecoration Plans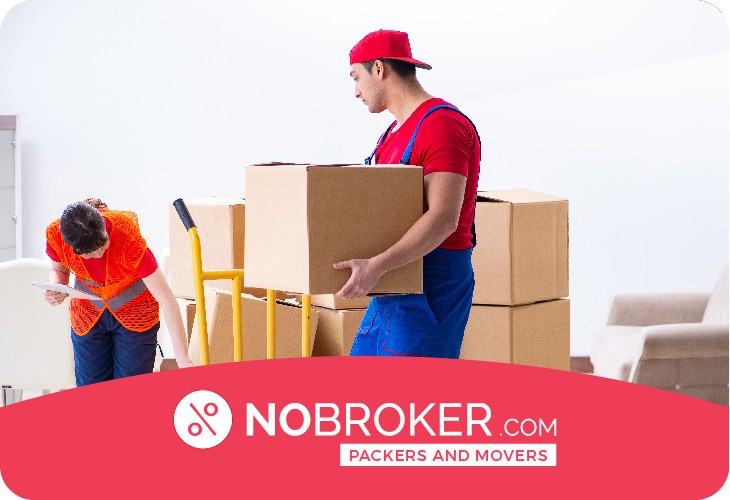 Book Best Packers & Movers with Best Price, Free Cancellation, Dedicated Move Manager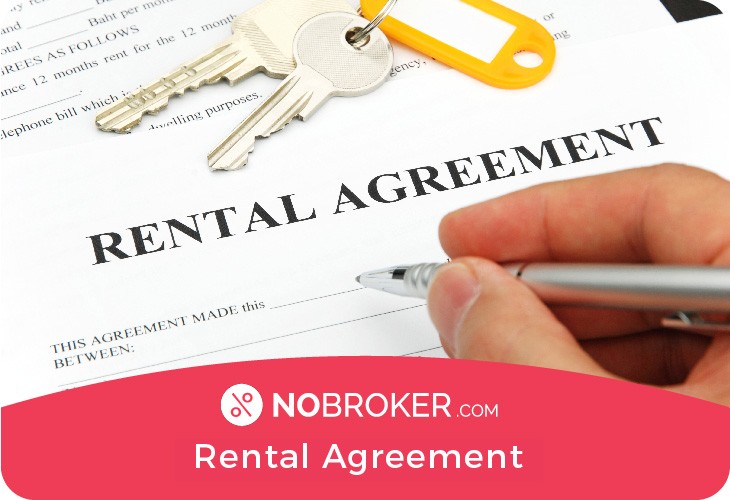 Get Rental Agreement With Doorstep Delivery, Super Quick & Easy
This is third
This is third
This is fourth
This is fourth
This is fifth
This is fifth
This is six
This is six
This is seven
This is seven
This is eight
This is eight
Home Decor Ideas Using LED Ceiling Lights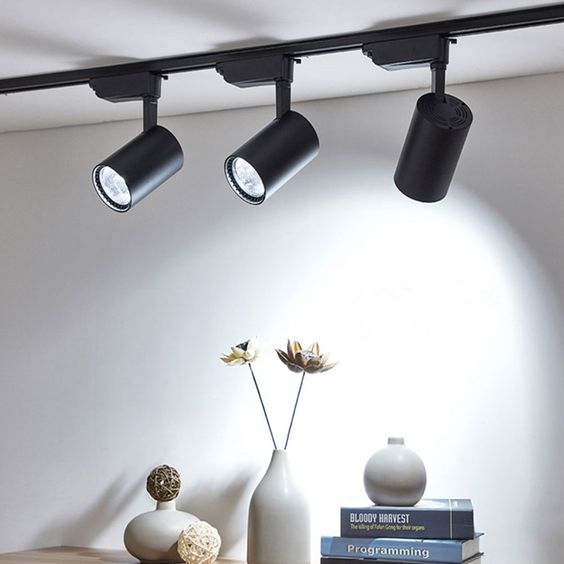 LED technology is the future for a good reason. Even while LED lights are more expensive up front, they use less energy and last far longer than other lighting options like halogen, neon, or incandescent. They may also be able to provide the appropriate light temperature for your area. In addition, LEDs may now be used in more designs and lighting fixtures because of their tiny size and advanced technology.
1 Go Round and Round, Add Multiple Moons to Your Ceiling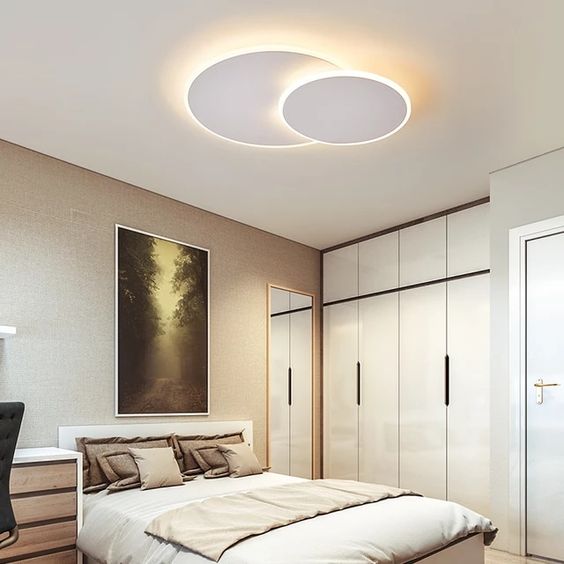 For a wide range of applications, round LED flush mount lights are an excellent option. This sort of LED light may be utilised in various ways and can be readily integrated with other lighting sources to provide enough ambient illumination.
2 The Best Possible Setups with Wider Flexibility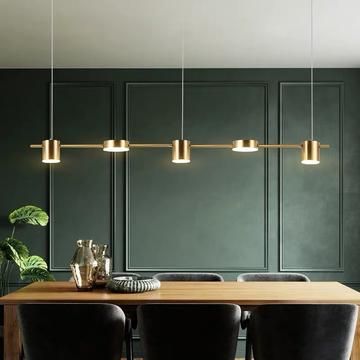 Thanks to LED technology, there are more lighting choices now, which enables small pendant lights to be used as an additional lighting option. In any area of your home, this light fixture style will instantly transform the look and feel. The best thing is that you can adjust the height and brightness of these lights according to your requirements.
3 Orientation and Coherence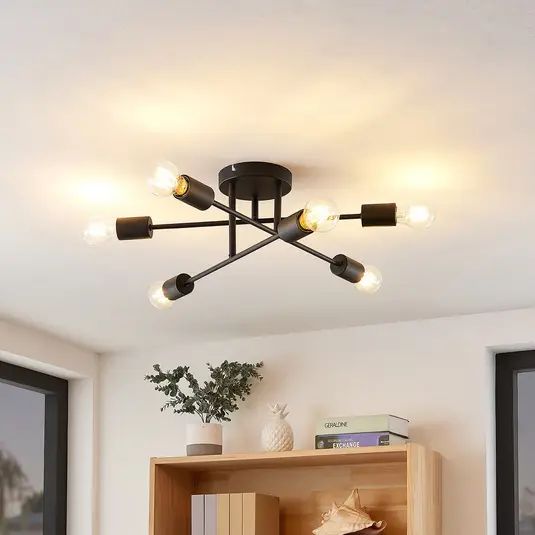 Compared to traditional incandescent bulbs, LEDs emit light in a specific direction. LED lights may be aimed in a manner that best serves your needs. To get the most out of this function, seek LED ceiling light fittings made such that the frame and the light may be rotated individually.
Read: Top 19 Granite Pillar Design Ideas in 2023
4 Sauveness with a Contemporary Twist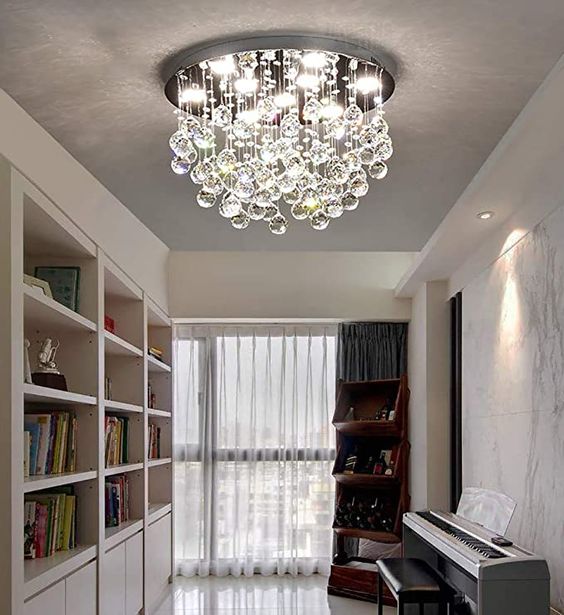 If LED lights are recent or not, they may still be warm. It doesn't matter if they are. To avoid the appearance of modern blandness, LED lights may be mounted in a chrome-and-crystal fixture to disperse light from the crystalline diffusion.
5 Helping Hands in the Kitchen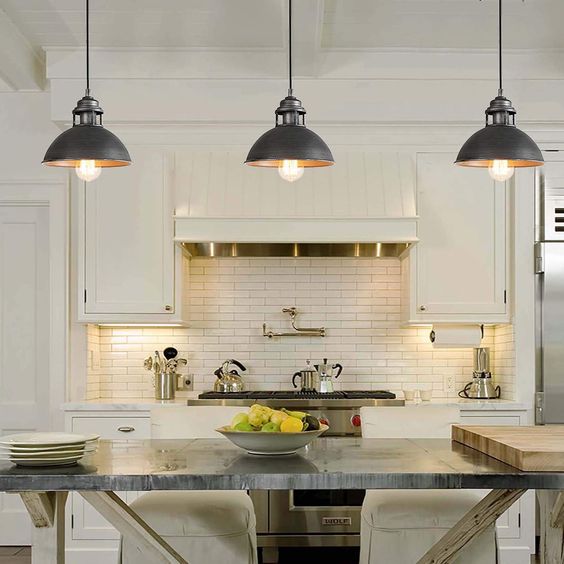 A couple of LED pendant lights installed over the kitchen island may provide enough illumination. In addition, lighting pendants in a room with a similar light temperature to other fixtures help create a visually pleasing atmosphere.
6 The Expression of Influence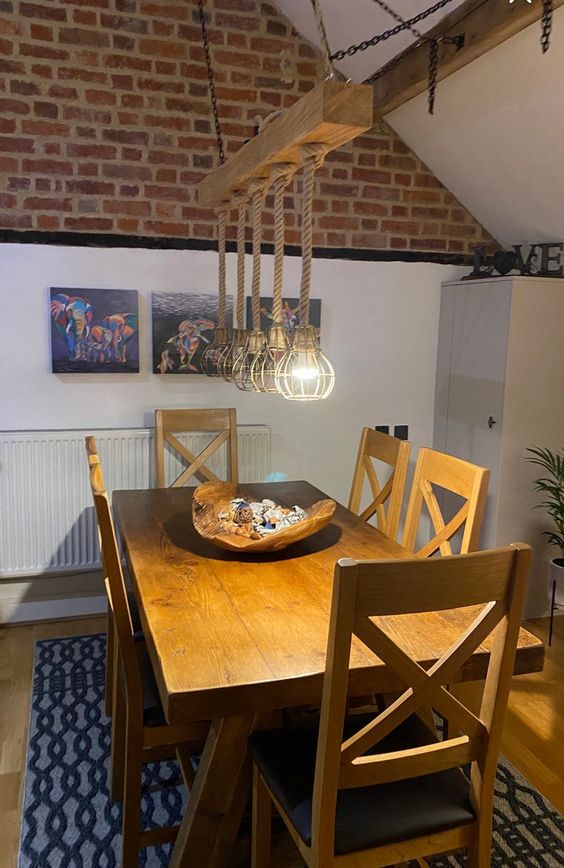 To give your dining area exclusivity, you should opt for an LED ceiling light with a sculptural design. The ideal focal point for a rustic-themed space combines natural materials like wood with a more contemporary aesthetic.
7 Lightening from the Patterns of Shadows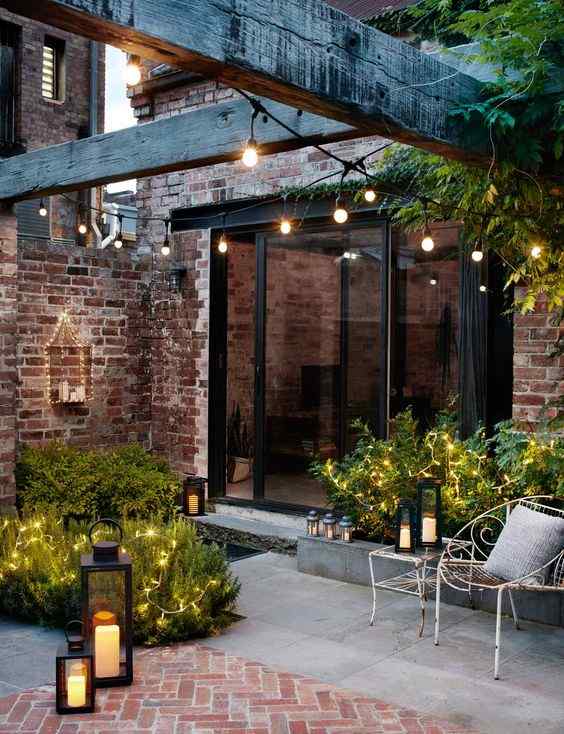 Pendant lights with braided wood designs are conceivable because of the lower heat output of LED lights compared to incandescent bulbs. The shadows cast by this LED ceiling light will not only illuminate the room but will also provide aesthetic intrigue.
8 Light Up Your Pathway
LED flush mount ceiling lights for halls are an excellent alternative for providing lighting to a passage. A lengthy path may be illuminated with multiples, and dimmers are available for most LED lights to provide additional functionality and a more pleasant evening glow.
Read: Add Character to Your House Interiors with These Trending Duplex House Staircase Designs
9 The Hanging Shapes
As a suspension or wall light, LED lights fitted into a rectangular structure may be utilised in both ways. Combine the two elements for a unique look. They'll brighten up your space, but they'll also make it easier to accomplish whatever work you set out to do.
10 Shades and Light
Choose an LED semi-flush mount lamp with a double shade for more drama and beauty. Many combinations can be formed between the shade's hue and the metallic accent that may be used. If you have the room, it's ideal to set up your fixtures in a random pattern you can.
11 The Absolute Jumbo Pinnacle of Excellence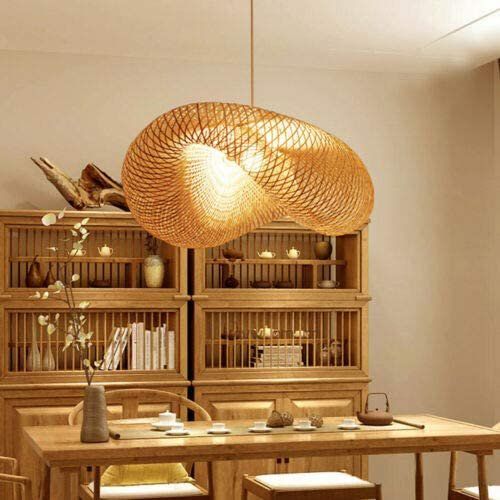 Having enough light while maintaining a more straightforward style with only one ample LED pendant light is possible. A light fixture with a white shade and metallic elements suspended from a rustic beam ceiling looks good.
12 Traps of the Past
An LED ceiling lamp with outstanding classic elements and enough light for even a big room is the most acceptable option for a more traditional area. Intricate detail may add beauty to your site and bring attention to stunning crown Moulding and ceiling features.
13 Observing Starlit Night Sky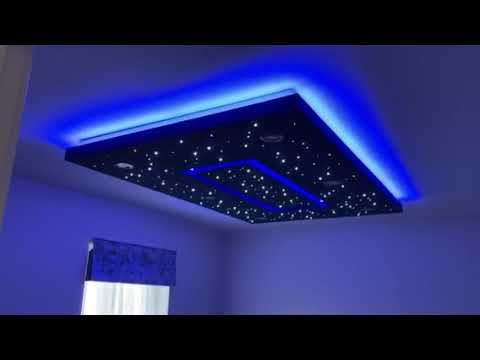 Look for an LED ceiling light fixture that resembles the stars in the night sky if you want a living room out of this world. This fixture, which is excellent for ambient lighting, will give your room a feeling of contemporary elegance and drama.
Read: Architecture of Traditional Houses in Pune
14 An Integral Part of Your Kitchen Ceiling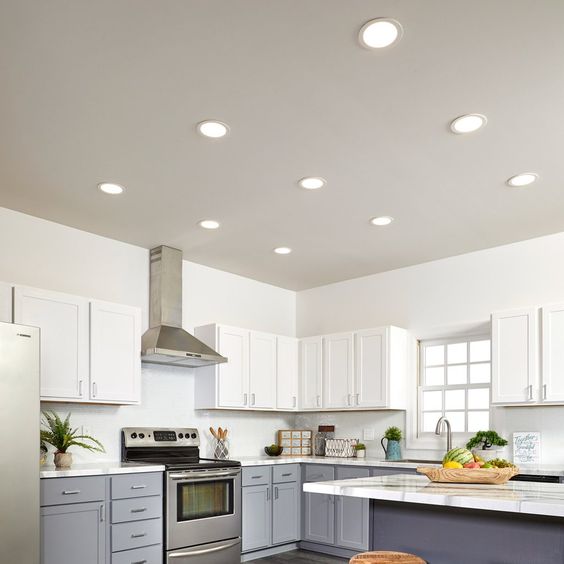 Install an LED ceiling light fixture with several light sources to brighten up your kitchen. The brilliant white light makes activities more superficial and enjoyable in the kitchen, especially in a contemporary setting.
15 Ample Light, Crisp Lines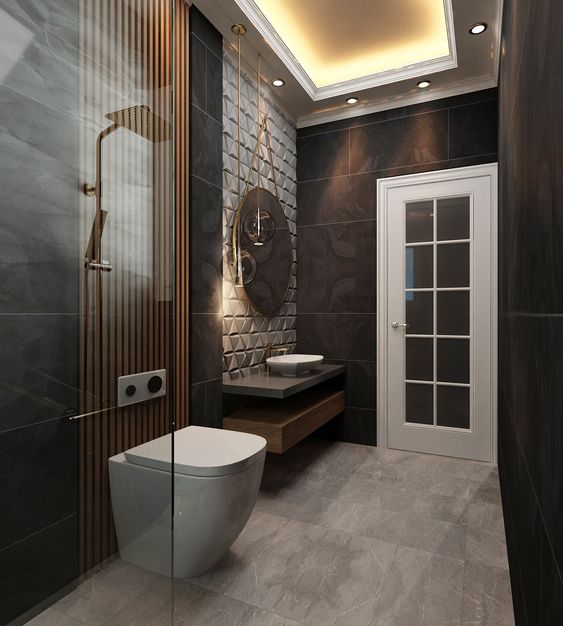 Your modern bathroom lighting should be well-lit even if you have a lot of natural light coming in. LED ceiling light fixtures with clean lines and a contemporary feel may be easily installed in multiples to give you the lighting you want.
16 Enjoy the Spotlight
An LED ceiling light fixture that makes a statement in a traditional and contemporary living room is a bold option. Look for a lamp with intriguing characteristics like a perforated top and bottom shades, which allow light to dance over the ceiling in various patterns.
17 From the Depths of Brass Accents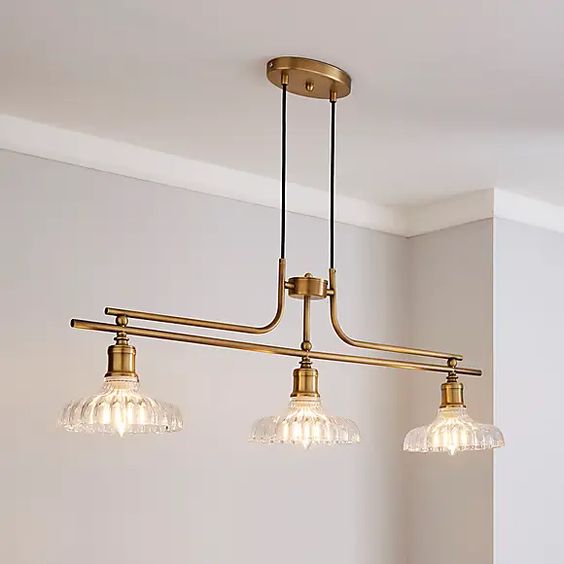 An opal diffuser and brass accents on an LED ceiling light can provide a touch of mid-century modern elegance to any environment. When used in conjunction with other types of lighting, such as wall sconces or lamps, this fixture makes it simple to provide the ideal levelof layered illumination.
18 Play with the Variety of Shapes and Sizes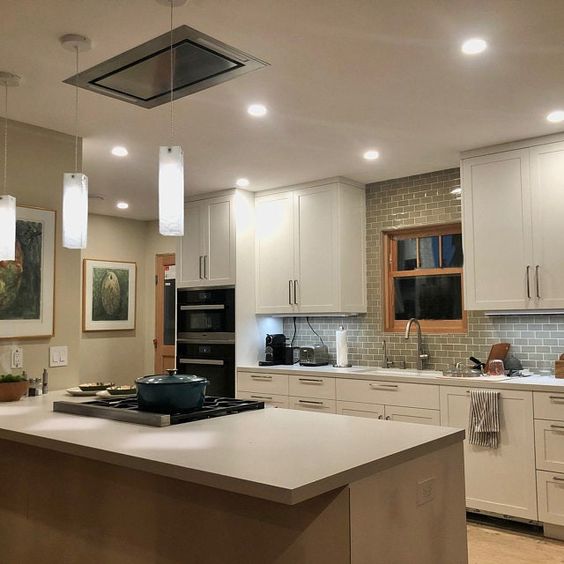 LED ceiling light fixtures that can be mixed and matched are terrific to brighten up an entryway. Mix and check lighting fixtures and use smaller ones in the narrower sections of an open stairwell to make your corridor seem more spacious.
19 Semi-flush LED lights
Semi-flush LED lights are an excellent option for kitchen lighting design because the lights are often on for longer periods than the rest of the home. If you have a modern kitchen with gold elements and an off-white cloth shade, look for pendant lights that match your décor.
How Do I Select a Living Room Ceiling Light?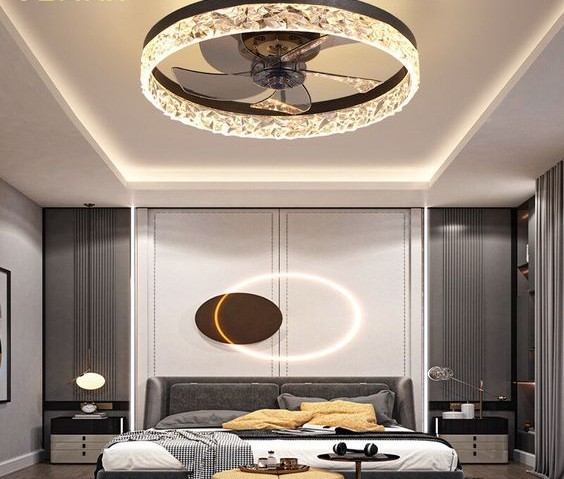 Ceiling lights can help or hurt a room's overall design, so it's essential to choose one that's perfect for your needs. To begin, think about the dimensions of your living space. If you want to walk under massive fittings, be sure you have the headroom. As a general rule, in smaller areas, choose huge fixtures with plenty of space, such as spherical lamp shades for chandeliers with slits.
Statement Living Room Ceiling Light Ideas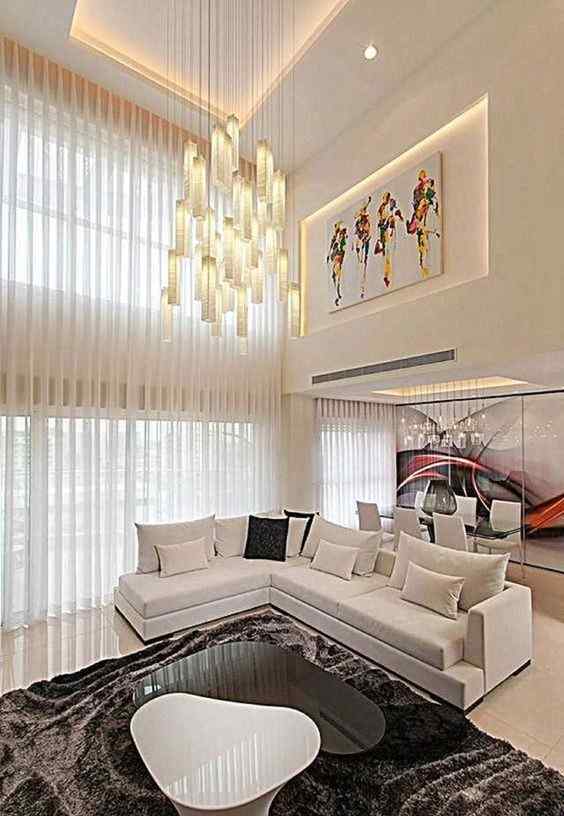 Living room ceiling light ideas are more than simply a way to illuminate the essential room in the home; they are also a fixture that may make a significant style statement.
Adding to the comfort of your living area is as simple as selecting lighting fixtures that are both practical and expressive of your unique style.
It's no secret that ceiling lights are an essential part of any room's lighting scheme. Still, their prominent placement in the middle of the living room, where guests' eyes are first drawn upon arriving, makes them an ideal candidate for embracing the aura of your house and adding that extra fun element to your home decor.
1. Black Sputnik Chandelier Adds a Design Surprise.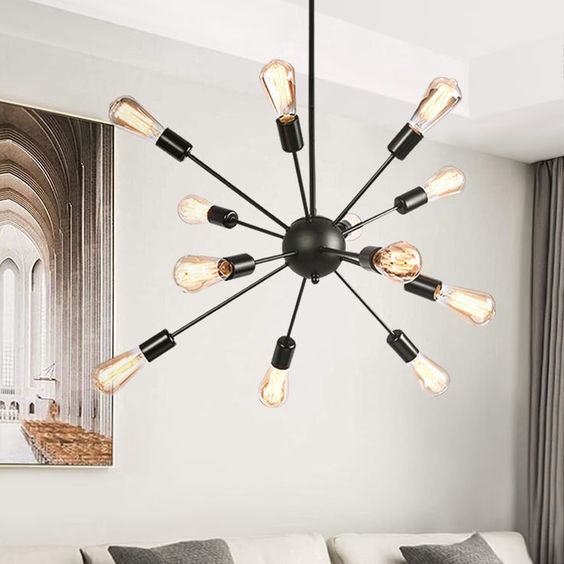 Lighting is an excellent method to add a dash of unexpectedness to a place, blending the contemporary with the old. Add interest to your stucco home with an industrial light or a mid-century modern shape.
Ceiling lighting is a terrific way to create a statement in a living room, while wall lighting is an excellent place to start. Traditional white walls are aptly complemented by the black light fixture in this residence.
2. Go For It in a Big Way.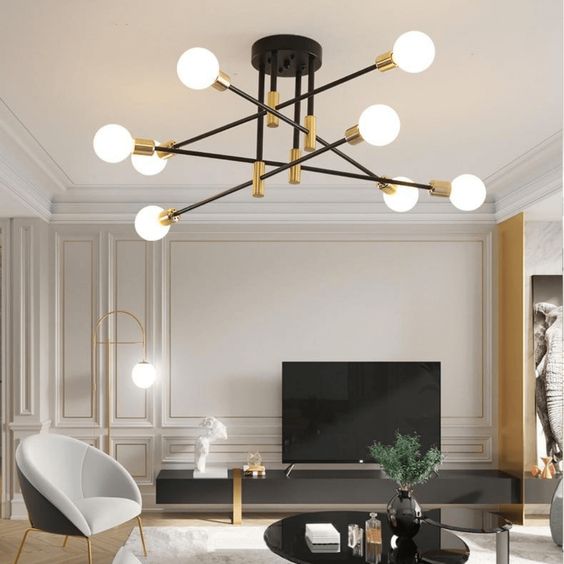 When decorating your living room, don't be afraid to go big. This is a stunning feature with a dark metal chandelier spanning the middle third of the space. Tiny living room lighting ideas can't use similar-sized lights, but you may still use the scale to your advantage no matter how small your area is.
3. Pick a Statement Pendant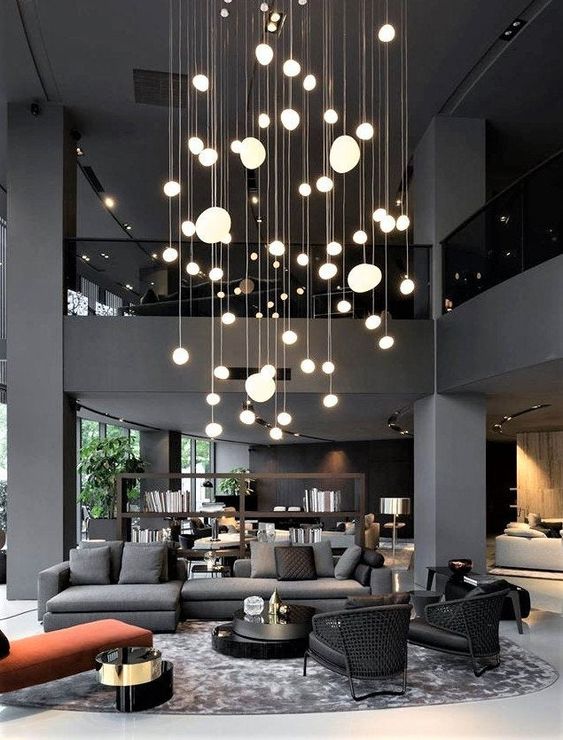 The statement pendant is a style here to stay in terms of living room lighting. 'Statement lighting, particularly statement pendants, will grow more popular as designers and homeowners want more personality and uniqueness in their spaces,' it adds. As a result, pendant lighting will be a prominent element in homes in the future years, from one-of-a-kind sculptural pieces to streamlined cluster designs.
4. Zone The Room with Pendants.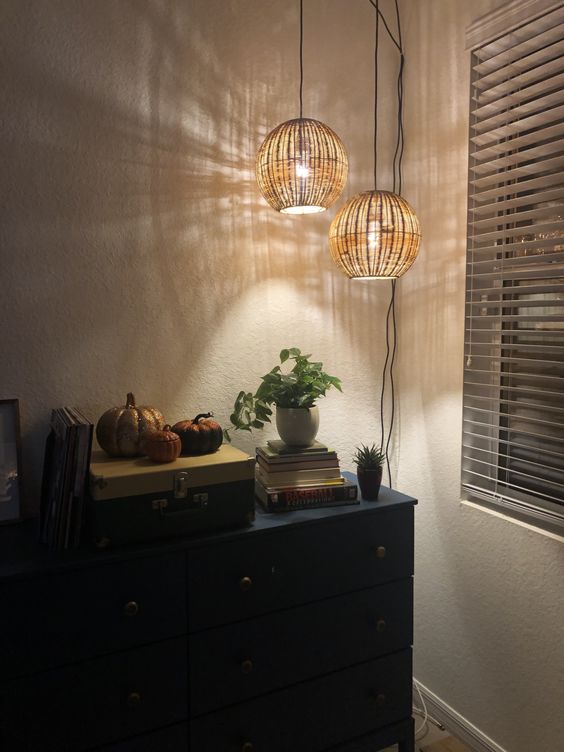 Plan your living room lighting such that you may create "zones" inside the room. Pendant lights are ideal for drawing attention to a specific space, whether it's the room's centre or a secluded lounging area like the one seen above.
To begin, choose whether or not you want a centre pendant. Whether this is the case, you'll need to decide if you want it to be a decorative addition or the primary source of illumination for the room. Even with a bright pendant, more lighting is required since pendants may throw shadows.
5. Harmonise Heritage with Modernity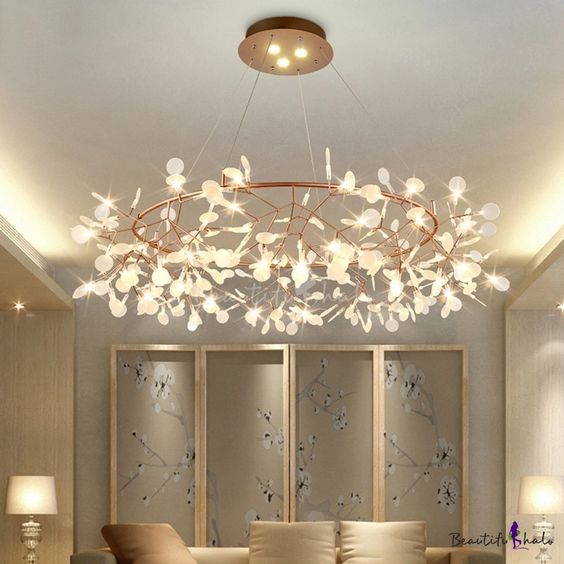 When it comes to decorating a white living room emphasising classic and contemporary elements, this chandelier is an excellent choice.
So, to sum up, this design reissues traditional themes with a fresh perspective. Modern and historical elements are brought together to produce something unique via the purity of natural materials and traditional craftsmanship.
6. Stay Up to Date on the Latest Trends with Natural Materials.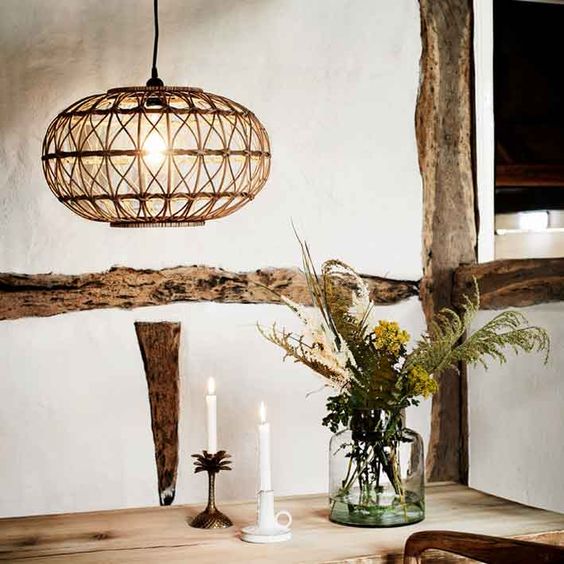 Among the best boho living room design ideas include natural materials such as terracotta, rattan, and wood.
Natural fibre lampshades and rustic pendant lights may help you bond with nature and improve your house. These items may be used in various settings, from classic to contemporary to bohemian.
To create a serene atmosphere, choose neutral colour palettes and earthy tones. Keep it elegant and subtle with houseplants, hardwood furniture, and textured decor.
7. Go Lower with an Over-The-Head Attachment.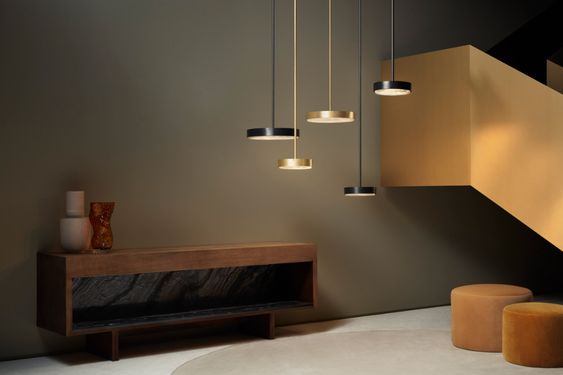 Make your ceiling lights stand out by hanging them so low that they're right in your line of vision. Hanging a low pendant lamp over your living room couch may seem risky and impractical. Still, it helps produce a focused glow around the room's cosiest region and eliminates the risk of people going beneath it and bashing their heads. In addition, a metal lampshade provides a sophisticated industrial accent to a classic area in this apartment.
8. Stay In Peace with the Basic Concepts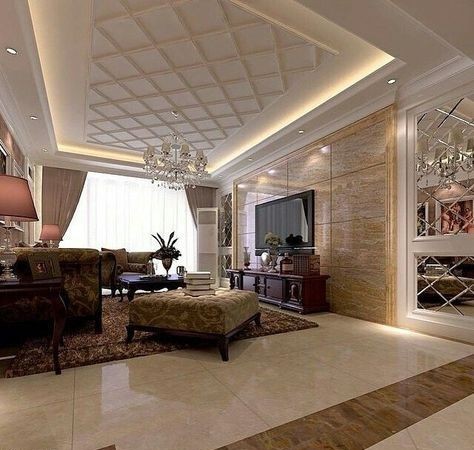 Keep it essential and elegant for a living room's ceiling lighting doesn't have to be a show-stopper, of course. A simple, no-design lampshade around the pendant light in this living room serves as a grounded counterpoint to the vibrant, creative scheme that dominates the rest of the space.
With so many alternatives on the market, it may not be easy to choose the perfect sort of ceiling light design. Understanding how each kind of lighting fixture influences the illumination and ambience in a space is crucial, something that most homeowners are ignorant of. Hence, the need to seek the opinion of an interior designer or architect when deciding on the best ceiling lights for each room in the house. Connect with NoBroker today for expert interior design advice.

FAQs
Ques1-
How to select the correct living room lighting?
Ans1- Ceiling light design for living room can help or hurt a room's overall design, so it's essential to choose one that's perfect for your needs. To begin, think about the dimensions of your living space. For example, if you want to walk under massive fittings, be sure you have headroom. As a general rule, in smaller areas, choose huge fixtures with plenty of space, such as spherical lampshades for chandeliers with slits.
Ques 2-
Are pendant lights suitable for kitchens?
Ans 2- Sure. Single or multi pendant lights are great for illuminating your whole kitchen or for additional lighting over the kitchen countertop using a hanging light design.
Ques 3-
Are there more eco-friendly lighting options for the house?
Ans 3- Sure. Light fixtures made from natural materials like bamboo and rattan and perforated ceiling lamps are great eco-friendly choices for a stylish interior.
Ques 4-
Are low pendant lamps safe?
Ans 4- Sure. Low pendant lamps may seem like a risky and impractical plan, but it helps produce a focused glow around the room's cosiest region and eliminates the risk of people going beneath it and bashing their heads.
Ques 5-
What are the best places to add a starry false ceiling design?
Ans 5- Painted false ceilings with backlit panels are an excellent idea for bedrooms. They immediately lend a dreamy vibe to your private space.