When you're in bed, you're in your own den. After a gruelling day at work or home, your bedroom gives you the energy you need to get through the next day. Applying a modern ceiling design for a bedroom or living room isn't something that many people think to do. We tend to overlook ceiling designs when decorating our homes, yet they can provide a distinct personality to a room that no other piece of art or furniture can. Most people picture a plain white ceiling when they think of a home. Unembellished ceilings are a big turnoff for some of us, more so for modern children's bedroom ceiling designs where you typically introduce night-glowing stars and planets to keep their imagination open.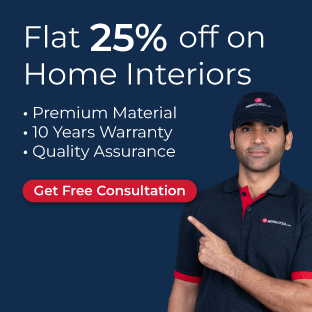 You need to ensure that your bedroom is a place of peace and serenity where you can begin your day in a state of awe and gratitude. Our selection of trendy bedroom ceiling designs will help you transform your bedroom into an art gallery. The ceilings and the fifth wall are usually left unadorned.
Read: Highly Functional, Beautiful and Trendy Small Kitchen Design Ideas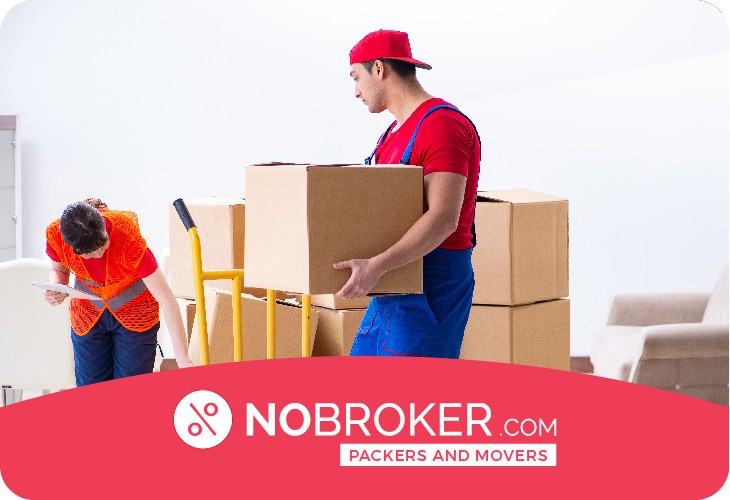 Book Best Packers & Movers with Best Price, Free Cancellation, Dedicated Move Manager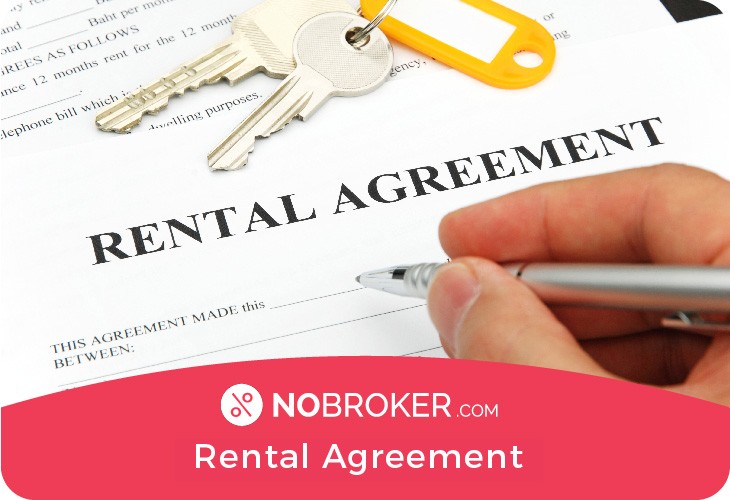 Get Rental Agreement With Doorstep Delivery, Super Quick & Easy
This is third
This is third
This is fourth
This is fourth
This is fifth
This is fifth
This is six
This is six
This is seven
This is seven
This is eight
This is eight
However, if you pay attention to it, it can make a lovely addition to your home's decor. With their opulence and grandeur, these ceiling designs transform every bedroom into a piece of paradise. This collection of modern false ceiling ideas features several materials in a wide range of textures and colours that will transform your bedroom like never before.
Top 15 Ideas for Modern Bedroom Ceiling Design 2023
While the ideas and designs are many, only you can decide which design speaks to you. Given that your bedroom is your safe haven, it has to match your personality, and your likes, as well as the décor of the extended home. So be it tray ceiling designs, cover designs, panelling, or even textured embellishments, be sure to keep a keen eye out for the one that can be truly yours. You can even develop these further to make them your own.
1. Tray ceilings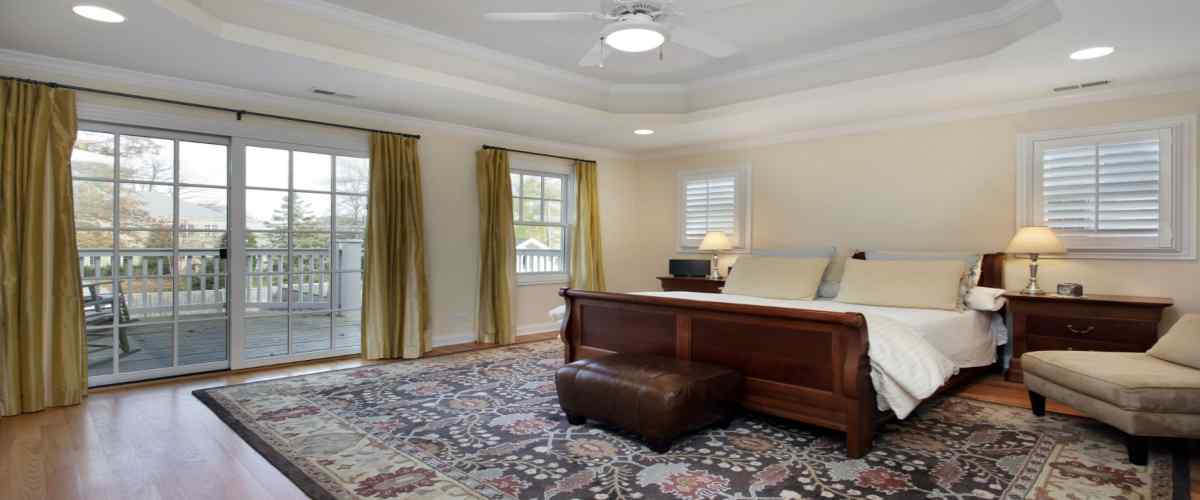 If you like elegance, choose this basic yet charming architectural space with a modern false ceiling design for bedroom. Perfect for a minimalist bedroom! Tray ceilings are recessed ceilings with lower outside margins. This false ceiling's stacked tray design adds visual appeal to the bedroom. It's a great spot for a chandelier.
2. Cove ceiling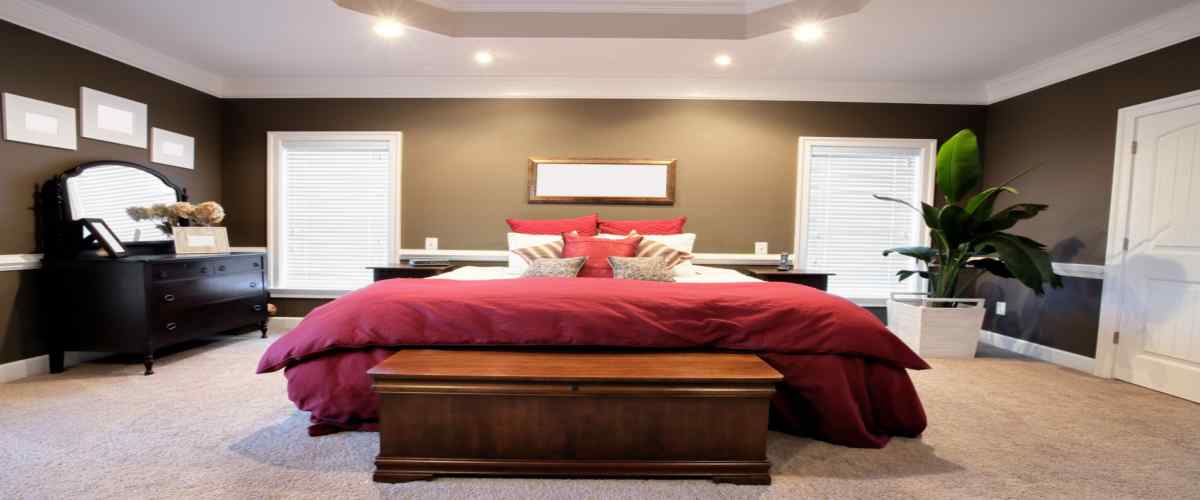 Check out this basic modern false ceiling bedroom that covers the entire length and breadth of your room. Through the use of LED strips and recessed lights, this type of false ceiling can be illuminated. However, what's the most fascinating? Add a decorative flourish by inserting a pattern made up of multiple plywood rings into a coved corner of your bedroom's modern false ceiling design.
Read: Create The Perfect Lounging Destination at Home with These Terrace Decoration Ideas
3. Add texture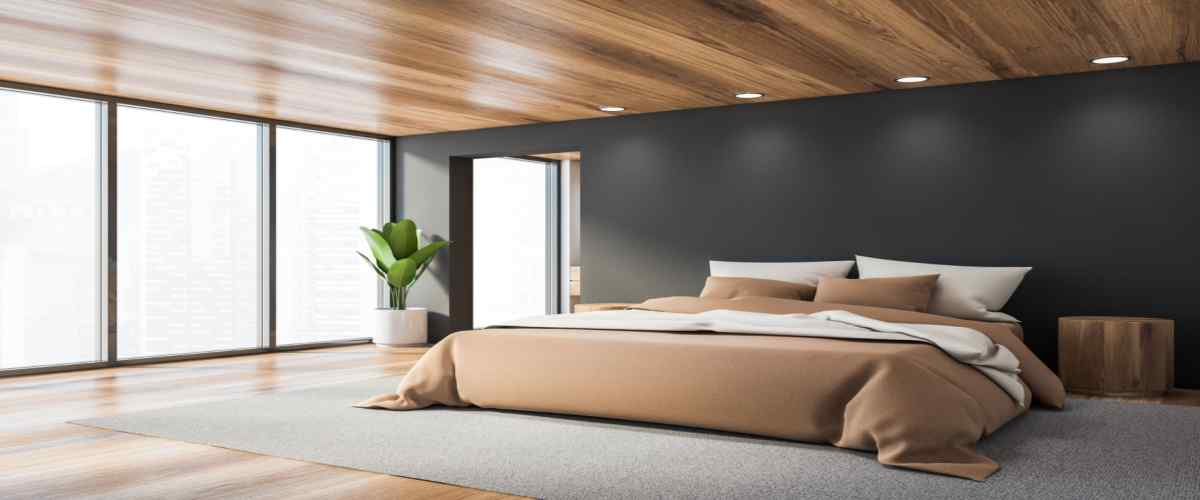 Texture your old ceiling to give it a new look and to cover up minor flaws in the structure. A variety of spray bedroom modern false ceiling options is available to make the process as easy as possible. For a more extravagant look, consider using textured wallpaper. For a traditional and regal look, both options will give the space a stucco-like appearance.
4. Deck it up with rafters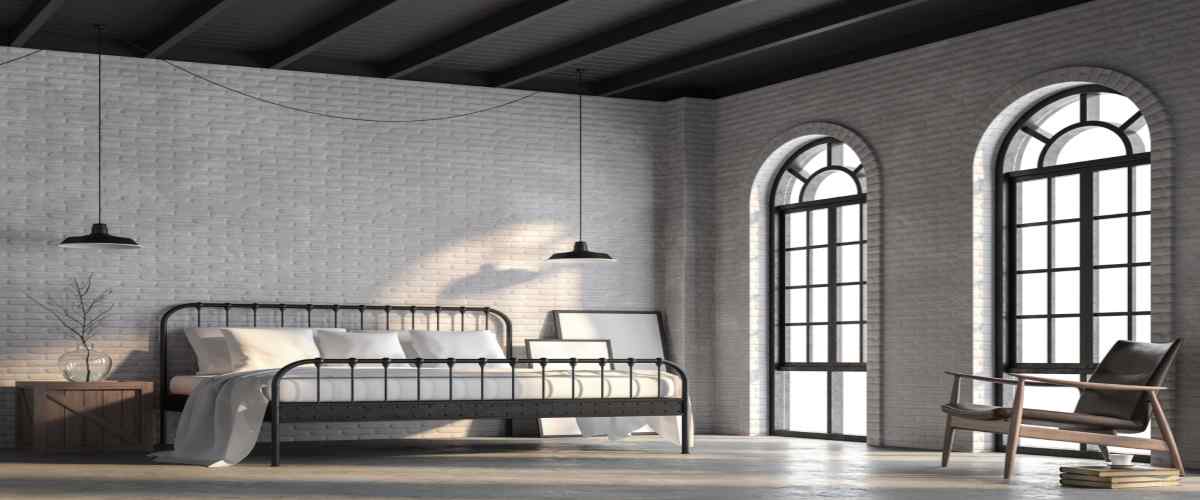 When it comes to modern PVC ceiling design for bedrooms, exposed-beam ceilings' appeal hasn't worn off yet! Invoking images of a simpler time, and lowering the ceiling height to create a cosy atmosphere, this impressive trend is a must-have. Rafters reduce the weight of load-bearing beams, making them ideal for open-plan layouts. Because it reduces the room's volume, this is a good choice for colder climates.
5. Geometry on the ceiling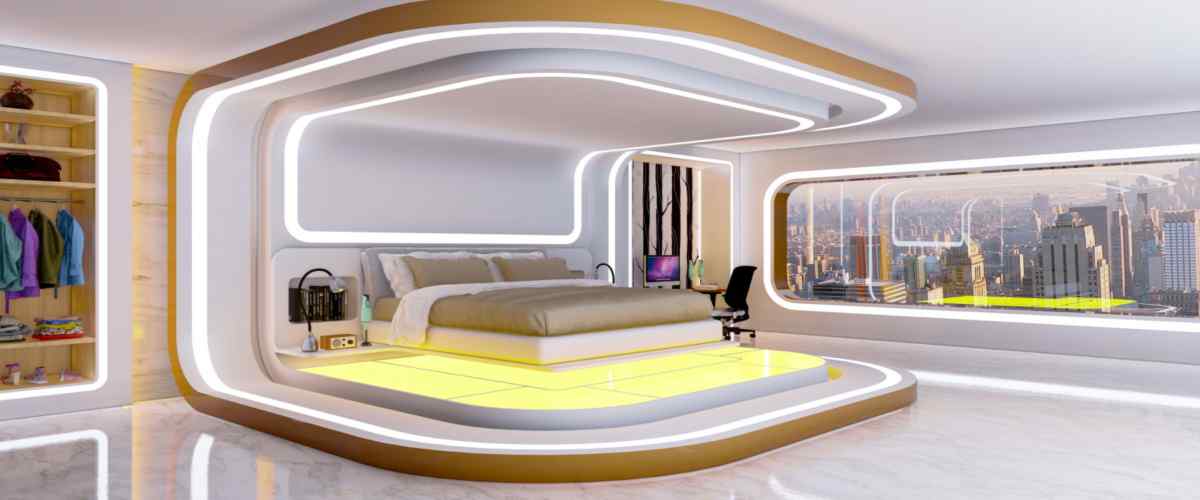 Shapes, colours, and textures all work together to create harmony in a modern down-ceiling design for the bedroom. Consider adding geometric pendant lights to your new ceiling designs for some extra flair. They're not only stylish and elegant, but they also provide a greater amount of diffused light. As an alternative, if you want a more striking appearance, consider using patterned mirrors in modern false ceiling designs for small bedrooms. A great way to open up a small space and make it appear airier and more spacious is to use mirrors.
Read: A Dramatic Collection of 20+ Modern Kitchen Lighting Design Ideas for Every Household
6. Create a coffered look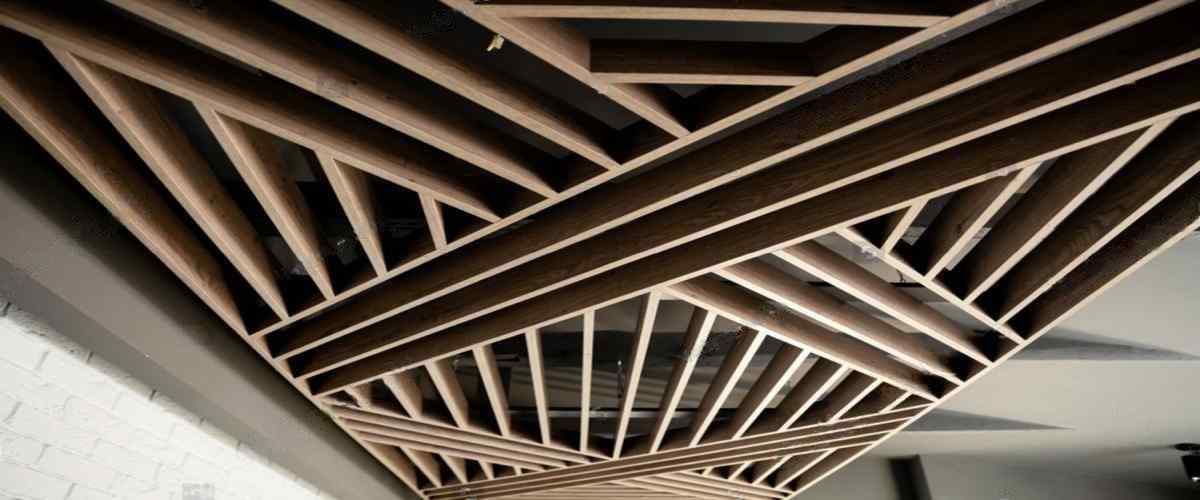 Another architectural detail for your bedroom. It's cosy! Coffered ceilings are grid-like, crisscrossing beams. They can be made of gypsum, POP, and wood. In the above bedroom's modern simple ceiling design, you can see how the beams draw attention upwards. This is a good example of a great master bedroom false ceiling design.
7. Combine your walls decor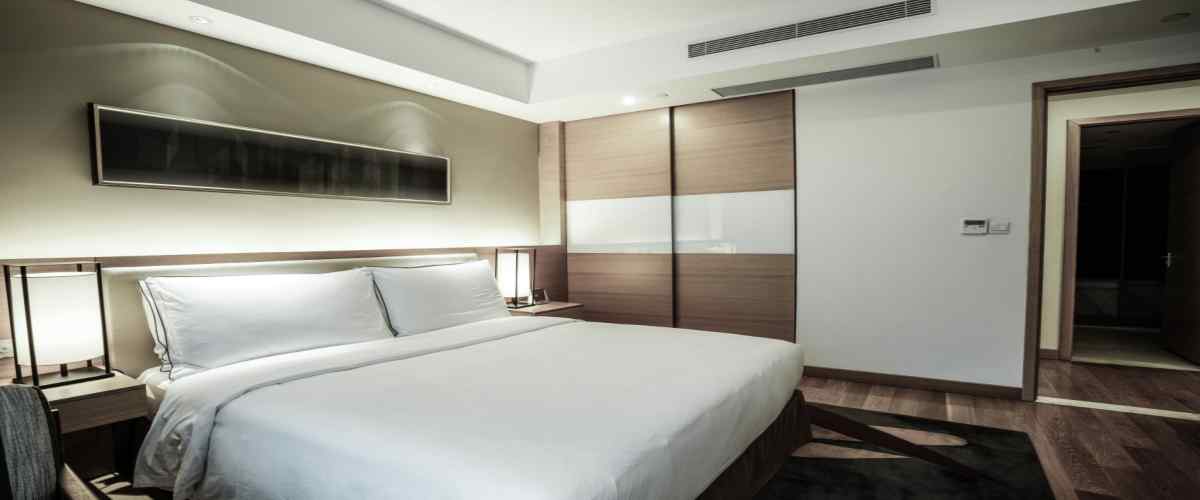 You have the option of going with this false ceiling style if you do not want the design to be confined to your ceiling. It is as wide as your bed, and it starts on the wall behind it and extends all the way up to the ceiling, or at least a portion of the ceiling. Above, you can see that a colourful and patterned wallpaper has adhered to the material that makes up the false ceiling. Additionally, golden trims have been used to give many modern false ceiling designs for the master bedrooms a neat and unique finish.
Read: Antiquity Meets Convenience to Bring You Some Trending Parallel Kitchen Designs.
8. Blend styles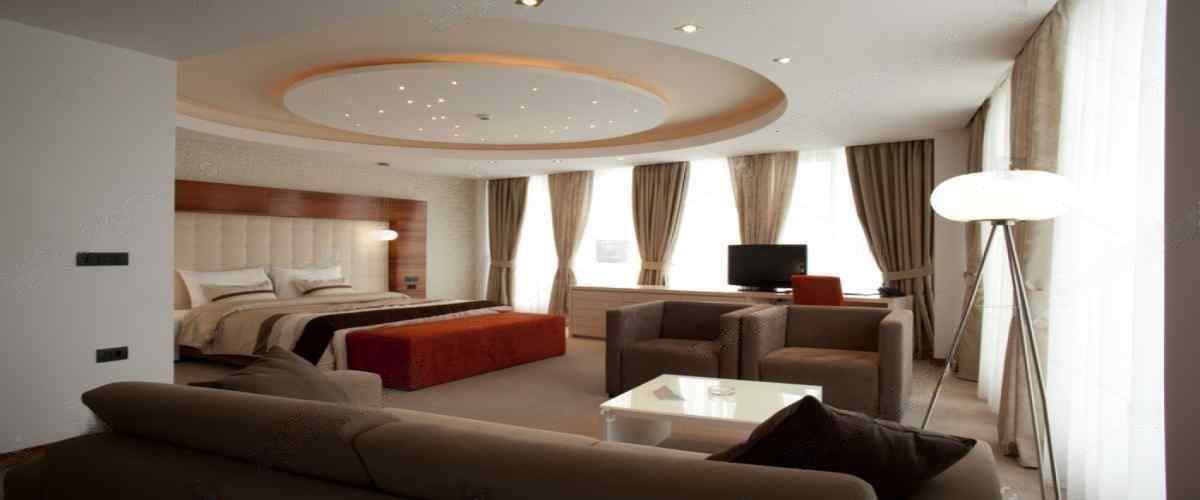 Yes, you can mix different styles in one bedroom. In fact, this is what's popular in homes right now! This false ceiling has two large areas with simple, straightforward designs and small recessed lights. But there are a few inches of larger wood between them that draws attention to the bed and the area next to it. Also, sequential gypsum planks are put in a horizontal position at the very end to add a decorative touch to any modern pop design for bedroom.
9. Explore panelling
Panels and beams can also be added to your bedroom modern bedroom false ceiling design a new look. The combination will give the impression of high ceilings and ample space in your new ceiling. We've used coffered ceiling tiles in a number of our projects for a clean, modern style. Look to painted wood panelling for its rustic charm instead if you want to create a welcoming environment.
10. Embed ambient lighting into the design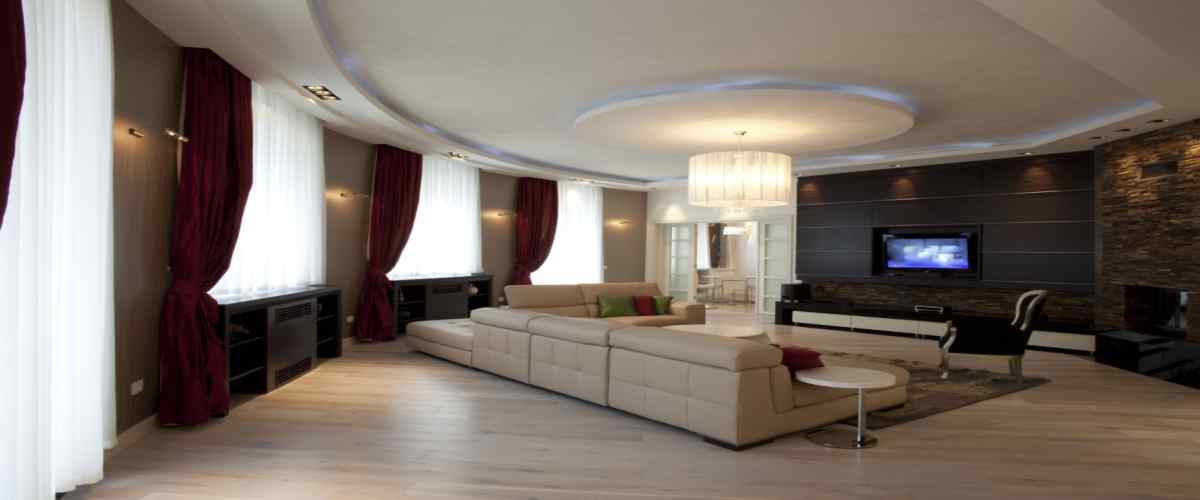 11. Illusion of the sky
Image caption: Escape to Serenity: Transform Your Bedroom with an Illusion of the Sky Ceiling)
Create a whimsical and dreamy atmosphere by painting your ceiling to resemble the sky. Usesoft hues of blue, white, and gray to mimic clouds or add a touch of sunset or sunrise colors for a more dramatic effect. This design choice can make your bedroom feel like an escape to a serene and tranquil paradise.
12. Skylight oasis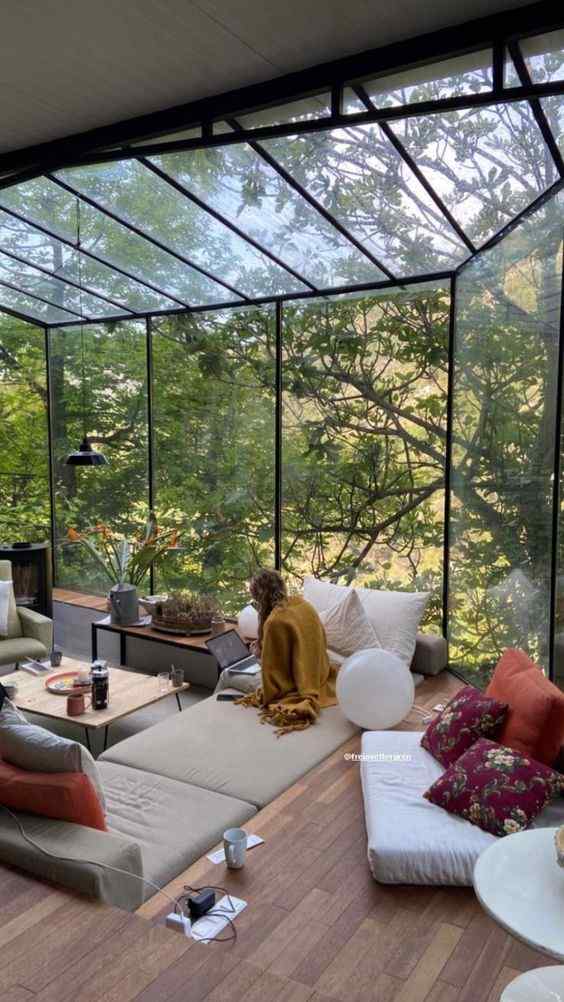 Bring the beauty of the outdoors inside by incorporating a skylight into your bedroom ceiling design. This idea allows natural light to flood the room during the day, creating a serene and airy atmosphere. At night, you can gaze up at the stars while lying in bed, adding a touch of romance and tranquility to your bedroom oasis.
13. Wooden panel accents
For a warm and cosy feel, consider adding wooden panel accents to your bedroom ceiling. This design choice adds a rustic and natural element to the space, creating a soothing and inviting ambience. The panels can be arranged in various patterns or installed in a grid-like formation to add visual interest and depth to the ceiling.
14. Artistic Plasterwork
Create a striking impact by incorporating artistic plasterwork into your bedroom ceiling design. Crafted with meticulous attention to detail, plaster can be shaped into intricate designs, patterns, or motifs, elevating the room's elegance and sophistication. Whether your style leans towards the timeless charm of classical aesthetics or the sleek lines of contemporary design, personalised plasterwork can be tailored to reflect your individual taste, becoming a captivating centerpiece that showcases your unique style.
15. Suspended Lighting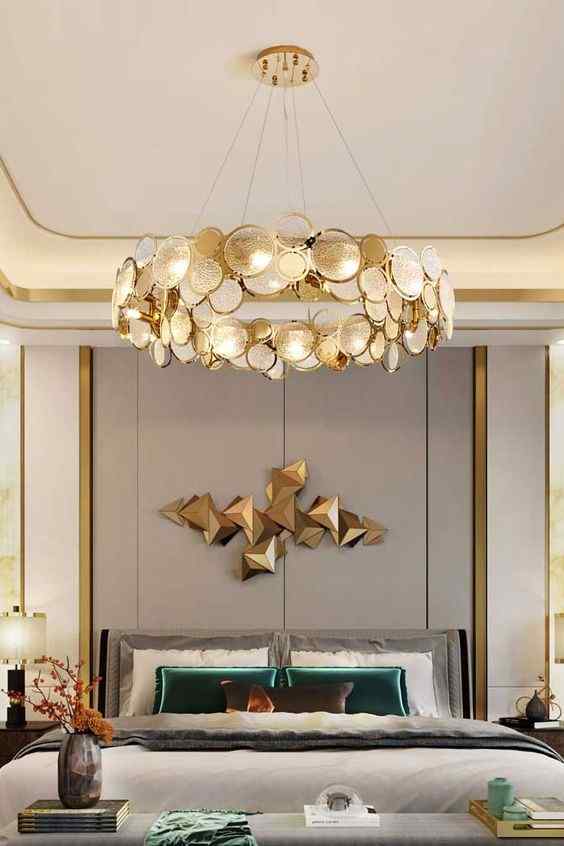 Infuse your bedroom ceiling with a modern and artistic flair through the addition of suspended lighting fixtures. Opt for sleek and minimalist pendant lights or chandeliers that gracefully hang at varying heights, forming an arresting visual display. Not only do these fixtures provide functional illumination, but they also serve as captivating artistic elements, enhancing the overall aesthetics of your modern bedroom.
Shapes, colours, and textures all work together to create harmony in a design. Consider adding geometric pendant lights to your new ceiling designs for some extra flair. They're not only stylish and elegant, but they also provide a greater amount of diffused light. As an alternative, if you want a more striking appearance, consider using patterned mirrors. A great way to open up a small space and make it appear airier and more spacious is to use mirrors.
Which False Ceiling is The Best?
The master bedroom false ceiling design 2023 needs to be picked out with proper consideration. False ceilings do not only fulfil a visual purpose but also have functionality. When choosing a false ceiling for your bedroom, ensure you take several factors into consideration such as the height of the room, the decor of the room, materials that will suit local weather conditions, etc.
Things To Remember Before Selecting the Bedroom Ceiling Design
When it comes to creating a certain ambience in a room, ambient lighting is vital
It's difficult to find rooms that don't have a false ceiling, and one of the main reasons for this is that it helps hide the wiring as well as the hardware of lighting, light fixtures, as well as other things. Here are a few things that you would benefit from when selecting any latest bedroom ceiling design:
Plan in advance: Set up the lighting plan ahead of time. Even in a small space, this will help you choose the most unique modern small bedroom ceiling designs.
Understand the height: Ensure the distance from floor to ceiling can accommodate a false ceiling without compromising the room's spaciousness. Opt for modern designs that maintain a comfortable feel without making the room feel cramped.
For tight spaces: Keep the decorations to a minimal level and choose a simple false ceiling design with straight lines and no mouldings, etc.
Use a fan rod: If you have gypsum or other light-weight ceilings, you have to put the fan rod on the ceiling slab before you build any modern pop design for the bedroom ceiling.
For spacious rooms: If you want to add drama to your bedroom's modern pop design, you can choose double-layered ceilings or unusual shapes, textures, and finishes.
Use borders: If the room isn't very tall, try making a false ceiling design that runs along the edges of the walls. This won't take away from the room's height and will give you the option to create mood lighting.
Maximize use of space: Try to get the most out of the space between the slab and the false ceiling by hiding things like electrical wires, AC ducts, copper pipes, etc. in them.
Gauge the strength: If you want to hang something heavy, like a swing, you'll need to put a strong hook in the ceiling slab before you build a bedroom modern ceiling design. This will help support the weight of the swing and the people who will sit on it.
Enhance support: A suspended gypsum false ceiling is usually light and not as strong as a slab. Before hanging chandeliers, ceiling lights, decorative pieces, etc., one needs to know how much weight it can hold. For safety, you should put a piece of plywood or MDF right on top of the gypsum sheet to give it the strength it needs to support the weight of the piece.
Insulate properly: If there is a modern false ceiling for a bedroom directly under a building's terrace, it is best to use thermocol sheets as insulation to stop heat from seeping into the room below. This makes air conditioning work better and uses less energy.
Pros And Cons of False Ceilings
Let's take a look at the advantages of false ceilings:
False ceilings can help hide minor imperfections or electrical wires on the ceilings.
They are visually appealing and can easily be adapted to suit your room's decor.
False ceilings help reduce the temperature of the room.
They help cut down on electricity bills.
They act as a layer of soundproofing.
They give the room a cosy feel by reducing the height of the ceiling.
The disadvantages of false ceilings are:
Requires regular upkeep and maintenance.
Certain parts of false ceilings have the risk of falling off over time and need regular repairs to ensure safety.
Light fixtures or fans attached to false ceilings have a higher chance of falling off.
They are prone to weather-related damage. False ceilings are not recommended for homes in high-humidity areas or areas prone to cyclones or earthquakes.
Can make the room appear smaller. If false ceilings are installed in smaller rooms, it may make the room appear even smaller and cramped. Tray ceilings would be the best false ceiling design for low-height rooms.
Explore Modern Master Bedroom Ceiling Design Ideas with NoBroker
The ceiling is considered the 5th wall of our rooms, which is why it shouldn't be ignored. In fact, installing modern ceiling designs for the bedroom make it look classy, artful, and inviting. If you have made the decision to install a drop ceiling in your bedroom, for whatever reason, you might as well choose a design that is pleasing to the eye. After all, there should be additional advantages to lying in bed aside from the fact that you are giving your exhausted body a chance to rest.
If you're looking for assistance with modern ceiling design for bedroom, look no further than NoBroker's highly-rated interior designers. Our experts can help you create or transform your bedroom ceiling with innovative concepts and competitive pricing. Explore our interior decoration and designing services below for more information.

FAQ's
Q: Why design my bedroom's ceiling?
Ans. Dropped ceilings, or false ceilings, have a wide range of uses in the bedroom. Implemented ugly wiring and light fixtures can be hidden behind the fake panels, which also serve as an installation platform. Your room's sound quality will also be improved and insulation will be provided
Q: What is the benefit of installing a modern ceiling design for the bedroom?
Ans. Wire concealment, soundproofing, fire safety, energy efficiency, and moisture and sag resistance are some of the primary functions of false ceilings. True false ceilings used to be a simple matter of gypsum boards, but these days, they may be both useful and beautiful.
Q: What is the con of using a false ceiling? 
Ans. One disadvantage of false ceilings is that they diminish ceiling height, reducing room area. If your ceiling is low, don't install an extension. It can make the place seem suffocated if not installed properly.
Q: How is a false ceiling different from normal ceilings?
Ans. While a normal ceiling is a 'structural ceiling' on which the integrity of your home is dependent. Compared to a bare structural ceiling, false ceilings consist of panels, tiles, or frames that dangle a few feet below the main ceiling constructed of concrete or wood planks.
Q: How costly are false ceilings?
Ans. Trustworthy brands' straight-line gypsum false ceilings cost 75 per square foot.  Custom-built and elaborately decorative fake ceilings might cost up to 125 per square foot.