Are you struggling to make your room's interior design pop with the perfect wardrobe color combination? Your choice of wardrobe colour design can either elevate your space into a harmonious haven or turn it into a jarring eyesore. In the next few minutes, we promise to reveal the secrets of creating the best wardrobe colour combinations that will transform your room. Discover how the right colours can breathe life into your living space, and join us in this journey to revamp your home's aesthetics.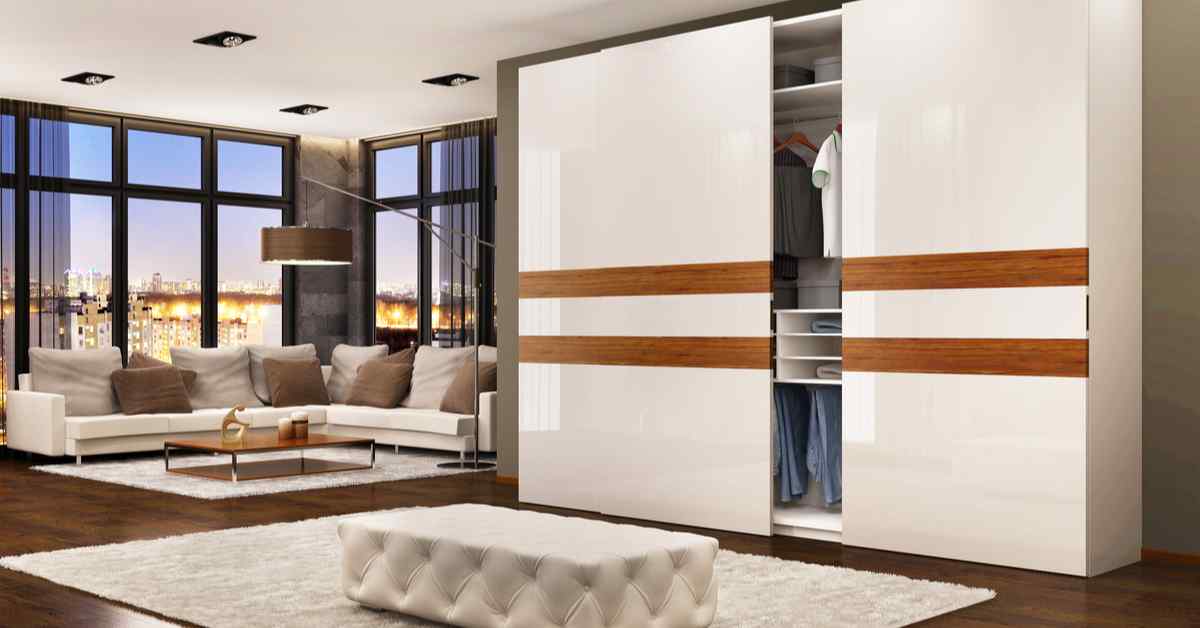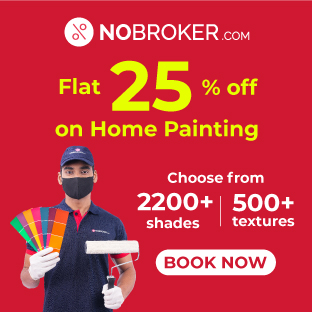 Exploring Different Types of Wardrobes
Wardrobes in various styles, designs, and functionalities, cater to the diverse needs and preferences of individuals. Here's a closer look at the wide array of wardrobe types available today, each offering unique features and benefits to suit different lifestyles and interior spaces. From classic freestanding wardrobes to modern built-in options, let's discover the perfect wardrobe style that resonates with your taste and complements your living space.
Read: Nerolac Distemper 20 Litre Price in India 2023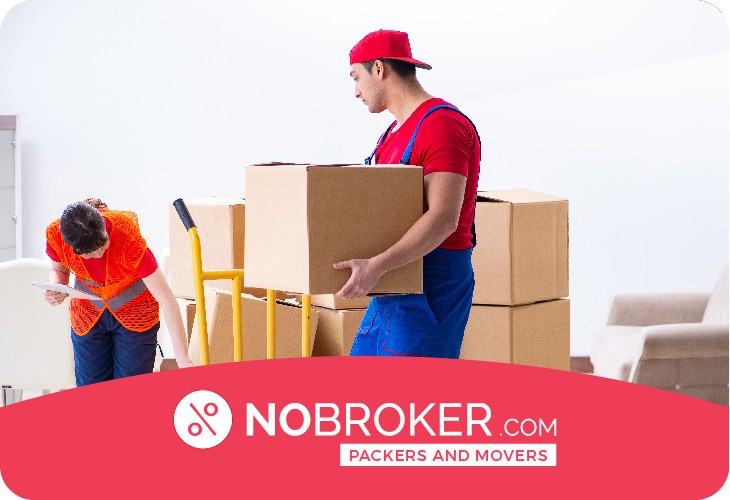 Book Best Packers & Movers with Best Price, Free Cancellation, Dedicated Move Manager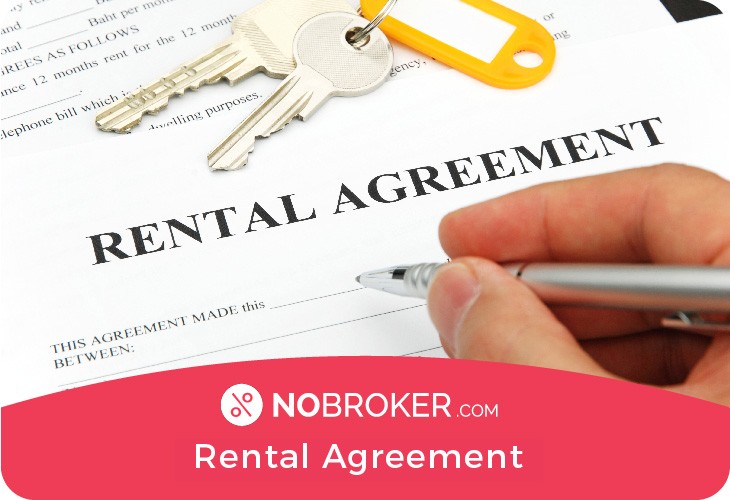 Get Rental Agreement With Doorstep Delivery, Super Quick & Easy
This is third
This is third
This is fourth
This is fourth
This is fifth
This is fifth
This is six
This is six
This is seven
This is seven
This is eight
This is eight
Hinged-Door Wardrobes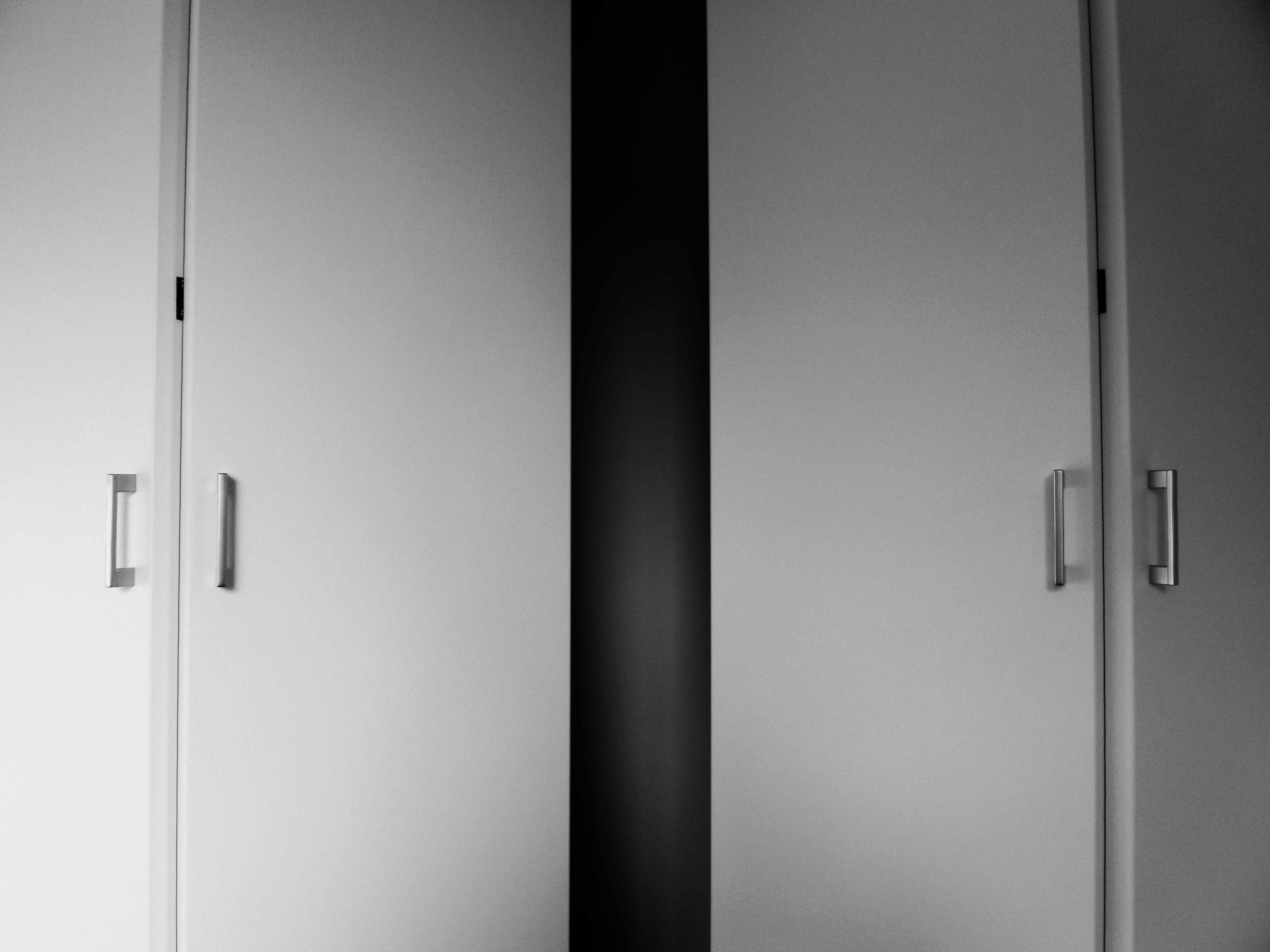 Hinged-door wardrobes are a classic and popular choice for Indian homes. These wardrobes have doors attached to one side using hinges, and they open outward. They provide easy access to the contents of the wardrobe and allow for a full view of the interior, making it convenient to organise clothes, accessories, and other items.
How can this be useful in an Indian home?
Hinged-door wardrobes are well-suited for Indian homes because they offer a blend of functionality and style. In many Indian households, there might be limited space in bedrooms, and hinged-door wardrobes can fit neatly against the wall, maximising the available space.
Free-Standing Wardrobes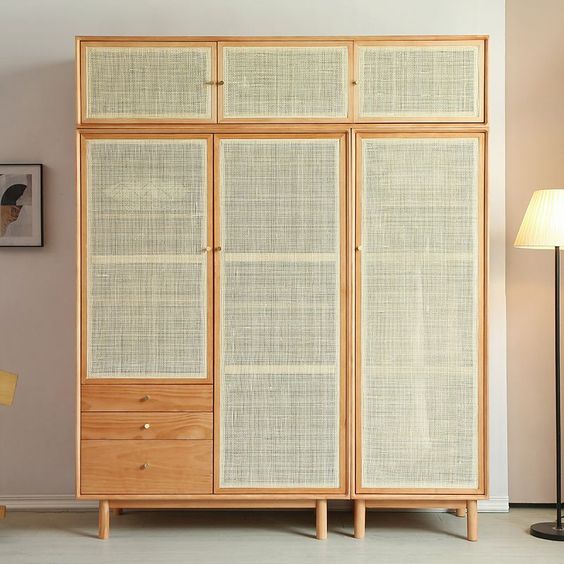 Free-standing wardrobes are standalone units that do not require any installation or attachment to walls. They are fully assembled and can be moved around, making them a versatile storage solution for various rooms in the house. These wardrobes come in a wide range of designs, from simple to ornate, and are available in different materials like wood, metal, and plastic.
How can this be useful in an Indian home?
Free-standing wardrobes are highly flexible and can be placed in any room, offering storage for clothes, linens, or even kitchen items. In Indian homes, where extended families may live together, free-standing wardrobes can be used in guest rooms to provide additional storage for guests' belongings.
Walk-in Wardrobe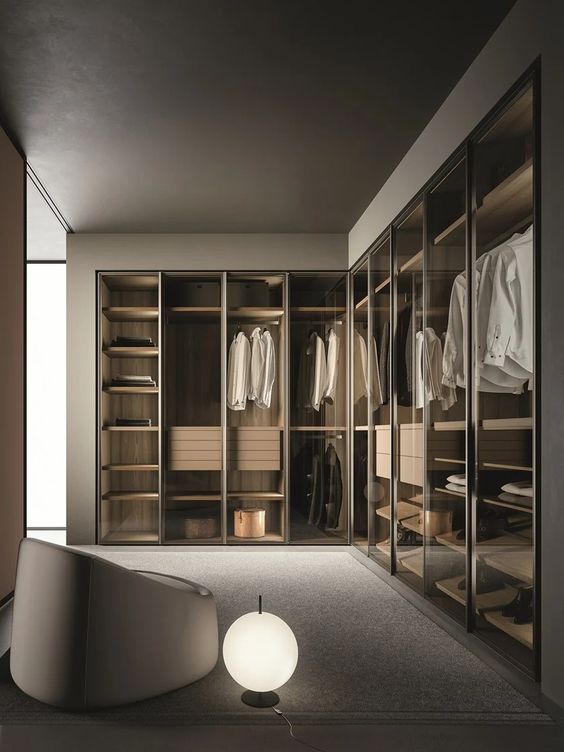 A walk-in wardrobe is a spacious storage area that allows one to walk inside and access clothes and accessories. It often features shelves, hanging rods, drawers, and sometimes even mirrors and dressing areas. Walk-in wardrobes are considered a luxury and are typically found in larger homes or master bedrooms.
Read: Best Home Painters in Nizampet, Hyderabad
How can this be useful in an Indian Home?
While walk-in wardrobes might not be as common in average-sized Indian homes, they are a desirable feature in larger, more upscale houses. Indian homes that have the space and budget for a walk-in wardrobe can benefit from the added storage capacity and the luxurious feel it brings.
Sliding Wardrobe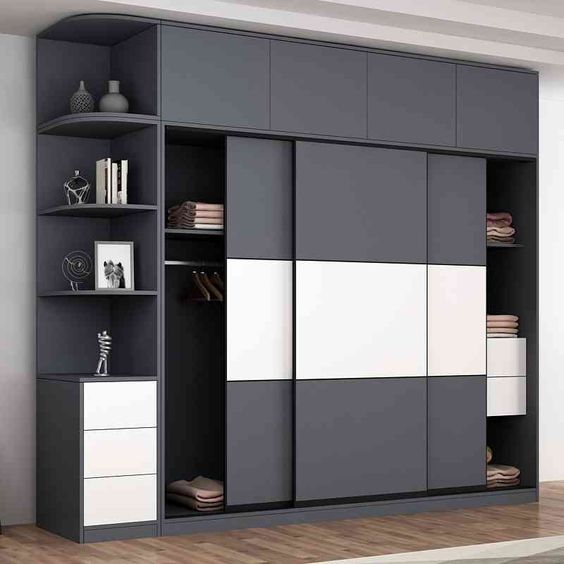 Sliding wardrobes, as the name suggests, have doors that slide horizontally rather than opening outward. The doors run on tracks, and one door slides over the other to access the wardrobe's contents. Sliding wardrobes come in various finishes, such as mirrored, frosted glass, or wood, offering both functional and aesthetic advantages.
How can this be useful in an Indian Home?
Sliding wardrobes are highly practical for Indian homes where space might be a constraint. Since they do not require extra clearance for opening doors outward, they can be installed in tight spaces or against walls without affecting the surrounding furniture. The mirrored versions of sliding wardrobes are especially useful in Indian bedrooms, as they serve the dual purpose of a wardrobe and a dressing mirror, saving space and adding functionality. 
Material and Finishes for the Wardrobe
When it comes to choosing the right material and finish for your wardrobe, there are several options to consider. Here's a breakdown of some popular choices:
Veneer: Offers the natural look of wood without a hefty price tag. Thin slices of real wood are glued to MDF or particleboard, displaying unique wood grains. Note that occasional polishing is required to maintain its appearance.
Read: Apex Ultima 20 Ltr Price 2023
Solid Wood: Exudes elegance and style, but it's not environmentally friendly due to deforestation concerns, and it can be costly.
Mirrored Shutters: A contemporary and space-saving choice, creating the illusion of a larger room. Be mindful that mirrors are breakable.
Laminates: Classy wardrobe laminate colour combinations are popular for their durability and a wide array of finishes, colours, and patterns. However, they can be susceptible to scratches and chips, especially in budget-friendly varieties.
Transparent Glass or Acrylic: Ideal for minimalism, providing a light and airy look to your wardrobe and enhancing the room's sense of space.
Frosted or PU Finished Glass: Combines the airy feel of glass with interior privacy. Perfect for those who prefer both aesthetics and confidentiality.
Lacquered or PU Paint on MDF: Allows for customization with a glossy, semi-gloss, or matte finish, making it an excellent choice for a walk-in wardrobe design.
These wardrobe material and finish options offer a wide range of aesthetics and functionality, allowing you to choose the one that best suits your personal style and practical needs.
Wardrobe Colour Combination Ideas for Stylish Interiors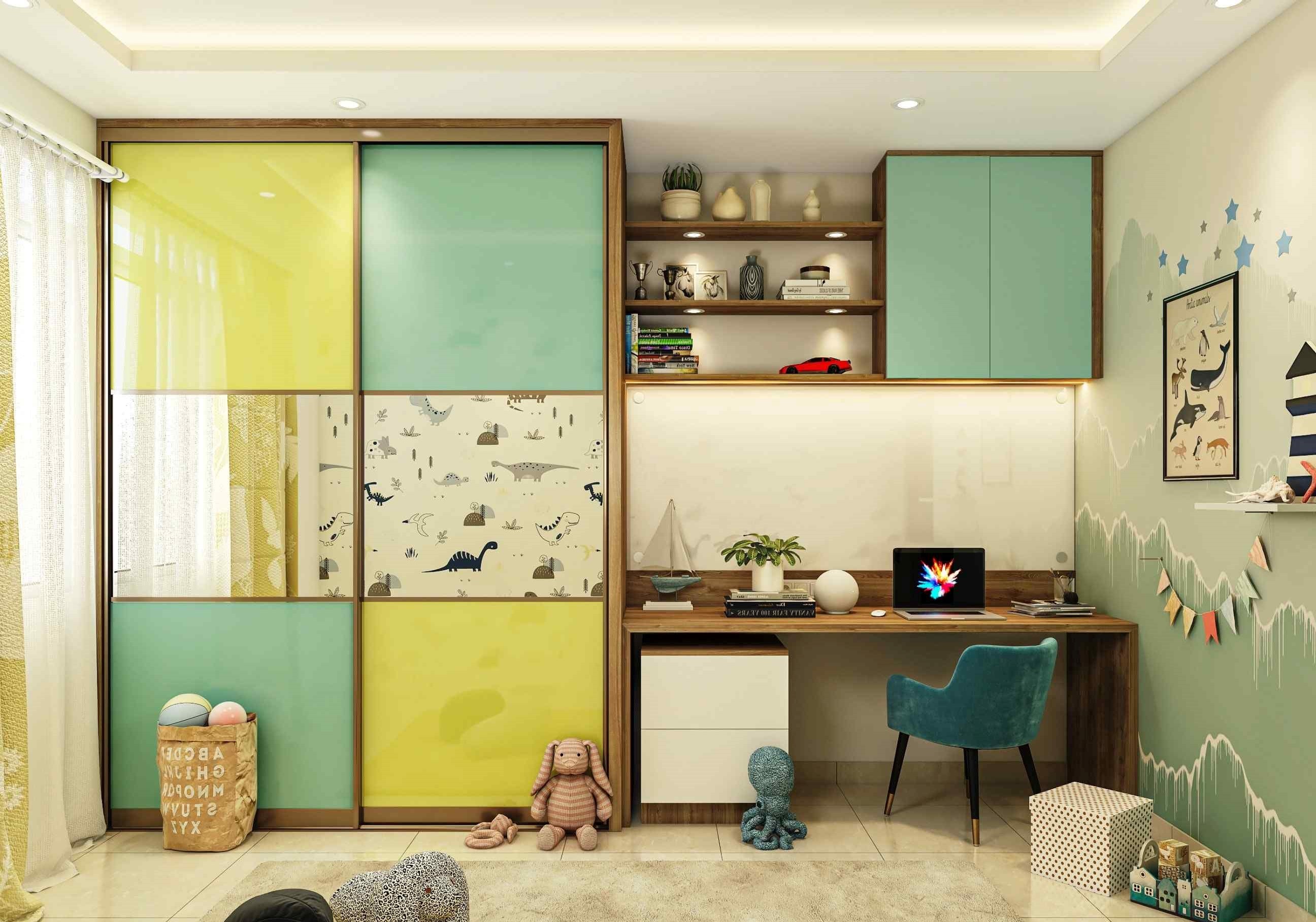 Selecting the best wardrobe colour combinations can significantly enhance the aesthetics of your interiors, transforming them into stylish and visually appealing spaces. The right blend of colours can create a harmonious and inviting atmosphere, complementing your decor while reflecting your taste.
Read: Red Wall Paint Combinations: Discover the Art of Balance
From timeless neutrals to bold contrasts, these ideas offer a plethora of options to infuse your wardrobes with beauty and elegance, making them focal points of your stylish interiors. Let's explore these captivating wardrobe colour combinations and discover the perfect palette for your home.
Mirror Wardrobes
It is always a good idea to have mirror wardrobes in your bedroom to give it more depth. Mirrored doors are an excellent option for adding visual appeal to a room and transforming it into a dream bedroom. It brightens a room by reflecting natural light and gives the impression of more space, making it ideal for small rooms. When it comes to storing clothes and other essentials, custom wardrobes are the ultimate luxury. Adjustable shelving, contemporary styles, and a variety of finishing touches are just a few of the features.
L-Shaped Wardrobes – L-shaped wardrobes, also known as Corner Wardrobes, are a great way to make the most of your bedroom's corners. They use the corners of the bedroom, whichare usually underutilised.
Sloped Wardrobes – A slanted wardrobe is ideal for sloped ceilings, attic bedrooms, and under the stairs. They are a practical way to increase storage space.
Glass Wardrobe – You can choose a sleek glass wardrobe to make your bedroom look luxurious if you want it to exude style. Our interior designers use a glass-fronted hinge-door wardrobe or a sliding-door wardrobe with aluminium frames.
Matching The Colour of the Wardrobe to the Rest of the Furniture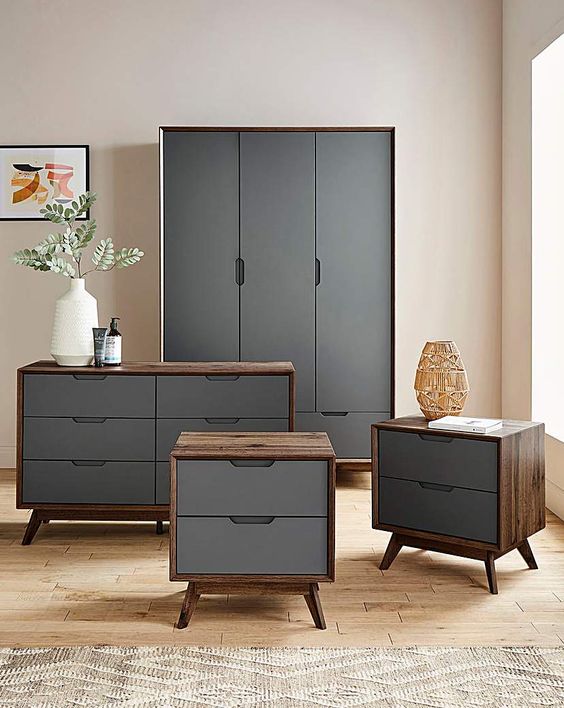 Ensuring harmony in your home's interior design involves matching the colour of your wardrobe to the rest of the furniture. Achieve a sophisticated and modern look by opting for a sleek black-and-white wardrobe design. Pair this elegant wardrobe with a platform bed featuring black leather upholstery and a minimalist white dresser.
Colour Blocking in the Wardrobe: Yellow and White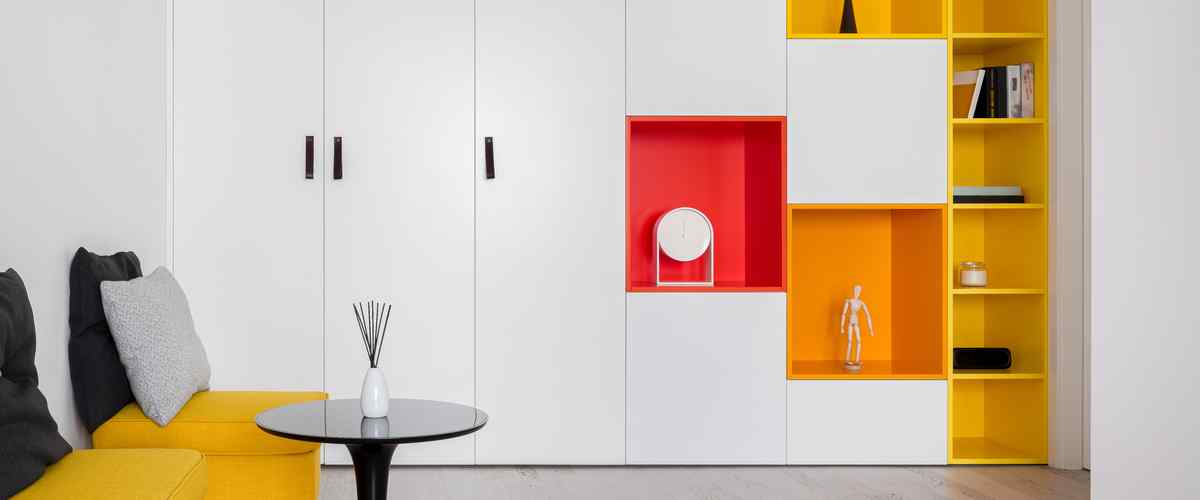 Yellow and white form a captivating and popular colour combination for living room wardrobes. By incorporating a vibrant sunmica colour into your wardrobe, you can create an eye-catching accent amidst the white and grey tones, adding flair to the entire space. These two-colour combination wardrobe designs represent some of the finest and most stylish wardrobe colour combinations available.
Highlight Borders
When exploring the latest bedroom wardrobe colour combinations, incorporating two-colour combinations can create a visually stunning impact. Highlighting the wardrobe with a different colour offers an excellent opportunity to play with cabinet contrasts. 
For instance, combining a light grey wardrobe laminate with a bold and darker shade of black and grey can achieve a sleek and modern appearance, elevating the overall aesthetics of your bedroom. Embrace the versatility of colours to design a wardrobe that stands out and complements your bedroom's style.
Cabinets In a Neutral Colour Scheme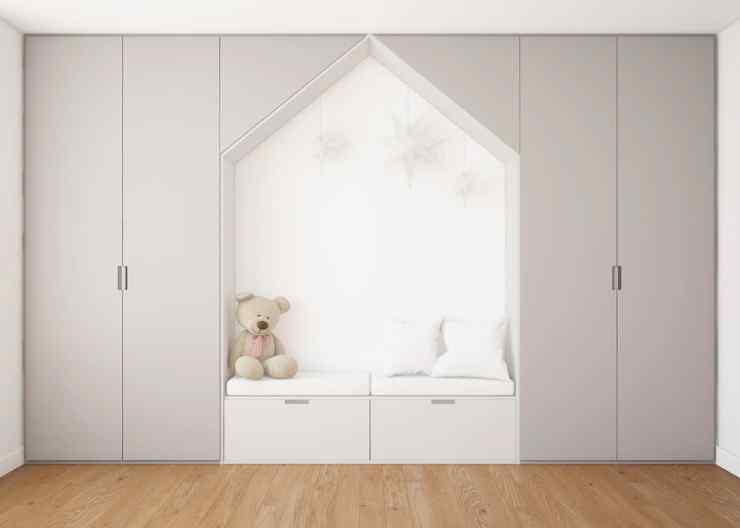 You can add warmth to a room with a mica colour combination for the wardrobe. A wardrobe design with a neutral two-colour variety is always classic and works with various styles. As a result, the neutral-toned wardrobe sunmica colour combinations will go with your room's decor even if you update it in a few years.
White and Brown Wood Cabinet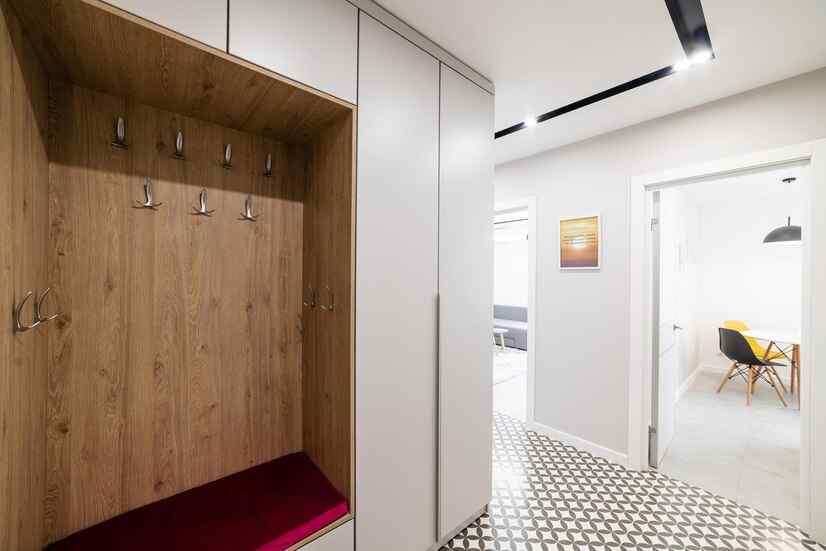 Brown emerges as a versatile and dependable choice when it comes to wardrobe colour combinations ideas. Elevating the appeal of the wardrobe can be achieved through patterns, textures, hardware, and a thoughtfully designed two-colour wardrobe concept. By incorporating two different shades of brown, you can add depth and dimension to the wardrobe, creating a captivating double-colour wardrobe design.
The darker outline serves to highlight the wardrobe's laminate colour combinations, while the inclusion of patterned wood and mirrors infuses the neutral cabinet colour scheme with a sleek and sophisticated appearance.
Colour Combinations in a Rustic Wardrobe Mix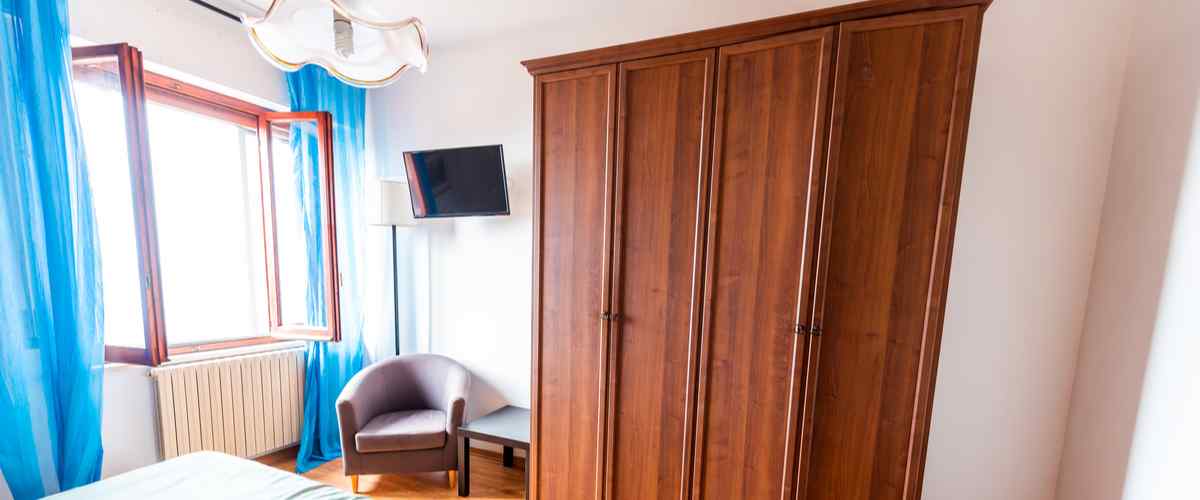 Incorporating a rustic-finish cupboard colour design can create a charming and inviting atmosphere in your bedroom. With its natural appeal, the dark brown hue serves as a subtle accent within the dual-tone cabinet colour scheme. The richness of the rustic finish eliminates the need for additional colours, adding to the overall elegance of your bedroom's cupboard design.
Chevron-Patterned Wardrobe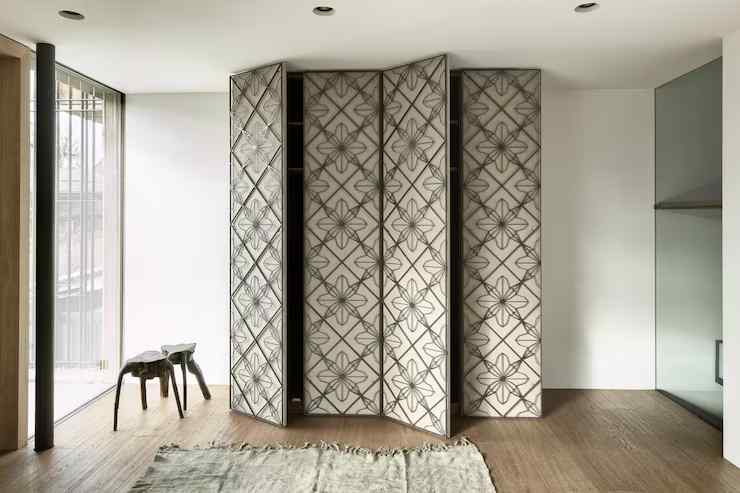 In Indian homes, a chevron design looks fantastic for a modern wardrobe colour design. Wood, as a material, allows you to create your design, and you can choose from a variety of patterns and textures to dress up a plain wooden cabinet. With the cupboard, a simple drawer-turned-platform with a nice mirror for the company will look great. The best cupboard design colour combination for bedroom wardrobes is brown wood with the rest of your wooden furniture.
Modular Wardrobe with a Gleaming Finish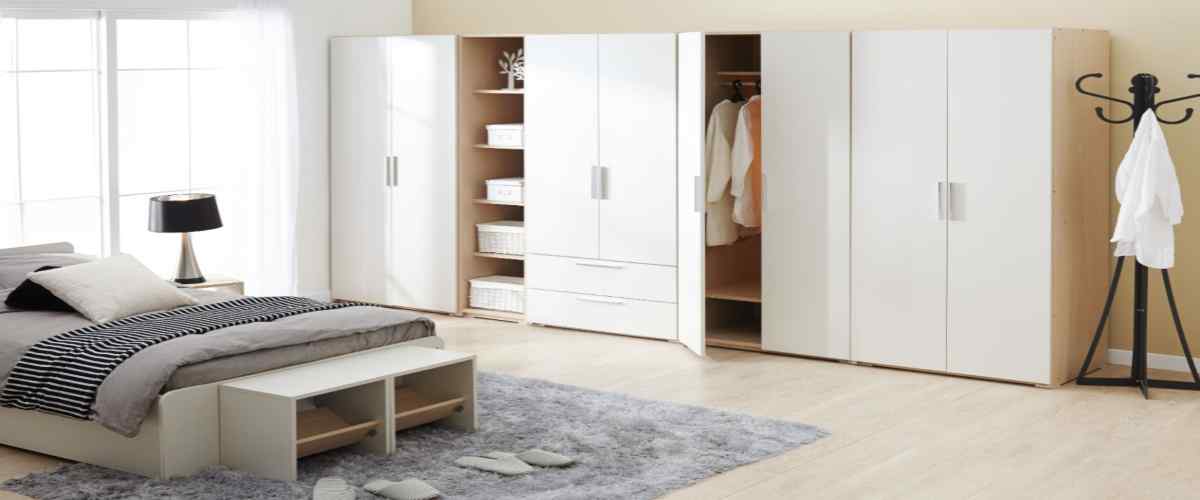 For a fantastic master bedroom wardrobe, consider glossy and classy wardrobe laminate colour combinations with sliding doors. The lustrous finish adds a unique and elegant element to the room, enhancing its overall appeal. To optimise space, incorporate a built-in dresser within the wardrobe design. Sliding doors further aid in space-saving, making your master bedroom both stylish and functional.
Walk-In Wardrobes with Lighting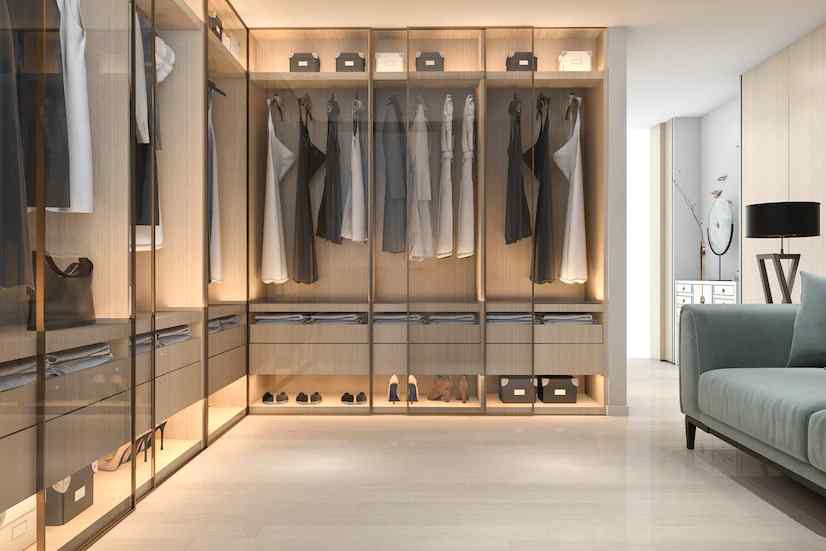 Embrace the luxury of space with a walk-in almirah, elevating your bedroom's sophistication. These wardrobes offer ample storage for all your belongings, from shoes to jewellery, ensuring a clutter-free environment. Incorporate versatile shelving options and innovative almirah colour combinations to create a well-organised and visually appealing space. With everything neatly sorted and easily accessible, your walk-in wardrobe will exude both elegance and functionality.
Single Colour Customised Wardrobes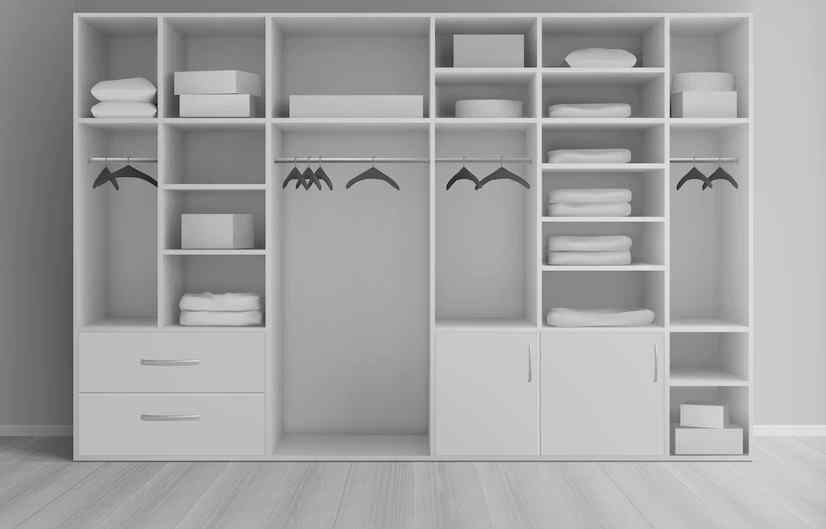 Do you have any nooks and crannies in your room and want to turn them into usable spaces? Then tailor-made closets are the way to go! They can transform even the tiniest corner of your bedroom into a highly functional storage area for your belongings and accessories. They're also a great option if you don't want to compromise on any aspect of your wardrobe design, whether it's the number of shelves inside or the way it looks from the outside. You might want your wardrobes to serve a purpose other than just storing your accessories, such as holding your dressing table or TV unit. A custom-made two-colour wardrobe design is ideal in these situations as well!
Rays Of Sunshine Yellow Coloured Wardrobe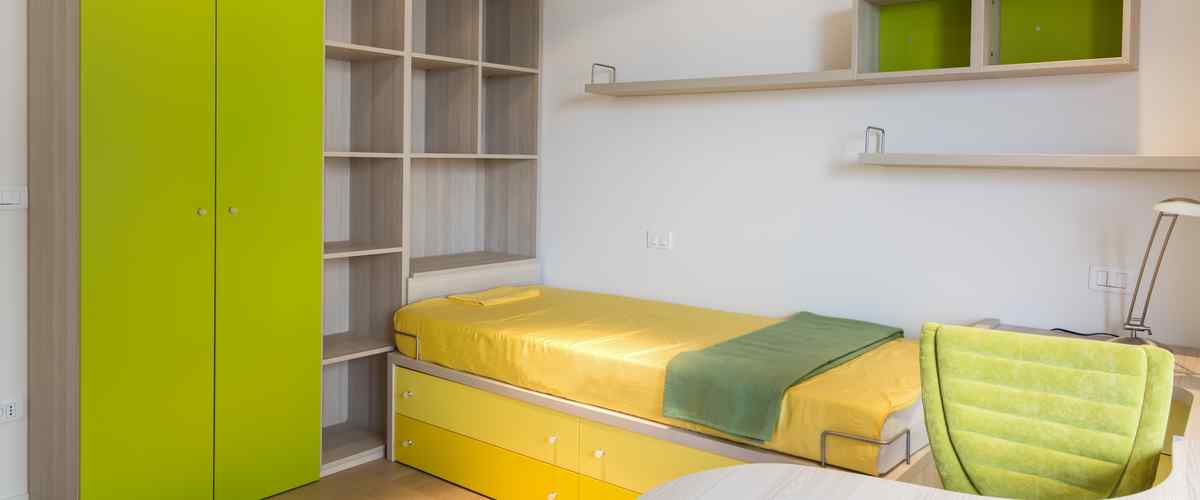 Well, we could all use a little more sunshine in our lives, and what better way to bring it in than through your wardrobe? According to decor experts, Sunshine yellow will make the best colour combinations for bedroom wardrobes. But make sure you use it correctly and in the appropriate places. For example, don't paint your walls this bright colour; you'll get tired of it quickly. However, if it makes its way into your list of bedroom cupboard colour combinations, wall accent, bed linen, or even a floor rug, it will brighten your day.
Mirrored Wardrobe in Two Tones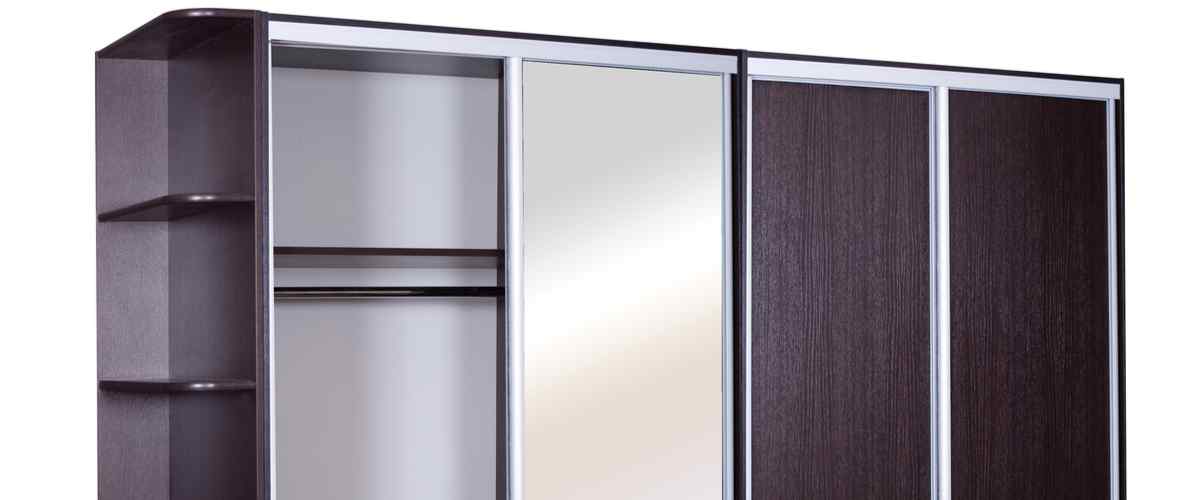 Indeed, the two-colour combination of wardrobe design, featuring mirrored shutters and high-gloss laminates, offers a versatile canvas for various colour options. The mirrored element not only adds a touch of elegance but also has the added advantage of creating an illusion of spaciousness, making the room appear larger and more open. Whether painted in neutral shades for a timeless look or vibrant hues for a bold statement, this wardrobe design allows for endless possibilities to complement your room's style and enhance its overall appeal.
Teal With or Without Mirrors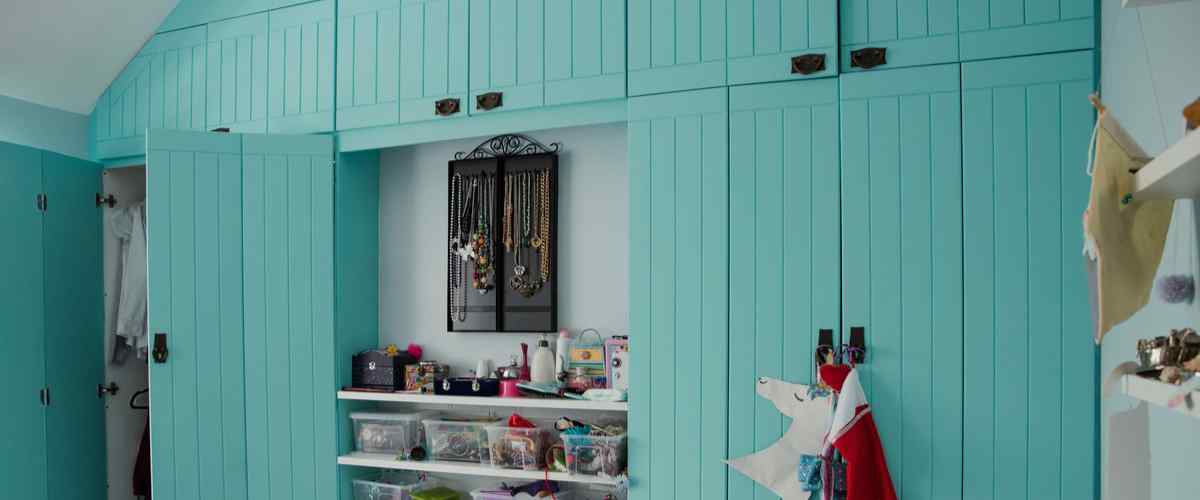 This gorgeous shade of teal is named after the coloured band around the teal bird's eyes and will remind you of nature. This two-tone sliding wardrobe colour combination contrasts beautifully with the mirrored middle panel. Likewise, the loft finished in textured wood laminate contrasts with the two panels.
The White and Black Wardrobe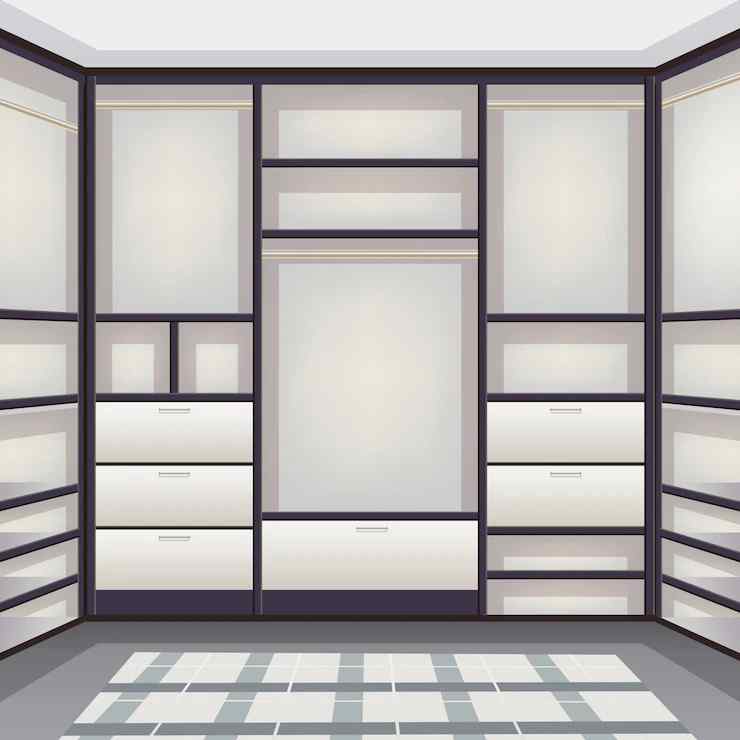 This yin and yang pair is a perennial favourite for kitchen wardrobe colour combinations that never goes out of style! Regardless of how you combine these two colours in your wardrobe, the colour combination for wardrobe doors will be stunning and dramatic décor.
To summarise, using a wardrobe colour combination design keeps it from looking too bulky and adds an interesting colour contrast. A wardrobe is one of the most significant investments in choosing the interior décor. If you are looking for professional assistance in selecting the best wardrobe colour combination ideas for your home, you will undoubtedly find the right help at NoBroker. Please leave a comment below this article; our executive will soon be in touch with you.

FAQ's
Q. Which are the best colours for wardrobes in the bedroom?
Answer: The most preferred colours for bedroom wardrobes amongst Indian homeowners are brown, yellow, white, blue and grey. 
Q. Is it a good idea to have a wardrobe with a dresser 
for a small house?
Answer – Multiple wardrobe doors and a built-in dresser with a mirror and an open storage shelf is a good idea for a small apartment as it serves two purposes.
Q. What is the cost of a wardrobe with a TV unit?
Answer: Opting for a comprehensive solution, some individuals favour an all-inclusive wardrobe that seamlessly integrates a bookcase and a TV unit, as opposed to assembling separate furniture pieces. This versatile wardrobe configuration typically features an open bookshelf in one corner and a central TV unit. The approximate cost for such a wardrobe, measuring 8 feet by 8 feet, is around Rs. 65,000.

Q. Is Colour Scheme Strategising important while choosing a wardrobe?
Answer – Wardrobe colour combination schemes can easily elevate a simple wardrobe design. On one side, the cabinet colour combination can be a lovely grey or while on the other half; it can be dark brown or red. Both of the muted wardrobe colour schemes work well together.
Q. What are the benefits of a walk-in wardrobe?
Answer: The most significant benefit of a walk-in wardrobe is that you will always be able to find what you're looking for quickly and easily without having to dig and sift through a cluttered closet.
Painting Service in Top Cities in India