Another International Landmark in Mumbai. The Peninsula business park lower Parel has two parts known as Peninsula Business Park Tower A as well as Peninsula Business Park Tower B Peninsula, these two towering buildings are also called the tower buildings of lower Parel.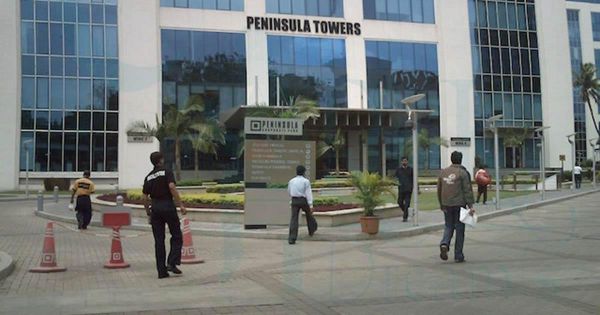 Companies in Peninsula Business Park are known to attract a ton of young, as well as experienced businessmen from all over the country and also all over the world. Tower A companies in Peninsula Business Park are in a different building as compared to Tower B in Peninsula Business Park Lower Parel, but they both lie in the same area.
Art, form, and seamless function come together to create a rare harmony at Peninsula Business Park. Standing tall with two princely towers of 20 floors each, and an exclusive 2-storey building, comprising over 1.2 million sq. ft. of premium workspace, it's one of the most prestigious corporate addresses you can have in the city.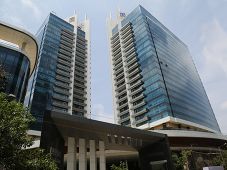 Breathtaking views of the majestic Arabian Sea and Mumbai's legendary Mahalaxmi Race Course, greet you even from the first level that starts at a height of 83 feet above the ground. When you want a break from the rigours of work, the greenery at multiple levels, landscaped gardens and water bodies will rejuvenate you. Internationally acclaimed landscape consultant Sitetectonix has made this building sight for your world-weary eyes. The cutting-edge technology inspires you to reach out and touch the world, while the world-class security system cocoons you in safety.

Its finest amenities, matchless infrastructure and verdant surroundings will make you feel absolutely privileged and happy. This international landmark is more than just well-designed concrete, is a magnanimous experience.

Read: The Cheapest Places To Live In Hyderabad For 2021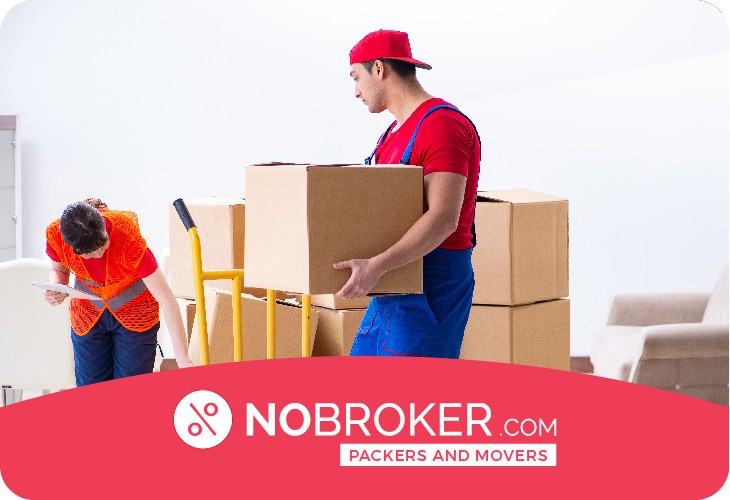 Book Best Packers & Movers with Best Price, Free Cancellation, Dedicated Move Manager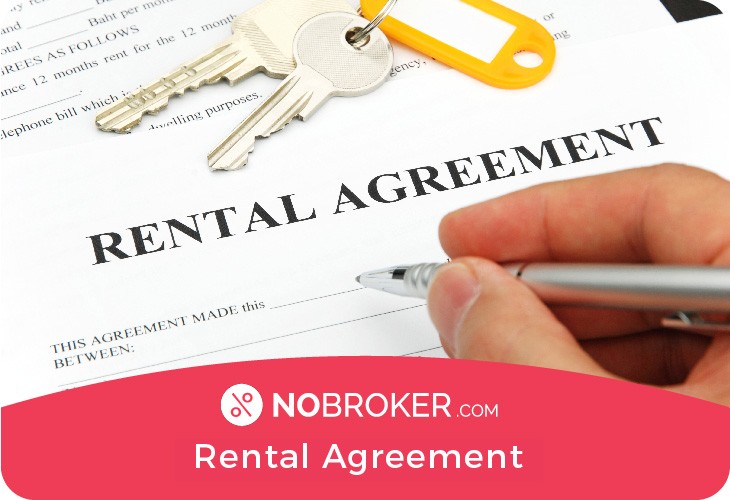 Get Rental Agreement With Doorstep Delivery, Super Quick & Easy
This is third
This is third
This is fourth
This is fourth
This is fifth
This is fifth
This is six
This is six
This is seven
This is seven
This is eight
This is eight
The Concept of Peninsula Park Lower Parel
Peninsula projects always support aesthetics with functionality, and Peninsula Business Park is no exception. They always keep pace with the latest international trends and work without compromise to bring you a truly world-class product. Peninsula Business Park takes this concept forward to a greater level by providing the latest and the finest amenities and infrastructure as per world standards. It is a whole new experience. It breathes an environment that relaxes and exudes peaceful energy meant to facilitate a harmonious working environment. Check out Flats for Rent Near Peninsula Business Park
The Creation
Peninsula Business Park is a planned development of 1.2 million sq. ft. Landscaped gardens and water bodies provide the much-needed visual respite required in a crowded city. The complex will have ample car parking facilities for the occupants as well as visitors.

Peninsula Business Park will provide large and efficient floor plates of approximately 30,000 sq. ft. with an excellent column grid for optimal utilization of space. Contemporary external full height façade design with Low-E double glass of international standards enables maximum visibility, perfect acoustics, daylight, and energy conservation. The elevator management system with automatic rescue devices offers minimum waiting time. The ultra-modern towers encompass modern infrastructure and world-class amenities including high-end security systems, advanced fire detection, firefighting system and power back up.

Peninsula Business Park will also provide recreation in the form of the state-of-the-art clubhouse, 'Club Peninsula.' This will provide an exclusive lounge for CEOs, recreational facilities including indoor sports, a food court as well as a fully equipped gymnasium.
Read: How To Survive Landlord Inspections
Peninsula Business Park is a commercial project developed by Peninsula Land. The project offers well-designed commercial shops and office spaces at very affordable prices. The project is well-connected by various modes of transportation. The site is in close proximity to various civic utilities.
This business centre offers one of the most prestigious corporate addresses in Central Mumbai, as it houses numerous major corporations including Vodafone, TATA, L'Oréal, Accenture, and Citibank to name a few.
About the location of Peninsula Business Park
Lower Parel is one of the key commercial suburbs of Mumbai located 9.5km away from downtown South Mumbai. Directionally it is positioned centrally between Naigaon, Chinchpakoli, Worli and Sewri. Lower Parel houses various upscale residential and commercial buildings by developers such as Indiabulls, Soundline Realty, Orbit and Zeus Housing and Construction. Prominent residential projects in Lower Parel Indiabulls Sky forest, Soundlines Florence, Orbit Grand and Zeus Heritage.
Read: How To Retain Tenants in Simple Ways?
Connectivity of Peninsula Business Park
Lower Parel is a well-connected locality via Tulsi Pipe Road and NM Joshi Marg, Mumbai Monorail and Western suburban railway line. The Mumbai International Airport is at a distance of 17 km. The proposed Lower Parel Metro Station on Line 3 (Colaba – Bandra – SEEPZ) which is scheduled to be by operational 2021is expected to further improve connectivity to the area and provide swift connectivity to the locality.
Social & Retail Infrastructure of Peninsula Business Park
Phoenix Mall built on the Phoenix Mills compound is one of the key malls along with various luxurious high street retails stores in the locality. Besides, there are many restaurants in Kamla Mill Compound. Premium schools in the locality include Holy Cross High School, JBCN International School, Dr Shirodkar High School and colleges like ISME School of Management and Entrepreneurship, ICE College of Hotel Management, Mumbai Veterinary College. It also has state-of-the-art hospitals like Global Hospital, King Edward Memorial Hospital, Maru Hospital etc.
Read: Questions to Ask Your Landlord Before Renting A House in India
Employment Hubs Near Peninsula Business Park
Mahalaxmi, Dadar, and Worli are important areas of employment in the vicinity of Lower Parel, which are located within 5 – 10 km of the locality. Major office complexes like Marathon Futurex, Mafatlal Industrial Estate, Kamla Mills Compound, IndiaBulls Finance centre having companies such as HDFC Bank, Yes Bank HP, Zee Media, SBI Capital, Thomas Cook, Deloitte are very close by.
List of Companies in Both Sections of Peninsula Business Park
Here is a list of companies in Peninsula Corporate Park. Some of these are the offices in Peninsula Business Park whilst others are branch offices.
Netcore Solutions
Peninsula Land
Peninsula Business Park
INNOCURE TECHLABZ PVT. LTD.
Peninsula Corporate Park
Cipla Ltd
World Wide Technology
Peninsula business park tower B
Cipla Health Limited
Pepipost
UCB India Private Limited
Peninsula Business Park Tower A
Open eTechnologies (ERPNext, GST Compatible ERP and Data Intelligence for business)
Flexmoney Technologies Pvt Ltd
eDobby
Locobuddy Mobile Technology Pvt. Ltd.
Hindustan Composites Ltd
Zeus Learning
Master Group of Companies
Mosdorfer India Pvt Ltd.
Jayant Agro-Organics Ltd.
Jayant Agro-Organics Limited
Reeboot Networks
Softlabs Group – Custom Software Development Company in India
Sumer Group of Companies
Board Software (India) Pvt. Ltd
MGB Mumbai
Organisation of Pharmaceutical Producers of India
Artech Power & Trading Limited
Accenture
Cedar Management Consulting International
AVOCONNECT DIGITAL BUSINESS CARD
ETMCINDIA
GreatWhite Electricals Pvt. Ltd.
Vernacular.ai
WiredUp
Sumer Group
JL Morison (India) Ltd
Rise Mumbai
Arham Labs
Eternis
Avotima Technologies
Diageo
Tabel App
Voyage Bulk Carriers Pvt Ltd
Tacto
Hindustan Appliances Limited
Yahoo Web Services India Pvt Ltd
YetiTech Studios
The Shirt Company
Jainam Pharma (India) Pvt. Ltd.
SHL India Private Limited
Arcus India Pvt. Ltd.
Tata AIA Life Insurance Company Limited
A.T. Kearney Limited
Saurer Textile Solutions Pvt. Ltd.
Signzy Technologies
OSHO MINERALS INDIA PVT. LTD.
Regus – Mumbai, Central Mumbai – Lower Parel
Shree Arun Packaging Company P. Ltd. (SAPCO) – Packaging Company In Mumbai
Idealake House, Idealake Information Technologies Private Limited
Firestar International Pvt. Ltd
Sequoia
TATA AIG General Insurance Company Limited
Standard Trading Company
IBS Intelligence
TATA OPPORTUNITIES FUND
Jesons Industries Limited
Blue Cross Laboratories Ltd
ANGLO FRENCH DRUGS & INDUSTRIES LTD.
Zeus System PVT. LTD.
Graphnile Global Services
Nicholas Piramal India Ltd
HDFC Securities Institutional Desk
Urmi Estate
CONCEPCION BUSINESS SOLUTIONS PVT. LTD.
Autogenous Welding and Repair Co P Ltd
International Knitwear Co
Tilt Brand Solutions
Cloudtap Internet Water – Commercial RO+UV Water Purification
Atlantic Shipping Pvt. Ltd.
Master Marine Services Pvt. Ltd.
Polestar Capital Advisory & Investment Holdings Pvt Ltd.
LifeCell International Pvt. Ltd
Eazyhire
Alok Industries Limited
Sunrich Companies – Worli Branch
Piramal Realty
Sunrich Companies
CreditEnable India
ALFAA UV – Water & Air Purification Systems in India
Matrix Healthcare
Akira Global Business Pvt ltd
Franchise Alpha | Franchise Consultant In Mumbai | Business Opportunities In Mumbai
Smart card marketing system
Samyakth Capital
CycleChan.com
Edelman Mumbai
Alvarez & Marsal
Aegis Group
ASHISH STEEL
Welspun Group
Bharat Wire Ropes Ltd. – Head Office
TAM Media Research Pvt. Ltd.
Alok Retail India Limited
Adfactors Advertising
Ashok Piramal Group
Capri Global Capital Limited
Edelman India
Deeptara Enterprise LLP
PropCatalyst
ICICI Lombard General Insurance Co. Ltd
ATC Global Logistics Pvt. Ltd.
Nangia & Co LLP
Valorem Advisors
Apax Partners
Commtathya Commodity Advisory
MSLGROUP
Emco Industries
Digital Gold India Private Limited
SAP Print Solutions Pvt. Ltd.
New Consolidated Construction Company Limited
Maharashtra Aviation Academy & Hospitality Management – Lower Parel
BORG Solar India Pvt. Ltd.
NeoGrowth Credit – SME business loans
Heidrick & Struggles
Milestone Brandcom
Vijay Vallabh Enterprises
Connectrite
Aarti Chairs pvt ltd
Capri Global Housing Finance Limited
Royal Sundaram General Insurance
CHEMCO INTERNATIONAL
Matsya Capital
Club Peninsula
Ashok Piramal Group
Rurash Financials Private Limited
Suvino Exports Pvt Ltd
Atwal Financial – Overseas Financial Planner & Investment Advisor in Mumbai
Bhavna Doshi Associates LLP
IndiaNivesh Insurance Brokers Pvt Ltd
Bhavna Doshi Associates LLP
SIDVIM LIFESCIENCES PRIVATE LIMITED
Societe Generale
JuxtDigital
Marathon Futurex
Monginis Foods Pvt. Ltd. (Corporate Office)
Marathon Icon
Piramal Capital & Housing Finance Ltd
Liberty General Insurance Ltd.
Prudent Insurance Brokers
PNB MetLife India Insurance Co. Ltd.
Owing to the fact that this is a corporate location there are a ton of people, probably like you, don't worry we at NoBroker got you. Click on the link below to start your search, or you can tell us your budget and requirement, and we will get back to you with a huge list of options! Try it now, and save on brokerage fees.
FAQ'S
Q1: Peninsula Business Park Lower Parel Pin Code?
Ans: 400012, Lower Parel, BDD Chawl, Lower Parel, Mumbai, Maharashtra 400013, India
Q2: Are Peninsula Business Park Lower Parel Job Vacancies easily available?
Ans: Owing to the fact that it is located in a prime location, and also since there are numerous companies clustered in this location, there is always an opening for a job in some position or the other.
Q3: In the Peninsula Business Park Lower Parel region, are there any restaurants?
Ans: There are a ton of restaurants in this region with price points that range from low to mid to high, so you need not fret, also there are a wide variety of cuisines that can be found here.