The NoBroker interior design team comprises of top designers from across the country. They have worked on thousands of homes and transformed them with their great designs and innovative techniques. Here is their list of best design tips for bedrooms –
1. Wall to Wall Patterns
A bedroom is a place of peace and calm, but that doesn't mean it has to be boring. Use patterns on your wall to give it a whole new look and a very elegant feel. Picking out the right pattern can be rather difficult. If the pattern is too big, too bold, too dull or too small it might defeat the whole purpose. In this case, it's best to let a professional interior designer step in and help. They will choose a pattern that's right for the room and your personality.
2. Hanging bedside lamp
For those who like simplicity and to have a clutter-free bedroom, adding hanging bedside lamps might be the right choice for you. This leaves your bedside tables open and you can make a statement with these hanging bedside lamps.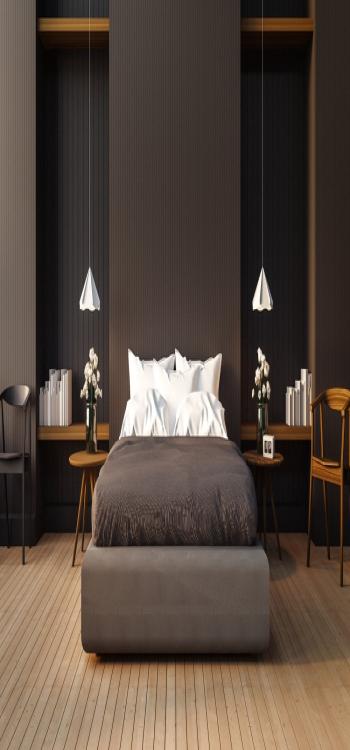 3. Antique Elements
Antique pieces in any room can add a touch of history, style, quirk and also make your bedroom décor look classy. Look for antique pieces of furniture like a chest of draws, or an antique work of art, or even sconces!
4. DIY Art
There is no better place than your bedroom to show off your DIY art skills. You can make wall art, stools, vases, and a lot more. If you love DIY projects, then your bedroom is the best place to put it. You can even follow a theme to have a well-designed bedroom.
5. Dramatic Curtains
If you are not comfortable with wall patterns, then why not try some dramatic and funky curtains instead? Curtains do more than keep out sunlight and provide privacy, they can transform your room, control temperature and a lot more.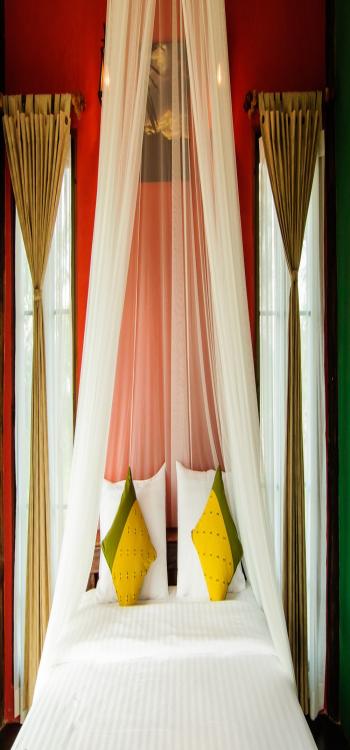 6. Proportional Decor Pieces
When you're looking for bedroom decorating ideas, you need to keep the size of your room in mind. You can't have a small bedroom with a huge mirror or decor piece, nor can you have a huge bedroom with a disproportional décor piece in it. A professional interior designer will be able to help you pick out the right sized pieces for your bedroom.
7. Creative Headboards
When choosing a bed, you look at three things, the quality of the material used, the size of the bed and the design of the headboard. If you don't like the headboard or buy a bed without a headboard, you can always design one that you like. You can use tapestries as headboards, rugs, padded headboards, carved and so on.
8. Monochromatic décor
If you're looking for design ideas for small bedrooms or small bedroom décor ideas, then you need to look at monochromatic décor ideas. Using 1 colour, and especially if it is a bright colour, you'll be able to make your bedroom look more open, airy, and bigger than it is. A good interior decorator can help you chose the right colour for your bedroom décor.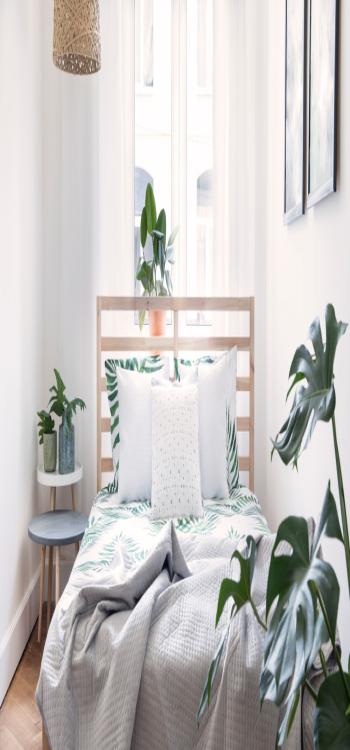 9. The right colour palette
If you have a decent-sized bedroom, then you can go beyond monochrome options. You need to choose a colour palette that will match the rest of your home but still give your bedroom a sense of warmth and comfort. It should be colours that you like, that are warm and cool shades. If you're confused, it's time to consult with professional interior decorators or do some research using a colour wheel.
10. Showcase your favourite photographs
Your bedroom is a space that should help you relax and leave your worries at the door. This is why, when choosing photos, it's best not to have photos of your family and loved ones in there. These pictures tend to trigger plenty of emotions and remind you of people when all you should be doing is unwinding and going to sleep. Instead, have pictures of places you visited, or photographs of nature, or even photographers by famous photographers.
11. The right amount and size of furniture
We normally tend to either overcrowd our homes or leave them too bare. When you are designing your bedroom interiors, you need to keep in mind how much space you have and plan your bedroom furniture accordingly. Apart from worrying about the number of furniture pieces, you also need to worry about the size of each piece. You can't have a small bed and a large lounge chair, or a huge bed a tiny bedside table, your bedroom furniture needs to be proportional.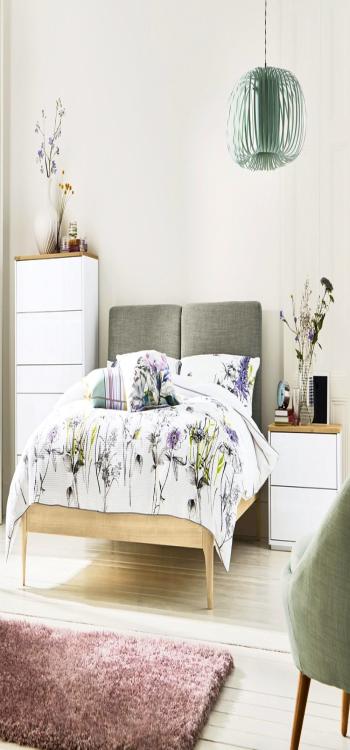 12. Walking space
Most people, especially in small homes tend to buy a huge bed and put it against the wall. This is actually a terrible idea. It makes it extremely difficult for two people to use the bed without inconveniencing the other person. You need to have a bed that's not touching any walls as you need plenty of air circulation around you, especially when you sleep. Design your bedroom interiors in such a way that you have enough walking space and space between furniture too.
13. Ceiling lights
If you're looking for small bedroom design ideas, then pay attention to the lights you use in your bedroom. Much like hanging bedside lamps will create more space in your bedroom, ceiling lights will also make your room look less cluttered. So, avoid standing lamps, table lamps and even wall sconces, get some beautiful ceiling lights to decorate your bedroom.
14. Incorporate pillows to your bedroom décor
Apart from the pillows that you sleep on, you can invest in a few throw pillows. They come in different shapes and sizes and add an extra touch of comfort to the room. You need to pick the right number of pillows so that your bed doesn't look overcrowded or too bare. These pillows are also extremely inviting and cosy.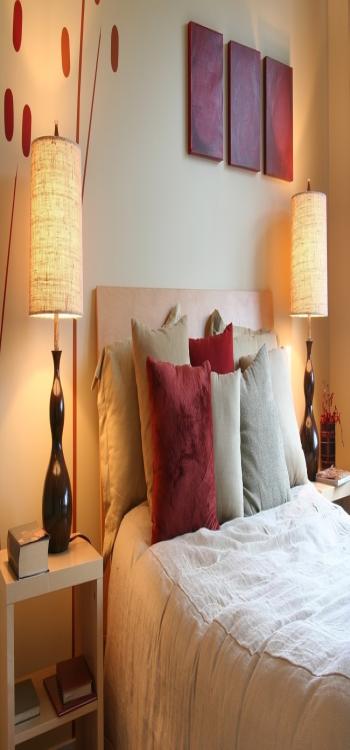 15. Add a touch of nature
Be it a few plants, or a vase full of flowers, there is nothing as inviting as waking up to some greenery or flowers. You can have tiny pots by your windowsill, flowers on your dressing table or chest of draws, or even on your bedside tables. Fresh flowers will help your room smell better and look brighter too.
The right bedroom décor can transform your room, it can go from dull and boring to wonderfully comforting and stylish with the right team working on it. If you're looking for interiors for your new house, or even to redo interiors in your current home, reach out to NoBroker's expert interior designers. You will get top-notch services at very affordable rates.