Walls are essential elements to consider when attempting to accentuate the inside of your home. Because of this, you can try out various textures, colours, and patterns. However, it's important to avoid seeming tacky by matching your walls to your interiors and furniture. Stencil designs for wall painting are a low-cost approach to emphasise and personalise them. An easy way to personalise your home is to use this simple trick. Wall stencil design is a simple and cost-effective technique to modify the walls of your home and give them personality. Paintbrushes or stencil rollers and your preferred stencil are all you'll need to complete the project.
What is meant by the term "Wall Stencil"?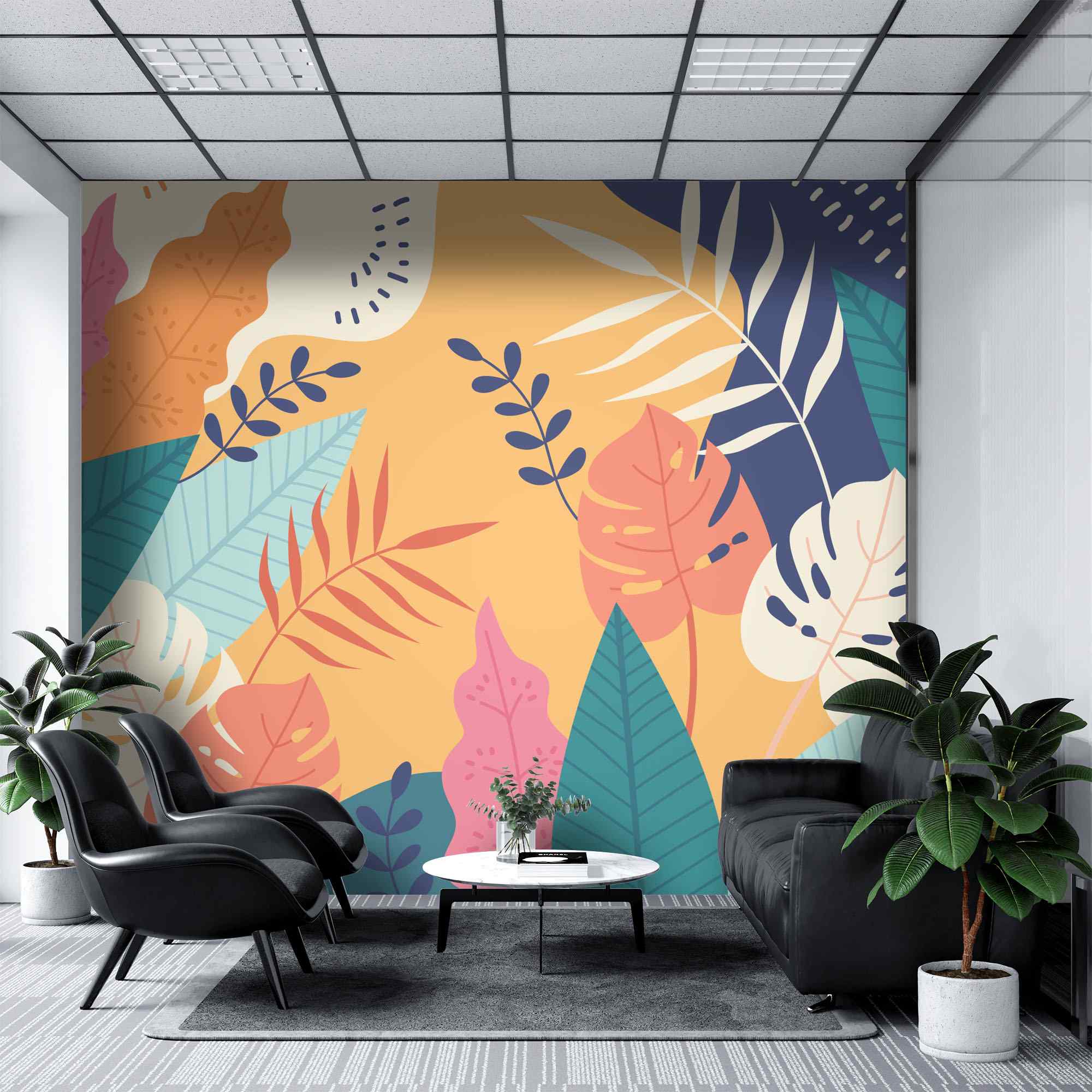 Artistic designs or patterns can be carved from thin material using a stencil. They resemble stencils for wallpaper. Placing the wall stencil template on the wall and painting over the stencil pattern cuts is how you stencil a wall. The stencilled picture will still be visible on the wall after removing the stencil template. To avoid confusion, the stencil equipment and the stencilled painting are called "Stencils".
What Makes Wall Stencils Better Than Wallpaper?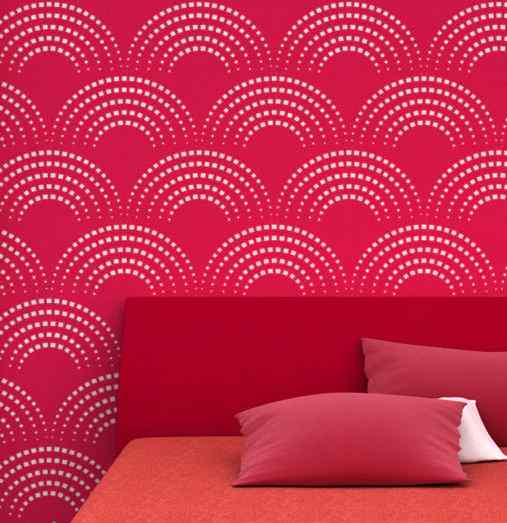 Stencils on the wall are a less expensive option for wallpaper. Wall stencils, as opposed to wallpaper, are non-damaging and cost-effective. You can use the same stencil pattern on your walls as often as you wish because our wall art stencils are reusable. Into the aesthetic of cement tile? Using DIY wall painting stencils, you can create the appearance of a brick wall or a tile backsplash for a fraction of the cost of natural tile. If you're looking for a unique DIY home decor project, stencilling your walls is a great way.
Read: Flower Pot Designs – Transform A Cheap Flower Pot into a Designer-like Elegance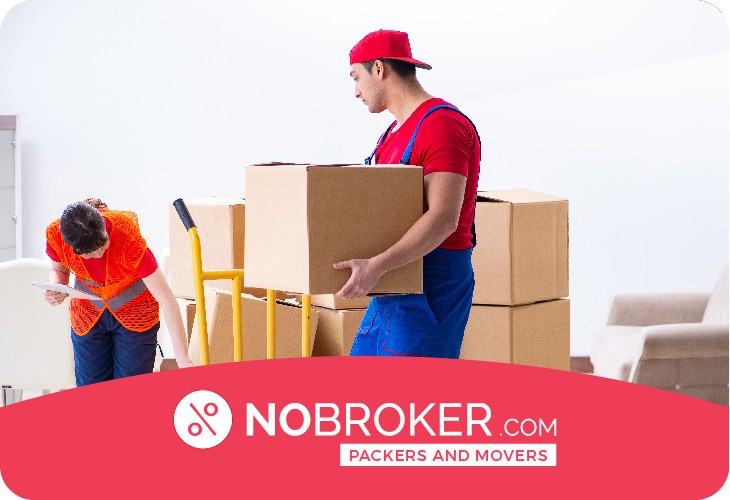 Book Best Packers & Movers with Best Price, Free Cancellation, Dedicated Move Manager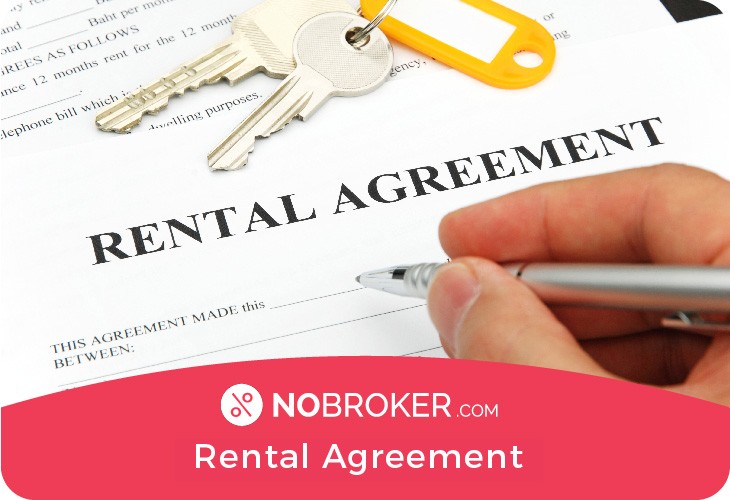 Get Rental Agreement With Doorstep Delivery, Super Quick & Easy
This is third
This is third
This is fourth
This is fourth
This is fifth
This is fifth
This is six
This is six
This is seven
This is seven
This is eight
This is eight
Is there a difference between wall decals and wall stencils?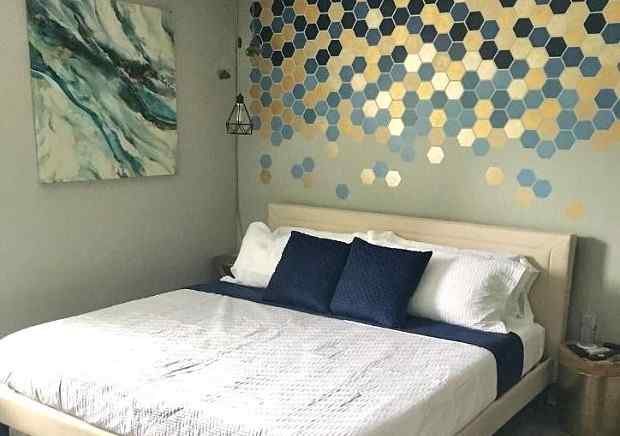 A wall decal is a giant sticker, but a wall stencil is a non-damaging painting template on the wall. A wall stencil has various advantages over a wall decal. Stencils are more durable than decals because of this. Stencilling a wall instead of using a decal gives you more options for personalising the look of your home. Using a wall stencil, you may choose the paint colour and the paint saturation you want to use for your stencilled design. Using bright colours in a stencilled wall will create an entirely different atmosphere than using neutral tones to create a stencilled border. Despite using the same stencil template repeatedly, no two stencilled walls are the same.
Read: Bring in the Art of Minimalism to Your Home with these Scandinavian Interior Design Ideas
How to Create an Accent Wall Using Wall Stencil Design
Stencilling can be a rewarding and entertaining experience if you utilise the right equipment and skills to get the job done right. Let's go out and stencil something now that we know how to fix any mistakes!
1. Gather all of the necessary equipment and supplies. Mylar sheets, tape, stencil brushes, and acrylic paint or latex are all goods you may get at your local home renovations or craft store. By utilising paint rollers, you may be able to accelerate the painting process, but this varies on how detailed your stencil is and how many colours you plan to use in total. Spray adhesive can also be used in place of painter's tape, but it will not protect your walls from overpainting.
2. Set up your workspace before you begin working. Protect your baseboards and floors from paint drips by placing butcher paper or a drop cloth under your paint tray and work area. Ensure that your walls are free of dust and blemishes before applying the first coat of paint. When you remove the stencil, make sure you have a rag or paper towel nearby so you can wipe away any extra paint from the backside of the stencil.
Read: Refurbish Your Interiors with These On-Trend Asian Paints Colours for The Living Room
3. Think of a template for your project. If you're starting from scratch, draw out your design on a piece of mylar with a pencil. Cut out your design with a utility knife and a sharp blade, making sure to do it on a cutting board or another protected flat surface to avoid getting cut. Make many if you want to get the most out of your time. You can use numerous stencils at once if you draw a straight line with a tape measure, a level, and a pencil.
4. Perform the test in a small area. Tape the stencil to the surface where you want it to appear. This will reduce the risk of paint dripping around the stencil's edges. Fill in any bare spots on the stencil with paint, being careful not to overdo it. Let the test area paint dry thoroughly to see how the stencil and paint colour will look on the wall. Apply a few more light coats if the base coat is too soft against the backdrop.
5. Alternate positioning of stencils. Using many stencils of the same design allows you to speed up your project. Using a wall, start from the top and work down. As long as the previous row has dried before moving on to the next, you can create a new vertical row while the previous one is drying.
Read: Baroque Architecture: The Origin, The Development and the Masterpieces
6. Touch up any typos you may have made in your writing. Minor defects or bleeding can be fixed with the help of little dry brushes or angled foam paint brushes. Preserving the paint colours from the foreground and background is a smart move.
Trending Wall Stencil Designs for Living Room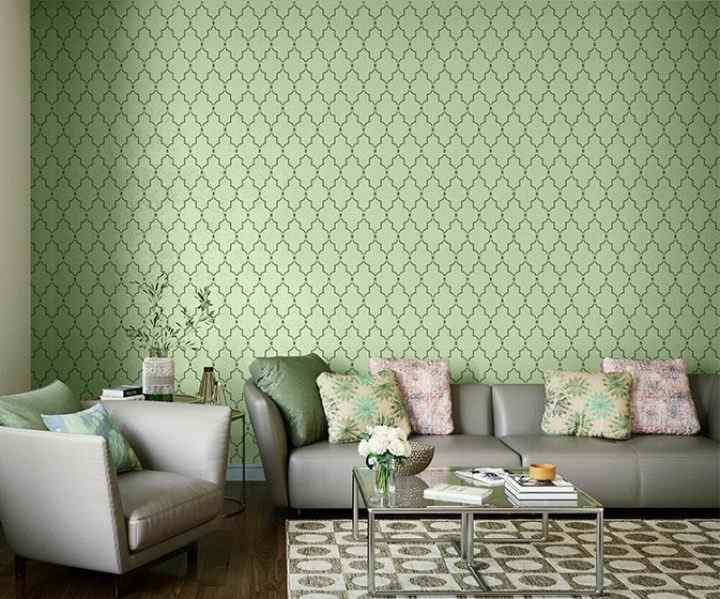 Using a stencil allows you to paint swiftly and efficiently without destroying your walls because of the ease with which it sticks to the wall. They're helpful and don't necessitate any artistic talent. So, if you've never done anything like this before, don't be afraid to start. Explore these simple living room wall stencil designs and let your home decor speak for itself!
1. Wall stencil depicting traditional tin tiles used in Morocco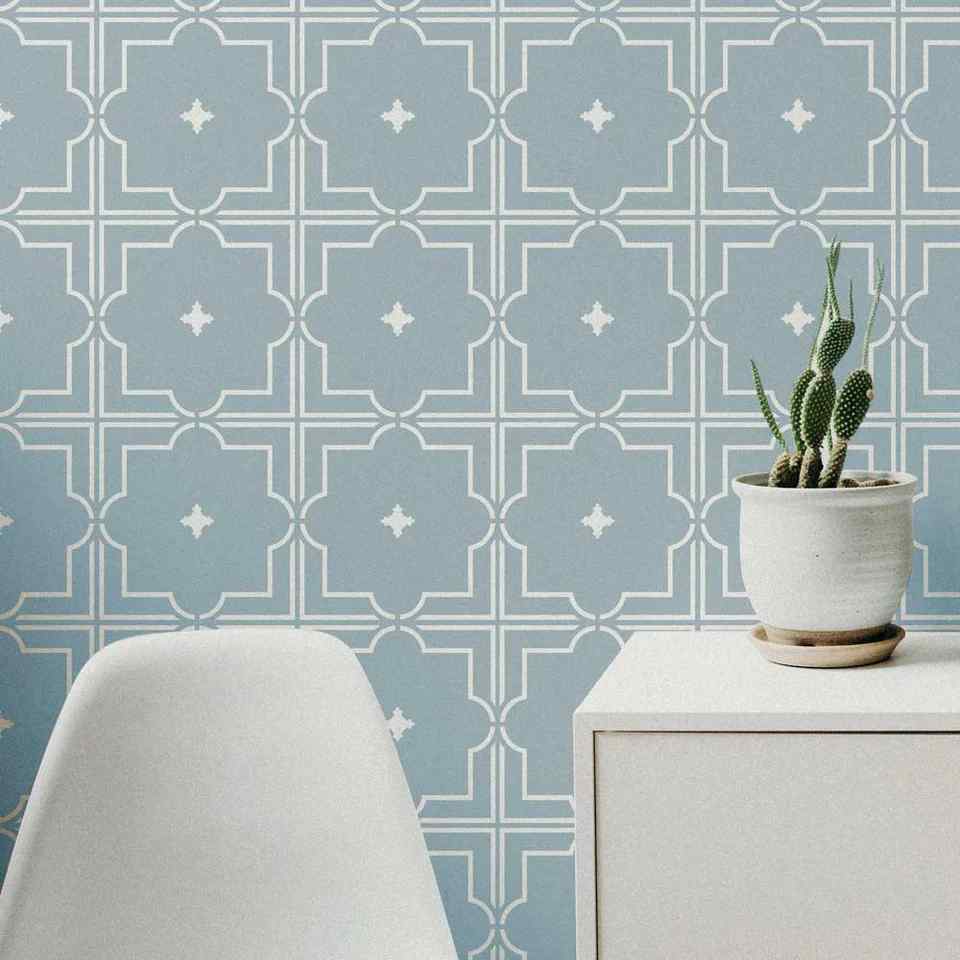 Known for its intricate lattice and trellis stencil designs, Morocco has been a cultural hotbed for centuries.In this Moroccan wall stencil, recurring mandalas create a constant theme on your walls. Using this stencil as a pillow, duvet cover, or lampshade stencil can create wonderful accent pieces.
2. Wall Stencil Designs for Living Rooms Incorporating Messages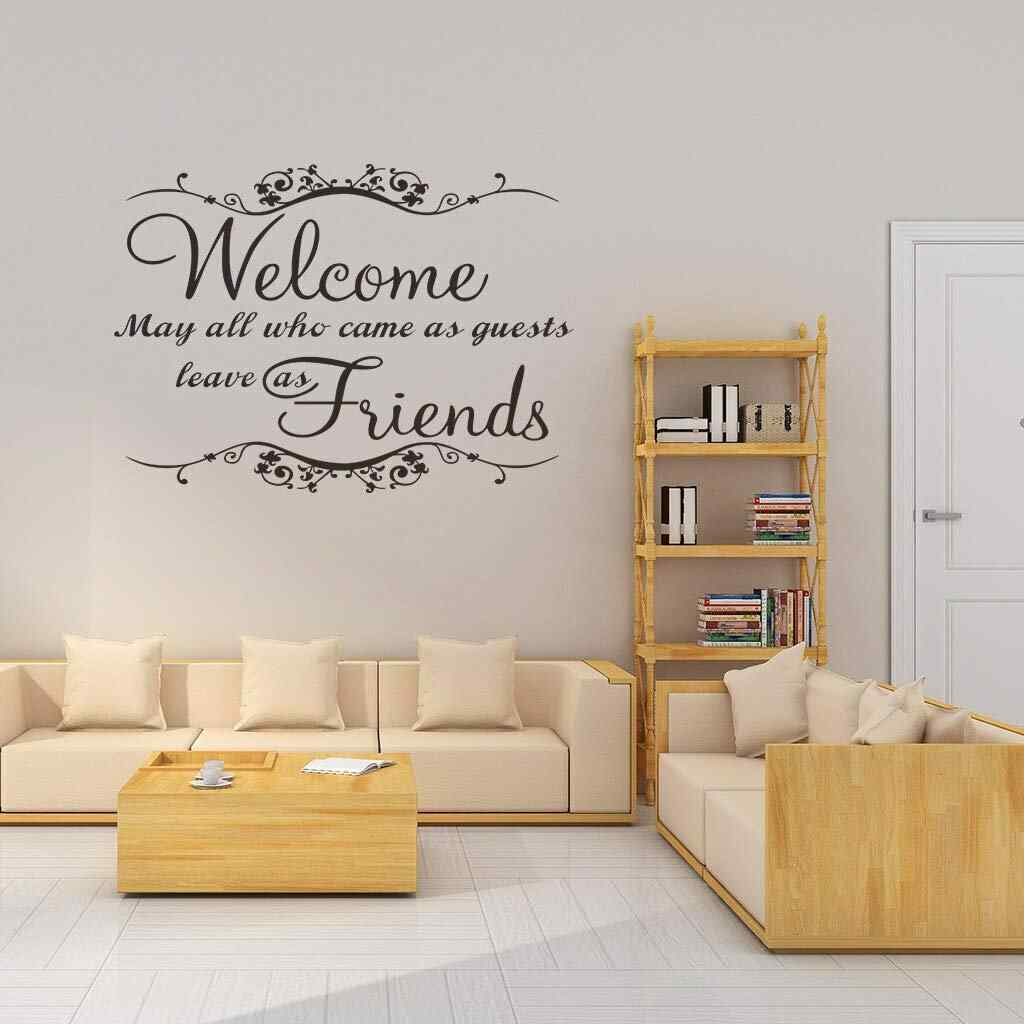 Consider utilising typographic stencils if you'rea fan of decorating your walls with motivational quotations. You can either buy a ready-made one from the market or make your own. Using a roller, paint your favourite quote or conversation on your wall. You'll be motivated and inspired as a result of this. When it comes to the family room, multi-functional furniture that doubles up as a hobby room is a must, with plenty of area for guests to feel at home. Therefore, the walls of the room need something that will keep the inhabitants motivated and display the family's oneness. Make your living space more unique with these living room wall stencils that you may personalise.
3. Living Room Wall Stencil Designs in the Style of an Urban Jungle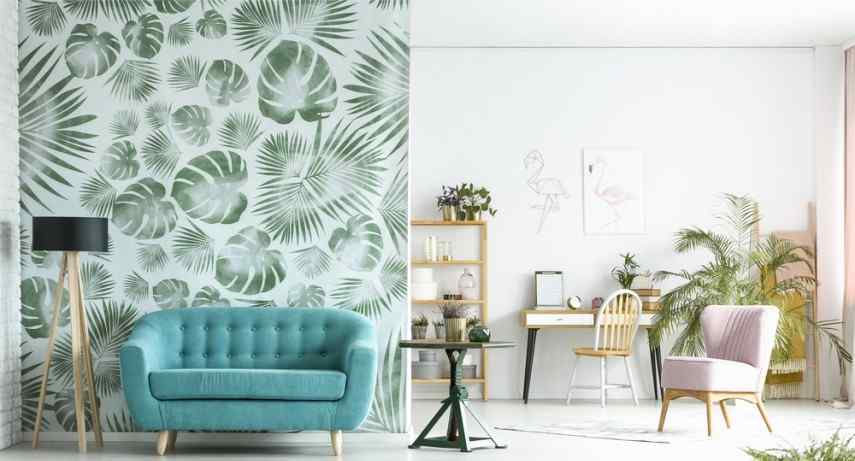 It's all about the biophilic design this season. On the other hand, incorporating indoor plants comes with the added responsibility of ongoing care. So, here's a clever and convenient method to incorporate plants into your home's décor. Stencils with leaf themes can transform your accent wall into a jungle. For a more contemporary appearance, go with an abstract stencil design rather than an ornate leaf pattern. Adding a vivid sofa and accent chair will help draw attention away from your accent wall.
4. The Mandala Motto: A Meditation for a Calm Mind
A mandala is a work of art consisting of a specific arrangement of geometric symbols. It represents tranquillity, calmness, and a sense of spirituality. A mandala stencil can be used to paint a giant mandala in the middle of a wall, or it can be used as a basic design. To create a flower-like pattern on the wall, space out a few mandalas positioned diagonally to each other. Mandala stencils are the simplest stencils to learn, and even beginners may get creative results with them. Colourful Mandala wall paint creates an atmosphere of calm and spirituality, which benefits the house's aura.
5. Stencil of Tribal Feathers for Wall Art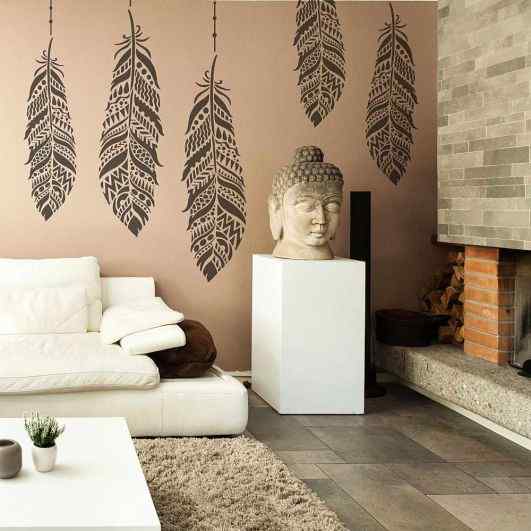 This intricate stencil design featuring tribal feathers is on-trend! It works nicely with bohemian décor for both walls and furniture. Because of this, it provides an indigenous feel. For example, you could layer stencils of different colours to create an all-over pattern or add shading. Consider pairing this tribal stencil design with arrows, trees, and other tribal woodland features in a woodland/tribe-themed living room.
6. Decorate Your Living Room with a Travel-Theme Wall Stencil Design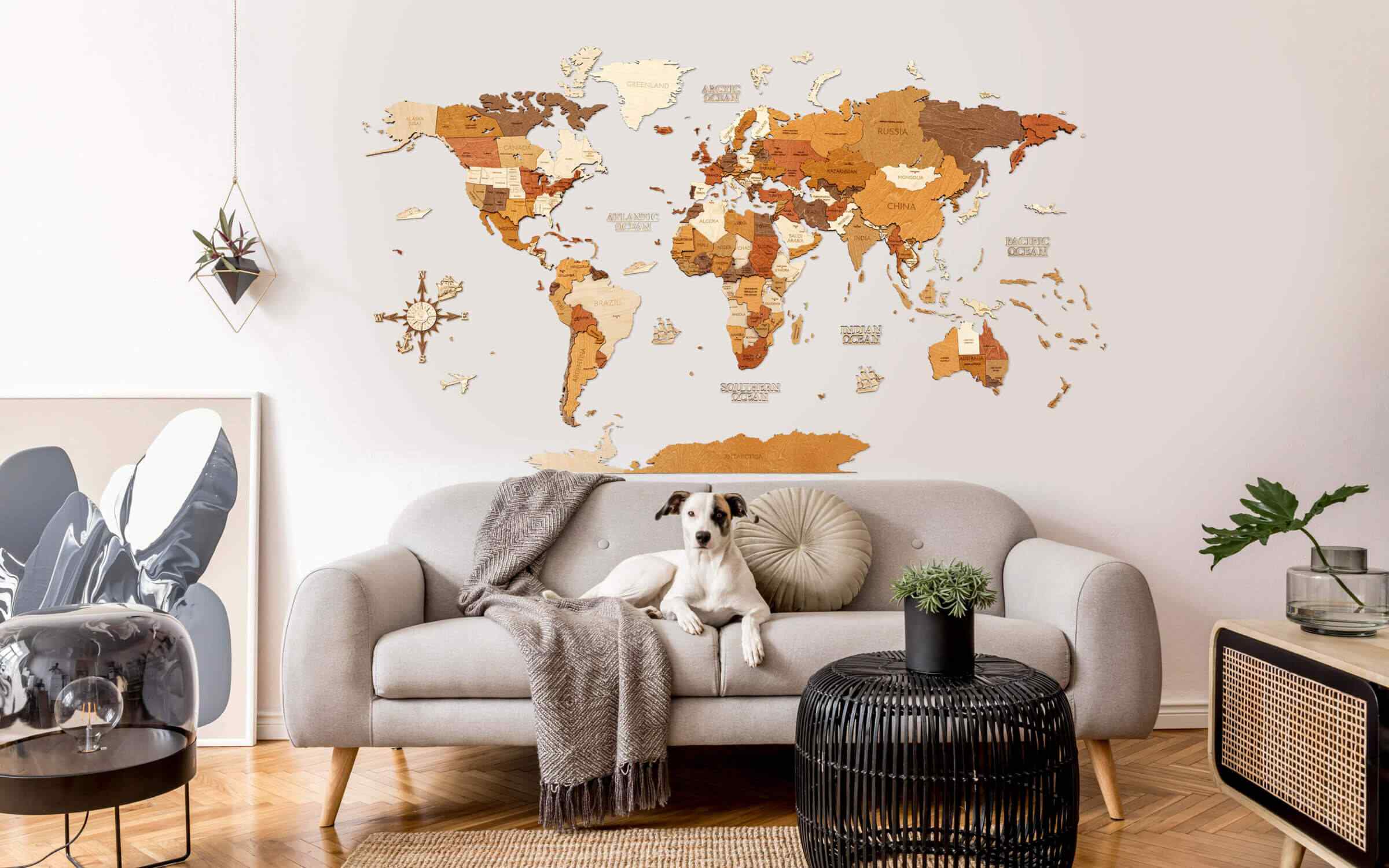 Use your walls to show off your passion for travel while also enhancing the look of your house. A black-and-white world map's scholarly look and feel are perfect for a living room. Using stencil rollers, cut out a stencil and use it to create a smooth finish. To avoid ruining your gorgeous world map design, use a dry roller with no remaining paint. To draw emphasis to the design, paint it on a light-coloured wall. Consider using wall sconces or spotlights to make your living room wall stencil design stand out even more.
7. The colossal figure based on geometry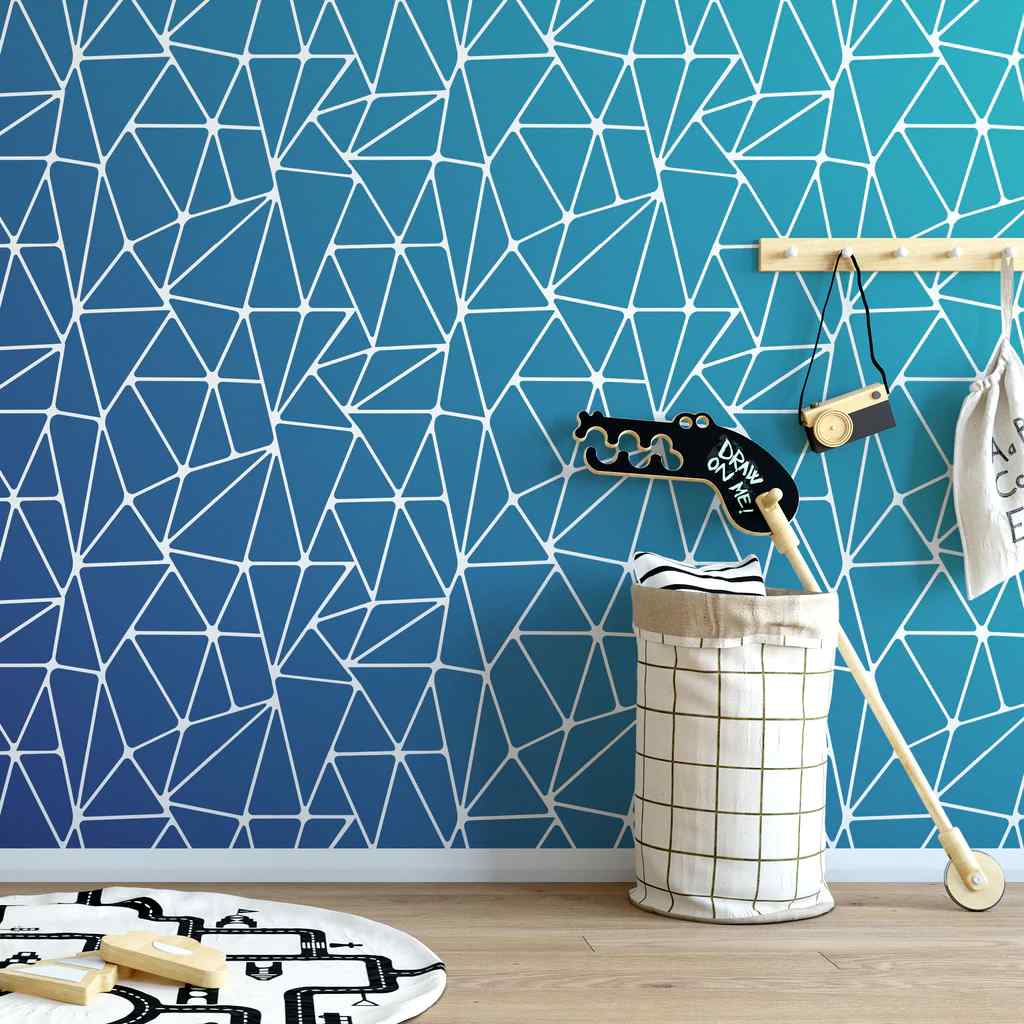 An example of a geometric stencil paint design is seen here. Straight lines were repeated recursively to complete the design, creating one pattern. To avoid looking cluttered, this paint should only be applied to one room's wall at a time, rather than all four. It could provide the impression of a crowded and cramped space. This pattern may be a real show stopper when used as an accent wall. Use this on your living room's brightest wall.
Dreamy Bedroom Wall Stencil Designs
It doesn't matter whether you're looking to make an impact, accentuate your headboard, or have a little space that has to wow without being overbearing; Bedroom Feature Wall Stencils can help. This collection of stunning bedroom makeovers and stencilled feature walls will give you some much-needed decorating ideas.
1. Breath-taking Tropical Banana Leaf Stencil for Your Bedroom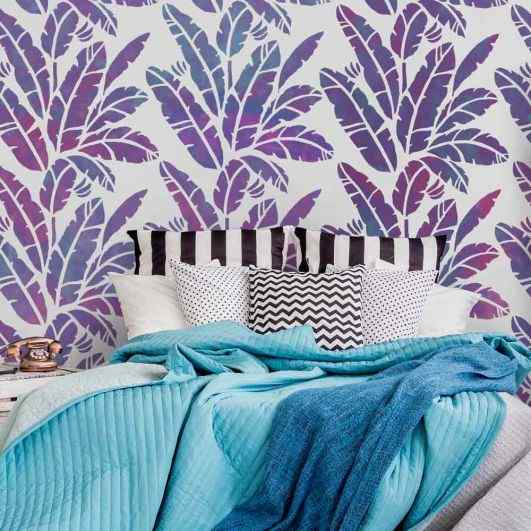 Are you a fan of the Martinique Wallpaper trend? We feel the same way! As a result, we came up with our Banana Leaf stencil based on the tropical pattern. With our reusable wall stencil, you can create the banana leaf pattern in your home for a fraction of the cost of tropical wallpaper. So use this giant palm leaf stencil template to get in on the tropics craze right now! You can practically hear the rustle of the palms as they sway in the breeze.
2. With the Constellations, the sky's the limit.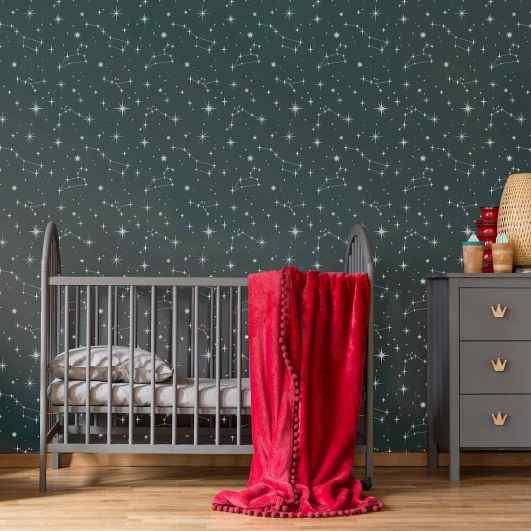 A stencil of the constellations and stars of the zodiac is included in this set of beautiful Constellations stencils for walls. Our starry Constellation stencil is on-trend with the recent trend of celestial designs. This easy-to-use stencil creates a stunning focal point over a sofa or bed. This Constellations wall stencil can also be used to decorate a baby's nursery in a heavenly style. Foam rollers and stencil brushes can be used to paint this divine stencil pattern. Use metallic paint if you want to give your stencil a shimmering effect and give it a wonderful glow. Using glowing paint to stencil the stars is an option, too!
3. Wall stencil featuring a Chinoiserie design with birds and roses
Take a look at this stunning Chinoiserie Birds and Roses Wall Stencil! Chinoiserie Stencils by Cutting Edge Stencils are now available at Cutting Edge Stencils! For the first time, DIYers can afford Chinoiserie Chic! Interior design publications and Pinterest are no longer sources of drooling. You don't have to spend a fortune on the Chinoiserie look when you use these oriental murals. With their long flowing tail feathers, tropical birds add exotic charm to the scene.
4. An Elegant Wall Stencil with a Motif and Pearl Damask Pattern.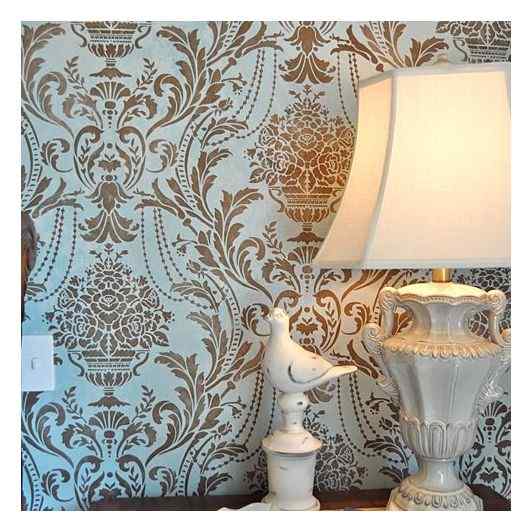 A stunning damask stencil, ideal for decorating your walls. You'll be amazed at the depth of detail here! Decorative elements include acanthus leaf and pearl beads and the classic vase and roses motif. What a lady! You'll be amazed at how excellent this stencil design will appear on your accent wall. If you're starting all over stencilling, we recommend painting just one wall instead of the entire room. If you plan on stencilling a whole room in this style, you'll need to have some stencilling experience first. You can also seek the assistance of a specialist.
5. A Poem Printed in French to Create a Farmhouse Feeling
More than just a gorgeous face, this French Poem typographic wall stencil adds elegance and sophistication to any room. Daily, it serves as a gentle reminder to savour every one of life's moments. The hand-written quality of the letter stencils adds to the romantic feel of the piece. When painted on walls or furniture, this stencil looks stunning. Stylish and refined, yet not stuffy. The French Poem stencils bring a sophisticated elegance to your home's decor. If you're looking for a romantic, shabby chic appearance in your home, this stencil design is perfect! The poem "Le Lac" by Alphonse de Lamartine, a famous French romantic poet of the nineteenth century, is featured on the stencil.
6. Stencil of a Bohemian Grand Arch for the Bedroom Wall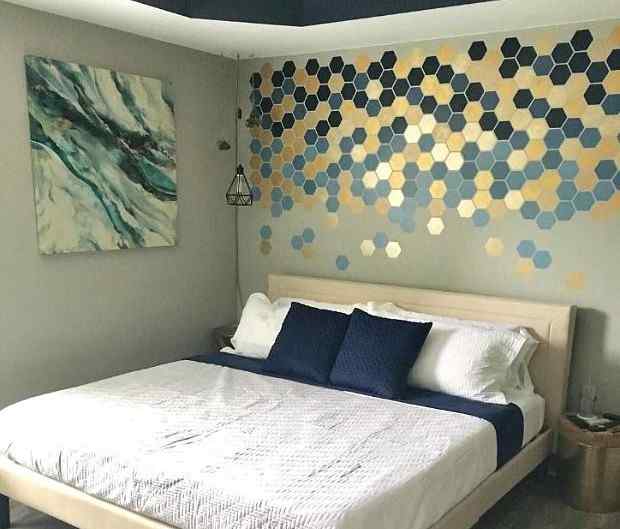 Add this Boho Grand Arch Stencil to any room, and you'll be amazed at the results! Art shapes in the modern art style are incredibly trendy and may give boho flair to any room. These Boho Grand Stencils are an excellent complement for a bohemian bedroom or other location. For a fraction of the price and infinite customisation of decals! Painting tape can be used as sides to extend the height of a Grand Arch. After positioning the arch stencil at the correct size, ensuring that it is level, stencilling it, and removing it, the next step is to apply masking tape vertically to expand the arch sides. After that, you can paint the arch's frame while still enclosed by the tape.
We are sure you already have a list of your favourite wall stencil designs and where to incorporate them. However, seeing them in pictures and recreating the designs into your interiors might be challenging in many cases. That's why NoBroker interior design experts are here to guide you through the process. Give us a call for a consultation today!

FAQs
Q-1 Is the use of wall stencils out of trend?
A-1 Because of more current designs and the fact that stencilling is a budget-friendly room update anyone can perform, stencils are making a resurgence in popularity.
Q-2 Is it possible to stencil with acrylic paint?
A-2 Stencilling with acrylic paint is an attractive option, but care must be given to prevent generating thick and hard layers that split and peel if twisted or worn down. Using thin and light layers, acrylic paint can be successfully stencilled to produce a crisp and clear stencil image.
Q-3 Before removing the stencil, do you wait for the paint to dry?
A-3 Allowing the paint to dry can make the colour on the stencil stick to the colour on your wall. Once the stencil is removed, some painted surfaces may come off.
Q-4 Stencil bleeding: How do you correct it?
A-4 Stencil bleeds are easy to fix if you make a mistake. Make sure to burn down the Frogtape around the edges of the bleed thoroughly. Stipple the background cover over the error with a flat brush. You may need to apply several coats depending on the colour.
Q-5 Is it possible to create stencils for the walls at home?
A-5 Paper could be used, although it is prone to tearing and ripping if used repeatedly. Making stencils by hand is easiest when using plastic sheets like mylar. With scissors or a hobby knife, you can easily cut mylar, readily available online or in craft stores. The essential benefit of using mylar sheets is that they may be reused repeatedly.